One of the best value areas of the British Airways Avios redemption scheme is Reward Flight Saver. It is available if you have earned at least one Avios in the past 12 months. These are priced much lower than the taxes and charges would normally be. They also include baggage. Executive Club members can travel to and from Europe from as little as £1 plus 18,500 Avios, or to a long-haul destination, such as New York, from £100 plus 50,000 Avios in economy.
Up to now, it was only available on British Airways operated flights short haul for economy and business class (Club Europe) and economy on some long haul flights. From today it will be available on ALL long haul flights and in Club World (business class) as well as Premium Economy (World Traveller Plus) and economy (World Traveller).
British Airways has doubled the number of long-haul destinations available with RFS, with 100% of its route network now on offer to Members, including destinations such as New Orleans, Nashville, Austin, Sydney, Bermuda, Buenos Aires and St Kitts and Nevis.
Return Club World RFS flights are available from as little as £350 plus 160,000 Avios, while return World Traveller Plus RFS flights are available from £280 plus 85,000 Avios. Further pricing examples have been included below, and one-way tickets will be half of these cash and Avios amounts. For comparison, the lowest rate currently for a return to New York is 110000 Avios + £ 853.01. So yes, you will pay more Avios, but you will save a lot of cash. Some routes are better value than others with New York offering a £500 saving for 50,000 Avios whereas Singapore is less good value at a £350 discount for 45,000 Avios.
Most importantly, they become great value when you use RFS with BA Amex companion vouchers which lessens the amount of Avios needed. New style vouchers can even be used for solo travellers to get 50% off. Upgrade vouchers can also be used with RFS.
BA also guarantees that a minimum number of Reward Seats are available to book on every flight to and from London Heathrow and London Gatwick;
Eight in Euro/World Traveller
Two in World Traveller Plus
Four in Club Europe/World
For the first time, RFS bookings are now available to Executive Club Members based in the US. Return flights are available to London Heathrow and London Gatwick from $200 plus 50,000 in World Traveller, and $700 plus 160,000 Avios in Club World.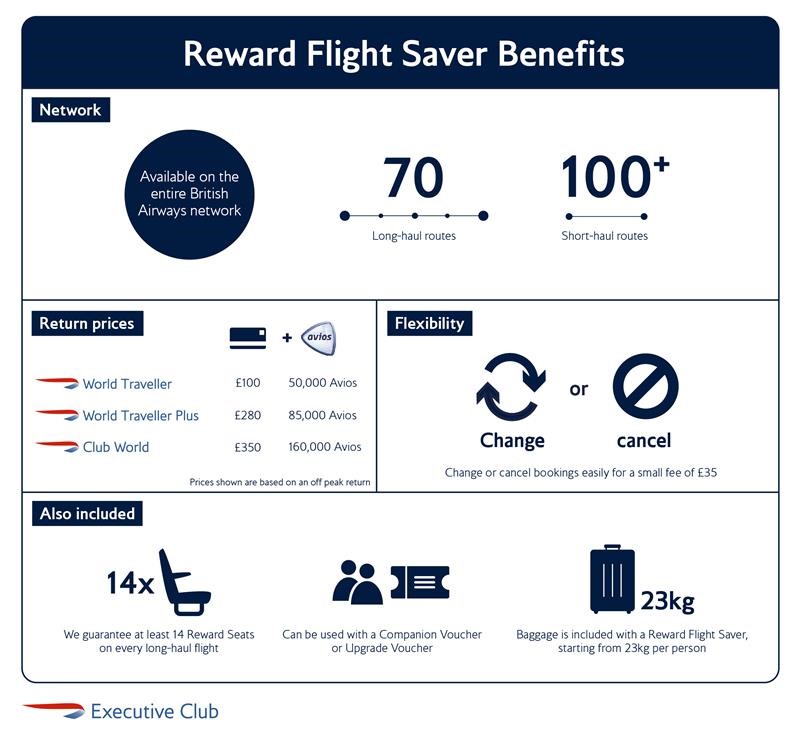 Ian Romanis, Director of Retail and Customer Relationship Management, said: "Offering more choice than ever, this is an exciting development for our Executive Club programme and great news for our Members. We know they value flexibility, so we've also ensured plenty of opportunity to lower their cash spend by using more Avios.

"We listen to our Members' feedback and continue to heavily invest in our Executive Club in recognition of their loyalty, offering as many options as possible for our customers to travel the world affordably."
Off-peak pricing
Destination (from London, return)
Cabin
Avios required
Cash required
New York
World Traveller
50,000
£100
World Traveller Plus
85,000
£280
Club World
160,000
£350
Los Angeles
World Traveller
60,000
£150
World Traveller Plus
95,000
£330
Club World
180,000
£450
Barbados
World Traveller
60,000
£150
World Traveller Plus
95,000
£330
Club World
180,000
£450
Dubai
World Traveller
50,000
£100
World Traveller Plus
85,000
£280
Club World
160,000
£350
Cape Town
World Traveller
60,000
£150
World Traveller Plus
95,000
£330
Club World
180,000
£450
Singapore
World Traveller
80,000
£250
World Traveller Plus
110,000
£430
Club World
220,000
£600
Sydney
World Traveller
100,000
£300
World Traveller Plus
160,000
£480
Club World
290,000
£750
Origin (to London, return)
New York to London Heathrow
World Traveller
50,000
$200
World Traveller Plus
85,000
$560
Club World
160,000
$700
Los Angeles to London Heathrow
World Traveller
60,000
$300
World Traveller Plus
95,000
$660
Club World
180,000
$900
Buenos Aires/Santiago
World Traveller
80,000
£250
World Traveller Plus
110,000
£425
Club World
220,000
£600