Today's reader article, Iceland, is by Martin who won the TLFL reader review competition for the most entertaining read with this Article.
After my last review where I regaled everyone with my heroic tales of discovery of how to turn left on an aircraft (and then subsequently turning right on my first business class trip to go up the stairs), I was absolutely inundated with requests from both Teddy and Simon to do another one, and having just returned from ten days in Iceland I've put on my writing cap and sat down at my keyboard for you all.
The flight
This trip (part of my *0th birthday celebrations) was booked using Avios and a Companion Voucher, so total flight cost was £100 in Club Europe. On my last experience in CE, I wasn't overly impressed with it as a form of premium class – if you aren't aware, it's exactly the same as economy seating, but the middle seat of each bank of three is blocked out, so you aren't having to fight with anyone who gets the arm rests or awkwardly waking up with you head on their shoulder. You also get a choice of meals and some decent cutlery, but for the three-hour flight from Heathrow to Reykjavik I don't think I'd choose to pay the price of a cash ticket over economy.
The other downside to this particular route is that it leaves at 07:40 – obviously, this is an obscene time of the morning to be checking in, especially when you're obligated to spend time in the lounge thus requiring arrival at Terminal 5 by 05:30… The plus side is that the time from leaving the car with the parking company outside the Sofitel to being in the lounge was about 20 minutes at most – I don't think I've ever been through bag drop and security so quickly.
One quick side note about our hotel at Heathrow – it was one of several non-premium parts of our trip due to the alarm going off at 4am, and we stayed in the Thistle Hotel. It was cheap, a bed for night and had free water, with my only complaint being the single light switch that turns on ALL the lights in the room, including the LED ones pointing directly down above your head which make you feel like you're waking up on Mastermind. Still, less chance of you going back to sleep I suppose…
Food choice on the flight was the breakfast menu – I opted for the muffin, which massively confused the cabin crew member as they were labelled as 'souffles'. I'm not sure if she thought I was expecting her to make me something on-demand, but personally, I could've eaten an entire vat full of the coconut muesli – that stuff is delicious.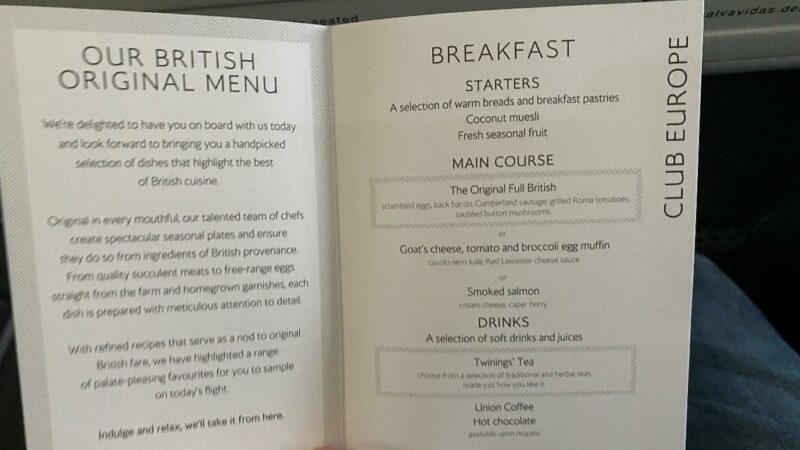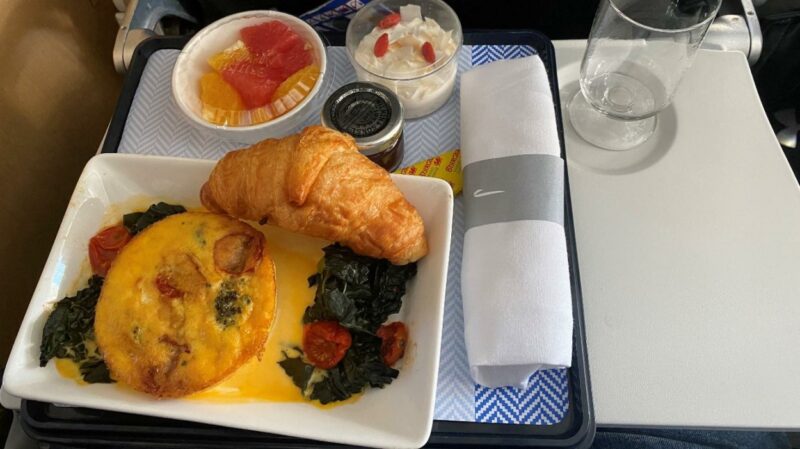 Reykjavik International Airport
Reykjavik airport itself is an oddity in the aviation world as far as my experience goes – arrivals and departures are mixed together on the concourse and you are trusted, as grown-ups, to find your own way to baggage reclaim or your gate as appropriate without accidentally getting on the wrong aircraft. I've experienced it in the military world, where you are all just herded into a tent and have your name checked prior to attempting to board the correct plane, but not as a civilian. Comment below if this is something you've seen elsewhere…?
Before we leave the airport, it's worth mentioning that Reykjavik International Airport is actually in Keflavik, about 45 a minute drive from the capital. Thus, it is also known sometimes (usually on road signs) as Keflavik Airport. This is confused further by Reykjavik having its own airport in the middle of the city, used for domestic flights and private flying. This is ALSO Reykjavik airport. Just be wary what you book and where it is – especially hire cars.
Car hire
Regarding these, and after much vehicle comparing, switching dates, altering locations and looking at my bank account, I settled on Fara Car Hire – a local Icelandic hire company who have an office a few miles away from the airport. They collect you, drive you there and send you on your way quite quickly. My Jeep Compass cost me about £400 for the 10 days – my preference for a Range Rover was vetoed (budgetary concerns, or some other nonsense…) and I also refused their excess cover.
I randomly discovered you can get third-party car hire excess cover for a LOT less than the hire car companies charge you, and paid about £17 to Eversure for the whole period. They also do annual policies which will save you a fortune if you hire regularly – worth looking in to. Also, while public transport is a thing there, the return ticket on the airport/city centre bus is about £50 per person, so there's a quarter of the cost of the hire car straight away.
You'll also very quickly run out of things to do in Reykjavik itself, and getting tours that pick you up will rapidly get very expensive, so if you can hire I would recommend it. Parking around the city is cheap, available on an app and we never struggled to find a space.
Driving in Iceland is fairly straight forward – the rules are essentially the same, there isn't really that much traffic and all the main roads are in good condition. The hire policy tells you not to go offroad or you won't be covered, and from our exploring you really don't need to. Just be prepared to drive everywhere at 55mph maximum.
Electric vehicles are incredibly common due to the cheap cost of electricity from geothermal plants, and even our Jeep was a hybrid. What I did notice however was the lack of public charging points – I had to rely on the car recharging its own battery when braking or just using the engine itself, which kind of defeats the object. This is a shame, as petrol is around £2 a litre up there, and the car drank a lot of it. I did get excited at one point outside a shopping mall in Vik where they had a bank of spaces painted out in green for charging, only for there to be no chargers in sight…
Anyway, enough of the practical stuff – what about the champagne travel part of this?
The hotel
We chose to stay in the Tower Suites – a relatively new collection on the 20th floor of an office block with random companies taking up some of the floors, a Skyr shop on the bottom one along with a burger restaurant for convenient calories. This creates the odd situation of being dressed up to go outside like you're a member of the Antarctic Expedition, and encountering a local in the lift who's just working in the office in a normal suit…
Each suite is a different design, and ours had a view out over the inland part of the city and off towards the mountains. They're very modern, give you far more pillows than you could need and are attended for all but 6 hours of the day. You get breakfast included, which is also far more than you could need and is delivered at a time of your choice. They have a set menu for each day, but you can ask them to remove or add specific items, especially if it's simply far too much to eat, even on holiday.
There's a lounge in the middle with a fully stocked drinks area, honesty box and free tea/coffee. Your own minibar also has plenty of free drinks/snacks, replenished every day by housekeeping. These are the sort of places that photos don't quite do it justice, but for a premium place to stay In Reykjavik I can thoroughly recommend them. Entry to the building, the 20th floor and your suite is controlled by an app, but as this still seems to have a few teething issues you're given a keycard too.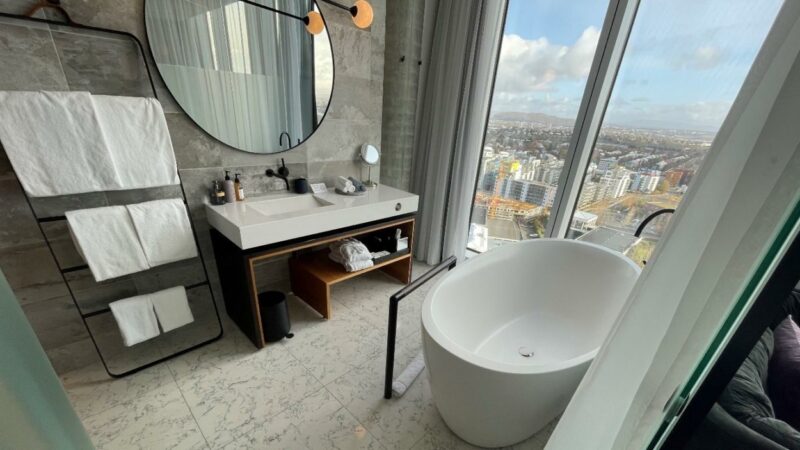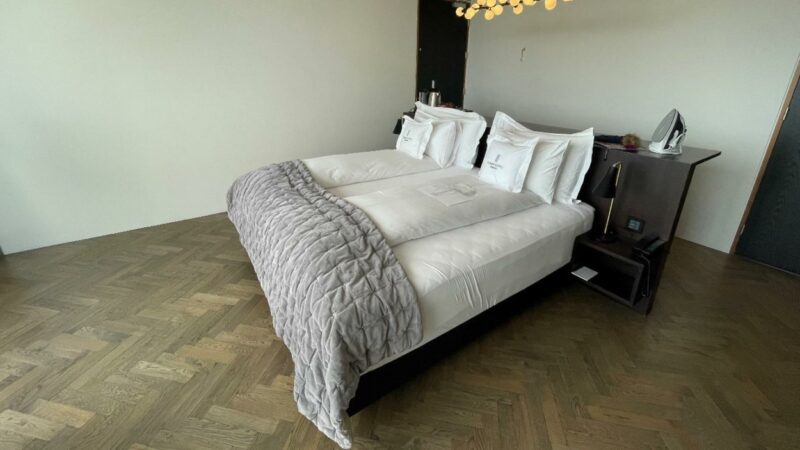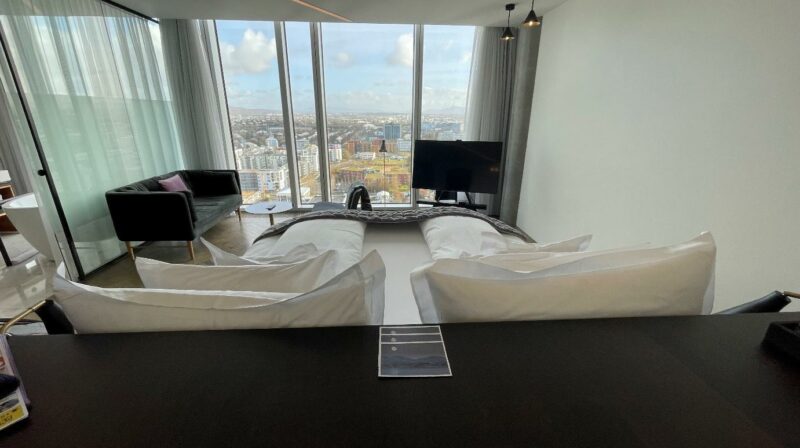 Visiting Iceland
At this point it's worth pointing out how modern Iceland is. They've completely immersed their economy into the digital world, and EVERYWHERE takes contactless card payments. I read this before I went there, and still took some cash with me as a backup. I didn't need to in the end, as there was nowhere we went which didn't take card, no matter how far away from the city we went. If you have a card with no foreign transaction fees, you'll be fine – tipping isn't even a custom there as everyone is very well paid (according to the internet). They almost frown when you take out cash, it seems to be that alien to them now.
On a similar note, don't worry about the local language. English is essentially their second tongue, and anyone who approaches you in Icelandic such as a waiter, will quickly switch when you apologise in English for not knowing their own language and everything is printed in both. It's very common to hear a local and a European conversing in English, despite it being neither's first language. The only word I DO know is 'foss', which means waterfall, and explains why it's so commonly in use around the tourist features of the island and a hotel chain. I have no idea when I may get to use this in the future…
So, what about Iceland itself? As I mentioned earlier, if you stay around the city, you'll quickly run out of things to do. It's a nice place, but you need to get out and explore to properly experience the country. We did our first visit to the Bridge Between Two Continents on the way from picking up the car to the hotel, mainly because the flight is so early that we couldn't check in yet so had a few hours to waste. Iceland sits on the join between two tectonic plates, hence all the geologic activity. It had in fact been exploding in this area for a while before we arrived, but unfortunately stopped prior to our holiday so we didn't get to see an active volcano. The join covers most of Iceland from one corner to the other, but this bridge sits over the closest part where the plates are moving apart a few centimeters per year.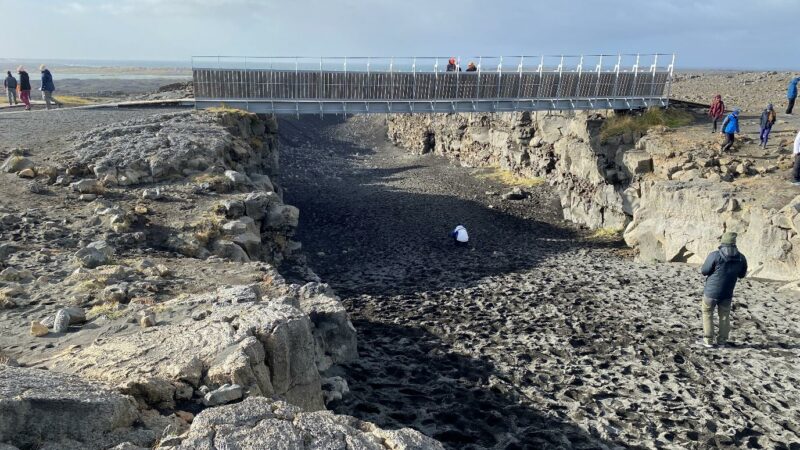 We went on a tour as part of my birthday, doing one of the Golden Circles which take in several of the major sights. You're driven round in a big, comfortable American SUV by a knowledgeable local guide. First up was Þingvellir (Thingvellir) National Park which sits in a gap between the two tectonic plates, and is filled in a little every year as they move apart. It's like a plain between two mountain ranges, and regularly experiences changes to its geography. It's also the site of the first Icelandic Parliament!
This was followed by a visit to Geysir, home to the Icelandic Old Faithful which goes off every five minutes or so. This was our first experience of seeing boiling water coming out of the ground and became a common occurrence around the island – random areas of the ground will be steaming and the smell of rotten eggs fills the air…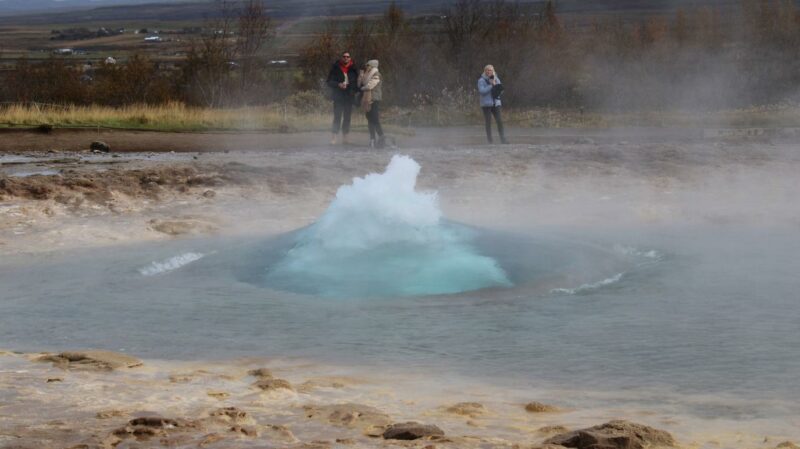 Next up was Gullfoss (no prizes for guessing what this is) which apparently almost freezes solid during winter! Not somewhere I'd like to fall in…
Now, you can't tell anyone about the next stop as it's the Secret Lagoon. This is a geothermal spa, where the water is heated by the magma underground and the pool has been made around where it reaches the surface. It's a very strange feeling, and towards the edge where it's sourced the temperature gets way above comfortable, to the stage where you could add a teabag to it and enjoy a cuppa. Like many things in Iceland, it was something new and different.
We were then taken to a local restaurant for dinner and got to know the other people we'd been sharing a car with all day, followed by the highlight of the tour – a night in a bubble. This is a fully transparent inflatable enclosure, surrounded by trees with a bed in it, so you can look out in the middle of the night and marvel at the Northern Lights. At least, that was plan – mother nature had other ideas, with almost complete cloud cover predicted for most of the night. I woke up quite a lot, hoping there might be a break in the clouds, but saw nothing unfortunately. Such is life.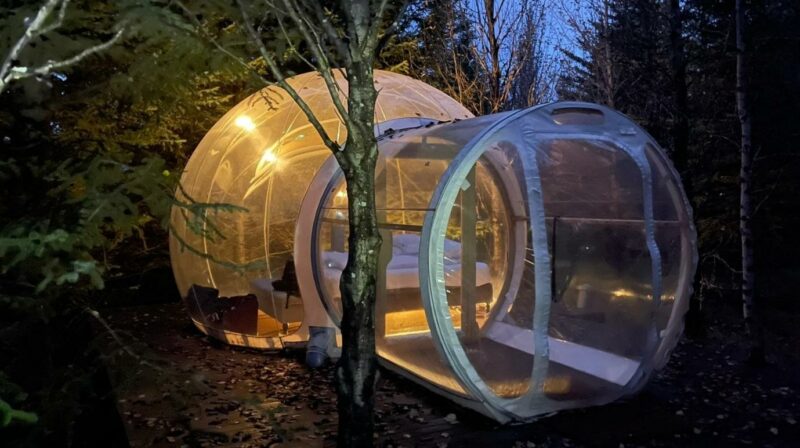 At least, such is MY life – one of the Americans seemed very confused the next morning when we said we hadn't seen anything, as he pulled out his phone and presented us with photos from a 15 minute period around midnight when he'd stayed up to watch a football game, and a break in the clouds coincided with the appearance of the lights. I wasn't frustrated at all, honest… We were dropped off at the hotel after breakfast from a local bakery – a lovely tour and a good way of seeing some of the sights fairly local to Reykjavik.
For our own tours, we visited the Perlan Museum – the top attraction in the city and home to a brilliant planetarium show of the Aurora Borealis, an ice cave taken from a real glacier and kept at -15 degrees, and an exhibition explaining the history of Iceland and its geologic story. It's a fascinating place and well worth a visit. Same goes for the church in the middle of the city – Hallgrímskirkja.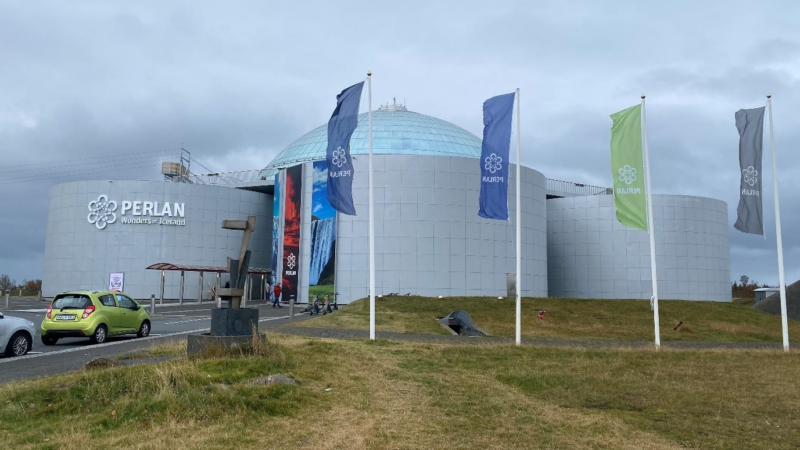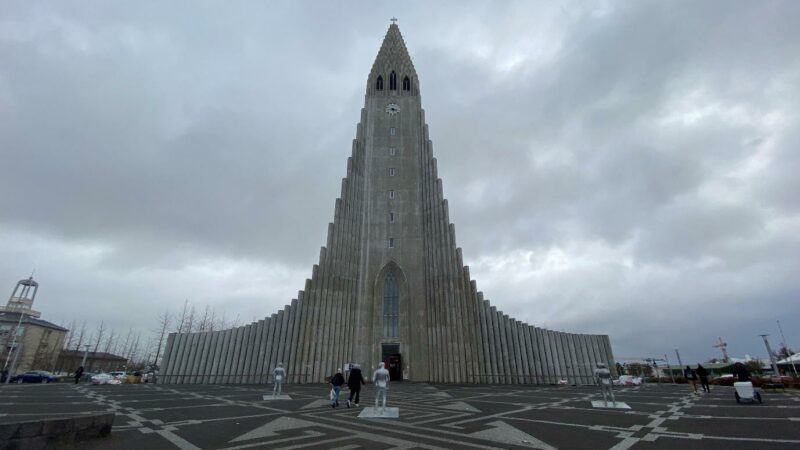 We then spent a couple of days exploring the south coast of the island, round toward the city of Höfn. This is about a third of the way round the entire ring road, but that is a LOT of driving and not the sort of holiday we were after. There are enough sights on this part of the route to make it worthwhile, and while there are tour operators who offer trips from Reykjavik and see all these, they do it on a minibus in one day, totaling 15 hours and giving you very strict time limits in each location. If you can get a car and are happy to drive, do it this way.
In order, we visited Kerid Crater (a massive hole in the ground), Skagafoss (a very beautiful waterfall with its own rainbows), Vik (home to the Black Sand Beach and the wireless car charging spots), Skaftafell Glacier (a shot walk where you can go right up to the ice face if you want to) and then stayed overnight at a hotel. As this is meant to a premium travel site, I'm not going to describe what it was like and move swiftly on to the small unlit parking area we found locally to watch the cloud clear and the Northern Lights put on an amazing display: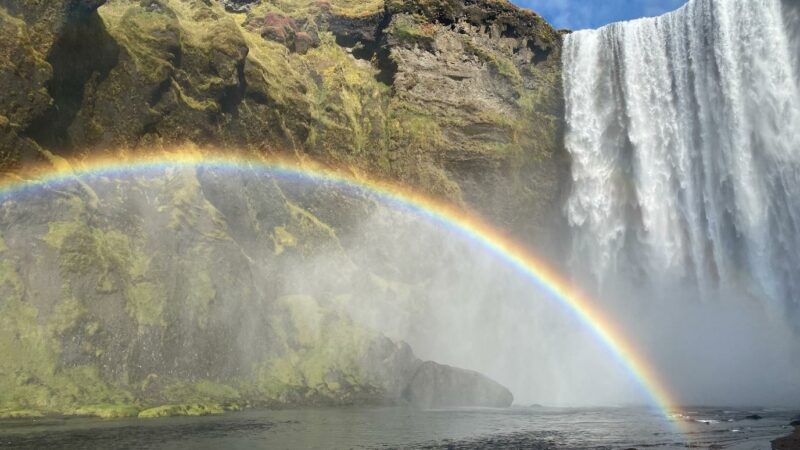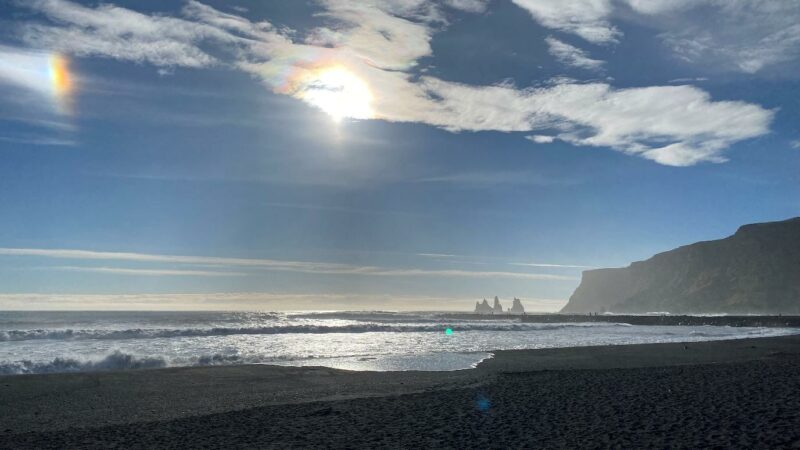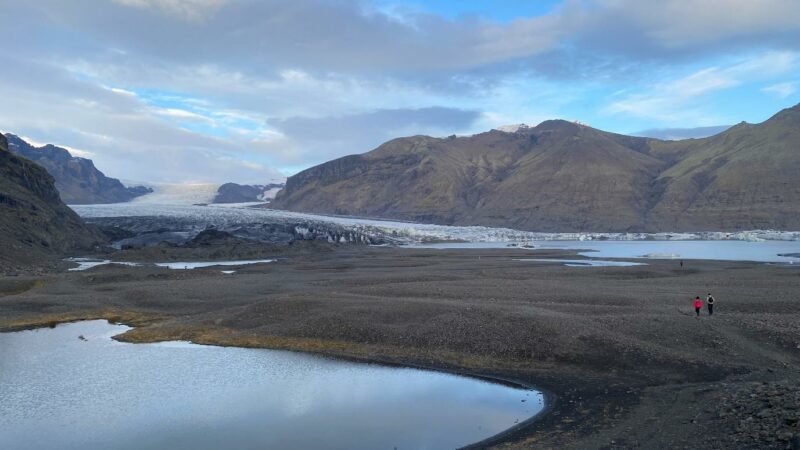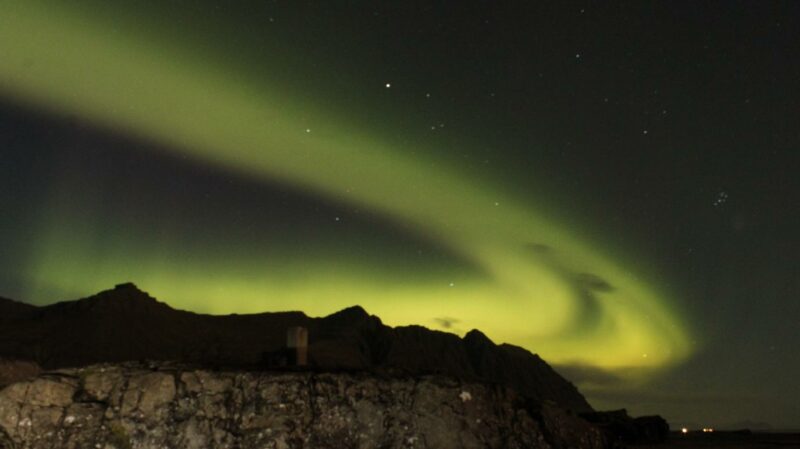 The next morning we went down to Jökulsárlón Lagoon, one of the exit points of Iceland's biggest glacier and home to the Diamond Beach. Huge chunks of the glacier break off on a daily basis, and slowly float down the lagoon toward to sea, where they end up beached on the sand and slowly melt over time. We went on a zodiac tour of the lagoon, dressed up in dry suits and holding on for dear life as we explored the icebergs. Following this, I had to make use of my spare socks and boots when I was too distracted by the ice on the beach to notice to wave come in over my feet. That water is pretty nippy, it has to be said…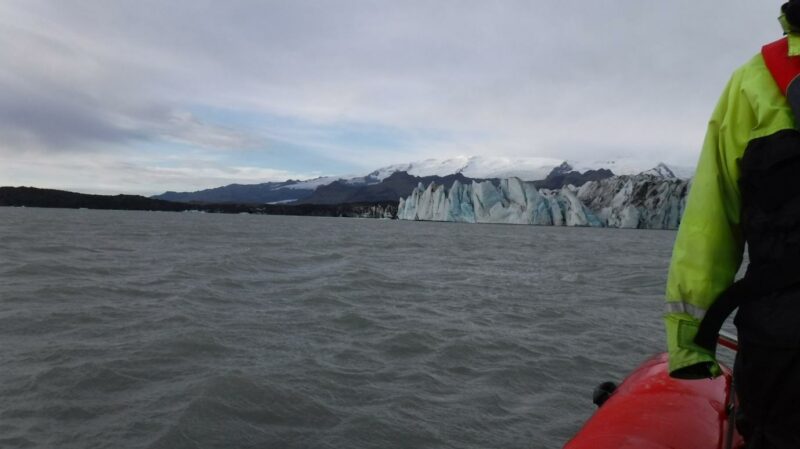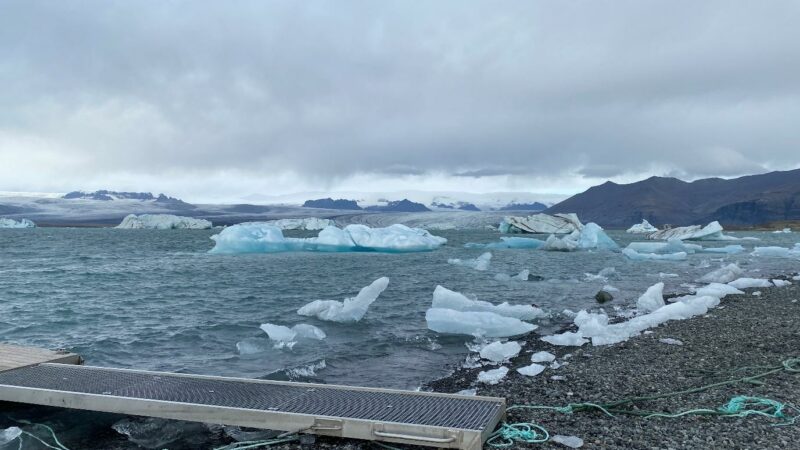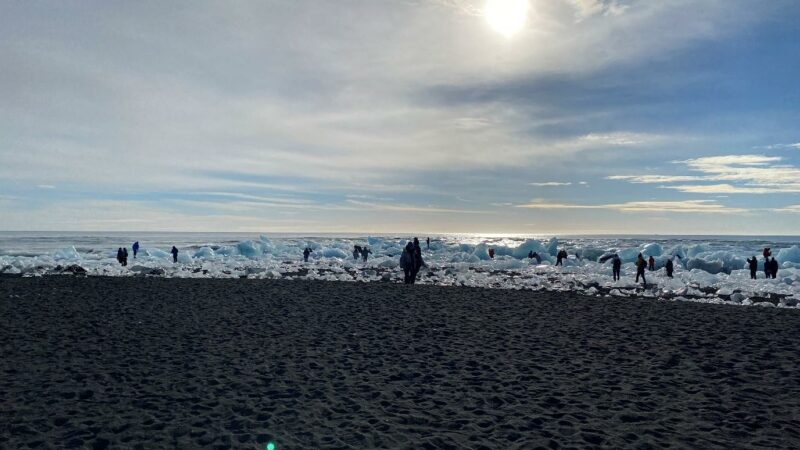 Following the drive back to Reykjavik, we spent a few days relaxing and seeing some other parts of the city. The lights came out briefly one night there when it was horrifically windy and almost down to freezing, so I had to resort to my phone camera instead of my DSLR: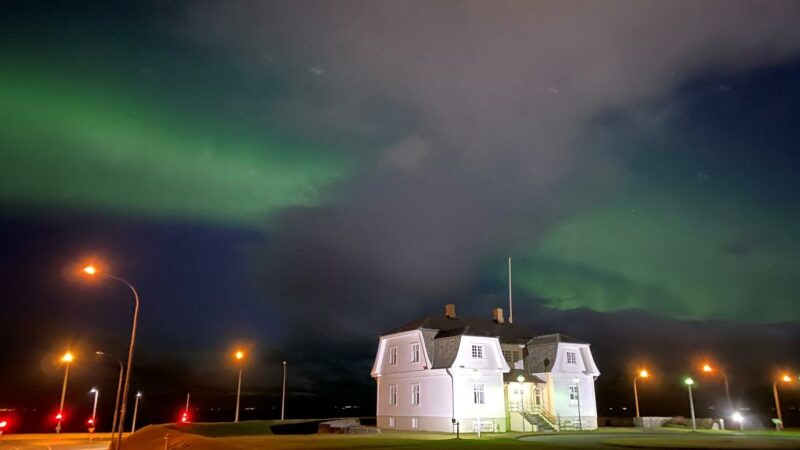 We tried out two other lagoon spas – Sky Lagoon and the infamous Blue Lagoon. You can't go to Iceland and not visit the latter, apparently. I personally enjoyed the Blue Lagoon better – they're both very commercialised but the special treatments at the Sky Lagoon felt very much like you were on a conveyor belt trying to get you through as quick as possible. I won't subject you to photos of me wearing a face mask at the Blue Lagoon, as Michele would never publish it…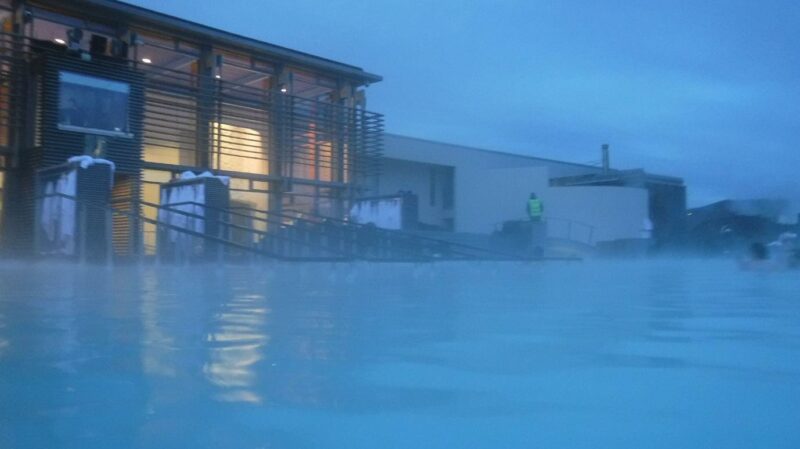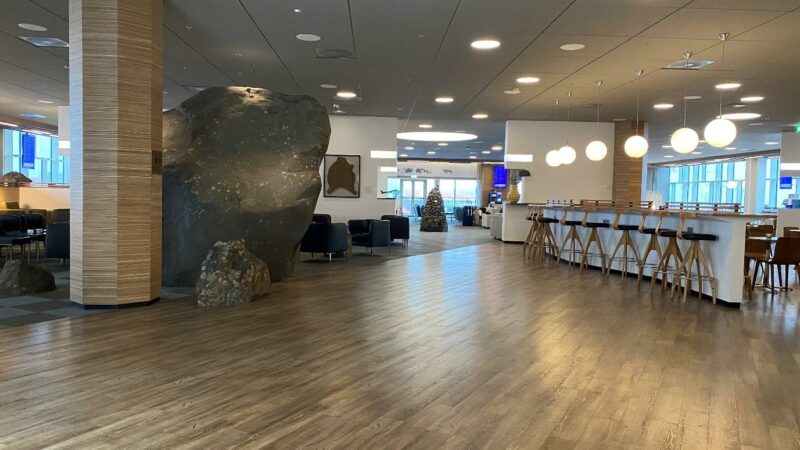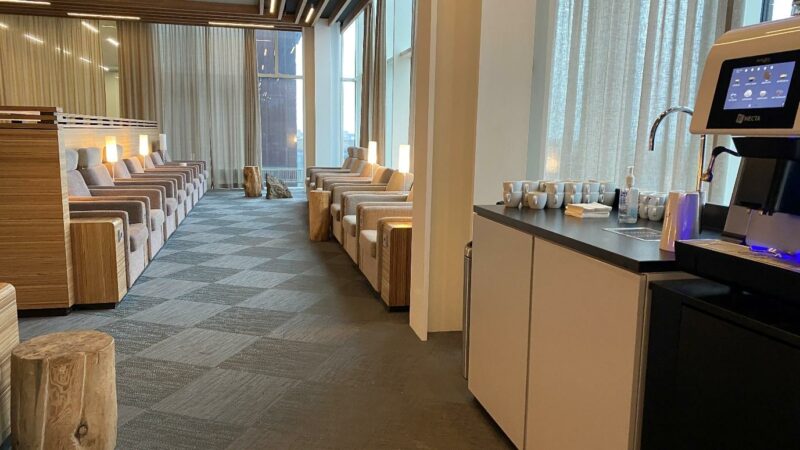 The return flight
In the best way to finish off a holiday, we once again found ourselves getting up at an ungodly hour due to the BA flight arriving mid-morning and the drive back to the airport having to be factored in. Checking in, dropping off the hire car, getting a lift back to the airport and then getting through security was a breeze, despite the rain lashing down. Once through, we received email and text alerts that our flight was delayed, and a quick check on FlightRader24 showed it had diverted to Aberdeen for reasons unknown. This gave us plenty more time to explore the shops in the terminal (10 minutes killed successfully) then sit down in the Saga lounge. There was plenty of food available for breakfast, comfortable chairs to both sit in and others for that more horizontal feeling…
The flight back was uneventful, and the delay was caused by a medical emergency on board. I can recommend both the chicken curry and BA's crew for informing various passengers before we got to the gate which flight they'd been rebooked on to due to missed connections.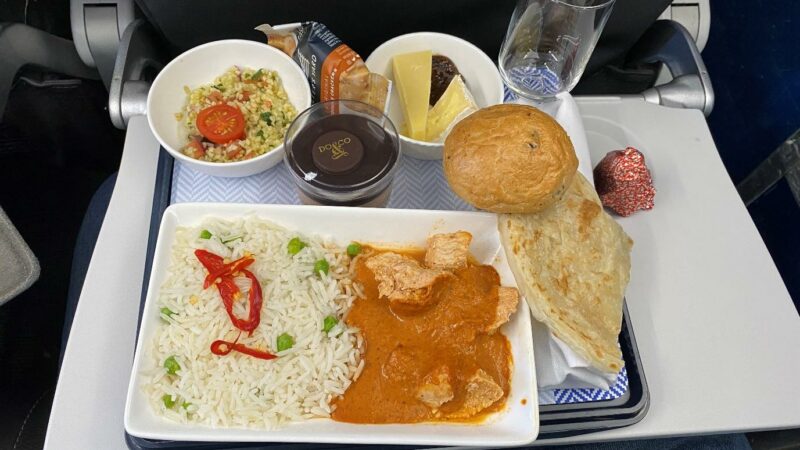 What's next?
Next up is a second holiday to the Maldives, last visited in 2018. This is another reward flight, but only in Premium Economy as there's never any Business class seats available for the 6 months of the year BA fly to Male, right? Well, that is unless you accidentally subscribe to SeatSpy because you signed up for the free trial and forgot to cancel it before the 14 days were up, and they send you an email whilst you're on one holiday saying there are two seat available on the same flight you've booked your next holiday on. Despite this being 4 hours after they first came up, I checked the app and saw they were still available, so rang the BA Executive Club line. A 30-minute call later and we are now travelling in business class on the way out, for the upgrade price of 25,000 avios. Incidentally, this is exactly the prize amount I would have won in the recent TLFL completion if more people had clicked on my review. I'm not bitter, honest…
Anyone else flying out on New Year's Eve, see you there!
Oh, and for anyone wondering – the answer is yes, there is!