Dubai holiday from £389 pp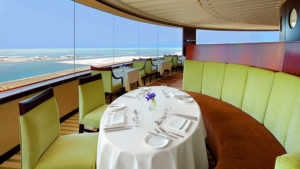 Although I normally only discuss premium economy or above on Turning Left for less, there is an economy offer that is worth pointing out. Dubai is currently generally expensive due to the weak pound.
Travelzoo have a deal to Dubai for just £389 including 2 night's accommodation at the five-star Hyatt Regency Dubai, a hotel situated in the Deira heritage area. Alongside the hotel is the waterfront promenade. The hotel has a pool, golf park, spa and even an ice rink!  It also has the only revolving restaurant in Dubai. The Hyatt is rated 4.5 out of 5 on Tripadvisor.
The catch is that you have to fly via Istanbul on Turkish Airlines. They are a very well regarded airline, but obviously flying through Istanbul may not be everybody's cup of tea. For the same price you can fly direct with Royal Brunei, although they don't serve alcohol on board. However, if you wanted to pay a bit more you can fly BA or Emirates for £489pp. Remember you can get Avios on Emirates if you book as a Qantas code share.
The hotel itself would set you back around £100pp for 2 nights if you booked individually. If you wanted to fly on BA it makes the package about the same you could get yourself. However, the real value comes when you add extra nights. You can add extra nights at around £30 per night per person. If you wanted a club room, you can pay to upgrade for an extra £95pppn. The offer runs during 01 Apr 2017 to 31 Oct 2017. To join Travelzoo and see the offer, click here.
2 Michelin star chef Michael Caines' new hotel in Devon

I have been fortunate to eat in many Michelin star restaurants and, in terms of food, Michael Caines' restaurant was number 1 on my list. I wasn't that keen on the service or restaurant itself, at his previous home in Gidleigh Park Hotel. That should no longer be an issue given that Michael will be opening his own hotel and restaurant in Devon next month. The hotel itself looks stunning and, if you are a gin fan, you will appreciate the complimentary gin tray in each room.
The hotel is set in a Grade II listed Georgian manor house on the Exe Estuary in Devon. Lympstone Manor is a brand new country house hotel. It doesn't have many facilities, but to be honest, the main reason you would come here is for the food. Michael Caines MBE presents a menu of modern British cuisine using fresh and seasonal ingredients. All this is complemented by an excellent wine selection that has over 600 wines. If you are into wine, you can partake in a tasting session. You can also enjoy Afternoon tea in one of the lounges, or al fresco, overlooking the estuary.
Secret Escapes have an offer for £196 per night for the garden room, a saving of around £50 per night. This includes breakfast and a tour of the kitchen. There is an additional £5 booking fee as well bringing it to £201.
For those unfamiliar with Secret Escapes, it is a members only website with hand-picked hotels, holidays and exclusive offers. They guarantee to offer the best rates online during a sale. Every week they run up to 140 short 'flash sales' lasting around ten days each. You will need to join Secret Escapes to book but it is free to join. If you use this link to sign up you will receive £15 credit off your first booking. However, if you are going to book more than 30 days in advance, you can get the room from £205 by booking direct. If you are new to Secret Escapes, obviously it is a better deal to use them, as the credit takes it down to £186 (plus free gin!!)  If not, I would recommend checking with Lympstone Manor first.