A while ago my Roving Reporter visited the AA arrivals lounge at T3, which was impressive. Last week I revisited the BA T5 Arrivals lounge to see how it compares.
The Details
Location:  After exiting Arrivals, take the orange lifts to the first floor .
Opening Hours: open daily from 05:00 to 14:00, offering a full English breakfast until 12:30.
Eligibility:
flying on a scheduled British Airways flight in First or Club World
Gold Member of the British Airways Executive Club arriving on a British Airways long haul flight
You may also be able to access the AA lounge at T3 although technically it is meant to be T3 flights only. However I do know a number of people that have gained access if you could be bothered to make your way over to T3 from T5.
BA Arrivals lounge Elemis Spa

You can have a complimentary 15 minute treatment in the lounge Spa, subject to availability. Unlike the other Elemis BA spas you can't pre-book your treatments, even travelling in First. The treatments are the same as the other T5 Elemis spas and include shaves, massages and facials. As usual, you are likely to have to wait a while to get an appointment. You can find the full list of treatments here.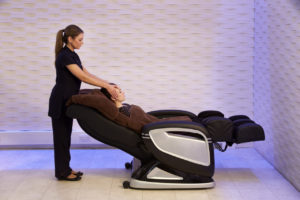 The lounge and facilities
The lounge doesn't really have any natural daylight, so it is not a place you would want to linger for long. As you enter the lounge, if you turn left, you will come to the Elemis spa and then the business area. The business area is quite small but has the same as the other BA lounges with PCs, headphones and a printer. If you turn right when you come in, you will enter the main lounge seating are. This tends to be quiet, as most people are either eating or showering. In this area are newspapers and TVs with the news channels on. Beyond this area is the 'Hydrotherapy' zone or showers and cabanas.
Showers and cabanas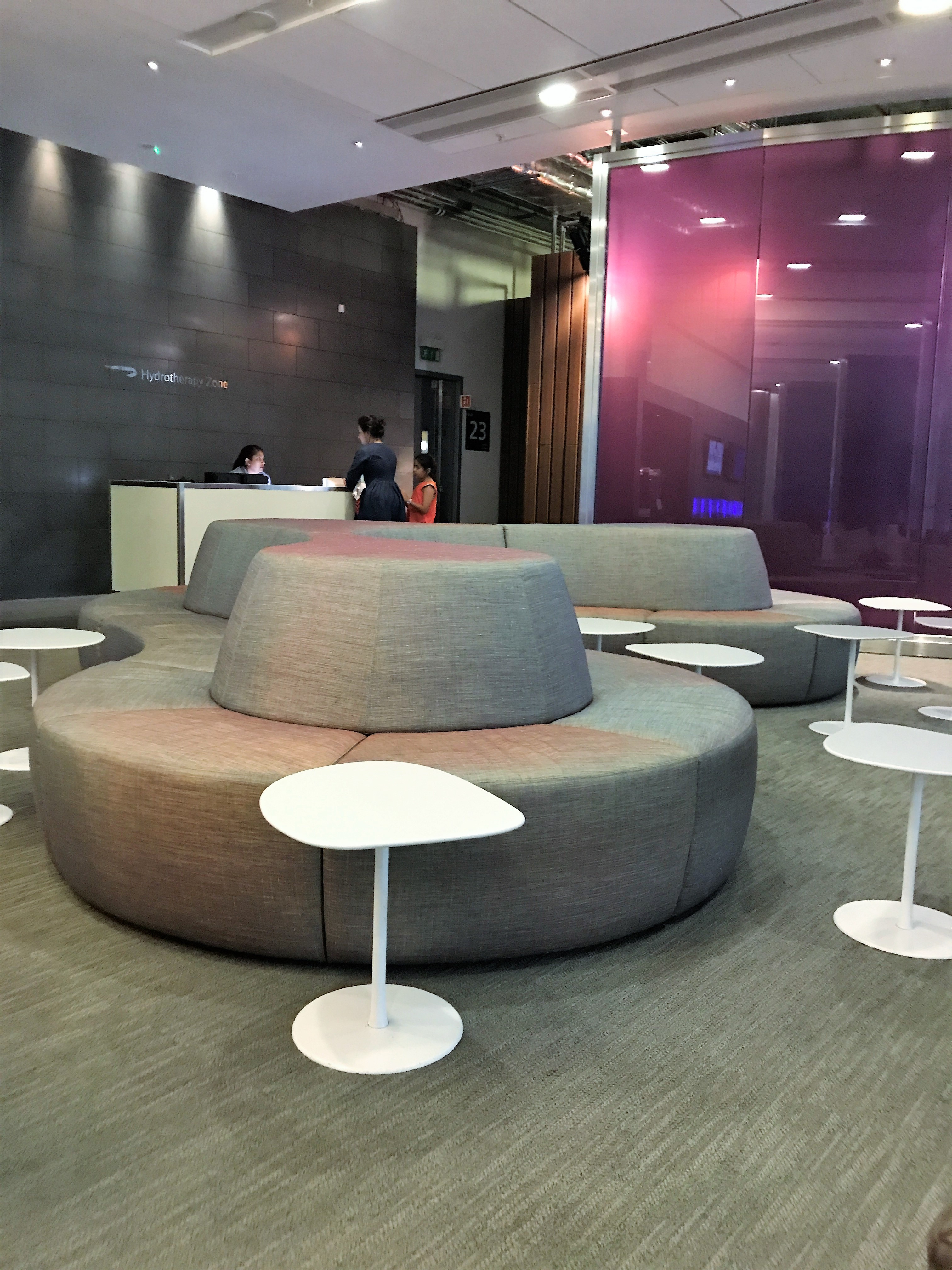 After you have walked through the seating area, you will come to the "Hydrotherapy zone". This has an impressive 94 shower rooms. You check in with shower reception and if there is a wait, they will give you a buzzer. Although the showers feature an assortment of massaging jets and rain shower heads, that's where the luxury stops. As usual BA have gone with a design based on a fusion of hospital chic with a dash of your local sports centre showers. The rooms are designed as a wet room, so don't leave anything on the floor! Towels and Elemis Toiletries are provided.  One handy service is the pressing service. Whilst in the shower room ,you can open a special two way door to hang your clothes and they will come back pressed in around 10 minutes.
The shower rooms have a built-in sound system, with pre-set news and music channels. You may prefer to have a bath, in which case you should see if there is a cabana available. Priority for these is given to First passengers. The cabanas are larger than the shower rooms. They have a dressing area, an overflowing "infinity" bath, and a chair.
Food and drink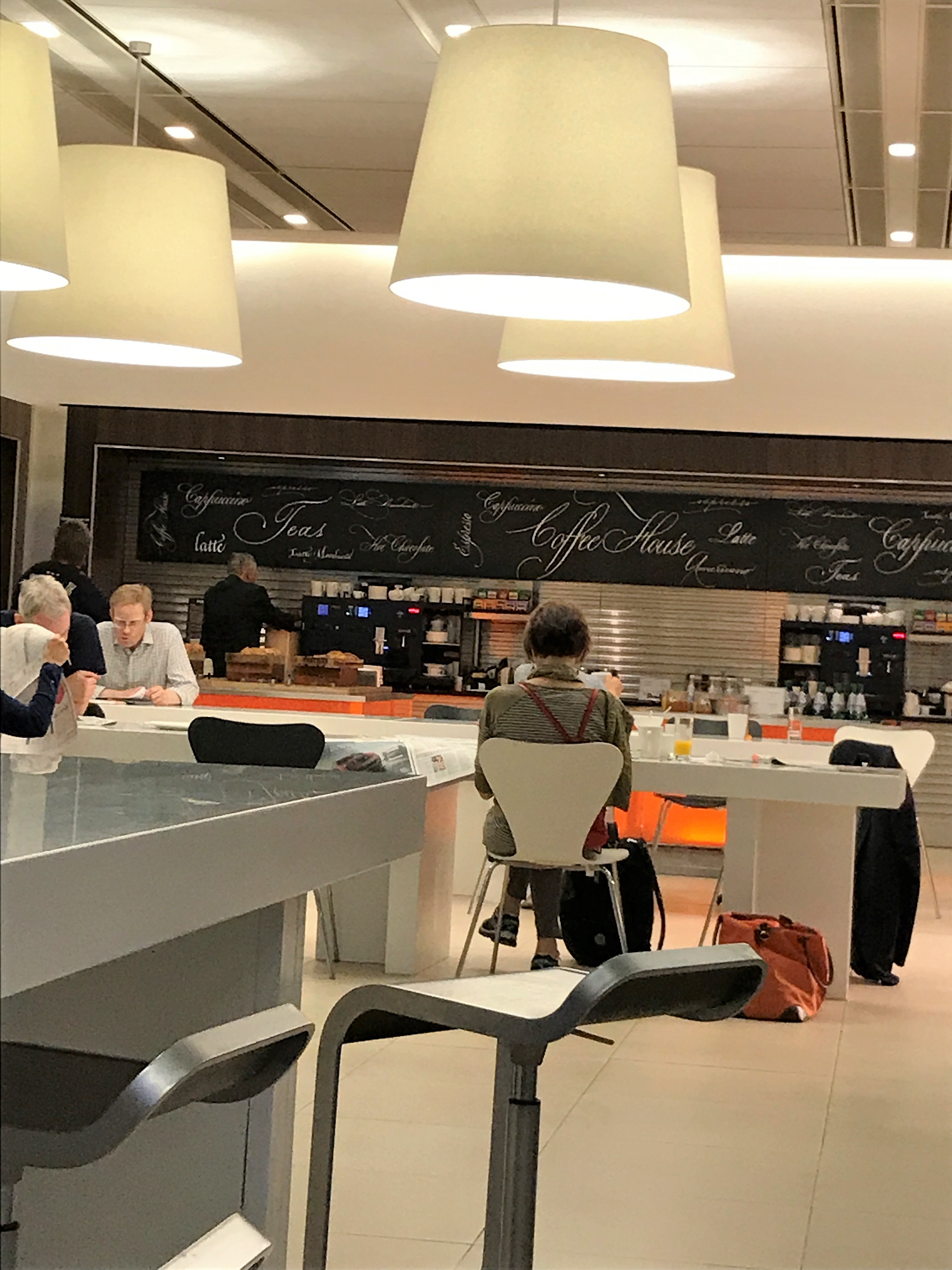 The selection in the Arrivals lounge is far better than the Galleries Club breakfast. The buffet has pretty much what you would expect in Galleries First. There is a full cooked English breakfast with scrambled eggs, as well as pastries, cereals, yoghurt and fruit. The usual coffee machines and teas are on offer. Drinks wise, don't expect Bloody Marys and Champagne like the AA T3 Arrivals lounge. All I saw was water, juice and hot drinks.
There is also a Concorde Room dining room, accessible for First and Concorde Room card holders. Here, there are a few items to order with waiter service. There is usually full English with eggs to order, smoked salmon and scrambled eggs, eggs benedict and kippers. Most of the rest of the menu is just what is already on the buffet. This is a small area, but a bit quieter than the main lounge dining area.
Conclusion
If like me, you were on a short night flight and want to maximize your sleeping time, the lounge is worth a visit for breakfast. The breakfast is better than on board or the airside Galleries Club. It is also a reasonable place to freshen up prior to going straight to a meeting. However, it was nowhere near the standard of the AA T3 lounge.
You can find the BA Arrival lounge page here.
.