I reviewed the newly reopened Plane Food for breakfast a few weeks ago but thought it would be worth revisiting at lunchtime and to check out the bar.
The restaurant looks very smart now and there is a separate area for the bar. Unfortunately, if you have anything bigger than a briefcase or handbag, it is not really designed for this as there is nowhere to put your luggage at the bar. Luckily, it was quiet so I just used the chair next to me to put my wheelie bag by. There are also some small tablets to sit at in the bar area if you have luggage.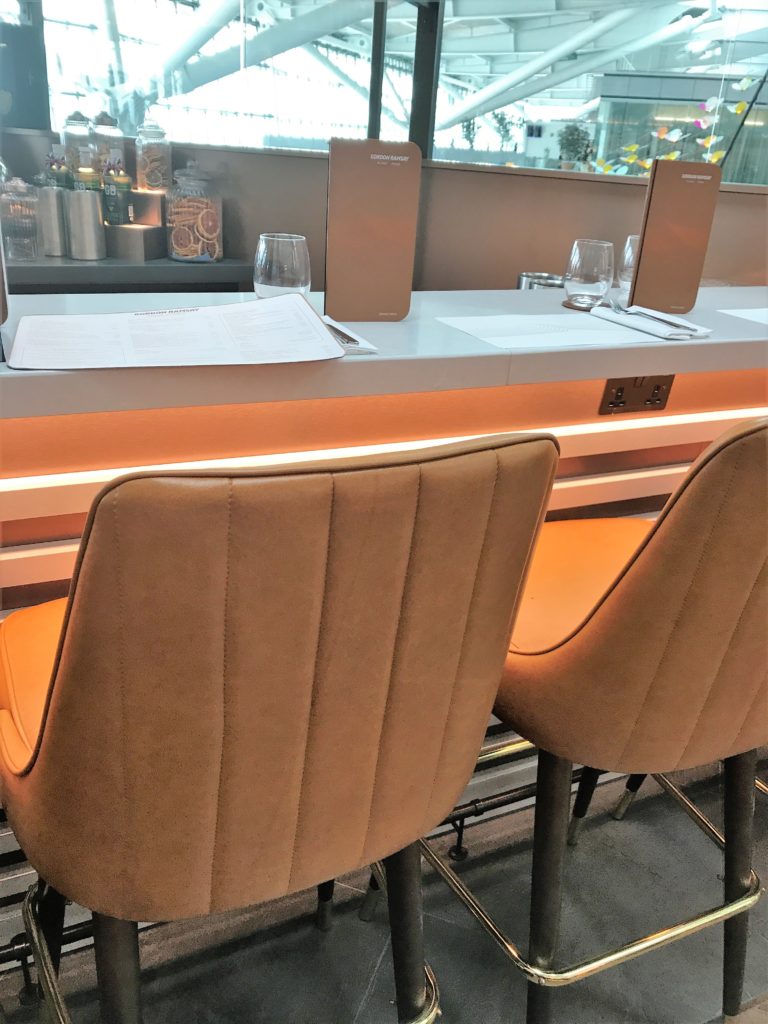 The barman, James, who actually turned out to be the Bar Manager, was charming and friendly. He was new to Heathrow so struggled a little bit when I put him to the test to recommend a cocktail for me to try. However, he made sure he looked up the options and asked what my preferences in cocktails were.
On his recommendation, I decided to try a Lady Regent. This contained Willimas GB Gin, Creme de Peche and St Germain Elderflower Liqueur.  It was absolutely delicious and easily on par with something you would find in a 5* London hotel bar. It had just the right balance of sweet and sour. James chatted to me as I was on my own and made sure I had everything I needed. The cocktail was priced at £10.50 which seemed reasonable for a good quality cocktail in nice surroundings.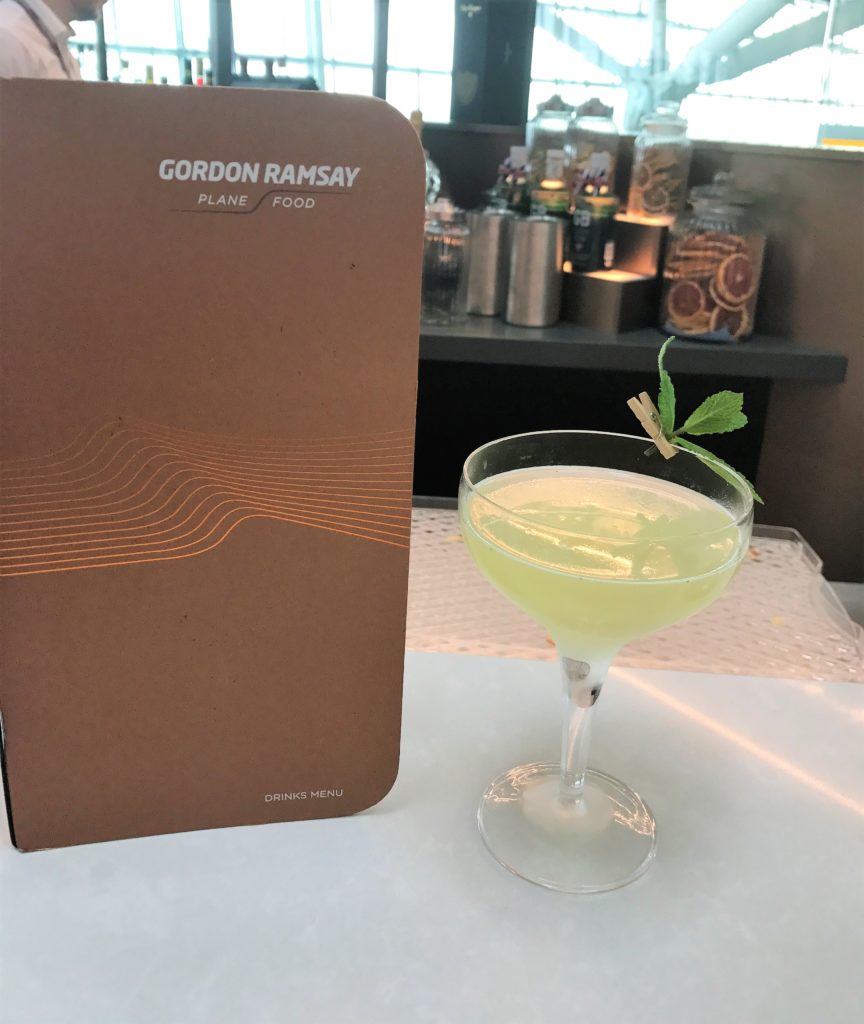 I decided to try the salt and pepper squid as a pre-flight snack since the BA First lounge was still serving breakfast when I left. Plane Food has a small selection of bar snacks including the squid but you can also have anything from the main menu at the bar too. The main menu has a good deal with their express menu which they will serve in 20 minutes. It costs from £20 for 2 courses. Otherwise, the menu has an eclectic mix of raw bar, noodles, small plates and mains which include butter chicken, sausage and mash as well as steak. You can view the full menu here.
The salt and pepper quid was some of the best I have had with a wafer-thin crispy batter and very tender baby squid. It came with a chilli or sriracha mayonnaise which was my only criticism as I would have preferred something more Asian than mayonnaise. The squid cost £8.50 and it was a fairly big portion too.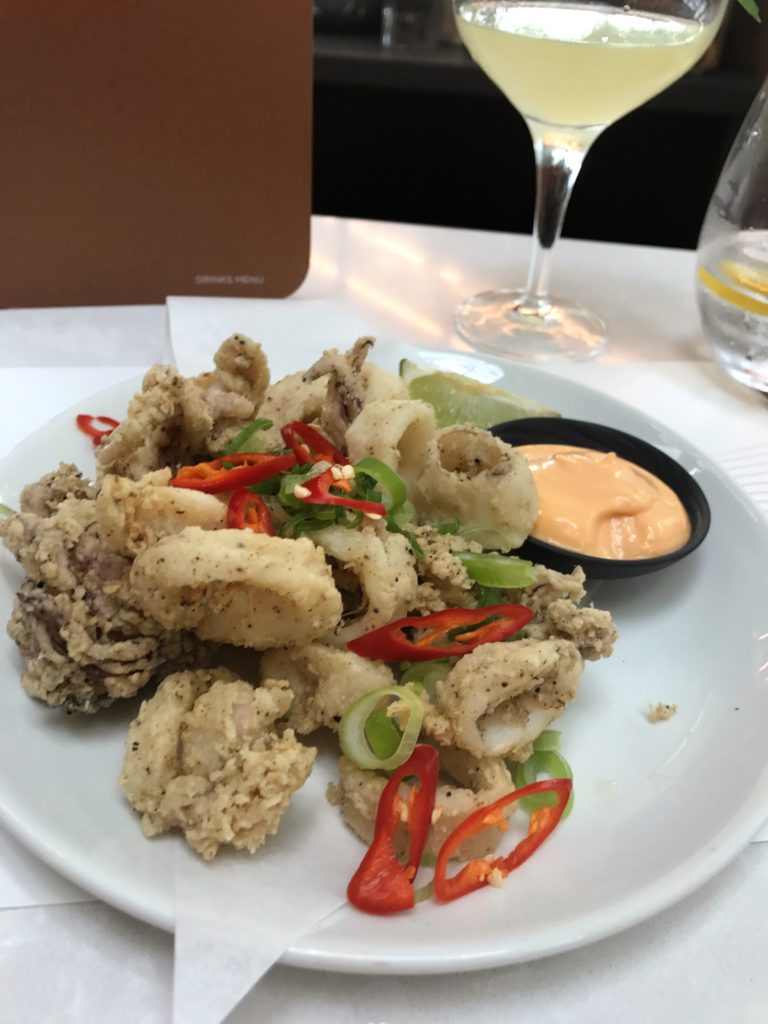 Grab 'n' go – picnics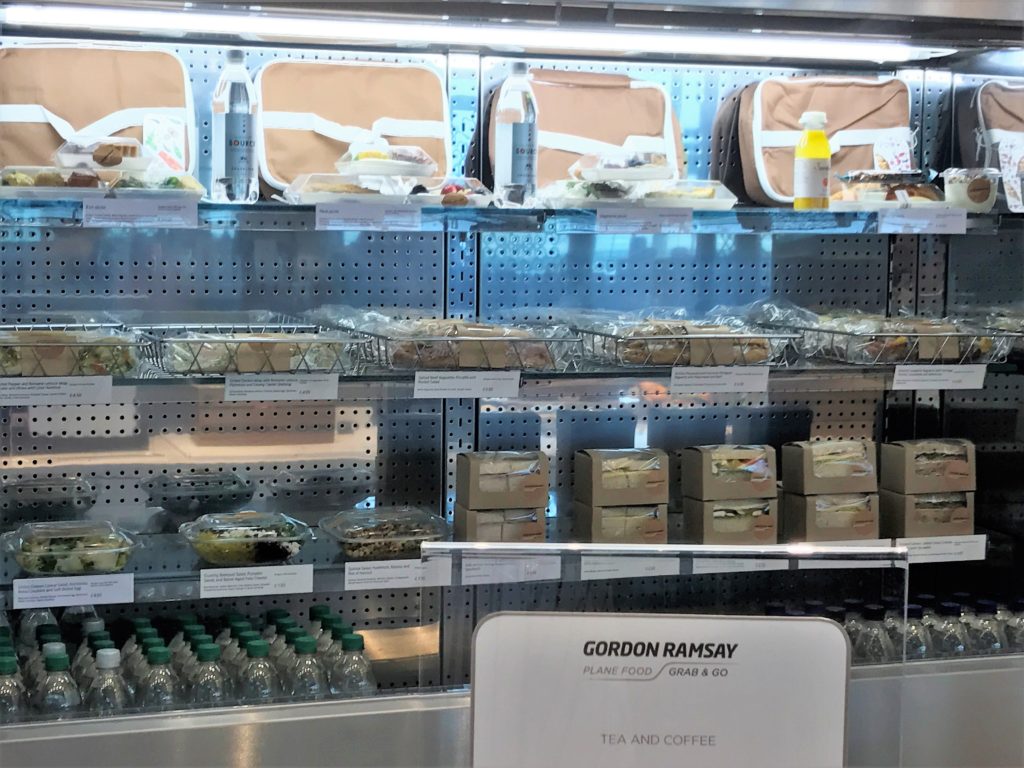 The other aspect I didn't cover last time was the Grab & Go. Although I didn't get a chance to try it, the options looked good and the new beige picnic bags are less lurid than the other previous 'EasyJet' orange cool bags. Instead of just doing the picnics which contain a full meal, they now do a selection of salads, sandwiches and pastries to take away too if you want something less substantial. You also no longer need to preorder picnics, just take the one off the shelf that you want.
If you are travelling in economy on BA short haul, buying one of these makes more sense than buying on the plane where selections are limited. There is also no guarantee on BA that they will have everything in stock or the crew reach you in time for you to eat it before landing.
There are now 4 choices of picnic which comes complete with a cool bag which is yours to keep:
Breakfast £16.50 – smoked salmon, cream cheese, croissant, yoghurt, muesli, berries, orange juice and granola bar.
Vegetarian £18.50 – Brocolli and goats cheese tart, green beans and truffle dressing, crunchy beetroot salad with feta, cheesecake with berries.
Fish £18.50 Grilled teriyaki salmon, new potatoes, rocket cress, sauce gribeche, caesars salad with soft boiled egg, Valrhona chocolate tart with berries.
Meat £18.50 Poached chicken breast, pesto grilled portabella mushroom; Salt beef brisket with grain mustard, prosciutto, piccalilli and rocket, fruit and yogurt
I personally preferred the previous format where you pre-ordered and could mix and match but I do like the idea of a breakfast one.  I also think the meat one could do with something more exciting for dessert than fruit and yoghurt. I plan to try one in the future so I will update the review with what they taste like. The previous picnics were delicious.
You can find out more about the other picnics available at Heathrow here and the Fortnum's picnic is reviewed here.
Conclusion
Although I have access to the BA First lounge as a Gold, sometimes it is nice to have a change as the food and drink can get very repetitive in the lounge. Plane Food is a sophisticated restaurant in nice surroundings where you can enjoy simple food with quality ingredients cooked very well. I will certainly pop back at some point in the future when I have time to kill.