Today's post is from Mrs B. I reviewed my Virgin Upper class experience here which was from a flight a while ago but Mrs B flew with Virgin last month for the first time in many years. So what did she think?
I have recently returned from a trip to New York flying with Virgin Atlantic for the first time in more than 15 years and I did it in true TLFL style. We have for many years favoured flying with British Airways but this trip came about courtesy of my Virgin Atlantic Black credit card (annual fee is £140).
Booking the flights
For each £5,000 on my card spent, I received an upgrade voucher which entitled me to upgrade 1 return flight from economy to premium economy. This allowed me to upgrade 2 return reward flights (you can only earn 2 upgrade vouchers a year) Worthy of note is that after £7500 spent in a year I earned a companion voucher which is similar to the BA 2-4-1. However, with Virgin, the flight is paid for with cash, removing the need to have earned a large number of Flying Club miles. These rewards are all available each year on your Virgin Black Amex account. The card currently comes with 18,500 bonus miles and has an annual fee of £140. You earn 2 Flying Club miles for every £1 spent on the Amex and 1 Flying Club mile for every £1 spent on the Visa plus double miles with Virgin Atlantic and Holidays spend on both cards.*
As I haven't travelled with Virgin in such a long time, I opted for the relatively short flight to New York.
Bidding for upgrades
I noticed the 'bid for upgrade ' option on my flight details and thought I might give it a go. You bid separately for upgrades to your outbound or inbound flights. We bid to upgrade our premium economy outbound flight to Upper Class.
There is a minimum starting bid which varies with each flight. For this particular flight, the starting bid was in the region of £700 per person. On making your bid a 'swingometer' indicates if your bid is fair, good, great etc. It is possible to amend or cancel your bid up until four days before the flight. We were notified two days before that our bids had been successful.
We reckon overall we managed to get a bargain flying direct from Heathrow. Including our initial payment for our premium economy upgraded seats (plus 20,000 miles for the economy seats) and our upgrade to Upper Class charge we travelled outbound in Upper Class and return in Premium Economy for a total spend of just over £2500 for 2 people. You can get a similar price flying from Dublin occasionally during promotions but the regular price from London to New York is around £2400-3000 per person on Virgin.
Check-in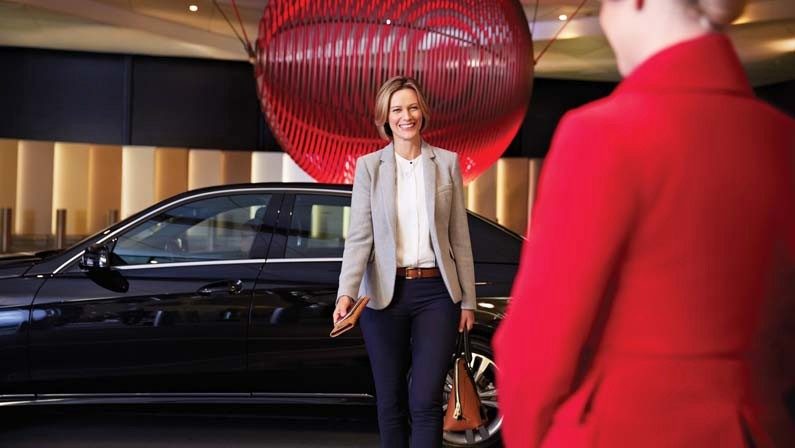 Our upgrade to Upper Class entitled us to use the Upper Class Wing arrival area. I phoned ahead to confirm the number of checked bags and the registration of our taxi. Following the signs we arrived at a barrier where our driver gave our names. As we arrived at the drop off area a uniformed VA staff member handed us our boarding cards and told us to make our way through security at our leisure. Our bags were taken from the taxi as we walked inside and we next saw them at JFK. We went through the Virgin Fast Track security line and after passing through the obligatory duty free shops we found ourselves at the Virgin lounge in less than 10 minutes.
The Virgin Clubhouse at Heathrow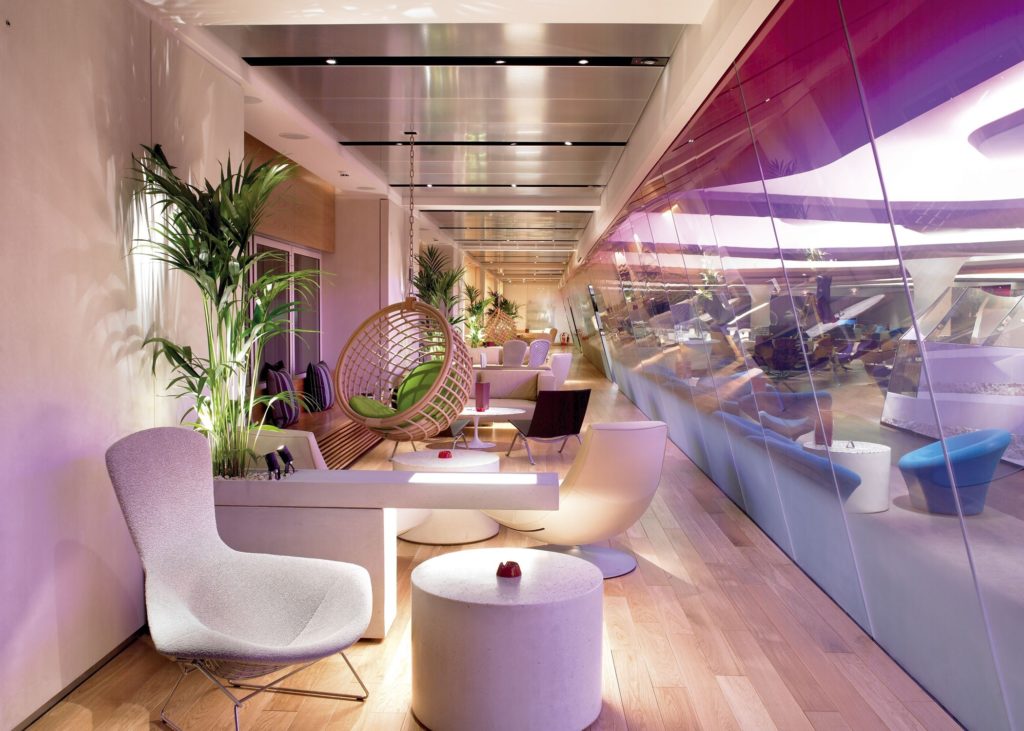 First impressions were excellent. We were greeted by name and asked if we'd visited before (which we hadn't) We were then taken on an 'orientation walk' around the lounge and the various sections were pointed out and explained to us.
We ordered some lunch from the menu and were served drinks straight away.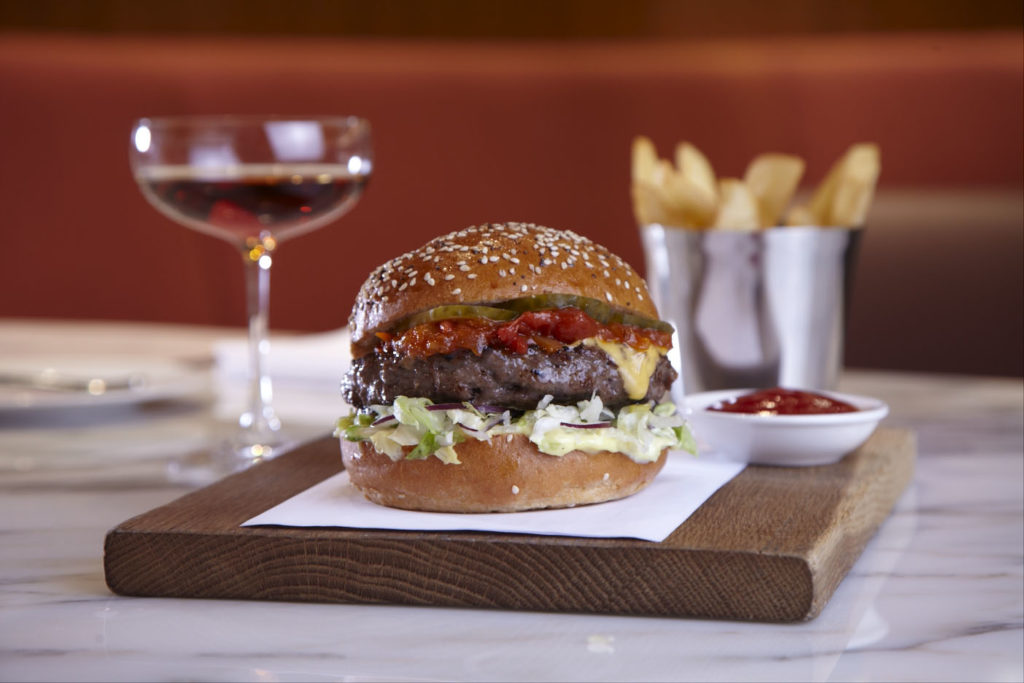 Whilst waiting for lunch I ventured to the spa booking desk not for a moment expecting to be able to book having had numerous unsuccessful trips to the BA Elemis spa. Much to my surprise, we were both offered a choice of slots! There were several complimentary 15 minute treatments on offer and we both had facials. My husband also added a shave which cost £20 (there was an option to be shaved with a cut-throat razor at additional cost but my husband didn't feel that brave! Both treatments were excellent and my husband admitted he'd never had such a comfortable, close shave.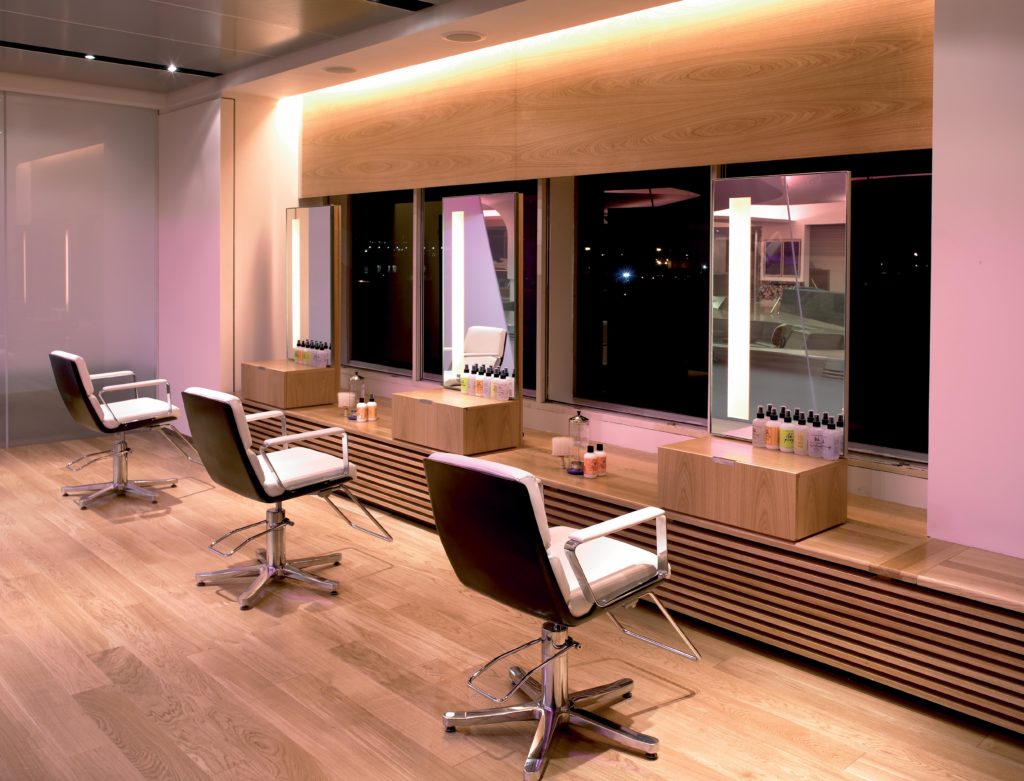 The lounge had a very modern and contemporary feel. There were plenty of staff available who constantly circulated to take drinks orders. I was very impressed with the lounge and will definitely add it to my top my favourites. I think it is almost impossible to find better than the Qatar lounge in Doha and I'd put their Heathrow departure lounge as number two followed by the Virgin lounge at Heathrow at number three.
Boarding
We made our way to the departure gate where we were informed that our reserved seats had been changed. We had now been sat in different rows. We weren't the only ones and as you'd imagine a lively discussion ensued. We hadn't been offered an explanation at the gate which wasn't great and we were told we could sort it out onboard.
On boarding, I mentioned to the CSM that our seats had been changed. She advised me that they'd had a last minute change to a B787 which has a different layout to the aircraft they had expected (A330). She suggested we have a seat at the bar with a glass of champagne until they had worked things out which sounded like an excellent idea to me! Eventually, seating was sorted out with a group of four travelling together being 'reunited' and my husband and I sitting beside each other!
On board service
The service on board was excellent with orders taken for dinner and served as individual courses, not on the dreaded all at once trays. A tablecloth was laid and cutlery added.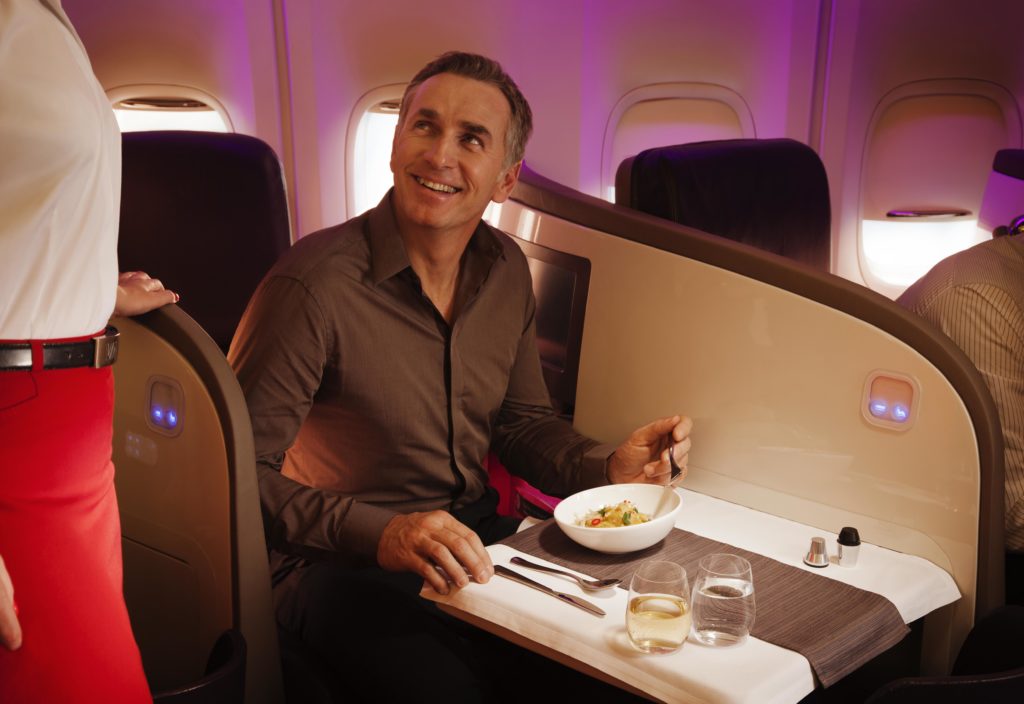 There were four courses available and I struggled to narrow my choice down on each course! The food was of an extremely high standard and I personally found the port served with the cheese delightful. I passed comment on the quirky salt and pepper pots accompanying dinner and was told by the CSM to peek underneath. Across the two legs was written 'pinched from Virgin Atlantic' so I felt perfectly happy acquiring a set!
All of the food served was of a very high standard, both in taste and presentation.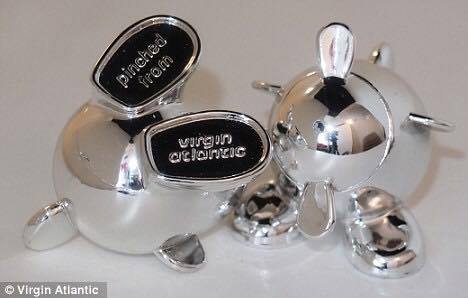 Continuously during the flight, small snack bowls were placed on the bar after row 9 of the cabin for you to help yourself. The bar area seemed to be a popular place with several people there at any one time. Crew regularly passed through the cabin offering drinks which was great until they ran out of ice for my G&T with just over an hour left on the flight! I'm sure I didn't personally use up their supply!
All of the food served was of a very high standard, both taste and presentation.
Crew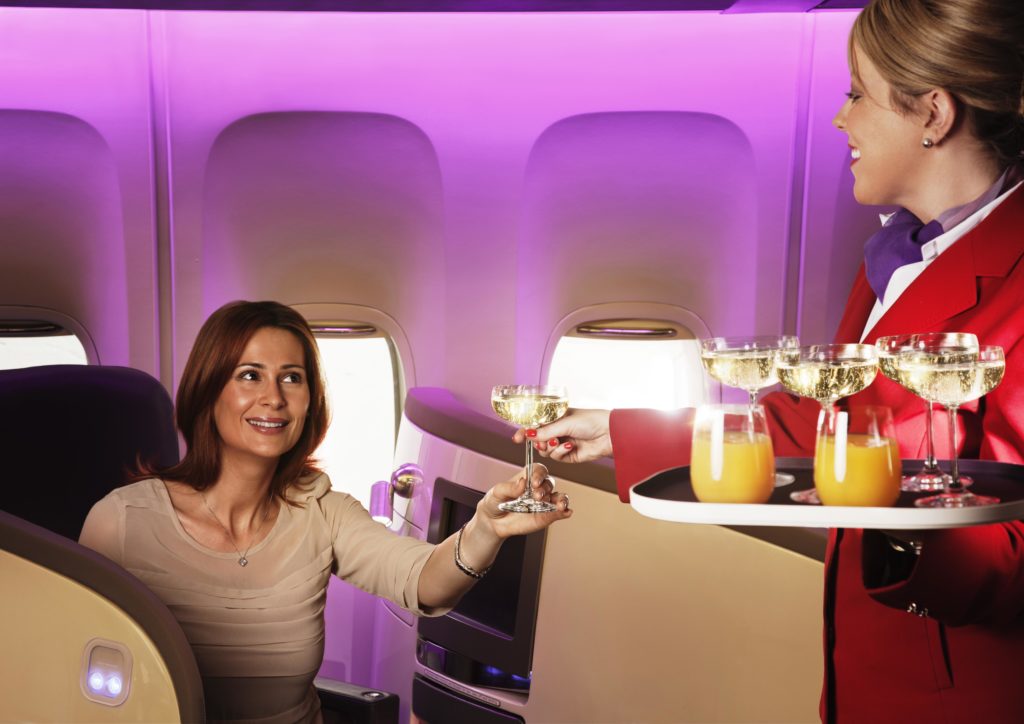 The crew were all impeccably turned out, both male and female. I noticed particularly the ladies nail polish and lipstick perfectly matched their uniforms. Throughout the flight, they maintained this image.
The crew were all extremely friendly but almost a little bit too familiar. I don't expect to be treated like someone of great importance but conversely, I don't expect to be treated like their best friend. In my experience the cabin crew on BA business can be a bit of a lottery with some being miserable and unhelpful so with that in mind I think I'd like somewhere in between (though closer to the Virgin Atlantic end!)
The seats and cabin
On the Virgin B787 Upper Class is rows 1 to 11 in a 1-1-1 herringbone layout with the seats A, G and K. All seats have direct aisle access, however, window seats face inwards at an angle.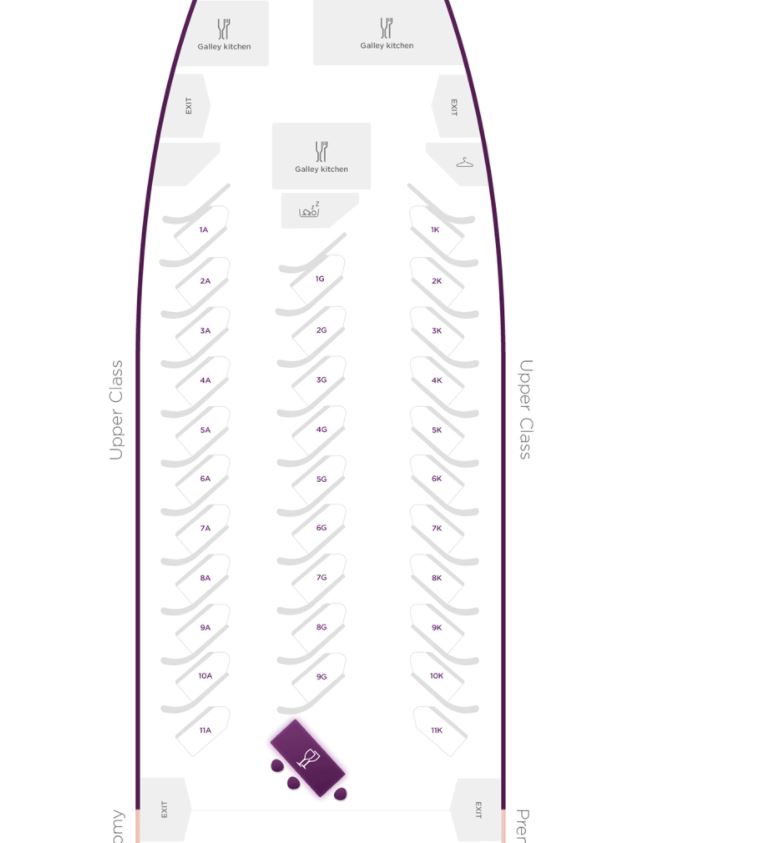 The Upper Class suite includes all of the 'usual ' popular features along with mood lighting, 'electro-chromatic' windows (they gradually turn blue at the touch of a button to block out the light!) and a seat that converts into a 6'6" bed. The overhead bins were huge but I found at 5'6" it was a bit of a struggle for me to reach!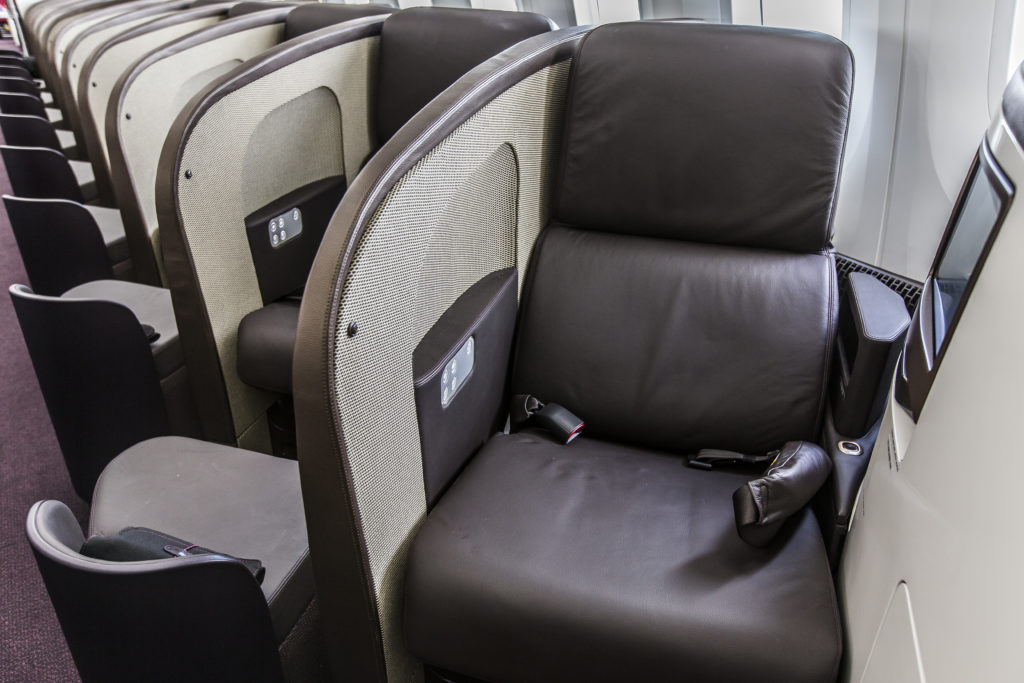 Inflight entertainment provided a huge selection of movies both new and old along with tv and news channels. There was also a seat chat facility that meant I didn't even need to leave my seat to talk to my husband!
Each seat has a universal plug socket, USB port and noise cancelling headphones. Wi-Fi is available at a charge (£14.99 for the duration of my flight).
The bar is located behind row 10 although there is a bulkhead behind these seats so noise shouldn't be an issue. That said, there may be noise disturbance to seats 11A and K as there is no bulkhead to separate them from the bar.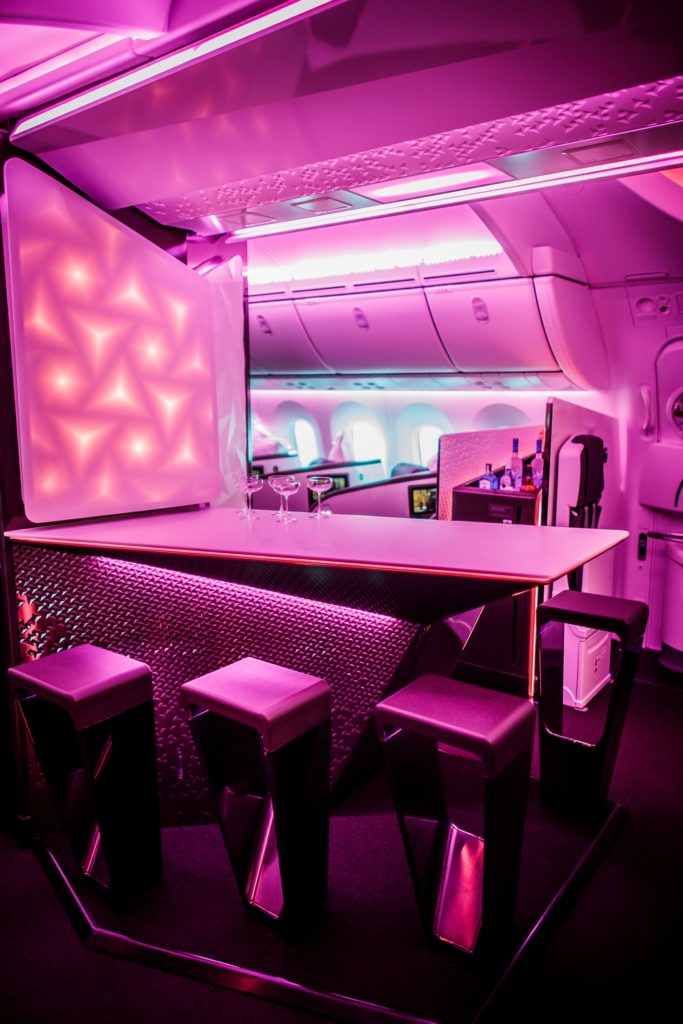 Seat details:
Width – 34.5"
Recline – fully flat 6'6″ bed length
Seat pitch – 87"
Conclusion
I thoroughly enjoyed my first flight with Virgin Atlantic in many years. From arriving at the Upper Class wing to leaving the aircraft at JFK it was a wonderful experience and one I hope to repeat soon. Of course, I do have to use my companion voucher and my second economy to premium economy upgrade!
I have heard reports from various friends and colleagues who for a long time favoured BA but switched allegiance to Virgin Atlantic. On the whole, the reason given is the plummet in the standard of the BA experience over recent years. Having experienced the wonderful Virgin Atlantic service I will also be switching my allegiance!
*Turning Left for Less is a journalistic website. Nothing here should be construed as financial advice, and it is your own responsibility to ensure that any product is right for your circumstances. Recommendations are based primarily on the ability to earn miles and points and do not consider interest rates etc.