I have been to Hawaii twice now and am heading back for a third time shortly. It is fair to say that Hawaii is one of my favourite places I have visited. Hawaii has warm weather all year round, stunning scenery, amazing marine life and a unique culture.
Getting to Hawaii is, surprisingly, the cheaper part of the holiday. When you consider that the flying time is around 17 hours, not including connections, you can usually get ex Dublin fares for less than £1900.
Flights
The cheapest way to fly to Hawaii is either to use miles all/part of the way or to do an ex Dublin trip. Unfortunately the days of the £1000 business class Honolulu tickets seem to be behind us. However, there is currently a reasonable deal with American Airlines for around £1400-1800 return. This allows stopovers of less than 24 hours as well as multiple connections across the US if you wanted extra tier points. This deal must be booked on American Airlines Ireland site. Alternatively, if you have a more complex routing, you may be better off getting Propeller Travel to book it for you. I talked about Propeller in this article.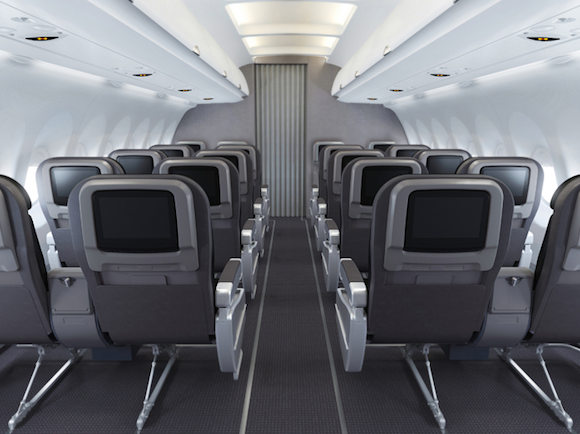 Who to fly with
It may surprise you to know that there are not flat-bed seats on many US mainland to Hawaii flights. If you want to get a flat bed you will need to choose your airline and route carefully. If you wanted to stick to oneworld, American Airlines have a couple of routes with flatbeds. They are both from Dallas to Honolulu and Maui. The rest of AA's flights, as well as Alaskan Airline's flights feature normal recliner seats in First Class. I can vouch for the fact that it is a long 5 hours in those seats!
If you aren't bothered which airline you choose, I would recommend Hawaiian Airlines. Not only is their food and drink service great, they now have flat beds on their A330-200s which are available from New York and on certain West Coast flights. You feel like your Hawaiian holiday starts the minute you get on the plane and have the tropical welcome drink. Delta have Atlanta to Honolulu with flat beds all year and Minneapolis and JFK seasonally. They do also fly their Delta One lie-flat product between LAX and HNL occasionally. Finally, United fly flat beds on Newark and Washington routes to Hawaii.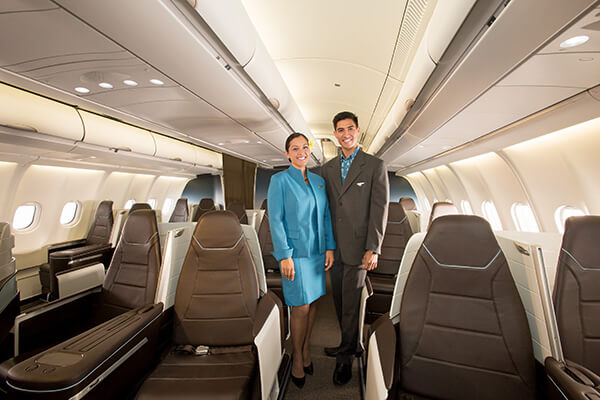 Using Avios
If you wanted to use Avios, you have several optimum route options. A lot will depend on availability but Dallas is the one to aim as it has the flat-bed seats to Hawaii and breaks the journey up pretty well.
Seattle on BA and then connect onto Alaskan Airlines.
Los Angeles on BA or AA to connect onto American Airlines
Dallas on BA/AA to connect onto American Airlines
If you decided to use miles just to get to mainland USA, it can still be a cheaper way to get to Hawaii but only slightly cheaper than going via Dublin. You can get first class return tickets to Hawaii from around £800 from Los Angeles and about £400 in economy.
Getting around
Car hire and transfers are generally pretty expensive. One of the cheaper ways to book is to use Discount car hire Hawaii. They book with the major operators but are usually cheaper or include extras such as petrol. I would avoid Dollar if you can, as out of 3 rentals, all the cars were dirty and twice they tried to overcharge us.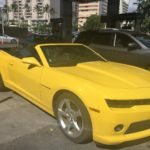 Getting around Honolulu
If you won't use the car every day, you may find it cheaper to just hire a car for a few days when you will be out and about. Car parking is pretty expensive in most hotels at $10-30 a day. Alamo are a great choice for Waikiki, as they have several offices that are walkable from almost every hotel.
Uber is one of the best ways to get around, unless you have trolley passes included in your hotel resort fee. Ubers were cheaper than taxis and the wait was under 5 minutes most of the time.
The Waikiki Trolley is reminiscent of the cable cars of San Francisco. It is a bit like a hop on hop off tour. The trolley takes tourists to the popular destinations and provides information about the area.   An unlimited ride day-long pass is $23 or a four-day pass is $59.
Hotels and when to visit
Hotels in Hawaii are a bit of a law unto themselves. As there is something of a captive audience, they are generally a bit dated and very expensive. It definitely pays to do your research here, as even well-known brands can give below the usual level of comfort in Hawaii. Most hotels charge a resort fee on top of the prices, like Las Vegas. This is usually around $20-30 per night extra, so it can add up. It covers the cost of some extras such as wi-fi, bottled water and newspapers but each hotel varies. Obviously you could use points or miles to get your room to keep the costs down. Otherwise, I recommend looking at the hotel websites directly as many of them have special offers that are cheaper than then major travel booking sites, even after cashback. If booking with the major chains, remember you can get 6 Avios per £1 or cashback on many of them by booking through the relevant Avios/cashback sites.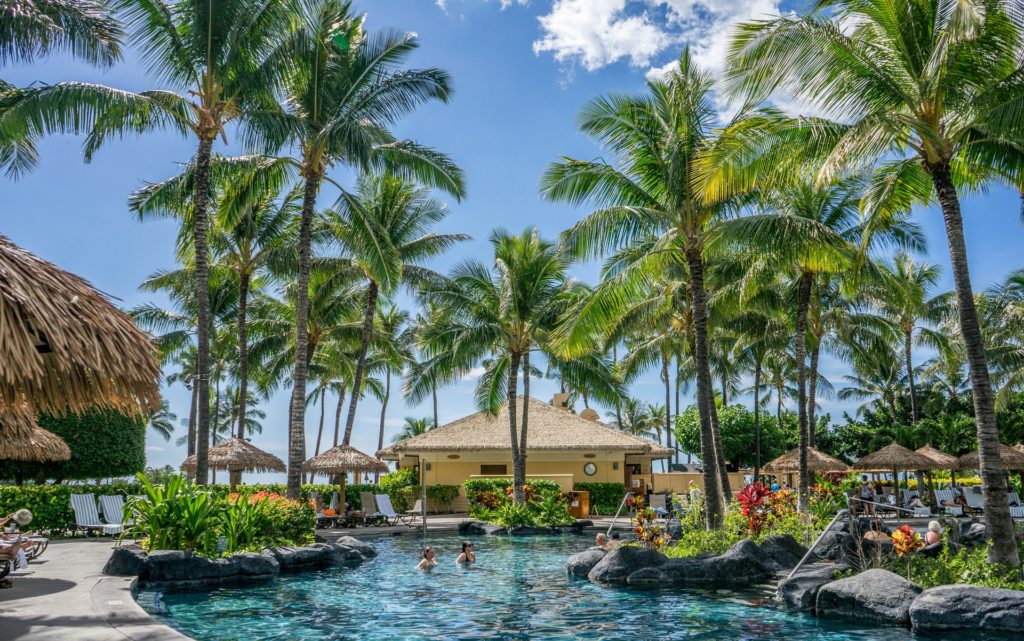 As eating out is also expensive (even McDonalds!) then you could consider self catering. There is a large choice of self catering hotels in most resorts.
The best way to save money on your hotel is to plan the time you visit carefully. I have visited in October and January and there was a big differences in prices between the two visits, which were only a few months apart. The cheapest times to visit are April, May, September and October. These are usually some of the best months for weather too. I would avoid Christmas to March, unless you specifically want to see whales. This tends to be one of the most expensive times, due to the Americans and Canadians trying to escape the worst of their winter.
In terms of weather, Hawaii is warm all year round with the hottest months being the summer. It can be quite humid at this time too and there is a small risk of hurricanes during this period. The winter is cooler but temperatures are still in the mid 20s, even in January.
Honolulu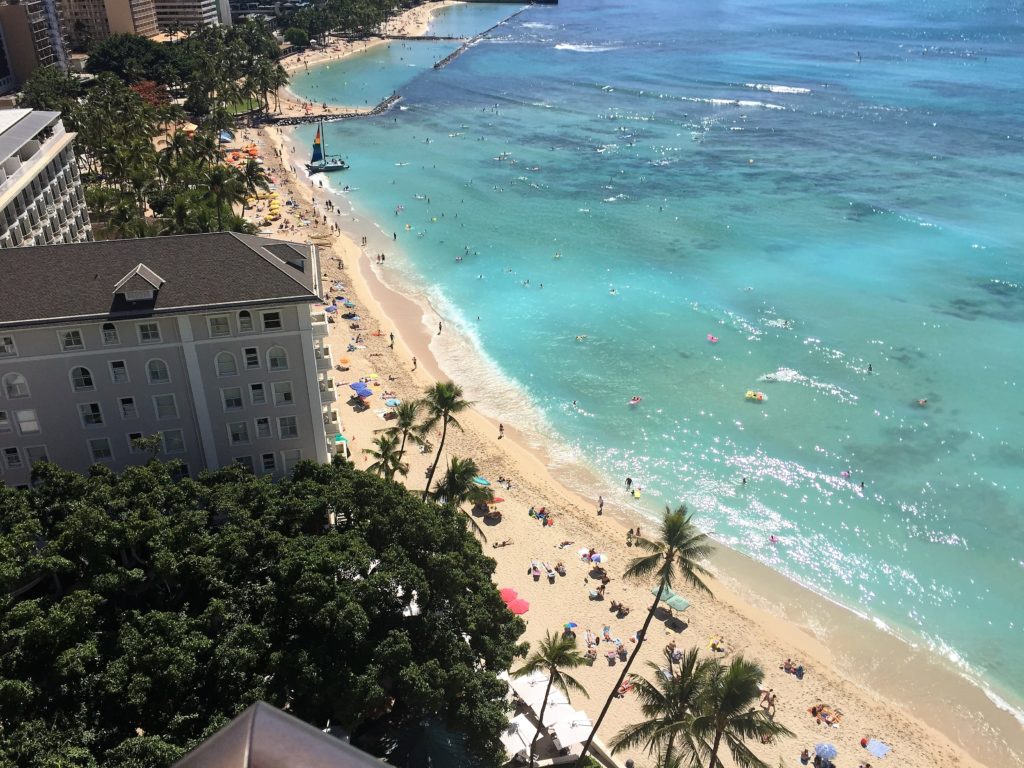 Most people spend at least part of their Hawaiian holiday in Honolulu. It is very different to the rest of Hawaii, as it is a large built up city with a maze of freeways surrounding it. When you arrive at Honolulu airport, if you are not hiring a car you can either get a taxi to Waikiki, which will cost around $40, or a shuttle. The airport shuttle, Speedishuttle, costs from $15 one way.  Uber are not allowed to pick up from the airport except with Uber Select which costs from about $60, one way.
Hotels
At the luxury end of the scale there are a few choices, but expect to pay through the nose for them! Most of the major chains are represented in Waikiki if you want to earn or burn points.  The closer you are to the beach, the more you will pay, so the way to save money is to stay a short distance from the beach.
The Modern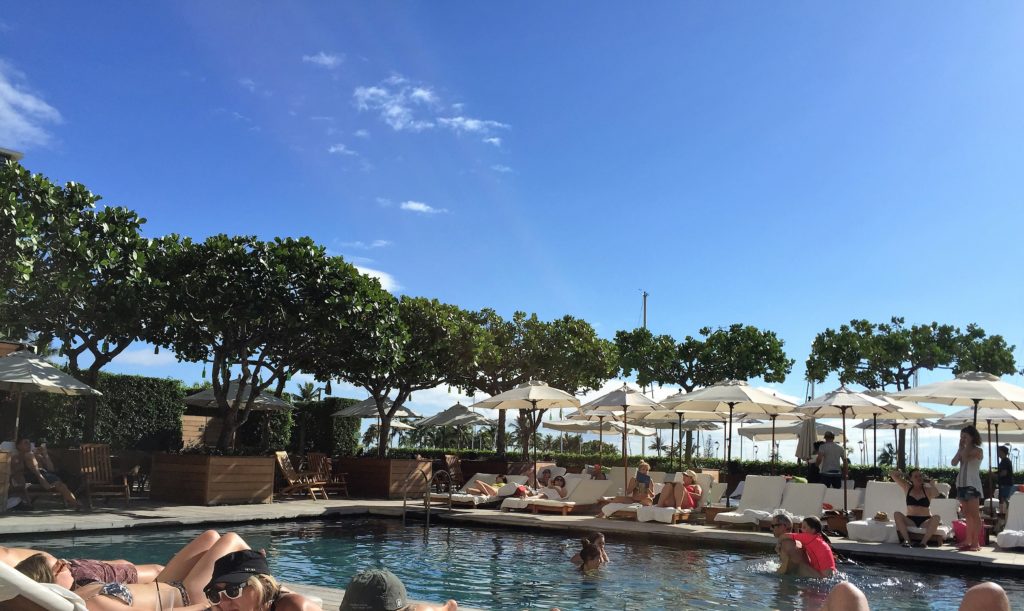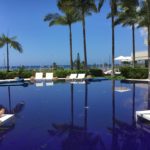 A good example of this is The Modern, which is rated No 5 on TripAdvisor. I have stayed here and in my opinion it has one of the best pool areas in Waikiki. The rooms are a bit stark for my taste but, to be honest, how much time do you spend in your room in Hawaii? It is located at the far end of Waikiki by the harbour, near the Hilton lagoon. There are 2 swimming pools which were never very crowded and a couple of great spots for a drink. The poolside bar was a lovely way to watch the sunset over the harbour, whilst The Study was great for a late night cocktail with some live music.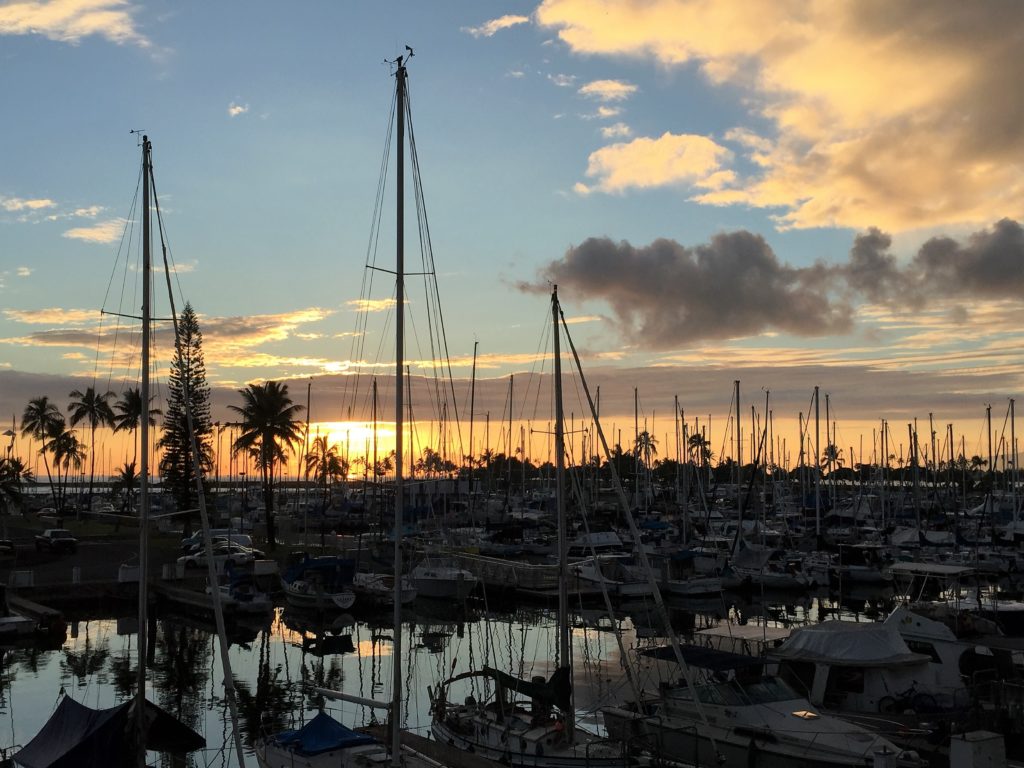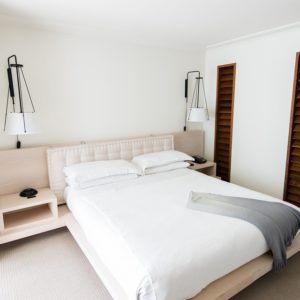 Moana Surfrider Westin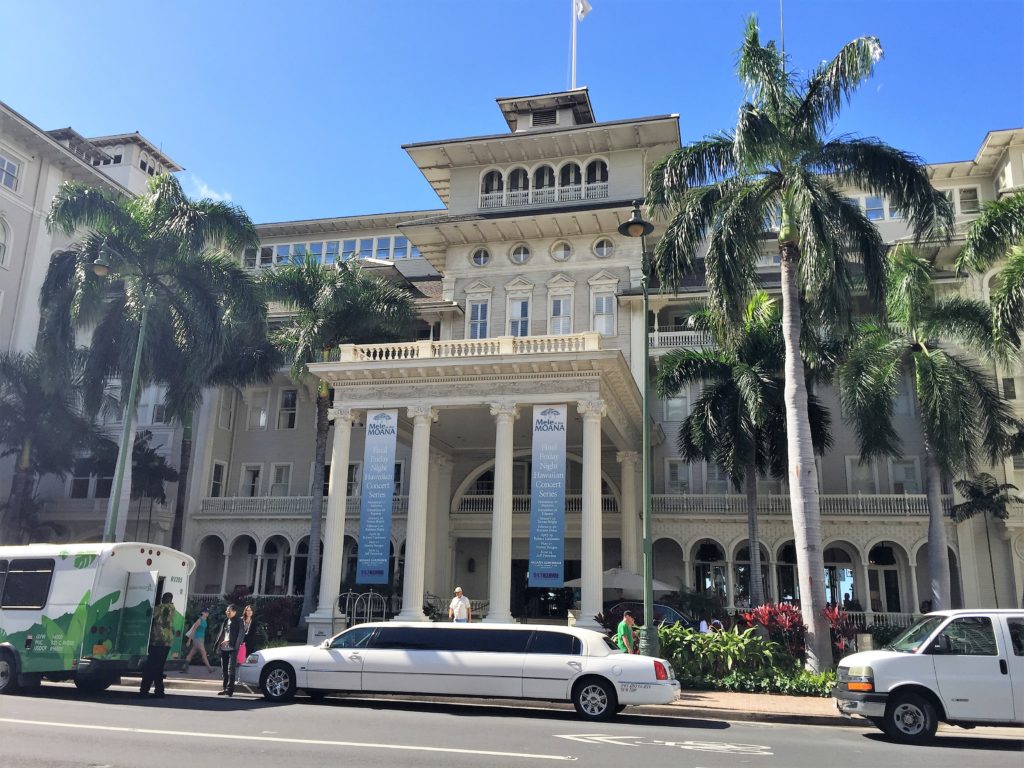 This is one of the most well known, historic buildings in Waikiki and has a colonial air about it. The rooms are not particularly luxurious being a standard Westin style. The public areas are gorgeous though they are very busy. It also has a great location, right in the heart of Waikiki. I would recommend the Tower Premier Room with a high floor for the best views of Waikiki and Diamond Head. You can also stay in the historic Banyan rooms that look out over the courtyard and pool, but these tend to be more noisy. There is a small swimming pool and you can get beach chairs for an extra charge.
Trump International Hotel Waikiki
If you can bring yourself to give your hard-earned money to Mr Trump, the Trump is one of the best value 5* hotels in Waikiki. This is probably because it is not on the beach. It is rated as no 3 on TripAdvisor, so it must be doing something right! The rooms are all self catering and start with studios at around £260 a night. Don't forget you can get up to 13% cashback on that using Topcashback and one of the online booking agents such as Expedia and Ebookers.
When I visit in July, I will be staying at the Hyatt Regency and the Royal Hawaiian, A Luxury Collection hotel by Starwood. I will review these hotels in a separate article afterwards.
You can find all the top Waikiki hotels on Tripadvisor here.
Restaurants & bars
There is plenty of choice of bars and restaurants around Waikiki, but they are not cheap by any means.
Alan Wong's

If you do one fine dining experience in Hawaii, I would go for Alan Wong's. It doesn't have a spectacular setting or a particularly fancy dining room, but the food is great. The menu is also amazing value at $89 for 5 courses, when you can easily pay that for some very average food in Waikiki. The menu often includes a lobster lasagne and the melt-in-the-mouth Asian twice-cooked short ribs.
Duke's
Duke's is a casual restaurant and bar in the heart of Waikiki. It serves one of the best value breakfast buffets on Waikiki, in a great spot right on the beach. It is something of a Waikiki legend and everyone should visit it once! The breakfast buffet costs $18 and has plenty of choice including made to order omelettes. The Barefoot bar serves cocktails as well as local beers.
Hula Grill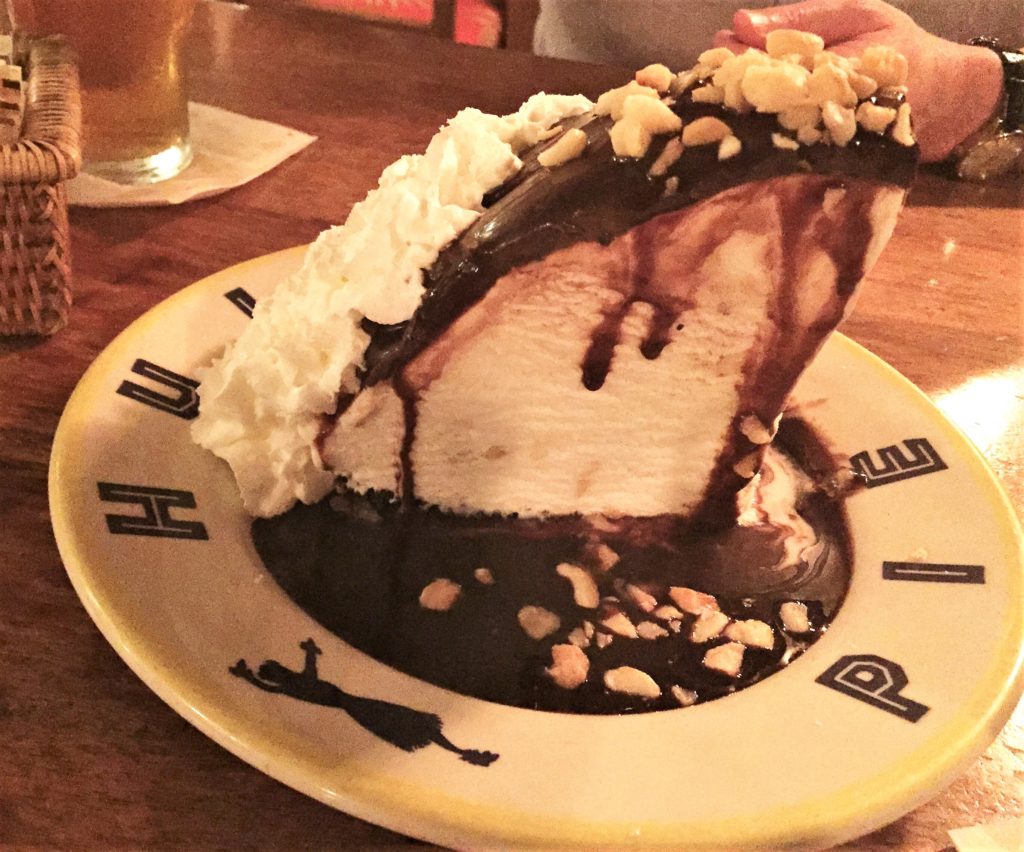 This is situated above Duke's and has a great view over Waikiki. It is famous for its Hula dessert pie which comes in two flavours. The most famous is with chocolate cookie crust, macadamia nut ice cream, hot fudge, toasted mac nuts & whipped cream! I would recommend sharing it, as the portions are enormous. It also does a range of Hawaiian and American food with prices in the moderate range.
House without a key
This is another great spot for a drink or a meal. It is situated in on of the most luxurious hotels on Waikiki, The Halekulani. Every night, there is Hawaiian music is paired with the hula dancing of five former winners of Miss Hawaii.
The Beach bar
This is situated at the Moana Surfrider and has a huge, old banyan tree in the courtyard overlooking the beach. There is usually music and a hula dancer at sunset but it gets very busy, so arrive early. A great spot for a cocktail at sunset.
Cheesecake Factory
This is a modern American chain restaurant and one of my favourites. Despite the name, it actually does a huge range of dishes from Korean to Italian and burgers. The cocktails are pretty good too. Unsurprisingly, they do a huge range of cheesecakes too. If you don't have room, you can order it to go. The Cheesecake factory is in the Royal Hawaiian shopping centre.
Things to do
Hawaii 5-0 locations
If you are a Hawaii 5-0 fan, you will probably want to visit a few of the sites. The 5-0 headquarters is actually the Ali'iolani Hale building, which houses the Hawaii Supreme Court. Outside is the famous Kamehameh gold statue. Kamekona's shrimp truck is usually shown at the edge of the lagoon by the Hilton Hawaiian Village, which is at one end of Waikiki. Tropics at the Hawaiian Village is usually where the team meet for drinks or dinner in the show.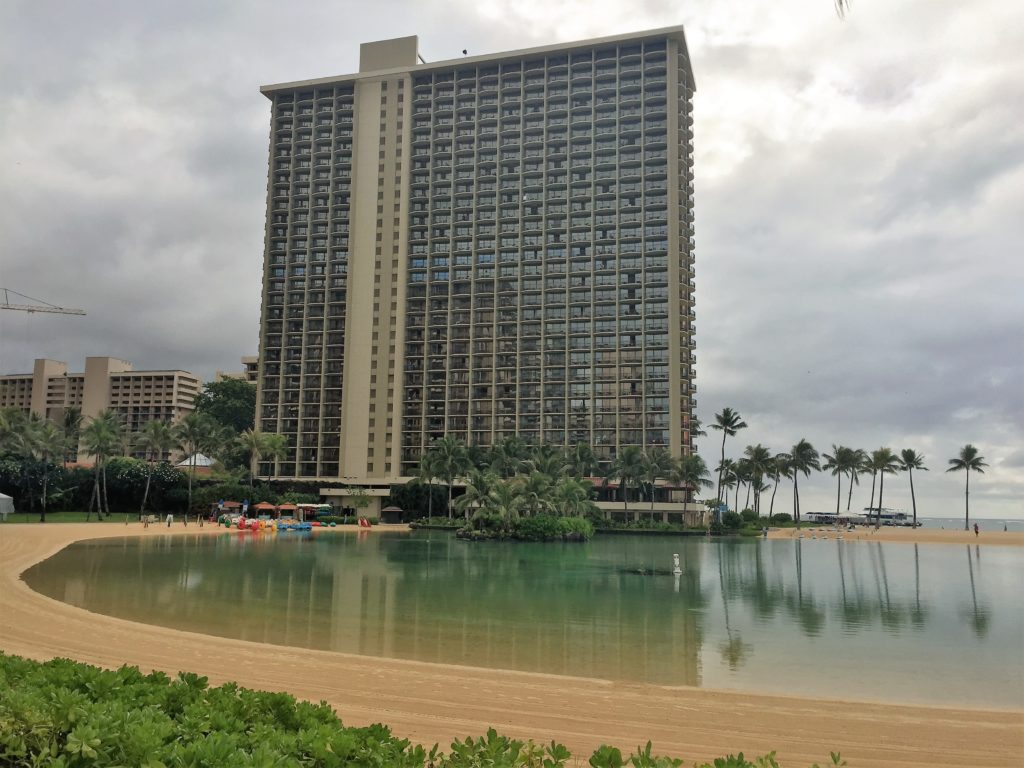 Fireworks
These take place on Fridays at 7.45pm and last about 10 minutes. You can view them from the beach near the Hilton Hawaiian Village for free.
Ala Moana Shopping centre
If you want to go shopping whilst in Hawaii, head to the Ala Moana centre which is the largest outdoor shopping centre in the world. There are also a number of restaurants and bars including the rooftop MaiTai bar which has a great happy hour after all that shopping! It has all  the usual shops you would expect from a large American mall as well as plenty of Hawaiian specialities such as the Hawaiian Cookie Company and lots of souvenirs.
Pearl Harbour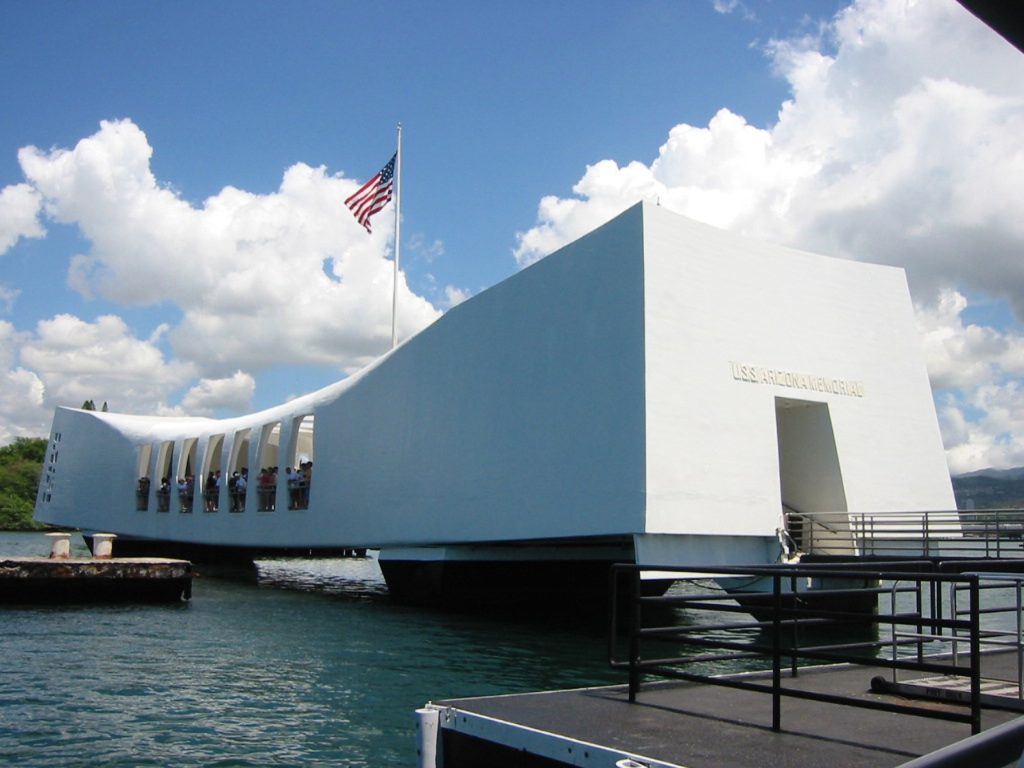 This is about 30-45 minutes drive from the centre of Waikiki. Pearl Harbour, named after the pearl oysters once harvested there, is the largest natural harbor in Hawaii. It is the only naval base in the United States to be designated a National Historical Landmark. The Japanese aerial attack on Pearl Harbour resulted in 2,390 dead and hundreds wounded, and drove the United States into World War II. It is a sobering place to visit but it was well worth the effort.
You should make sure you reserve your tickets in advance, or you will face a long queue or may not even get in. The tour of the USS Arizona Memorial is free and lasts 75 minutes including the boat ride. You can get the tickets online or through the call centre daily from 7am, with bookings available 2 months in advance. 24 hours before they release additional tickets. They do have 1300 on the day tickets but there will be a long queue, unless you arrive at 7am! Admission to the Pearl Harbour Visitor Center, which includes two museums and the park grounds, is free.
Lu'au
A lu'au is a traditional Hawaiian party or feast that is usually accompanied by entertainment. There are plenty of companies offering lu'aus around Honolulu. It is slightly touristy, but fun thing to do. You usually get dinner including slow roasted pork, drinks and a show.
Cruises
If you are in Hawaii during whale season, I would strongly recommend a whale watching cruise. If not, a sunset cruise is the perfect way to end the day. There tend to be two types of cruises, the all you can drink or the set number of drinks and appetisers (called pupu in Hawaiian). If you want a more romantic cruise, I would recommend the set number of drinks, which is what we did. We certainly didn't go short of drinks, as once you had the 2 free drinks, extras were only $1-2. This cruise tends to attract less of the party crowd. We used Port Waikiki cruises which cost $79 per adult and goes from the Hilton dock at 5.30pm daily. They also offer snorkelling and whale watching tours.
Surfing
There are a number of surf schools in Honolulu. Go Surfing is highly rated on Tripadvisor and does a number of private and small group lessons in surfing and paddle boarding.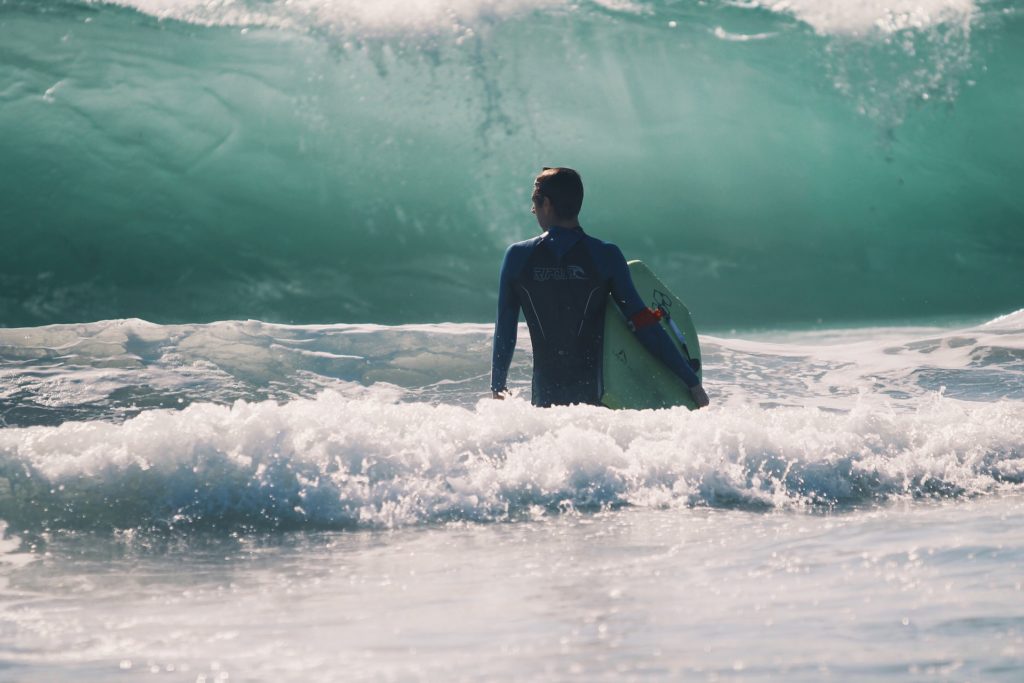 If you would like more budget related tips on Hawaii check out this guide to Hawaii on a budget.
In the next article I will cover the main islands, as well as the rest of Oahu.