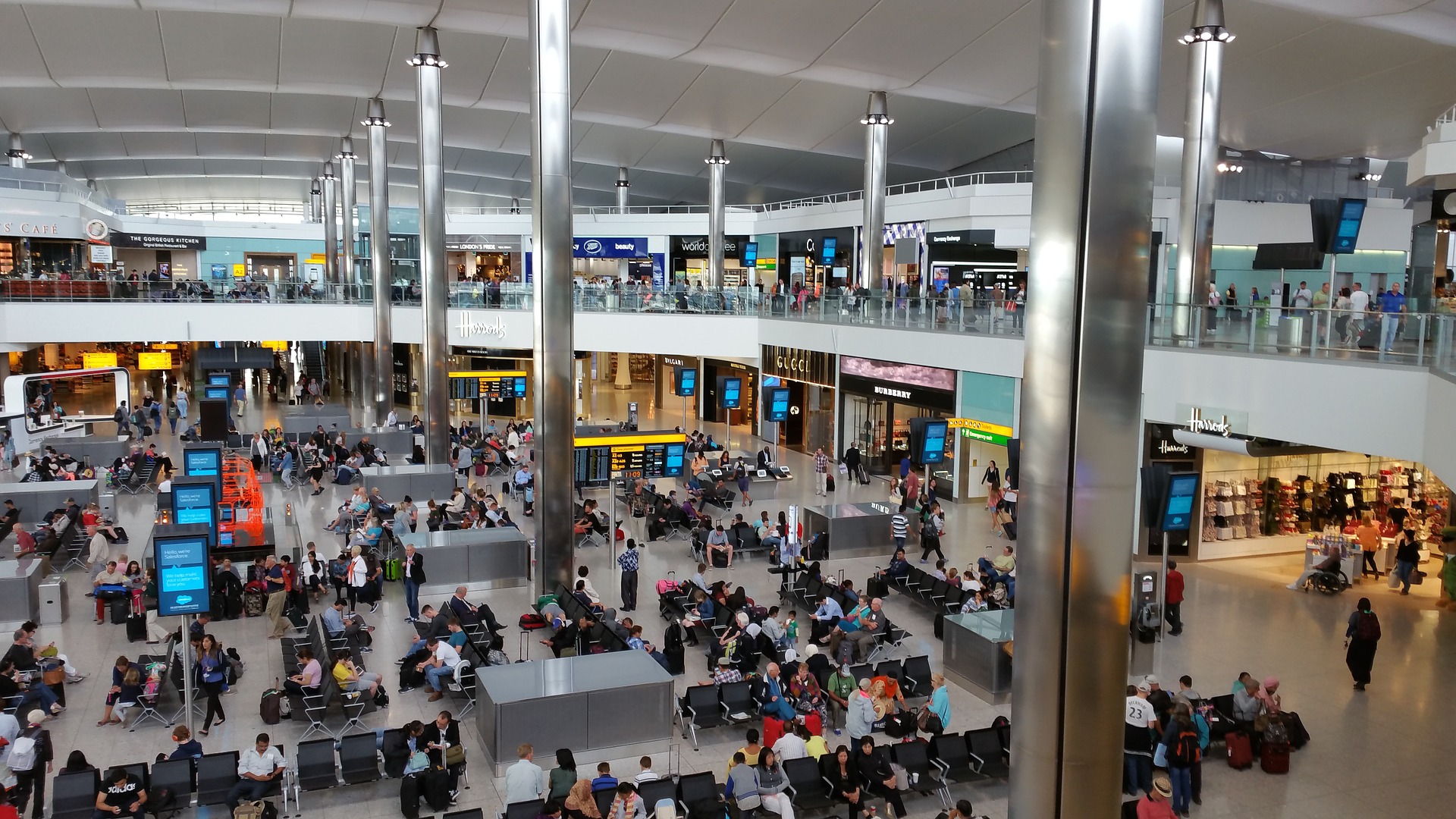 As you will probably have gathered by now, I am generally in favour of signing up for any free loyalty schemes if they offer anything remotely worthwhile! After all it only takes a few minutes to register so you have little to lose apart from having a wallet full of cards. In the near future this will cease to become a problem as companies use apps and digital cards instead of the traditional plastic ones. Heathrow Rewards now has a virtual card which I will talk about below.
The 2 schemes are very different. Heathrow Rewards is more of a traditional loyalty scheme where you collect points by spending money. The Gatwick one is simpler in that it offers you discounts for simply signing up.
Heathrow Rewards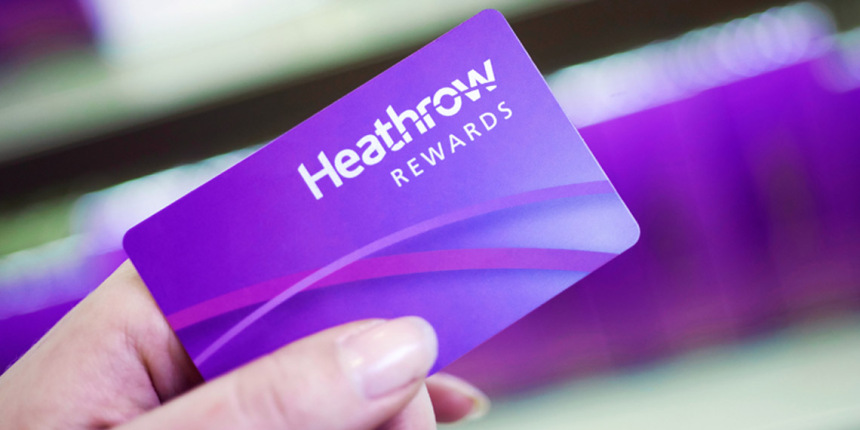 If you collect Avios it is pretty much a no-brainer to sign up for Heathrow Rewards.  Heathrow Rewards allows you to collect points that can be converted into Avios or used for shopping, parking and other rewards. You collect points as follows:
1 Heathrow Rewards point for every £1 you spend in shops, bars, cafes, restaurants, car parks and more
1 Heathrow Rewards point for every £10 of currency exchanged at Travelex
Points convert at 250 Heathrow Rewards points = 250 Avios or £5 shopping voucher or £10 parking.
You can also transfer to:
Emirates Skywards
Lufthansa Miles & More
Royal Brunei Royal Skies
Singapore Airlines Krisflyer
Virgin Flying Club
Emirates
as being to transfer Emirates miles into Heathrow Rewards.
Sign up promotions
There is currently a new promotion via Avios.com for 3000 points when join and spend £150 or more at Heathrow. You will need to use code 'AVIOSAO18'. The offer is open until 31st December 2018 so could be useful for some Christmas shopping later. You only need to spend the amount in a single day, not a single transaction.
The Avios promotion page is here.
If you don't think you will qualify for the promotion in time then you can still get 100 points for signing up here.
Virtual Card
You can now access your Heathrow Rewards virtual card at an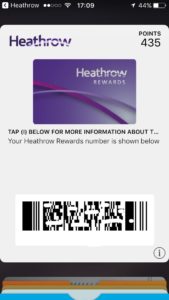 y time by logging into "My account' and click on 'My loyalty card' to download your virtual card. Alternatively you can download your virtual card with Wallet for iPhone. All you need to do is download your virtual card from your Heathrow Rewards newsletter or app directly into the Wallet App on your iPhone.  Wallet can currently be scanned in all World Duty Free and Dixons Travel outlets at Heathrow, with more retailers to follow this year.
Additional Perks
There is also another little known benefit. You can buy a half price subscription (£21.50) to Business Traveller magazine using this link. Even if you don't really want the magazine it is worth considering if you are likely to stay at a GHA Hotel – these include a range of brands such as Omni and Corinthia. With the subscription you get Platinum membership of the GHA's Discovery scheme. This includes free wifi, newspaper and bottled water, an upgrade to next room category and 3pm late check-out. Although the deal was originally meant to be for Heathrow Reward members there does not seem to be anything you need to do to prove your membership.
Heathrow Rewards Premium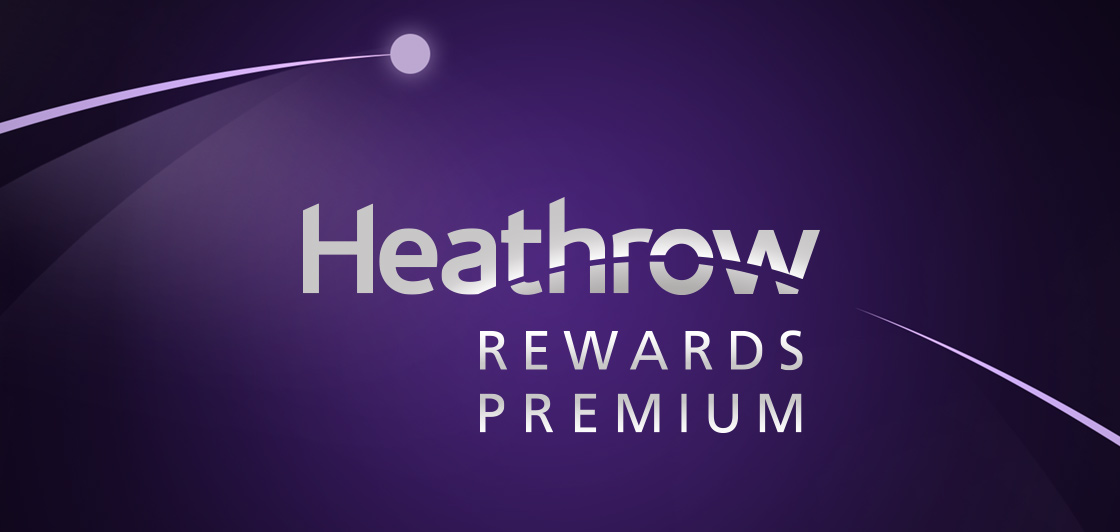 To qualify for Heathrow Rewards Premium you need to spend £750 or more in one calendar year to be upgraded until the end of the following year. As well as double points on virtually all purchases at Heathrow, Premium members get other offers and benefits. These benefits have been upgraded recently and are much more valuable but it is harder to qualify. If you were previously a premium member you have until the end of the year to spend £750 but will get the new benefits until that time.
Up to four Heathrow Express Business First upgrade vouchers per year
3,000 bonus Heathrow Rewards points with your first Rocketmiles hotel booking after achieving Heathrow Rewards Premium
Premium wi-fi at Heathrow Airport
£10 discount when you spend £100 at World Duty Free
750 points for referring a friend to Heathrow Rewards
150 bonus points each time you book Heathrow Porters
150 bonus points each time you book Shop & Collect
150 bonus points each time you use Reserve & Collect
150 bonus points when you use Home Delivery
The video provides a quick overview of the Heathrow Rewards scheme
myGatwick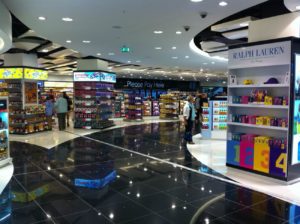 myGatwick is a very different scheme to Heathrow Rewards in that you don't collect points. Since there is no card to carry round and it gets you discounts you may as well sign up if you are travelling through Gatwick. You can sign up at myGatwick.The benefits they promise are:
Exclusive food & restaurant offers
Exclusive shopping vouchers
Discounts on hotels & parking
Offers on premium products
Email alerts to keep track of your flight
With the vouchers you use them digitally, so no need to remember to take anything with you. You can email them to yourself, add them to Passbook or show them on your smartphone when you're at the airport.
The types of offers I have had are:
10% off official parking which is better than you can get via cashback,

Bloc Hotel Gatwick

Premium security for £10,
Premium valet parking 20% off,
Gatwick Express 10% off,
discounts on World Duty free such as spend £75 to get £5 off,
10% off Bloc hotel (which I Reviewed here).
Various food and drink offers
Free lounge access at Regus business lounge
I would definitely use a few of those offers and I am annoyed that I didn't register before having recently booked parking through Topcashback!