More strikes at Heathrow
The amount of threatened strikes at airports this summer is frankly getting ridiculous. Just at Heathrow we currently have:
4,000 security guards, engineers, passenger service operatives and passenger service drivers (see here for dates)
BA pilots (no date set yet but must gove 14 days notice)
Yesterday Unite confirmed that now there will be additional strikes at Heathrow. Over 90 firefighters and fire and rescue staff at Heathrow Airport have become the latest group of workers to vote for strike action in a dispute over pay. The vote saw fire and rescue workers back strike action by 97.6 per cent on a turnout of 90.2 per cent.
As they have to give two weeks notice this means they will join over 4,000 Heathrow Airport workers in their second and third two day strikes planned for Monday 5 August and Tuesday 6 August, and Friday 23 August and Saturday 24 August.
EU261 will definitely not cover you if the strike is by airport workers, strikes by their own airline staff is more of a grey area. Obviously, there is still a chance that these strikes may not go ahead as the consequences of the strikes could be significant now that fire cover may be diminished on top of the other Heathrow ground staff.
Yesterday BA's bid to get an injunction to stop the pilot's strike failed in court. At the time of writing, no strike date had been set and both sides say they remain open to talks.
Upgrade Pack – cheaper upgrades
If you follow us on social media you may have seen that I held an event for my Facebook British Airways Gold cardholders group on Friday called Points & Flutes. (join here if you have gold card status on BA). You may also have spotted that we were sponsored by a company called Upgrade Pack who you may not have heard of. I thought I would take the opportunity to talk a little about the company, since you may have been wondering what it is all about.
"For frequent flyers, Upgrade Pack is the ultimate palm-of-your-hand route to upgrading your airline seat or hotel room," said CEO Craig Unsworth. "With guests of Points and Flutes' Summer 2019 Soiree all being active Gold, GGL (Gold Guest List), and Premier members of British Airways' Executive Club, including some who have also invested in our company, I am delighted to have the opportunity to support this event. We're looking forward to bringing our app to our earliest adopters this Summer, and helping them benefit from a simple and rewarding way to upgrade flights and hotels around the world."
Upgrade Pack's technology connects airlines and hotels with travellers who want, and can afford to purchase an upgrade, providing them with exclusive, always-discounted offers on unused premium seats and rooms. Upgrade pack will only be available via certain banks, credit cards, or employers initially with an iOS or Android app.  The app will be launched imminently as they announce their first airline and hotel partners.
Flights to Seoul and Shanghai from £1377 on Virgin or BA
Brussels appears to be the place where you need to fly from to get a good price to China or South Korea this week. There are offers with both Virgin and BA. Both involve flying back to London on BA before then flying direct. The fares are:
Brussels to Shanghai
Brussels to Seoul £ (BA only) £1495
The rules for the BA flights are:
Minimum stay: a Saturday night
Maximum stay: 12 months
Transfers: 5 free in each direction
Stopovers: No
Refundable: No
Changeable: For a fee
You can book direct with British Airways here or find the cheapest online travel agent price with Skyscanner.
The rules for the Virgin flights are:
Book by: 60 days before
Minimum stay: a Saturday night
Maximum stay: 12 months
Stopovers: 3 stopovers – 1 in UK, 2 in Asia
Transfers: Unlimited
Refundable: No
Changeable: For a fee
You can book direct with Virgin Atlantic here or find the cheapest online travel agent price with Skyscanner.
Luxury hotel with a difference – Natra Bintan

If like me you never thought you would be tempted to sleep in a tent, a new hotel may well change your mind! These look like my kind of tents! Tribute Portfolio, Marriott International's newest collection brand of characterful, independent hotels have announced the opening of Natra Bintan, located on Bintan Island in Indonesia's Riau Archipelago.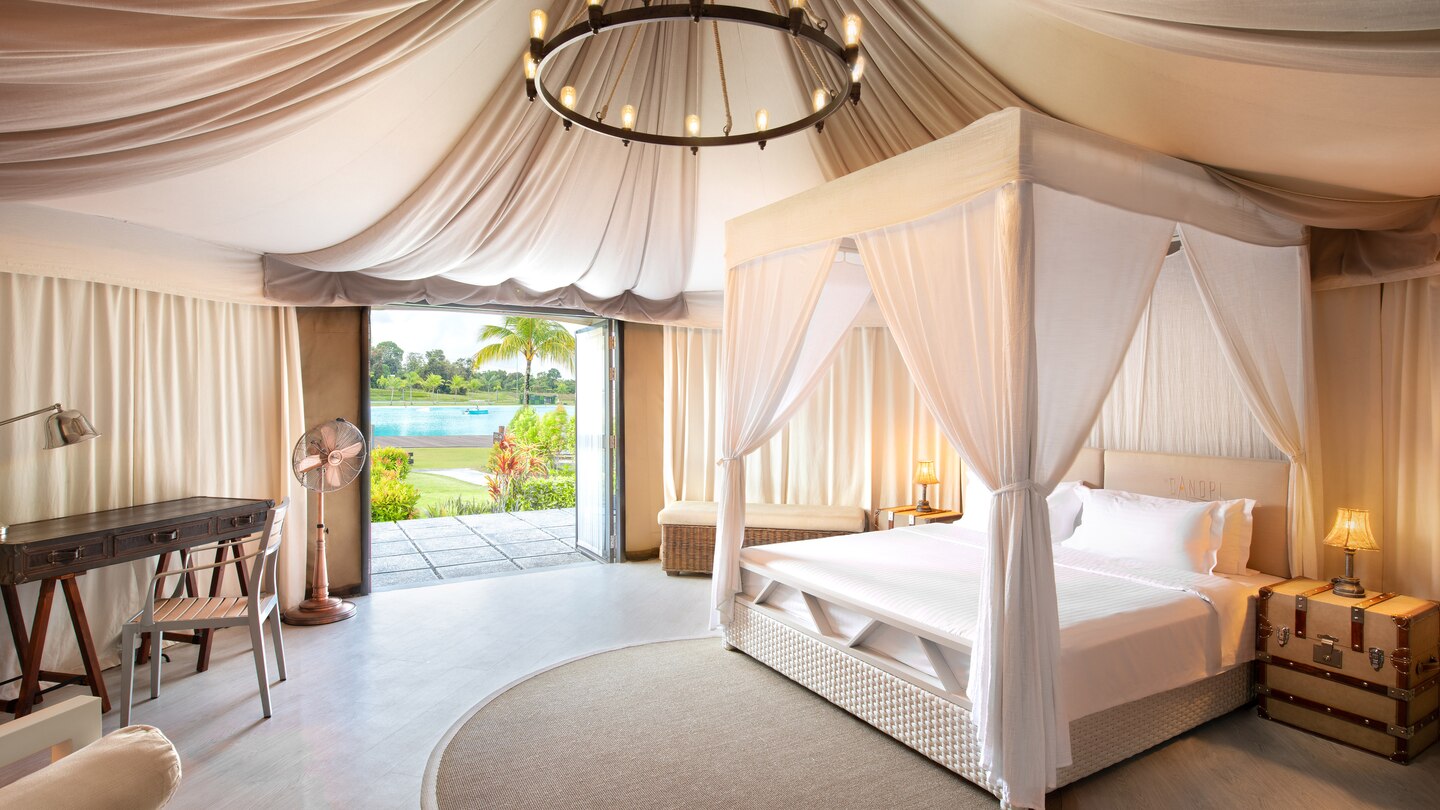 I have been to Bintan several times and it is very different from the rest of Indonesia. As the resorts are situated in a particular area of the island, it is extremely quiet. The beauty about Bintan is that it is a 45-minute ferry ride from Singapore (the ferry terminal is close to the airport). This makes it perfect either for a two-centre Singapore city break with some relaxation or as we did, a stopover en route to Australia or New Zealand. Bintan is known for its golf courses as well as its luxurious hotels.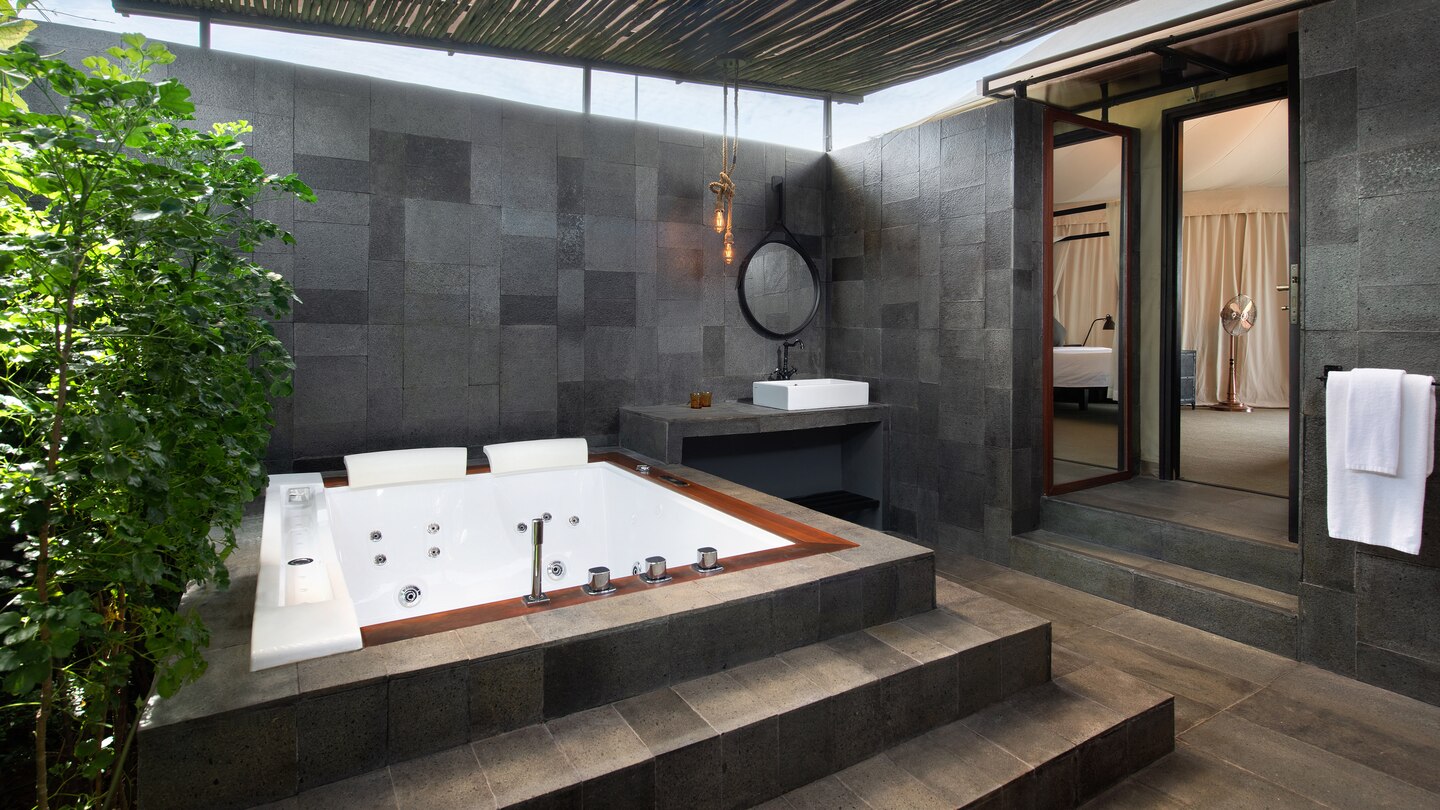 Natra Bintan has a total of 100 safari-themed tents in the middle of nature. Encompassing over 40 square meters, each tent is designed with a modern style complete with a lush garden and outdoor patio, four-poster bed and air-conditioning. They are also equipped with an LCD TV and Wi-Fi connection.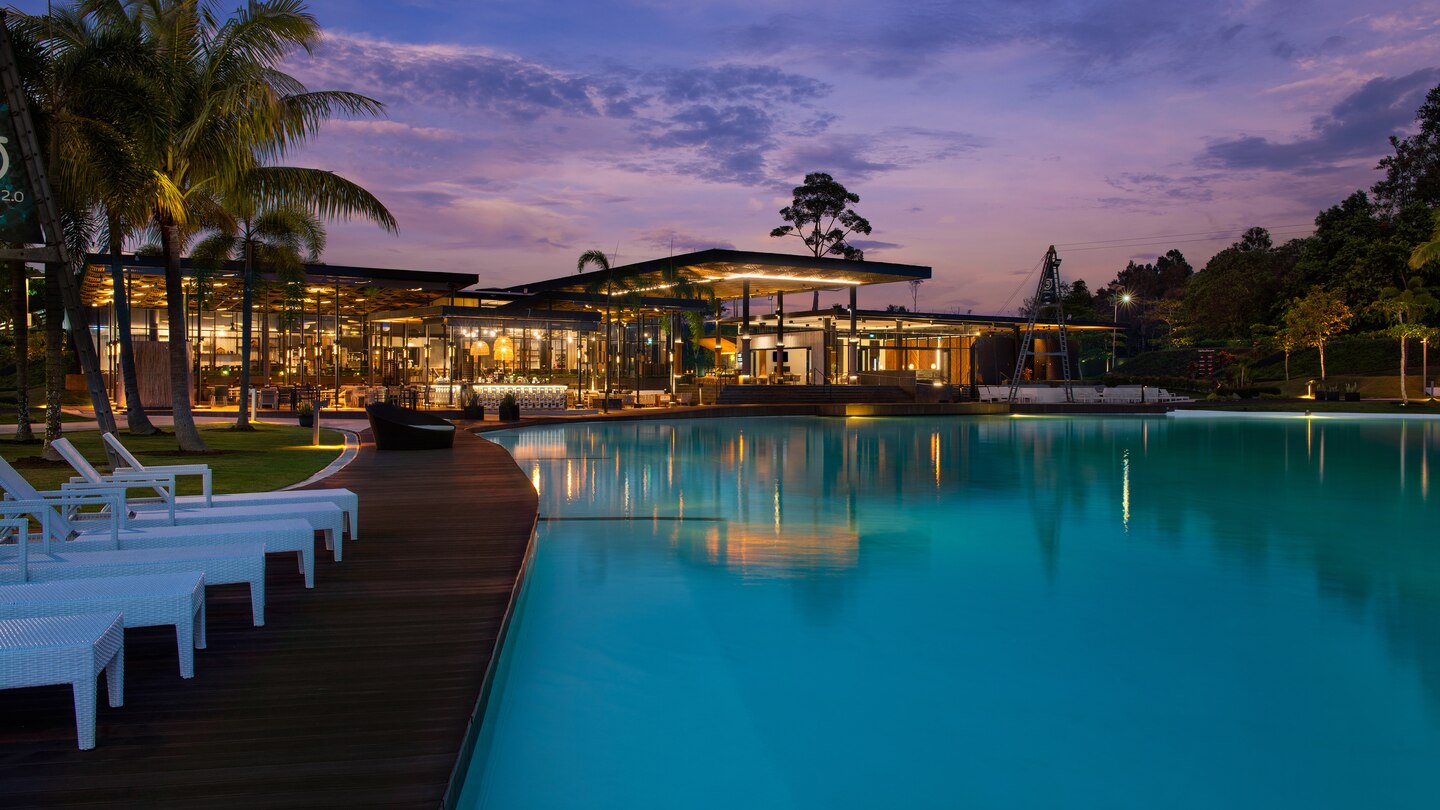 Situated within the idyllic Chill Cove at Treasure Bay, and offers a stunning water lagoon and numerous pools from which to enjoy a wide range of water sports. Natra sits directly on the Crystal Lagoon, Southeast Asia's first and largest man-made seawater lagoon, where you can enjoy water activities, including family-friendly bumper boat-rides, fun slides and wakeboarding action.
You can check prices and get more information on the hotel website here.