Before staying at the Hilton London Bankside, I had been hearing great things about it. It is, in fact, rated as a 5* hotel, which you would not expect from a standard Hilton. Even the Waldorf Hilton is only a 4* in London. As you may have spotted, I stay at a lot of Hilton properties due to the perks of my Diamond status. In London I have stayed at the Conrad, Hilton Canary Wharf, Hampton by Hilton at London Docklands near the airport and the Waldorf Hilton (review).
In this article I will review my stay and see how it stacks up against the other Hilton properties I have stayed in.
Location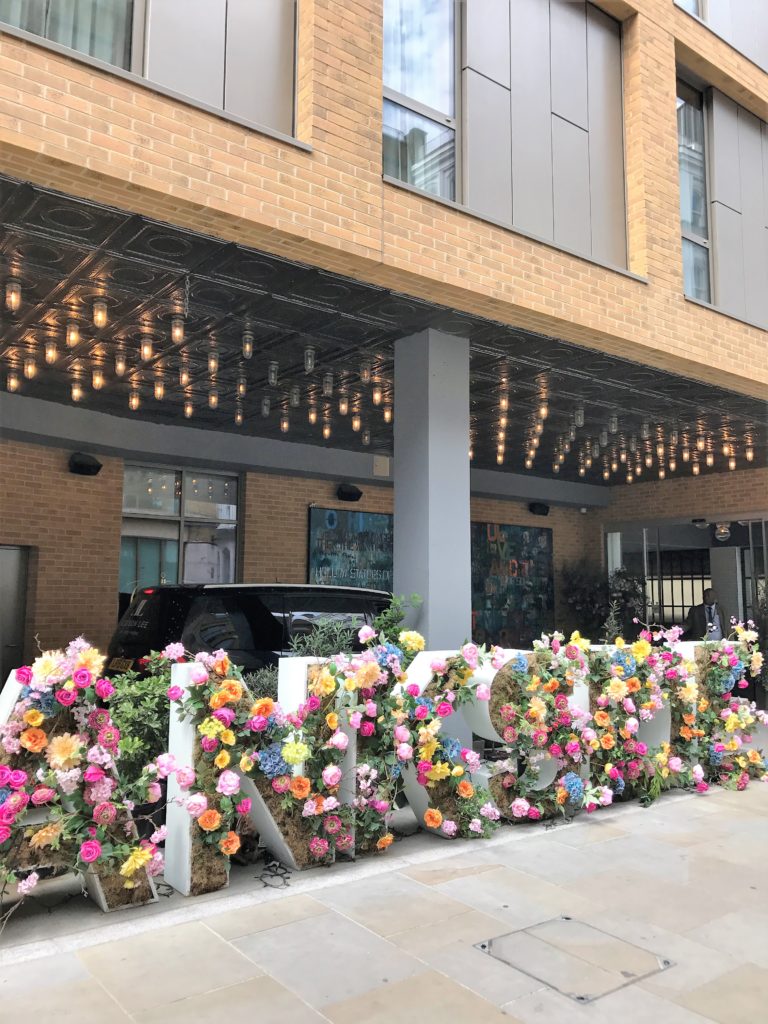 Hilton London Bankside is located very close to the Tate Modern on the South Bank. It is a short walk to London Blackfriars station and 5 minutes walk to Southwark tube station on the Jubilee line. Waterloo is about a 10 minute walk away. If you wanted to go shopping it may not be in the best location, but it is only a short tube ride to the main shopping areas. The Hilton is also close to Borough market, which is well worth a wander round if you are a foodie. Shakespeare's Globe and The Shard are also in the vicinity.
Arrival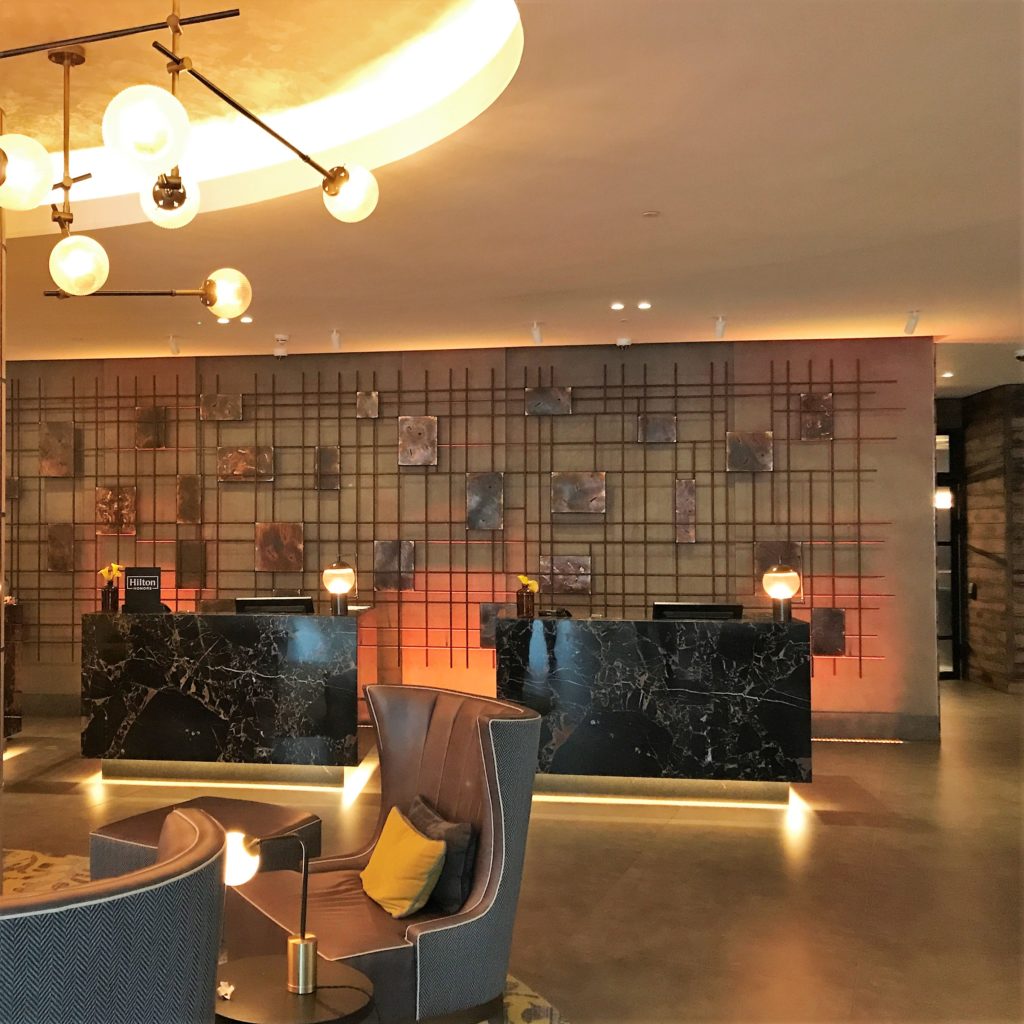 On arriving at the Hilton late on a Friday night, I was struck by how busy the hotel was. The bar was still buzzing, which is always a good sign. The hotel and reception area have a modern urban feel, but with a little bit of warmth and quirkiness. The hotel is still fairly new, having opened in October 2015.
I thought the public areas looked like a 5* hotel rather than a standard Hilton. As I had already checked in on line, I knew I had been upgraded to a 1 bedroom suite. I was welcomed very warmly, which set the tone for the majority of the stay for me. Within a few moments I was on my way to my room.
The room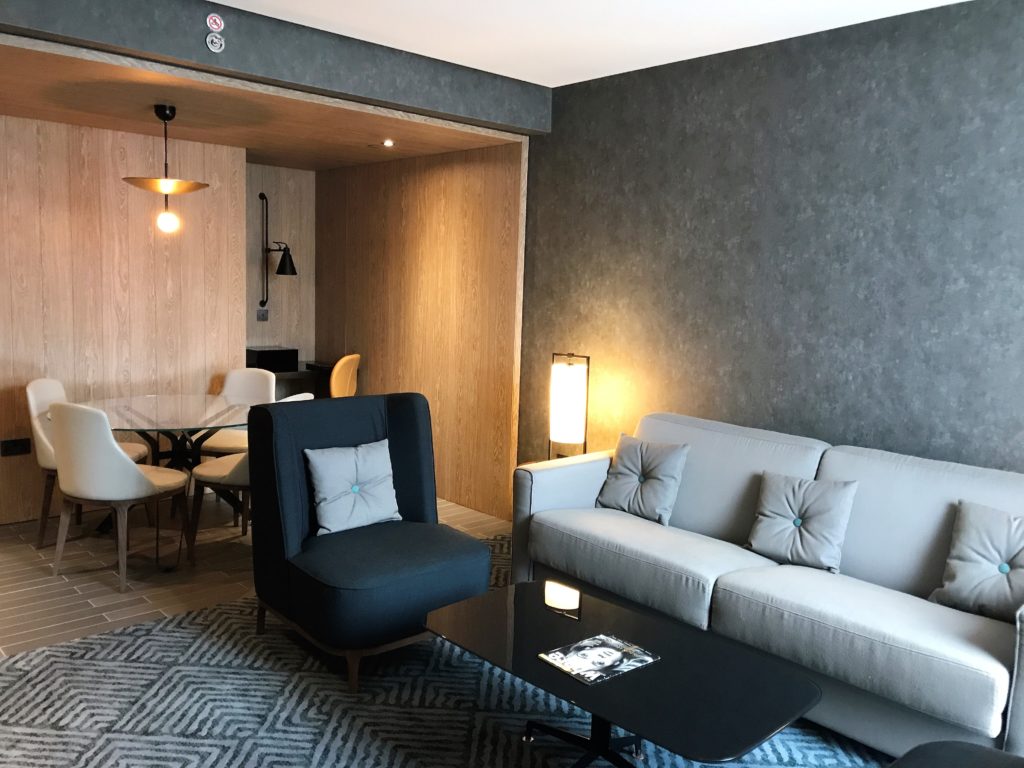 I was very impressed with my one bedroom suite when I walked in. Again, it had a very modern feel but with luxurious touches. In the main living area there was a dining table and chairs, sofa and 47″ TV plus a small desk for working. The desk also had a hairdryer and mirror which is useful.
One of the things that most impressed me was the mini bar and coffee machine. The mini bar has free soft drinks including mineral water and fizzy drinks. You can also have free chocolate too, what's not to love about that? There was also a proper coffee machine as well as a kettle. As I often drink tea, I get annoyed if there is just a coffee machine. Yes, I know they usually give you tea bags, but it nearly always ends up with a hint of coffee to it, unless you run it through a few times first. There was a good selection of teas plus shortbread biscuits.
This hotel is not good if you are on a diet!
Walking into the bedroom, I could see that it had been turned down with a mat, slippers and water by the bed. This is usually only done at suite level in most Hiltons, but I am not sure what the situation is at the Bankside. By the bed there were hanging lights or a small reading light that you could just pull out from the wall to turn on. There was also another large TV with plenty of Freeview TV channels.
There were plenty of plug sockets in the room, including 2 by each side of the bed. On the bedside table was a clock, which many hotels nowadays seem to forget about, but I find really useful.
My only complaint about the room was the lack of natural light. The windows were fairly narrow which made the room a bit dark, but there were plenty of lights in the room to compensate.
The bathroom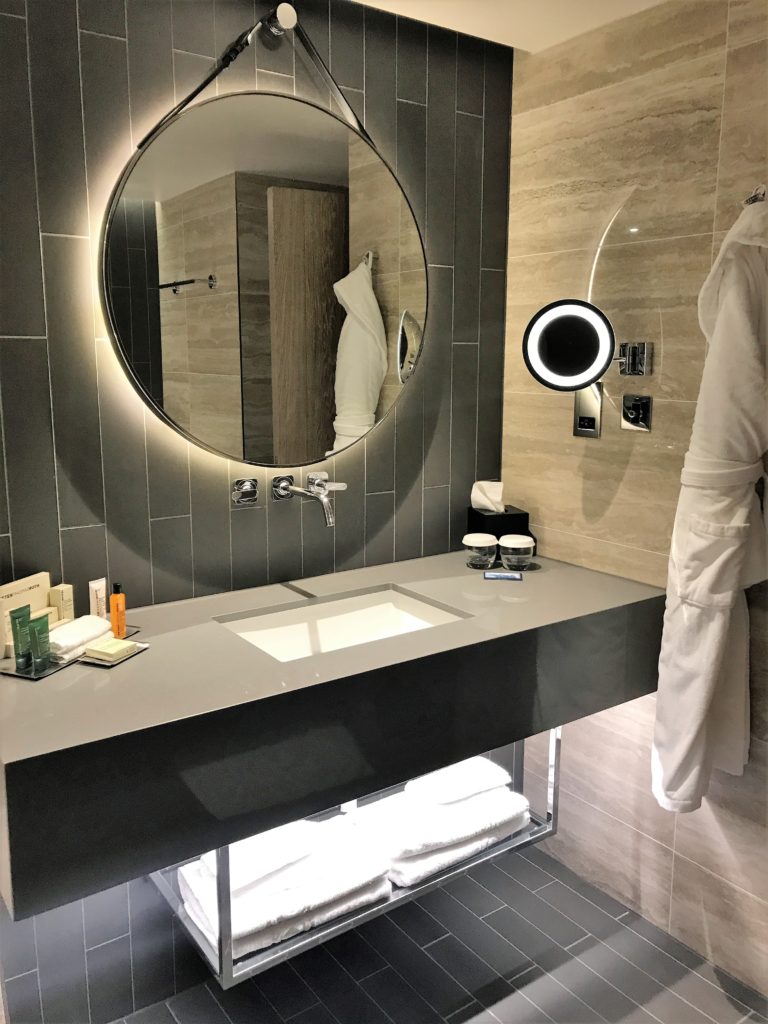 The bathroom was absolutely enormous and very impressive. In the bathroom there was a large walk in shower, a deep bath with another shower and a large sink/mirror area. It had the all important lit magnifying mirror for applying make up or shaving. The large mirror was also automatically demisting which was great.
The only complaint for me was why they had put a second wall mounted shower over the bath and enclosed part of it with a glass screen. I think it would have been better to have this as a soaking bath for relaxing but I am guessing it may be aimed at families.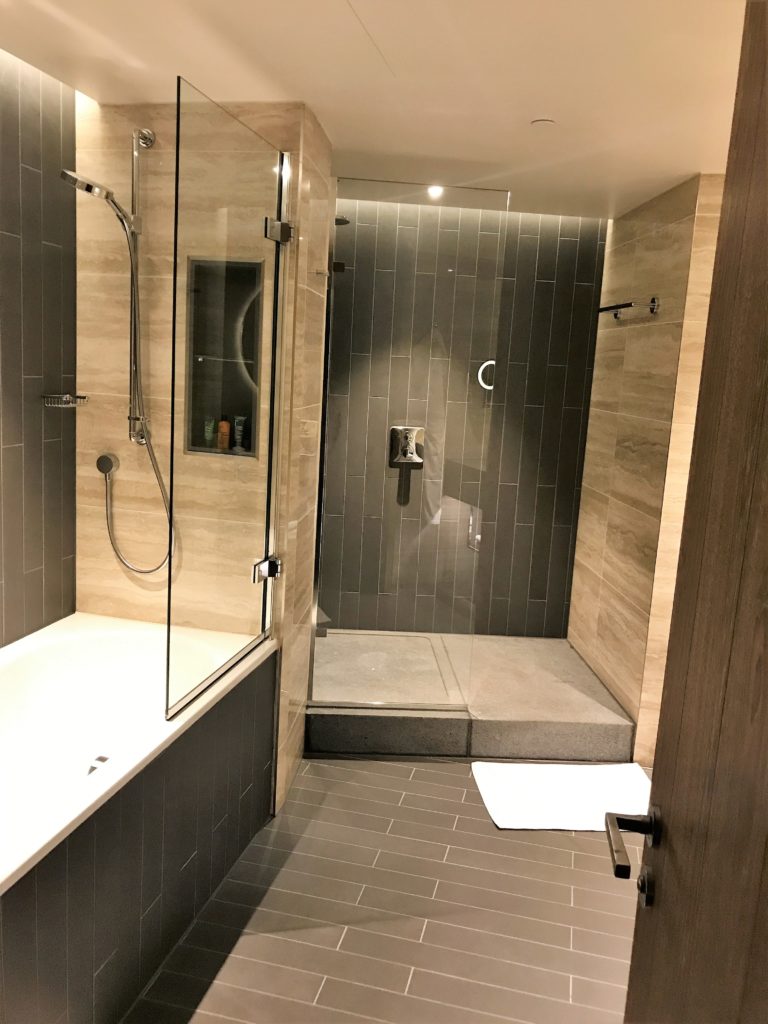 The toiletries were the usual Peter Thomas Roth that you get at all Hilton brands. I generally like these apart from the shower gel which smells like orange sherbet to me! The suite had a larger range of these than your normally see, with extras such as a loofah and shaving kit.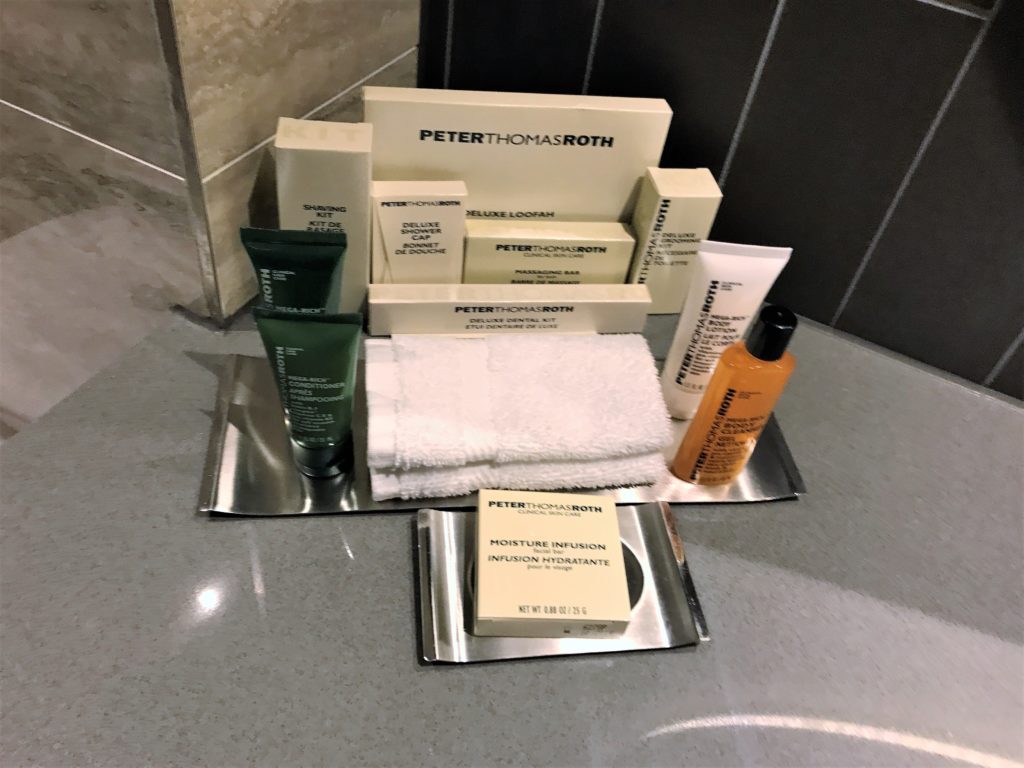 My stay
The bed was the new Hilton Serenity bed and was incredibly comfortable. I am pretty fussy about beds, ever since I spent a lot of money on my own bed very few hotels can match its comfort! The Hilton Bankside definitely did that. The pillows were OK but nothing special and overall I slept well. However, if you wanted a particular type of pillow, there is a pillow menu on request.
This was also one of the quietest London hotels I have stayed in, other than The Corinthia. Despite the fact I overlooked the street, I never heard anything.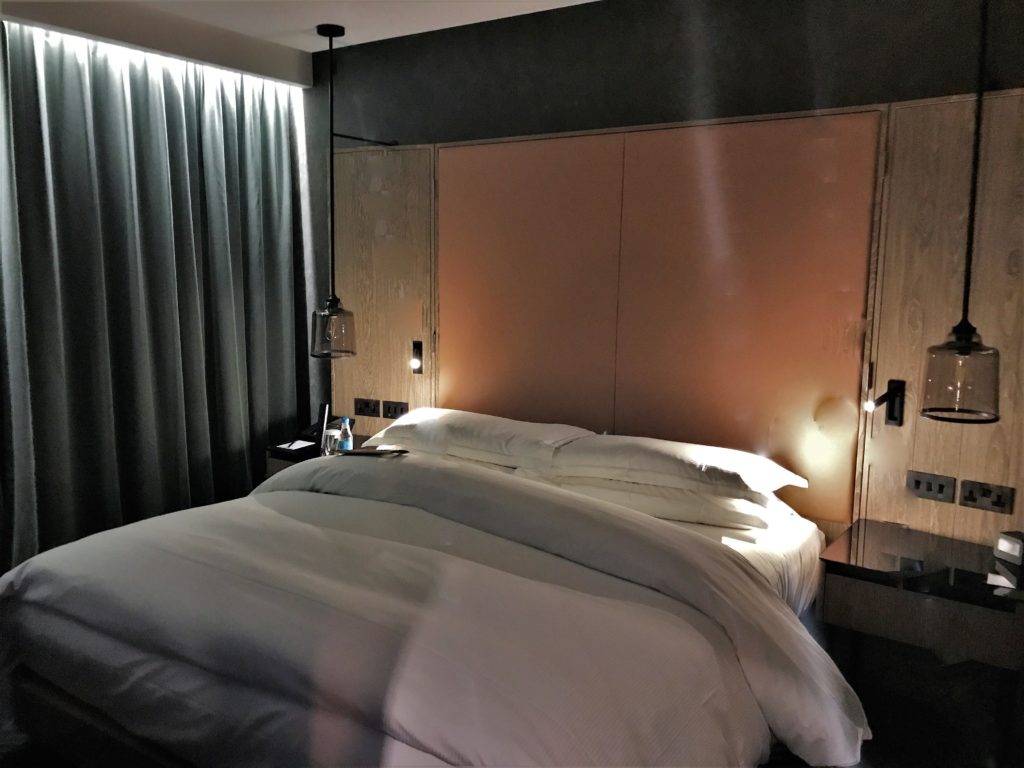 The next morning the only 2 minor hiccups happened. I had asked for a paper and when I looked outside there was no sign of it. For me this happens about 50% of the time in most hotels. Unfortunately I then forgot to put the bar back across the door. A few minutes later there was a knock on the door. Without waiting for an answer, one of the hotel employees walked into the room as I was walking towards the door in my nightwear! He said he was there to set up a cot and when I said it wasn't for me, he started arguing that this was the room that had asked for one!
To be fair I didn't have the 'do not disturb' sign on, but he shouldn't have argued and instead should have made a hasty exit!
Other room categories
Even the entry level Hilton Guest rooms have the same luxury amenities as my room. These include slippers, bathrobe, mineral water, free mini bar soft drinks and the Hilton Serenity bed. The King Guest entry level room is 30sq.m which is decent size. There is also free Wi-Fi.
The Executive club rooms are slightly bigger at 34 sq. m. With these rooms you can enjoy access to the Executive Lounge as well as with the all the suites.
Breakfast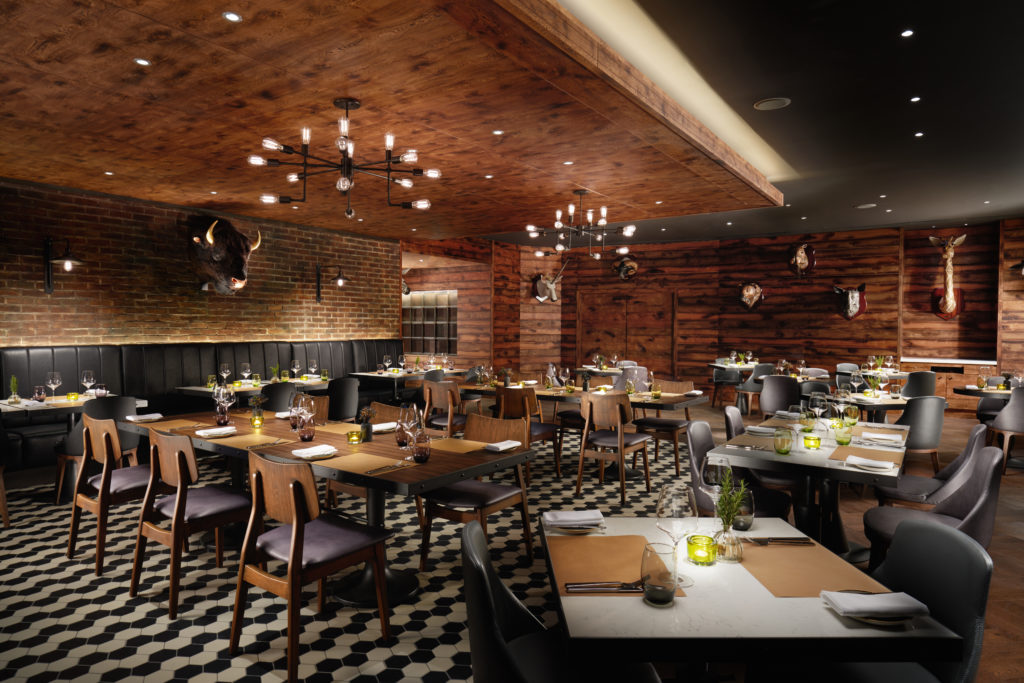 Breakfast was available until 11am at weekends which was great. I decided to have breakfast in the main restaurant rather than the Executive lounge, as there was a slightly better selection.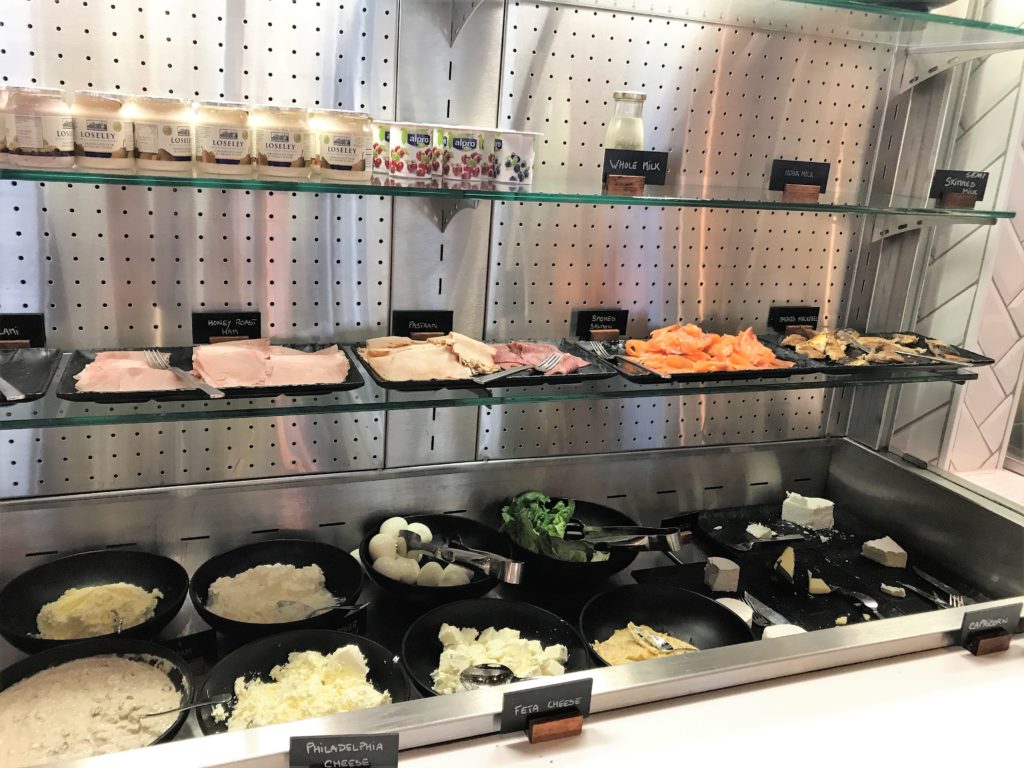 I was very impressed with the service in the OXBO restaurant. I was welcomed as I walked in and escorted straight to the table. Despite it being a self service buffet, the waitress was constantly checking I had everything including juice and hot drinks. The breakfast buffet was spread out over a reasonably large area, so even though the restaurant was quite busy, you didn't have to jostle to get to things. There were cold meats, smoked salmon, cheese, fruit, cereals, yoghurt and even mini prawn cocktails. Everything was good quality including Loseley Farm yoghurt. I liked the way it was laid out attractively too.
They had a hot station with the usual English breakfast items. You could also have things such as eggs and pancakes cooked to order. It would have been good to have a list of what was available at the chef station, as you had to try to remember what you were told when you came in.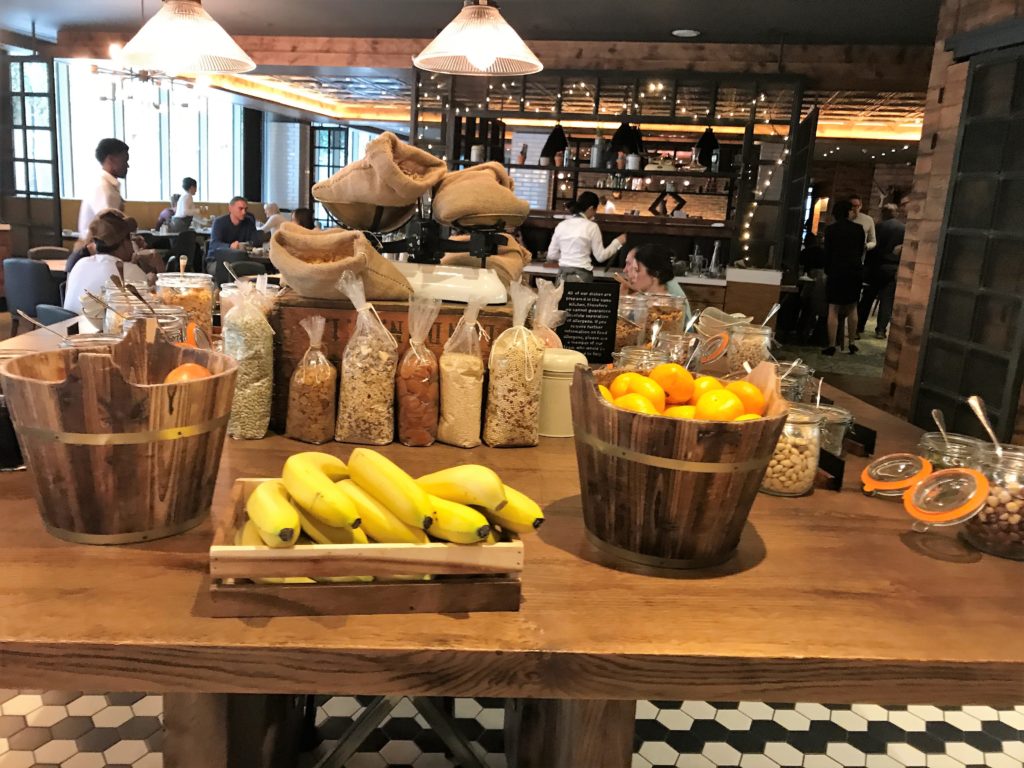 Executive lounge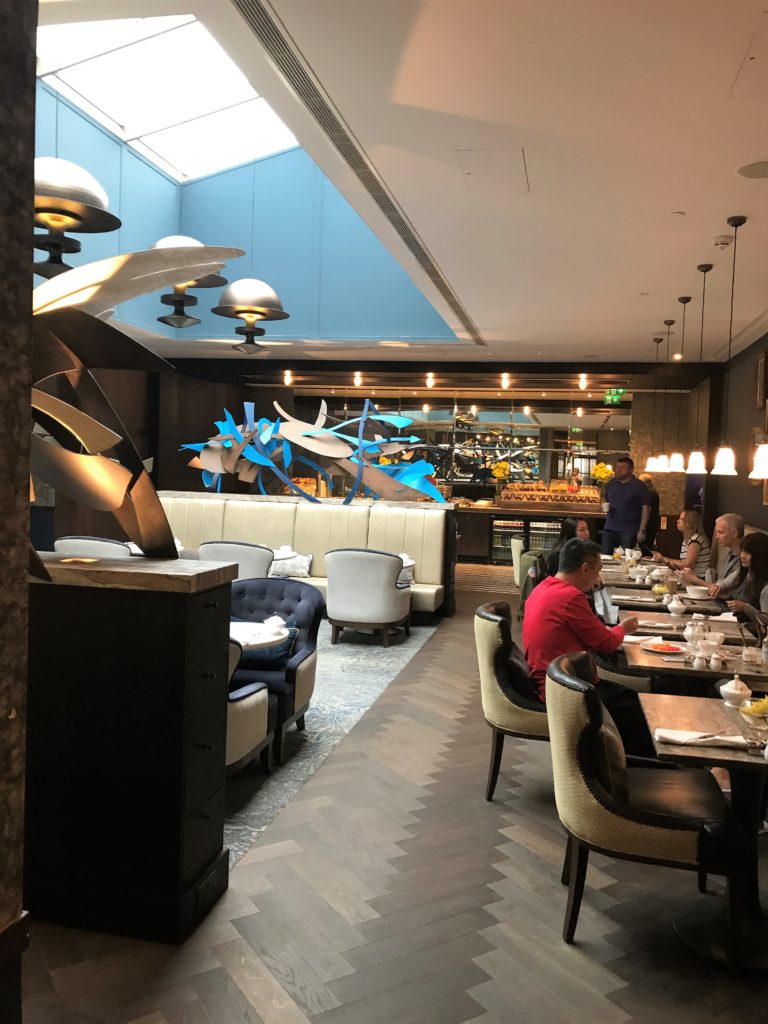 I popped into the lounge at breakfast time to have a look. The Executive Club lounge was impressive, with a high-end modern feel to it. The lounge would be a lovely place to have an aperitif before heading out in the evening. I would rate the lounge decor very highly; to me it felt as luxurious as the Conrad London hotel's lounge. There was a small hot section for breakfast and then the usual cold items including smoked salmon, meats, cheese, pastries, fruit, yoghurts and cereals. It would certainly be enough for most people unlike some of the measly selections you get in Hilton lounges for breakfast.
As well as breakfast, there are soft drinks during the day, afternoon tea and the usual alcoholic drinks with hot and cold canapés in the evening. The Executive Lounge offers a dedicated arrivals area and pre-check in shower facilities, which is a great idea.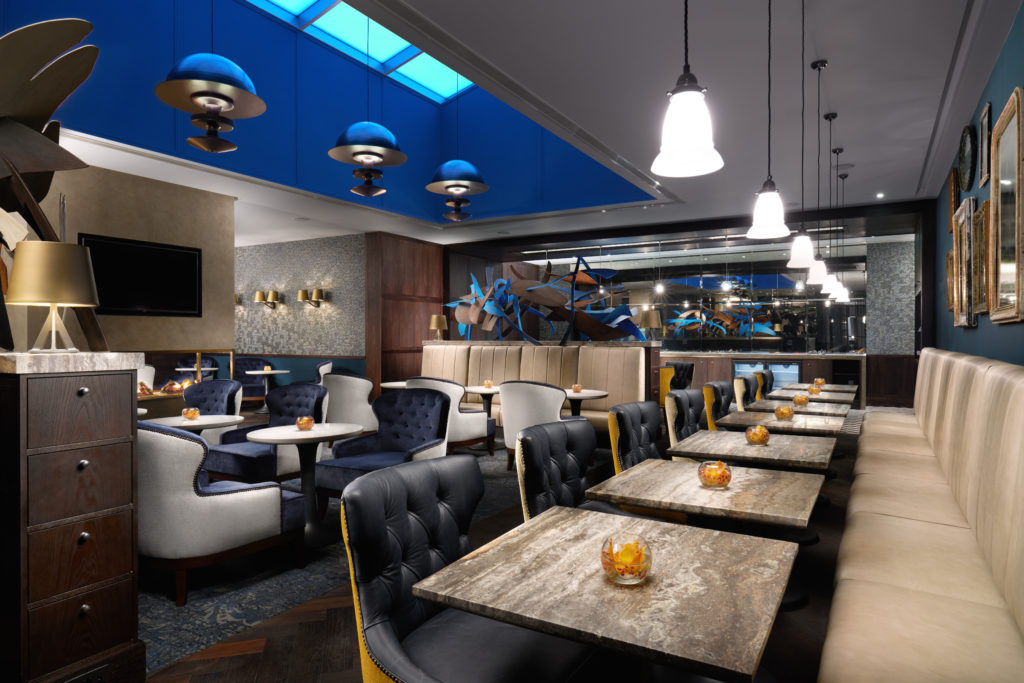 Dining and drinking options
The hotel has one restaurant and a bar. I would actually be tempted to visit the bar even if I wasn't staying at the hotel.
OXBO
The hotel restaurant, OXBO Bankside, offers traditional British cuisine with a twist. Chef Paul Bates – formerly of The Beaumont and Intercontinental Park Lane – contrasts British ingredients with exotic tastes that give old English favourites new twists. Dorset snails wrapped in Prosciutto is one of the signature dishes. The restaurant also has a Josper Grill which cooks steaks to perfection by ensuring the meat is kept tender and full of flavour.
The Distillery bar
The hotel's bar, The Distillery serves over 50 different gins, a menu of signature cocktails and its own Distillery Craft Beer. The bar is located on the site of a Victorian essence factory which is reflected in the decor.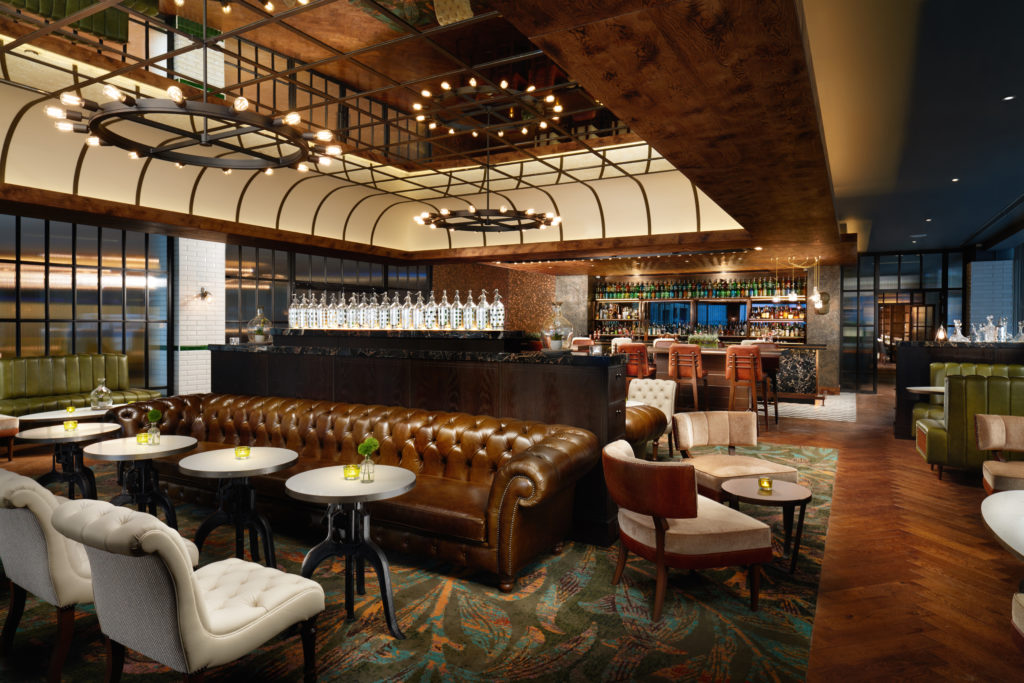 Facilities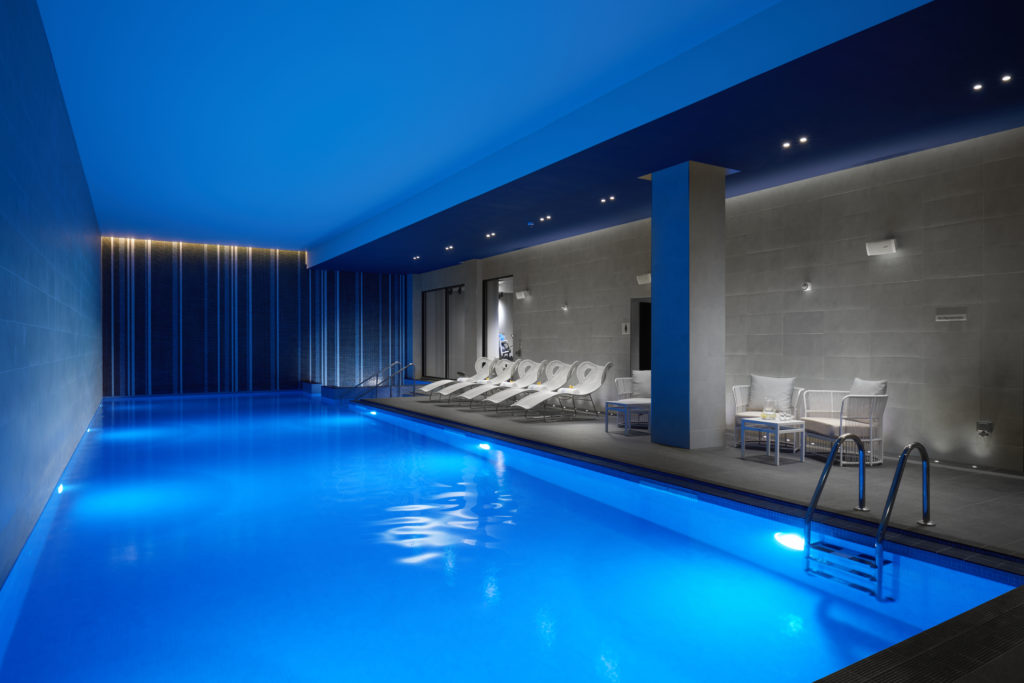 Hilton Bankside has a Living Well fitness centre with indoor swimming pool, fitness studio and treatment rooms. The 17 metre heated swimming pool looked inviting with its large jacuzzi, but I didn't have time for a swim. The swimming pool has an ionizing purification system, meaning no stinging eyes and a more comfortable swim.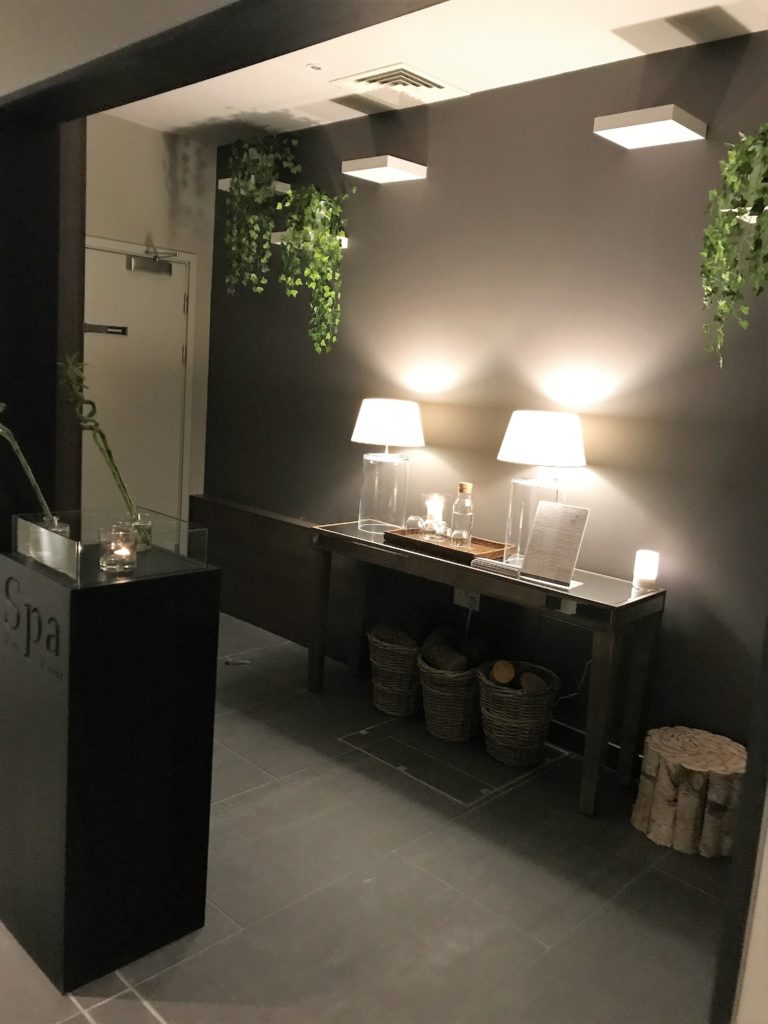 Conclusion
Having stayed at the Hilton Bankside, I can see how it got its 5* category. The service was generally excellent. Whenever I was in the reception area, I was always approached and asked if I needed help. All the staff were friendly and on top of their game, apart from my one in-room encounter! Price-wise this is not a cheap Hilton, but rates start around £186 per night during Hilton sales. The Conrad is usually at least £30-£50 more than this and the Waldorf Hilton substantially more.
I have to say, I would probably choose this hotel over the Conrad in future. Much as I like Conrad hotels, I find the London one a bit underwhelming. The Conrad Executive lounge and rooms are nice but the service is pretty hit and miss. There is also no pool at the Conrad and the entry level rooms are tiny. Although the Bankside doesn't have the history of the Waldorf, based on comfort and price, again the Hilton Bankside beats it.
Overall I would highly recommend the Hilton Bankside and it will be top of my list for future London visits. You can visit the hotel website here.