How is Cathay Pacific's 'The Pier' Business Class Lounge holding up? After spending several hours at the Chase Sapphire Lounge it was time to head to the popular Cathay Pacific Business Lounge at Hong Kong International Airport (HKIA). Owing to the current pandemic situation, the number of lounges available at HKIA for Cathay Pacific passengers is far more limited than before 2020.
Here's how the oneworld lounge situation at HKIA looks today:
The Pier – for international transit passengers
The Wing First – for passengers originating in Hong Kong or transiting to/from Mainland China
The Deck – temporarily closed
The Bridge – permanently closed
Qantas Lounge – permanently closed
At the time of travel in November 2022 with my itinerary, The Pier was the only option for Cathay Pacific lounge access. When The Wing reopens, passengers would be eligible to access with their oneworld Emerald status or First tickets.. I connected off a flight from Taipei in Economy which I reviewed here.
Author note: As of January 2023, the previous segregated system at HKIA has ended. The Pier and The Wing are now open for their respective Business, First and status passengers.
An aside, Hong Kong International was still quiet in much of the terminal during my visit – very different from what you would've experienced in 2019.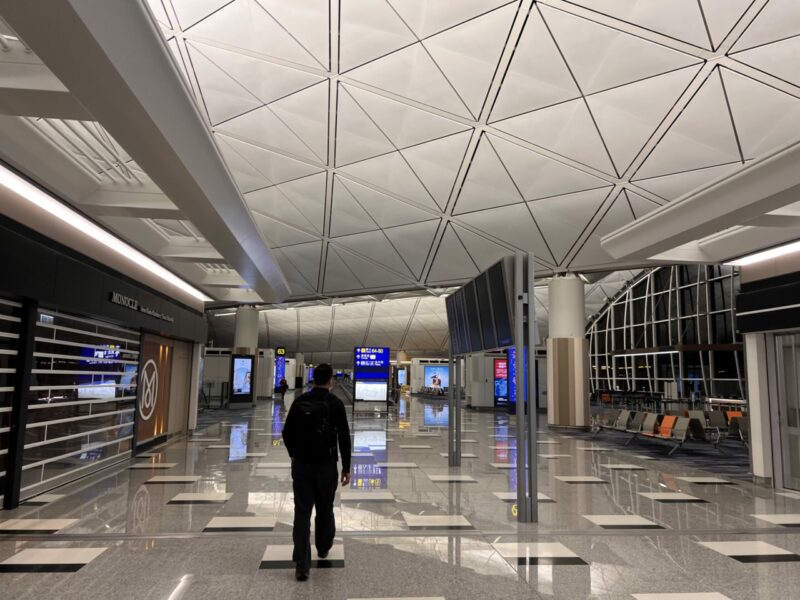 If you've ever visited the Cathay Pacific Lounge at Heathrow, you will feel right at home – except this is on a much bigger scale. The lounge is split into six distinct zones that are designed to reflect different lounging 'modes' – the most interesting of which being 'The Sanctuary' for yoga. There is also 'The Teahouse' which for some reason was left out of the signage.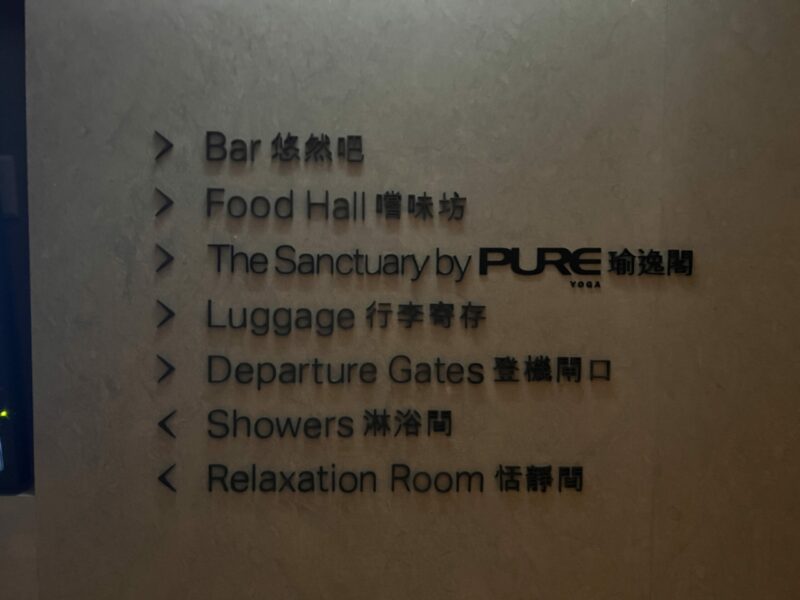 Food, drink and lounge areas
After reception, where the lounge staff warmly greeted me, the first are you walk into is the Food Hall. While I suspect this was self-serve pre-2020, at the time of visiting lounge staff served onto a plate what you requested. I don't mind this practice because it does improve cleanliness and self-serve buffets are often not the best experiences with some greedy passengers.
The food selection of Cathay Pacific's 'The Pier' Business Class Lounge here was good and consisted of mostly non-Asian dishes such as pizza, focaccia, meatballs and charcuterie boards. While the meatballs were of average quality, the pizza and focaccia impressed particularly with the genuine pizza oven directly in the lounge. The latter is surprising considering many airports do not allow open flames – however that doesn't appear to be the case at HKIA.
While the views were not well lit considering the dark hours, they do provide sweeping and stunning views from end of the lounge to the other – making for great avgeek pictures of the Cathay Pacific aircraft. Along this window expanse there is plentiful options for relaxed sofa or lounger seating. Even though this lounge serves as the only option for international transits, the space never felt crowded.
The famous Cathay noodle and dim sum bar makes an appearance in the next section of the lounge with a similar selection to the First lounge at Heathrow. Sufficient dining spaces for individuals and groups are available with a decor that is inspired by noodle bars in the airline's home city.
As for the quality of the noodles and dim sum at The Pier, they were solid but unremarkable. The surprisingly calorific Dan Dan Mian with spicy peanut sauce is always a joy to eat but the dim sum is no better than what a chain restaurant may serve. Served within five minutes each time, I dutifully enjoyed two baskets of dim sum and a bowl of the mian – which rounded out my culinary experience in this lounge. While this won't be a surprise for Business flyers, unlike the First lounge at Heathrow there is no table service in any of this lounge.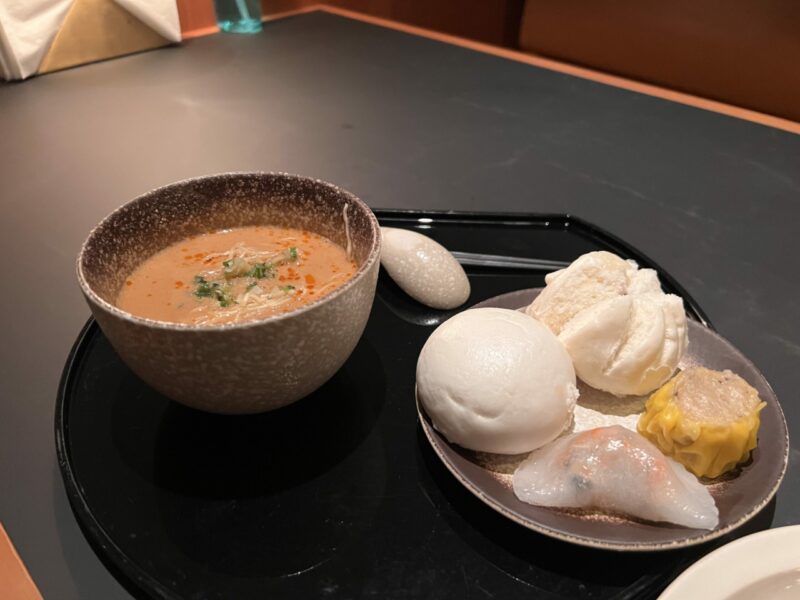 Across the bar area of the lounge, the airline provides passengers with an excellent selection of alcohols including spirits, cocktails, beers and wine. Champagne comes in the form of Piper Heidsieck which is also served on several other airlines. Like their on-board service, Cathay Pacific's The Pier provides excellent tea from JING and Illy coffee but most tea fans will want to head to the Teahouse instead.
I opted for a HK-style milk tea and Coca Cola plus (which only seems to exist in Hong Kong), as I had enough alcohol from my visit to the Chase Sapphire lounge.
The Teahouse is a unique concept but in keeping with the airline's Cantonese heritage and provides the opportunity for passengers to avail tea in a relaxing environment. While I didn't have time to try it for myself, I understand that guests are served with real tea leaves in pots to enjoy. Few passengers were drinking tea at 8pm on a Friday though!
Shower facilities and amenities
For an airline that focuses on long-haul to Asia connections, Cathay Pacific has an extensive number of showers available for passengers to refresh themselves in. Whenever I get the chance before a long flight, I always avail the opportunity to take a shower and get changed. This is always a winner in my books, even if it is the BA hospital shower rooms! Threat not, these are far, far better than them.
A seating area can be found just outside the shower facilities, which I presume becomes a defacto waiting room in busy peak periods. I walked into a shower room without waiting after speaking to the lounge staff.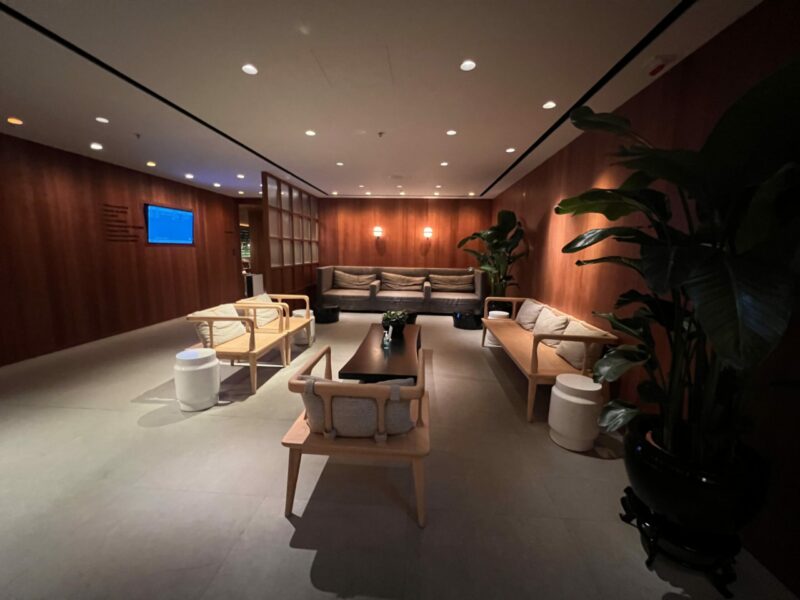 The corridors leading to the shower rooms are quite moody but particularly stylish in my books. You will be assigned a specific shower room by the receptionist.
The bathrooms feature large mirrors with bright surrounding lights which make either having a shave, fixing your hair or doing make up much easier. Sufficient space is provided to place your bags or suitcase on above floor level.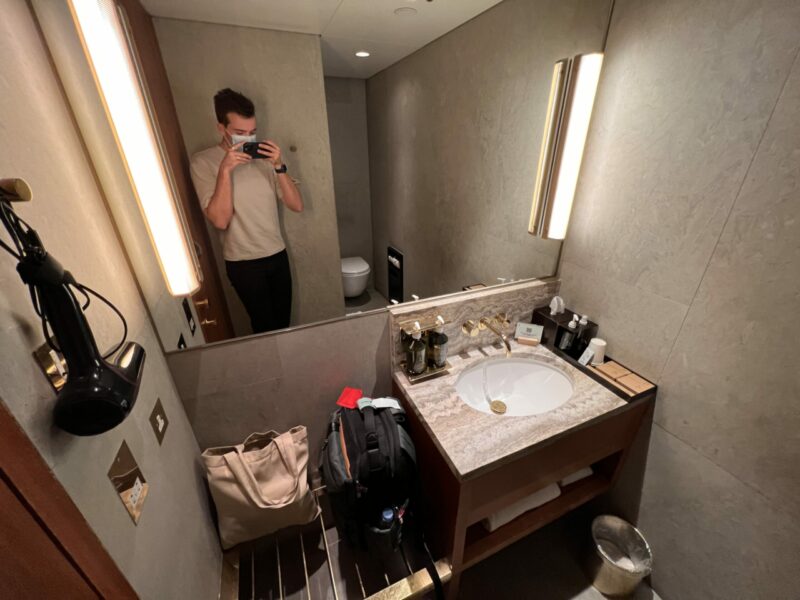 As on-board, all Aesop amenities have been swapped for Bamford. I cover more in my flight review but, in general, they're well scented and high quality – although I still prefer Aesop as many other frequent flyers seem to. It was nice to see the airline provide an extended range of amenities such as the face wash and toner.
The rooms feature both an overhead 'waterfall' and handheld shower as well as a toilet. The latter is too often separate in many lounges so it's always nice to see it in the room itself. Apologies for the poor lighting on the photos, these are screenshots from a video – I will update on my next visit in June.
The main toilets offer a similar design to the private shower rooms. Bamford amenities are also provided here.
Conclusion
While it would have been nice to visit The Wing First Class lounge at HKIA, The Pier is far from disappointing. Beyond the lack of table service, many aspects of this lounge are high quality and beyond what the equivalent you would get at other Business Class lounges. While the dim sum could do with a quality improvement, the other food impressed me, including the ever-excellent noodles as well as the freshly cooked pizzas. Cathay Pacific's lounge experience at HKIA is great, and I can't wait to have the chance to visit again – perhaps with a 'lounge safari' next time if more of their other lounges are open.
Like Our Cathay Pacific's 'The Pier' Business Class Lounge review? You can read more airline lounge reviews here.