This review of British Airways B777 First class is the outbound journey of this review, where I did not go into much detail about the seat as the seats were identical. If you want to read about the unique first class lounge experience at Barbados, it is worth a read!
This was a flight I had booked on Avios using a Gold upgrade voucher. I paid 125,000 Avios to Barbados (for business class) + £750, or with RFS, you could use 180,000 + £450, all off-peak.
Check-in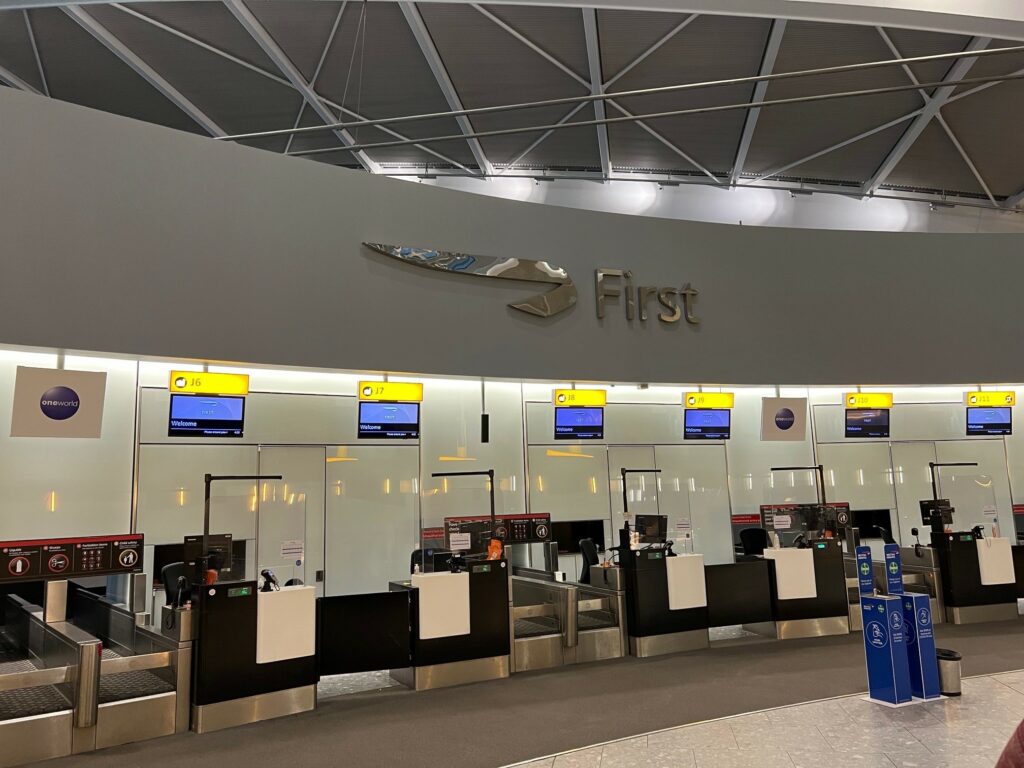 First class passengers at Heathrow can use the BA First Wing. This is a separate area with its own security lanes and a passageway directly into the First Lounge. In good times it can take less than 10 minutes from entering the airport to sitting with a glass of fizz in your hand in the lounge. This was not one of those times.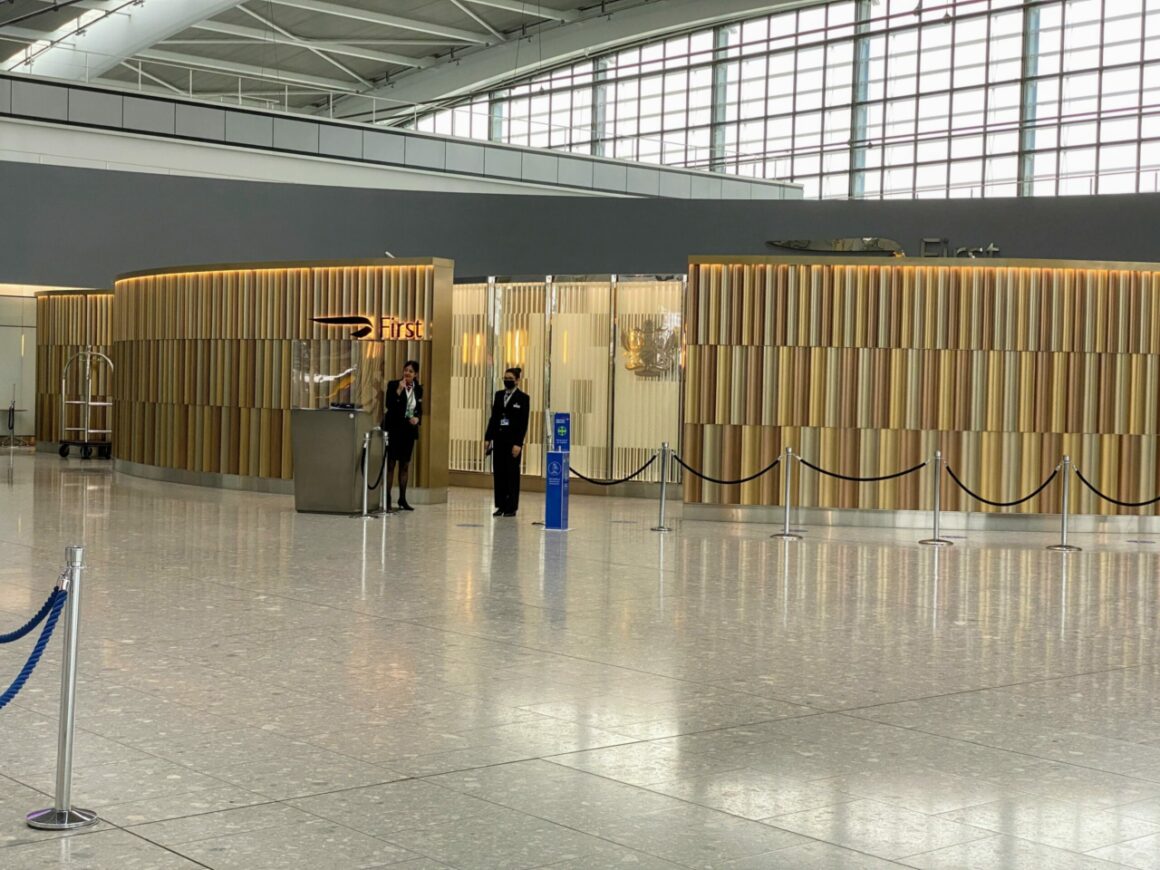 I was checked in by another lovely First wing agent – they always seem a cut above elsewhere and very friendly. I could see there was a big queue for security coming back past the entrance. She said that it could take 20 minutes or more due to an issue with one of the scanners being closed. It was around 7.15am and usually, both would be open by this time. She recommended going through fast track instead, so I thought I would give it a try.
The queue for Fast Track was bad, also going almost back to the entrance where you scan your boarding pass. After about 10 minutes, I finally got to the front and then discovered why. I have no idea if it was the security agents themselves or the equipment, but on one side of the two lanes they were pulling over about 50% of people's bags. Surprise, surprise, I got my bag pulled for a random test.
I waited around another 15 minutes for them to get to me as I counted nine people in front of me! On the other side, one person was waiting. I'd normally expect a maximum of two or three people to be waiting. This is not random. Something was going very wrong on my side.
Eventually, the sole agent got around to me, and I made it into the Concorde Room in a foul mood. Heathrow really needs to sort their act out as I think I have never been targeted so much for secondary searches as in the last 3 months, and none of them related to anything that I have done/forgotten etc. Other than the First Wing, I have a 100% rate of secondary searches or testing, which is getting very tedious now.
Concorde Room Lounge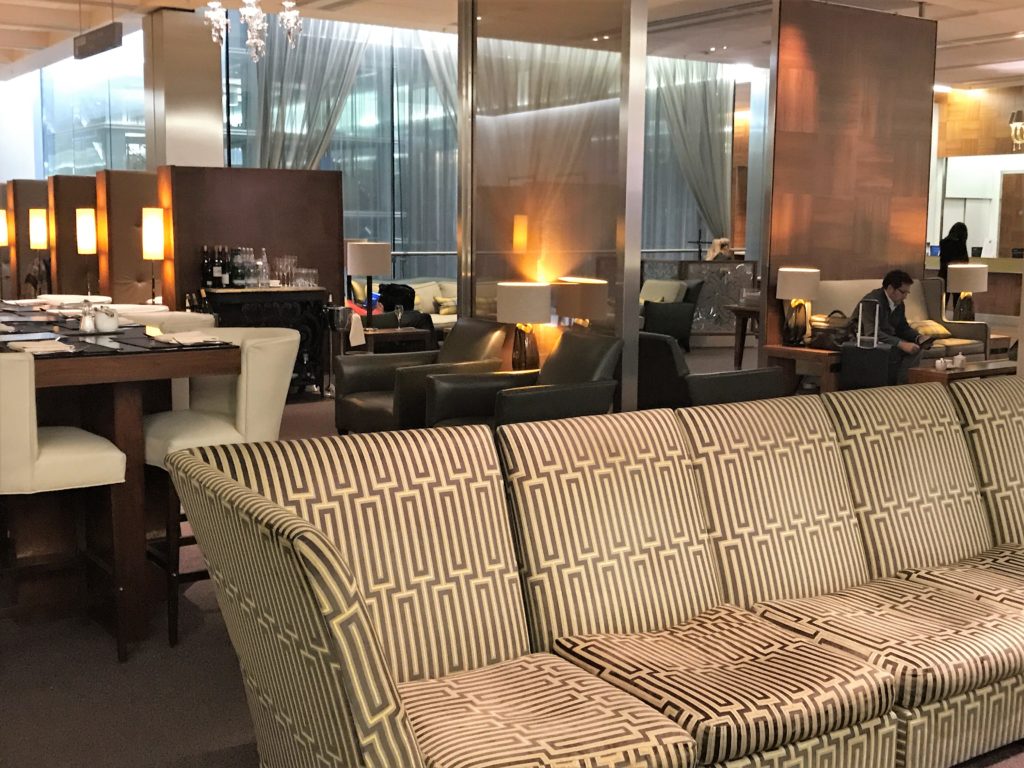 First class passengers can use the Concorde Room along with GGL card holders. The Concorde room is a big step up from the First lounge, which gold cardholders can use. Sadly the private cabanas have gone, and there is no more spa either, but it is still a haven of peace compared to the other lounges. They lost the boardroom area to Forty Winks, the nap pods where you can rest on loungers. There is a small work area by the terrace if you need it.
The Concorde Room has a restaurant area, but you can eat anywhere. If you want to be sociable, the high communal tables are the place to hang out or the bar.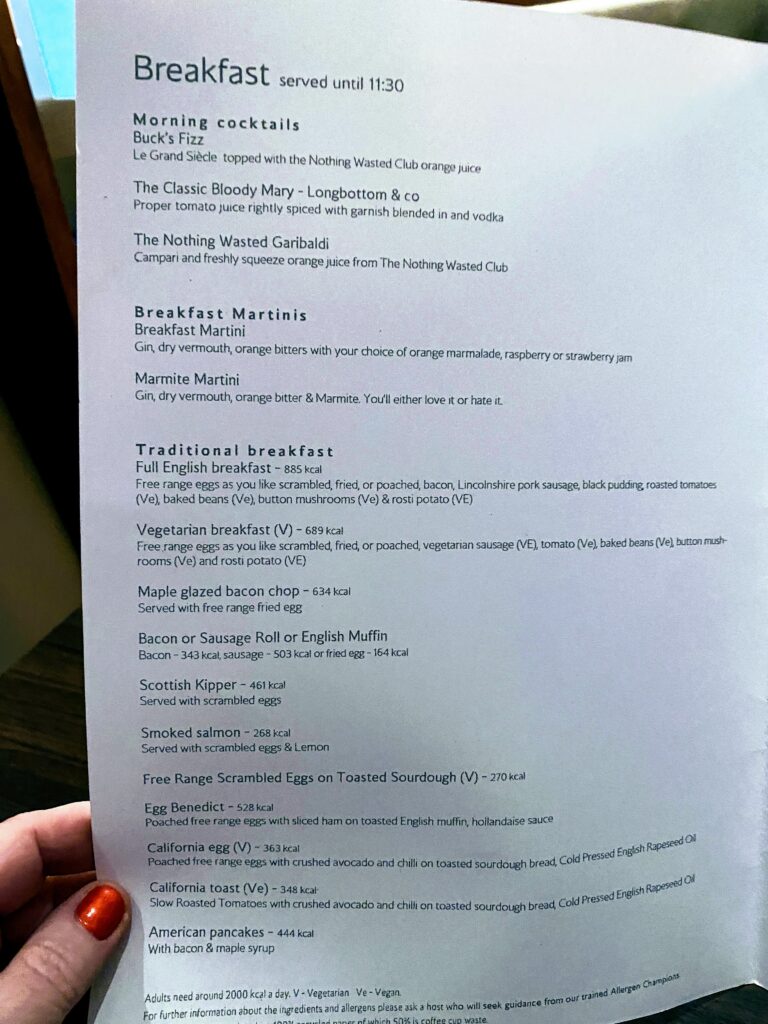 I was feeling somewhat anti-social after my early morning start and security experience, so I chose to sit in the restaurant.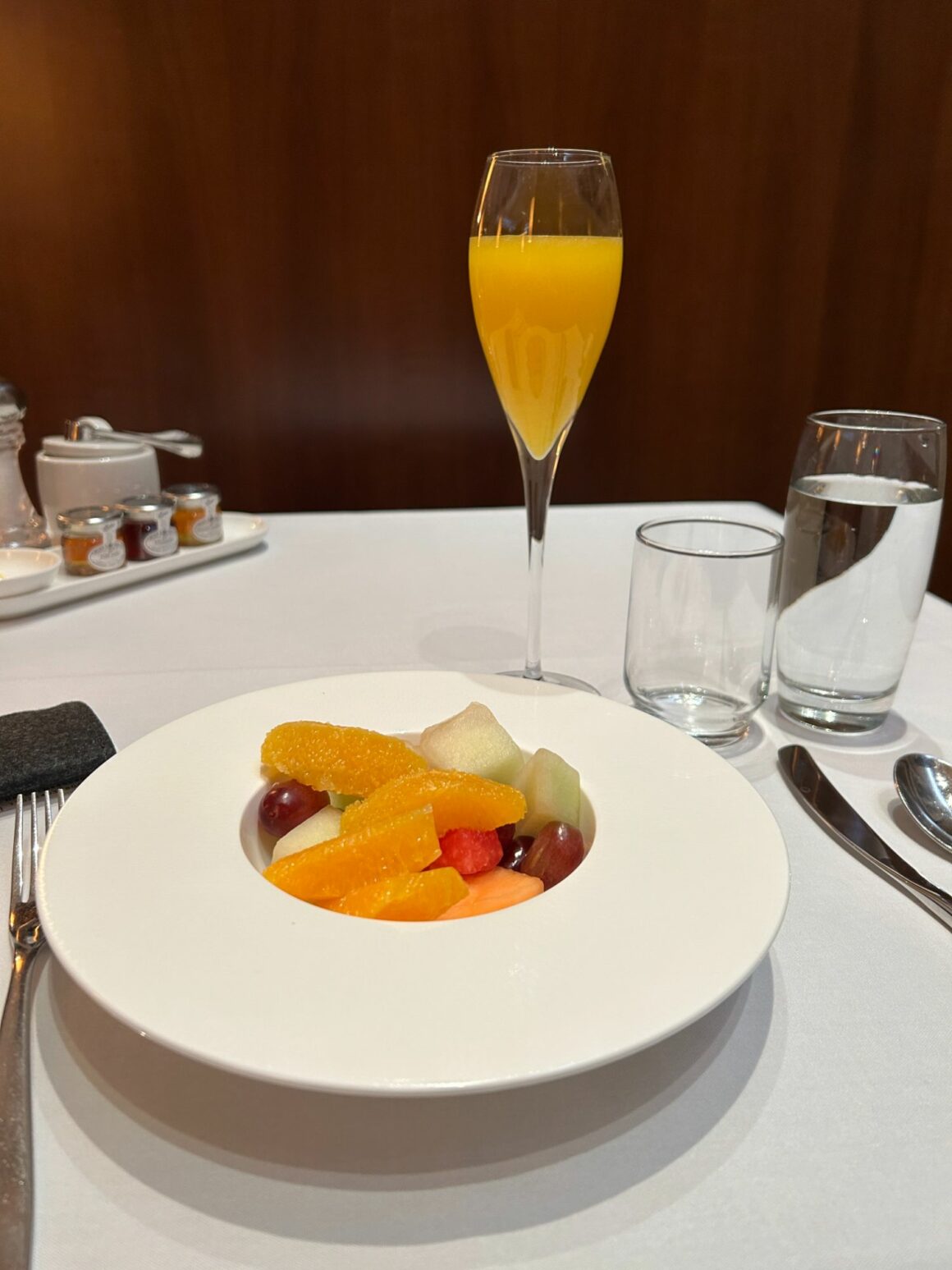 I went with my usual breakfast order of the maple glazed bacon chop with an egg. Be warned this does take a while to cook – up to 20 minutes, although they will tell you that when you order. I passed this time with a rather average fruit salad and a bucks fizz. The Concorde room serves Laurent Perrier Grand Siecle champagne. I also had a cappuccino which came with the speedbird logo in cocoa on top. As usual, the bacon chop was delicious, with the sweet maple glaze counteracting the saltiness perfectly. For me, it is one of the best dishes in the CCR.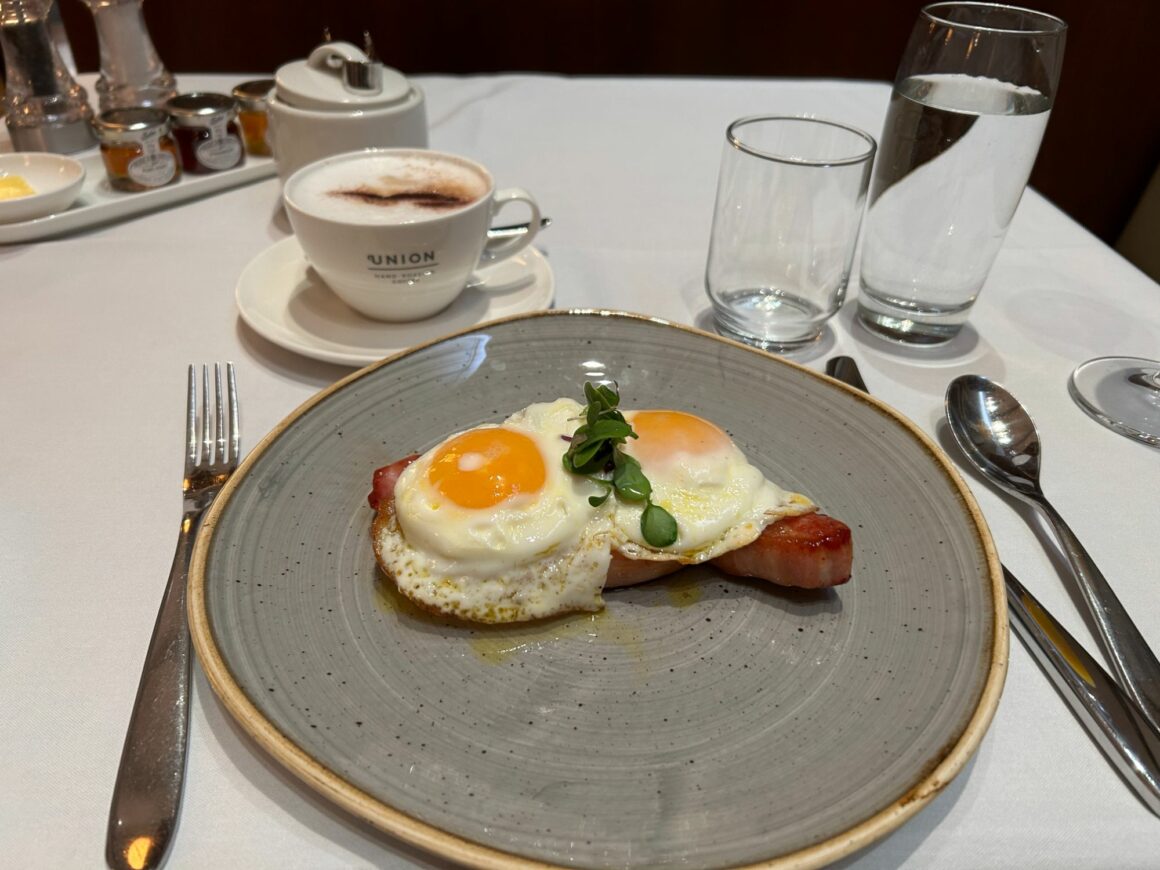 The server was friendly and generally efficient, and I started to feel more relaxed than when I had entered. Sadly this did not last….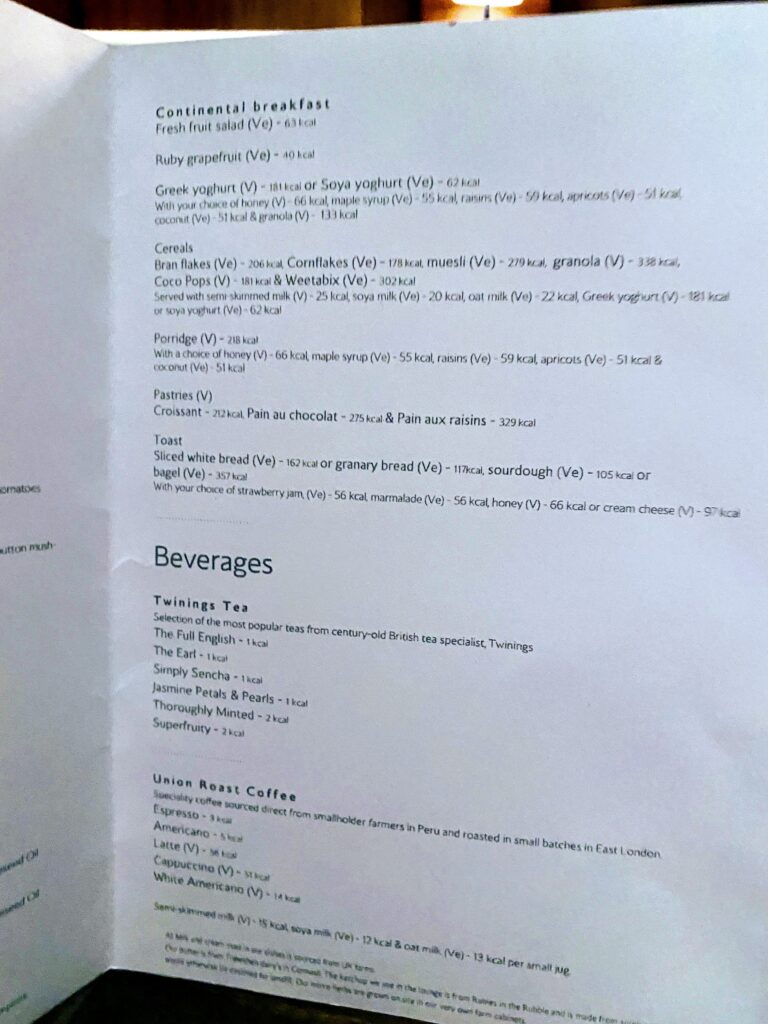 Boarding British Airways B777 First class
I had been given a B gate, as is normal for a long haul departure. But when I got near the gate and saw that it was downstairs as it confirmed my suspicion that it was a bus gate. I detest bus gates and particularly when you are travelling in first. Nothing says first class like being rammed into a bus with 50 other people coughing over you and being flung around halfway across the airport having on for dear life before you have to lug your heavy bag (because you can't trust your luggage won't be lost) up a big flight of steps!
Prior to Covid, it was very rare to have steps to an aircraft for long haul, but now it seems to be happening all the time. If you are going to do it BA, at least, try to make the bus journey a bit more pleasant with separate buses for business/first like Qatar and others do.
So by the time I got to my seat, I was really not in the best frame of mind, but the cabin crew member serving me immediately made me forget about that. I always say you can nearly always tell it is going to be a good flight in the first few minutes, and that was the case here. I did mention to her about how unpleasant the bus journey and steps were (I have a knee issue which is really exacerbated by steps), and she really took note as you will see later.
I was offered a glass of champagne (always helps a bad mood!) and a wash bag plus pyjamas.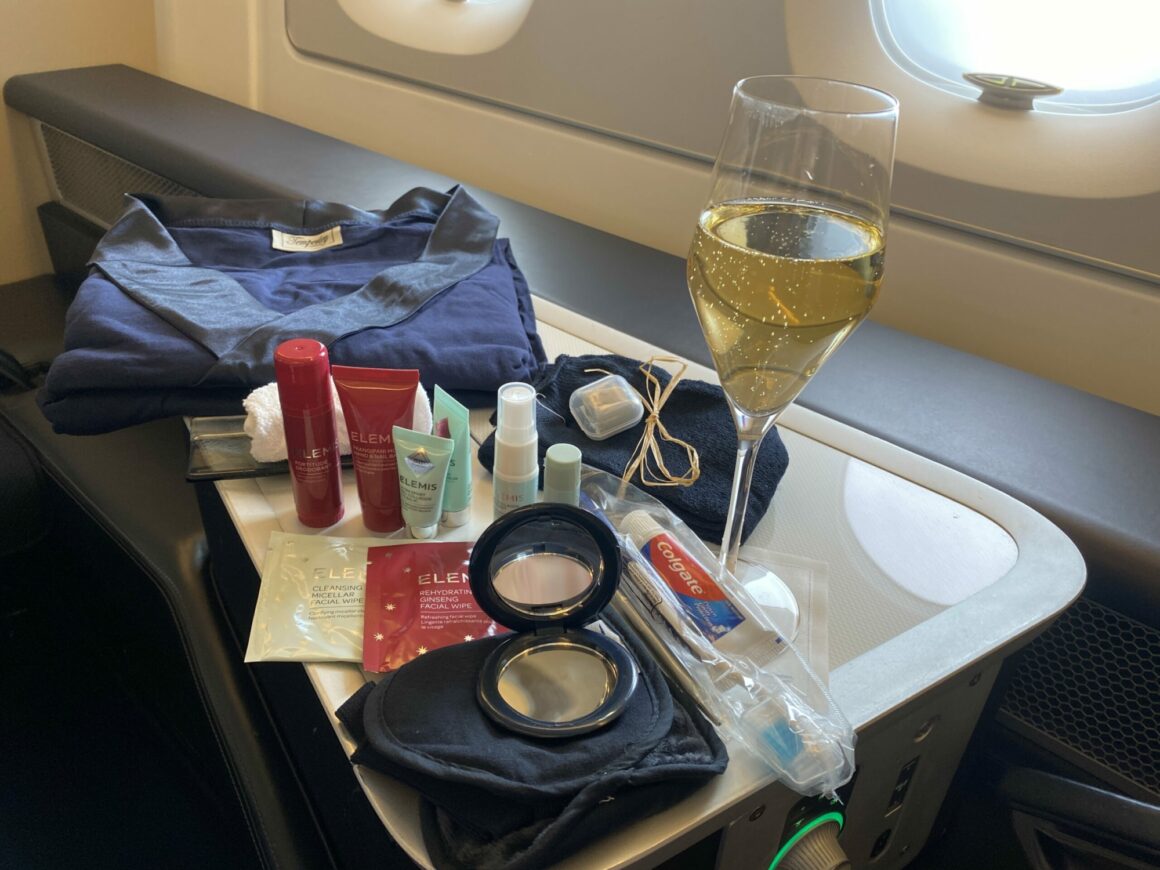 The washbag by Alice Temperley contained the usual Elemis amenities, which I really like. I think you get a lot inside the bag, and they are high-quality products. I also like the pajamas.
The kit contains:
Elemis Frangipani Monoi hand and nail balm
Elemis Rehydrating Ginseng Facial wipe
Elemis cleansing micellar wipe
Elemis lip balm
Elemis Pro-Collagen facial mist
Elemis Deodorant
Elemis Ultra Smart Pro-Collagen Serum
Elemis Ultra Smart Pro-Collagen eye balm
Eye mask
Ear plugs
Socks
First branded pen
Mirror
I had a glass of the Grand Siecle champagne and then was presented nuts in a bowl. Hurray, I thought! The old first class nuts are back. Until I started to eat them and realised they were the Club Europe ones that I am not keen on, but they had decanted them into a bowl! (full marks for the initiative to the crew).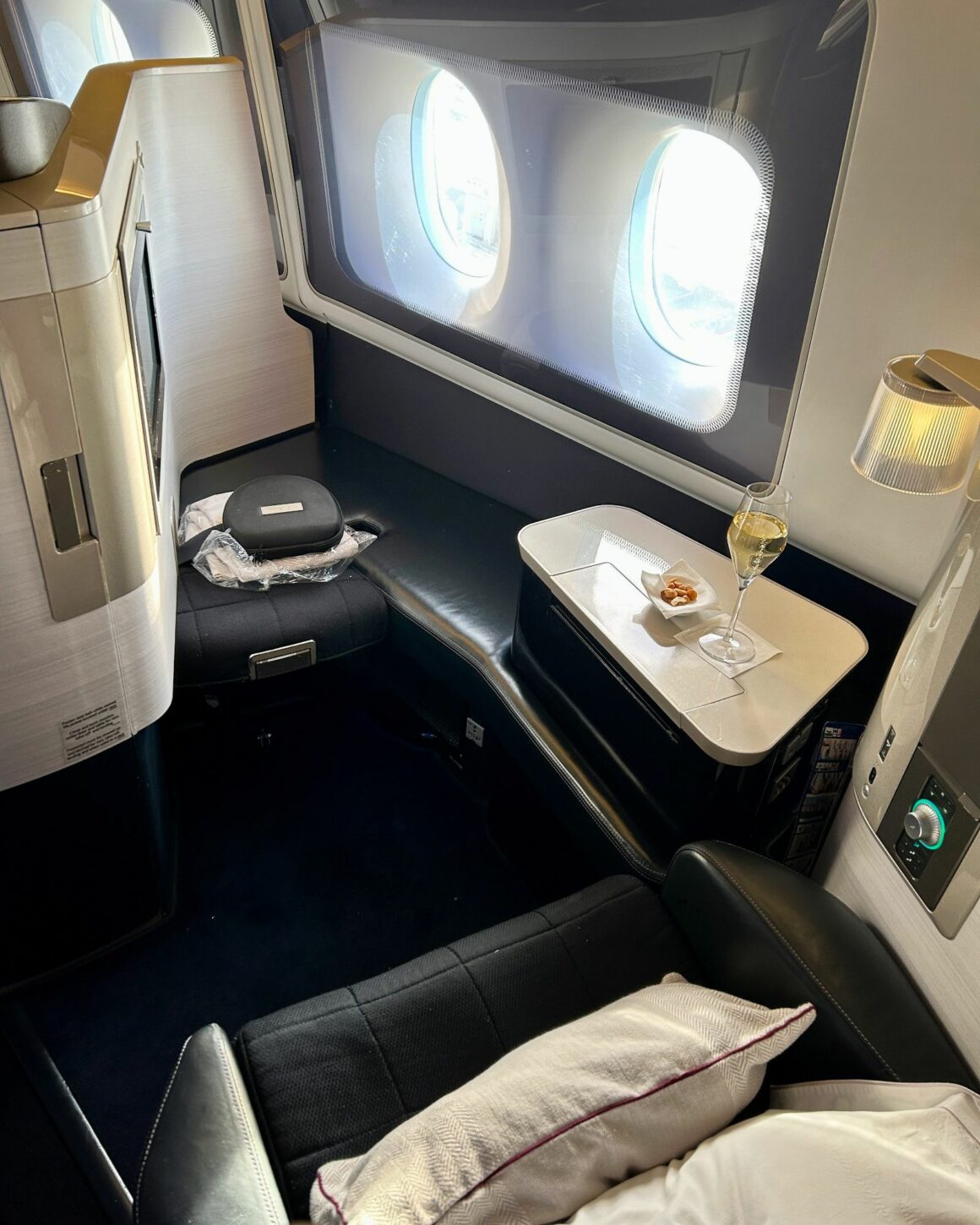 The IFM also appeared very on the ball and came to welcome me and had a chat later as well. I always think that they are a lot of how a crew perform on the day, and this lady was obviously leading the way.
British Airways B777 First class Cabin and Seat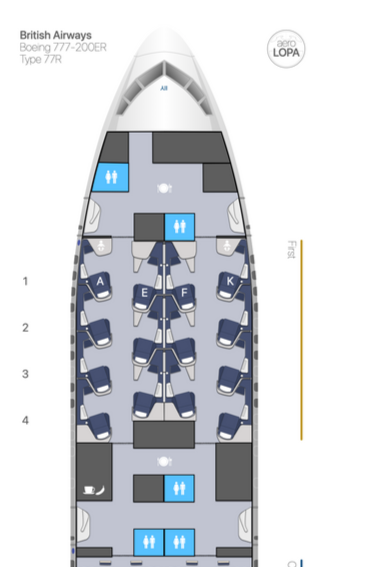 This aircraft had the old configuration of 14 seats in first class and was pretty much full. I usually for 2 or 3K in this configuration as I like a window seat, they are not right by the galley/toilet and I am right handed so prefer to have my drink on the right side of me on the side table.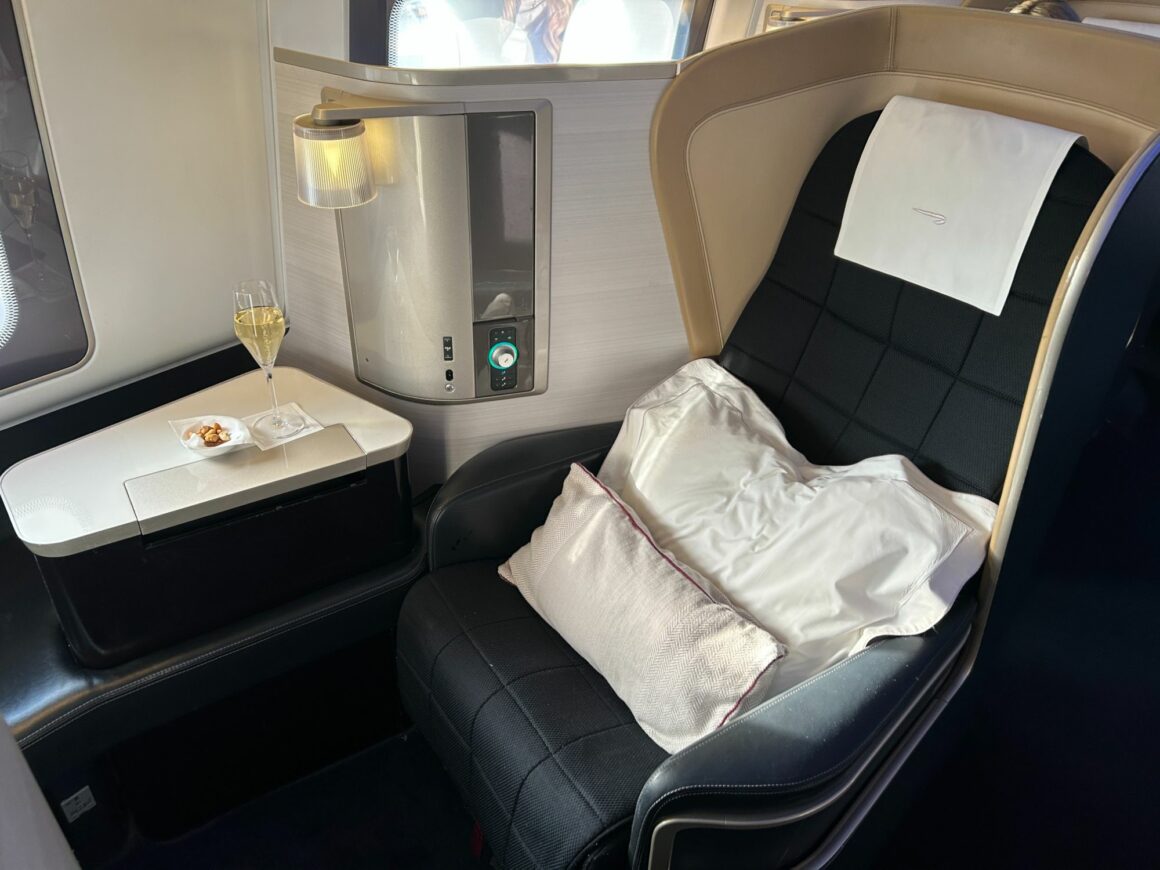 The B777 is probably my least favourite out of the BA Firsts, but that is not to say that it is bad. Just other types have better storage or are more modern. The main storage is in the rather small wardrobe. It's pretty shallow apart from the area for shoes at the bottom so you can't get a lot in there. That's pretty much the only storage for take-off and landing which is not really adequate. Once you have taken off there is plenty of room on the side but not anywhere else to store things out of sight.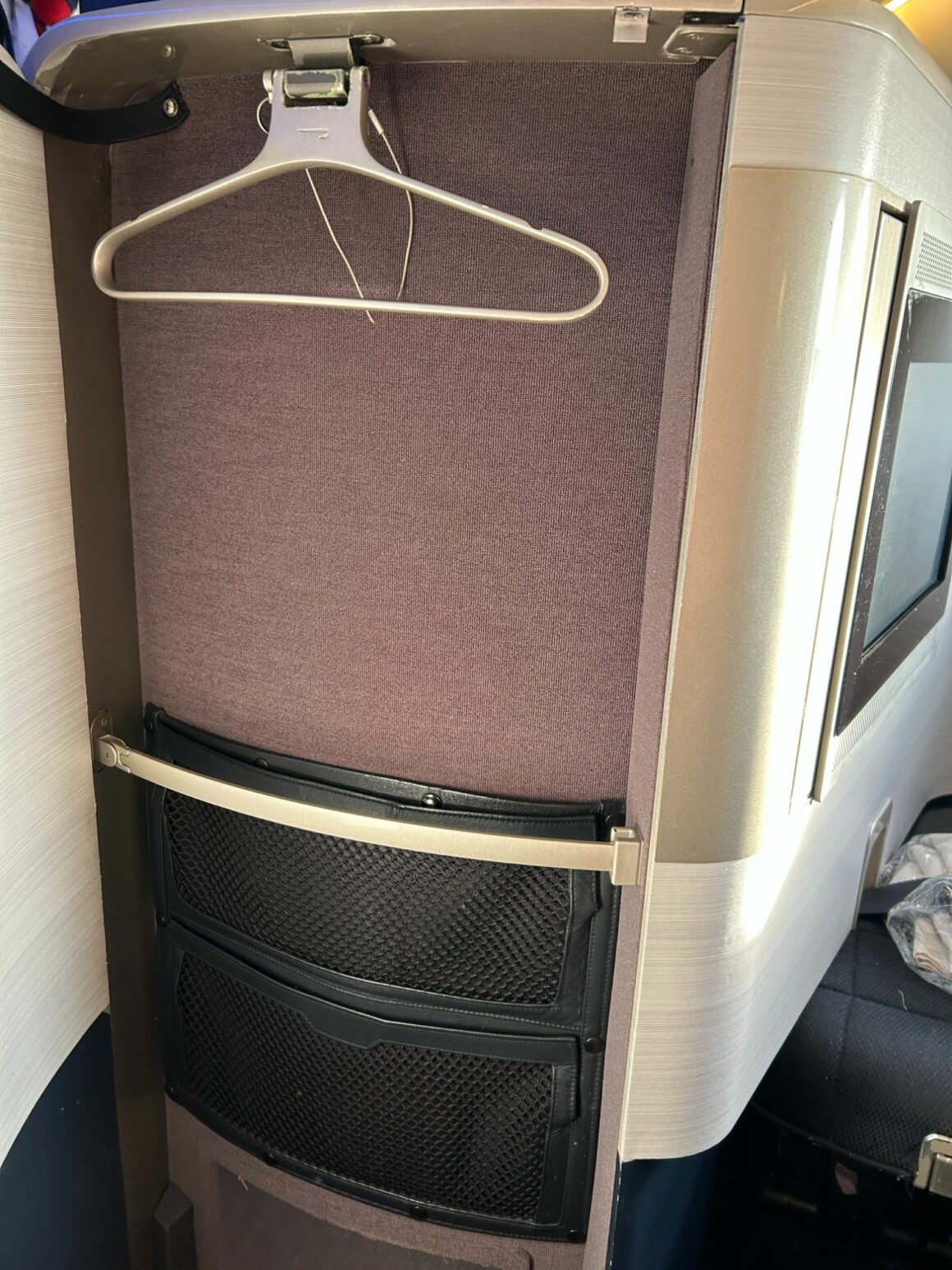 The British Airways B777 First class seat controls are simple mainly as there is not much you can control. You turn the dial to recline the seat into a bed or to put it back upright again. There is not separate leg rest control which always irritates me as reaching the footstool without reclining quite a bit is impossible if you are my height (5ft 6) or shorter.
The British Airways B777 First class seat and surrounding appeared in good condition and clean.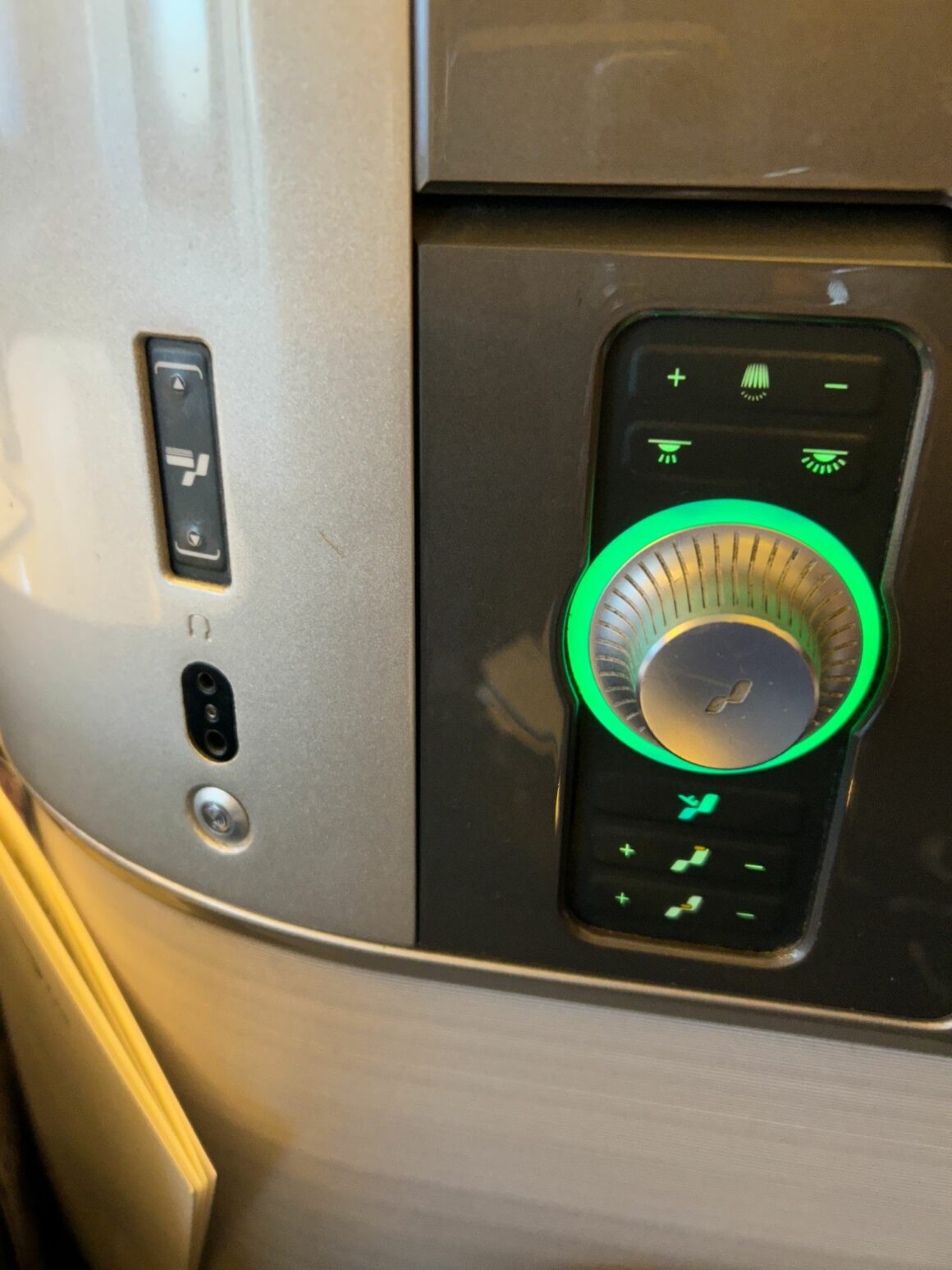 However, for lounging and sleeping, I find the British Airways B777 First class seat very comfortable and not too hard. I do also like the individual lamps that you can control and the window blinds which always look classy to me.
At the seat, you get given both a large plump pillow and a small day cushion, and I like having both so you can arrange a comfortable position in various ways.
You also get a mattress cover that has some decent padding and a duvet as well as a day blanket. As it was a day flight, I only had a short sleep, but I did use the duvet as it was very cold onboard. The first seats are definitely much more comfortable for sleeping than Club Suites due to the amount of space to toss and turn if you need to.
British Airways B777 First class Food and drink
You couldn't pre-order for my flight, but you can request the menu in advance from YouFirst, but usually only within a few weeks of departure.
Here is the food menu:
I was quite torn what to have as a few friends had given me a run down on various dishes and both the beef starter and main courses looked good. But I'm afraid double beef was a step too far after the bacon chop so I went for the prawn cocktail even though I was very perplexed by the mushrooms. What chef in their right mind goes, I know what would make a classic prawn cocktail even better, mushrooms?!
The meals service started with the offer of a drink and canapes: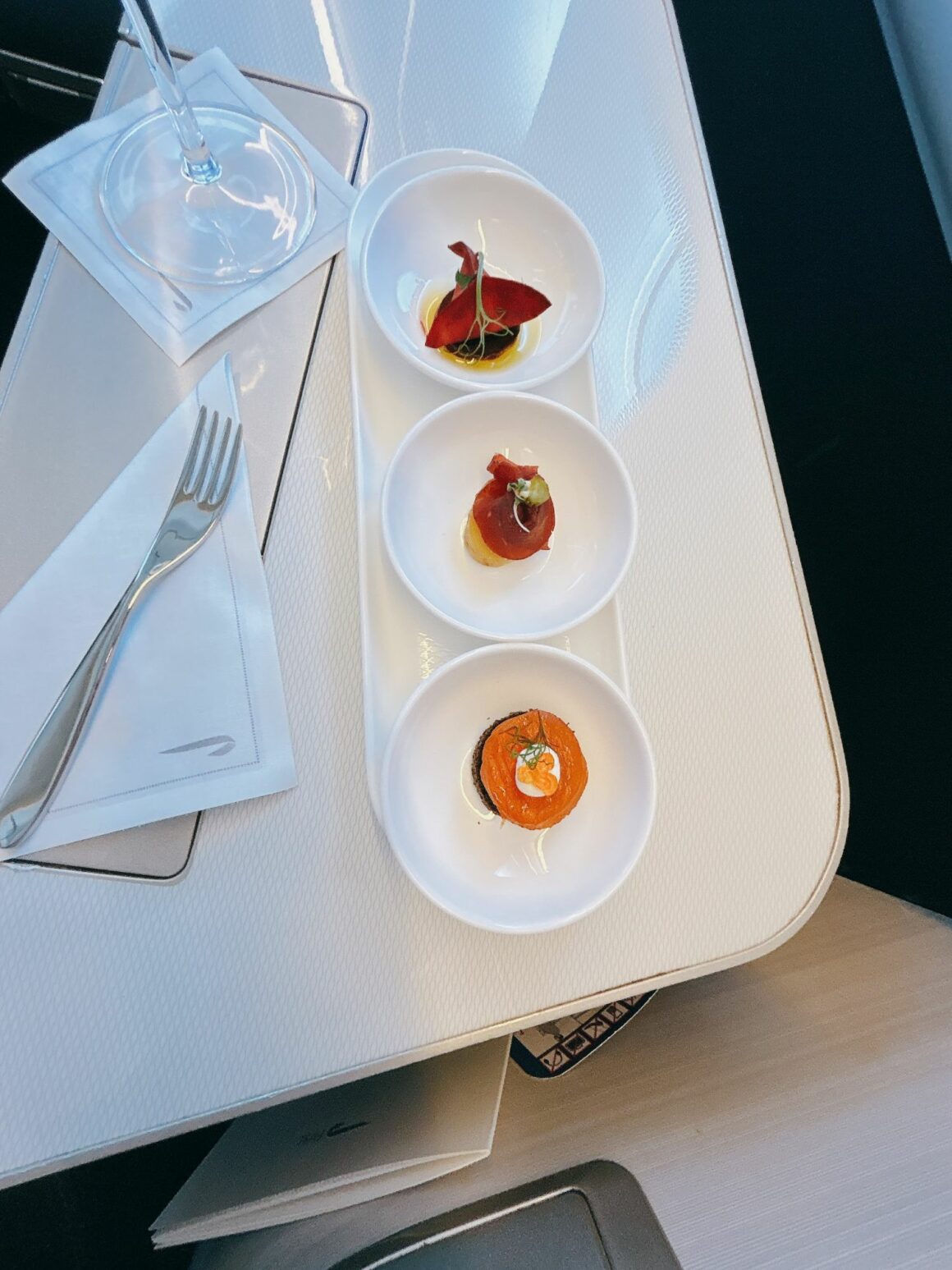 I really enjoyed these with my glass of champagne and they looked beautiful too. Here is the drinks list: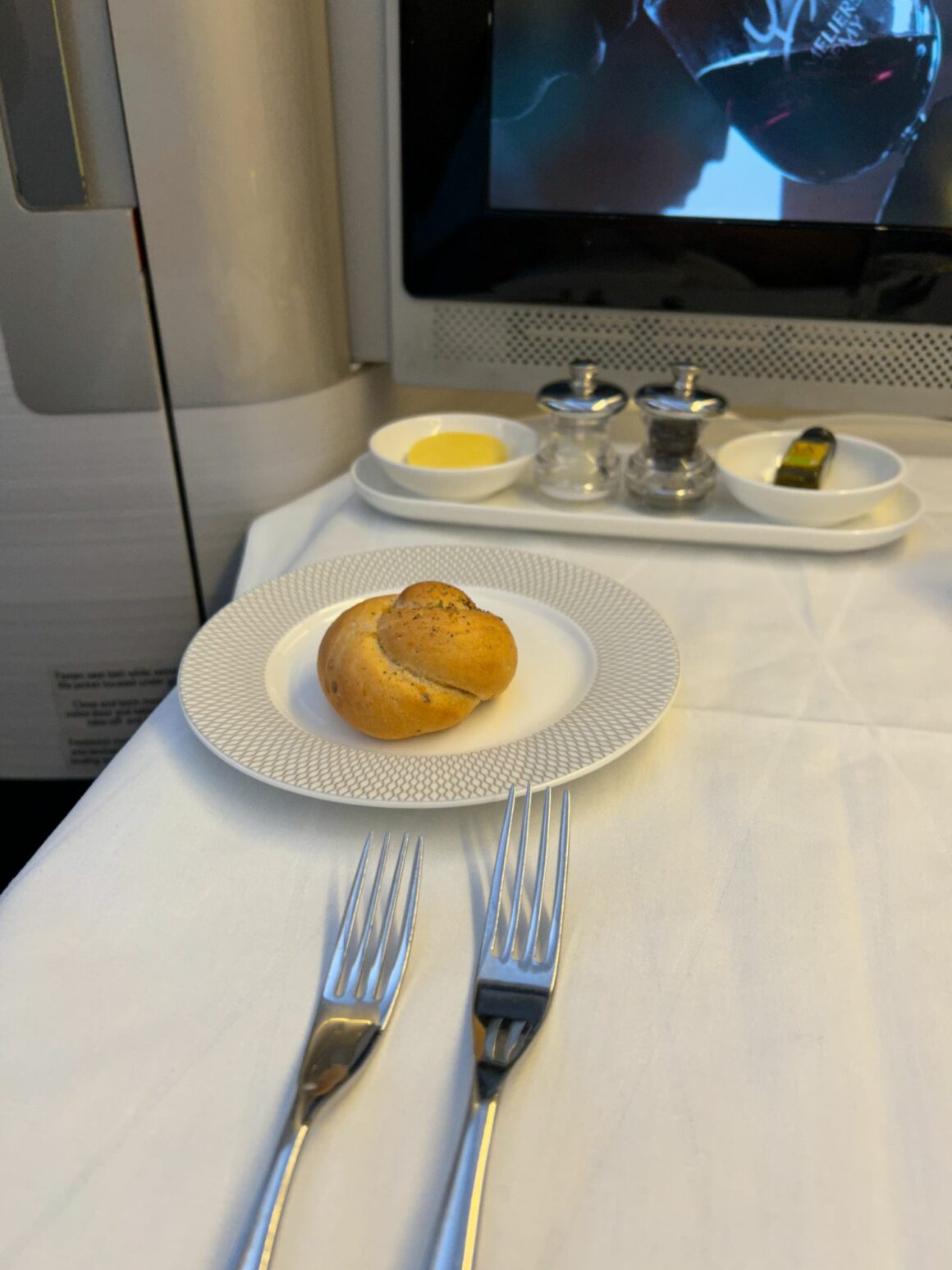 Next, my table was laid, and I was offered a break basket selection. I really like having the olive oil option, as some of the Mediterranean breads don't seem right with butter.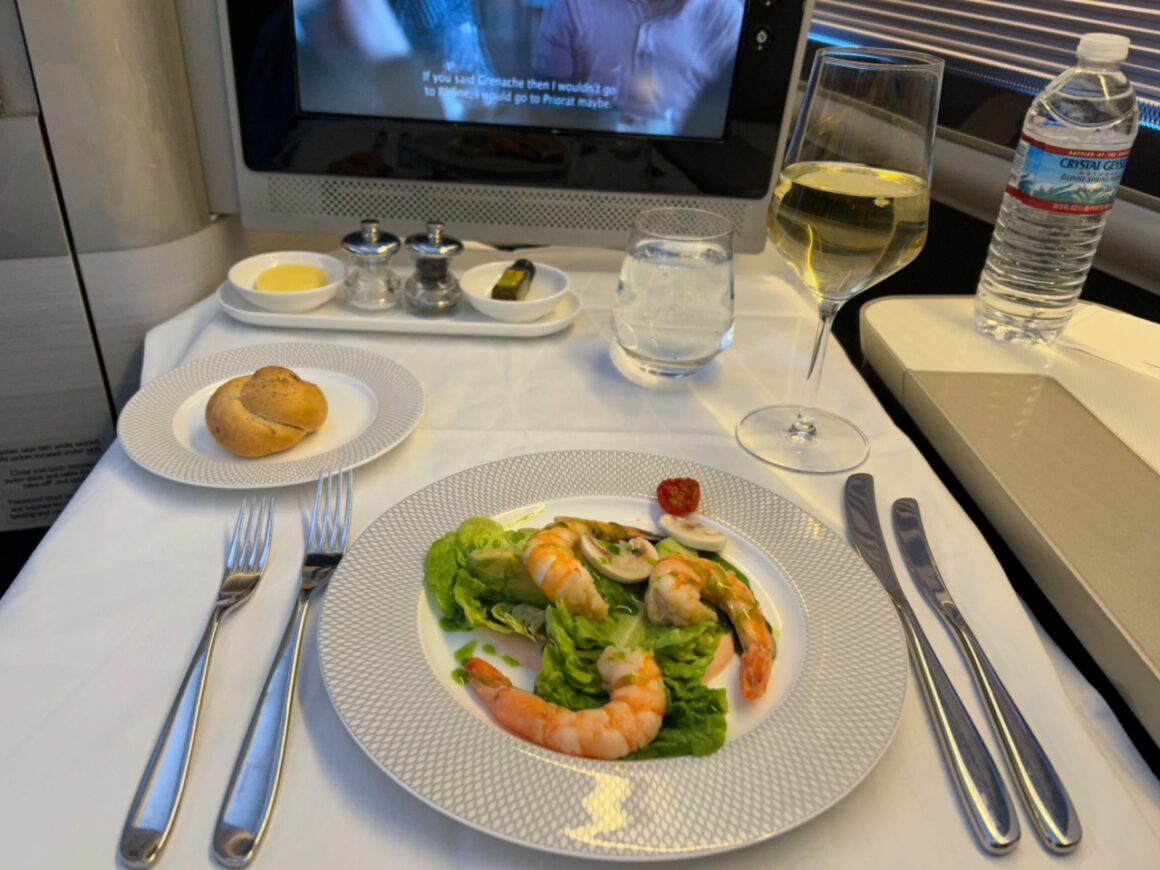 Apart from the very random addition of the mushroom slices, the prawn cocktail was excellent with large juicy prawns and plenty of tasty sauce hidden under the lettuce. I also enjoyed the Pouilly Fume with it.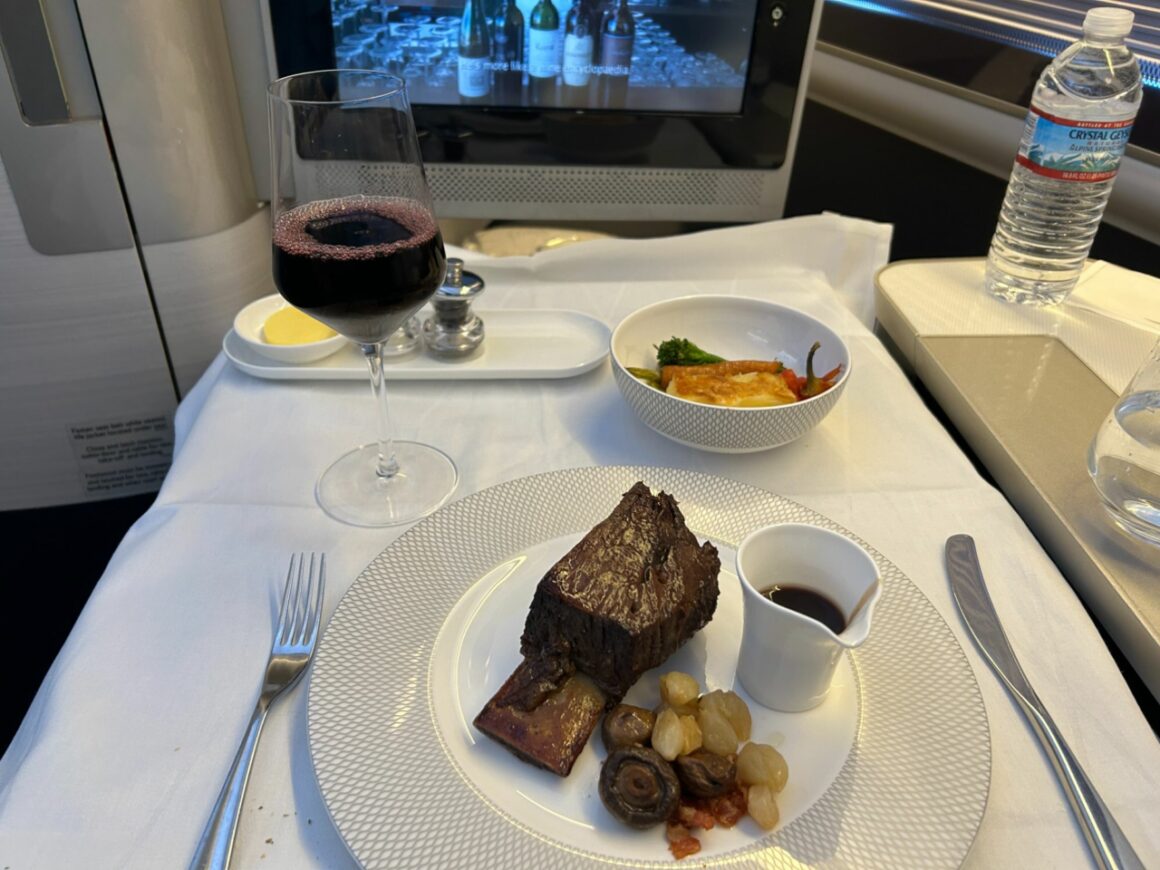 Next came the rib of beef, and this was really something. A huge, almost prehistoric-looking rib of beef, cooked until it was falling apart with some tender roasted shallots and a great sauce. This is how beef needs to be served on a plane. Anything else is sacrilege unless you like your beef very well done. The side dishes were also good, particularly the dauphinoise potatoes. I paired it with the Cellar Selection Grand Cru which turned out to be this: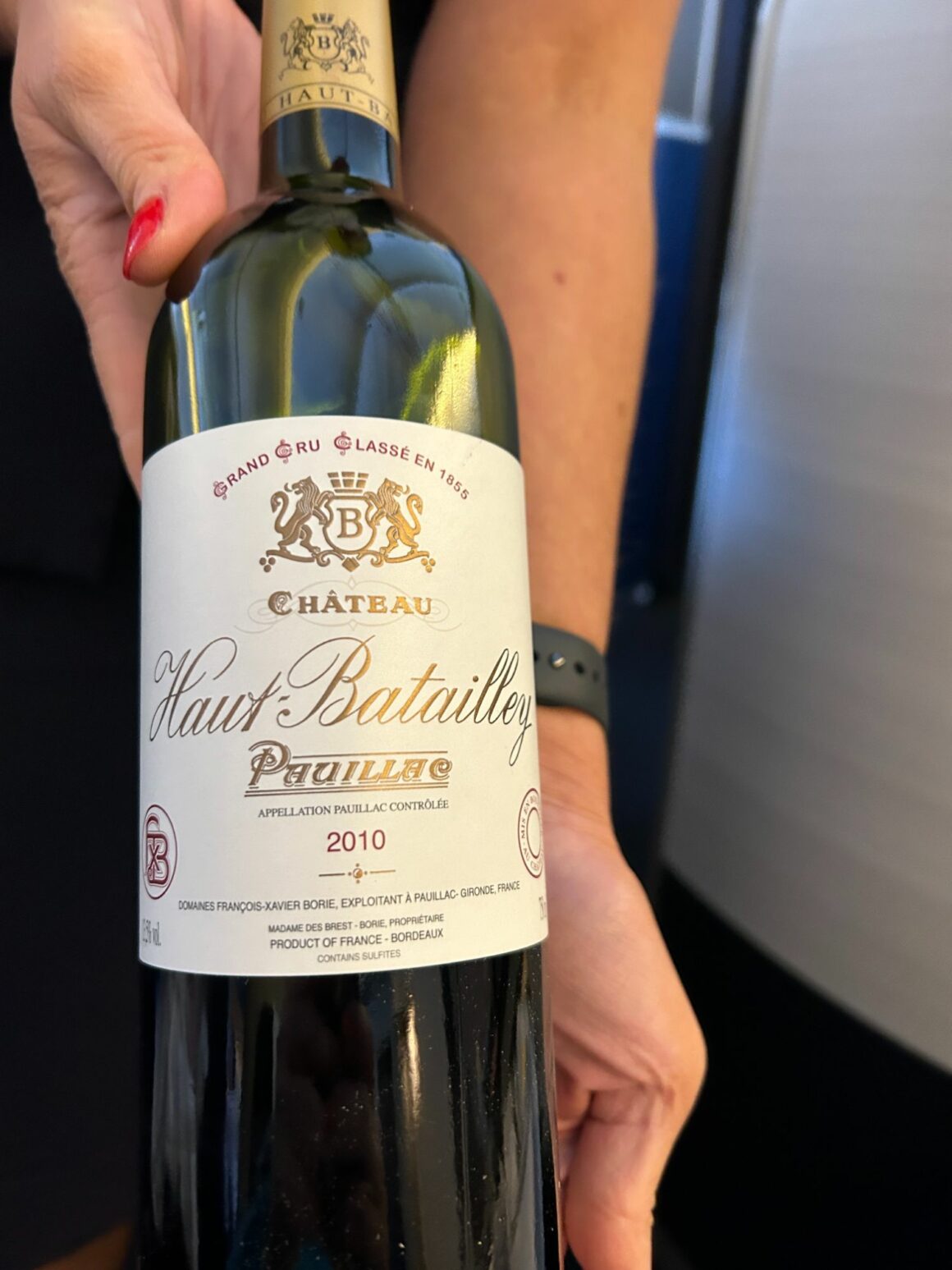 Pauillac is one of my favourite Bordeaux wines, but I often find the BA first wines a little underwhelming. However, this was fantastic and had that complexity, smoothness and refinement that I often find lacking in the first wines. Probably one of the best wines I have had on BA first for a while.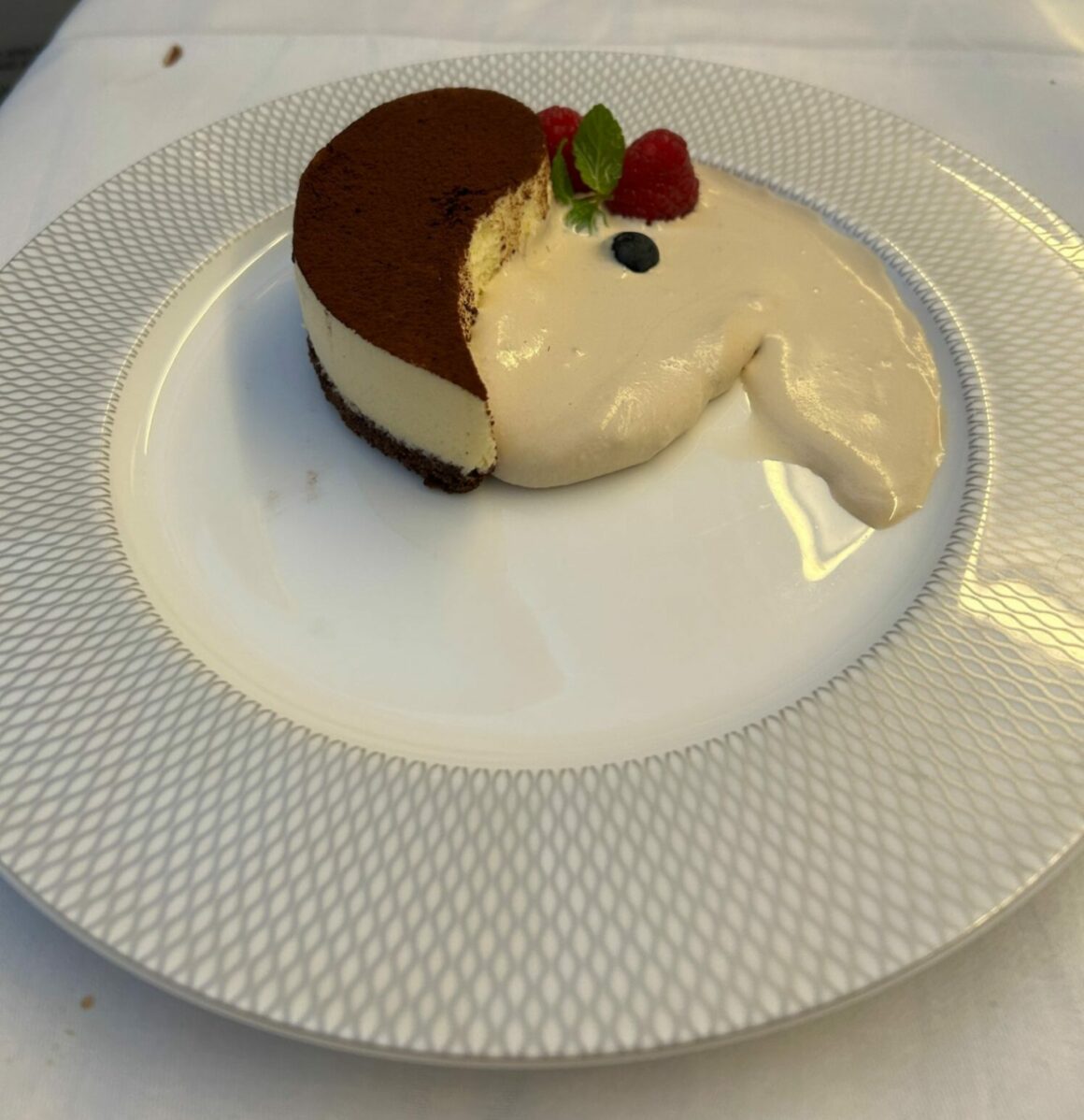 I was pretty full, but I did like the sound of the espresso cake, which as I suspected, was very similar to tiramisu.
I was delighted to see that they had cognac on the menu as it has been MIA for ages on and off. However, when I requested it, it turned out there was none on board. Sigh, #brandygate lives on!
Second meal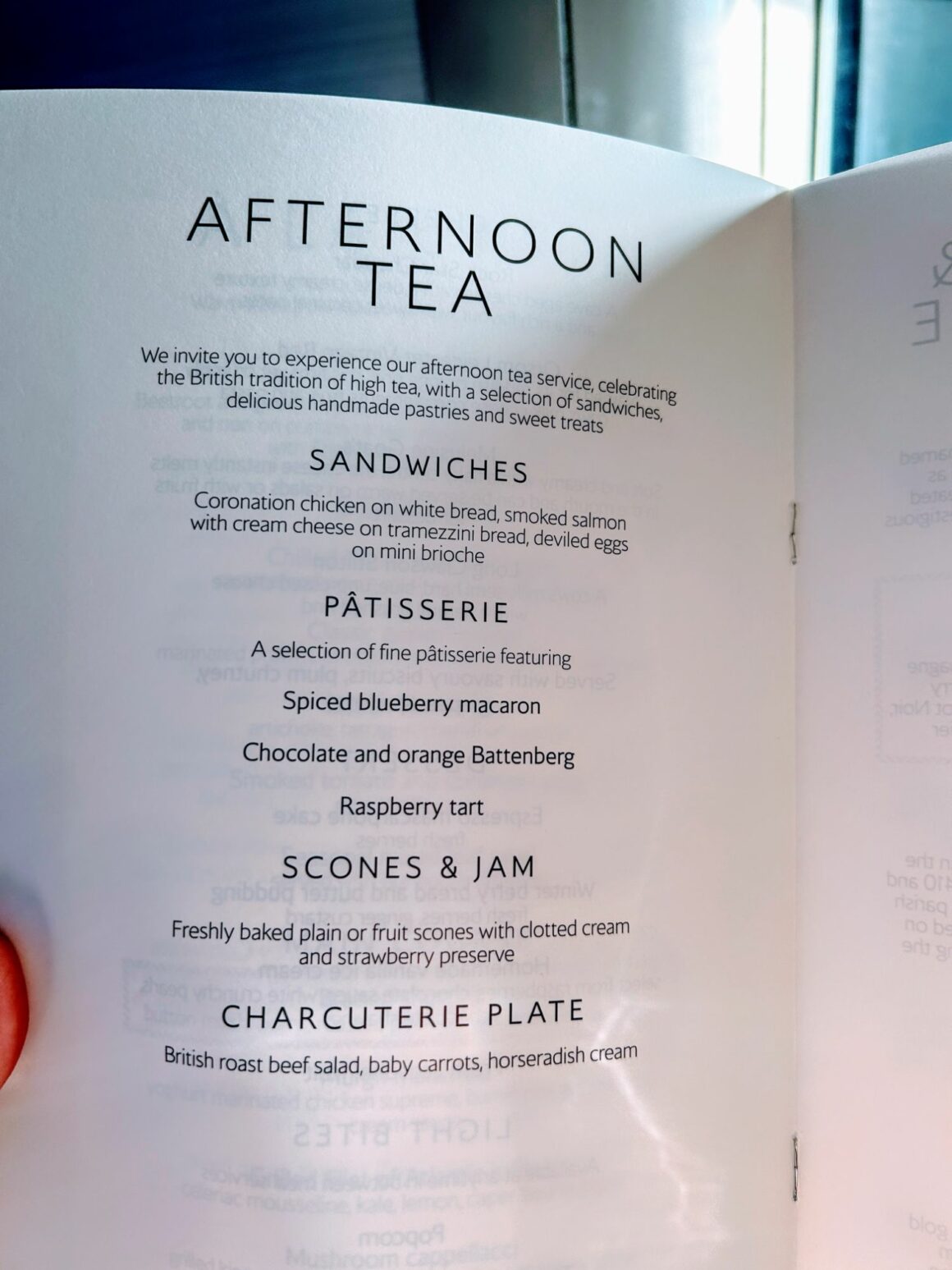 Despite what felt like a huge meal I decided to take one for the team and try some afternoon tea before landing for the review. I only had the scones and sandwiches as I was still full from lunch.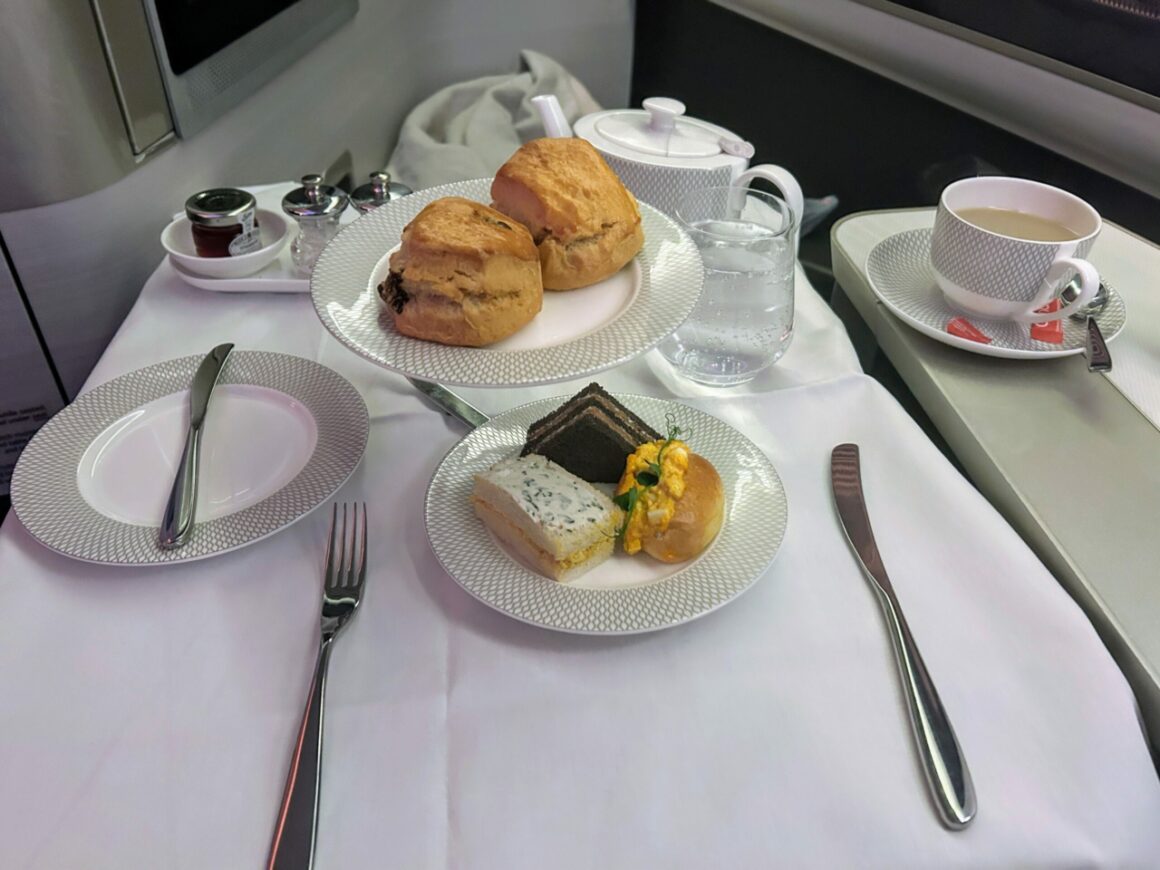 The scones were huge, but the sandwiches tiny. As I generally am not keen on cakes, I would have preferred to have a bigger selection of sandwiches maybe. I also could have done with more cream as although I only had one scone they were so big there was not enough to do both sides.
Entertainment, Wi-Fi and power in British Airways B777 First class
The seats have a multi-country socket and two USB points, so it is well served for charging your electrical items.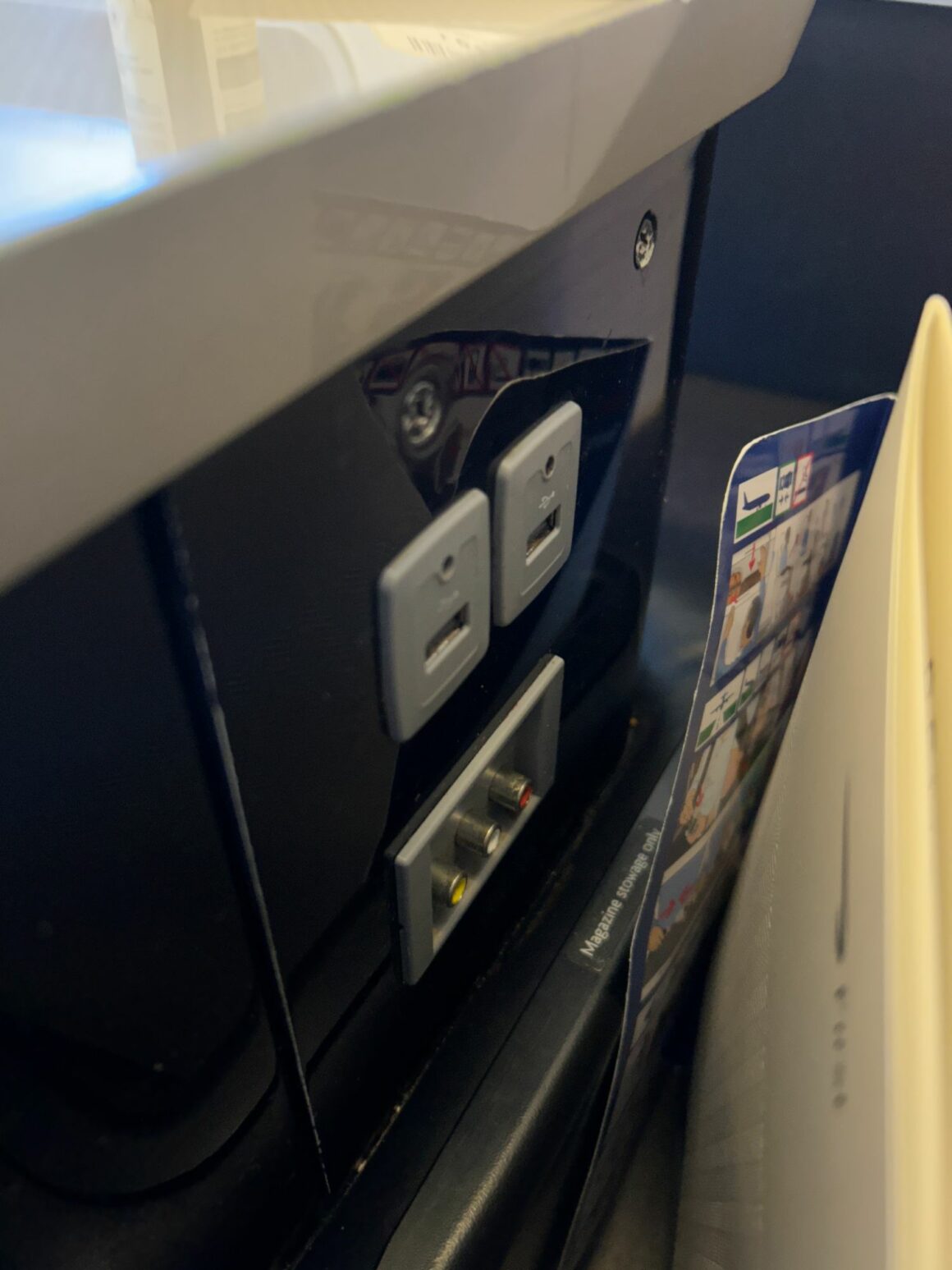 Wi-Fi is free in first, but it never specifies which speed you get. I'm convinced you get the slower speed, as I find the free one pretty useless except for simple messaging.
I found the selection of films pretty good with plenty of new and interesting films. I watched Blind Ambition which was about four Zimbabwean men that form their country's first Wine Tasting team. If you think Cool Runnings for wine you are in the right area. I absolutely adored this inspiring film, and if you love wine, then it's a must-see. Even if you are not that into wine, it's well worth a watch.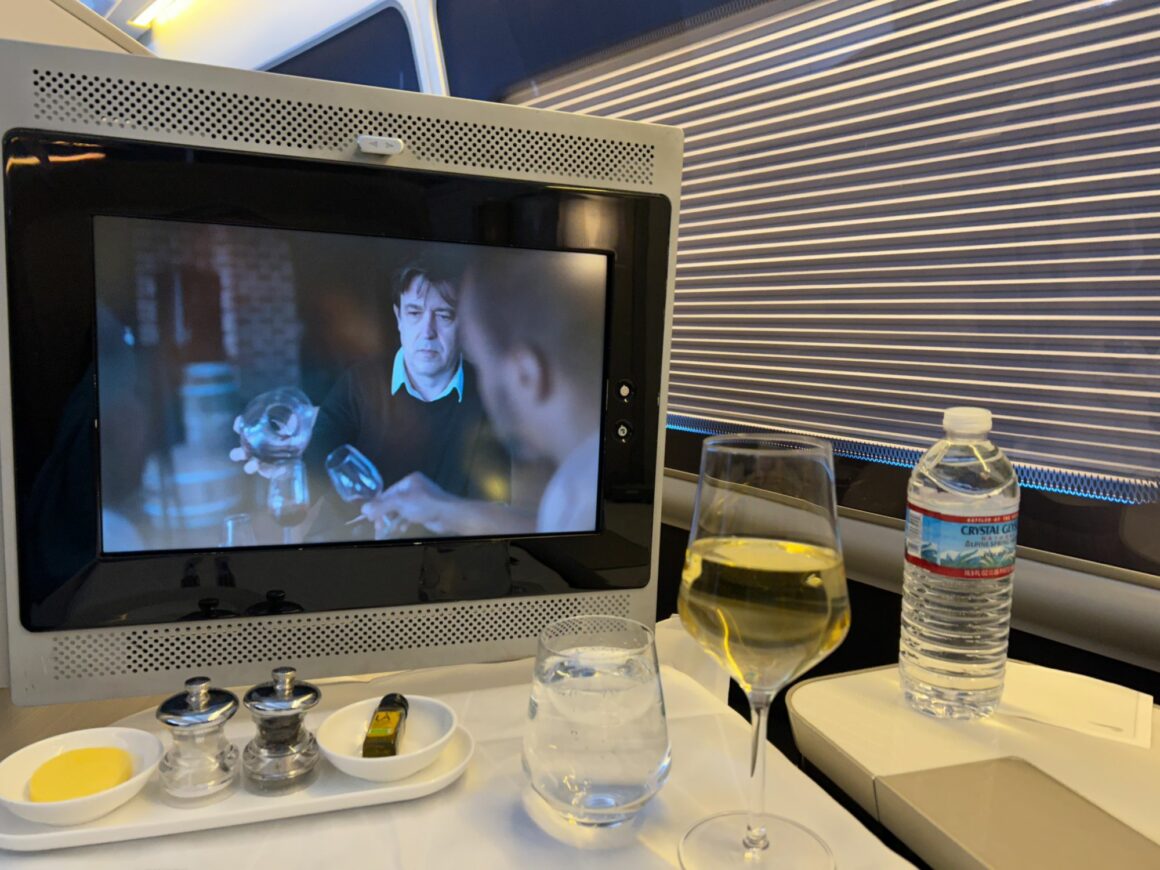 The definition is pretty good but not as good as the newer First. The screen size, I think, is also perfectly acceptable.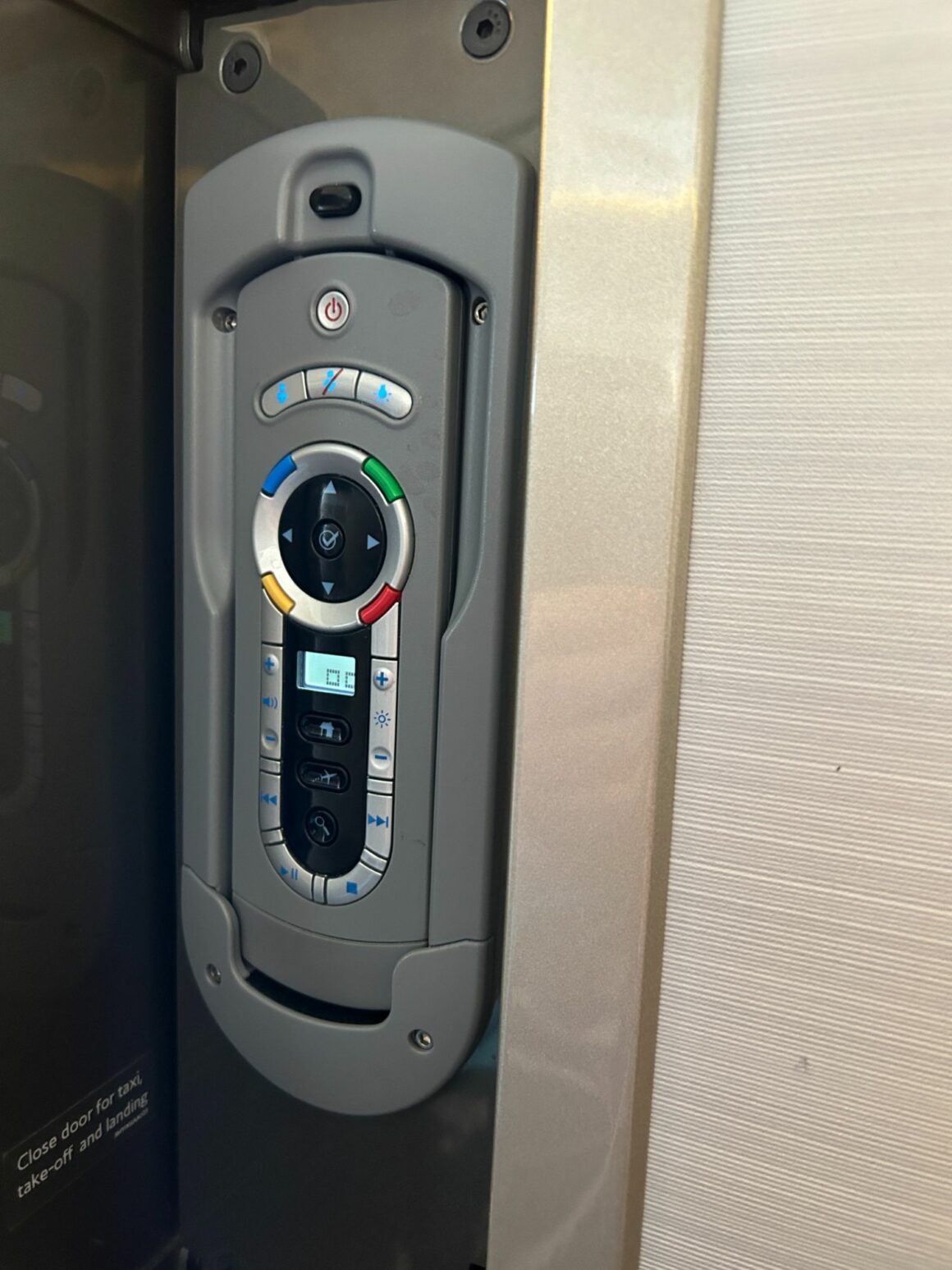 The controls may look old-fashioned, but they work well, and that's what matters in my book.
Arrival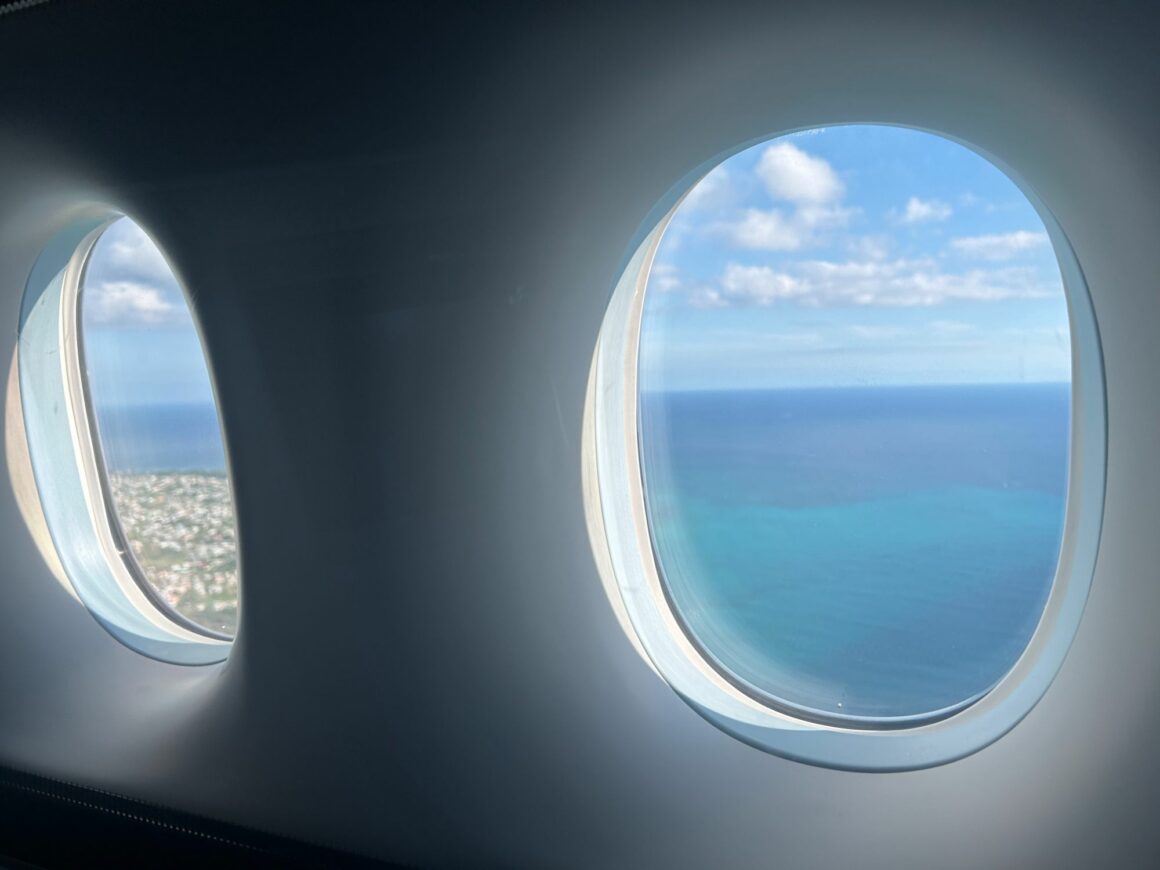 Barbados has no jetbridges, so I knew to expect stairs on arrival, which BA can't do anything about. Plus, you walk across the tarmac so much better than a bus. The cabin crew member serving me remembered what I had been saying about my bad knee and carried my bag down the stairs for me. I thought that was really lovely, and that finished a fantastic flight off in a great way.
Conclusion
The day started badly with Heathrow's security issues and then a bus gate. Luckily the cabin crew were fantastic onboard and really made up for the shaky start. The food was also pretty faultless in British Airways B777 First class, and I would not have complained if I had that in a restaurant (apart from the weird mushrooms!). It was good to see some really impressive tasting wines in First rather than the usual slightly disappointing ones that are all fur coats and no knickers as the saying goes!