Firstly something to look out for tomorrow: We will be giving away a BA Executive Club Gold or Silver membership to two lucky TLFL readers.
Private jets used to be the reserve of the ultra-rich and famous. With passengers worried about safety and many airlines substantially cutting their route networks, more people than ever are looking at private jets as a way to travel. They may seem out of reach, but in fact, private jets have never been more affordable, so don't rule them out just yet!
There are now ways to travel on a private jet which whilst still expensive, are a more affordable way for a special occasion or to tick it off the bucket list. It was firmly on my bucket list until last year when Paul and I flew on Hahn Air's private jet for £250 each. You can read about that experience here:
Intro We are going to tell you how, why, and what we thought of the Hahn Air Citation CJ4 Private Jet – read on, you are going to want to read this one! Before anyone claims hyperbole – So we have £270 to play with ? Booking It was a…
As an aviation geek, it was definitely one of my top flying experiences ever.
Let's have a look at the different options starting with the most expensive/exclusive and working our way down….
Chartering with an app

Now you can charter a private aircraft with a simple app starting from just $3995 for a turboprop. Private jets are often much cheaper in the US, so it is always worth considering that as an option if you are planning to travel there and would like to experience one.
Simple Charters offer a no-strings-attached simple app to charter an aircraft of your preferred size and type without the need for membership. Prices are based on real-time availability with no overhead costs, membership subscriptions, or hidden fees. You can even pay with Apple Pay!
b>$3,995
Buying empty legs
If you have a special occasion or just want to splash out, buying an empty leg of a private jet would be the simplest way to get the private jet aircraft to yourself. Empty legs are when the private jet has dropped off passengers somewhere or is going to collect them and the aircraft has to travel without any passengers. Obviously, this costs money to operate so companies will sell this off at a much-reduced price. There are quite a number of companies doing this now from the UK including Air Partner, Victor and Jetpartners. The prices are still not exactly cheap but if you were to fill the plane you could get seats starting around £500 per person. Some prices are also open to negotiation, particularly very close to the time. In the US empty legs are usually much cheaper, so if you want to fulfil a bucket list ambition it could be better to do it whilst on a US holiday.
The downside to empty legs is that you can never predict what is coming to come up and when, so you need to be flexible. Some companies operate a weekly mailing list with flights available 1-3 weeks in advance.
Air Partner
Air Partner have seen more than a 210% increase in request volumes for future flight bookings during May 2020, compared to last May. They have also introduced stringent safety procedures as part of its new "Air Partner Protect" program. For example, on a recent flight, a paramedic was made available on-
site prior to take-off to conduct health screenings with a scanned temperature reading for crew and
passengers. The passengers were also socially distanced on board with spaced seating arrangements. In
addition, Air Partner's charter specialists coordinated between the origin airport, which was closed due
to travel restrictions, to open specifically for the flight, and then also made arrangements for the
passengers to bypass the arrival airport terminal and proceed directly to their vessel.
I like Air Partner for looking at empty legs as they have a clear list with prices on. Many of the other company websites don't have this. I suspect that is because they are open to negotiation. Personally, I would rather know a ballpark figure so I don't look stupid when I phone up and it turns out to be £20,000! Air Partner operate a range of private jet aircraft including the Hawker 800XP, Embraer Legacy (above), Phenom 300, and Cessna Citation Excel/XLS. They have empty leg flights from a wide range of UK airports including Luton, Farnborough and Manchester. You can find details of their current empty legs and sign up for the weekly empty leg list here.
Shared private jet clubs and pay per seat
Shared private jet clubs were the latest things for private jets. Sadly the UK ones have pretty much fallen by the wayside. These companies operate a membership scheme where you can usually fly as much as you want on their private jets but you will be sharing the space with other people. They operate a set schedule to various destinations so you don't have the flexibility like you would with a private jet.
However, the plus side is that it saves a huge amount of time in the airport as you fly from a private terminal and usually turn up a short time before the flight. The main company in the UK is XO (formally JetSmarter).
XO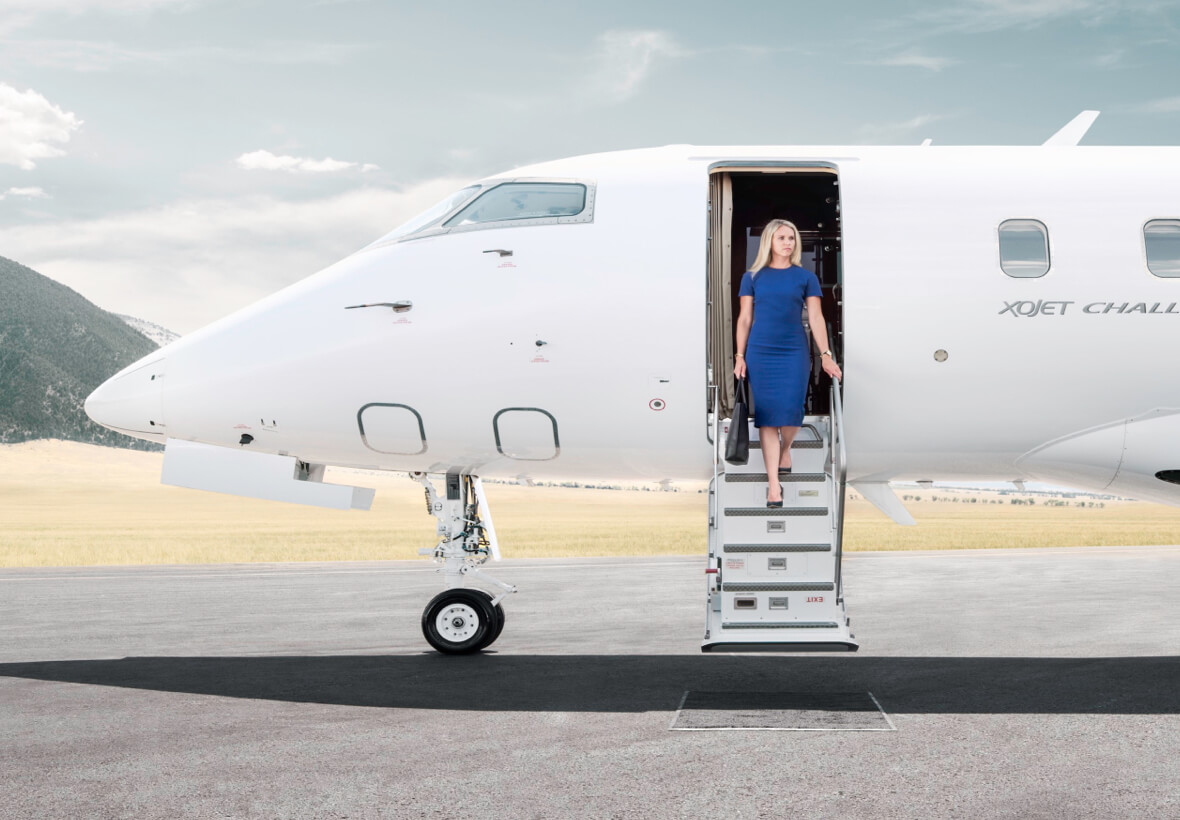 They offer various memberships, even for those that fly less than 15 hours a year. Flexibility is the selling point of their memberships with the ability to book a single seat or a whole jet. Unless you do a lot of flying you probably won't want the membership option. However, the basic option is designed for occasional flyers who typically fly less than 15 hours each year.
The next option is to pay as you go. For this, the pricy option is that you can charter an aircraft and then XO will try to sell any empty seats for you.
The easiest and most affordable option is to simply buy a seat on a shared jet. Obviously, they don't have a huge range of destinations, but for a special occasion, it could make an amazing treat for someone.
Jetclass – pay per seat
JetClass are a new operation in Europe and are aiming to make private jet travel affordable. They recently launched FlightPooling by JetClass in response to the countless people struggling globally to travel, due to the total suspension, or vast reductions in operations by the world's major airlines in the face of COVID-19. FlightPooling is the practice of a community of people jointly requesting for flights between their desired cities, after which they share the cost of the journey between themselves.
JetClass leverage this group demand to in turn create powerful group buying for the benefit of the travelers. You can find more information here.
At the moment they have several inter-Europe routes from places such as Nice, Zurich and Luxembourg which start at €390. From London, they currently only have Paris available which costs €590. This service is definitely on my list to try as it's such a great price to get the private jet experience. Again it is a shared jet but you still get all the other perks of a private jet.
More information on JetClass.com
Private jets on fixed low price routes
PrivateFly is offers fixed private jet charter pricing for key European City Pairs this summer, on specified routes to and from London, Paris, Nice, Milan, Geneva, Palma and Ibiza. The flights are on the Legacy 600 private jet which seats up to 13 people. The catch is you have to book the entire aircraft, but if you have a special occasion coming up, this could be a great way to celebrate. Prices start from £12,100, so less than £1000 a person.
You can find out more here.