Intro
We are going to tell you how, why, and what we thought of the Hahn Air Citation CJ4 Private Jet – read on, you are going to want to read this one!
Before anyone claims hyperbole –

So we have £270 to play with 🙂
Booking
It was a few weeks ago now when a friend text me this screenshot…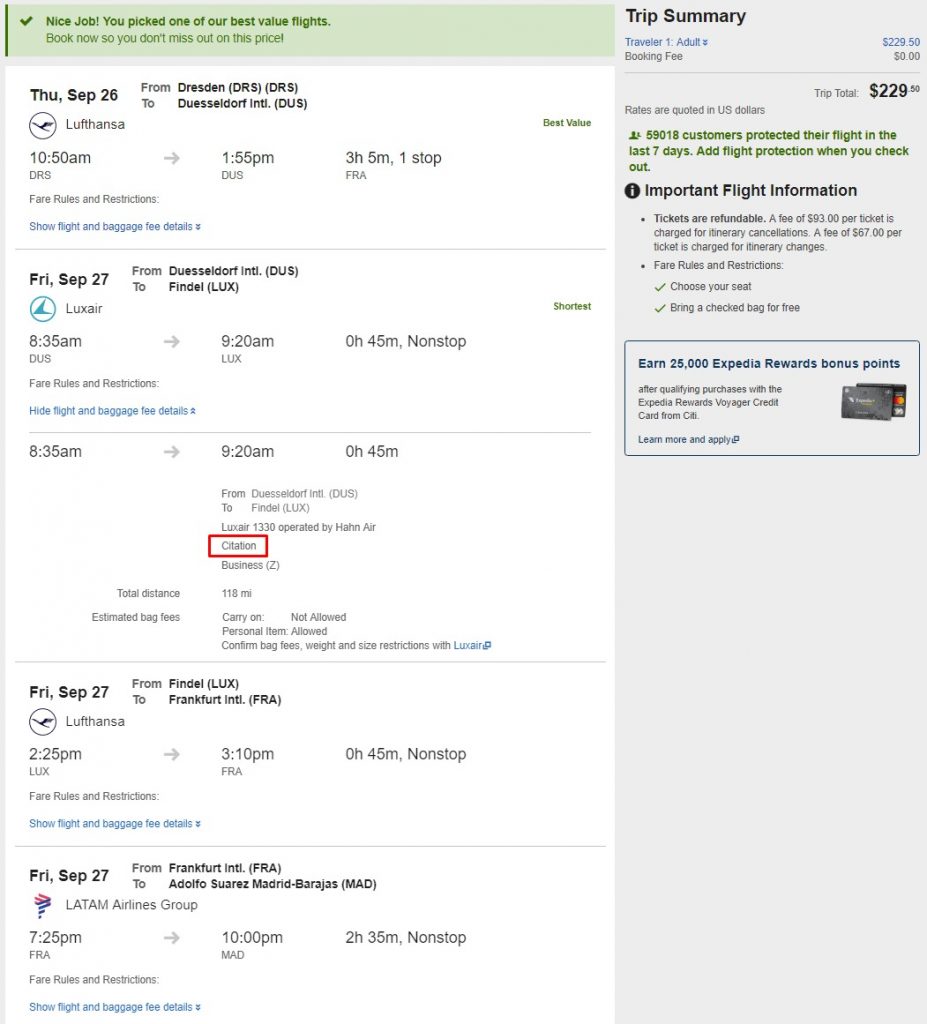 I'll be honest, I didn't really know what I was looking at/for!
So I fired up Google, and my head suddenly shot bolt upright!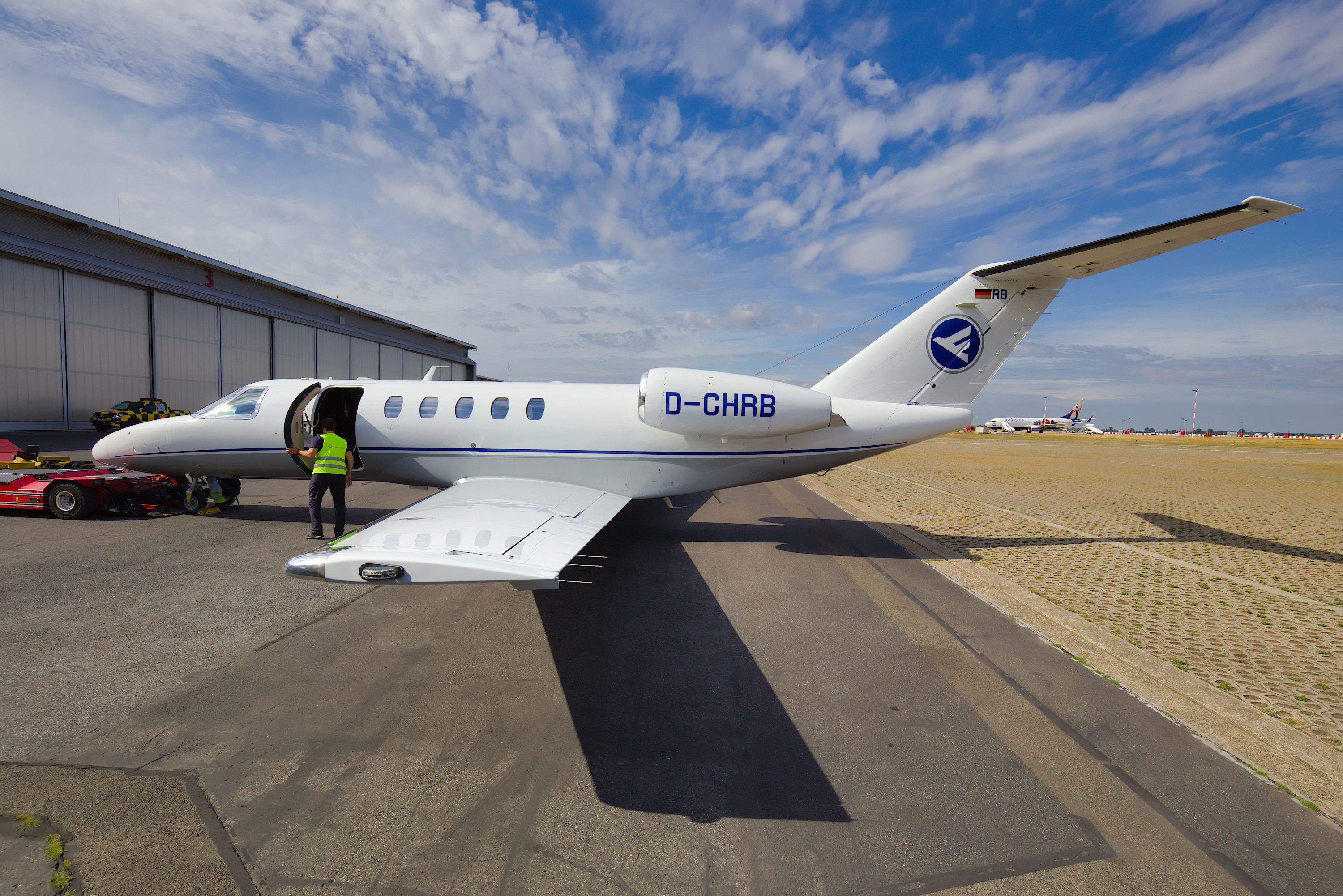 It was a ****ing Private Jet?!
Here are the rest of the specifications –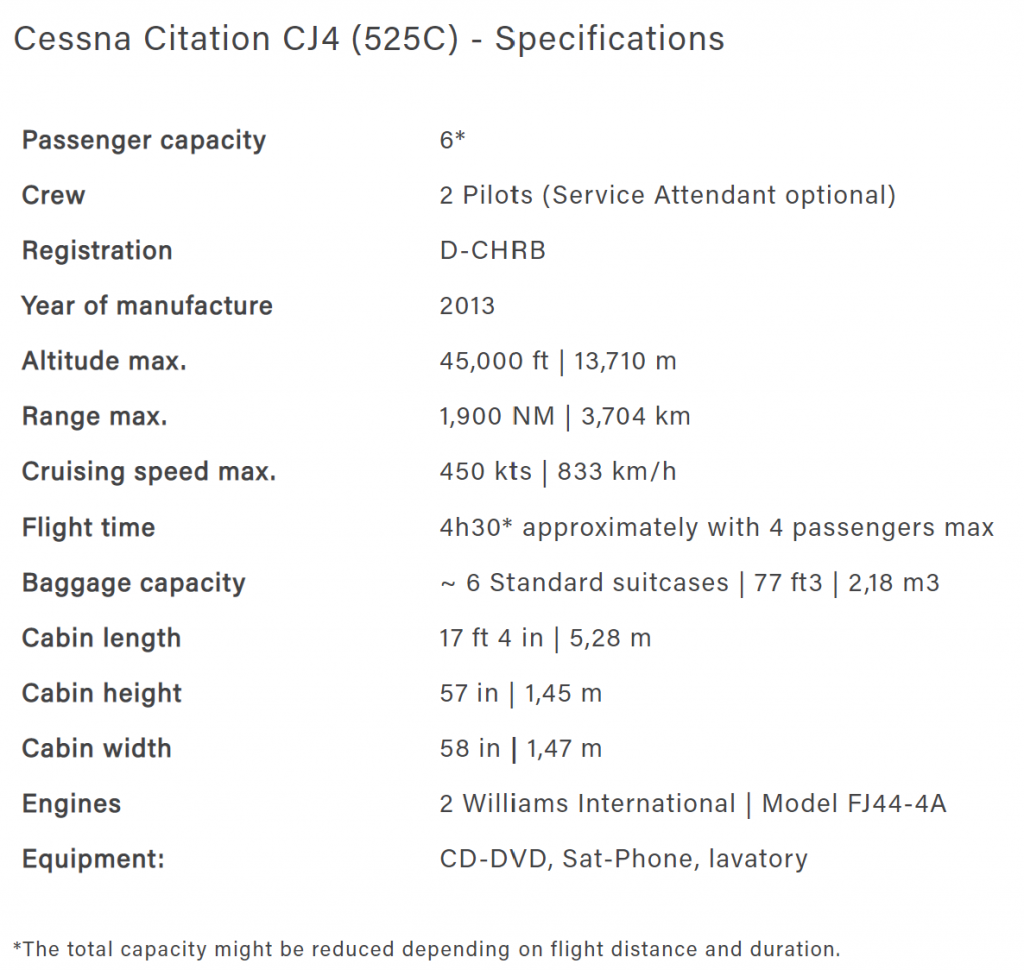 Sounds great! But the itinerary didn't suit with timings and playing about with dates just messed the fare up. Hold on. Did we need the rest of the flights?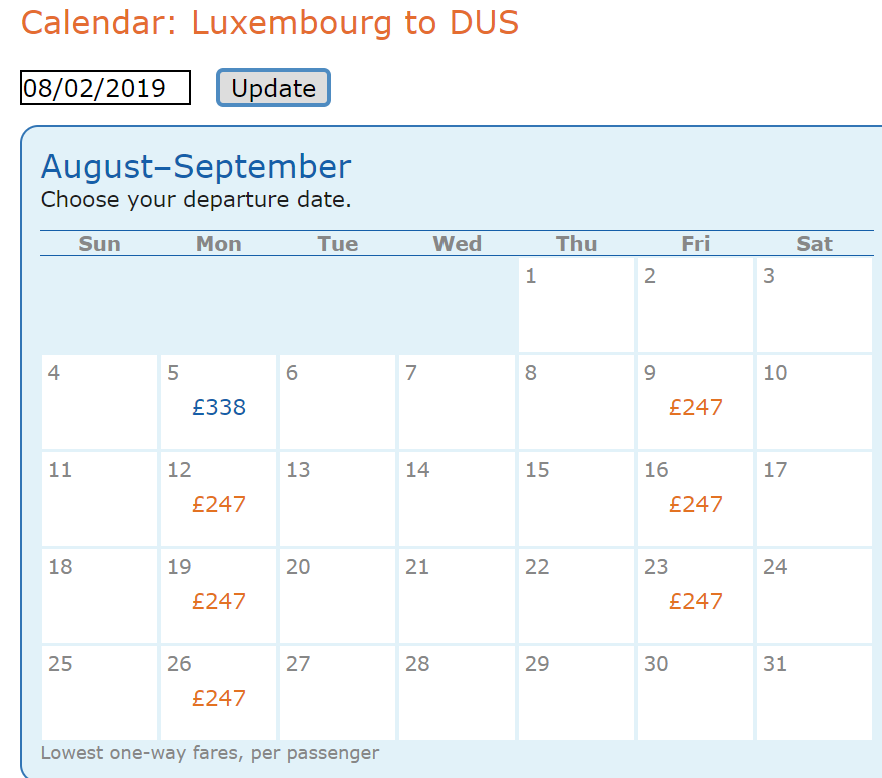 Firing up ITA Matrix and using the flight number HR331 popped up some prices. Were we getting closer?

ECONOMY?!
Don't panic – only one class on private 😉
So we can price it on ITA – now what?
Easy – fire up Expedia and away you go!

If you don't find the £250 price its because the cheapest fare bucket is sold out on that date –

Right. Now you have your Private Jet flight for Ryanair money, what should you expect?! Read on…
The Review
At Luxembourg Airport
We had all booked Avios tickets on BA that morning so had a few hours to kill once we arrived in Luxembourg.
If you want to find other reasonably priced private jet options, you can read our comprehensive guide here.
Oh, look what I spy taxiing to the gate –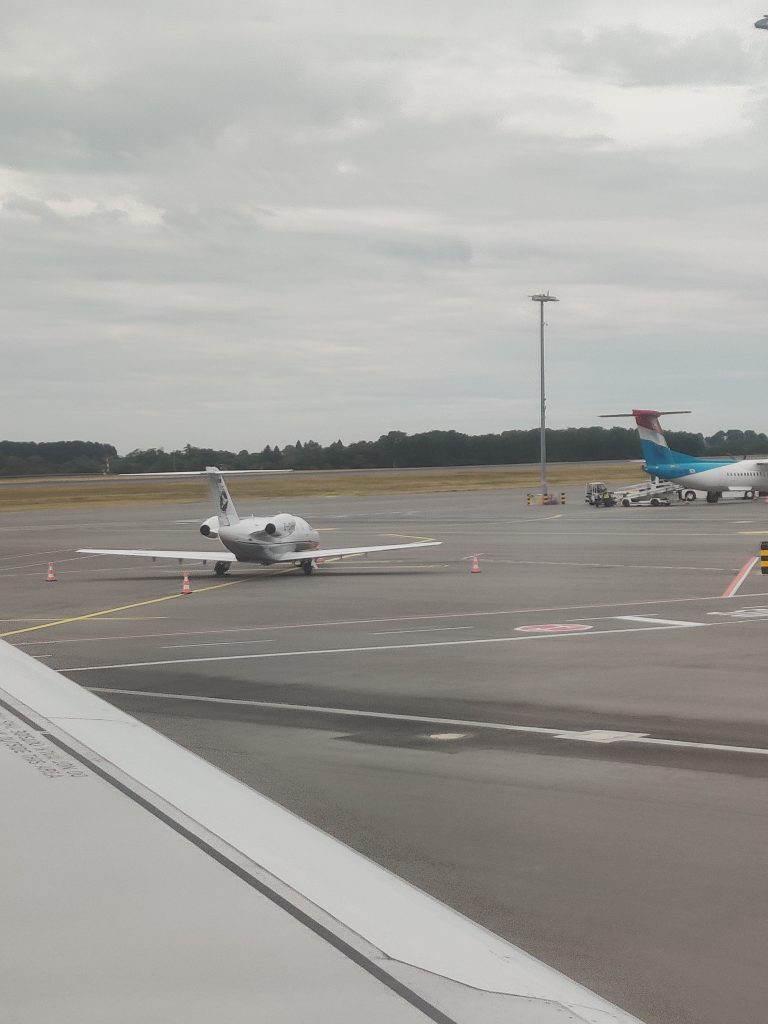 We landed in Luxembourg 5 minutes early and were through immigration in no time at all, back into the check-in hall upstairs.
We wandered along the desks and found this at Desk 13 –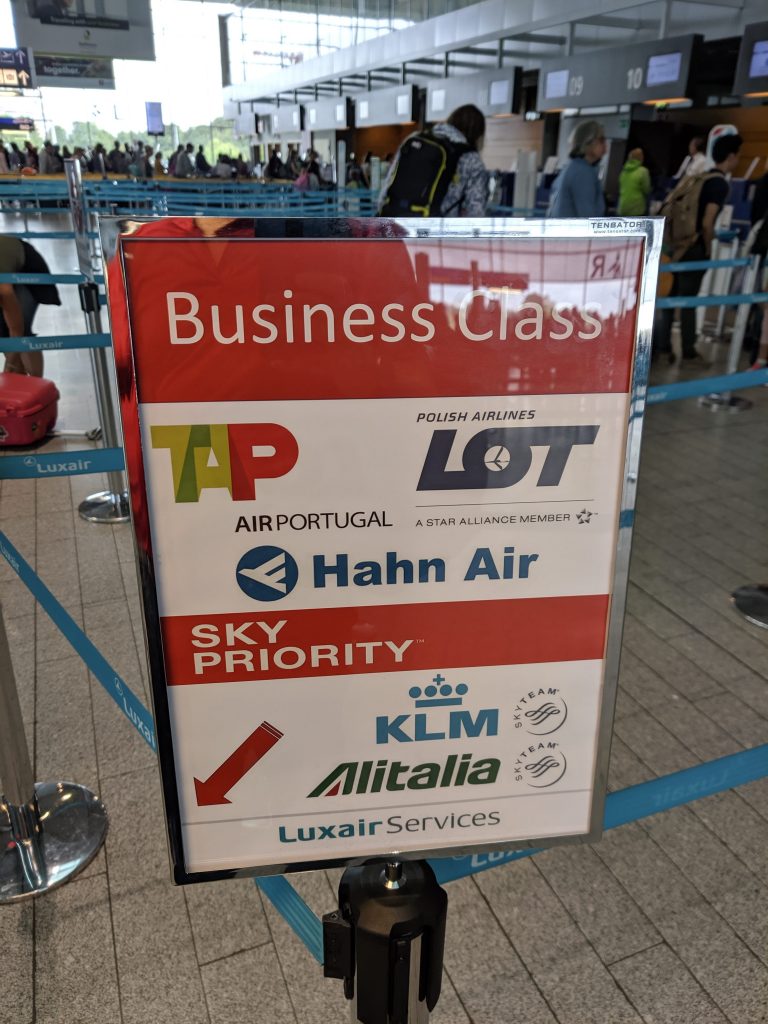 So we walked up to the desk, and 2 minutes later we were all issued boarding passes for our short flight! The check-in agent confirmed we had lounge access here as well since the tickets are printed in Business Class.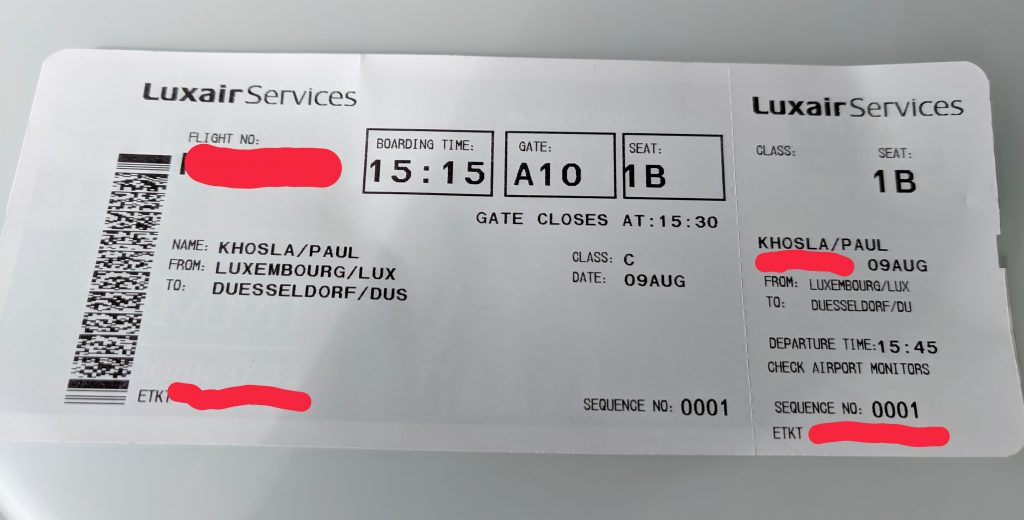 The lounge in Luxembourg is nothing awe-inspiring, but it is a functional space. You can read more about Luxembourg in general here.
We found some seats to work at, and got a better view of the CJ4!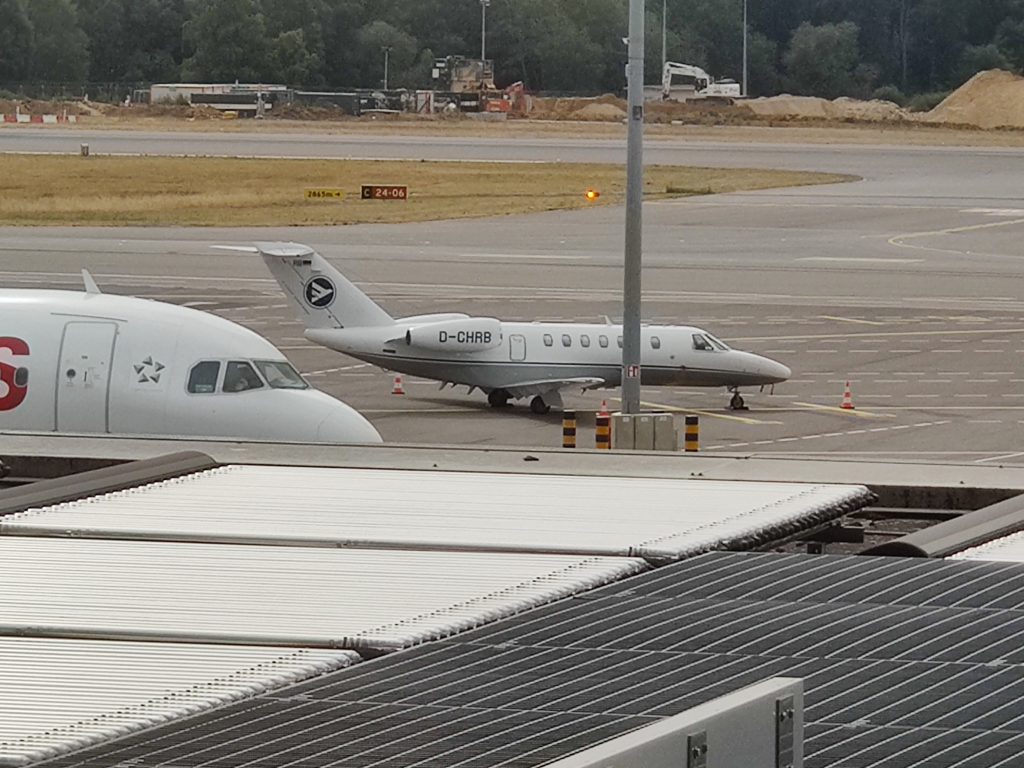 So ahead of time we headed down to the gate area, and the excitement was building, we could see it – it looked so small next to the 737's that was passing by!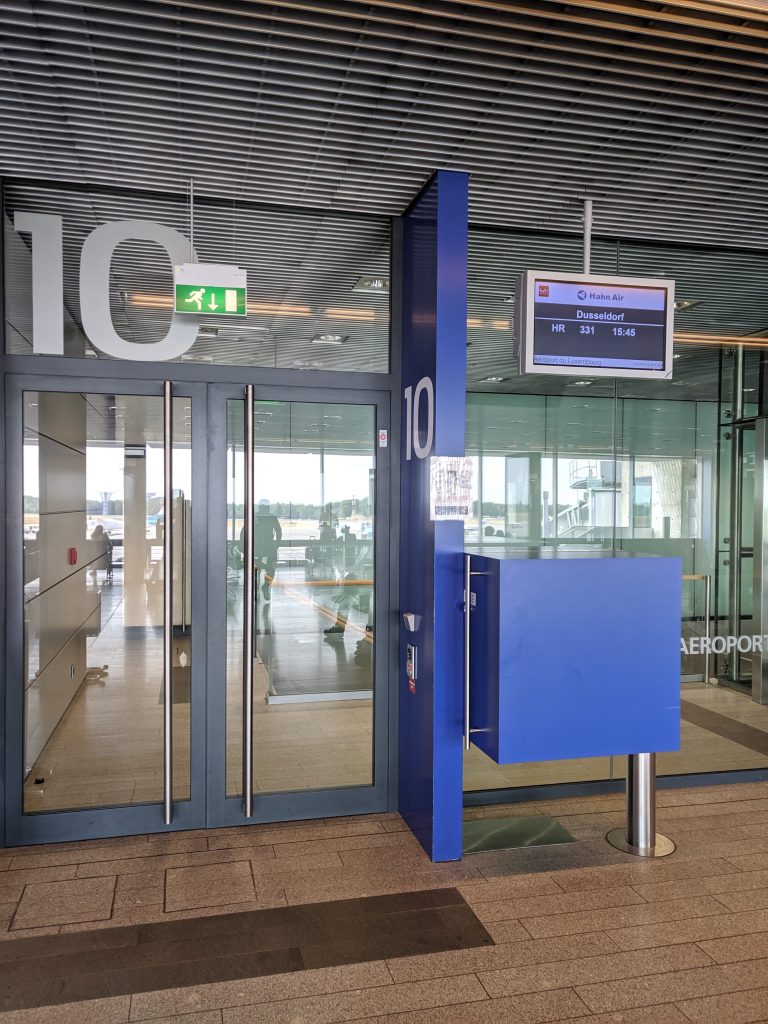 We headed down the steps to the waiting bus which drove the 3 of us plus one more aviation fan to the waiting jet!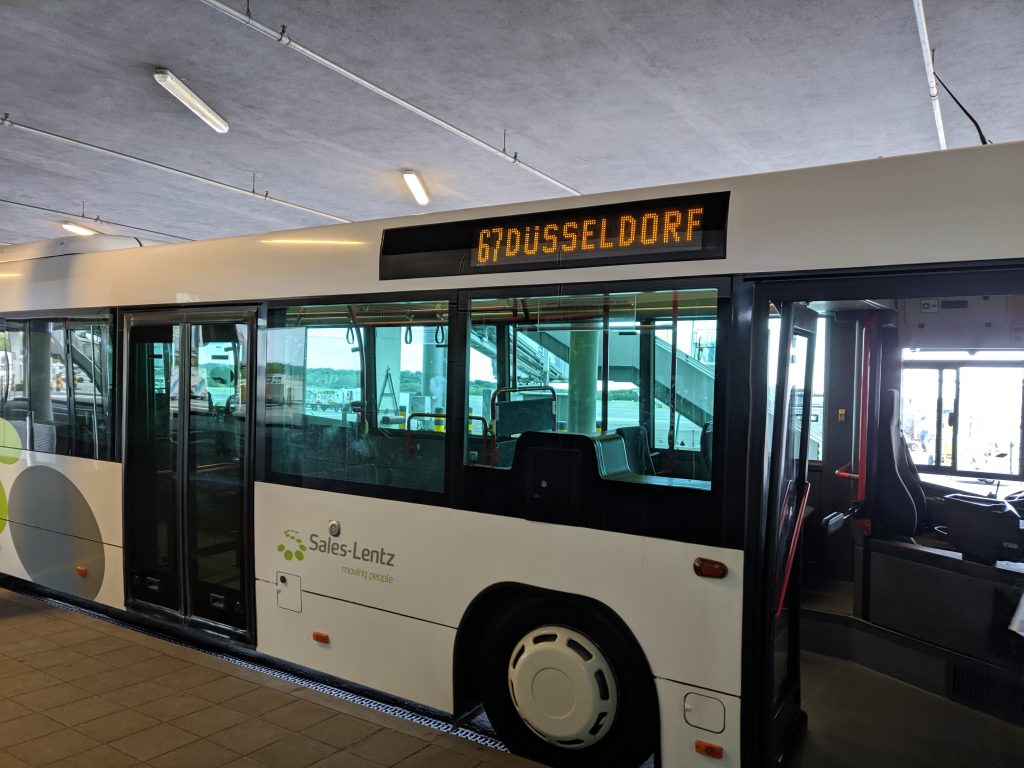 Here is a plethora of pics for you to digest! It was amazing!
Once onboard we took yet more pictures and found our seats. The arrangement was 4 facing each other, and 2 further seats behind at the back.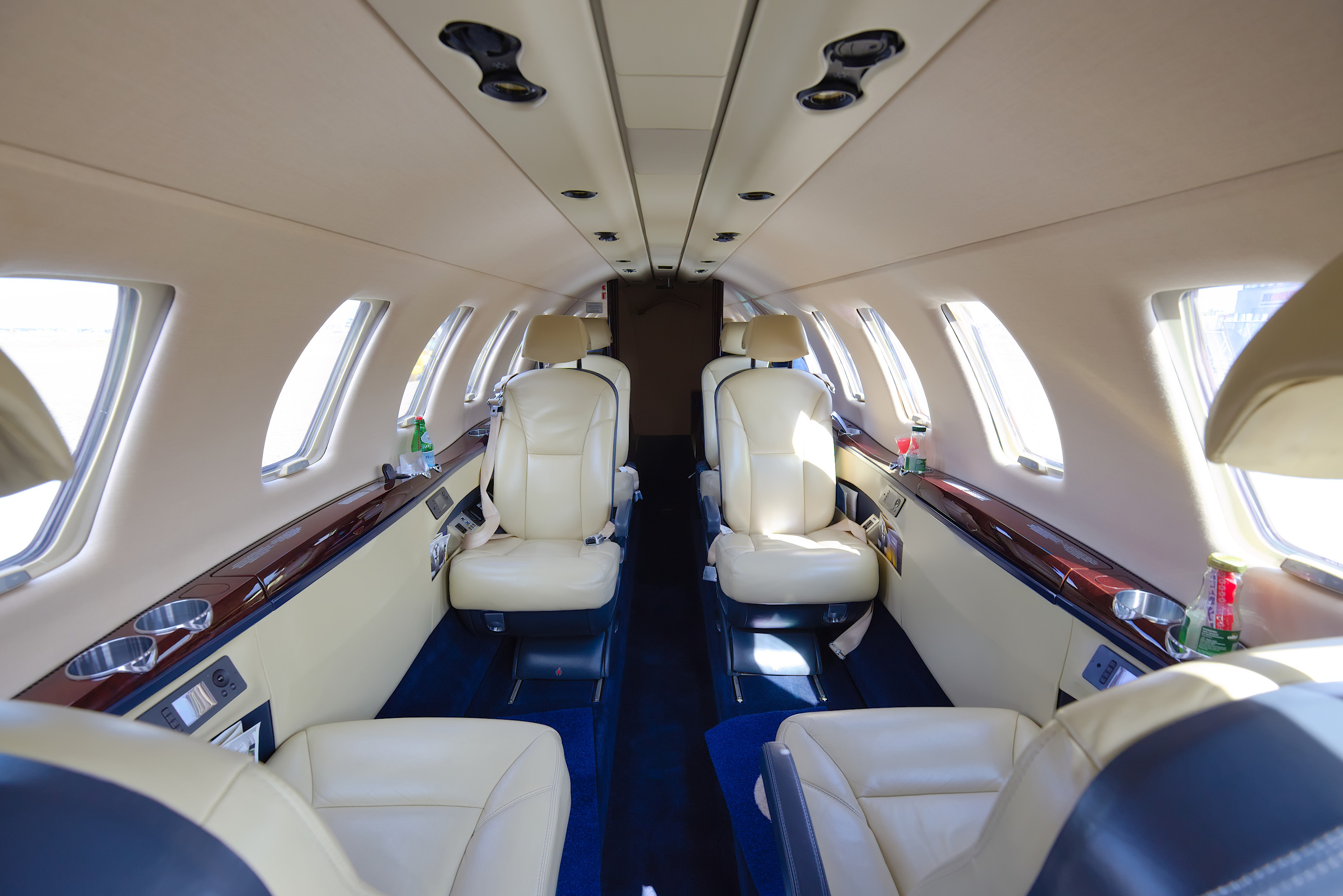 Also onboard was a neat cool/warm bag of refreshments and nice snack basket!
So far – very, very cool! Our grins said it all!
The pilot did a quick safety briefing and explained the seat controls quickly. He also said at any time during the flight we could come into the cockpit once the seat belt signs were off! AVGEEK HEAVEN!!
So the seat –
It was comfortable, albeit narrow. It had an armrest that could be dropped to the side of the seat.
Legroom wasn't a problem either!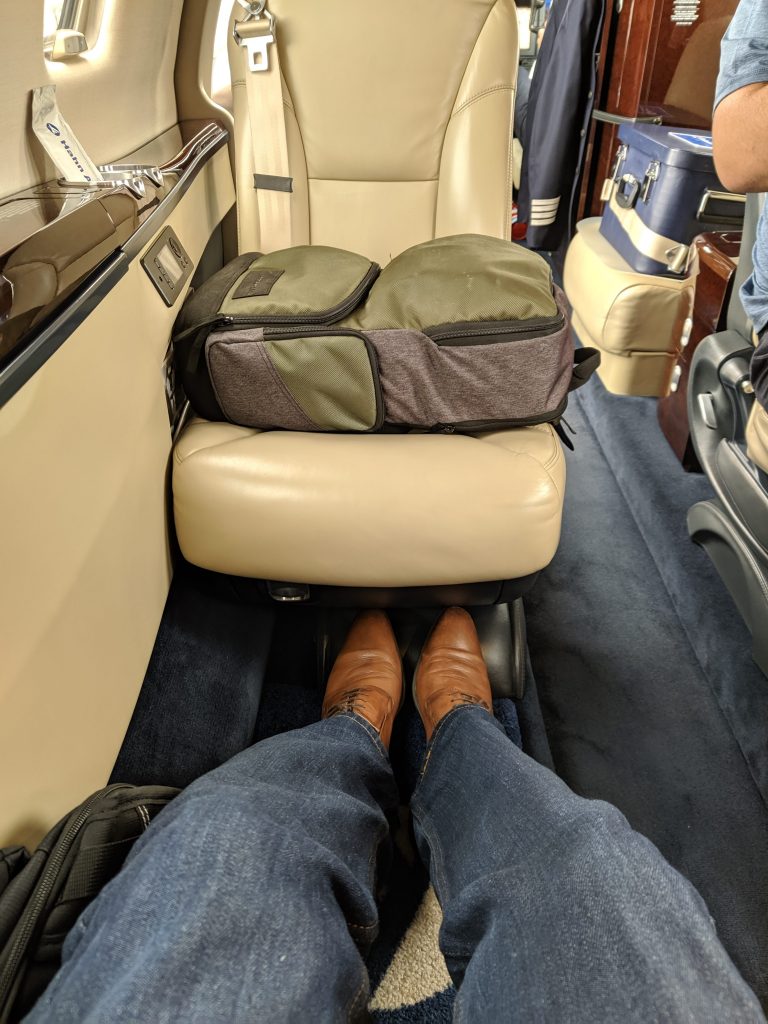 There was also a cool towel and a small, neat screen with the flight details at each seat. And an air vent! Win!
If taking a longer sector, each side has large tables too, to work or eat at potentially.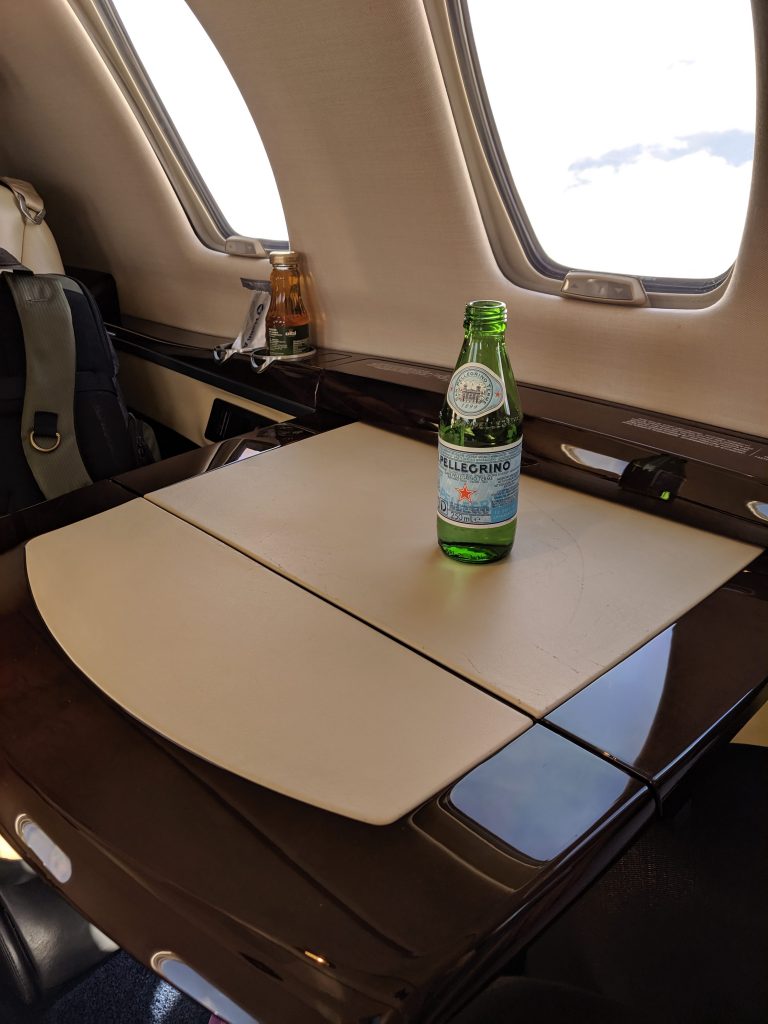 The taxi was very quick to the runway at Luxembourg. Having a view straight out the front is something exceptional too!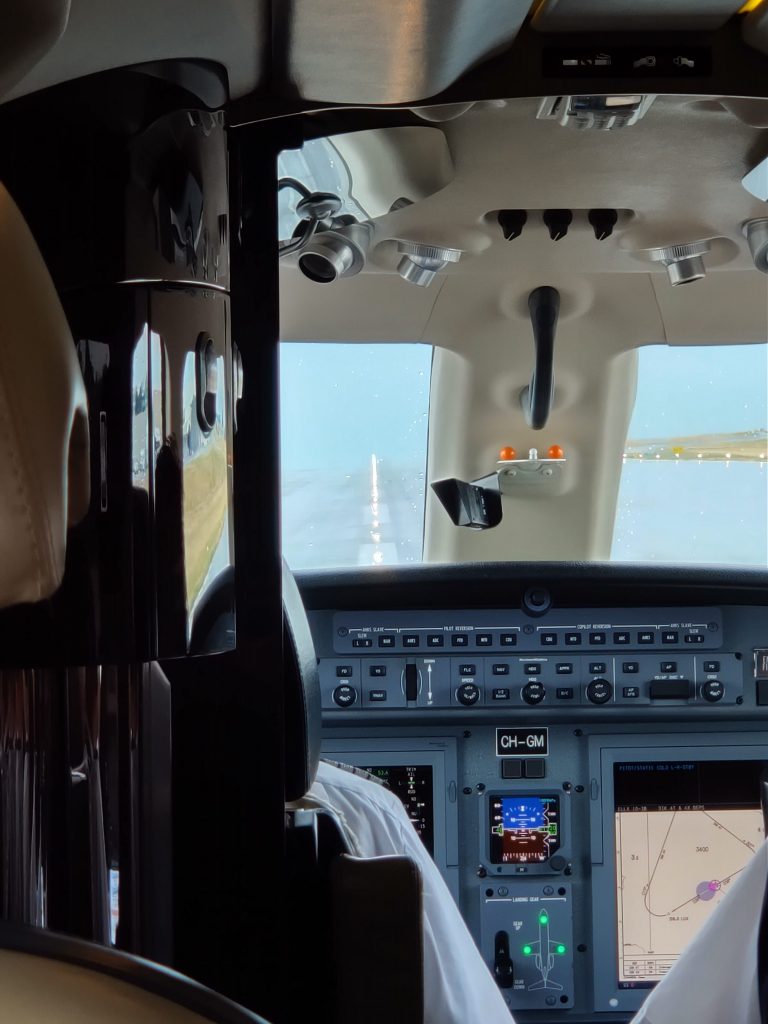 We rolled forward slowly, and then came the power!
Woah. That was a kickback into our seats – seconds later we rotated upwards, and we were airborne. It went up like a rocket!
It was very smooth though – more so than expected, and not that noisy at all despite being very close to the engines. The angle was also amusing to see!
Up we were…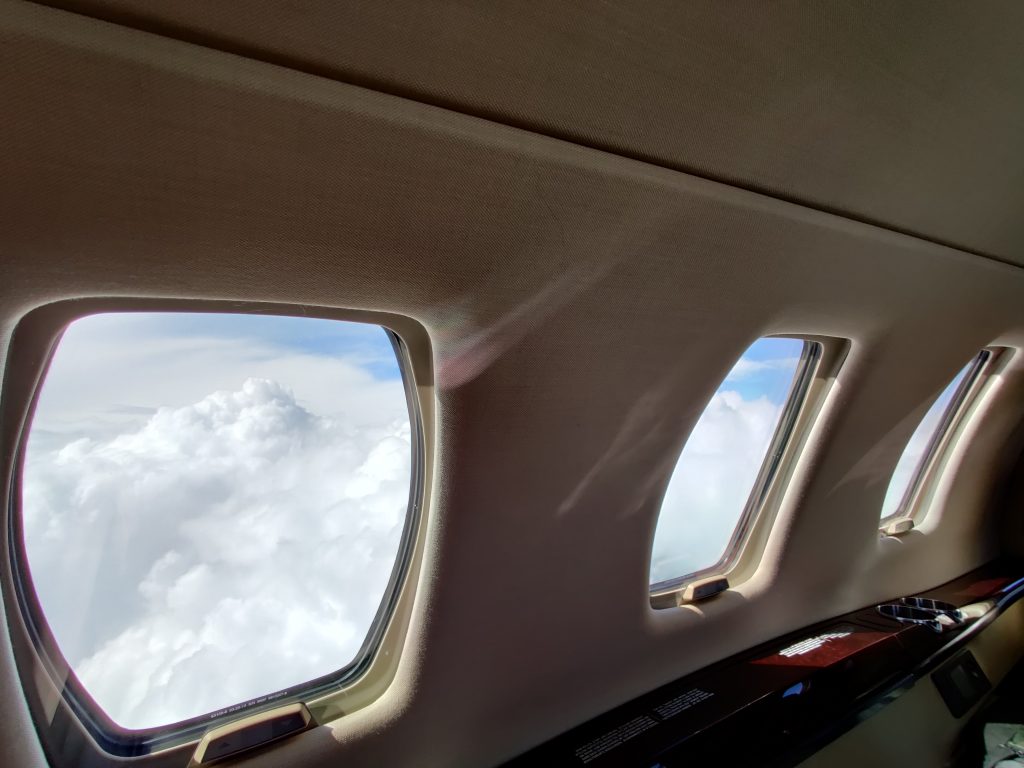 This was stunning.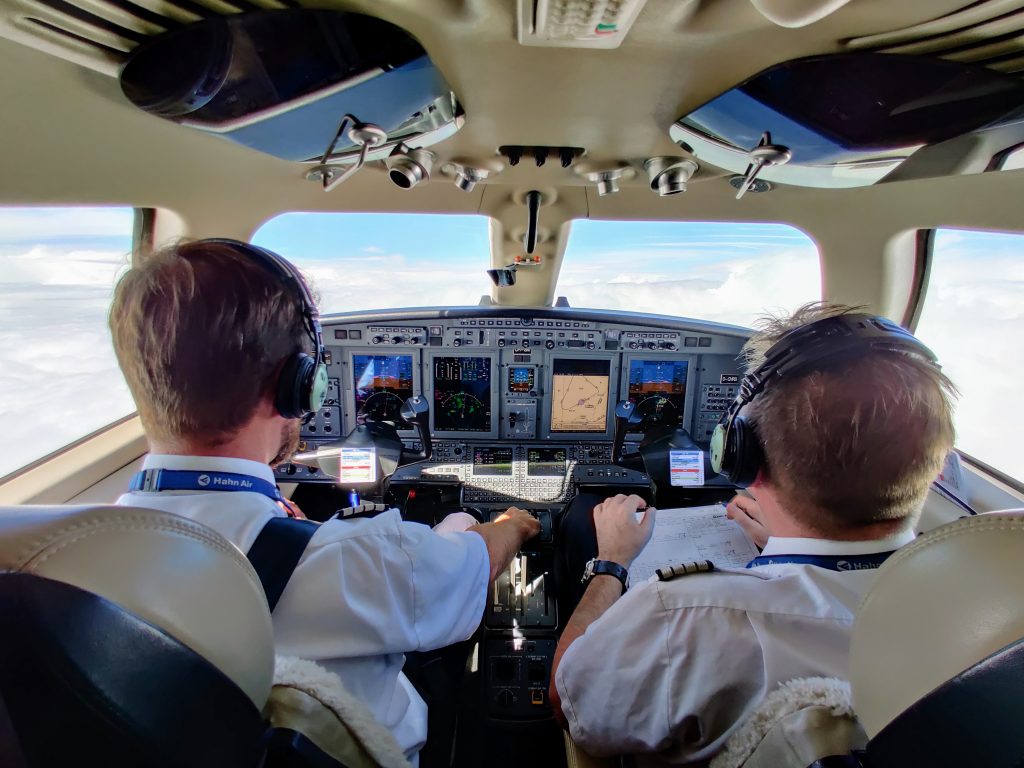 I'm not sure what else to say?! It was brilliant. Every aviation fan should experience it once.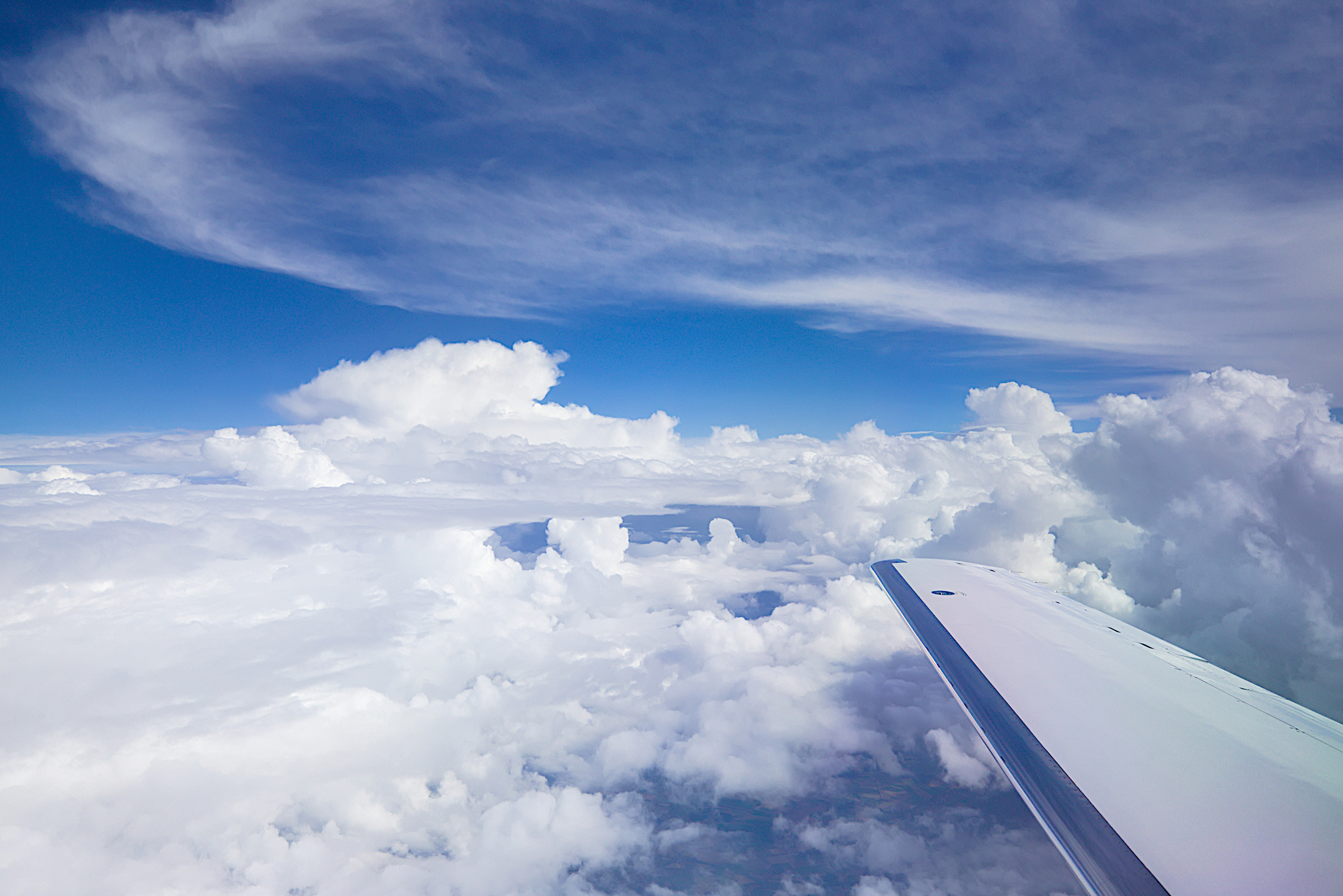 A quick shot of me debating how to pay for a CJ4 –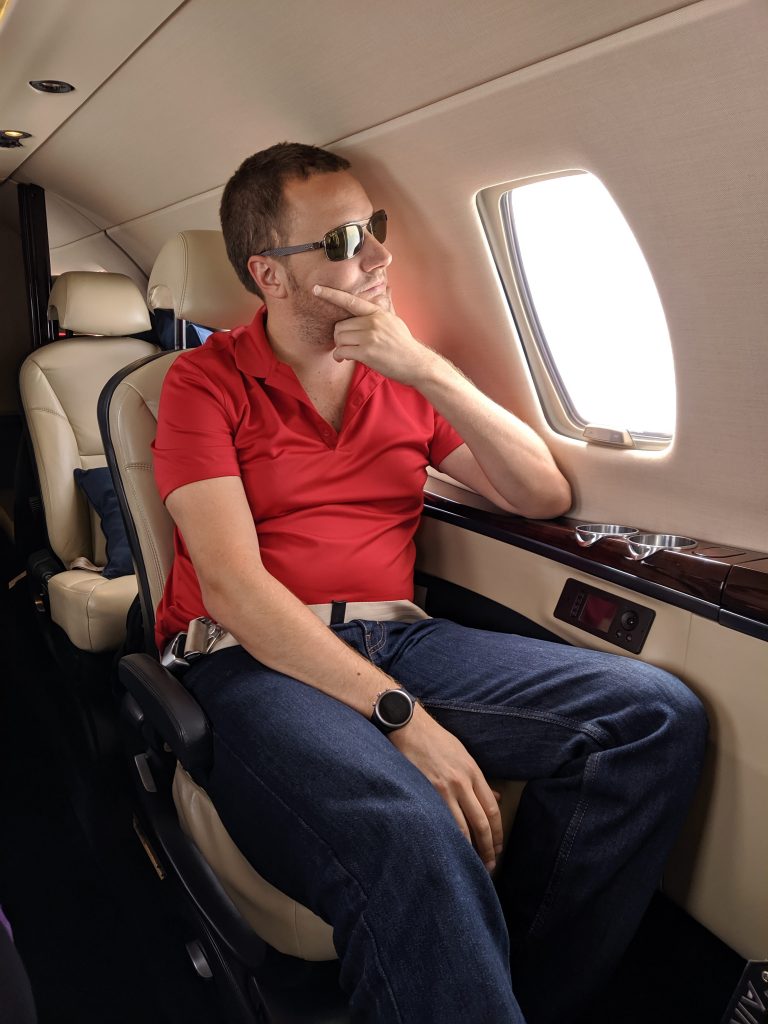 And Michele in her happy place!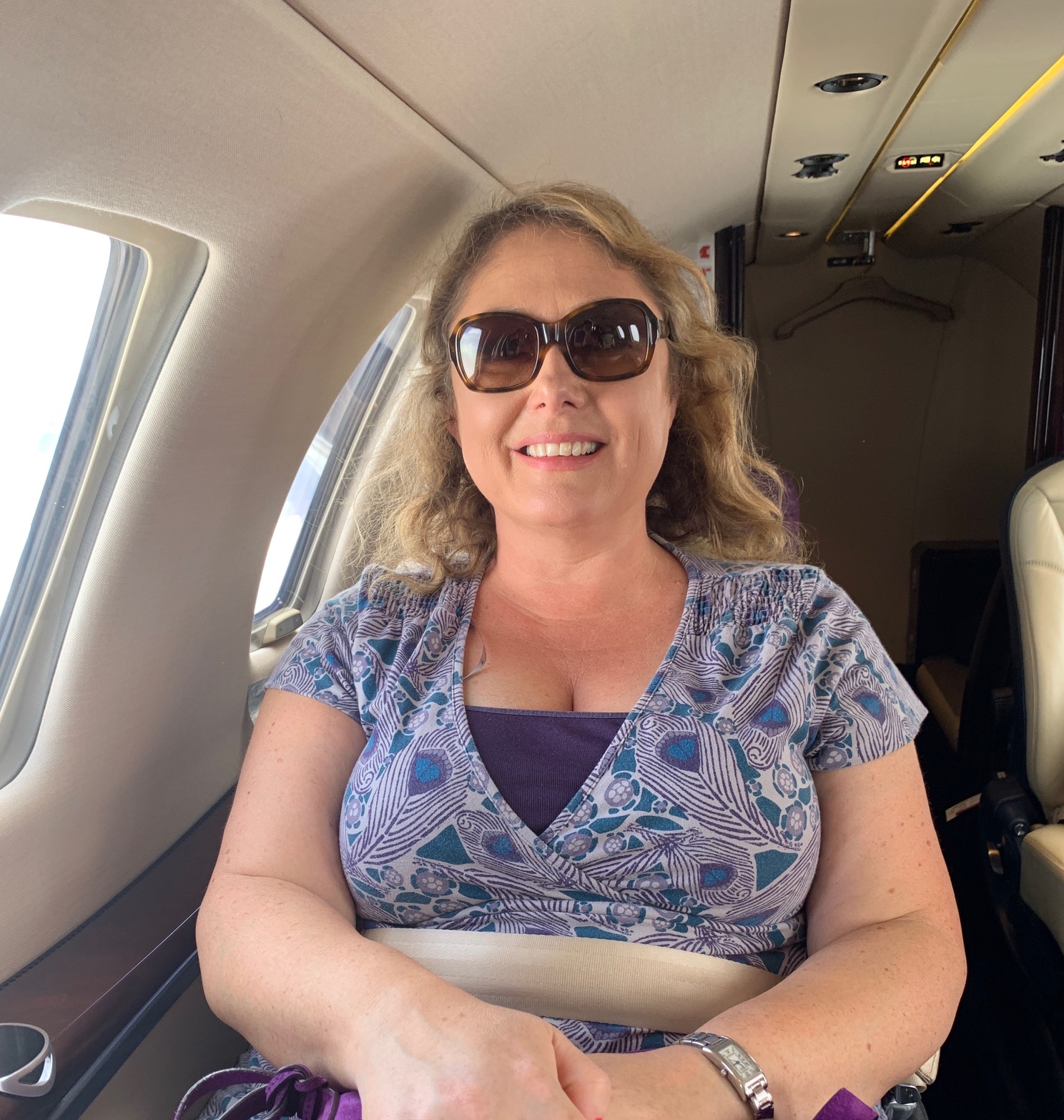 But all good things must come to an end (sadly!). No sooner had we reached 21,000 feet the descent began.
It wobbled a bit in big clouds but again – beautifully smooth still.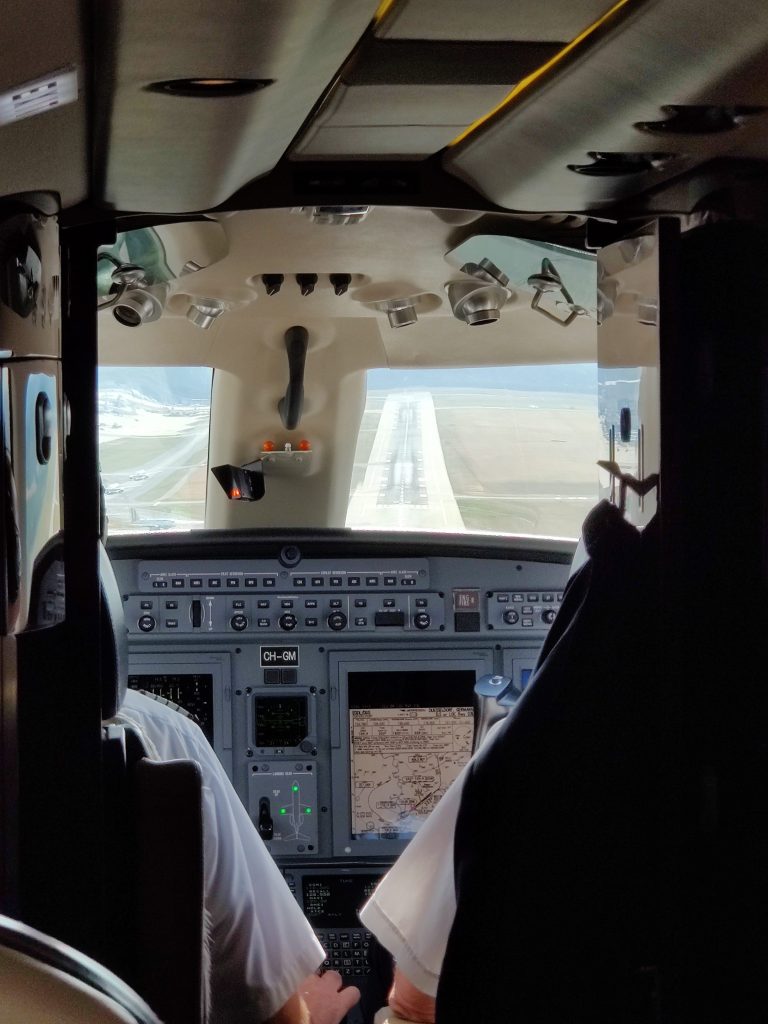 We lined up at DUS and down we came. It was over 🙁
We taxied round to the private jet section of Dusseldorf, and guess what was waiting?!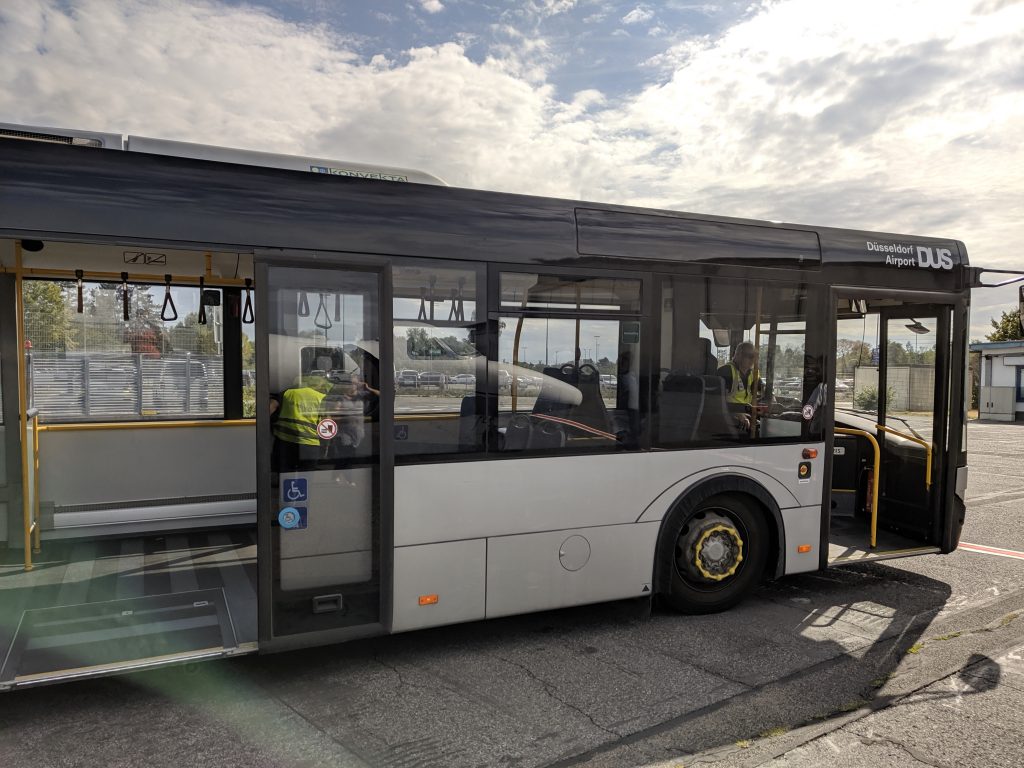 Final Thoughts
Well. What can I say? I flew in a private jet. And it was everything I had hoped for and more! I can't wait to hopefully repeat it again!!
Bravo Hahn Air!
If you fancy ticking off that private jet trip from the bucket list, Hahn Air flights can be booked with Expedia here.