If you a frequent flyer like me, you probably don't worry too much about your miles expiring. Certain airlines do operate a "hard expiry" policy of course, which helps to focus the mind on the earning and spending of those specific miles. But for those airlines who only expire the miles of inactive accounts, it shouldn't be difficult for most readers to credit a flight once in a while. But with the coronavirus crisis bringing most travel to a halt – and the likelihood that it will take months, if not years, before many people will take their next flight – how can you keep your miles from expiring without actually flying?
The first thing to consider is how to easily monitor your expiry dates. Award Wallet is the best tool available to track your points expiry. You can read more about it here.
How to Keep my Avios Alive?
Your Avios will expire if you do not earn or redeem Avios within a period of 36 months. This applies to all of the loyalty programmes that use Avios as their currency – British Airways Executive Club, Iberia Plus, Aer Lingus AerClub, Vueling Club.
The Bright Side… I have heard of so many people making the exact same mistake that I'll just say it up front – Combining Your Avios with Iberia Plus, Vueling Club or AerLingus AerClub does NOT – I repeat…NOT – extend the life of your Avios! Even worse, if you Combine Your Avios into an account that hasn't been used in more than 36 months, those Avios will IMMEDIATELY expire.

Accordingly, you must remain individually active in EACH of the Avios-based accounts that you use. If you use your Vueling Club / AerClub account merely as an intermediary to move Avios from Iberia Plus into a BA Household Account, you must be very careful to keep that account independently active.
Luckily there are many ways of earning Avios without flying.
E-Stores
Many online retailers can be accessed via the e-stores operated by BA, Iberia and AerClub. As a result, you can earn a few Avios for online shopping. However, online shopping isn't something that you can rely upon as a last-minute method of earning some Avios. It can take many months for your purchase to translate into that handful of life-extending Avios…
Click here for the AerClub eStore.
The Iberia eStore is intended for Spanish residents only, but you can easily get around this by changing the country settings on the Iberia website.

You must then log into your Iberia Plus account, where you'll find the eStore under the Iberia Plus drop-down box.
Take an Online Survey
Some people hate taking surveys. I don't blame you. Sometimes you spend 20 minutes completing a survey, only to be told at the last minute that you don't qualify.
But if you want a free way to earn some Avios from time to time, you should sign up for Rewards for Thoughts.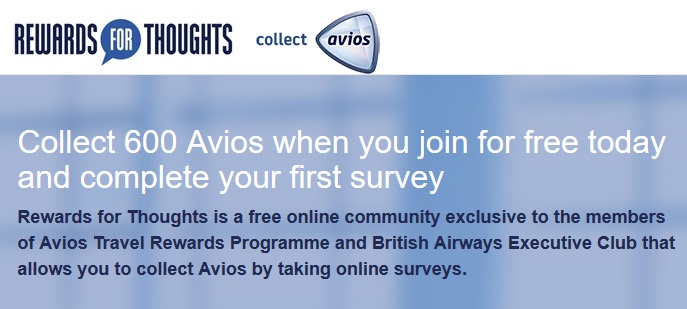 The advantage of Rewards for Thoughts versus other online survey platforms is simple. For each successful survey completed, you receive 25 or 50 Avios into your account within days. So you can easily keep your Avios account active by completing a single survey every once in awhile.
The Bright Side – As some of you know, the Avios Travel Rewards Programme doesn't exist any more. However what was known as Avios.com is still operating as Aer Lingus' Aer Club, as well as Vueling Club. However, I don't believe that you can sign up for Rewards for Thoughts using an AerClub number – despite what the landing page says…
Spend Your Avios on Wine
If you aren't travelling – but have a reasonable balance of Avios – a fun way to keep your account active is to spend those Avios on wine!

The value proposition is poor when compared to other uses of Avios. But UK residents can drown their unable-to-travel sorrows with something that keeps their Executive Club account active…
The Usual Suspects – Convertible Currencies
"Convertible currency" is an expression used to describe points that can be converted into a variety of different airline miles, hotel points, money off vouchers, etc. It usually makes sense to hold onto "convertible currencies" until you have an award redemption that you are planning to book. And they are great to have when you need a quick transaction to extend the life of any miles/Avios about to expire…
If you have at least 1,000 Membership Rewards points from American Express, you can convert them on a 1:1 basis to British Airways Executive Club or Iberia Plus.
If you have at least 3,000 Marriott Bonvoy points, you can convert those into 1,000 Avios from British Airways Executive Club or Iberia Plus.
If you collect Tesco Clubcard points, you can convert a £2.50 voucher into 600 Avios from British Airways Executive Club.
If you have Heathrow Rewards points, you can convert 250 points into 250 Avios from British Airways Executive Club.
Virgin Atlantic Flying Club
Many of the options listed above also apply to Virgin Atlantic Flying Club, which also has a 36-month expiry policy.
A Virgin-specific option is Virgin Red. Some people love it. Other people just can't be bothered to figure it out. (like me)
But essentially you download an App to your phone and spend a minute or two each day accumulating "points". These points aren't actually worth anything… but can help you open up "vaults" with valuable prizes inside, including Flying Club miles. If you use the App enough, you almost certainly will earn some Flying Club miles within each 3-year period.
American Airlines AAdvantage
Of the three largest North American airline programmes, AAdvantage is the only one that expires miles – for inactivity longer than 18 months…
Back to Award Wallet, however. If you visit the blog section of the website and leave a comment that the moderators approve for posting, you will receive 5 free AA miles. That is all you need to extend the life of any AA miles you might have…
The Bottom Line
There is no real excuse for allowing miles to expire, at least with those airlines that offer activity-based expiry policies. Not only is it possible to earn miles without leaving home, but you can also usually do it for free by making a little effort.