A review or Iberia long haul business class. Although I have reviewed the A340 on a short flight from London to Madrid, I had not flown on it for any length of time. Roving Reporter and I used our Iberia 90k Avios promotion to book flights to Buenos Aires on Iberia, and we ended up on an A340. I say ended up, as the aircraft on both flights changes several times which is annoying having to keep changing seats as my preferences didn't seem to stick. They were booked with Iberia miles so they did not have my BA Gold status on the booking which may not have helped.
The fare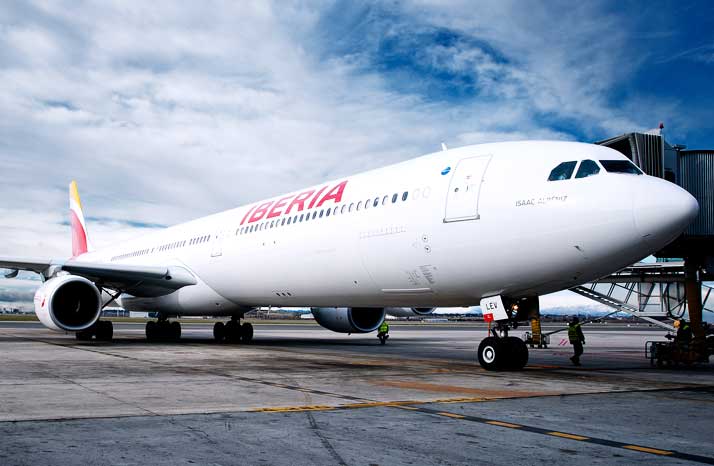 If you want to get a cheap Avios fare without lots of tax, Iberia has some great deals. You can read more about them in this article. For this flight I used 86,700 Avios + $ 541.62 (about £461) return. Roving Reporter chose to use more Avios and paid 102,000 Avios and £200. I think for a 12-hour flight that is outstanding value. To get these prices, you must transfer your Avios over to an Iberia Plus account and make the booking through there.
Check-in
We arrived at Buenos Aires airport and found the Iberia premium check-in area. It was nothing special, pretty much the same as every other Iberia check-in. The check-in agent was polite enough, but they would not check our bags through to London. We were on two separate tickets, but both were oneworld. I had looked beforehand and realised it is Iberia policy not to do this, but it is always worth asking! BA are the same, even if you are on two BA flights on separate tickets they will not check luggage through for you.
Personally, I think that oneworld should not allow airlines to make their own policies. If you are part of an alliance, it should include through checking of luggage. Perhaps they could make this a perk for premium passengers and those with status?
The lounge
It took a little while to get through all the formalities at Buenos Aires. The priority queue seemed to be just for VIPs, crew and families etc. We did actually go through this channel and weren't challenged but I am pretty sure we weren't meant to be there! Once through we had a choice of two lounges. There was either The American Airlines Admirals Club/Iberia VIP or the LATAM lounge. We had a look at a few reviews and then where our gate was and decided to try the LATAM lounge.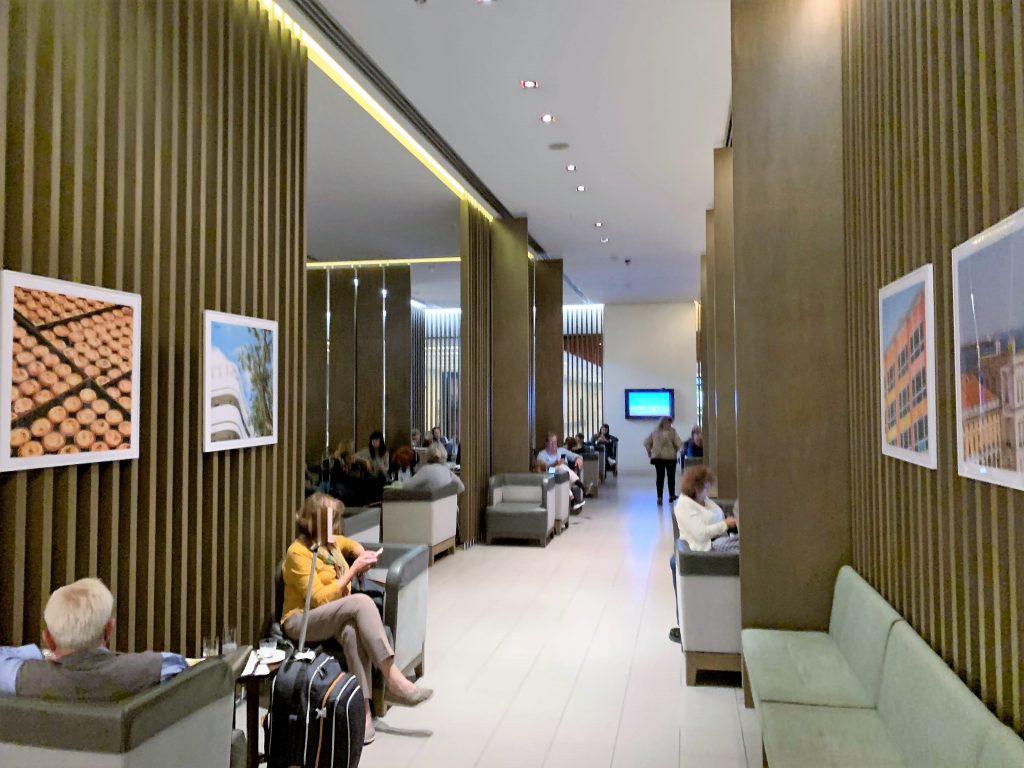 First impressions were good. The lounge looked modern and stylish with some lovely local touches.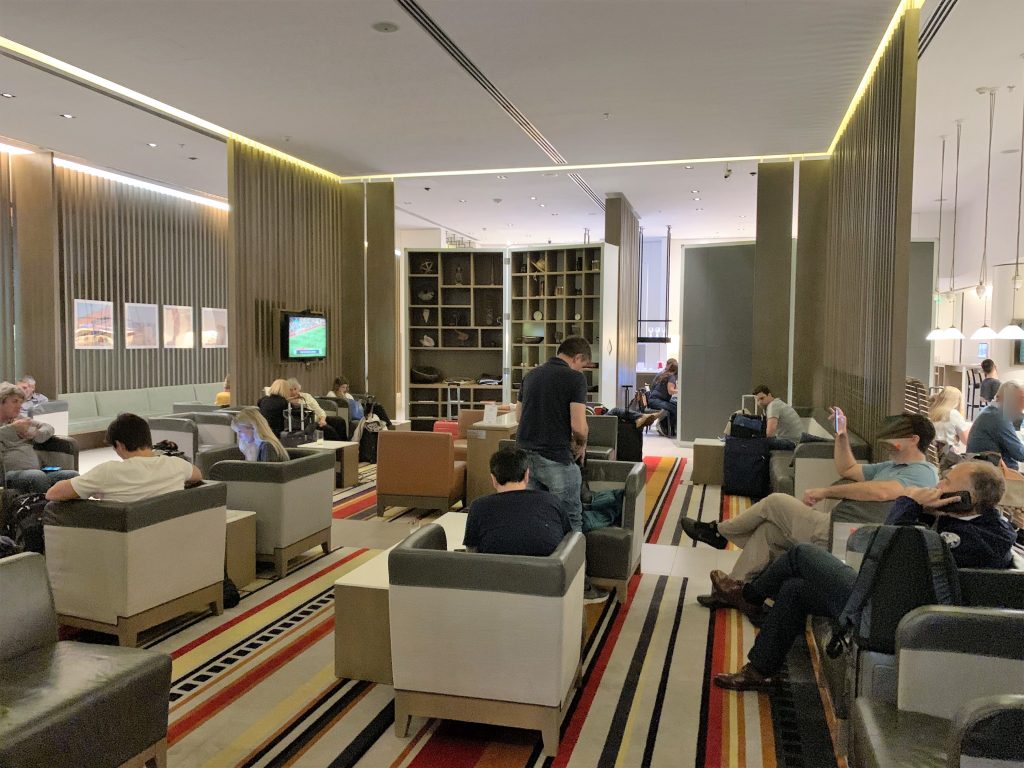 There was a good selection of wines with two white, three red and a bottle of sparkling wine. Although it soon became evident that the staff did not monitor these and a lot of the time the bottles were empty, and only one was put out at a time.
There was a wide range of spirits including a few local ones and Aperol. However, if you were a gin drinker you may have been a bit disappointed with just Beefeater Gin. The food selections were plentiful if not somewhat random although they were more snacks than a meal.
There was a large communal table with power points where I did some work for a while. We then tried a few bits of the food. The salads looked a lot better than they tasted but my courgette au gratin was quite tasty.
Boarding Iberia long haul business class
We headed to the gate a little ahead of schedule in the hope of getting on early to take photos. Fat chance! This is the sight that greeted us: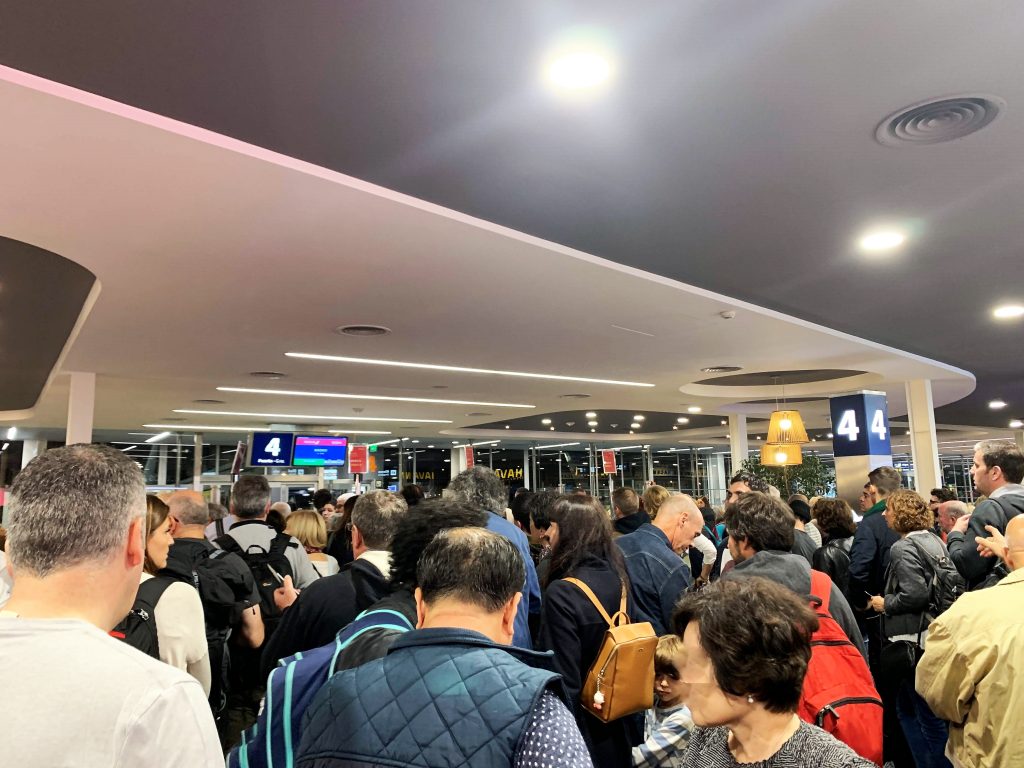 Now allegedly the Premium queue (elite status and business class) was on the left but it was hard to tell who was in which queue and as it turned out later quite a few people in our queue were in the wrong one! We waited around for ages, then some people seemed to go through but then nothing happened. Eventually, a very garbled sounding announcement was made which I took to be for us as everyone surged forward. Roving Reporter elbowed his way through the masses but it took me quite a while to get through.
This was probably one of the worst boarding experiences I have had. The gate was way too small for the number of people so people even ended up queueing into the duty-free shop!
Once on board, the amenity kit was already at the seat and I was soon offered a glass of water or cava. It's a nice touch that they pour the cava at your seat.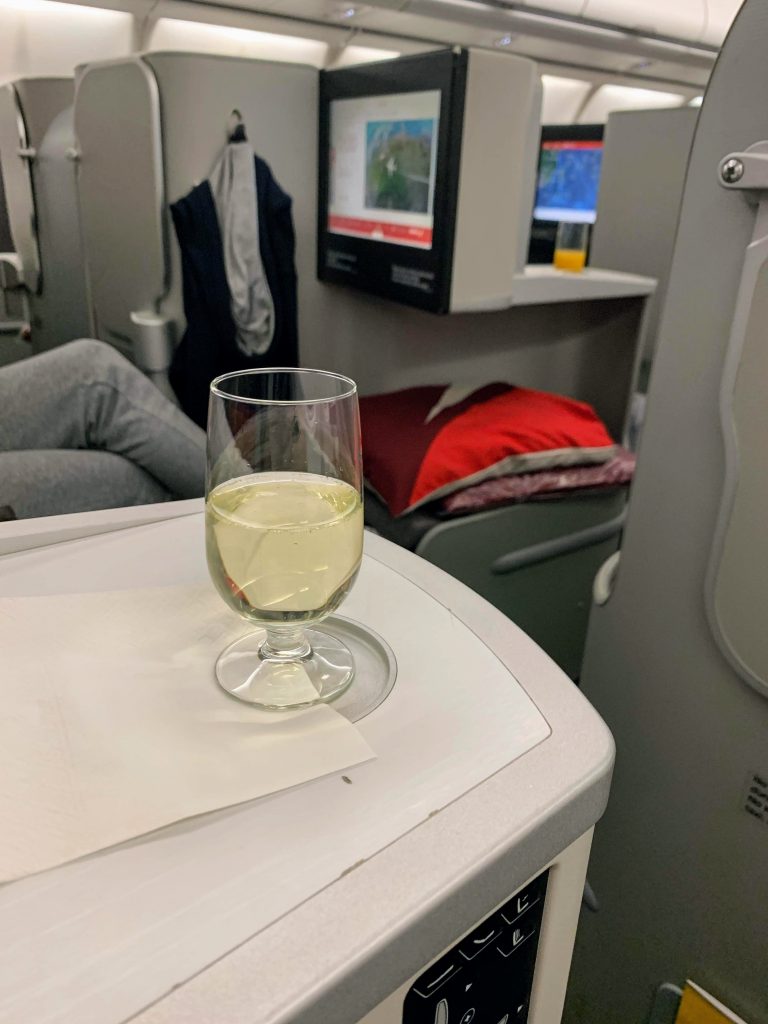 I thought the amenity kit was actually pretty impressive and I liked the neoprene material. Although it may not feel particularly luxurious it was practical and smart. The bag had products by Germaine de Cappucini which not everyone may have heard of but are actually a well respected high-end spa skincare range. The kit had moisturiser, lip balm, facial mist, toothbrush and paste, socks, earplugs, a comb and shoehorn. There were even two hair bands which I have never seen in an amenity kit and useful if like me, you have a serious case of bedhead when you wake up on a plane! (or anywhere for that matter…..).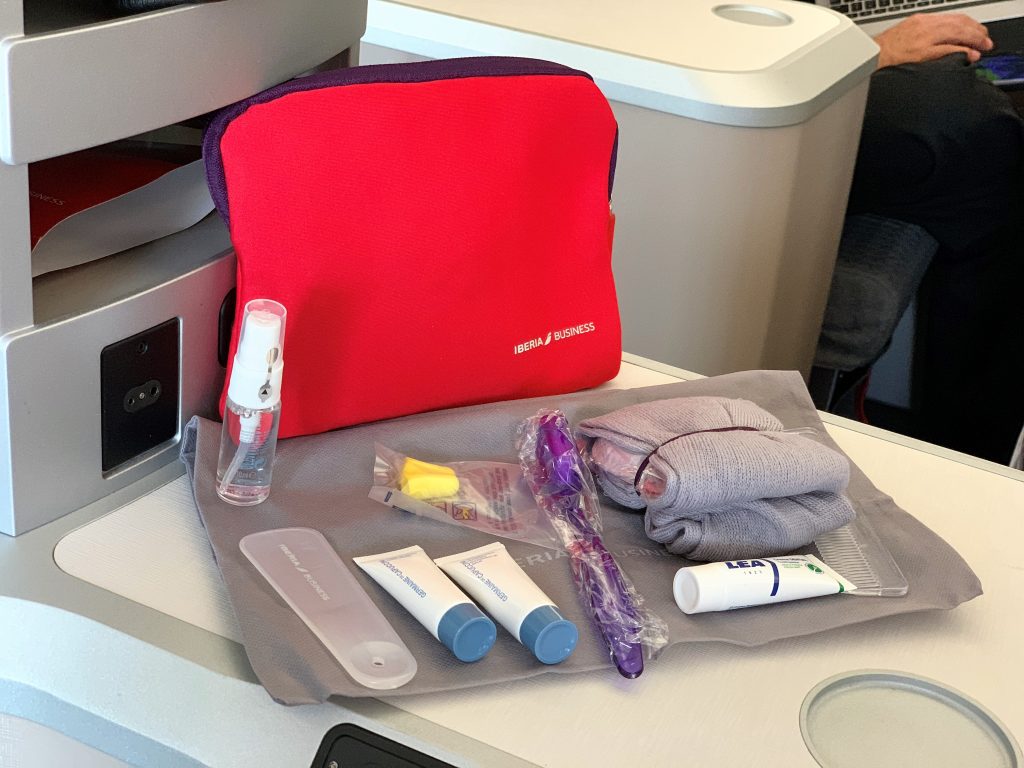 Iberia long haul business class seat and cabin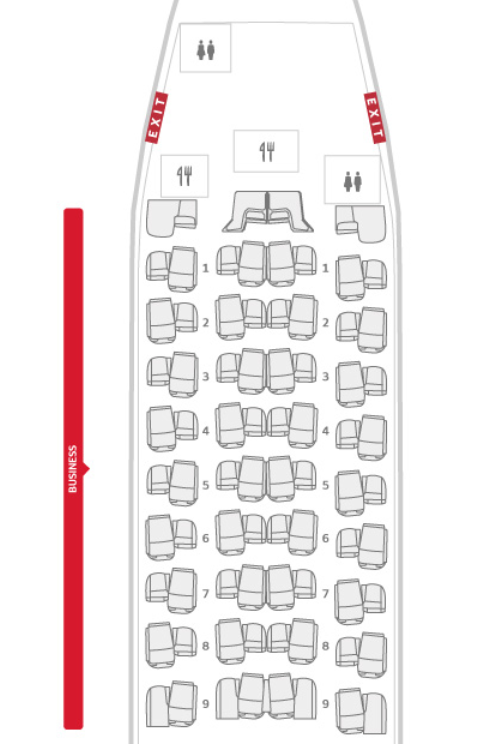 The Iberia A340 seats are arranged in the same way as their A350 in a staggered 1-2-1 configuration. Middle seats alternate between 'honeymoon seats' which are close together, to ones where the two consoles are in the middle making them quite suitable for solo travellers. The windows seats also alternate where the console table is – either next to the aisle or the window. I prefer the ones that have the table by the aisle as they feel more private and I like to be close to the window for a bit of cloud gazing!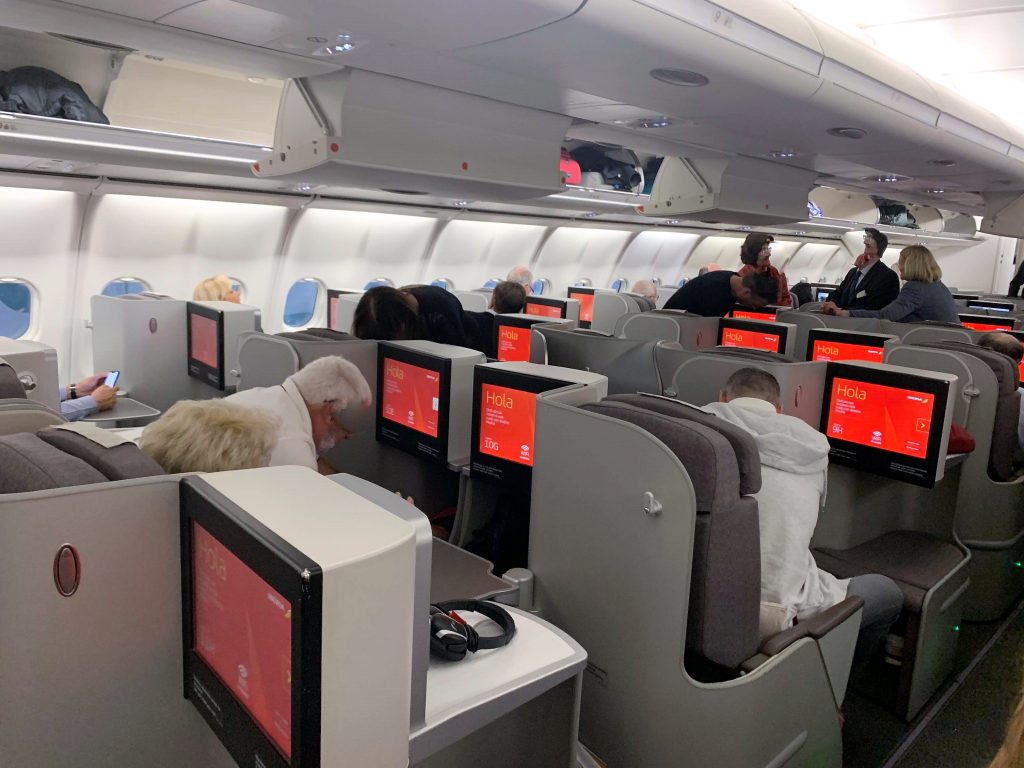 I had been moved from my original seat and given one of the aisle seats. Fortunately, at online check-in I managed to change it back to 11L. This was further back than I would have liked but I still got my first choice of main. I had been slightly concerned as on the map it looked like it was close to the galley and a toilet but neither provided any noise issues.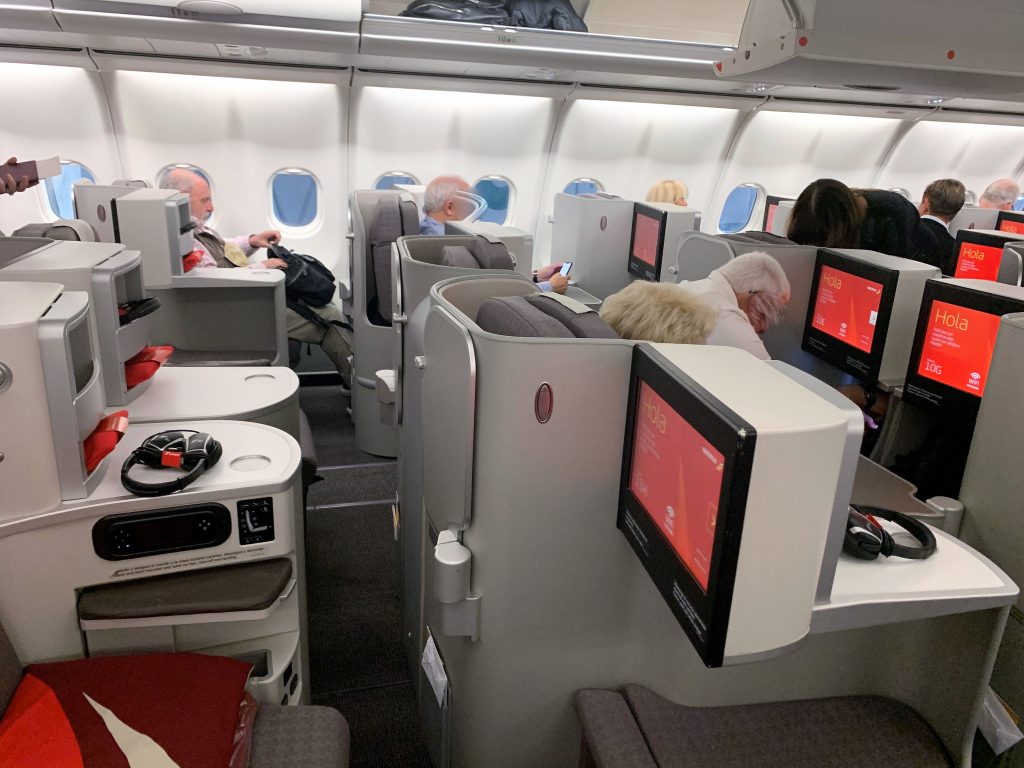 The seats are more narrow than the A350 but it still felt a decent size. It was interesting as Roving Reporter had not been a fan of the A350 on the way out (review coming soon), whereas I loved it. He much preferred the A340 citing that he found the seat much more comfortable for sleeping.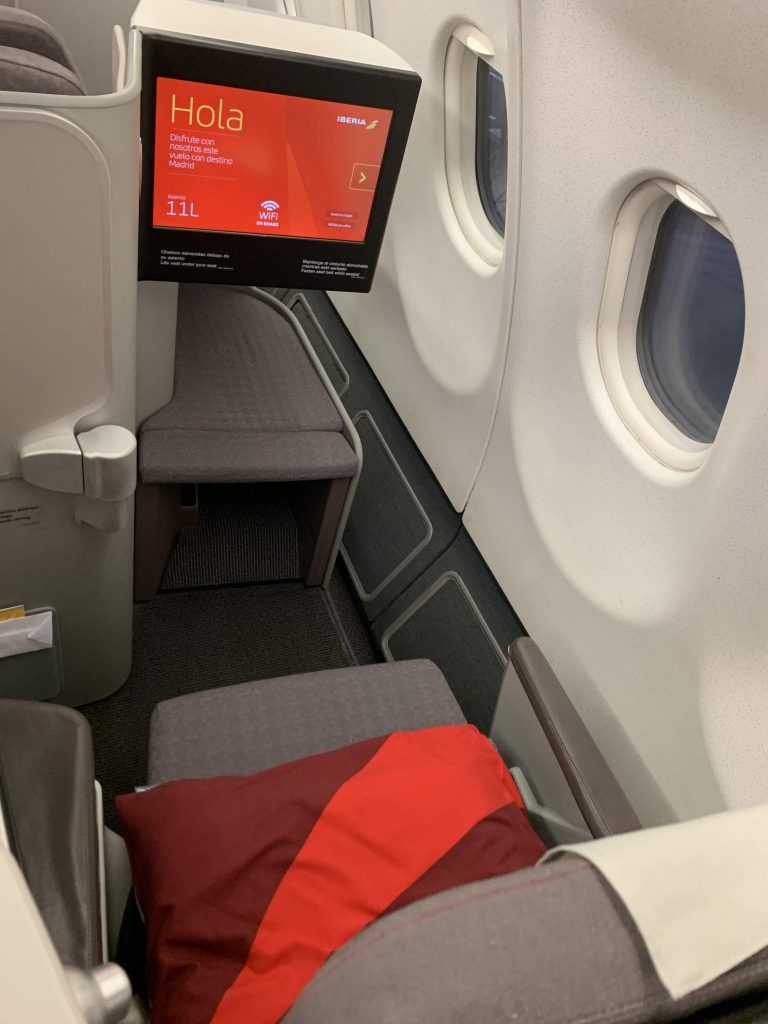 As with so many airlines, there wasn't a huge amount of storage for take off except a small side bin. Once airborne there was plenty of room under the footstool and on the large side console. There were also two shelves on top of the side table, a small well to the side of the seat and a water bottle holder.
At the seat was a thin quilt and a pillow/cushion for sleeping. One side was more like a cushion and the other pillow material. The quilt is fine and not too thick but the pillow/cushion is woeful. Roving Reporter was convinced his had been used before. They were like really old cushions when the stuffing has been flattened after years of use. If I get a bad pillow I usually leave the head of the bed a little raised to compensate.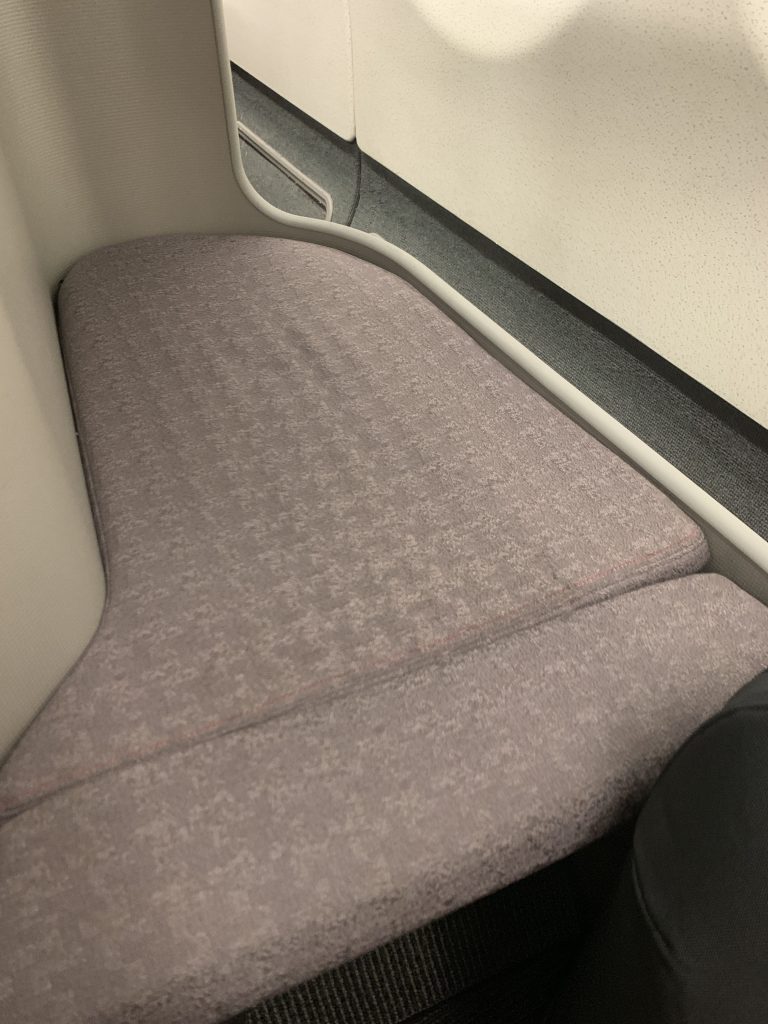 I did not find the seat very comfortable for sleeping. There is no mattress pad and I could feel the gaps in the seat between the cushions. The one thing I did like is that I didn't bash my knees on the TV as both RR and I had done on the A350m when turning over. RR preferred the seat for sleeping and slept really well whereas I tossed and turned a lot.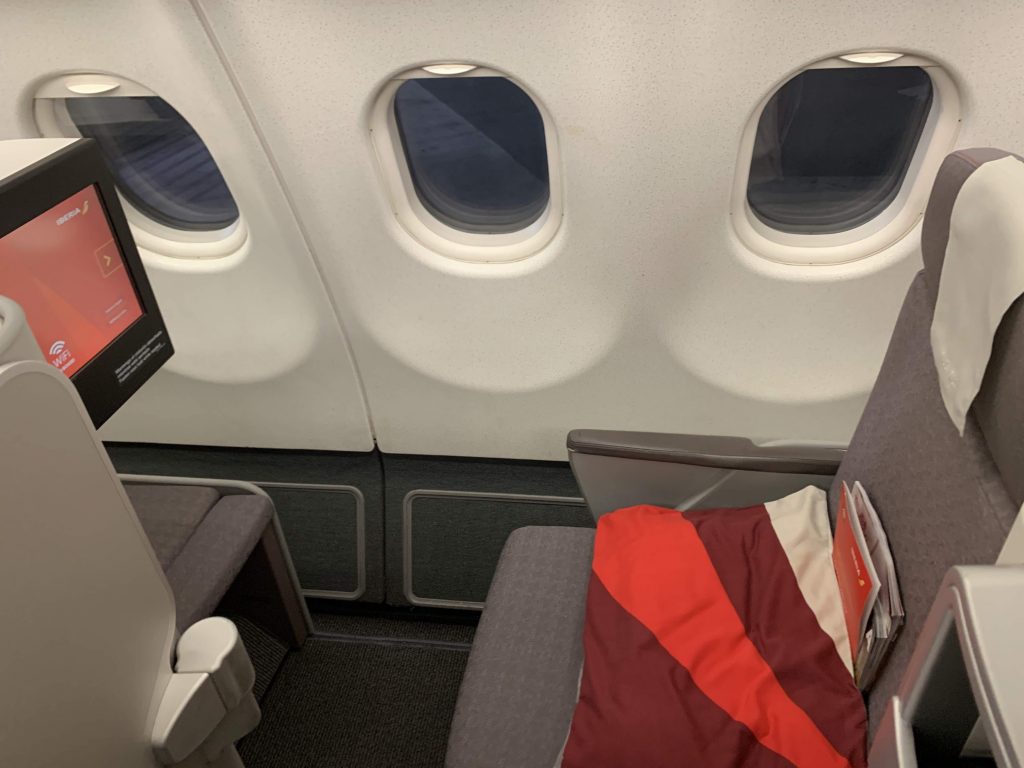 The seat was easy to control but there was no leg rest but you could move the seat forward to put your feet on the footstool if you couldn't reach. It was OK for sitting but definitely not the most comfortable seat in business class I have sat in. I did like the massage setting though!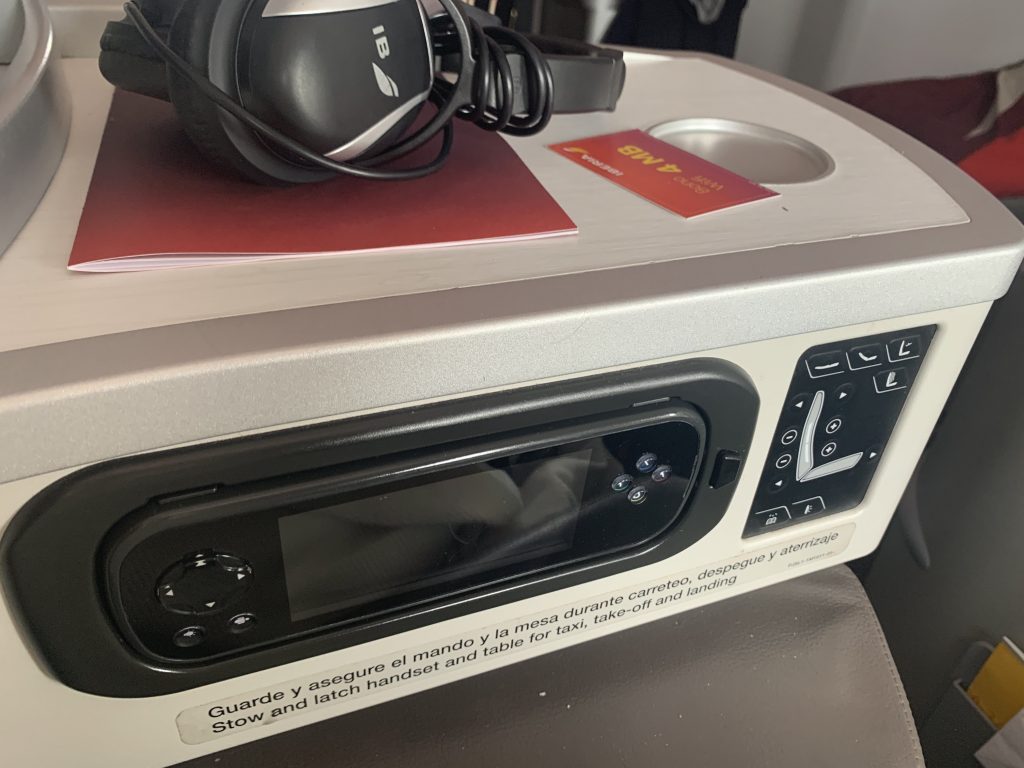 One thing to note was that the crew did not seem to check the toilets were in a good state at all as every time either RR or I went in we found them in a bad state! The seat belt sign was severely overused with it left on for hours with no turbulence apparent and people just ignoring it!
Iberia long haul business class Food and service
Hot towels were handed out on a little dish and then the menus. This was an overnight flight that left at about 9pm in the evening and was over 12 hours. I would have expected a drinks round before dinner but sadly this was not the case. The drinks were definitely not free-flowing on this flight, unlike the way out.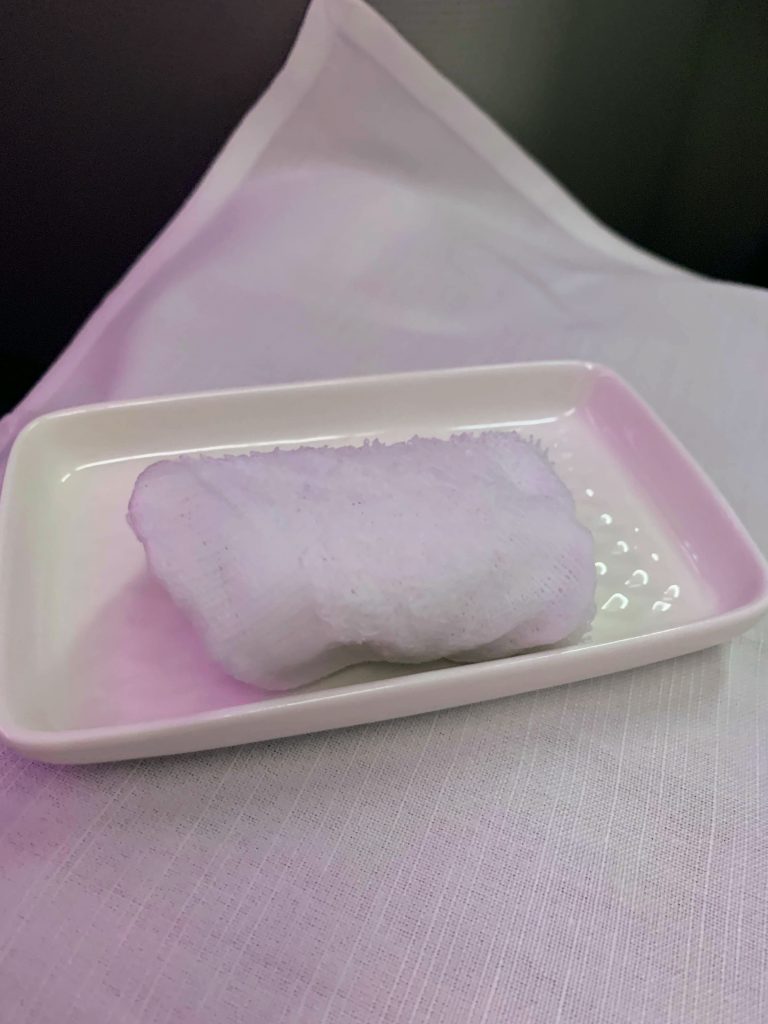 Before dinner was served the Purser (more like a BA CSD) came round and introduced himself. He had an iPad with photos of the different main courses on from you look at when you choose your main course. I thought this was a great idea and one I had not seen before. Sadly the pictures actually looked worse than in reality!
Here is the menu:
Iberia menus are generally pretty predictable and I think if you flew them a lot you would get tired of the food very quickly. The starter is always a variety of dishes with no choice except whether to have the cold soup or not. Normally I find their cold soups very good but the carrot and ginger soup was a little bit bland this time. The starter was tasty but nowhere near the quality that you get out of Madrid which usually has foie gras. The beef salad was a bit dull too and they had forgotten the salad dressing. Good bread with optional olive oil was offered around twice as well.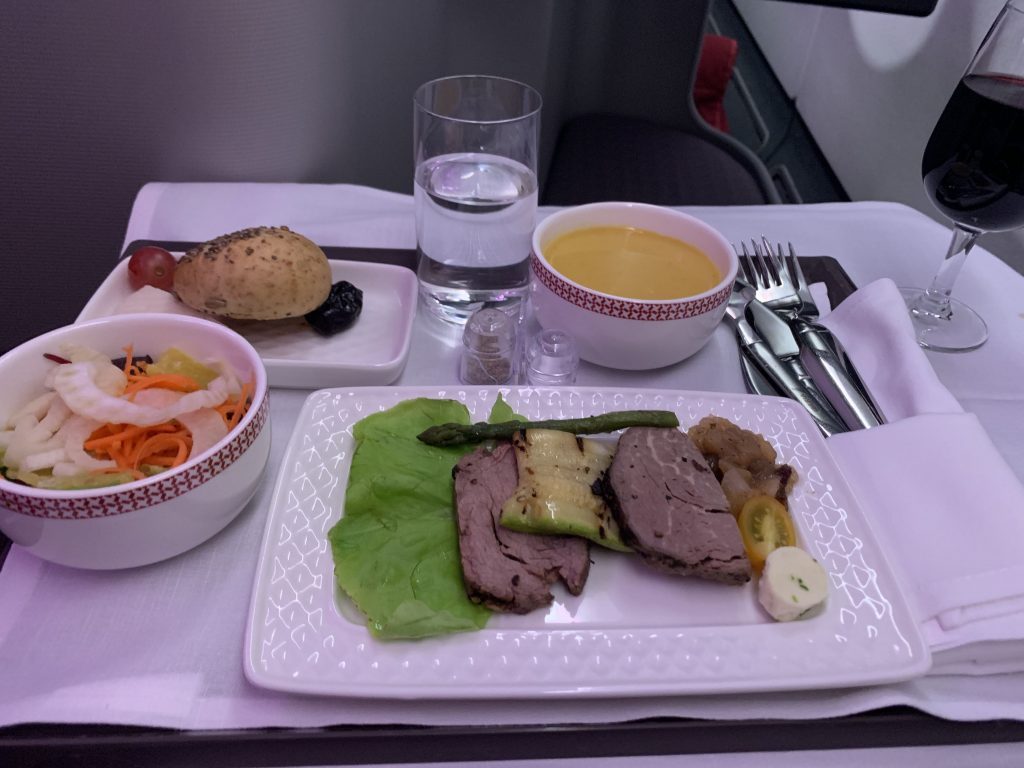 I generally find Iberia crews efficient but not overly friendly, except for the Pursers. They always speak excellent English too. This crew were about the same but not as active as other crews. No top up of my solitary drink was offered and only one top up of water. I had to ask for a drink after dinner – on other flights, these have been offered with dessert and coffee. One thing I do like is the selection of drinks onboard. I like the fact that they have a good quality Fino sherry, the excellent Fifty Pounds Gin and two dessert wines. I tried the Ribera del Douro red which was very good, as have been all the wines I have tried on Iberia.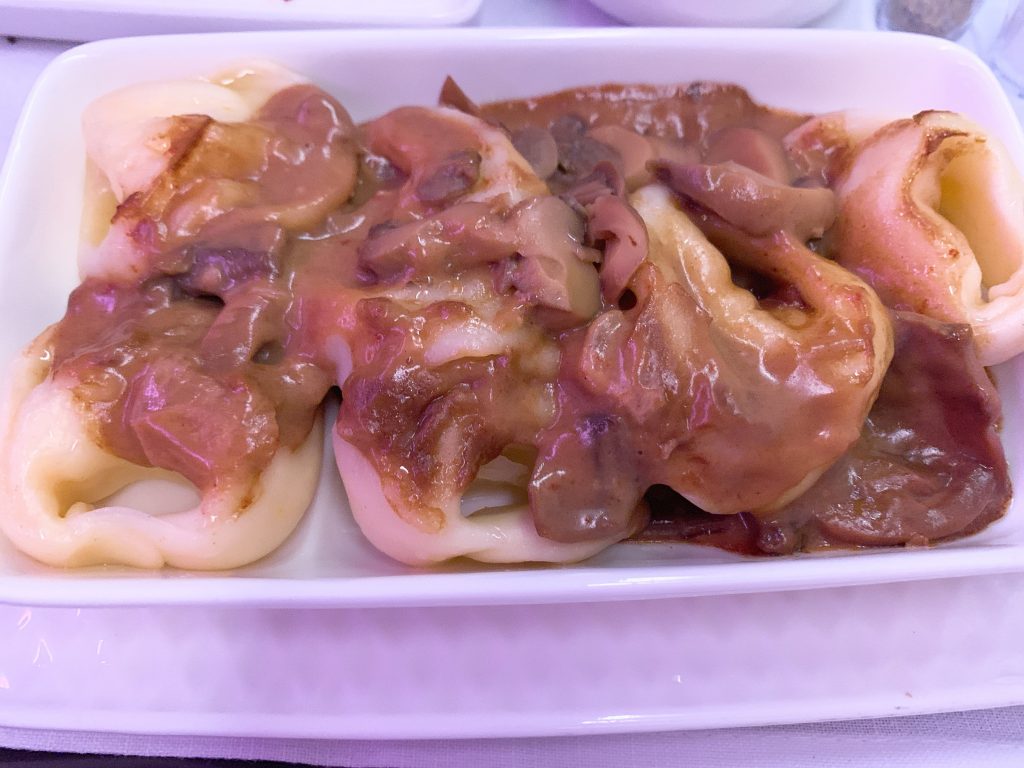 For the main course, I decided to go with the pasta. It looked pretty frightful but was actually delicious! The pasta was not overcooked and had a generous tasty filling. The highlight was the creamy mushroom sauce which there was plenty of.
I was keen to go to sleep so I didn't bother with dessert but I did treat myself to a glass of the excellent dessert sherry, Pedro Ximenez. This sweet, rich wine is a bit like alcoholic liquid raisins and is excellent with Christmas pudding or mince pies.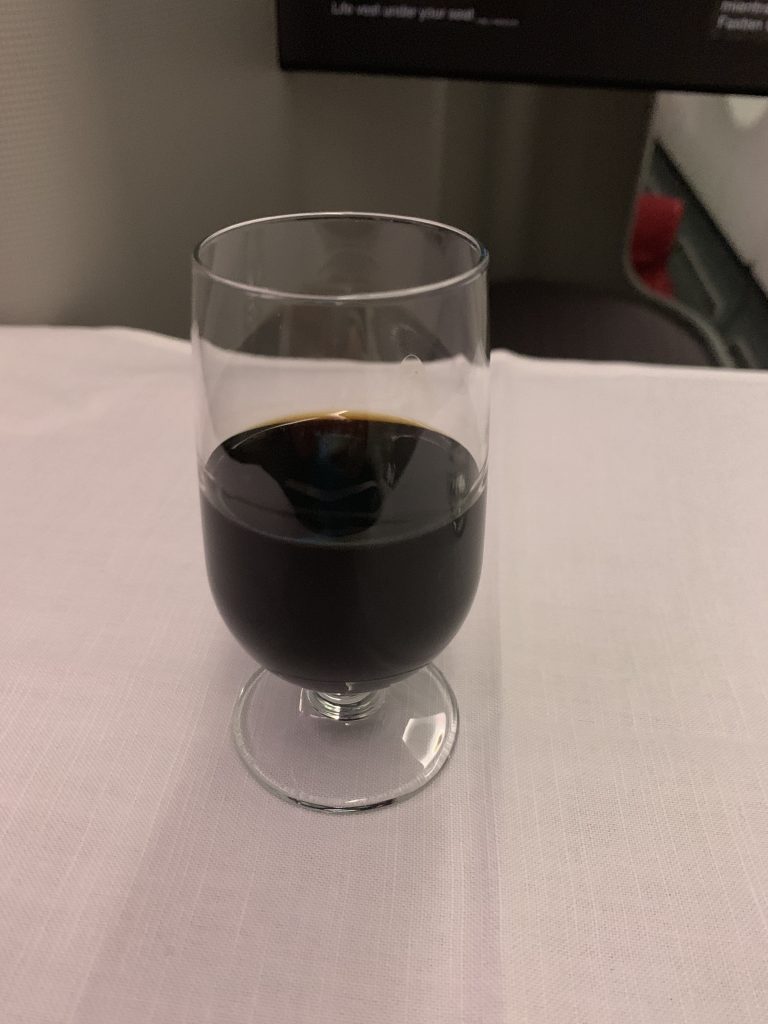 The breakfast was the same on both legs. It was very simple but there was probably something for everyone. There was a warm omelette with ham, fruit, yoghurt and a strange sort of melba toast which was quite tasty with some butter and jam. They were meant to bring round croissant with the coffee, but they either forgot or had run out. Incidentally, I found the coffee on Iberia excellent.
Iberia long haul business class Entertainment and connectivity

Iberia has wi-fi on their long haul aircraft, but they seem to have more trouble with it than other airlines. Of the three long haul flights I have done, there were issues with it on two of them. On this flight, they reported something was causing interference in the cockpit, so we were not allowed to use any electronic devices. They did not make any further announcements so it was hard to know whether you could or couldn't, but I gave it a go for the last hour of the flight.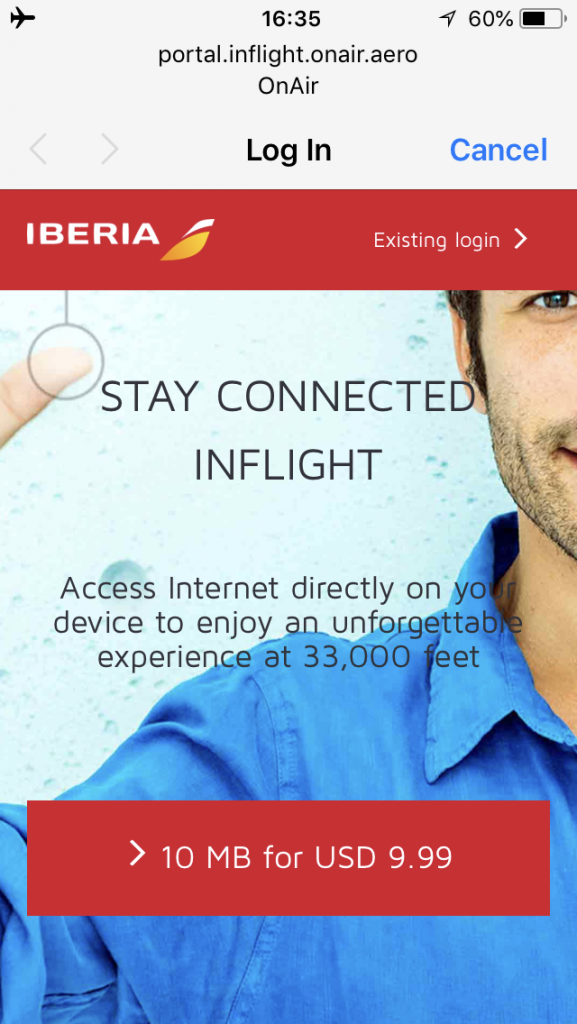 Unlike the way out we got a voucher for 4mb from the purser which was good. There is also an offer with Visa for an hour free too. Otherwise, it was $9.99 for 10MB or 25MB for $19.99. I find Iberia's pricing very high compared with BA as it is per MB rather than a period of time which I hate. 10MB does not last more than around 30 mins for me and it's not like I was doing anything like streaming.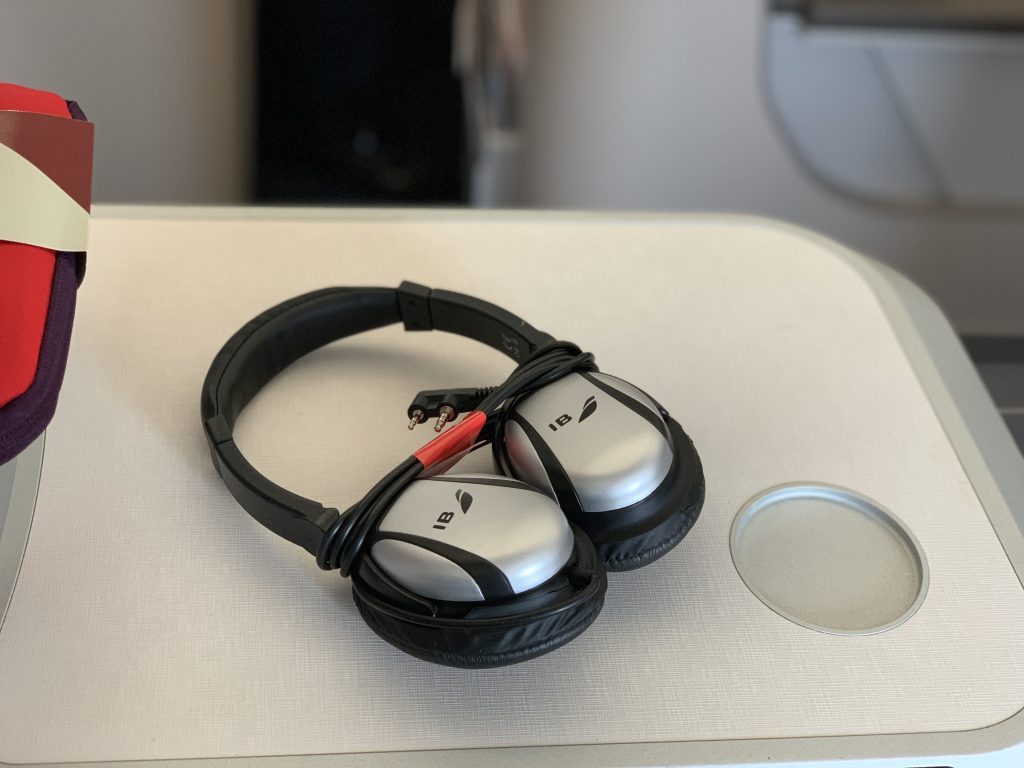 If you wanted to charge your devices, there was a USB port and a multi-country socket. Headphones were already at the seat and collected around 30 minutes from landing. The Iberia headphones are not great quality or particularly comfortable, so I don't usually bother with them.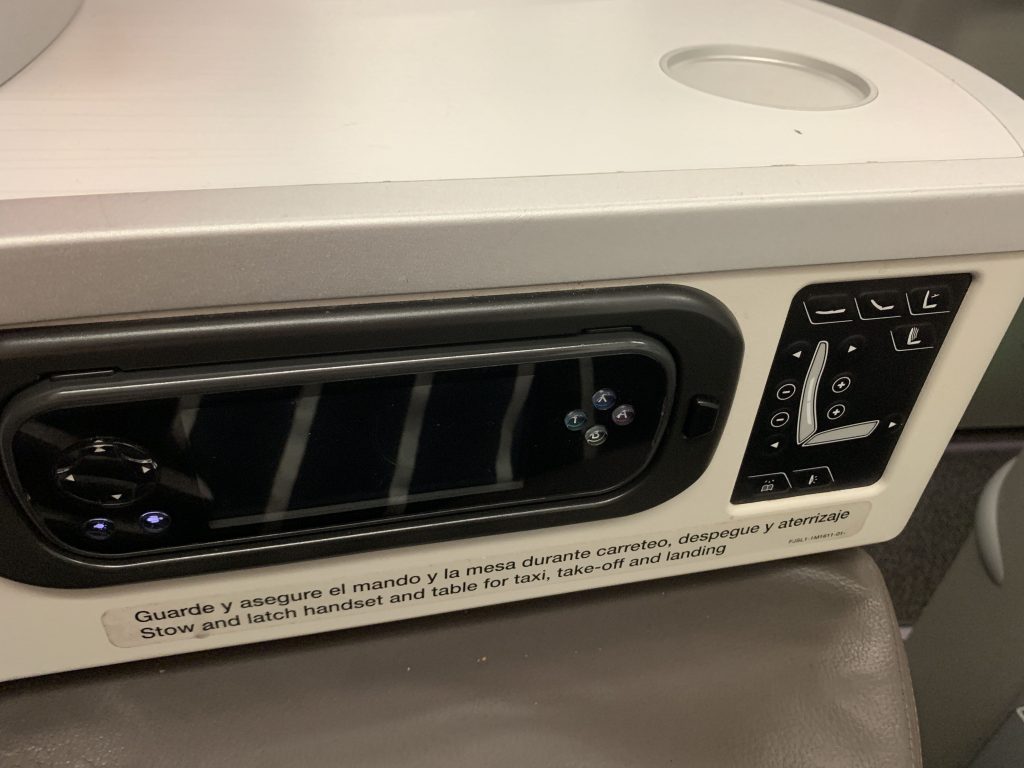 The TV screen is definitely quite a bit smaller than the A350 but it was still an adequate size. There was a good choice of recent films and TV programs. I was keen to get to sleep, so I just watched a few TV programs. I thought the screen had a good definition and the controller was modern but straightforward and did not seem to lag too much.
Conclusion for Iberia long haul business class
This was what I would view as a very average flight. The crew were average apart from the Purser who also came round at the end of the flight to thank everyone for their custom. They also handed out maps of Madrid for connecting customs which I thought was a nice idea. The food was good in places like the main course and average in others like the starter. I enjoyed the wine, and the entertainment was clear with plenty of choices. So would I fly them again? If the price was right yes, such as redeeming Avios, but I would not rush to fly them over another airline.