This is a review of the Qatar Airways old B777. Putting aside politics, I have always been a huge fan of Qatar Airways business class. For me, it is the best you can buy. However, recently I heard a few negative comments about aircraft swaps and people losing their seat assignments. During the World Cup and the lead-up to it there have been a lot of aircraft changes, so I was almost expecting something to happen.
The start of the tale of woe…Lastminute.com
I had booked a great deal from Oslo to Dubai for around £1100. Against my better judgment, I used Lastminute.com. I always tell people to either book flights direct with the airline or using a reputable travel agent, not an online one. But here I ignored my own advice…
Suffice to say I would never recommend even my worst enemy to use them to book flights. Hotels yes, flights no. The reason I booked it was that it was advertising a "Classic" business class fare rather than booking directly on Qatar that was categorised as Business Lite.
Qatar switched to offering a business class product without lounge access or seat selection a while ago called Lite. The next fare class up "Classic" offers lounge access and seat selection so I thought I would book that. Little did I know that it was not a Qatar Classic fare but a Lastminute.com Classic fare. I only discovered this when I went into the booking on Qatar's website and saw the fare class.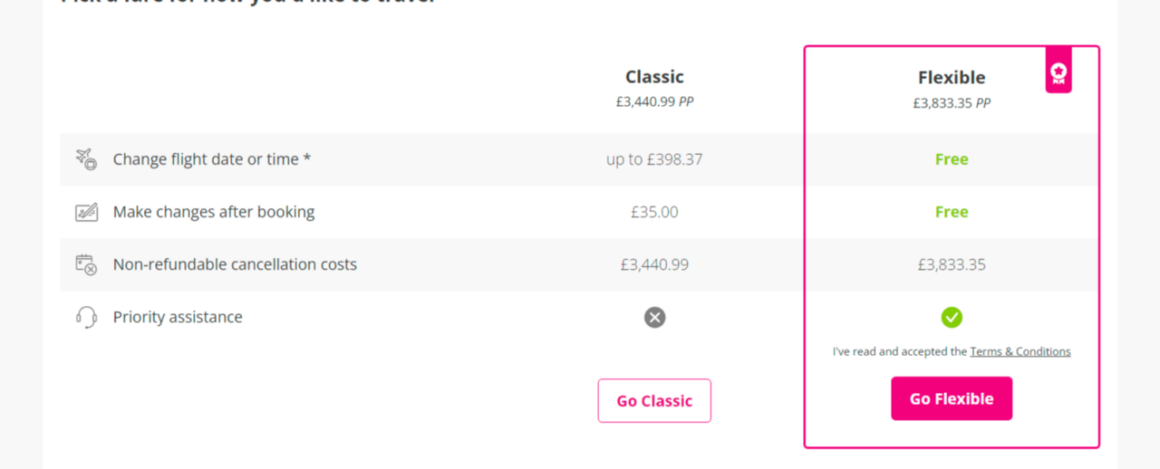 Nowhere did it state during the booking process that lounge access and seat booking were not included and that this was a Lite fare. I find this extremely misleading and very unclear what you are buying.
I tried arguing, and initially they relented and said I could rebook in the correct fare bucket. But then they kept saying there were no seats available – for the next 6 months – despite it showing very clearly that it was wide open on Expert Flyer. Eventually, I just gave up.
However, the second half of the ticket from Doha to Dubai was booked in first class (A) so I assumed that would entitle me to use the Al Safwa lounge as there is no such thing as First lite.
Aircraft musical chairs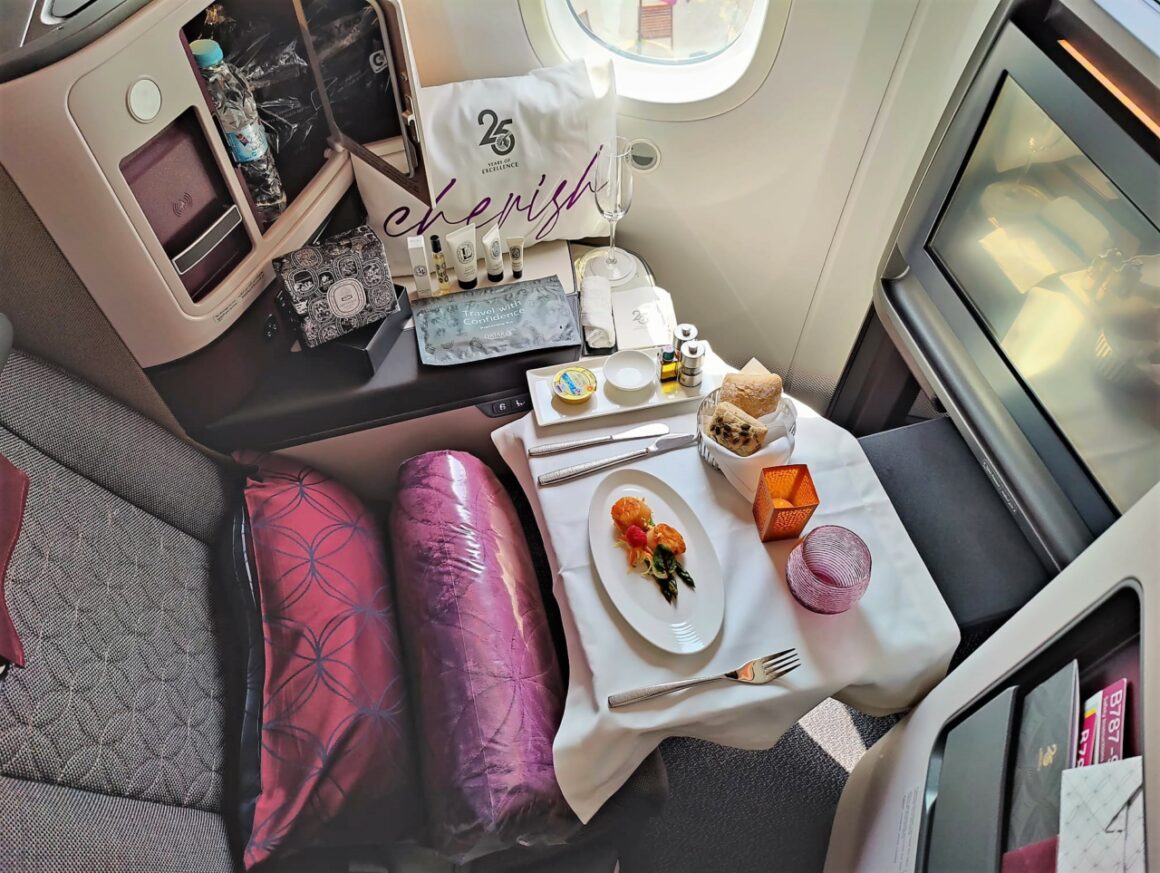 The whole point of booking the flight from Oslo was to try Qatar's Premium Suite on their B787-9 aka Q Suite lite. Sadly a few weeks before the aircraft changed to a non Premium Suite B787-8. Although it was annoying for the review, I wasn't too worried about the journey personally as I don't mind any of Qatar's reverse herringbone seats.
However, a couple of days before when I was checking my seat my heart sank when I saw it had changed to one of the oldest B777s in their fleet which features a very outdated 2-2-2 seat. Now if you are travelling as a couple or with a friend it's not nearly so bad. But as a solo traveller, I am very conscious of my personal space and privacy – this is what I pay for business class for. I was not notified of the change except possibly in a very vaguely worded email that just said there had been a change and stupidly had forgotten to set an alert on Expert Flyer. I assumed the email was about a time change that happened at the same time. By the time I realised, there were virtually no seats left, so I settled on one in the middle as at least I would have aisle access.
Normally you would have had to pay for the seat assignment, which in this case, I would have done so as not be trapped next to someone in a window seat. However, if you have Oneworld status that gives seat assignments then you can get them free on the lite fare.
One positive about Qatar is that if you have booked QSuites and the aircraft changes you can move free of charge to another flight from the same destination with QSuites. Unfortunately, Oslo only has one flight a day, and I was only in Dubai for 4 nights, so I couldn't really move to another date.
Check-in
I flew in on the last British Airways flight and stayed overnight at Oslo airport at the Radisson Blu (review coming soon). Work is being done at Oslo airport, so Qatar was right down the far end from the hotel.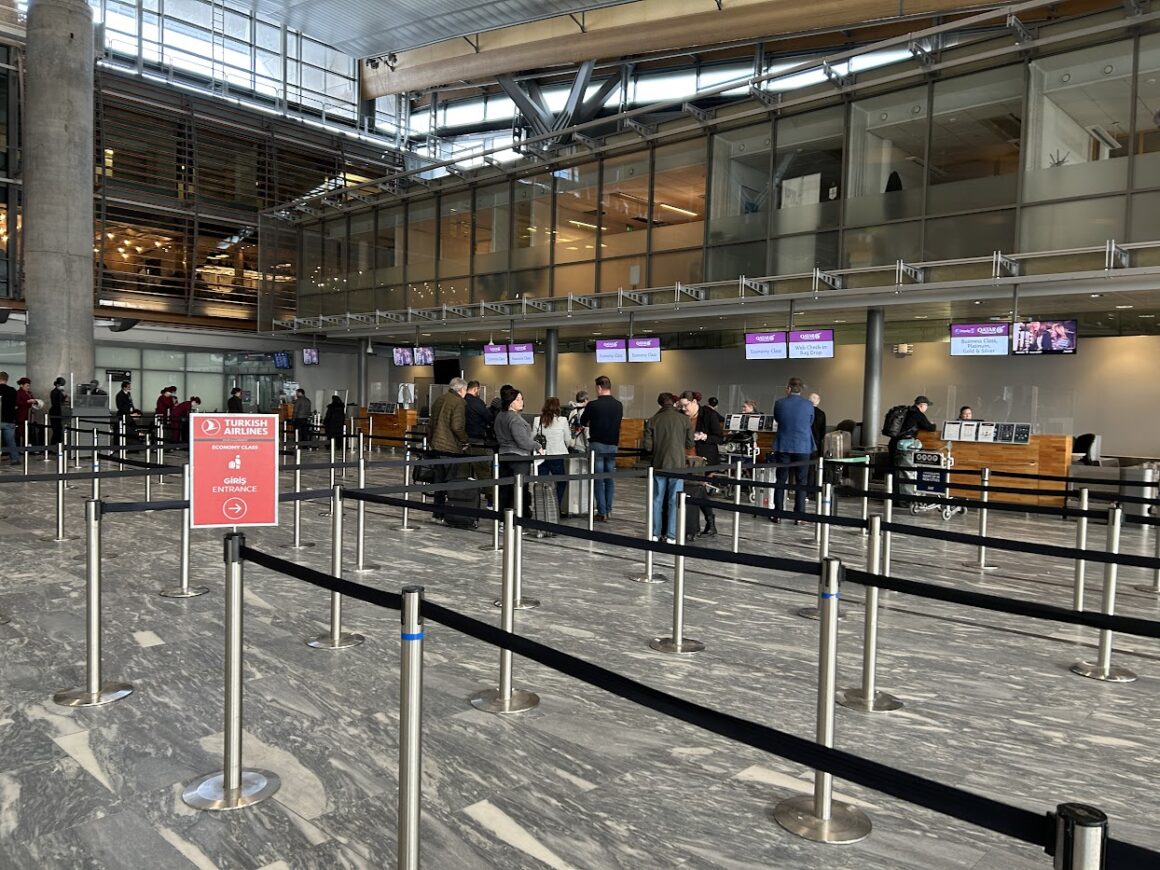 There was only one person ahead of me, so I thought it would be a short wait. Wrong! They had a very odd system where they had people checking documents before check-in, but they were both at the economy queue checking all of those. Why they did not just position themselves at the entrance to the area I don't know. They had been coming over to the business class queue prior to my arrival and they walked off just as I arrived.
By this time, a queue had built up behind me, and the woman at the counter would not serve me until my documents were checked. You'd think they could just check them themselves for something simple like a vaccine certificate. Instead, they started serving people from the economy queue while the whole business queue stood there. Eventually, someone came over, and while he was very apologetic, I wasn't very impressed by the lack of organisation. Then to add insult to injury, they had let a group go in front from the economy queue that had loads of luggage that then kept us all waiting even longer, even once our documents were checked.
The security queues were fairly short and well organised, at least. Overall Oslo is a pleasant airport to fly from apart from all the long walks!
Lounge
The OSL lounge is before you go through immigration but after security, so you need to allow extra time to get to the gate. However, both times I went through there was no queue. I will do a more thorough review of the lounge as a stand-alone article since it is used by BA as well.
If you head towards the international departures area, you will see a Starbucks. The lift behind it will take you up to the lounges.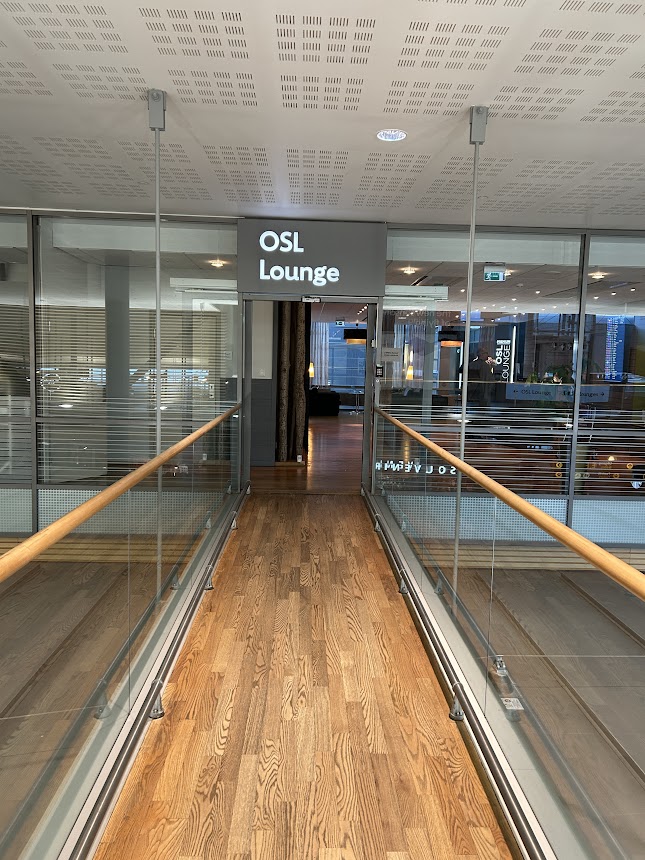 There are two parts to the lounge – the main area and the Premium lounge for BA Gold/oneworld emerald. In terms of alcohol and food and drink, the main lounge is very basic. Blue Nun wine or wine on tap plus beer is the drink choice! There is a salad bar as well as a few nibbles, but that's about it. Nevertheless, the lounge itself is modern and wasn't too busy when I was there.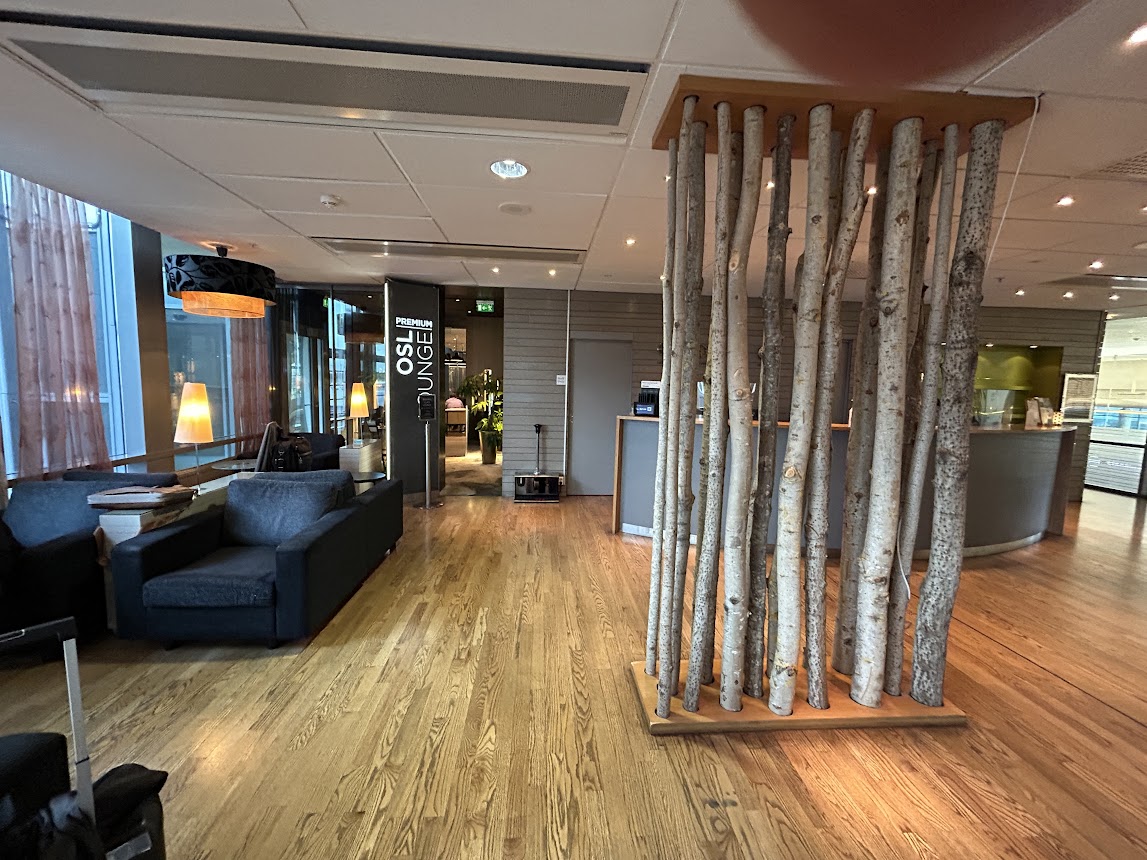 Boarding the Qatar Airways old B777
Sadly this wasn't great either. The gate was the furthest away and a very long walk away. Once there, they called business class to board. When we got down a very long corridor to the actual jetbridge, we found that both entrances to the aircraft had tensa barriers across, so we were left standing on the freezing bridge for 10 minutes waiting. Apparently, there was some sort of inspection going on, but why get the passengers there in the first place if you knew that?
Once onboard I found my seat and was pleased to see that the indications were it would at least be a good service. I was offered a choice of welcome drink and one of the new Diptyque towels. These are room temperature but smell absolutely divine. Sadly you can't buy these or I'd go and get a load to carry with me when travelling.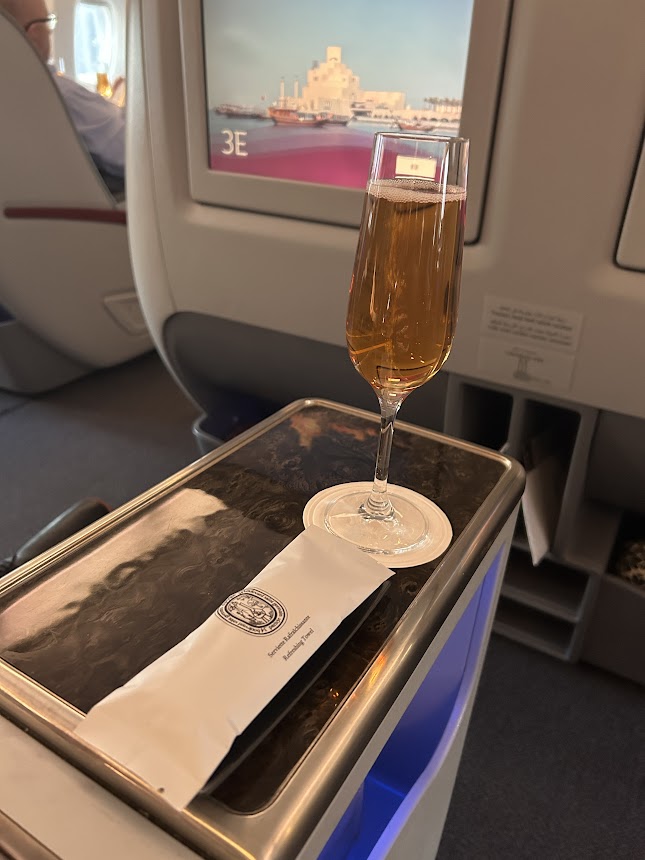 I went for the Rosé champagne as they have a very special one aboard at the moment. It's is a step up from my favourite Laurent Perrier Rose that they usually serve. This one costs around £300 a bottle and is highly praised by critics. It is like a more complex refined version of the usual Rosé but still has plenty red fruit hints though a bit more toasty.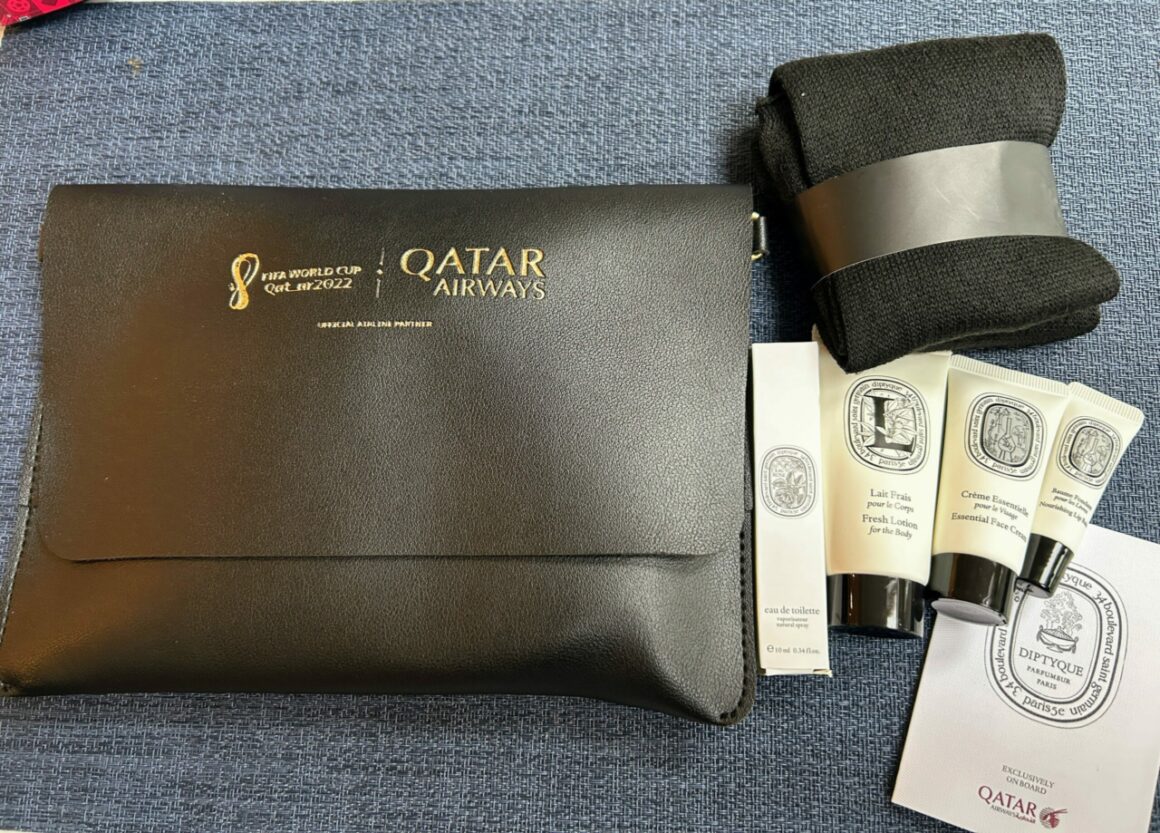 At the Qatar Airways old B777 seat, there was a Diptyque amenity kit, but one for shorter flights rather than the full presentation box. This was in a Fifa world cup branded black leather look pouch which I thought looked smart. The bag had a detachable strap, so you could use it as a handbag.
Inside were:
socks
Essential Face moisturiser
Perfume Eau de Rose
Fresh body lotion
Nourishing lip balm
I'm sad to see the refreshing face spray go from the previous brand, as I use these more than anything on long-haul flights to keep the atmosphere less dry and my face hydrated. Nonetheless, this was an upmarket kit with plenty of useful items. Pajamas were not offered as this was a 3pm departure but they will usually find you some if you ask nicely.
Qatar Airways old B777 Seat and cabin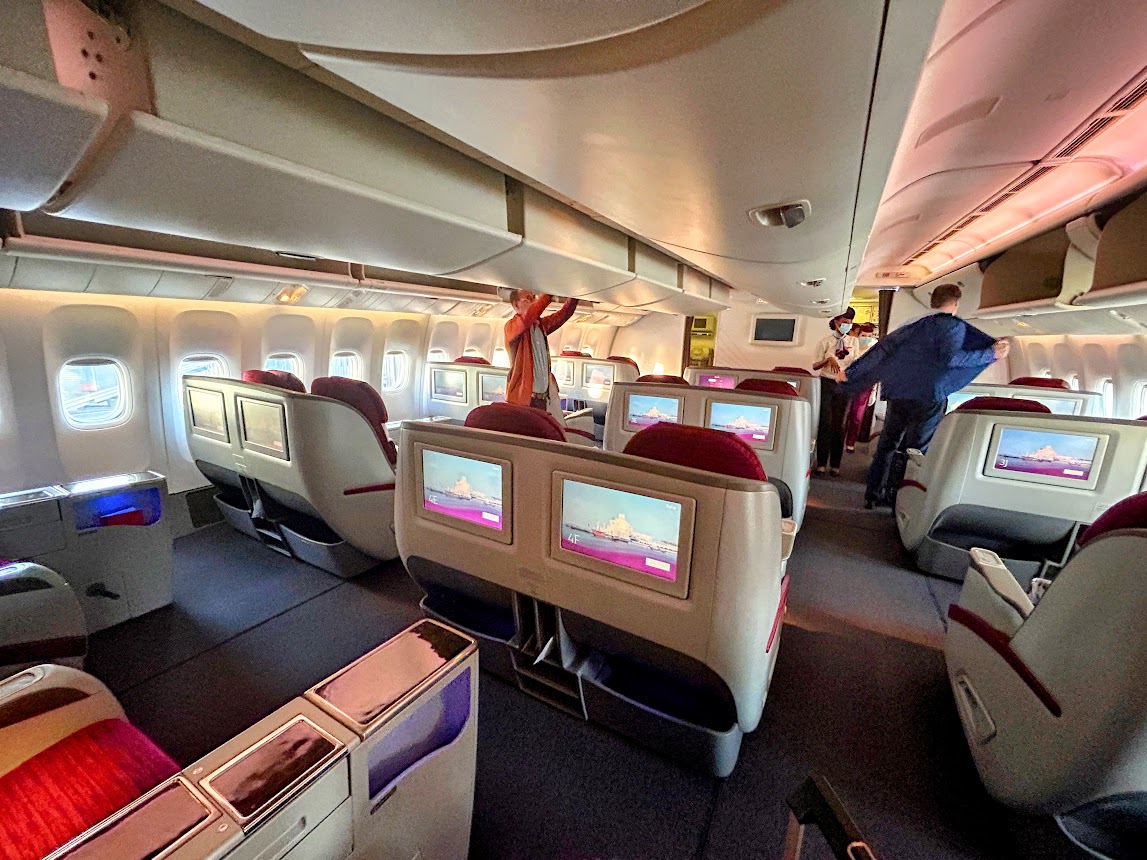 The Qatar Airways old B777 seats are laid out in a 2-2-2 configuration across 4 rows.
The good point is that they feel very spacious in terms of the distance to the seat in front of you compared with most modern business class seats where your feet go under the seat in front.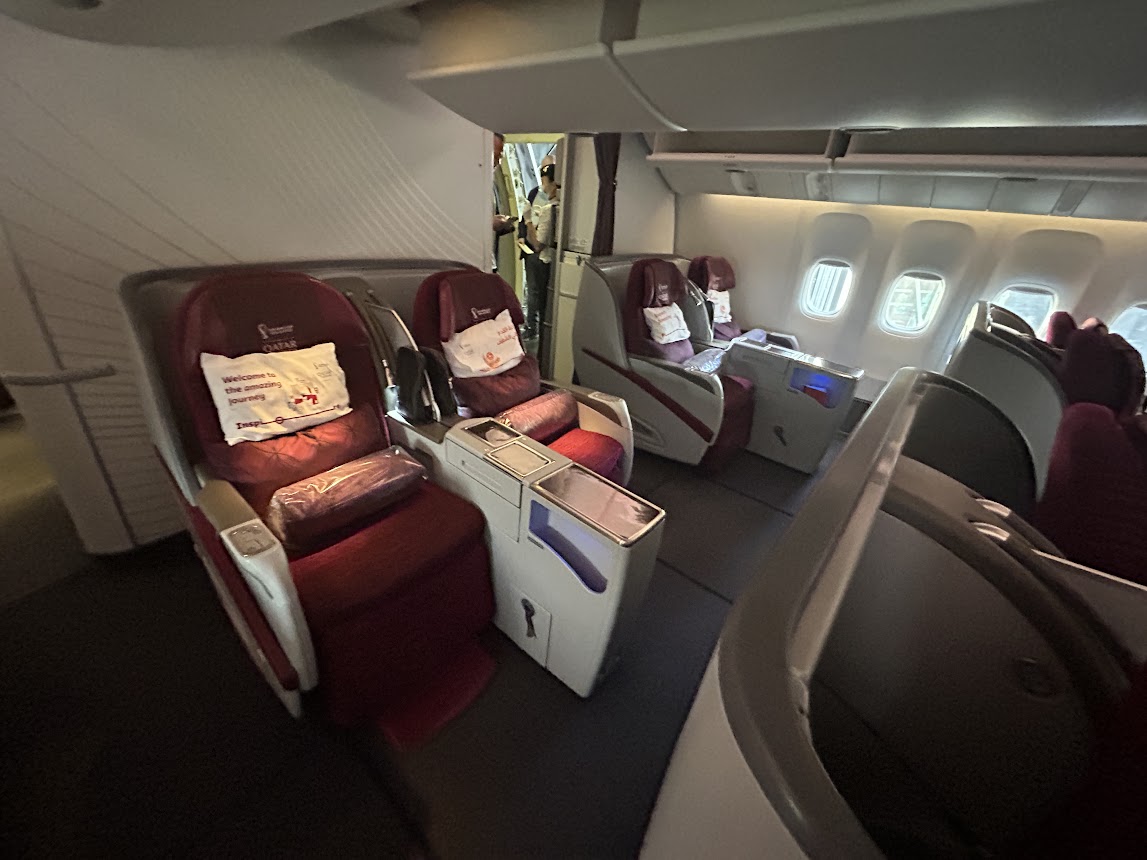 Nonetheless, they feel very exposed with zero privacy. There is a small divider between the seats at head height but it is so small it is pointless as it only extends a few more centimetres if you pull it.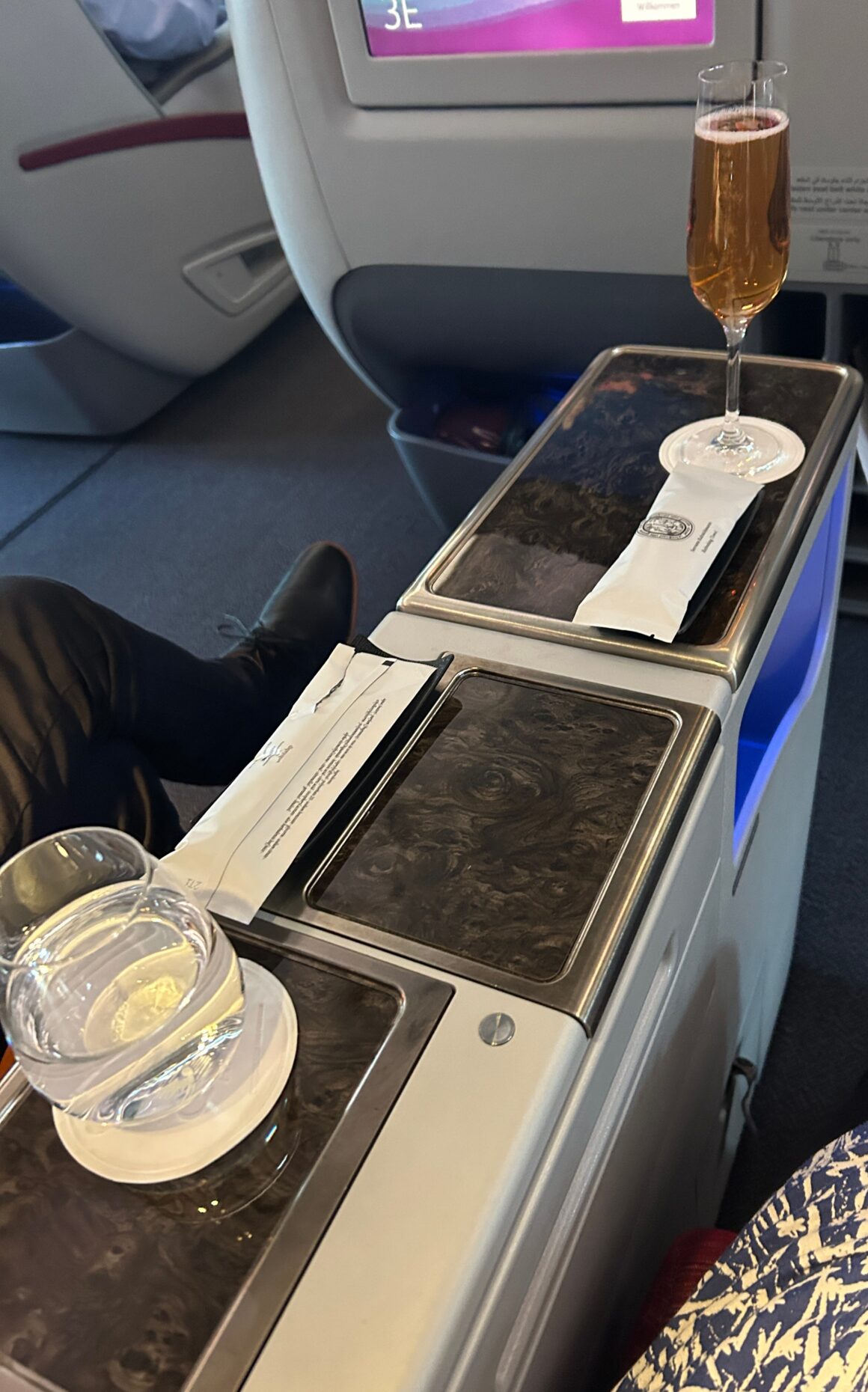 One thing I really hated was the tiny shared table in the middle. My neighbour kept putting his drink on my half and at one point, I picked up his bowl of nuts by mistake. I was worried that I would inadvertently knock his drink over as it was so close to my arm. From readers' comments, this happens pretty frequently with these seats.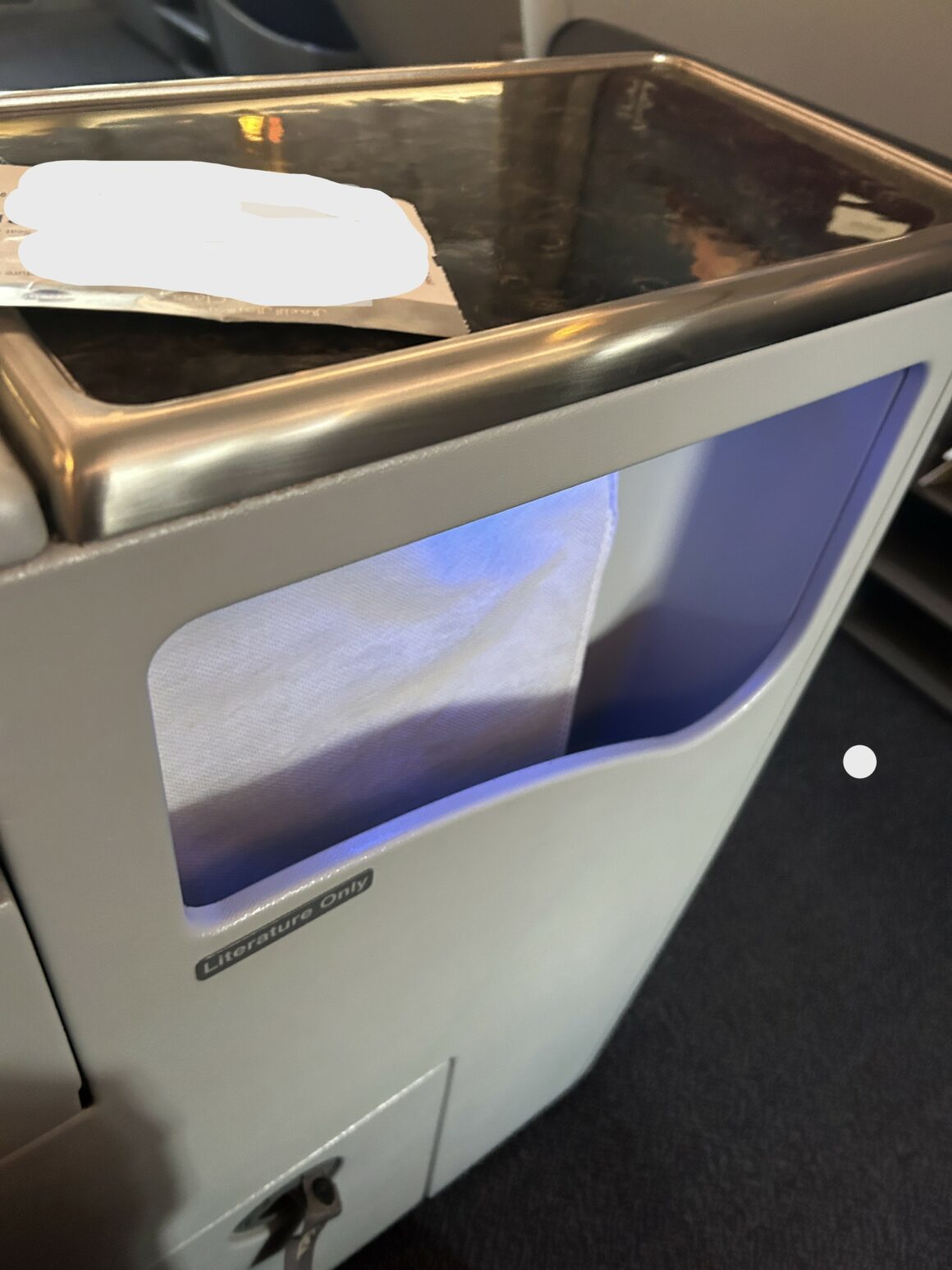 There was at least plenty of storage space with a large bucket type of storage beneath the seat in front but this of course meant that you could not reach it when the seat belt sign was on. There was also room for shoes or small bags in the racks next to it. At the side there was a pocket for "literature".
The Qatar Airways old B777 seats technically go almost flat and are very low to the floor which makes it easier to step over someone next to you. However with the footrest which is leather it doesn't feel like a properly flat bed as your feet are slightly lower. Also if you look in the top right of the photo below you can see what happens if someone tall is next to you – you will either have to ask them to move their feet or hurdle over them – one of my pet hates in business class.
When debating with others on Twitter a few of the men said it was easy to get out if there was someone next to you when in the window seat. My view would be this is only true if your neighbour is not tall or you yourself are pretty tall and happy to straddle someone's legs!
The Qatar Airways old B777 seat is reasonably wide, well padded and not uncomfortable as such, though I did not like the leather foot rest. I did like that you could control the leg rest separately and the foot rest was adjustable in length.
Qatar Airways old B777 Food and drink
The menus were already at my seat and I was very pleased with what was inside. These too were world cup branded.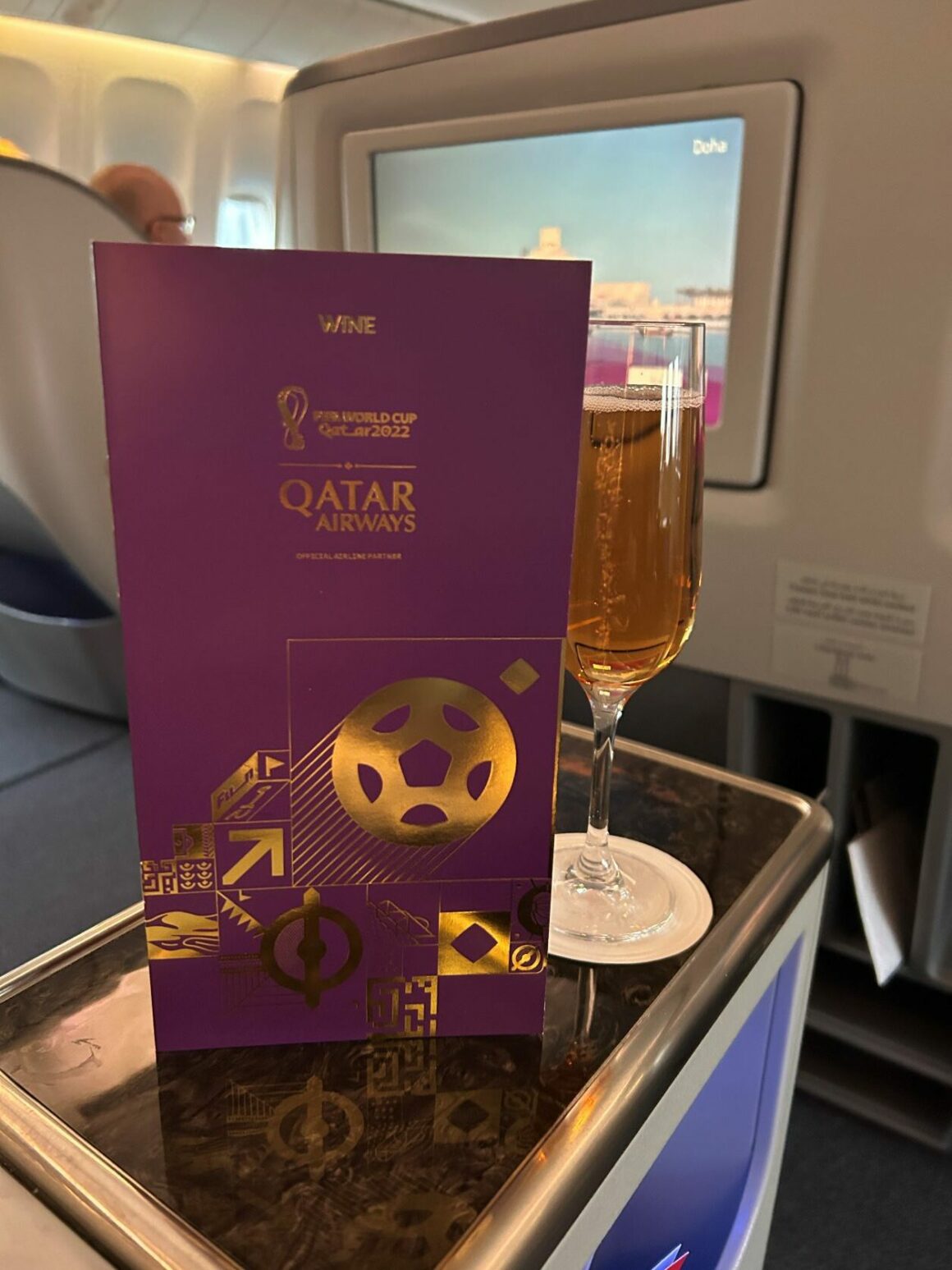 Here is the food menu: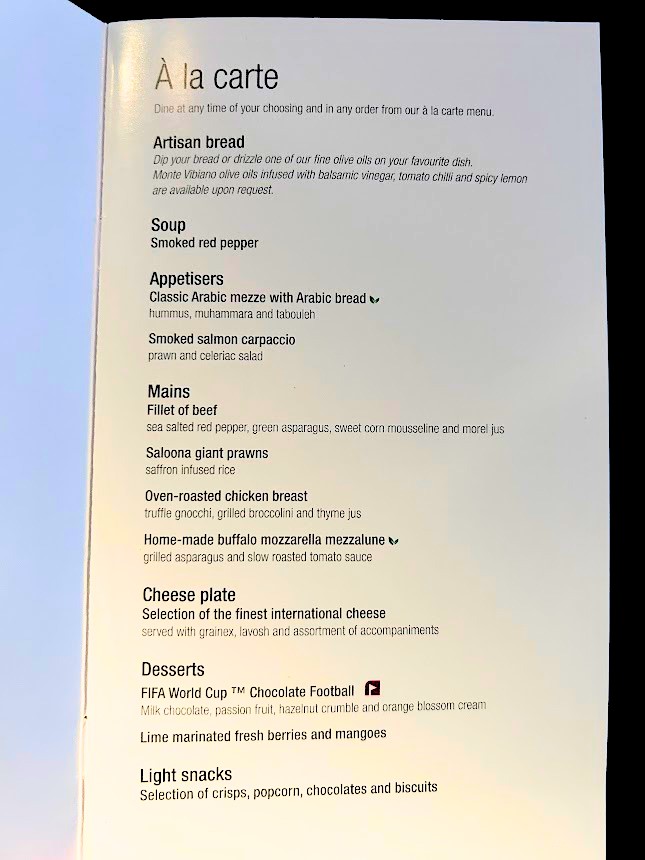 And the drinks:
The service started with a drink and some warm nuts. I decided to continue with the Rosé champagne. Apparently Qatar bought the entire vintage of this champagne.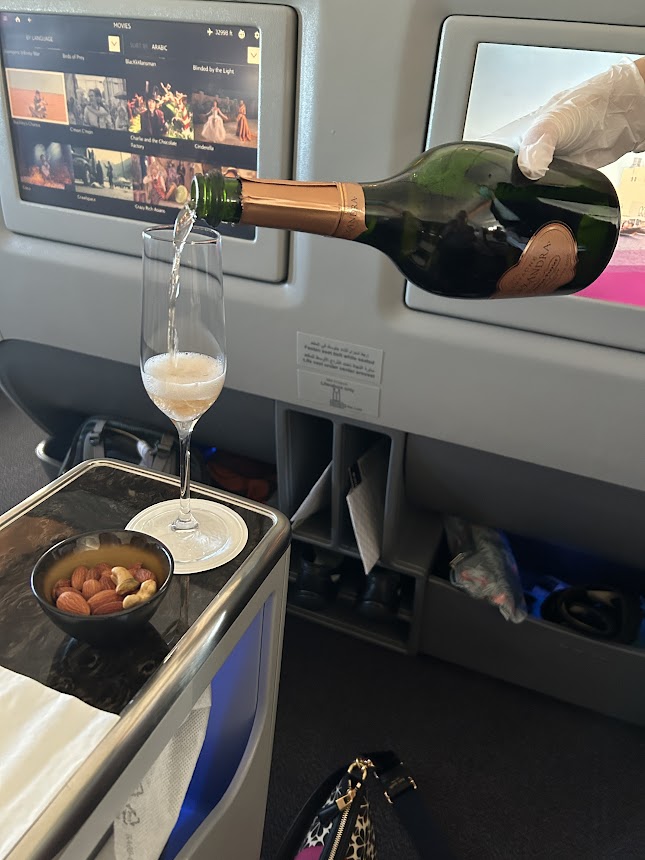 Next came a tasty prawn amuse bouche and a beautifully laid up table with a cute little candle.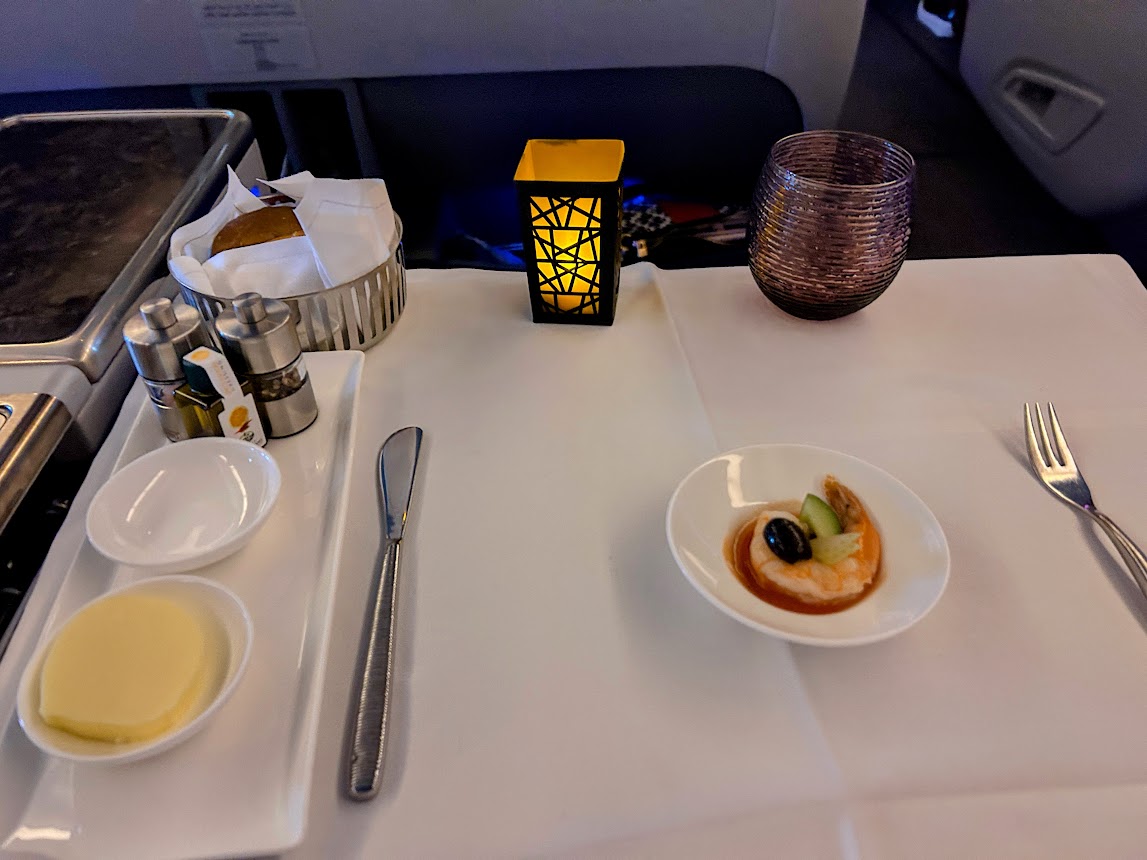 I was also given a basket of bread and offered a choice of olive oils for dipping. I went with my usual favourite, the spicy lemon.
It had been a long time since I had flown on Qatar, so of course, I had to have the mezze, which is my favourite starter.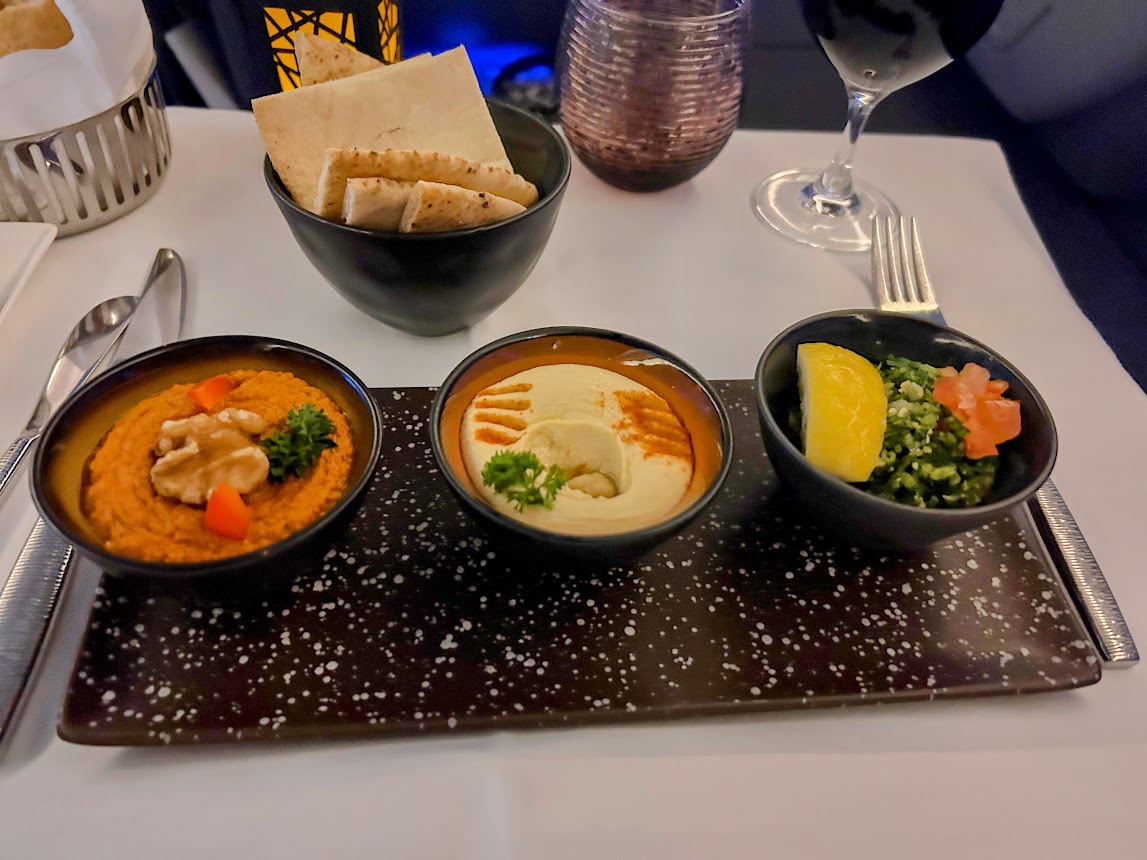 It was, as usual, delicious, but be warned, the portions are enormous, so pace yourself!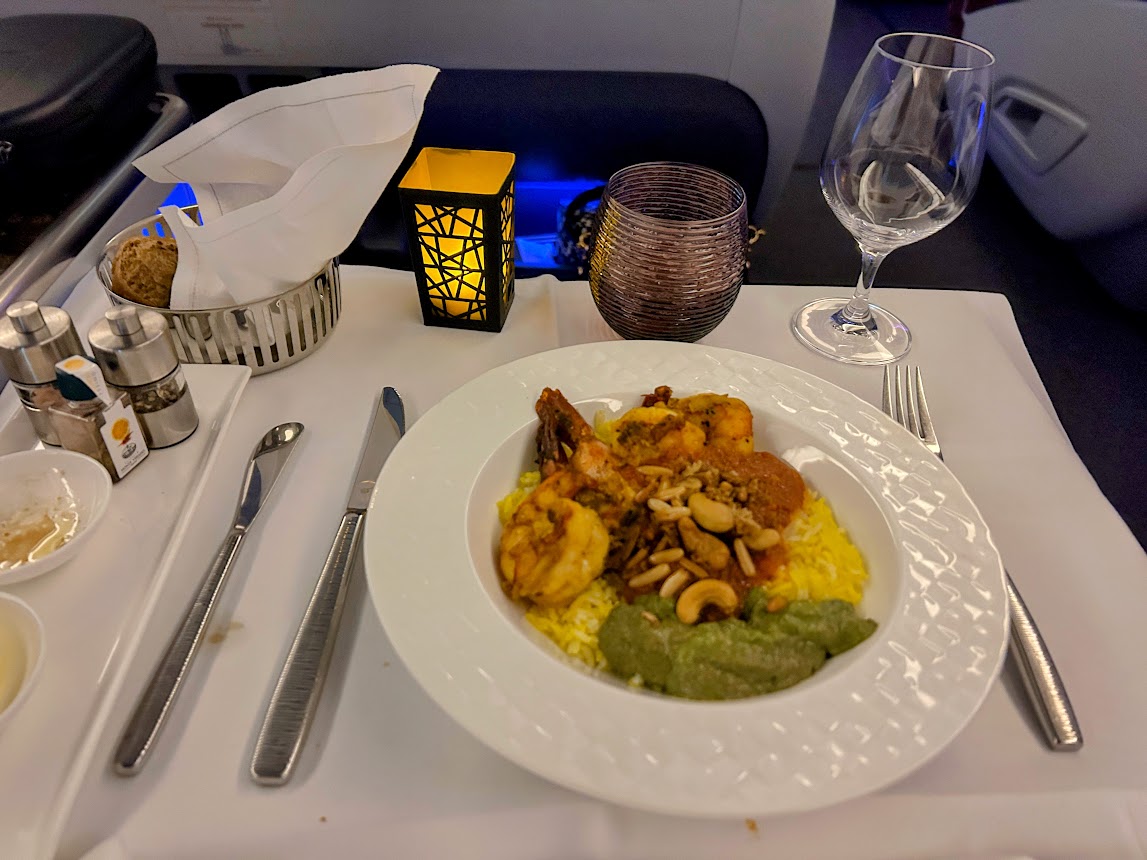 For the main, I went for the prawns. This was a little like the chicken Machboos dish Qatar often has. It had an Indian taste to me with plenty of spice but not heat, although it is a classic Arabic stew believed to have beduin origins. The prawns were not overcooked and so I really enjoyed this dish. RThe nuts added some nice texture to the otherwise soft dish. There was a lot of this too!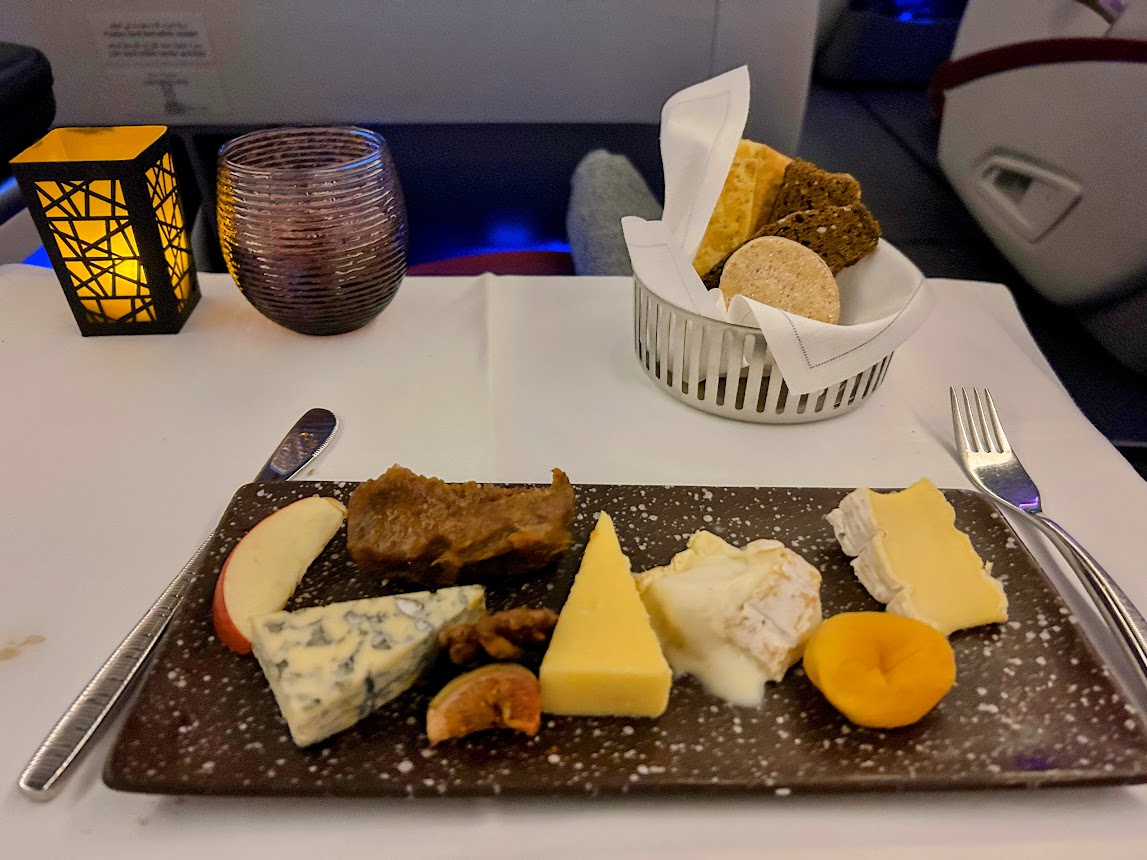 I was very tempted by the berries and mango as I have often had similar desserts on Qatar which are fresh and light. But I decided, for the sake of the review, I should try the cheese with some more of the excellent Pauillac Bordeaux, which was exceptionally good – far better than anything I have had on BA first class. I had also had a glass of the Beaune Chardonnay from Burgundy which was good but not as special as the Pauillac.
It was a generous portion of cheese with plenty of different crackers although I wasn't keen on the sweet paste that accompanied it due to the spice used in it which was a little overpowering. But the cheeses themselves were excellent.
Later in the flight, I had a cappuccino which was one of the best I have had on an aircraft and was offered a choice of chocolates to go with it, which is a nice touch. I went for the berries which were enjoyable and not too sweet.
Before landing, we were all given a box of two gourmet chocolates by Laderach, both of which were delicious – particularly the coffee one.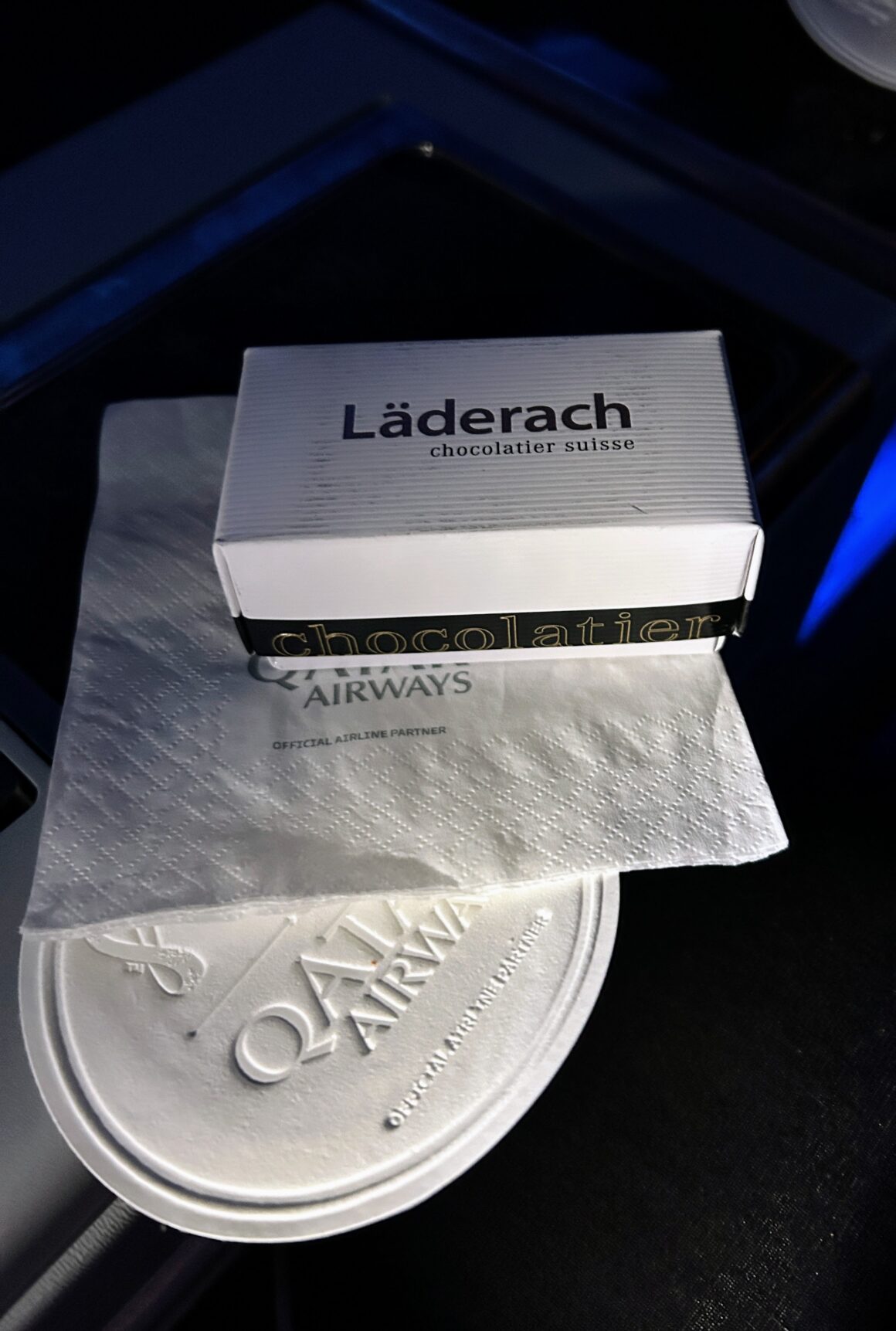 Qatar Airways old B777 Entertainment and wi-fi
Wi-fi is another area that Qatar excel in. Their super wifi is indeed super. Not only is it fast but it is also cheap and even free if you are a member of their Privilege Club. So if you are flying Qatar make sure you sign up for the Privilege Club before your flight. It was easy to get the free hour as you only needed to remember your phone number or email address that was registered. Even if you had to pay $10 is very reasonable for the full flight.
Noise cancelling headphones were provided. There was a reasonable selection of new and older films to watch and quite a range of TV programs. You could tell the TV was a bit old as it lacked definition. IT was a decent size but because it was so far away I found I kept getting distrac ted by what was going on in the cabin. And yes, they still have the super irritating football safety video from ages ago. Let's hope after the World Cup they get rid of it.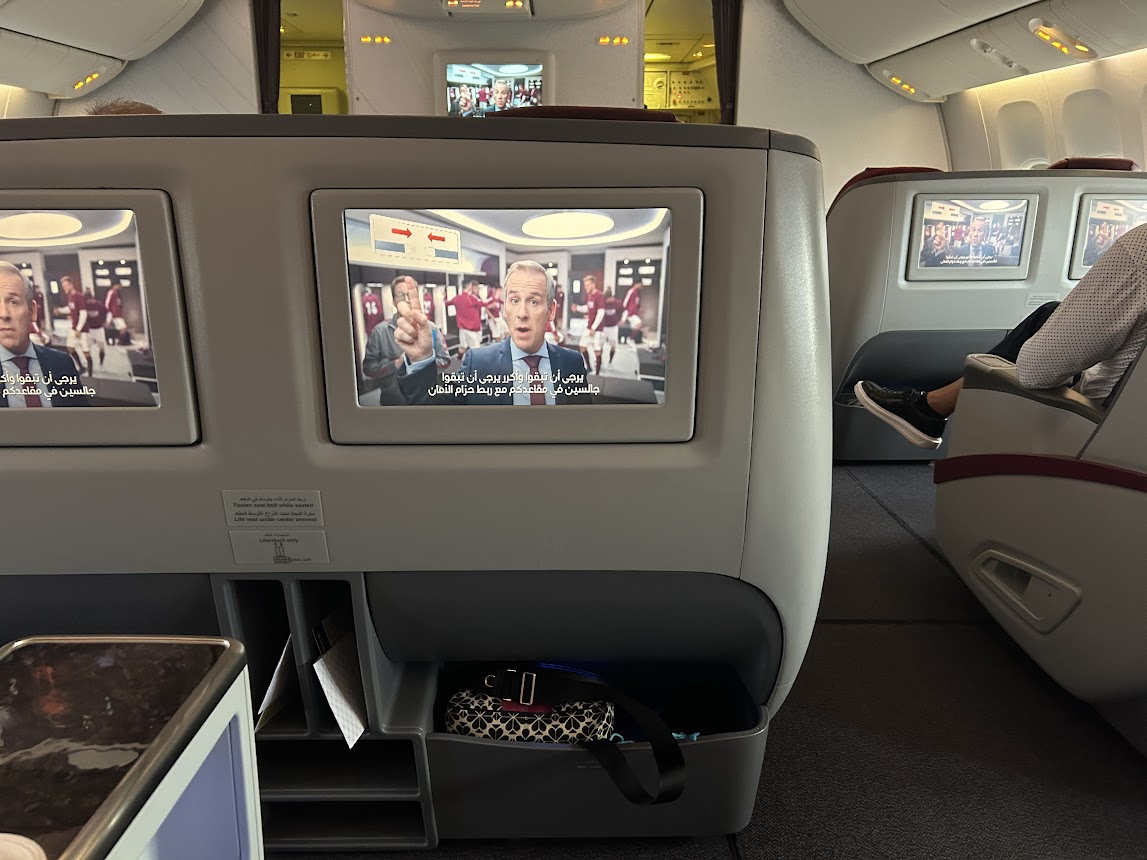 There was a multi country socket and a USB point for charging but the headphone socket and USB were not particularly easy to reach being hidden away at an angle from the seat. The power socket was also a fail as it was at floor level in between the seats and had an annoying cover which basically meant that you could not use it with anything but the tiniest plug. Given that I had been hoping to work and hadn't managed to charge my laptop before the flight, I was extremely annoyed to find that I could not plug it in with any of my plugs. My neighbour also could not use his socket.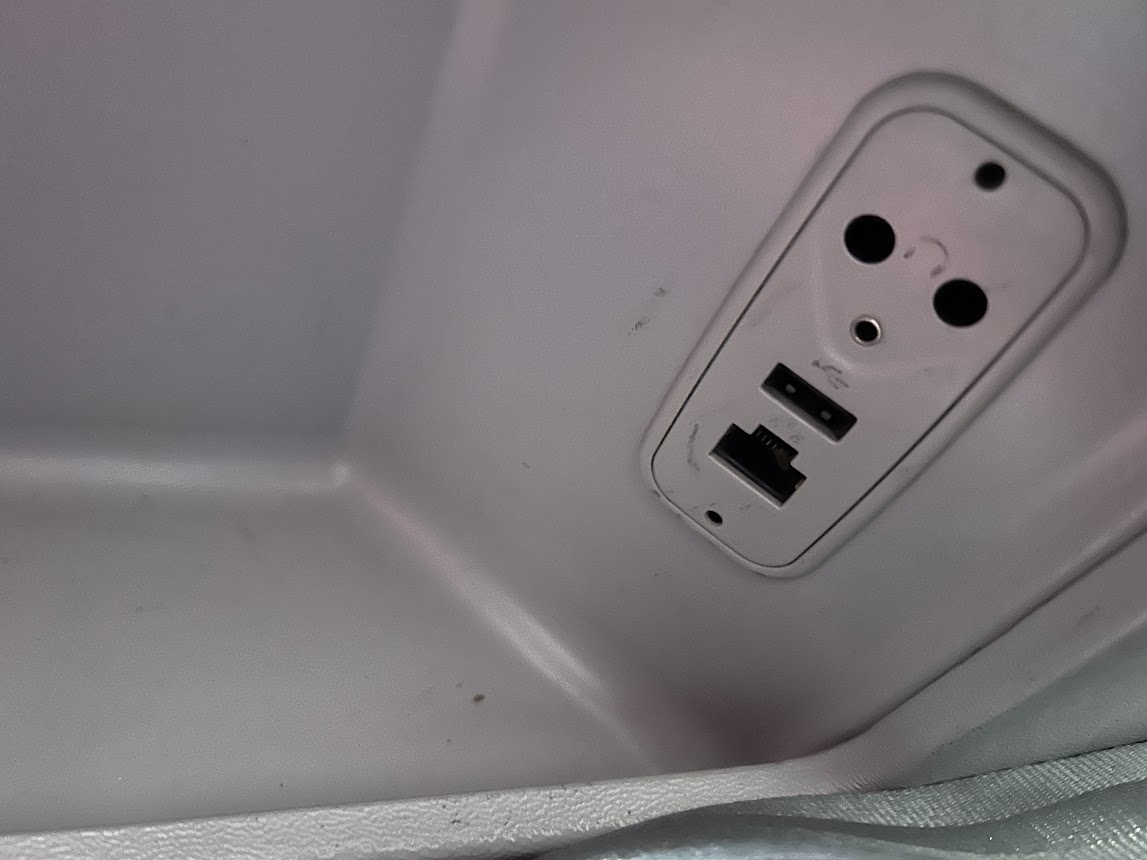 Arrival and connecting
I thought I would touch on this although I will cover the next flight to Dubai in a separate article. My bad luck did not improve when we arrived at Doha at the furthest C gate which is miles away from the central concourse. A few us went to get the train but the airport employee wrongly informed is that we could not use it if connecting. After walking what felt like miles, I breezed through the premium transfer security lookimh forward to my lounge visit.
I went to the Al Safwa lounge as I was flying first class to Dubai (there is no business class on short haul). I was extremely surprised that I was refused access due to me being on a business lite ticket. I was pointed to the frequent flyer lounges. These are new and actually very good.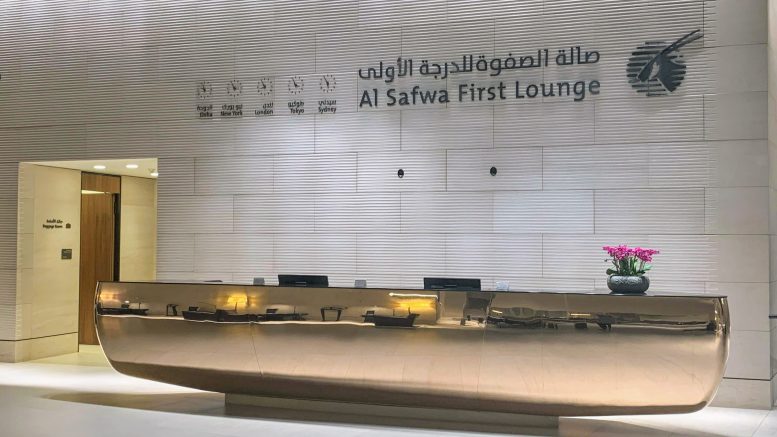 I have consulted with a number of very frequent flyers to check it wasn't just me that would expect lounge access in this scenario. They all agreed that if I have an A class first class ticket in my hand I should be allowed access.
I tried to get an explanation from the Qatar Support team on Twitter. First they said the catch all "operational reasons" then they changed their minds and said they could not help and I needed to contact Qatar by email.
I now have had the official answer. Even though there is no such thing as first class lite, the business lite applies to the whole ticket even if part of it is in A fare class for first.
A spokesman for Qatar Airways said,
The Business Lite fare ticket does not include lounge access. As Dubai is only 2 cabins – Business and Economy – due to cabin ineligibility the ticket was issued in First Class cabin with Business Fare. While booking the itinerary, the website will show the sectors and the benefits.
Now, obviously Lastminute.com and other online travel agents do not show this information. It is also a bit confusing with multiple class bookings as on most airline you would still receive the first class lounge even if travelling in business class on the first segment.
Conclusion
It is such as shame that Qatar are still using these aircraft that are well past their sell by date. I went from the newest seats available to the oldest. Fortunately there are only two of these aircraft left in the fleet so the chances of you getting this plane are small. With Qatar's shortage of aircraft due to the airbus paint issue, I fear they may be around for a bit longer.
The onboard service was as good as ever and the food generous and delicious. The wine list was fantastic with several superb wines and chamagnes available that you would be lucky to find in first class never mind business class.
Fortunately for the way back it changed again to a QSuite.
Like our Qatar Airways old B777 review? You can read more Qatar flight reviews here.