Introduction
As you might have already realised, I am a fan of the Intercontinental (IC) Hotels and I have stayed in the IC São Paulo a few times in the past. However, I have never reviewed it before, so I thought it was time to close this gap. In this review, I will share with you my impressions of the hotel during my last three-day stay.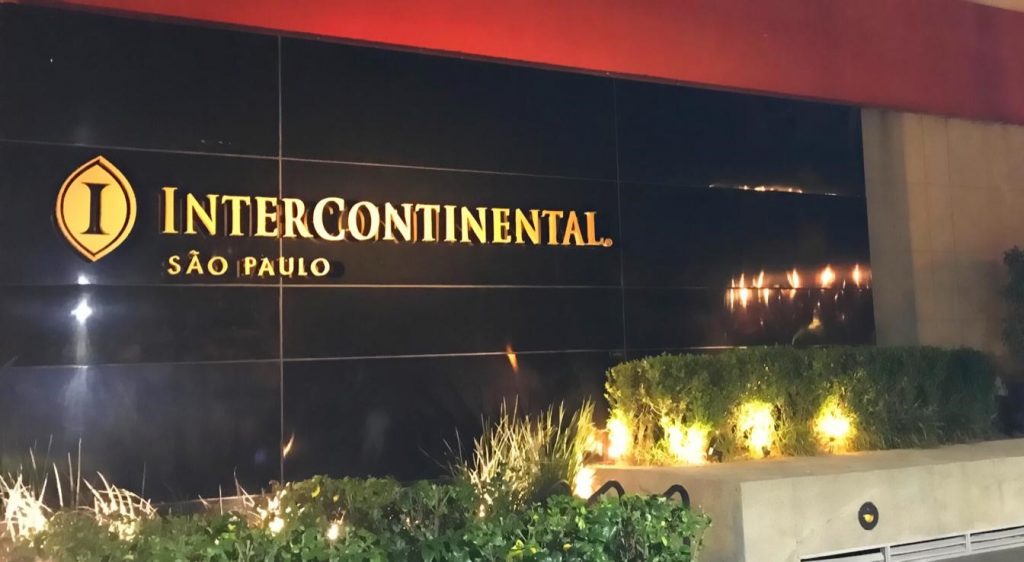 The IC São Paulo is located in the Jardins area, a nice neighbourhood close to good restaurants, stores and underground, making moving around town much easier. If you are passing via São Paulo, have IHG points and are planning a short visit to the city, I would recommend you staying at the IC. Keep reading and you will understand why.
Note: Some of the pictures were kindly provided by the hotel.
Check-In
My friend and I arrived at the hotel around 21:00h, and given the time there was no queue for check-in. We were seen straightaway and funnily enough, the guy who checked us in was also called Claudio. Like me, Claudio was friendly and relaxed, but still very professional! During the check in we chatted and Claudio seemed genuinely interested in engaging with us.
Although our stay was paid with points, we were given an upgrade from a standard room to a corner junior suite and I guess this is because I have an IC Ambassador card. Anyway, it was definitely a good start.
Opposed to the usual check-in desks there was a special station which I believe is dedicated to Ambassador card holders check-in. But probably given the time we arrived at the hotel it was closed.
The Room
The hotel has four room types: Standard, De Luxe, Junior Suite and Executive Suite and differ in size and what is included depending on what has been booked.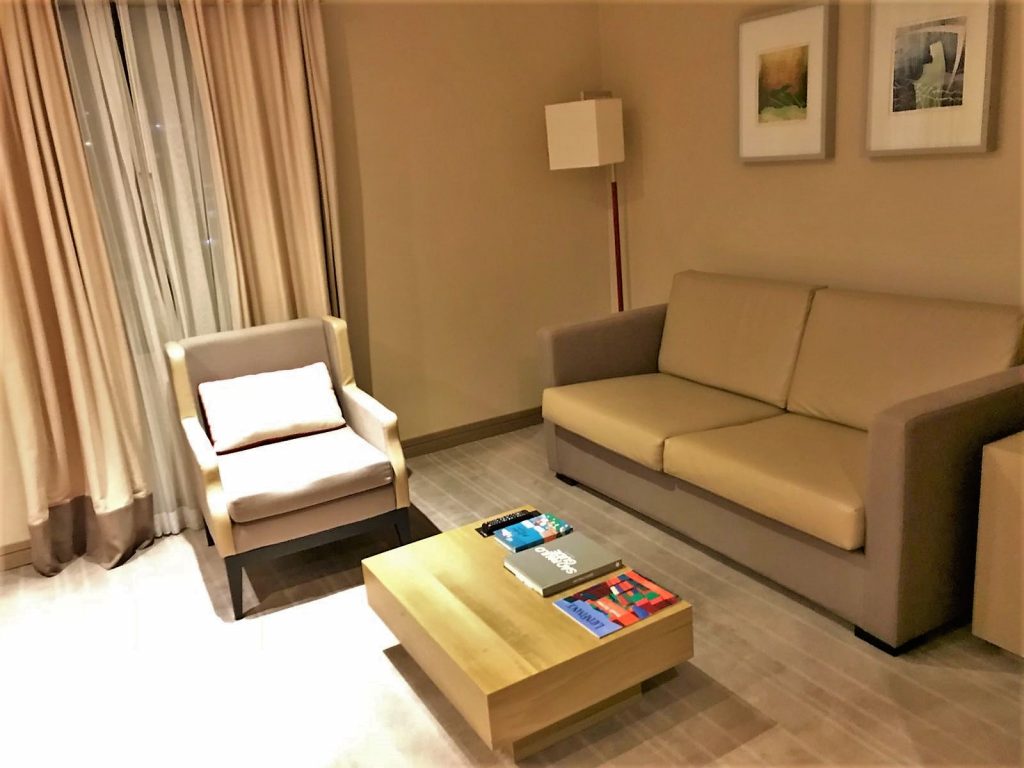 As mentioned above, we were given an upgrade from a standard room to a corner junior suite, which was a very good size and a jump of two categories in relation to what I had originally booked. Our suite had a separate living room with a couple of sofas and a large TV, perfect for having a few drinks when travelling with a group of friends.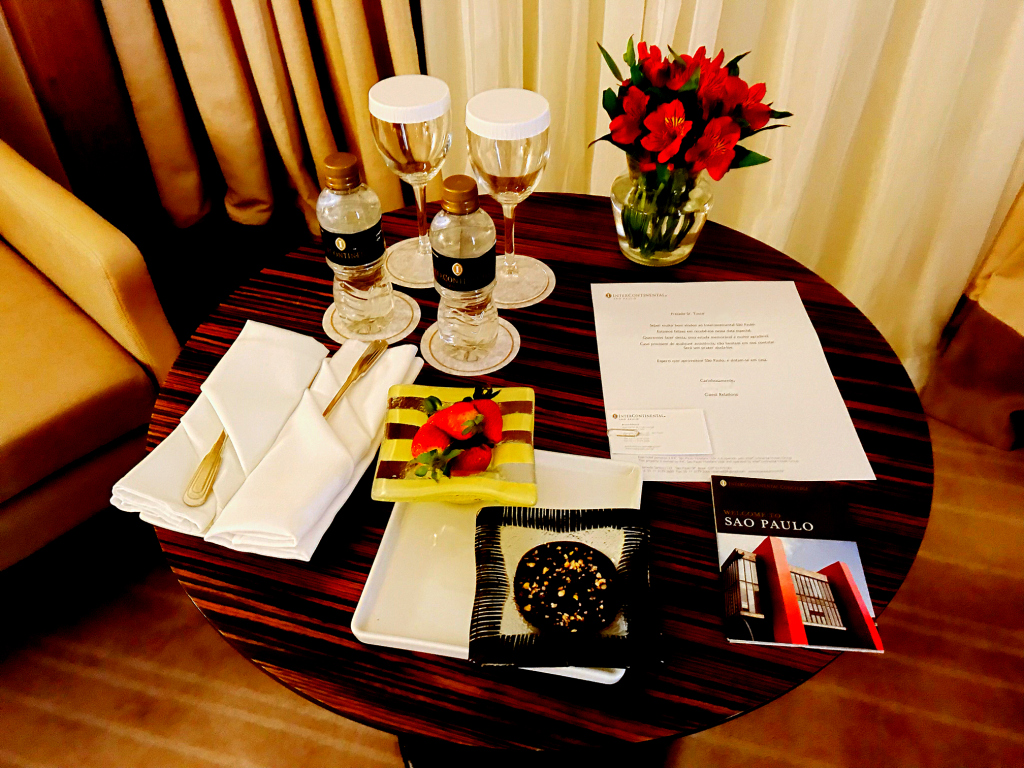 From the living room, there was a corridor leading to the bedroom with the bathroom in between, providing the bedroom with more privacy. Besides the bed, the room had the usual: a working station and a coffee table with a comfortable armchair.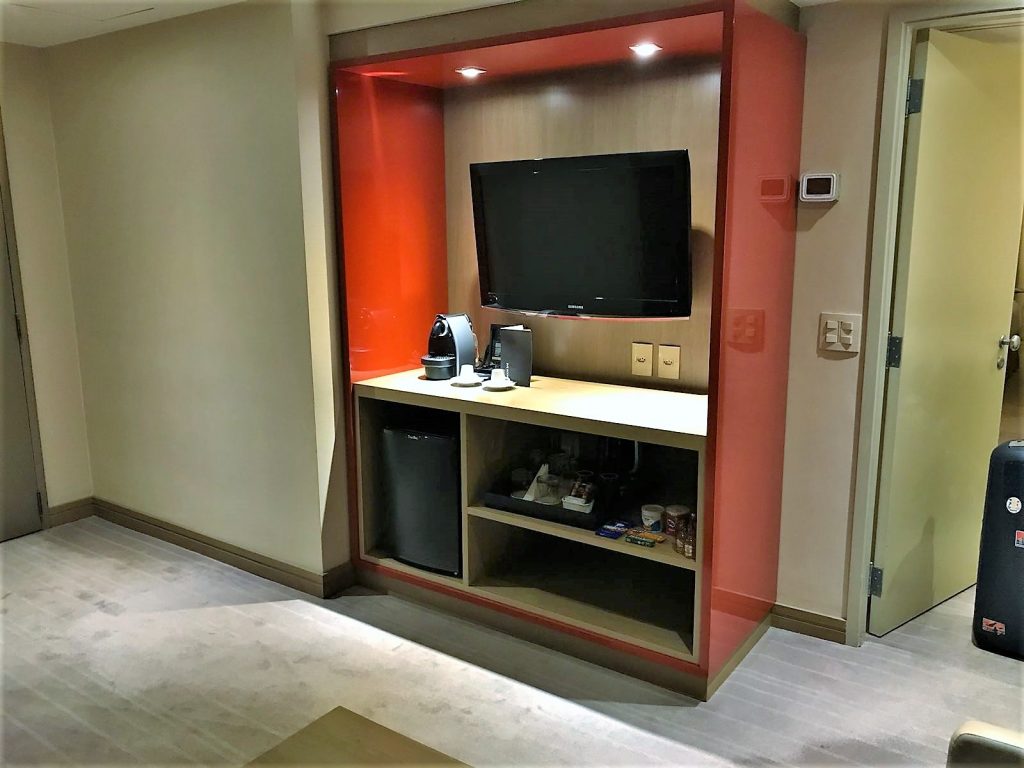 On the coffee table, I found a little treat, which was some fruits, cookies and a nice letter from Bruna, from the Guest Relations team, with whom I had exchanged a few messages before my arrival.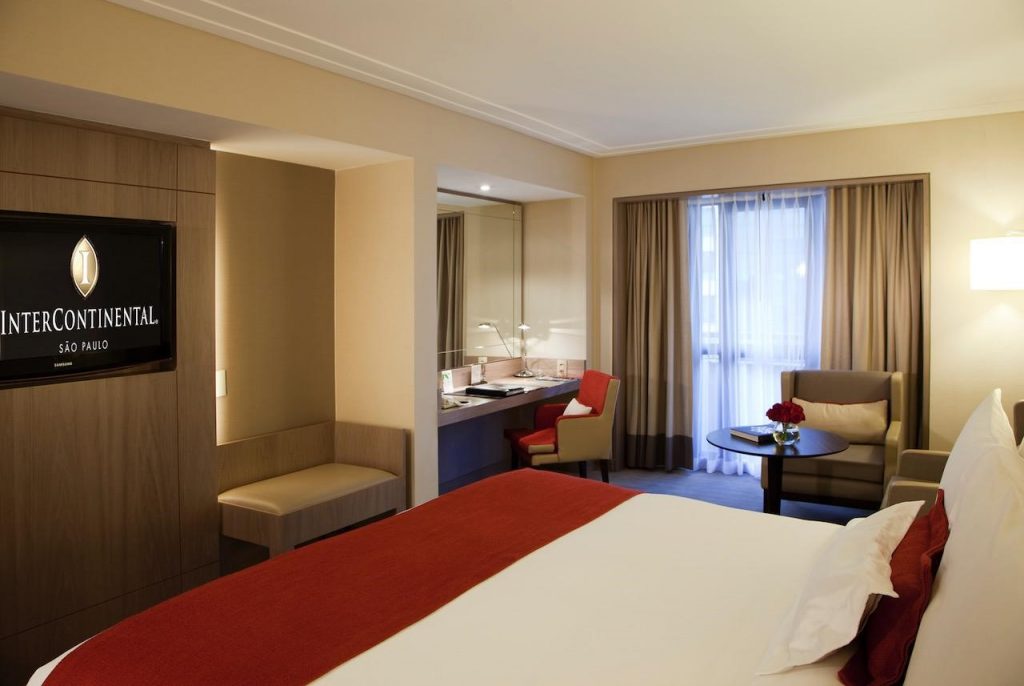 I particularly liked the turndown service. Besides the usual stuff such as putting a mat and slippers next to the bed, replacing the empty bottles of mineral water and leaving a couple of small chocolates, they always turned the bedside radio on a local station that only plays soft music. It was nice arriving back to the room at the end of the day to find some nice songs been played on the radio.
The Bathroom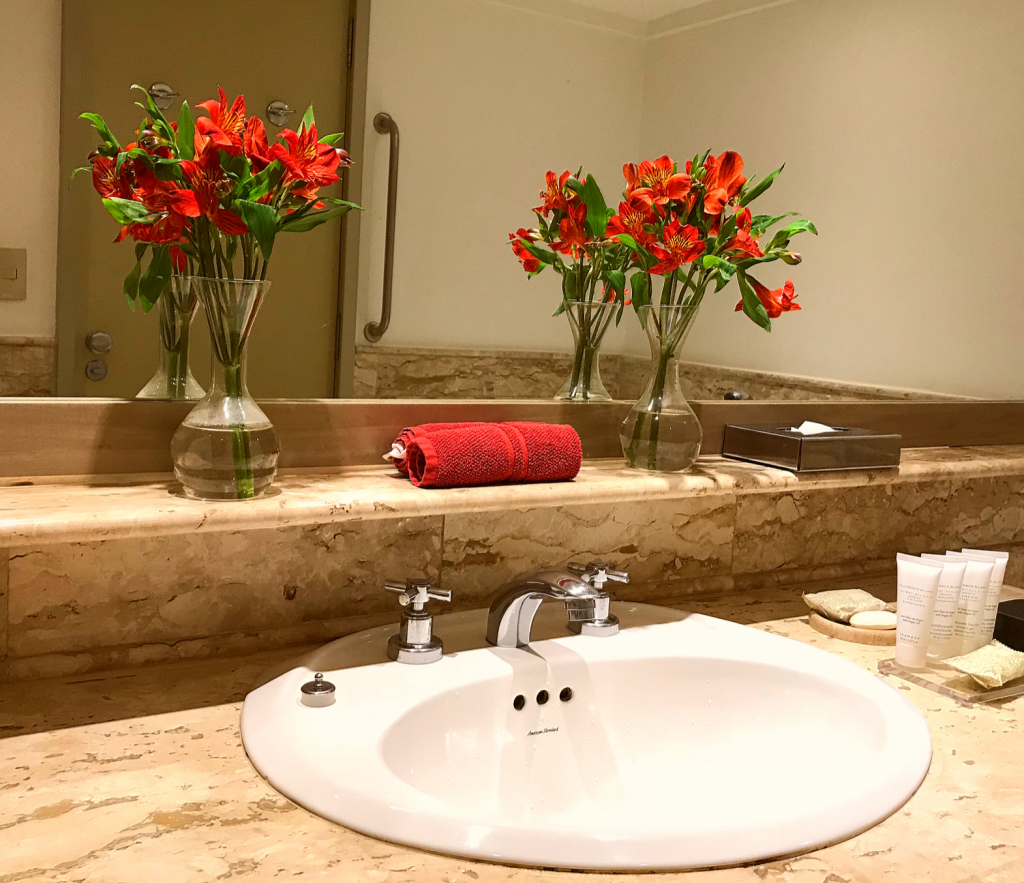 The bathroom was of a very good size, with a large marble vanity unit and toiletries from Florence Blanc with the usual: shower gel; shampoo; conditioner, and small soap bars. A parenthesis here – I must admit that I have never heard about this line of products before, but it appears to be something developed for the hotel industry. In any case, do not quote me on that as I could not find a Florence Blanc webpage to check more details about them.
Like other ICs, there was also a small box with some products inside such as a nail file, cotton buds, and a shower cap. A nice touch was the two vases with fresh flowers, which I had not seen in any other IC before.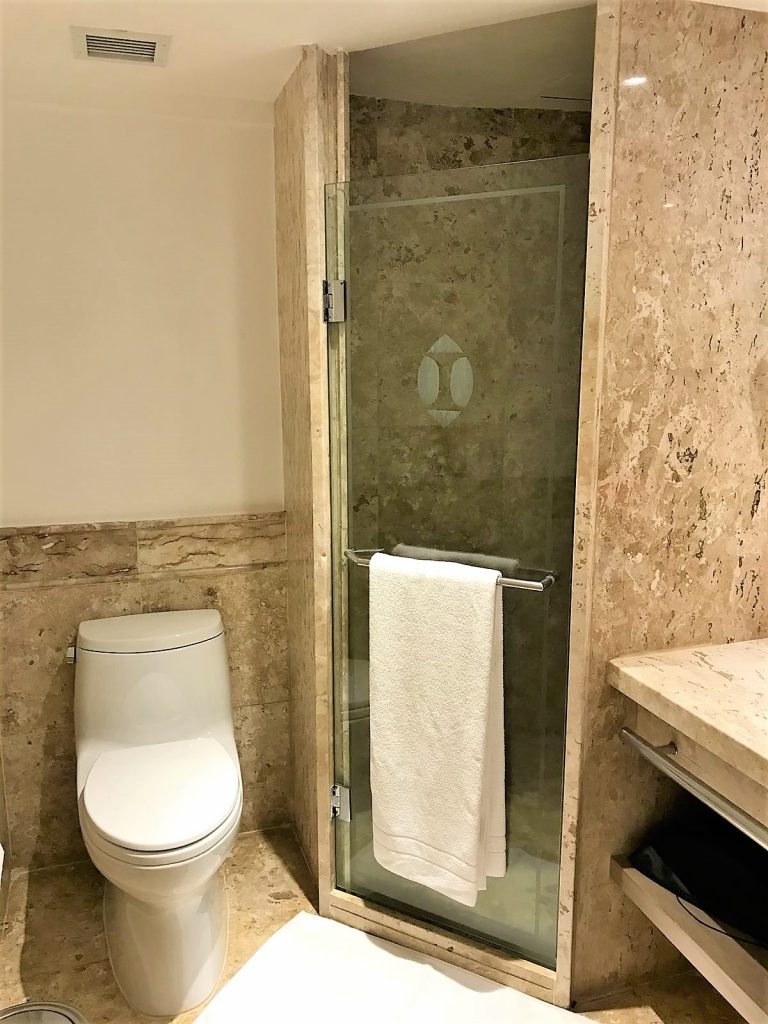 Additionally, the bathroom had a large bath and a nice independent walk in shower. I really wish more hotels were like this as it is never very comfortable when bath and shower are together in the same unit.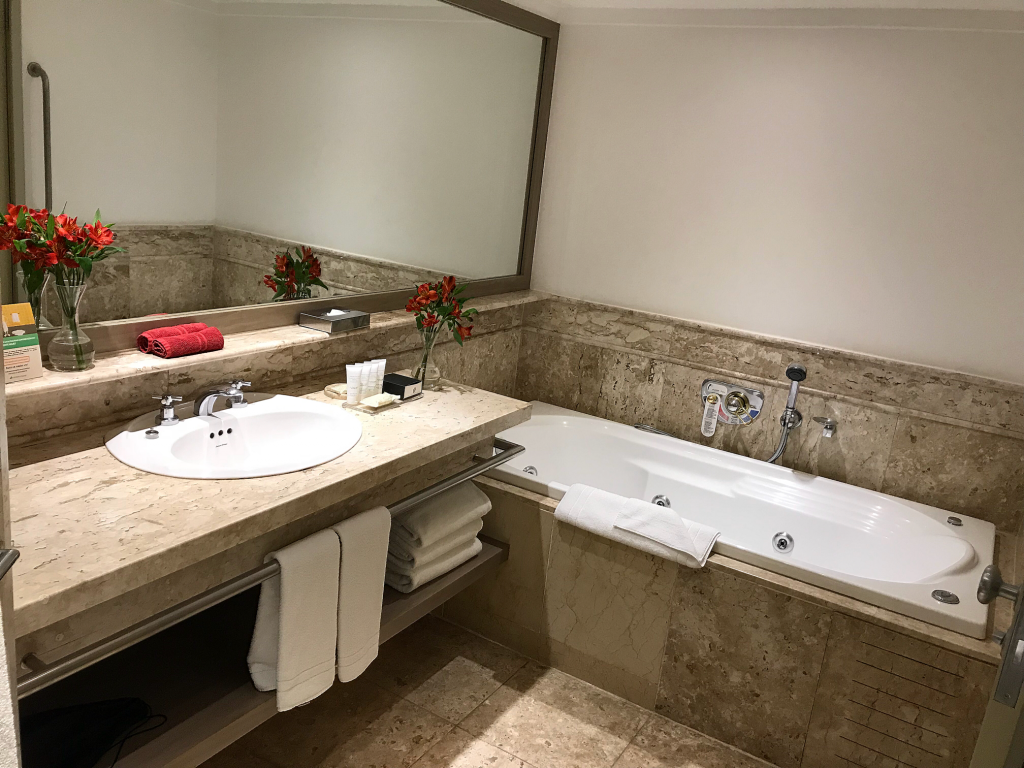 The Bar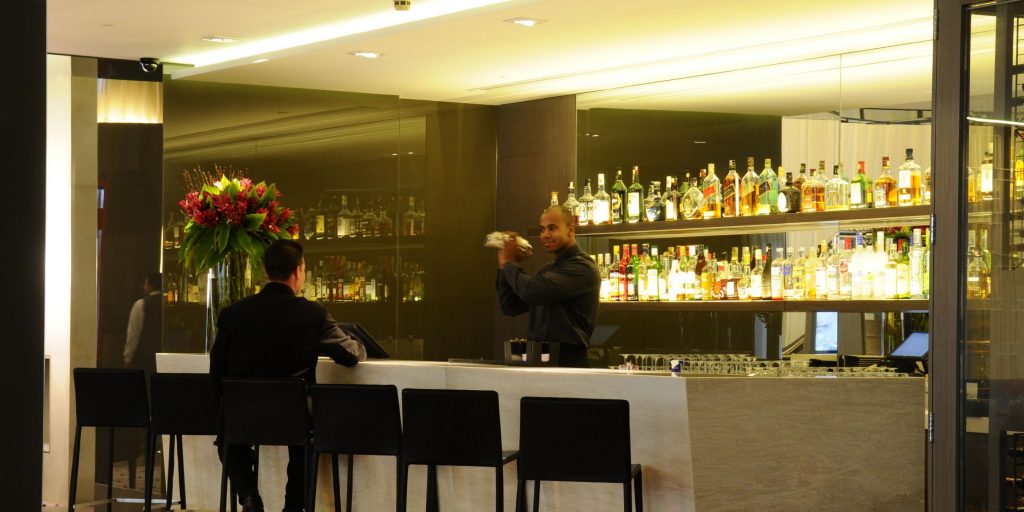 Between the check-in desk and the lifts to the rooms, there was a large bar. It had a pleasant atmosphere and was lively with people drinking and chatting. The staff were very friendly and we had a few drinks there a couple of times.
On one of the occasions, it was slightly busier than the usual, and our order took longer, to which the barman was very apologetic about the slow service. This showed good customer service to me, as he was aware of the delay. At check-in, instead of the usual welcome points, I opted for a voucher to be used in the bar and it was used for some caipirinhas, which were particularly good. Worth a try!
The Gym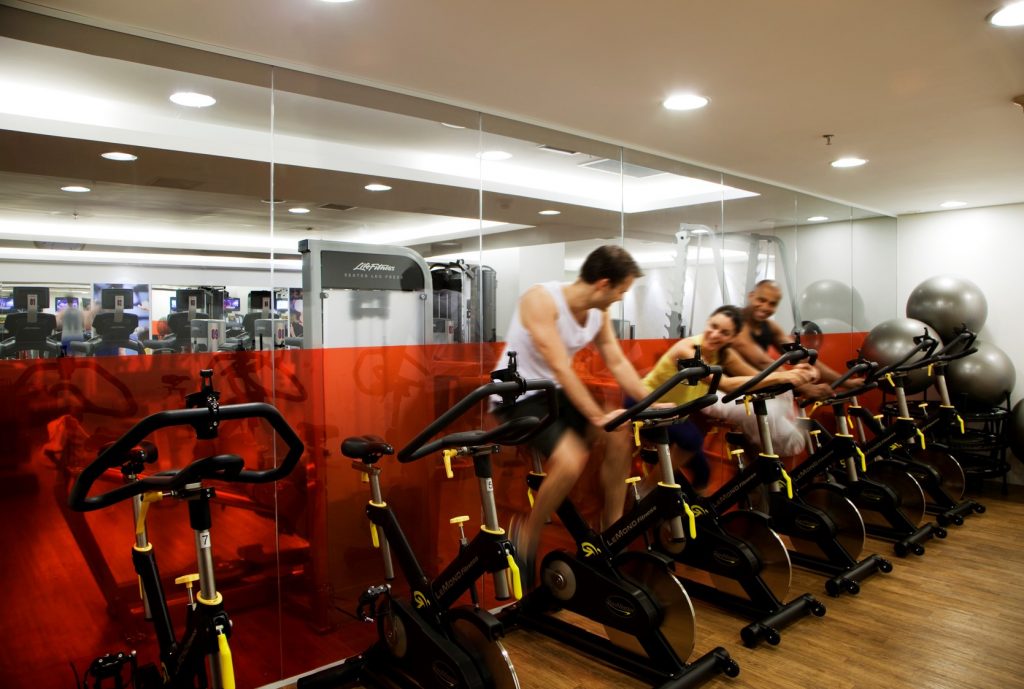 The hotel has a good size gym with all the usual equipment you would need for a good work out. A nice thing about the gym, for the benefit of the guests, is that IC São Paulo sells membership for people who live or work in the area. I guess that is the reason why it is well equipped and far superior than many hotel gyms that I have seen before, which are no more than the size of a guest room with a couple of multi-purpose stations and a few dumbbells.
The gym can be used at any time by the hotel guests and it was fairly busy when I had a look at it.
The Swimming Pool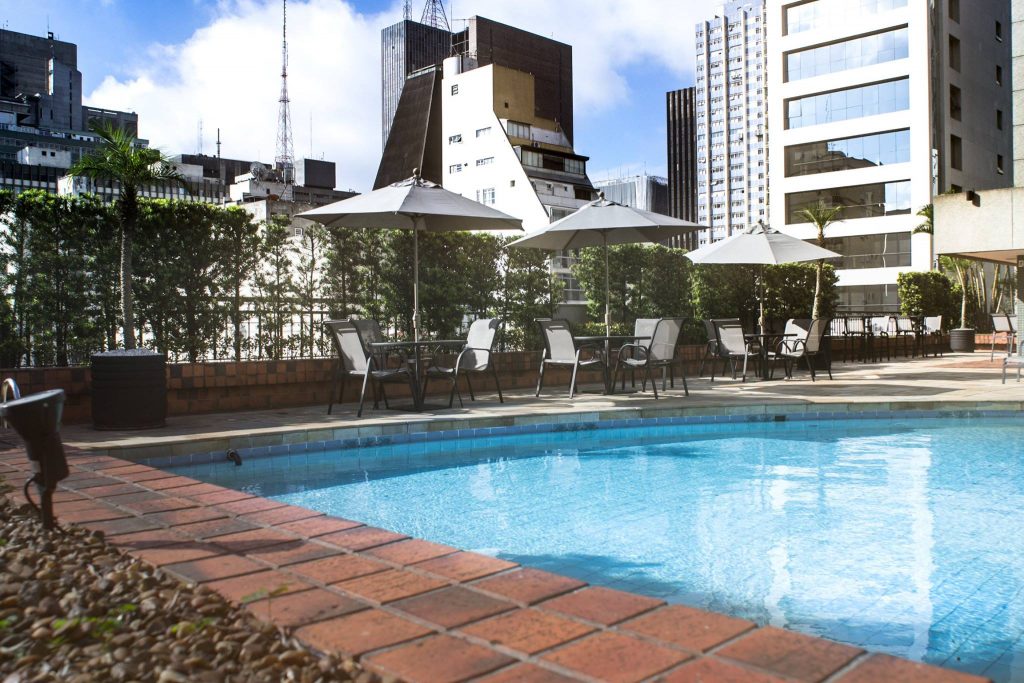 While the gym was very nice, the swimming pool was … ermm …. dead. It did not seem to be very popular with the guests at all and I guess the weather in São Paulo does not help very much either. I had a look at it from my room on different occasions and never saw a single soul there.
The Club Lounge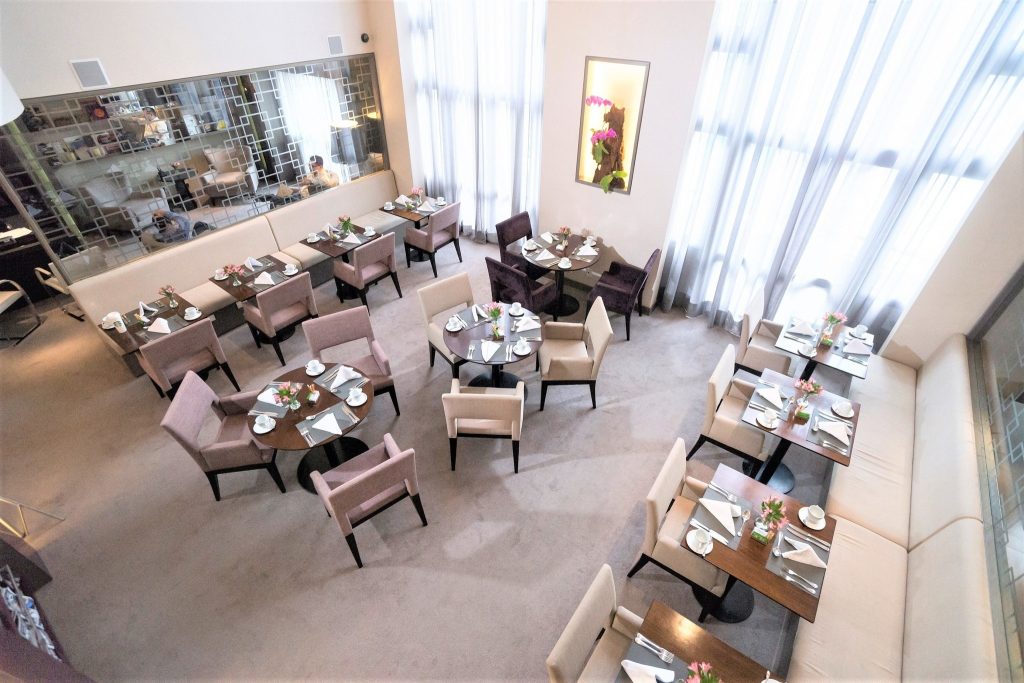 Let me start this section by turning complaining mode on! There is one thing that annoys me a lot with IHG and that is their lounge access policy in the Intercontinental hotels. It does not matter what loyalty status you have if you have not booked a room with Club lounge access, the properties do not let you in independent of the upgrade you are given at check-in.
There are rumours that IHG is looking at this and may change their policy by providing guests access to the Club lounge based on their Ambassador card regardless of the room type they have booked. However, I want to reinforce that these are just rumours at the moment! If this effectively happens, it will be an excellent benefit of the Ambassador card that will make me very happy!
Just to put things into perspective, Diamond cardholders have access to lounges in any Hilton property irrespective of their booking category. Another example is the Mandarin Oriental, which offers it as one of the benefits to be chosen by guests when booking a room, the person just needs to be a member of their loyalty scheme, the Fans of Mandarin Oriental.
On this occasion, as I was using points to cover my stay, I decided to pay to have access to the lounge for the sake of the review.
Now, complaining mode off and back to the job! The lounge is at the top of the building and guests can have breakfast, afternoon refreshments and drinks during the evening happy hour, which includes canapés. This is handy for those on a business trip as it could well be someone's dinner if they couldn't be bothered going out to a proper restaurant.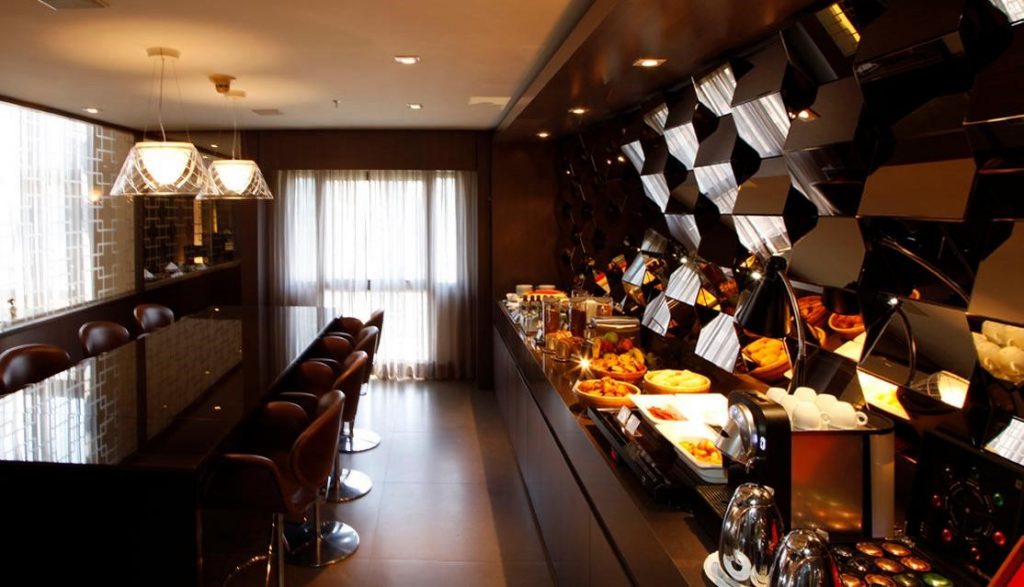 The lounge also has some workstations and a small meeting room that guests can use for business meetings. The staff working in the lounge were fluent in English and very friendly, while still respecting the guests' privacy. They even offered to make me cocktails if I wanted. It was a nice gesture, and something that I was not offered in any IC club lounge before. Thumbs up to the team!
As I have been to a number of IC properties before, it is inevitable comparing the lounges. IC São Paulo club lounge was perfect for breakfast as it was quiet, it was nearly like having breakfast in my room. I must say I was in the lounge quite early though and this might be the reason why it was so quite!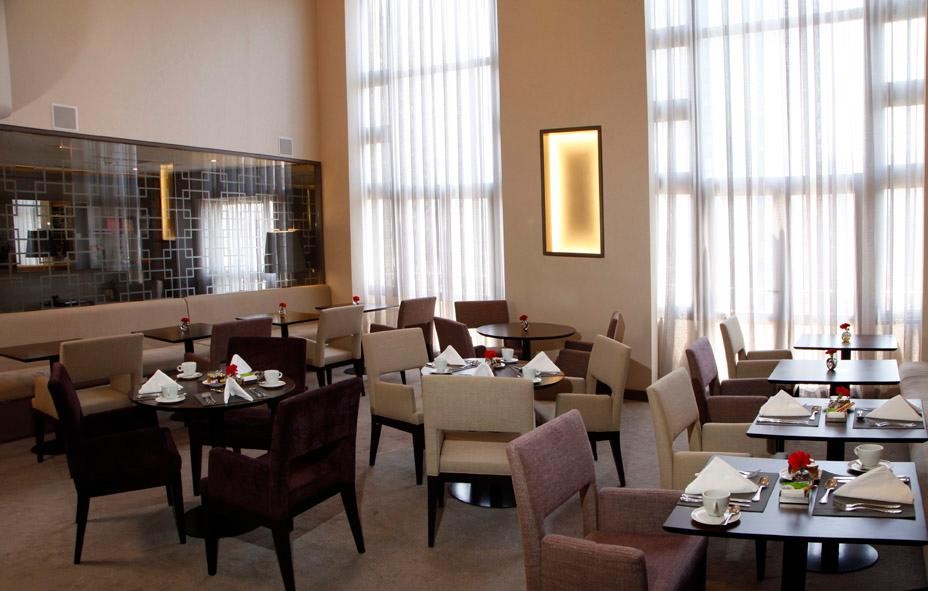 However, I am not convinced about the overall space as it felt rather formal. I know it is a bit tricky to get it right as these lounges must be functional but at the same time a place for people to relax. I would expect it to be more casual, with sofas and chairs where guests could congregate in smalls groups. As I have seen in other properties, they normally have a light decoration with, for instance, bookcases and objects linked to the local culture on display. These small things would probably help to break the ice in the lounge.
Besides the cocktails that I mentioned above, the lounge had the usual spirits plus red and white wines. It did let me down on the bubbles front though. There was no champagne, but at least they had sparkling wine.
Booking
As I mentioned above, I paid this stay with IHG points. Given that São Paulo is mainly a business destination, it is not difficult to get a reward room over weekends even at short notice. The good thing about the IC São Paulo is that it costs only 35,000 points per night as opposed to the usual 50,000 in other properties! Additionally, if you are nice to the guest relations team, you might find yourself being upgraded to a junior suite, right Bruna?!?!
Another possible alternative, if you do have not IHG points, is to book using Topcashback or Quido and you can get some cash back and still get your normal points and status recognition. At the moment, Topcashback is given 8% cash back on IC bookings while Quidco is given 15%, but I would suggest checking both before booking as the cashback percentage changes constantly.
Conclusion
The InterContinental is definitely a good option for a stay in São Paulo. Overall, rooms are well maintained and the bedding very comfortable, offering all the comfort that one would expect from an IC hotel. In my view, if they had to change something I would say the lounge needs some tweaks to make it more welcoming during the evening happy hour. The hotel is in a privileged location, giving easy access to restaurants, bars and museums. It is also less than 5 minutes walk to an underground station, which helps a lot when moving around town.
The highlight of the hotel is the staff though. The team is very friendly and relaxed, but still very professional, they made me feel welcomed every time I spoke with them. If you have any questions about my stay or something that you would like to know and I have not covered in the review, send me a message and I will get back to you.
Well, that's all for now! Até logo!
You can find the latest prices and more details about the InterContinental Hotel Sao Paolo here.