Right before we get started, let me caveat this heavily.
These are my views.
I will try and make a balanced case in both ways (and likely fail!)
This will only focus on British Airways Premium American Express Card (BAPP).
I am British Airways Gold Guest List/Concorde Room Cardholder, but I will try and note where possible, differences for lower levels.
Gold upgrade for 2 vouchers requires the relevant fare bucket in the class above, "I" for Business and "A" for First.
BA Gold Upgrade for 2 vouchers are earned after 2500 Tier points
No, I don't have a BAPP and never will.
No, I don't chase Avios (ask Michele – I hate using portals like Top Cashback etc.!)
And to save those that can't be bothered to read on – I'd use the 2-4-1 on long Club Europe redemptions.
So let's start!
The American Express Companion Voucher

What is it?
The British Airways American Express Companion Voucher entitles you to receive a second seat for a companion on the same flight as you and in the same cabin. This only applies when you make a Reward booking on a British Airways flight with a BA flight number. All you'll have to pay is the taxes, fees and charges for you and your companion's tickets.

You can earn one Companion Voucher each year.

How do I qualify for a Companion Voucher?

To qualify, you must reach the required spend threshold for your Card, as shown below, within a 12-month period ending on the anniversary of the date of issue of your BA AMEX Card (excluding Cash Withdrawals, Interest, Balance Transfers or Fees).

Credit Credit: £20,000
Premium Plus Card: £10,000

Required spend collected in one 12-month period cannot be carried over into the next 12-month period. If it sounds like a lot, don't forget you could get a companion card which then only mean £5000 spend each!

When will I receive my British Airways American Express Companion Voucher?

Your voucher will be posted to your British Airways Executive Club account automatically once American Express has advised us that you have reached the required spend. Your Voucher will normally reach your account within 10-15 working days.

How can I get the most out of my Companion Voucher?

Be flexible with your dates and destinations. Have a list of preferences and book as far in advance as possible. Have a read of this article for more suggestions on how to find the flights that you want.

When is the best time to redeem my Companion Voucher?

As soon as you can. Start to make a rough plan of your preferred destinations and dates of travel before your Companion Voucher is issued. Your ideal destination, dates and times may not always be available so being flexible reduces disappointment. Outbound travel must be taken before the expiry date of the voucher, which is 12 months from issue for Classic and Premium Cardmembers and 24 months from date of issue for Premium Plus Cardmembers.

When is the best time to travel?

Although seats are available for redemption throughout the year, you may benefit from planning your trip during quieter times, such as midweek and during school terms.

When should I try to avoid?

The busiest times are during the school holidays and at weekends, so avoiding these periods will give you more flexibility and choice.

If I can't redeem my Voucher for the destination I want, can I get the voucher extended?

Unfortunately, this is not possible, but with over 125 different destinations you are sure to find one that's right for you.

Do I have to return during the lifetime of the Voucher?

Although your outbound journey must be completed before the voucher expires, you are free to return any time afterwards. However, you must book your return flight at the same time as making your outbound reservation.

I've just realised that my Voucher has expired. Can I get it extended?

Unfortunately, this is not possible. Vouchers must be exchanged for an outbound ticket departing before the expiry date on your voucher, which is 12 months from date of issue for Classic cardmembers and 24 months from date of issue for Premium Plus cardmembers.

Can I redeem a Companion Voucher when I pay with Avios and Money?

No, the Companion Voucher is only valid when you pay fully with Avios. However, you can purchase up to 24,000 Avios per annum, per account, if you don't have enough Avios for your chosen reward flight.

Can I make a booking through my Travel Agent?

No, the booking must be made directly with British Airways.

Can I make my booking online?

Yes, you can redeem and manage your Companion Voucher online. Simply log in to ba.com using your membership number and pin.

Does it matter that the Voucher number that appears on ba.com is different to the paper voucher I received?

No, as part of the process of migrating the paper Vouchers on to ba.com a new system generated number has been allocated. It will not affect your ability to book your flight on ba.com.

I have a joint Card with someone else, but the Voucher has been issued in his or her name instead of mine, even though I do most of the spending on the Card.

The Voucher will be issued in the name of the Basic Cardmember, regardless of who spends the most on the Card.

Is it possible to allow someone else to use my Voucher?

The person whose name is on the Voucher must make the booking. The Reward Flight made using Avios must also be in the same name, although the additional ticket can be for your chosen companion.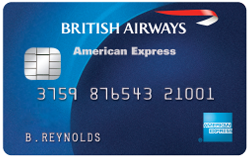 So basically find two seats in the cabin you want to fly in and pay for one seat (+taxes), and away you go…
Quickly before we do this…. let's value Avios quickly.
A return to Madrid in Business Class will average around £450.
A return to Amsterdam in Economy? About £100.
The Avios rates are 25,500 for Madrid and 8,000 Avios for Amsterdam. Both are the max amounts with normal Reward Flight Saver fees. (£35/£50)
That works out at 1.7p per Avios for Madrid and 1.25p for Amsterdam.
So my TLFL Avios value is 1.48p
Economy Redemptions
I would never recommend this. I am purely making examples!
New York is always a good example.
The cost for two?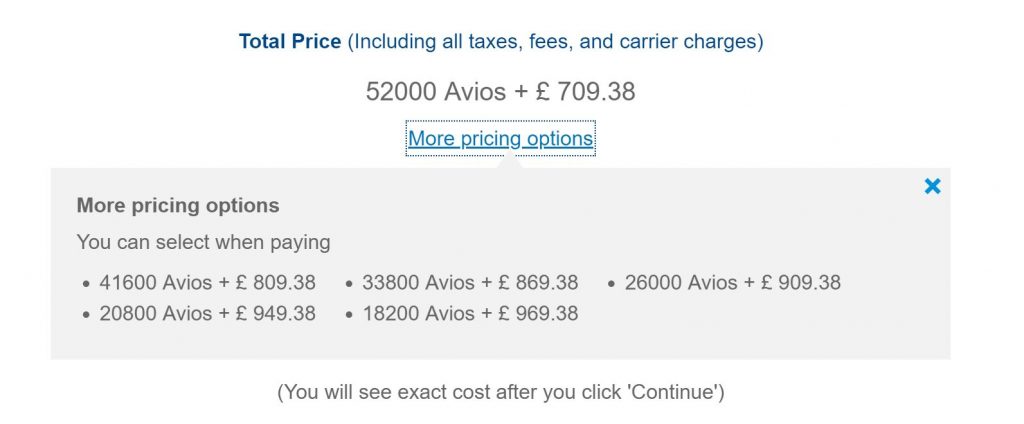 So using a companion voucher, I am paying 26,000 Avios and £709.38.
Is this good value? NO!
Here is the price of two cash tickets (I didn't look very hard for the cheapest ever!) –

If two golds are travelling together, they will net back over 18,000 Avios, and a few tier points too.
Economy Long Haul redemptions. Don't do it.
What about Premium Economy?
Let's check the going rate to New York (JFK) for two again –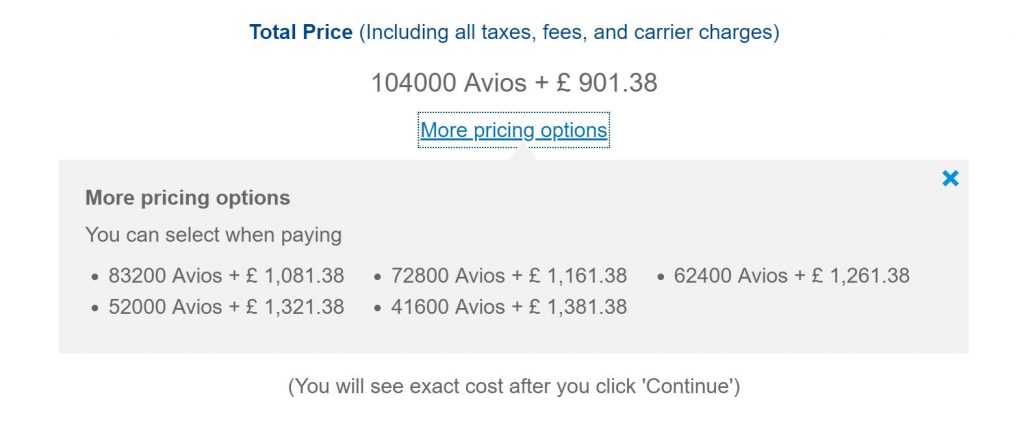 So with a 2-4-1, the cost would be 52,000 Avios and £901.
So whats my cash ticket going to cost me?

The cash fare will also net two golds over 27,000 Avios.
So the voucher is saving me £650, but costing me 52,000 Avios if you count the Avios lost by not buying the ticket for cash.
Some quick maths using my 1.48p valuation means those 52,000 Avios cost me £770.
And let's not forget even the cheapest Premium fares net full tier points – so 180TP for a return to New York.
Worth it? Not for me.
Now let's go into the real premium cabins.
Business Class Redemptions
This is where the real big Avios numbers start to show!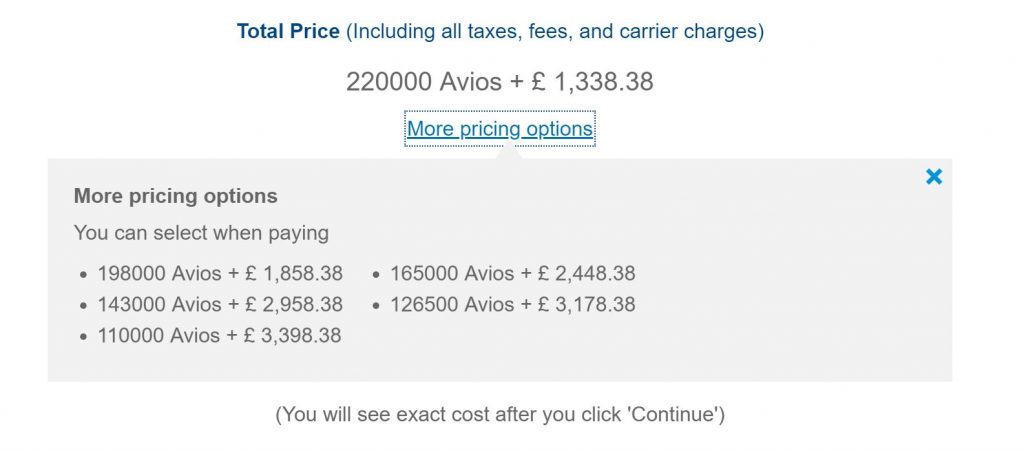 So a 2-4-1 voucher user is paying 110,000 Avios and almost £1400 in taxes to get to New York in Club World.
What's my cash fare?

Almost £3,000 for 2 to New York. But you would earn 280TP and over 35,000 Avios for two golds.
That 110,000 Avios is worth about £1630, taking the redemption to… Yes, you guessed it. £3,000.
This is all relatively simple stuff so far. But, I would never take a business class ticket from London!
East Coast business class tickets are regularly around £1,200 each from places like Inverness – top tip, wait for the sales!
But hold on, I mentioned Gold Upgrades above?
Well, if you are prepared to start somewhere in Europe, how about a Premium Economy ticket for around £550? Use a Gold Upgrade for 2 and pay the extra tax, and you have two people in Business for around £1,600 while earning tier points and Avios. The savings are more significant to Asia due to increased fees to the USA.
But I want to fly FIRST!
How many Avios do you have?!
I will use a few different places to show this one…
Let's start with New York –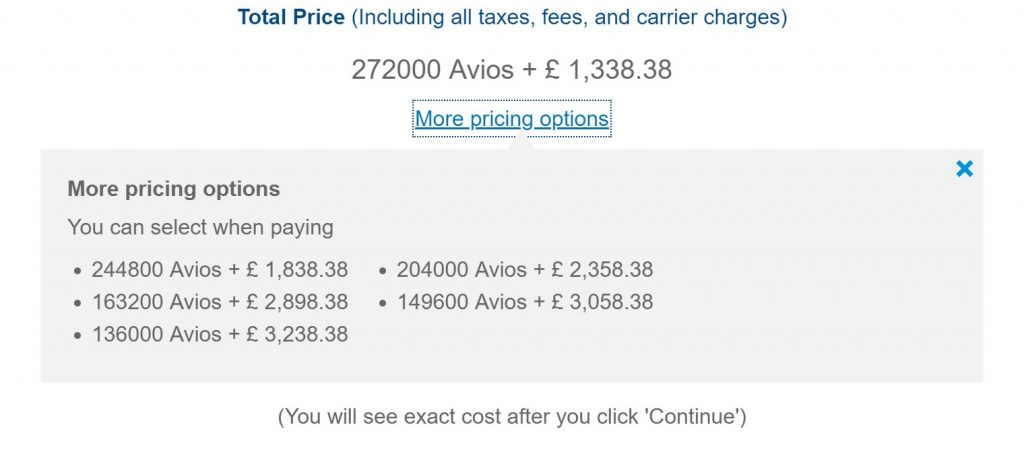 That's a lot of Avios! Even halved!
So my two First class tickets to New York will cost me 136,000 Avios and £1340.
What will my cash tickets cost?
Costing the Avios at 1.48p gives me a total spend of just over £2000. So £3,340 vs £4,683. The voucher is saving me over £1,300 in this scenario. But I am earning NOTHING back.
On the cash fare, I am earning 420 tier points, and two golds would net around 50,000 Avios. £740's worth. So the difference is then under £600. For 420TP. That's a good ratio for any TP runner 😉
BUT.
What about a Gold Upgrade Voucher (GUF2)?
Take my £1,550 fare above for two in Business? Apply a GUF2, and voila you are both in First. For free. No additional taxes.
So let's do the maths.
136,000 Avios and earn nothing back. Or spend £200 more and earn Avios and tier points?
NO BRAINER TO ME!
It gets even more apparent the further from London you go…
Los Angeles? On a peak day? (P.S. Good luck getting 2 Avios First seats to LAX!)
200,000 Avios and about £1400 in taxes for two people with a 2-4-1.
Take one of the lovely Amsterdam or Inverness fares we published earlier this year, and you are earning TP's and Avios….oh and saving 200,000 Avios!
I would value that 200,000 Avios at almost £3,000.
What about Asia?
Taxes are slightly less to Hong Kong at £582 each.
But I hope you have been having a massive spending spree through the BA e-store, as it will set you back an eye-watering 240,000 Avios on peak days.
Fares are currently running at around £3,500pp from London, but a quick hop into Europe brings that down nicely!
£1,650 tickets are relatively standard from Italy or Amsterdam as an example.
So 240,000 Avios + £1200 or £3,300 – I know which one I would pick.
What about the kitchen sink?!
Some of us have a little saying.
"I'm going to redeem the lot" –
2 American Express Vouchers
2 GUF 2 Upgrade Vouchers
and a Gold Guest List space release (known as a joker)
All for four seats in First! And usually to Miami (#disney). Yes, I am looking at you, Mr Taylor.
So how much does this cost? (Peak Pricing)
300,000 Avios and about £2,600 of taxes.
Using my 1.48p valuation gets me £4,400 worth of Avios spent so a total "cash" outlay of £7,000 for four First tickets.
Expect to pay £12,000 on a good day and north of £20,000 in summer holidays for London – Miami for four in First. So yes. The sink is offering me great value!
But what if I use just the GUFs?
Cash fares in Business class from London for four will vary from £7,000 to £12,000 depending on dates. Of course, further savings can be made from starting in Europe.
So I guess – date and convoluted route depending – they can offer very good value 🙂
A little secret…
Want to maximise your GUFs? Why not stack two trips on one ticket and GUF the entire thing? 😉
Michele and I paid £3,200 each earlier this year for…
MXP-LHR-SIN-HKG-CGK-HKG-SIN-LHR-MXP//AMS-LHR-SIN-BKK-SIN-LHR-AMS.
All 4 Singapore flights were upgraded to First. With ONE GUF2.
And yes – We earnt A LOT of Avios back.
A few final words
Listen, I am not saying the 2-4-1 isn't a good thing. It is. I would personally only use it on Band 4 Club Europe flights with Reward flight saver space and taxes. These can easily sometimes cost over £1,000 cash each. So using Avios and a 2-4-1 I could go for 40,000 points and £2. Yes being GGL and having a joker (GGL Space Release) makes this much more accessible.
5p per Avios!
Others have told me –
Saves the faff of positioning to ex EU points etc.
You are not chasing status.
Use it because it's there.
Only have the card for good Avios earnings.
BUT. GUFs used correctly can be much more lucrative, while still earning those well needed TPs.
So fed up of seeing this? Have a look for a tasty cash fare 🙂

Oh. If I were Alex Cruz – only Gold and above would be able to redeem into the First Cabin like Air France. Controversial? Probably!