Well firstly – hello! I'm back! Work, COVID-19 etc have kept me very busy, but I'm still (or was!) travelling harder than ever! I hope you are all keeping safe.
Anyway…blah blah blah! Let's get on with the show. The title is a big claim, but is it click bait? Or does it have substance? Read on to find out.
Booking
Qatar First isn't something people usually book. Because it's generally horrendously expensive. The two ways to book it "reasonably" are –
Avios
Wait for a BA mess up and ask to be moved onto it.
Coronavirus actually did me a favour. I was booked to Shanghai in First but managed to sweet talk a BA agent into moving that flight to Bangkok on Qatar. As I was booked into First they were happy to book the London – Doha legs into First.
Here's a little tip for the Avios rich among you –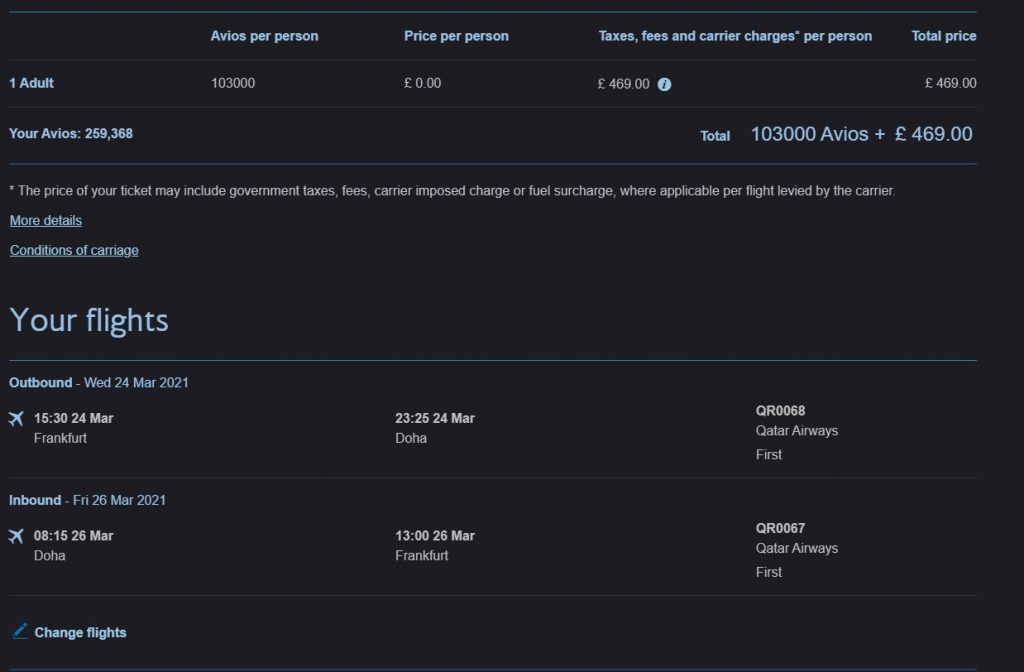 Don't ask questions. Just go and book it. Trust me you won't regret it.
First class is normally only available on the following routes:
Sydney
Melbourne
Perth
Frankfurt
Paris
London
Check-in, Lounge and Boarding
The usual, it was terminal 4 and it was all fine and orderly. It has all been covered by Michele in some recent reviews. Read more about it all here.
The Seat
I have to say this off the bat. The cabin is beautiful. Very understated. And so different to the BLING of Emirates First. Seats are arranged in a 1-2-1 layout with 8 seats.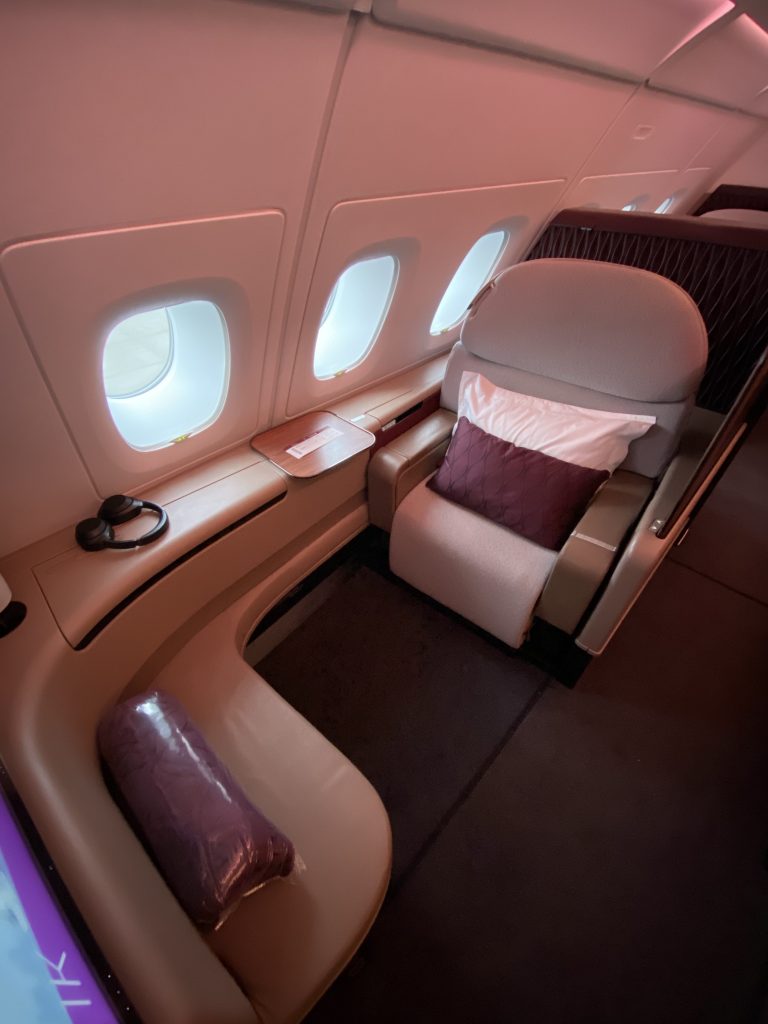 The seat is so big and comfy. No, it might not be the most private, but frankly, I don't care!
Now I must apologise for the lack of detail in this review – one word. Krug.
So the seat controls –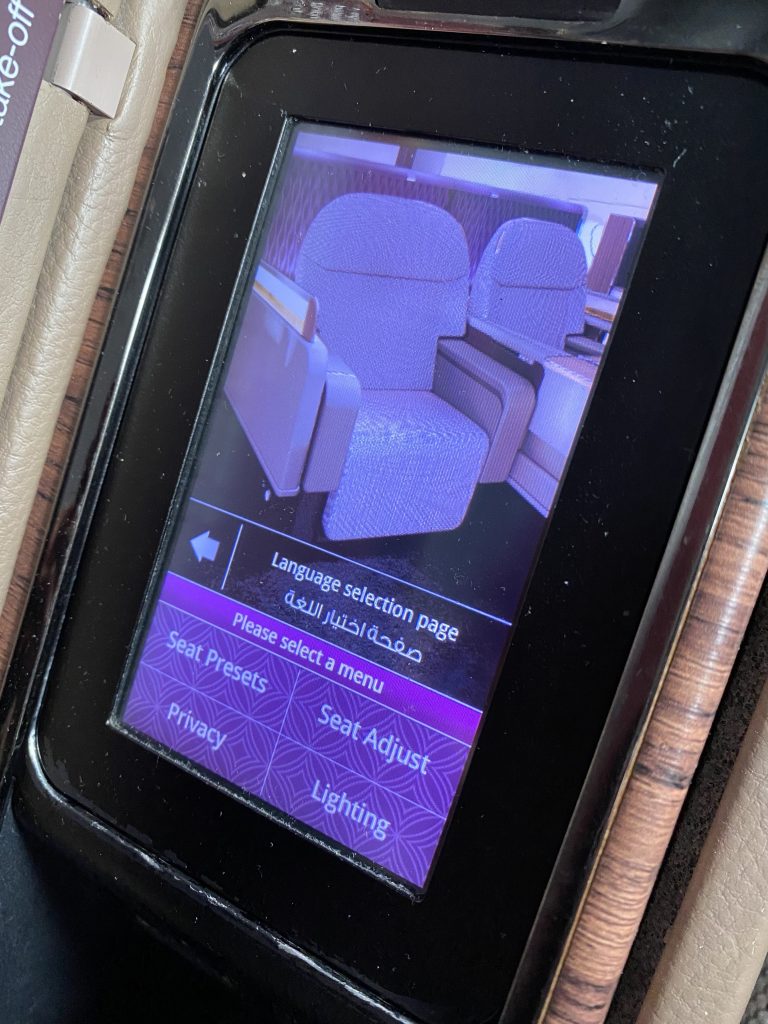 The controls were intuitive and worked well for adjustments and the privacy screen –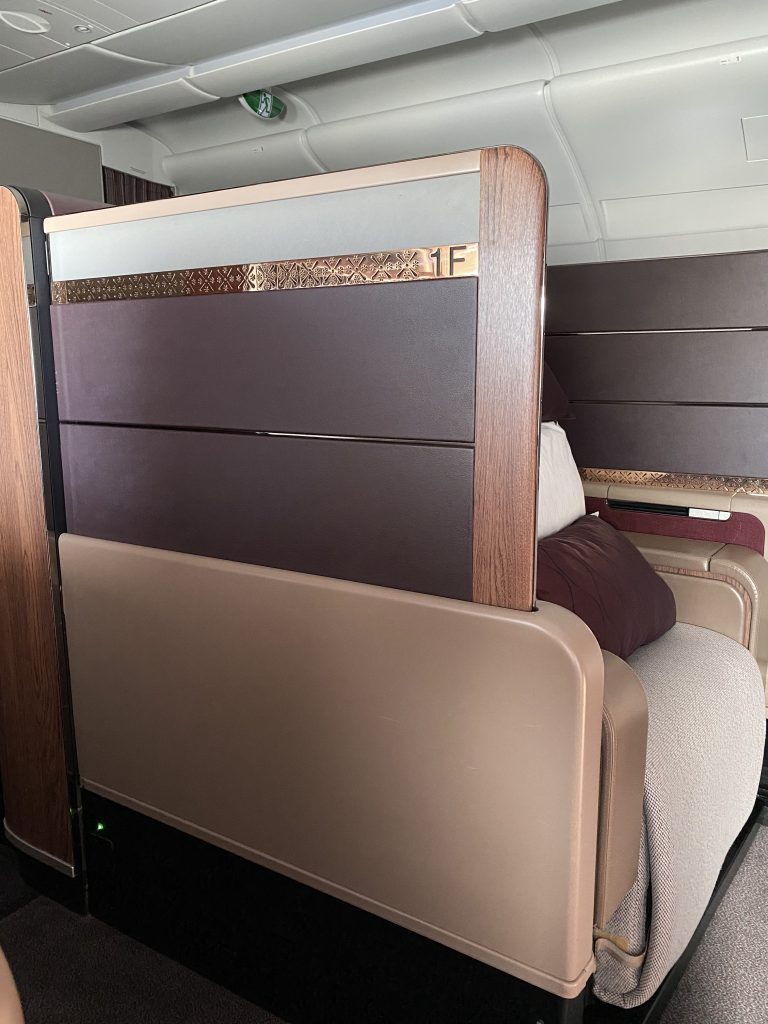 The IFE screen was vast and crisp in front of me and there was a control next to me – yes it's a long way to reach!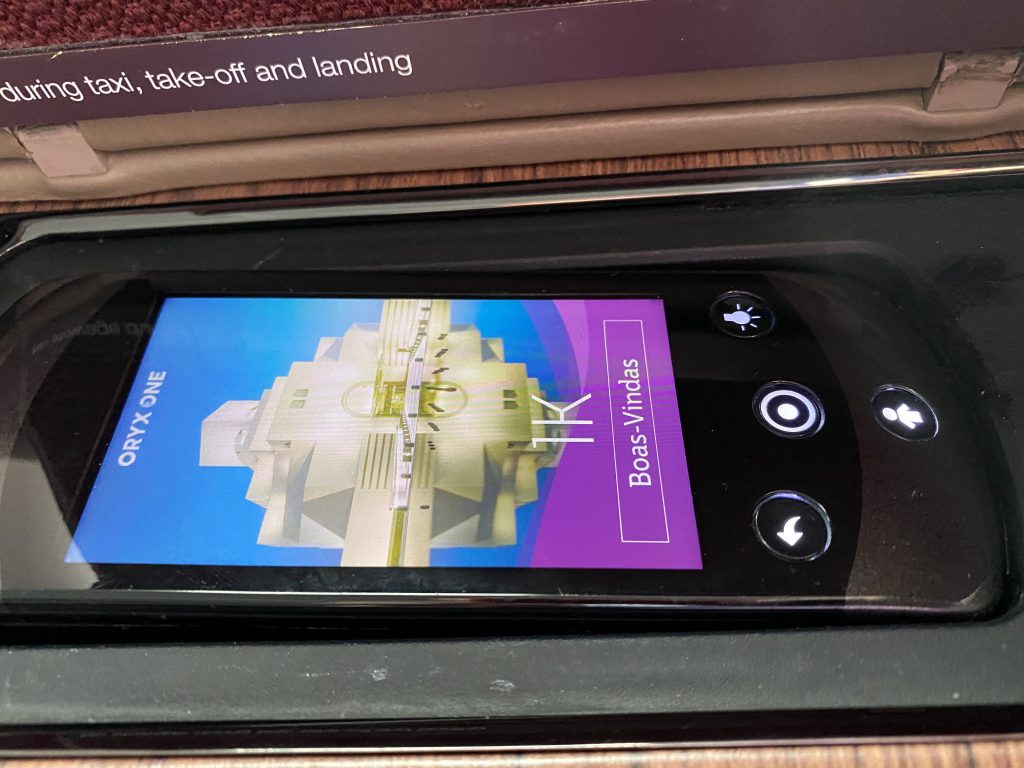 Amenities
Now I'm not someone that overly fusses about this stuff, but I have it on good word that its all decent stuff! (note: this is very similar to what you get in business class with the added night cream)



The Monte Vibiano kit includes –
Lip Balm
Night Cream
Face Mist
Body Moisturiser
But then the flight attendant came over and asked if I'd like a drink….
Food and Drink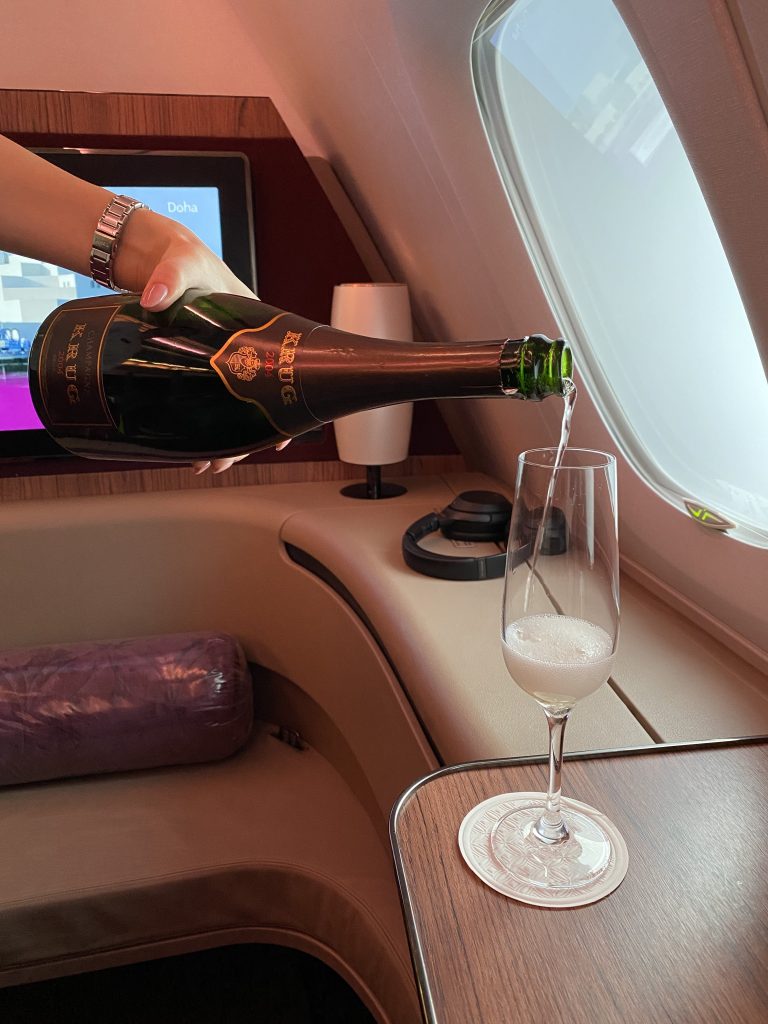 Heaven? It might as well have been!
Sorry, I'll stop drooling… and the rest of the menu? Sadly this was a breakfast flight but stay tuned for a few pics of the way home!
Wine






Other Drinks


Food


Did I mention the
Krug?
It just kept coming…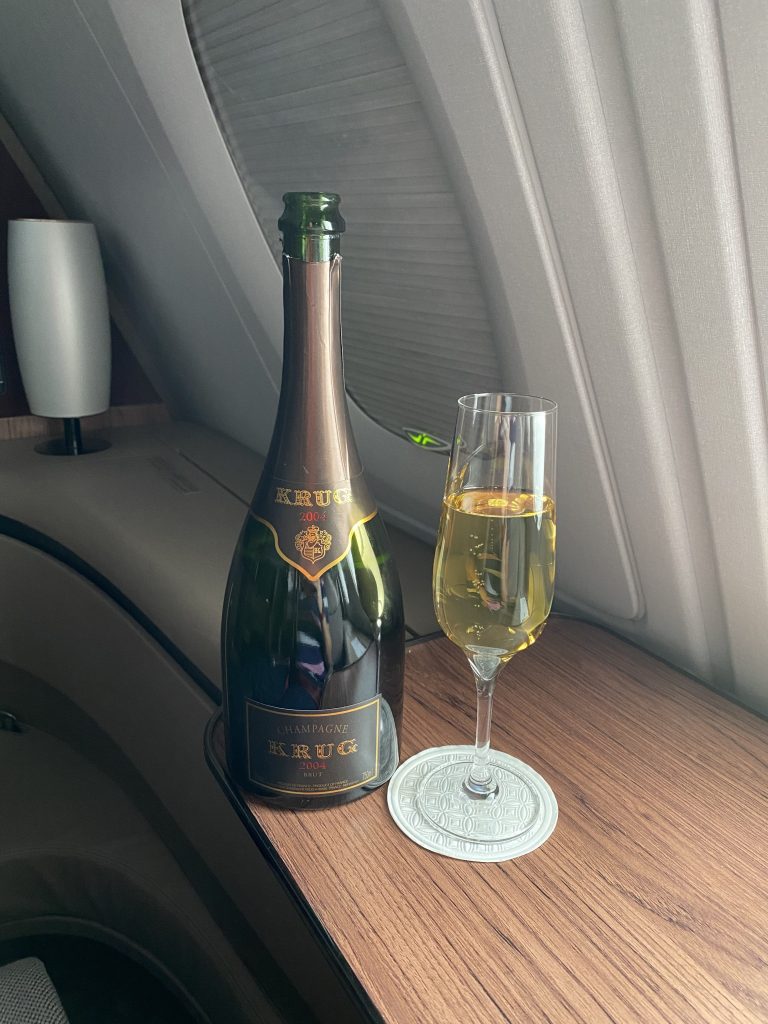 Now here's the thing. Is a breakfast flight the best show of a first class product? Probably not. Was the food amazing? No. But it was good. In fact better than good.
I went for the full works and didn't regret it.
Firstly the HUGE table was set –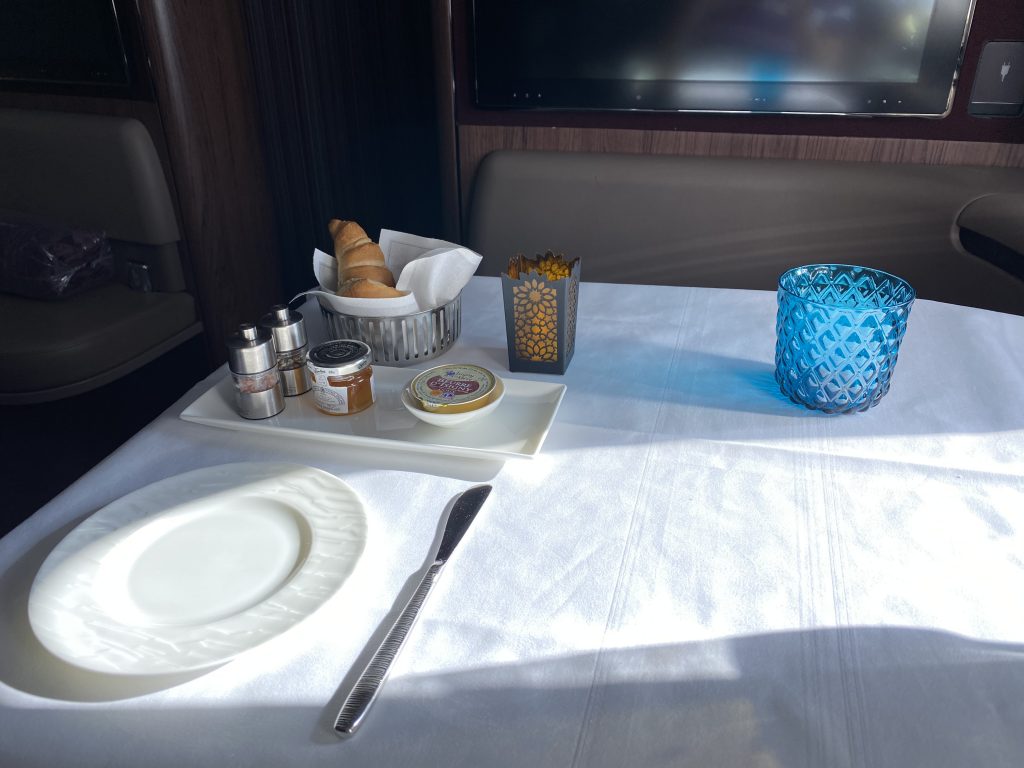 And then came the sumptuous feast!


After all that I thought I would go and freshen up in the toilet…
The Rest
This has to be one of the biggest loos on a plane I have ever seen! And I loved the finish.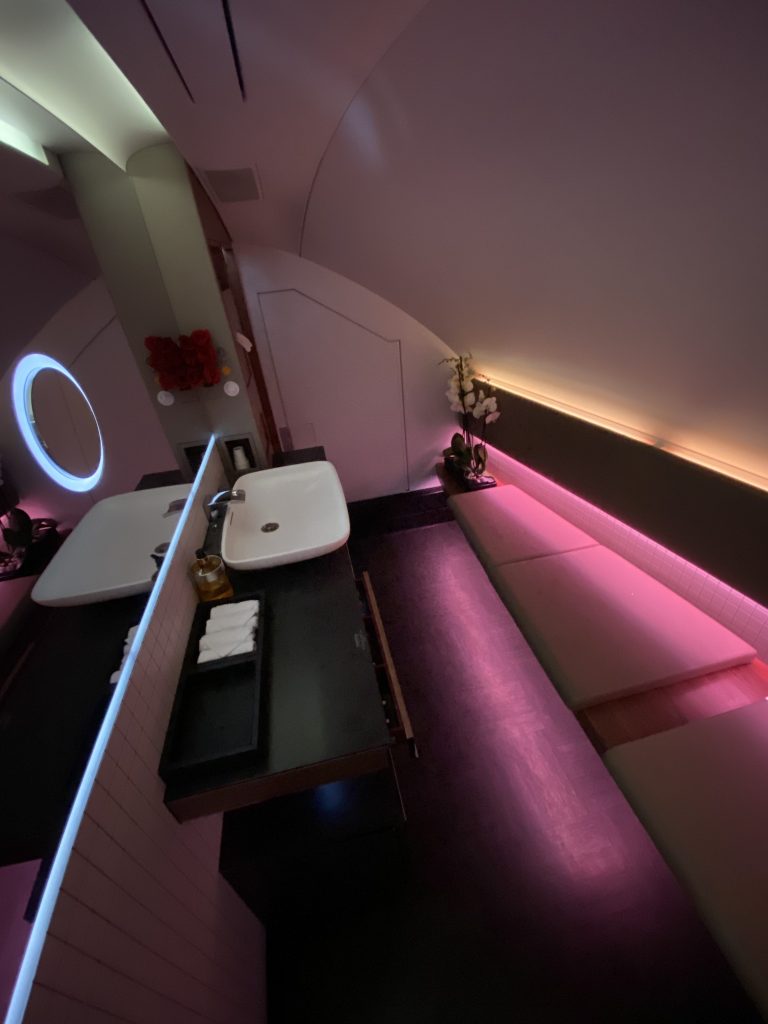 And let's not forget that stunning bar on the A380! God, I will miss that when they disappear!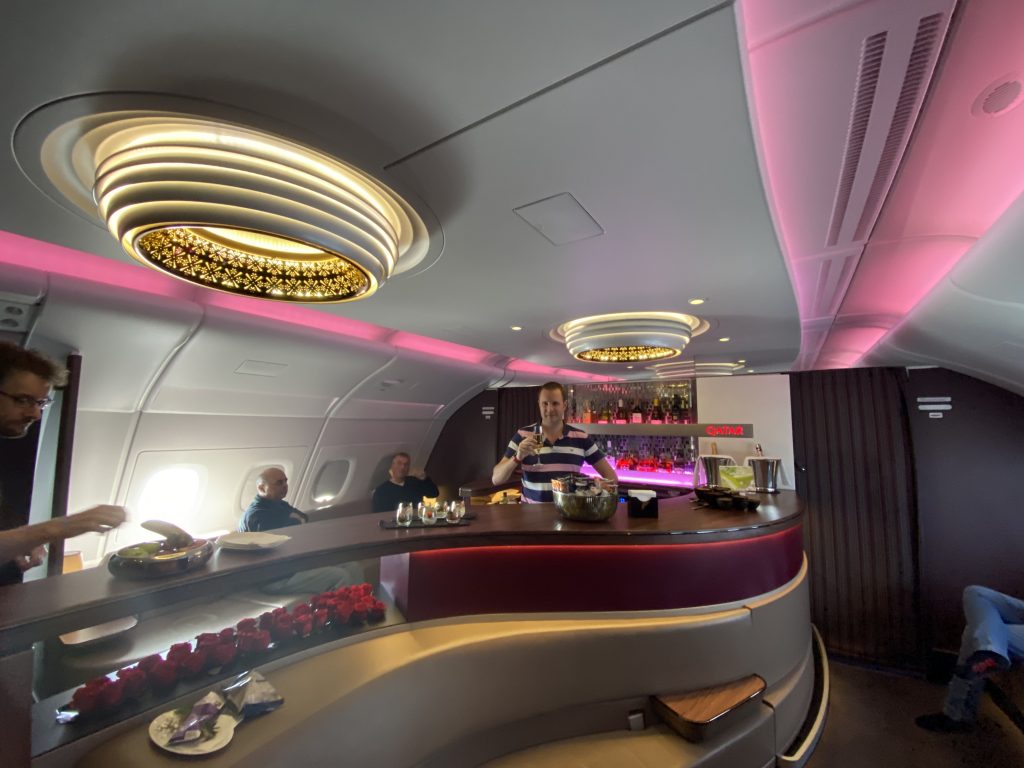 And least not I forget the crew. They were all superb. Some of the best I have ever flown with. On any airline in any cabin. Not robotic. Just perfect.
Conclusion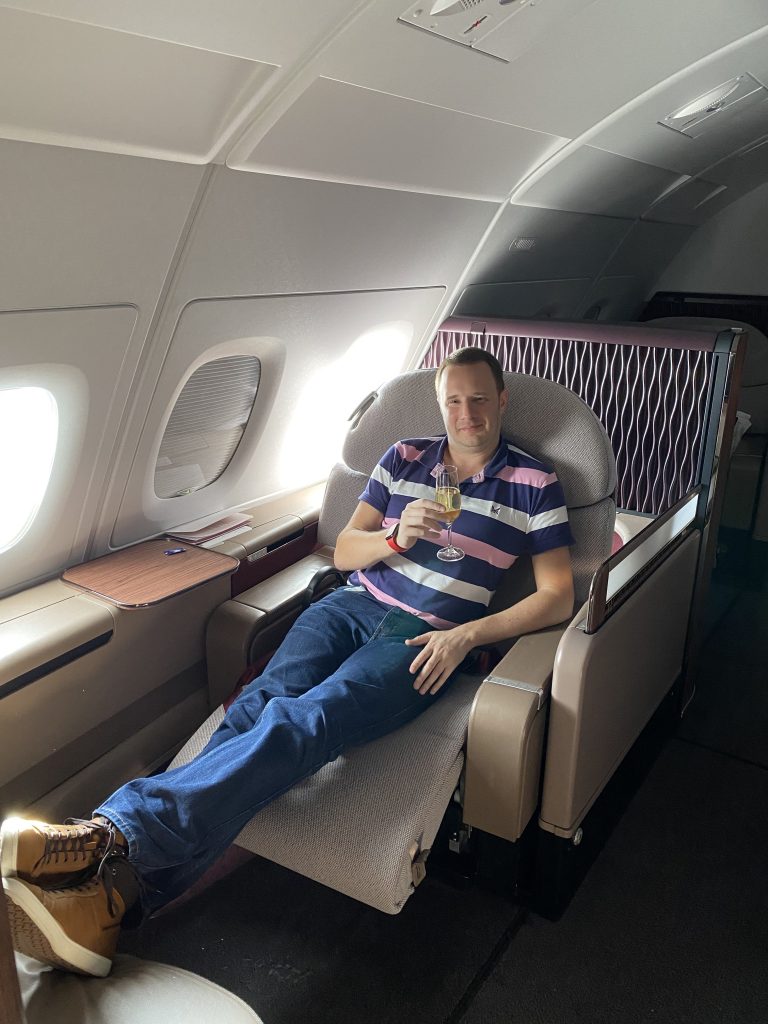 Yes, I loved it.
Maybe it was the Krug? Maybe it was the seat? Maybe the crew? The bar? I tell you what. Just go book it and find out please!
There is LOADS of availability from Frankfurt. Then come back when you come off with a massive grin on your face. You're welcome!
Enjoy our content? Help support Turning Left for Less by doing your Amazon shopping through our link. There is no cost to the reader and it helps me continue to run the blog during the current crisis of very little blog income through advertising or affiliates.