Have you heard of Kimpton boutique hotels? For many people, the answer will be no. Well, Kimpton is a network of luxury boutique hotels that until recently could only be found in the United States. However, in 2014, IHG, owner of the brands Intercontinental, Crowne Plaza, Holiday Inn, etc., acquired Kimpton hotels and is now taking the brand to Europe.
In 2017 IHG opened the first European Kimpton in Amsterdam. IHG has now announced four new Kimpton hotels in Europe but this time in the UK, with the first newly opened in London.
As I had planned a long weekend with my cousin and her husband in Amsterdam, I thought this would be the perfect opportunity to try the Kimpton De Witt. In this article, I will share my impressions of our stay.
Check-in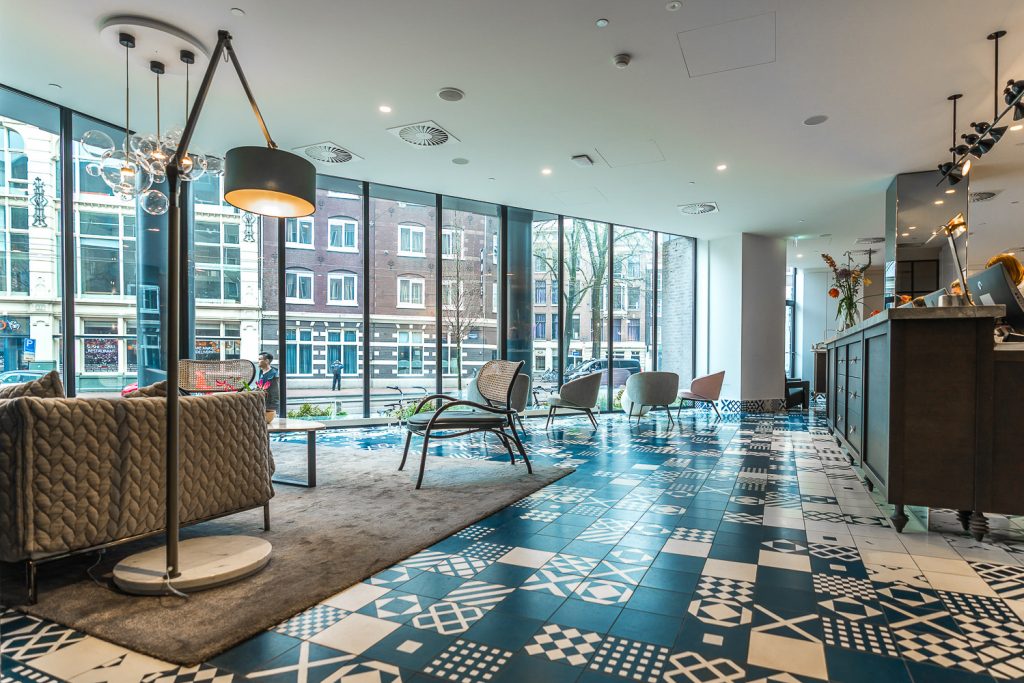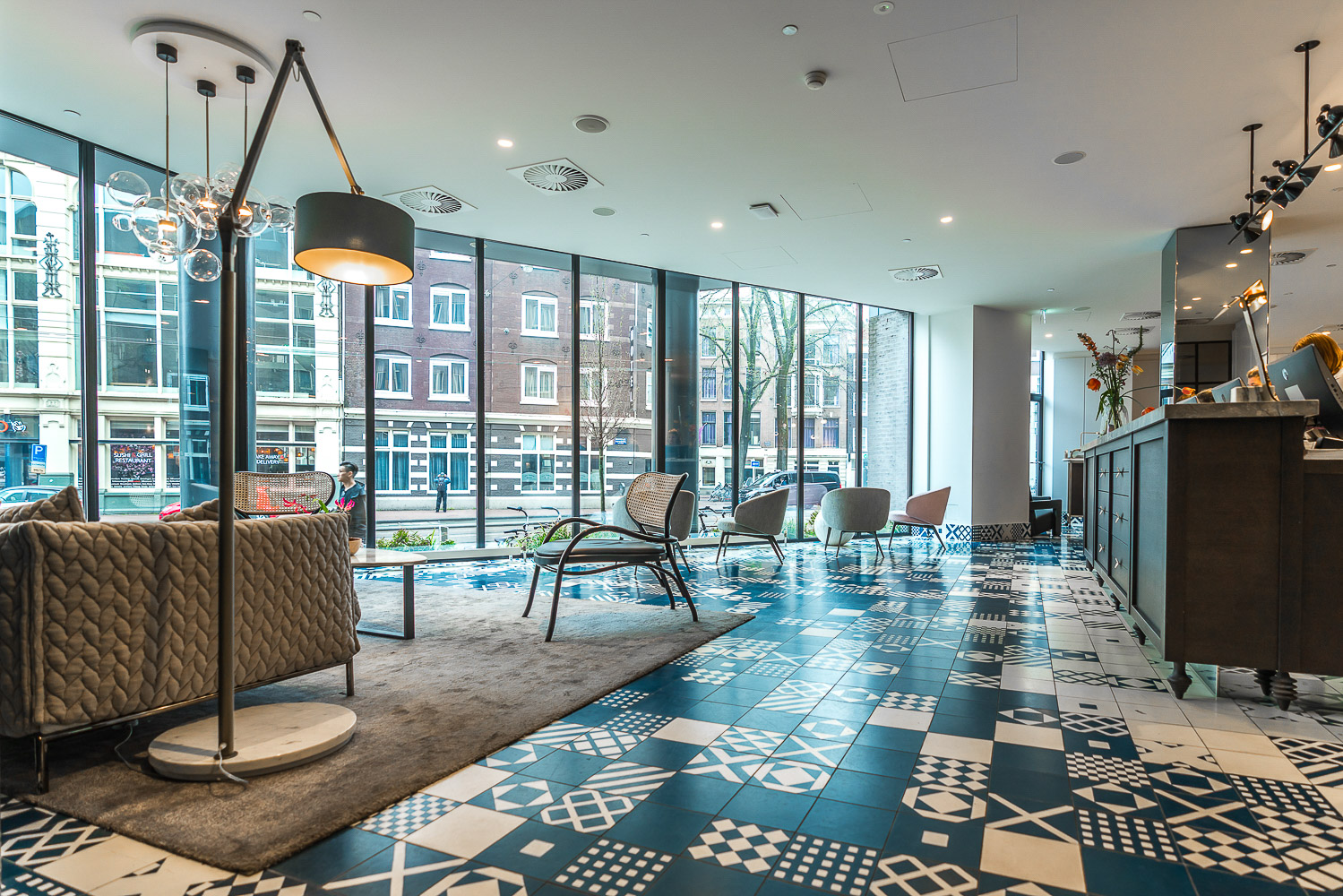 I had already stayed at this hotel a few times when it was under the Crowne Plaza banner. Therefore I already had a good idea of what the building itself was like. I was curious to see what changes had been made so that it could operate as Kimpton.
We left London very early and by 11:00 am we were in Amsterdam. The hotel is very well located and is about five minutes walk from the central train station, which has a direct connection to Schiphol Airport. Super easy to get to!
I immediately noticed that they had done a good job with the refurbishment. On entering the hotel, the whole check-in area was very beautiful with a modern and stylish look. In the reception area, there was a very "stylish" bike, which I found to be creative since it reflected the relationship that the Dutch have with their bicycles. In addition to the bike, there were two large water filters so people could cool off when they arrived at the hotel – something simple and that makes a good first impression.
Since I have Spire Elite status in the IHG loyalty program, I was expecting an early check-in, although this is not part of the benefits of the Spire category. I asked if it was possible to get into our rooms early after all the most that could happen was they say no! The rather attentive receptionist recognised my Spire Elite status and confirmed that we could expect our early check-in. We would have to wait a bit for them to prepare a room which we were happy to do.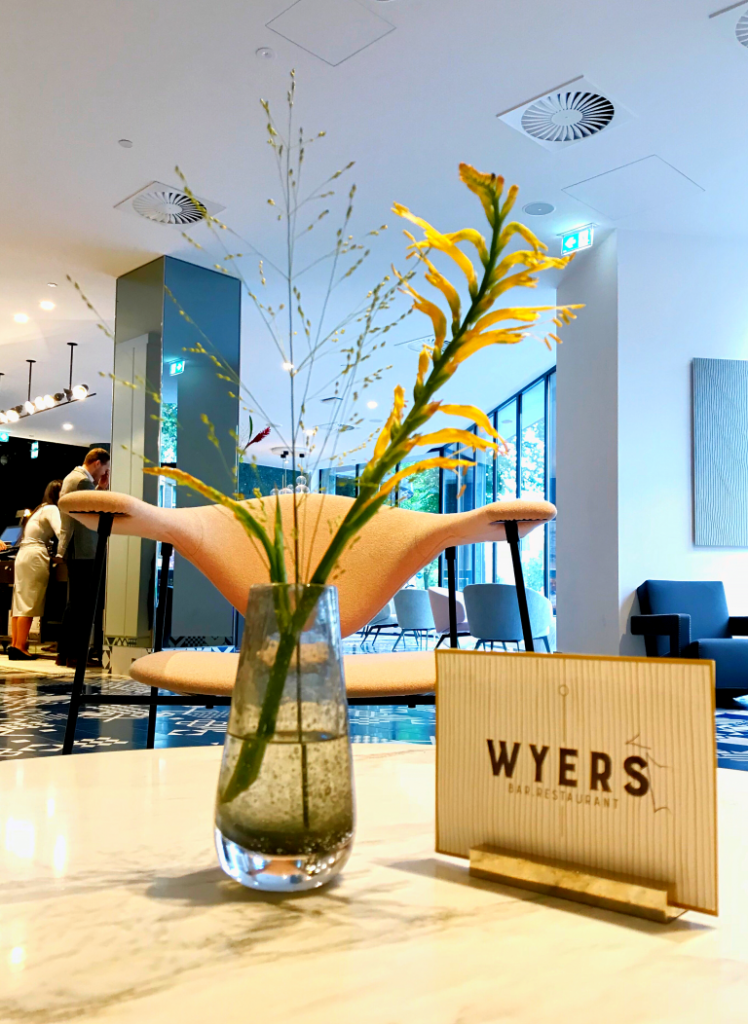 The receptionist followed the usual protocol, thanked me for being a member of the IHG loyalty program and offered me a voucher to use at the bar, enough to buy two drinks – which I thought was great! And finally, the best part confirmed my upgrade to a better room category than I had booked.
The upgrade process was interesting because the week before the trip I got an email from the hotel offering some upgrade options like an auction. I could choose the option I wanted, which already came with defined prices and then, at check-in, they would confirm to me which upgrade had been accepted. If I were still interested, I would pay the amount at that time. I decided I would not select any of the options and wait to see; and, to my surprise, two days before my arrival at the hotel, I received a message through the IHG application informing me that I had received an upgrade due to my IHG status. I was lucky because I still got the upgrade without spending any money.
Bedroom
After waiting about fifteen minutes, reception called me to inform me that my room was ready and handed over my key. I'm not going to review my cousin's room because it was so much like mine.
My room was on the fourth floor, but I knew the building did not have many floors, and so I did not expect a grand view of the city. The most that could be seen from the window were towers in the background, nothing more.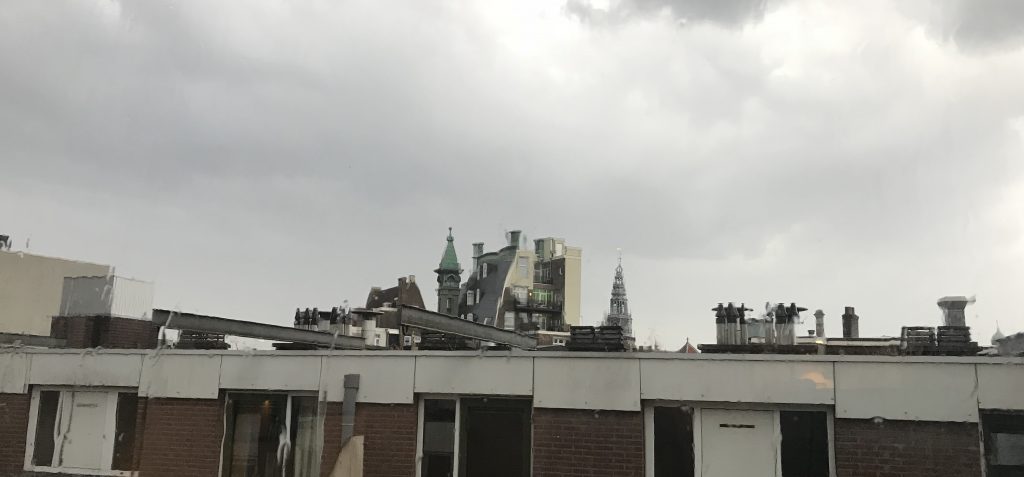 The room itself was great with a king size bed and lots of pillows to make it cosy. Aside from the size of the room, what caught my attention was the decor. As you can see in the photos, some of the detail was very interesting, and my three favourites were:
The blue chair that in addition to being modern was also quite comfortable.
The side table by the chair – if I could, I'd take it home!
And finally, the speaker with USB input, also very innovative and practical on the desk.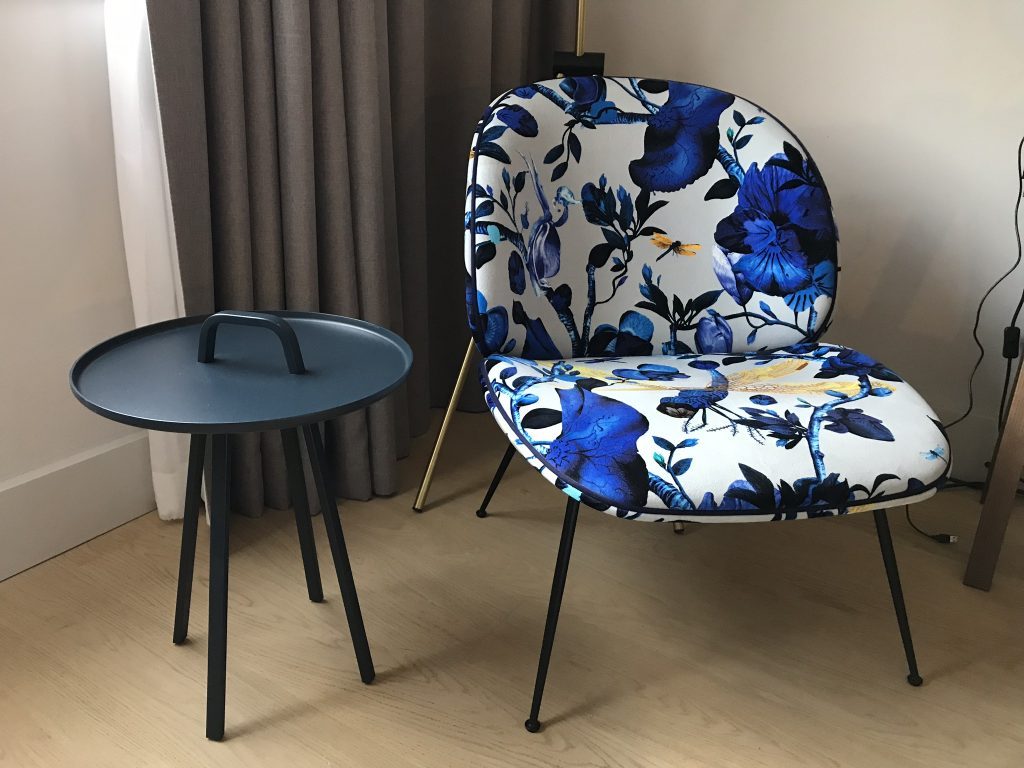 The bathrobes were also worth mentioning. Usually, hotels put them in the bathroom or inside the wardrobe, but here they were hanging on the wall. In a way, they were part of the room decor.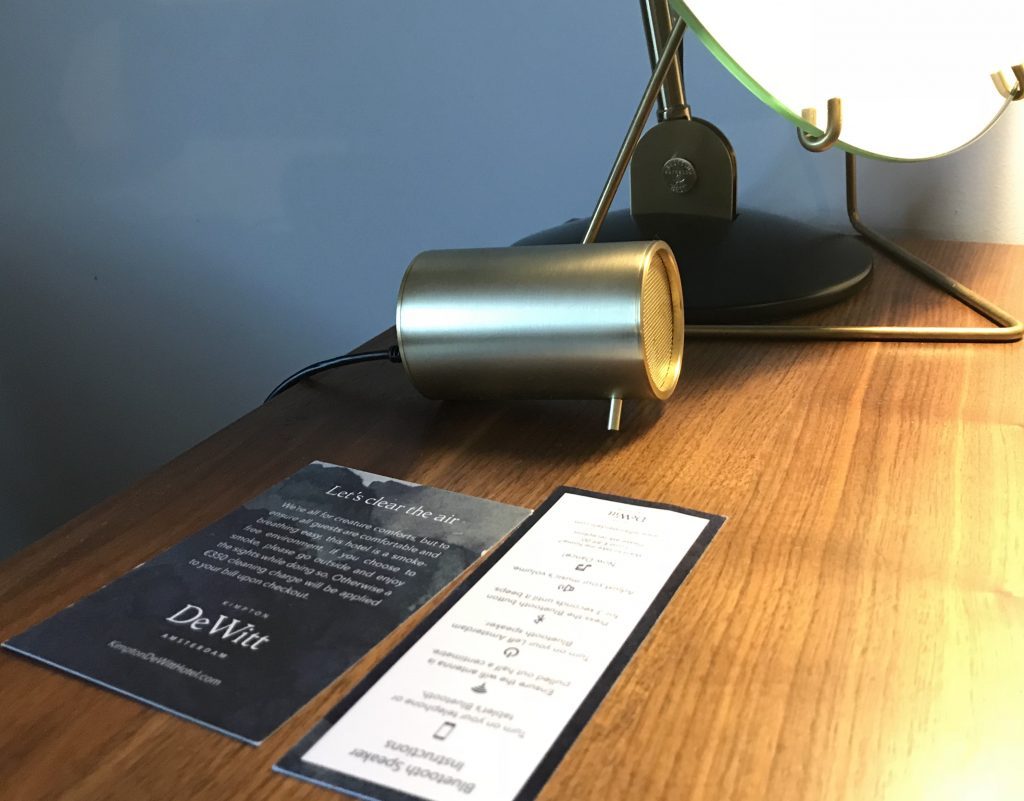 In the room, there was also a modern espresso machine with different types of capsules, which was in contrast to the traditional tea can and the two cups with typical Dutch designs.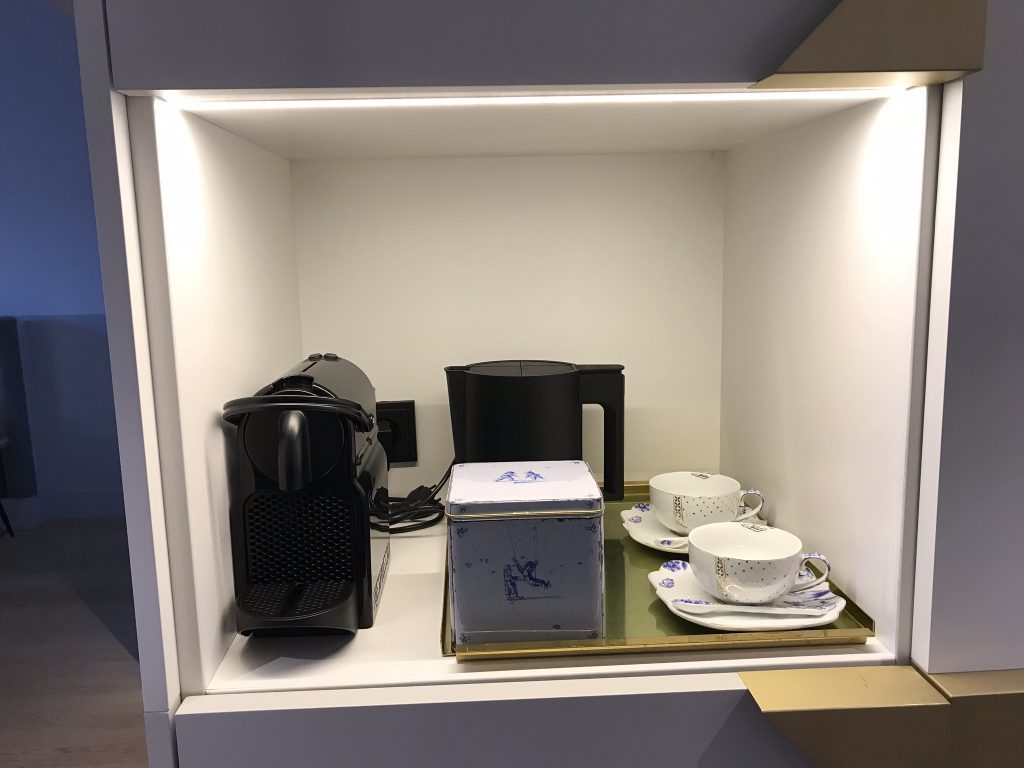 At the bedroom door, instead of the usual bell, there was an animal-shaped metal knocker. I had never seen anything like this in any other hotel. Very creative!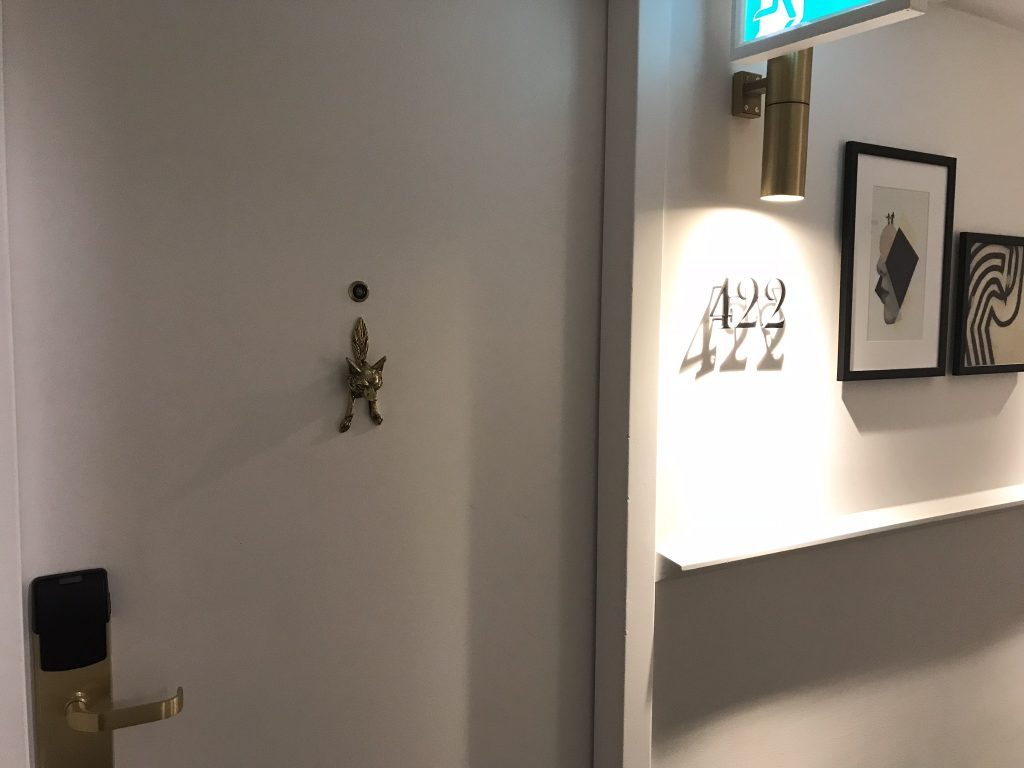 As the room had been prepared minutes before they gave me the keys, they did not have time to leave the welcome gift. When I came back at the end of the day, I found a plate of sweets, a bottle of red wine and a handwritten card. I like that they had bothered to write on the card, rather than using a printed letter as many hotels do. This shows attention to detail and, above all, they value their guests. Congratulations to the hotel team!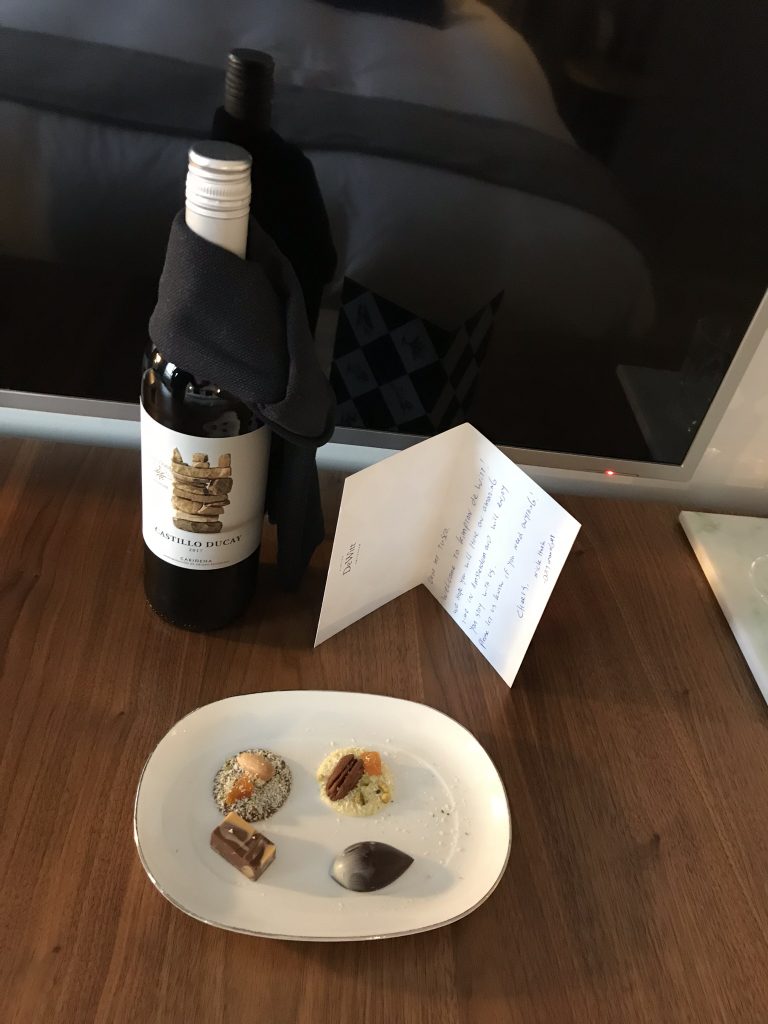 As I have said above and will repeat, the room was great! The decoration was a perfect mix between the new and the traditional.
Bathroom
Although it was not very large, the bathroom was excellent. It did not have a bathtub, but for me, it does not make any difference since I never use it. However, I imagine that for some people this might be a negative.
The shower was great, being a waterfall shower with good pressure. It was great for relaxing after a day walking around Amsterdam. The bathroom tiles made a beautiful contrast with the black sink and mirror surround, and the lamp on the right-hand side gave a special touch.
Bath products, instead of being miniatures like in many hotels, were in large shower-side tubes and were branded by Marie Stella Maris , a company of Dutch origin that seems to be focused on sustainability and the rational use of natural resources.
There was also a small notice in the bathroom stating that if the guest had forgotten something such as toothbrush or toothpaste, to contact reception who would provide these items.
Breakfast
Breakfast was served in the restaurant downstairs, in a space with large glass windows that overlooked the street and was quite pleasant. The service as a whole was good, the attentive waiters were always keeping an eye out to see if I needed anything.
The selection of bread, cold meats and hot food were more than enough and, if I wanted to, I could still order omelettes cooked to order. One aspect that I noticed that could be improved was the pastries and cakes as they did not have many choices. There were only a few croissants with chocolate or dried fruit and nothing else.
Reception and Bar
On the ground floor, in addition to the reception and the restaurant I mentioned, there were also three very comfortable seating areas that reminded me of room in a house. Everything was nicely decorated with a modern feel, and I noticed that guests used these spaces all the time.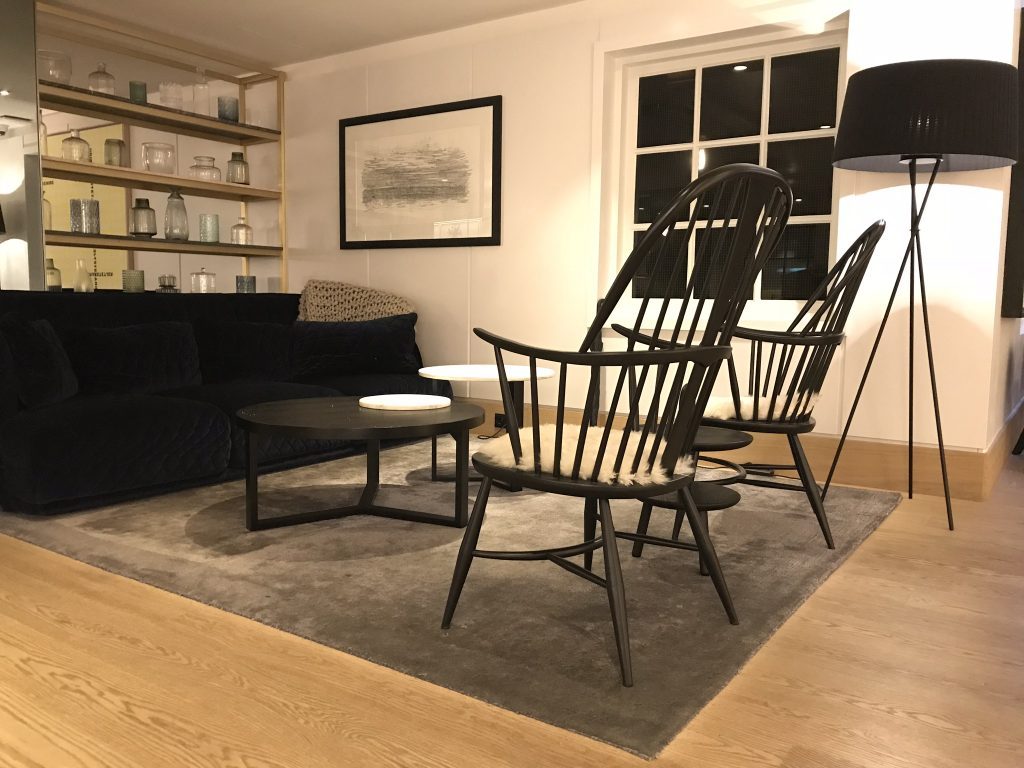 Reception
The internal garden gave a special touch, the plants and the hanging straw chairs gave a relaxed air to the space. It was too bad I could not use it on any day of my stay because it rained heavily while we were in town.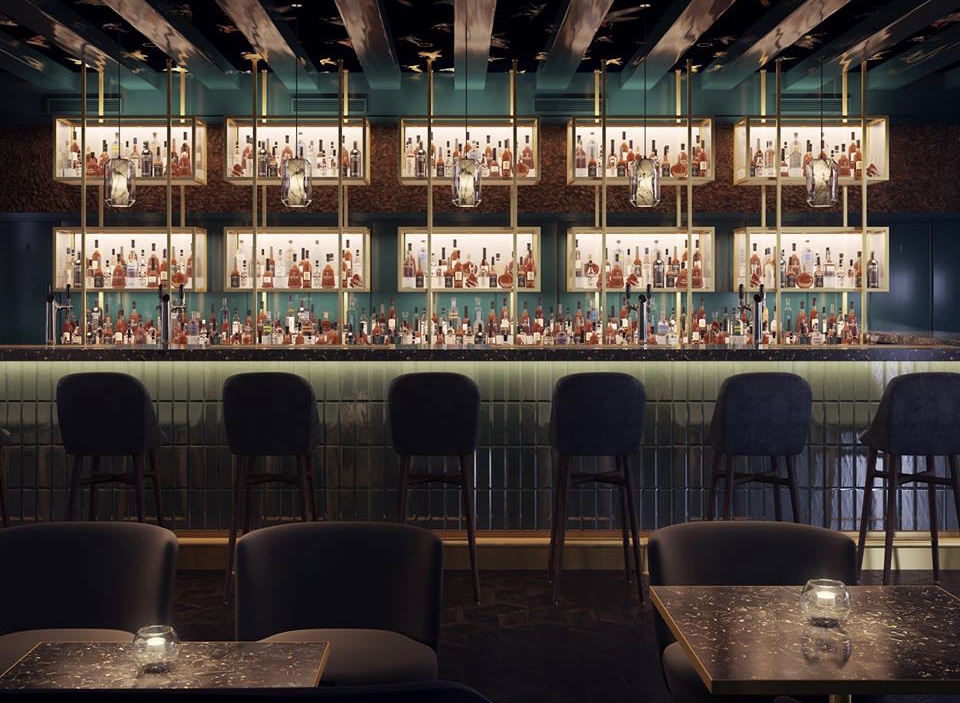 The bar was also very nice, and we would end our nights there having a few beers. The lighting and music were excellent, so much so we could even forget that we were in a hotel bar.
Facilities
The hotel has a small gym that is open 24 hours for guests but do not expect too much. The equipment boils down to treadmills, bikes plus some weights and balls for balance and abdominal exercises. I glanced quickly, but I did not want to use it.
Hotel impressions
In my opinion, the transition between the old Crowne Plaza and the new Kimpton De Witt was excellent as it brought a modern and luxurious hotel to the centre of Amsterdam. Of course, I only stayed there for three days, which is not much, but during that time I had nothing to complain about. The hotel was very well thought out to make guests feel at ease.
The hotel design is impressive particularly to people like myself who pay attention to detail. Even the room floors were attractive, a space that is ordinarily boring in many hotels. Even my cousin Josi, who is not into design noticed how beautiful it was.
The hotel staff are also to be commended, particularly the concierge. They were accommodating when we needed information about the museums and how to get to them, including giving us tips on the best times to go.
How to Book
I made my reservation directly on the IHG website and paid with points. Each night goes for 50,000 points, or you can also combine points and money starting at 35,000 points. If you do not have IHG points, the best strategy is to make a flexible booking (which can be cancelled) and keep an eye on the promotions. When there are thirty days to check- in, make an advance purchase reservation that always costs less and cancel the flexible one.
Also, keep up with the IGH Rewards Club promotions where they sell bonus points, sometimes up to 100% of the value of the points purchased. If a promotion appears and you decide to use the points on a specific trip, be sure to check availability for points with the hotel and the dates you want before buying them!
Conclusion
The hotel definitely exceeded my expectations, and when I return to Amsterdam, the Kimpton De Witt will be one of my top choices. The entire staff was very professional and attentive, which in my opinion makes all the difference in the guest experience.
Those of you who travel a lot and have status in hotel loyalty schemes know very well how inconsistent the recognition of the benefits can be. At Kimpton, I did not have that problem. I was upgraded to a room above what I had booked, they offered me the voucher for a drink in the bar, gave me a welcome gift and offered me late check out.
As it was my first time in a Kimpton hotel I was not quite sure what to expect from the hotel style, but what I saw impressed me. They found a perfect balance between modern and traditional but reflecting aspects of Dutch culture.