Virgin Atlantic mini review
I have reviewed Virgin Atlantic's B787 a number of times which you can read here. However, since Virgin have recently taken on celebrity chef, Donal Skehan I thought it would be worth a quick look at their recent changes. The emphasis is on fresh, healthy sustainable food. You can read about the new food in this article.
Heathrow Clubhouse
Setting aside the restaurant, the Clubhouse was as good as usual, and I had a couple of particularly good treatments in the spa. It was the first time I had tried the complimentary head massage as I am always slightly concerned I will come out looking like a scarecrow! This was a great treatment performed seated and included some neck and shoulder massage as well. I also had a particularly good espresso martini which I had not tried in the Clubhouse before.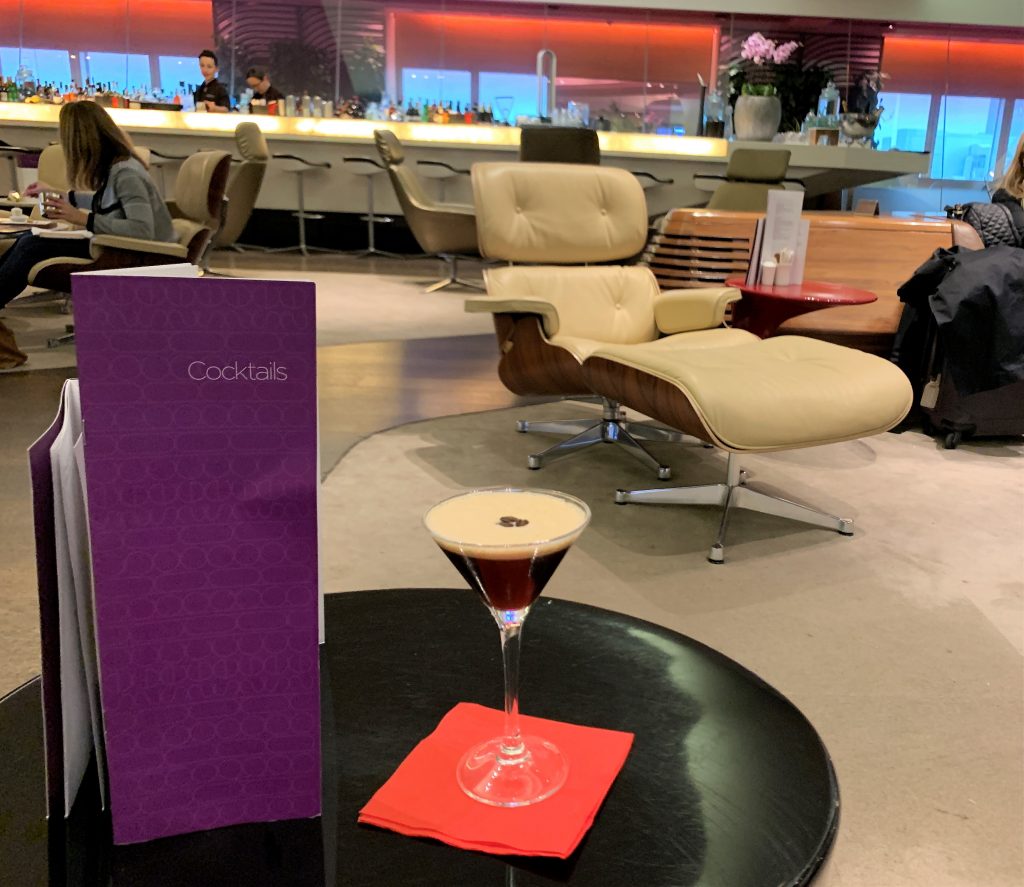 The restaurant menu had changed completely. Often before a flight, I don't want a full meal but, on this occasion, I had arrived very early for my flight and was looking forward to some lunch. I have to say I found the new menu very disappointing. Previously there had been a huge range of choice with tapas, starters, mains, desserts and bar snacks. I will admit the menu was too large before, but it now seems to have gone the other way. Here is the main menu: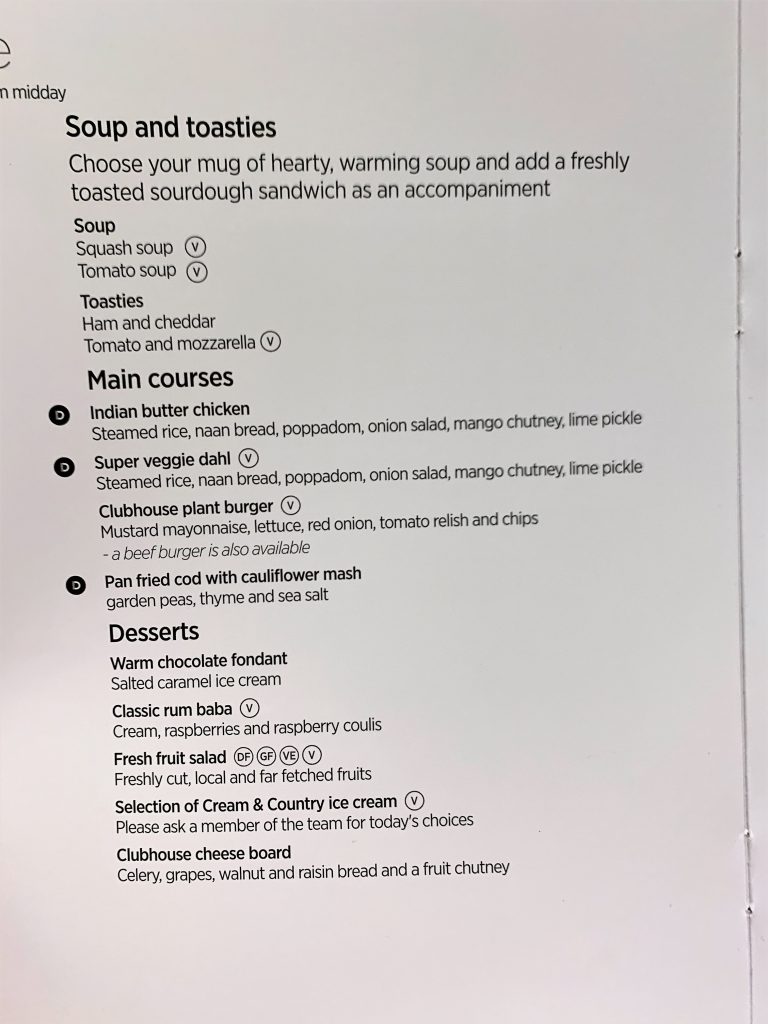 There were also a few bar snacks which I ordered a few of. I thought the portion sizes were a bit silly with the deviled egg consisting of half an egg. I know it's a snack but that it is a bit ridiculous. There was also afternoon tea which from what I have seen is actually very good. The afternoon tea is by Eric Lanlard, and you can read more about it in this article. Since it would have been a bit tight with my flight to order tea, I stuck with lunch. In the end, I didn't fancy any of the options, so I went with the deli counter for some salmon and salad which was very good.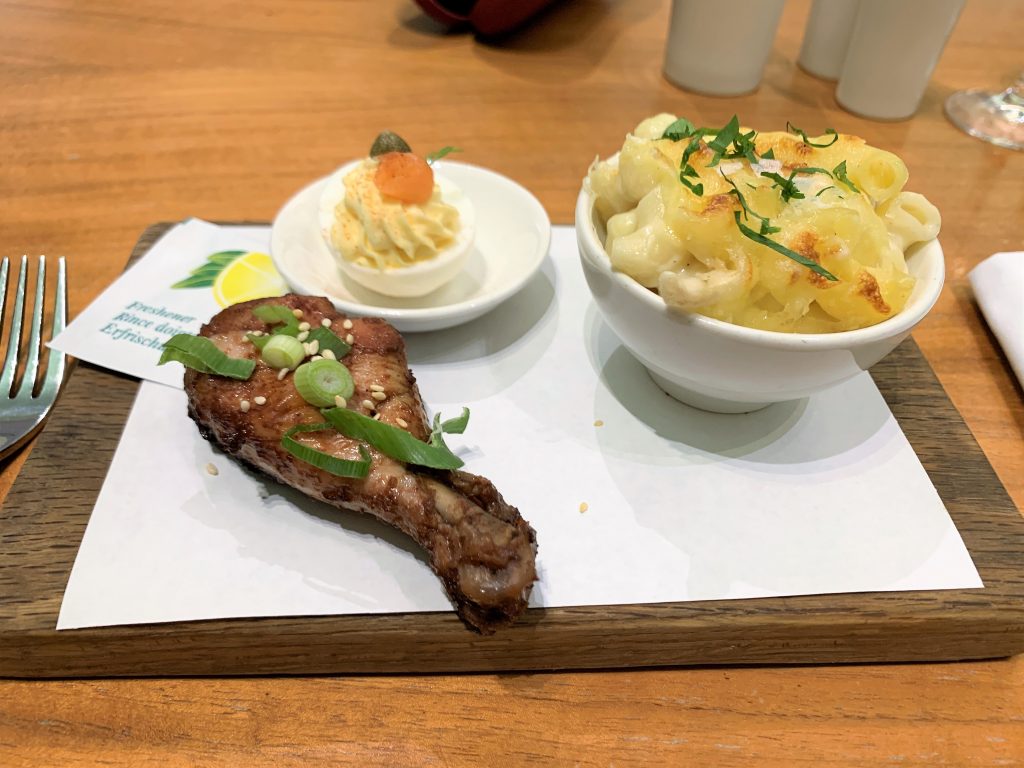 Onboard
Onboard there were two new additions to the menu. The first was the low and no alcohol cocktails that I talked about in this article. I decided to take one for the team and order a low alcohol cocktail! Here is the cocktail menu: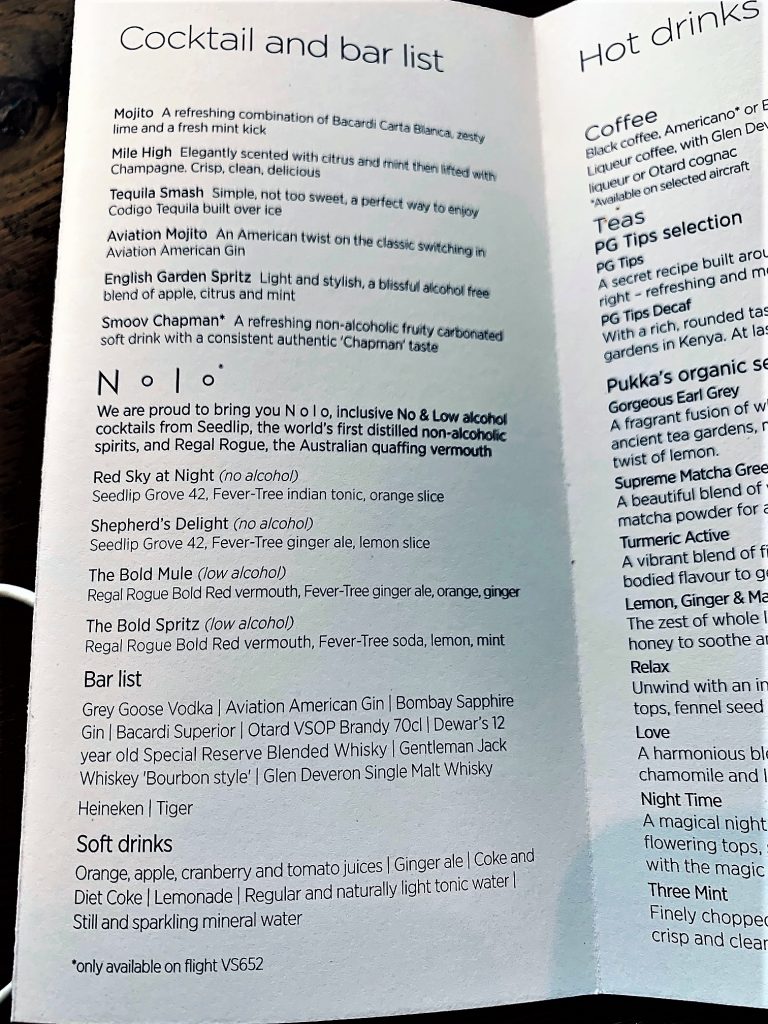 I went for the Bold Spritz which contained vermouth, soda and mint. I actually really enjoyed this drink, more than some of the alcoholic cocktails I have had on Virgin. It was well balanced and not too sweet or sharp like I find many of the cocktails. There was a faint hint of alcohol to make you feel like you were having a proper drink, but it was refreshing too.
The food menu was similar to before: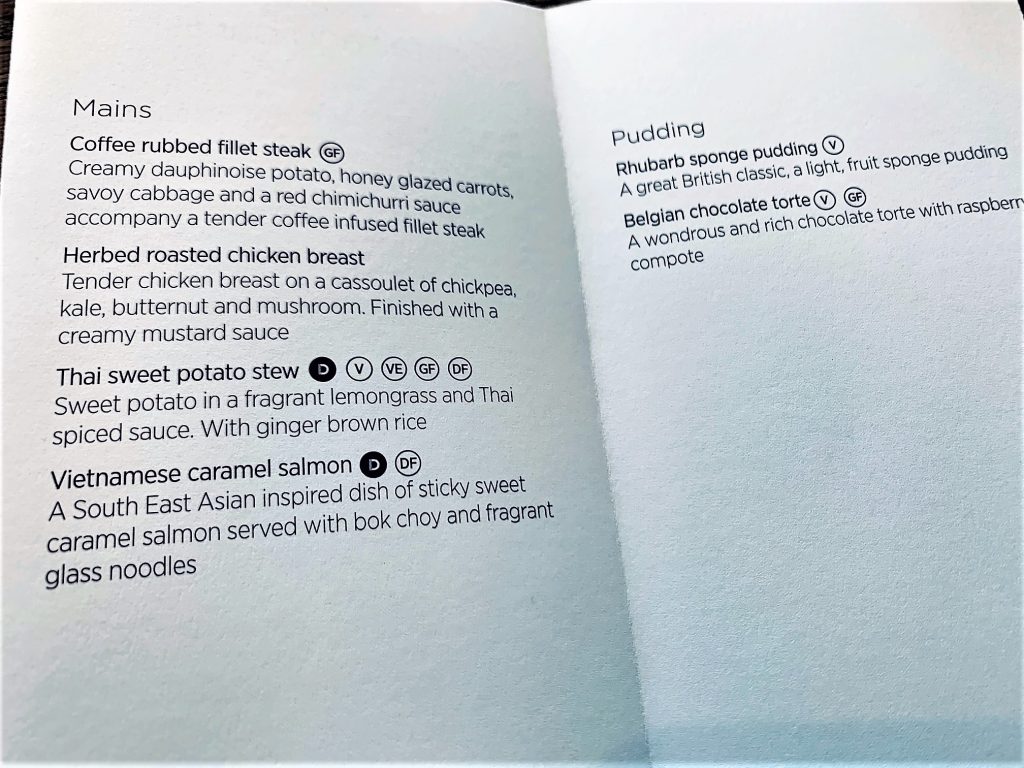 I went for the cauliflower soup to start which was pretty average although the blue cheese was a nice touch. (please excuse the strange hue to the photos – Virgin's mood lighting was rather fierce!)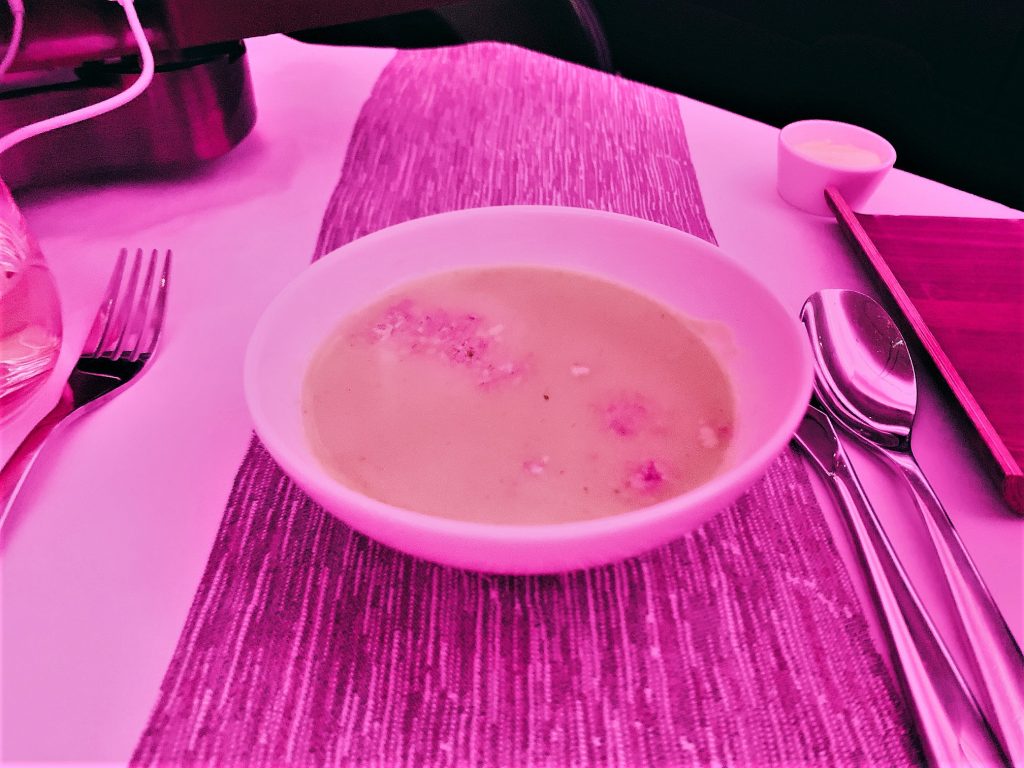 I then, of course, had to try one of Donal's dishes. Being a fan of Asian food, I went for the Vietnamese caramel salmon. The salmon was a little overcooked as is often the case onboard but I really enjoyed the dish anyway. The salmon had a tasty sticky glaze on it, and the noodles were not overcooked or dry which is hard to do in an aircraft oven. The dish has a good kick to it with some fresh sliced chillies and coriander on top.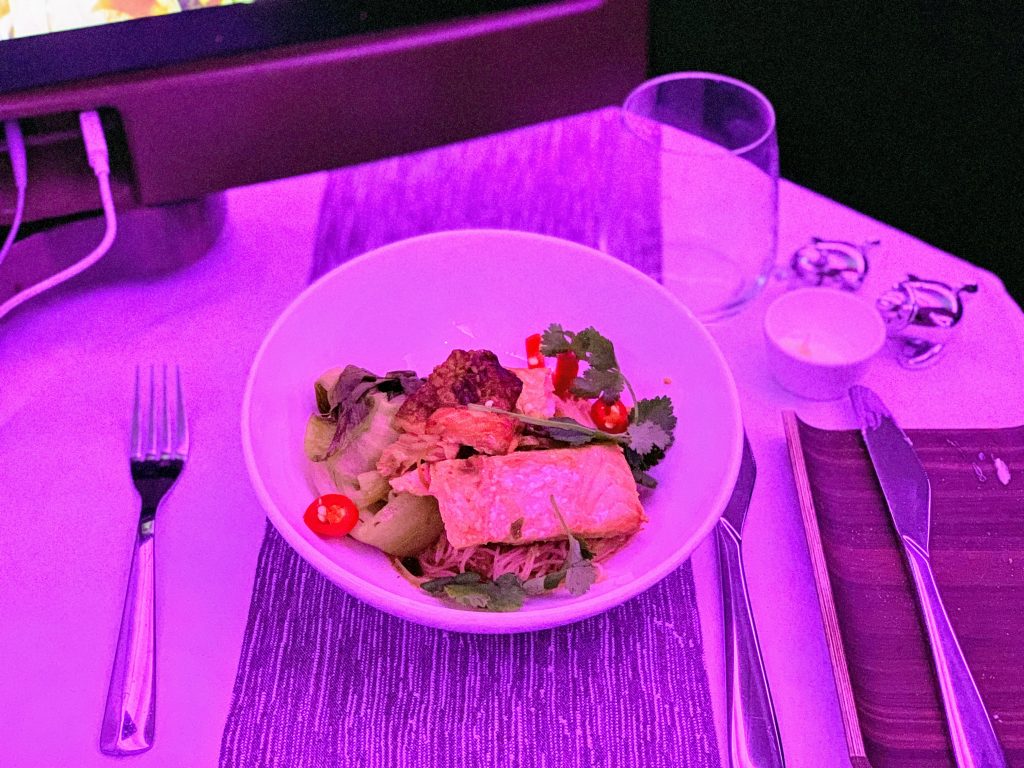 The breakfast was also different from what I have always had on Virgin. I don't know if this is due to the route as I have only ever flown US routes with them. Gone were the spinach and chives in the scrambled eggs. I was pleased to see you could still select which items you wanted for the cooked breakfast though. The scrambled eggs were still pretty good for plane food. Often you get scrambled eggs, and they are one solid lump or very dry. The eggs were still moist and seemed freshly cooked. I was not a fan of the English muffin which in my opinion wasn't the greatest idea. I presume it wasn't toasted which it made it very stodgy and dry. I would have much rather they kept the spinach as that was always one of the highlights of the breakfast for me.
Electroflytes
When I spotted an advert for Electroflytes on Instagram, it sounded like a useful product for a frequent flyer. The company were kind enough to offer a free sample to both me and Roving Reporter. We then tried them out on our separate flights to Cape Town via Johannesburg (RR on BA and me on Virgin).
So what is Electroflytes? Electrofyltes claims to help reduce the negative effects of long-haul flying. This includes insomnia, fatigue and nausea. ElectroFlytes is an all-natural liquid electrolyte concentrate, designed for frequent flyers. It is designed to help your body minimise dehydration and boost your immune system even on the longest flights. ElectroFlytes works by providing the body with the right balance of electrolytes. It ensures it 'manages' your fluid intake and you remain hydrated, especially during flying. In independent studies, the Electrolytes in ElectroFlytes have been proven to hydrate 74% more than water alone. This is due to Ionic minerals which are highly bio available and lead to a nearly 100% absorption. The Magnesium in ElectroFlytes should help reduce tiredness and fatigue.
The liquid form comes in a transportable bottle and contains no calories, flavourings or sweeteners. It can be taken before, during and after flying by adding a few drops into any drink. Including juice, tea and coffee, turning it into a more effective hydration solution. Despite there being different coloured bottles, they are all the same, and all are flavourless. When added to water in the right concentration you can't really taste it. It maybe has a hint of a sports drink at most though Roving Reporter noticed it more than me.
It is always hard to tell whether it made a difference or not as there are many variables when flying. I was on a B787, so you tend to feel less dehydrated due to the higher humidity levels on board compared to older aircraft. I did also have one low alcohol drink. Other than those factors I would say I drank the same amount of alcohol overall and the same or slightly less water than I would do on this length of flight.
I did actually feel better than usual after an 11-hour flight and definitely less dehydrated. Especially given I hadn't been that disciplined about drinking lots of water. Roving Reporter didn't notice any difference though.
Electroflytes come in a small 25ml bottle that is easy to carry in your liquids bag. I would definitely use it again as anything that makes even the slightest difference in feeling better after a long haul flight has to be worth a go! My only criticism would be that it would also be nice to have some flavoured ones (sugar-free) to make water more interesting to drink!