Today's review is from reader Gordon.
This BLOC hotel Gatwick mini hotel review was part of my Gold renewal – a BA trip to Tenerife, with an Avis Hire car to complete a BA holiday for double TP.
It's a few years since I've flow out of Gatwick, and with a relatively early outbound flight, I didn't want to risk any eco-terrorists blocking the M25/M23/Access to the airport, so I booked the BLOC hotel inside the South Terminal. This was a novel concept for me, and I was sort of expecting something along the lines of a Yotel 'box', but about 2 weeks before departure, there was an offer to upgrade to the Runway Suite, still including the 6 days of parking – for only £40 more. I say "only".. it was still £362, but this was still far less expensive than any room+park at the Heathrow Sofitel. For £40, I thought it would be worth a punt.
Arrival
The directions indicated to go to the Short-term car park 1 and park on any level other than L2. As it turns out, this was not good advice. Firstly, these hotel packages are meant to be part of the Meet & greet function, which IS in Car Park1 level 2. However, for some unfathomable reason, they still haven't sorted out M&G since covid, so this function is closed, and you are directed to park in ANY short-term car park – in which case, car parks 3 or 4 would be much nearer the terminal. Anyway, upon arrival, the barrier produced a ticket and opened it. We parked on L4 and took the elevator down, and walked through all the other car parks to get into the terminal.
The BLOC reception is on an upper level, so you take a lift up one floor to the departure level. This is where the tech kicks in. You can check in via the app, and your phone becomes your key and full control of the room. I still wanted to check in at the desk so after a few mins waiting for a couple arguing with the receptionist as to why their booking wasn't in the system, we were seen, promptly checked in and issues keys. You need these keys (or your phone web app) to unlock the lift floors, which I liked; otherwise, anyone in the terminal could roam the corridors. Speaking of corridors, it was a long way to the end of the building!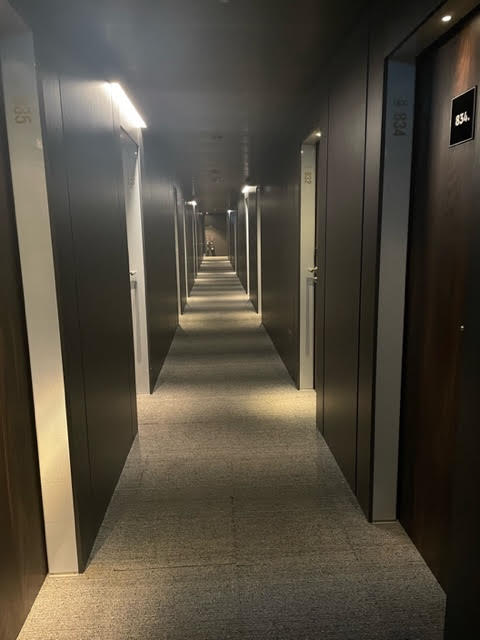 The Runway Suite
The room itself was larger than I was expecting. There was a LOT right about this room, but there were many things that just screamed 'style over substance'. This review may seem negative, but I want to state now, that I would absolutely stay here again…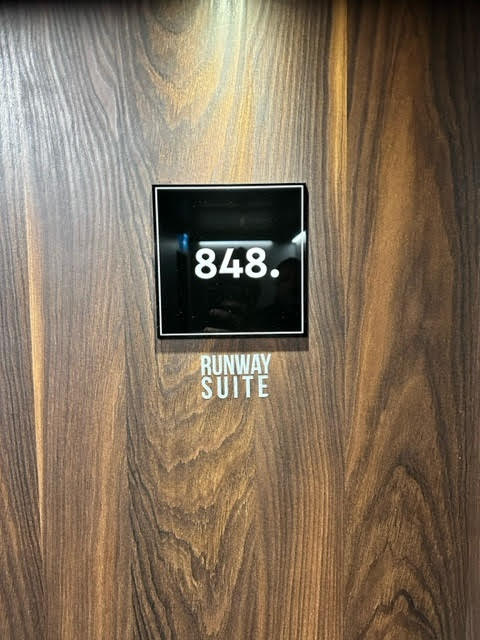 On the positive side, the room did what it said on the tin. Two sides of the living room are glass and look over the runway and terminal buildings. The breakfast bar is a perfect vast space to spread out all your tat, electronics etc.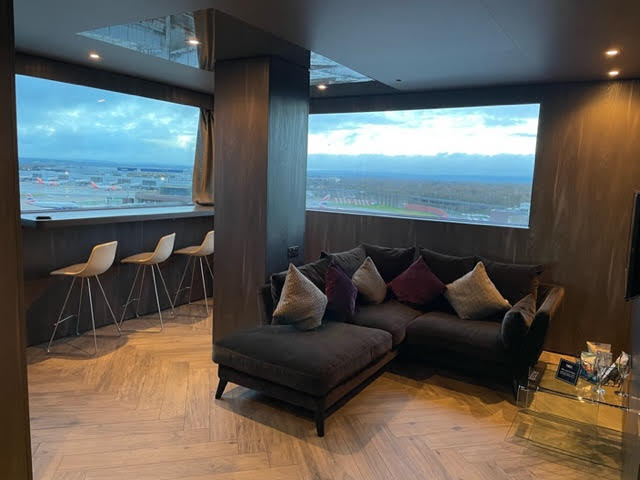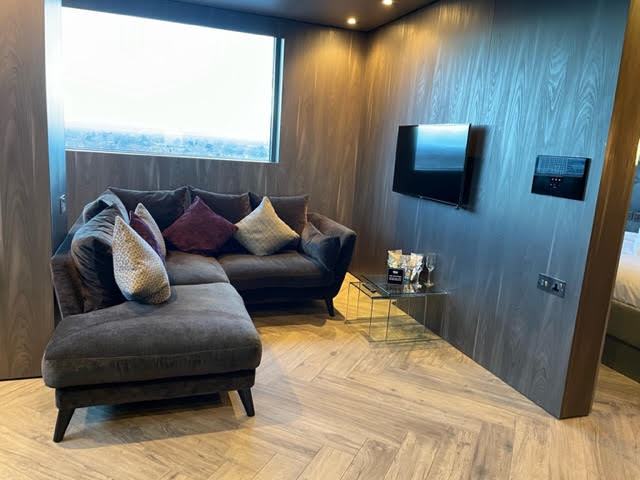 There was a basket of complimentary snacks that would put a Club World 'club kitchen' to shame, a bottle of Prosecco, water and soft drinks in the fridge, all comp.
There was a kitchen with the aforementioned fridge, which even had ice in the icebox. A kettle, a Nespresso machine which a selection of capsules, milk sachets etc., on the counter with some cookies. Clearly, at one point, the designer had doors which closed over this but had long since broken.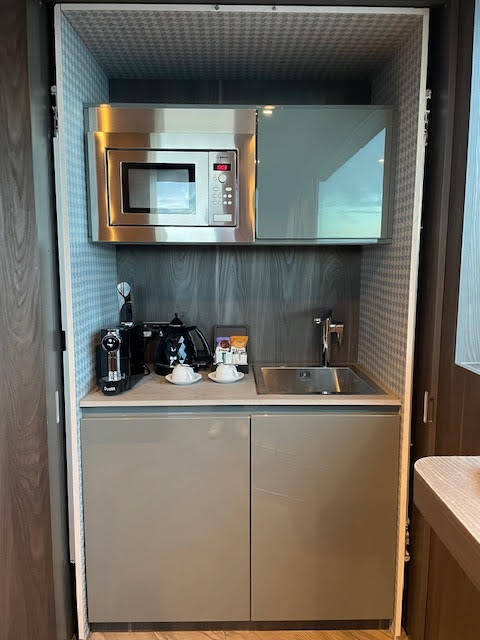 The bedroom was really minimal, which at first I really liked. Good size bed, very comfortable, crisp sheets, bedside tables with lighting controls, USB plugs and UK sockets. The walls and ceiling were made of padded fabric which gave excellent sound dampening. Then the style over substance crept in.. the window had a fancy electronic blind that looked and closed like a blast door on the Death Star – but they then put a nice purple LED around it so even when closed, the blackout effect was lost. The bedroom also had no actual door, so any light from the living room, bathroom or lounge could stream in. I was like, "REALLY!?"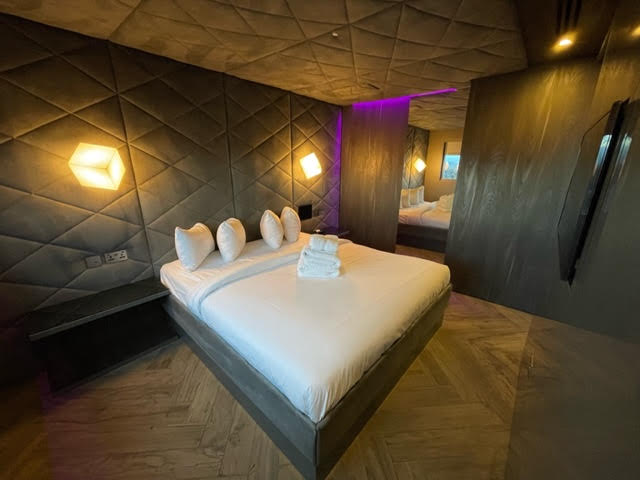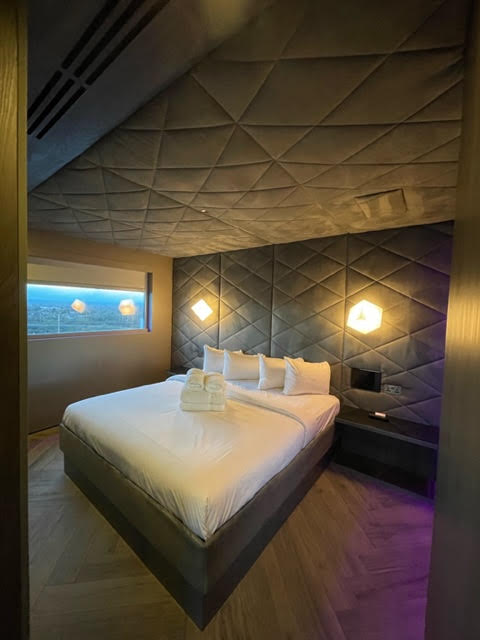 Despite all of this… HOW COOL does it look?
Then there was the bathroom… words failed me. So walking into the bathroom, you are first aware that it's dark.. and I mean really dark. Yes, it was evening, but the walls were black, the floor was black, and the sink, shower, and toilet – were all black. Even the mirror is black. The only light comes from what felt like a single 40w bulb – it didn't stand a chance. It should come with a public safety warning, as shaving in this room would be something akin to visiting Sweeny Todd. But don't worry, you can't shave anyway, as the plug has two holes in it to prevent you from filling the sink. The shower was clearly "designed", too… you had an overhead rain shower, waterfall, body jets, or a handheld – possibly the most ways to shower in 1 cubicle. As ever with design, there were no indicators, so it was Russian roulette on whether you got a cold body jet or a scalding waterfall until you worked it out.
Then I saw the sign, above the mirror… "Designed by Armani". It was all very lovely, but wholly impractical. Anyone putting makeup on in there would come out like Aunt Sally!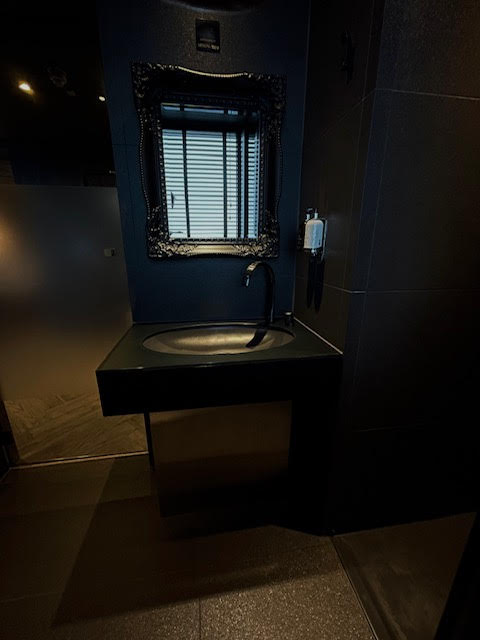 Trust me; this one is me using every magic trick my iPhone could muster to brighten it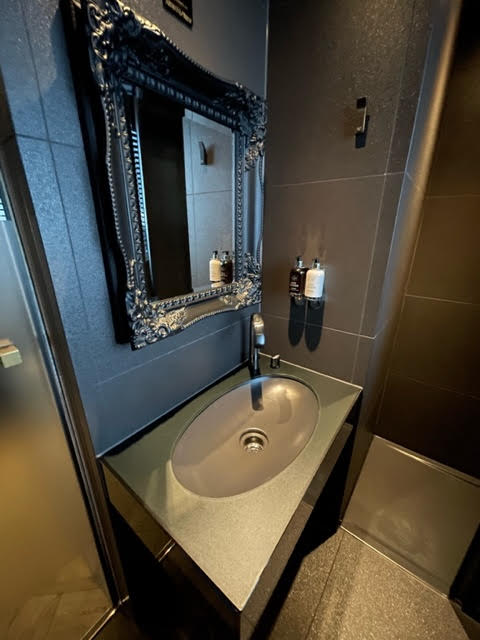 Lastly, this may be a personal choice, but I am not a fan of GLASS bathroom doors, where even with a mid-panel frosting, you can see the outline of someone 'on the throne'. Plus, this door didn't lock and had gaps top and bottom
Conclusions
If they made the sink plug work, fixed the flickering lights in the lounge, made the purple LED go off when the bedroom blind is closed, and put strong lighting in the bathroom, it would be near perfect.
One additional benefit you get (not sure if it's just with VIP rooms) is your room key gives you a discount at Nero, a specially priced menu at Giraffe and other food outlets in the terminal, and a Fast Track pass for 2 for "Gatwick Premium" if you need it.
I may have been a bit nit-picky here. Overall the room was really nice and comfortable. The comp snacks and Prosecco were a nice surprise, and given the proximity to the runway, the room was all but silent. The curtains in the lounge, blind in the bedroom, lighting and air con were all controlled by touch panels on the wall OR the BLOC web app. The lift to the floors and access to the room could also be done through this web interface. The wifi was ok, but tbh my 5G was faster, so I didn't use it much other than to test the web app.
For one night before a flight, The BLOC hotel Gatwick is perfectly fine. But for more than one night, some of those things would annoy me.
Interested in more hotel reviews? You can visit our Hotel reviews here. There is also another review about The BLOC hotel Gatwick here which might interest you which is for one of the standard rooms which are much cheaper.
You can book a hotel for The Bloc Hotel here.