Today's article comes from my friend and regular reader Ben. Many of us are still dreaming of how to celebrate a special occasion that perhaps we missed during the pandemic, (me included) and this sounds like an amazing way to have a fantastic birthday. When Ben told me about his plans, I asked him to share how he achieved this as I am sure many readers may be interested to know how to do it.
This article also shows how to maximise vouchers etc to get the best value for your Avios.
For those not familiar, Ben is a BA Gold Guest List (GGL) Executive Club Member like I am. This means that every year he gets two "jokers" or space release vouchers. This means that if there is space in a particular fare bucket (A for First and D for Club), he can release seats for Avios redemption as long as the seats are for sale. There does not need to be Avios availability.
Background
It doesn't need to be said, but 2020 was an incredibly different year overall for travel; we all know this. December 2021 is a milestone for me, turning 40, and so enjoying travel and travel with friends I wanted to get to planning something fun.
Prior to covid, I had planned for a trip to Santiago, but given some friends and myself love a good weekend in LA and Vegas, and given the lack of opportunity for this recently, I decided to change my plans to this. I'm planning like this trip will happen (and I hope travel is generally more normal by then).
For no real reason other than pure fun, I decided I wanted to plan the day flight from LHR-LAX to book all 8 seats in the first cabin of the BA281 flight, currently scheduled to be a B77W that has the latest First product with the doors and Club Suite. I'd decided on this idea of booking all 8 seats of a first cabin, no matter where we were going a number of months ago, and had been planning for this.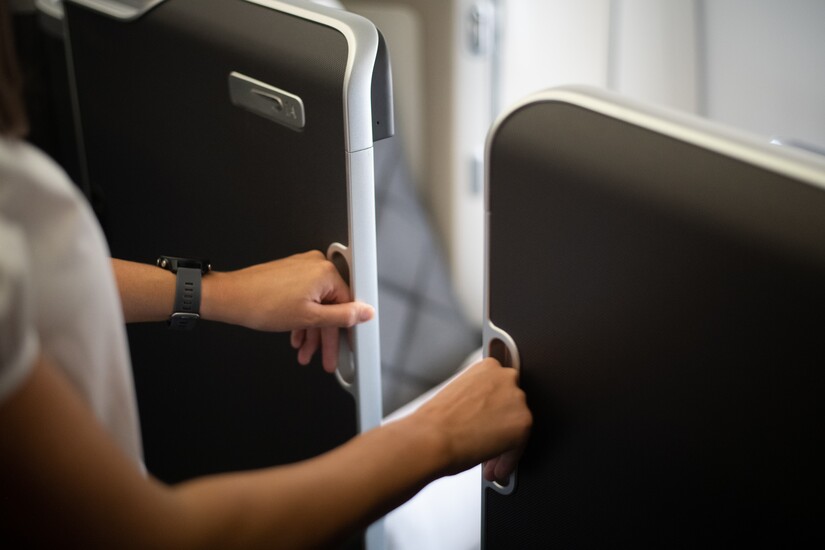 BA has two fare buckets for First Class. From watching how BA put tickets on sale for this flight, there looked to only ever be 4 A class first tickets, meaning I'd need to plan for 4 A and 4 F tickets to achieve the goal, along with getting these booked before anyone else booked any seats in the same cabin on the flight.
I'd intentionally been saving up Avios and vouchers I'd been earning, most of which had landed before March. With the recent 40-50% buying Avios promotion, I decided I'd look to execute this booking using points rather than cash fares …prior to the Avios sale I was intending to buy one cash ticket. Of course, using Avios for all the seats would give us plenty of flexibility too.
It seems BA rarely includes the First flights to Los Angeles in the cheapest First Sales, and even if they did this would only cover the A class tickets.
Booking Plan
Taking the above, I formed the following plan for three bookings to cover the whole cabin:
Booking 1 for 4 people
GGL Space Release… as well documented, this can release up to 5 seats in the A-class fare bucket. With only having 4 on this LA flight, that means I'd be able to release 4. To maximise my Avios use for these seats I decided to use:
*A GUF is a Gold Upgrade Voucher either for one person (1) or for 2 people. (2). You get these when you earn 2500 tier points and 3500 tier points with the BA Executive Club. It allows you to upgrade a cash or avios booking for free to the next cabin subject to the correct fare bucket being available.
This would mean I'd be able to get the first four seats for 250,000 Avios round trip – being the total required for a round trip in Club World, off-peak.
Booking 2 for 3 people
Gold Priority Reward, using double Avios to secure a seat 30 days out. As well documented, Gold Priority Reward allows you to book any cash seat. If you are a Gold BAEC member you can use this as much as you want by ringing BA to book.
Whilst this was an eye-watering 340,000 per seat (the 170,000 off-peak first price, x2), we were booking First seats from the F fare bucket which is the most expensive, so giving good value against the cash price.
Booking 3 for 1 person
This booking was for one of the groups that would be starting in Dublin, as that's where he lives. We'd again be using Gold Priority Reward for the Los Angeles flights, and aiming for a standard Avios redemption for the Dublin flights, assuming no one booked these seats before us.
With the way BA works for putting flights on sale 355 days in advance, we'd need to book the trips' outbound leg first 355 days before, and then get them all repriced and re-ticketed as return journeys when the return legs were released 355 days before. (more details here)
I decided to take the following approach:
If we worked on the basis all flights would start in London, and this means the 8 first seats for a round trip to LA should come in at ~1.6 million Avios, plus £5337.12 in taxes and fees.
We actually paid a few more miles (allowing for the Dublin flight, and with APD being lower in Dublin slightly less taxes). We also took advantage of the BA Avios purchase offer, with a 50% bonus, and got 300,000 Avios for £3215 – a pricey figure, but these would be going towards essentially buying a First ticket for 340,000 Avios, less than the cash price.
Create a booking to hold all the first seats in the cabin for £10/seat as the flight went on sale – this mean the seats would come off sale and allow me to call during the daytime when I was more awake. You get the £10 back when you confirm the booking. (find out more here)

Mindful of the call centres potentially being busy, this would also allow me to call back if the agent said the date was full etc – I'd rather not hold the agent on the phone for a length of time if people were trying to re-arrange travel etc
Making the Bookings
The day came, the flight went on sale and so I did my hold booking, £80 spent. I then called up the following day and reached a very helpful GGL agent, who confirmed the lines weren't too busy that morning and so we started the plan to excite the bookings planned detailed above.
First off, we had to cancel the hold booking and return the seats on general sale .. this would mean if I was unlucky, someone could book a swat before I did, but thankfully that didn't happen.
All in, it took a little over an hour to get the first bookings made for the outbound single trips and these were ticketed at the expected cost. A few days later, I called back to add the return bookings, which were not as time-sensitive here as we're taking the later BA268 flight back from Los Angeles, that is currently scheduled to be an A380. This still has 14 seats in First.
On the morning these had gone on sale, I called the GGL again and spent just an hour to get the bookings modified to be return bookings, and about 24 hours later these were all ticketed.
Summing Up
All in all, the booking wasn't difficult to execute and I had some patient agents who seemed to be happy to process these bookings, and a Golden Ticket (Gold members can reward good service by nominating staff for a golden ticket) was awarded to one of them.
An important reminder for me with this booking is that loyalty pays off. I wouldn't have been able to make this booking in all-cash.
In normal times I'm lucky enough to be able to travel a lot and can choose which Airline/group/alliance I do this with. Living in London, I generally push most of these flights to BA or another Oneworld airline to maximise the earning and burning in the Executive Club.
Now to look forward to December, and hopefully enjoying the Concorde Room before the flight!