This article will cover my Hotel Metropole review and other luxury options with deals. This review was part of a complimentary trip with Geneva Tourism Board in July. You can read my guide to Geneva here.
Hotel Metropole Location
For me, the location was perfect, right in the heart of everything. It is opposite the lake with great views and close to the shopping area, old town, boat cruises and lakeside gardens. It is also well situated for public transport with the no 10 bus leaving from almost outside direct to the airport and a tram stop a couple of minutes away too.
The hotel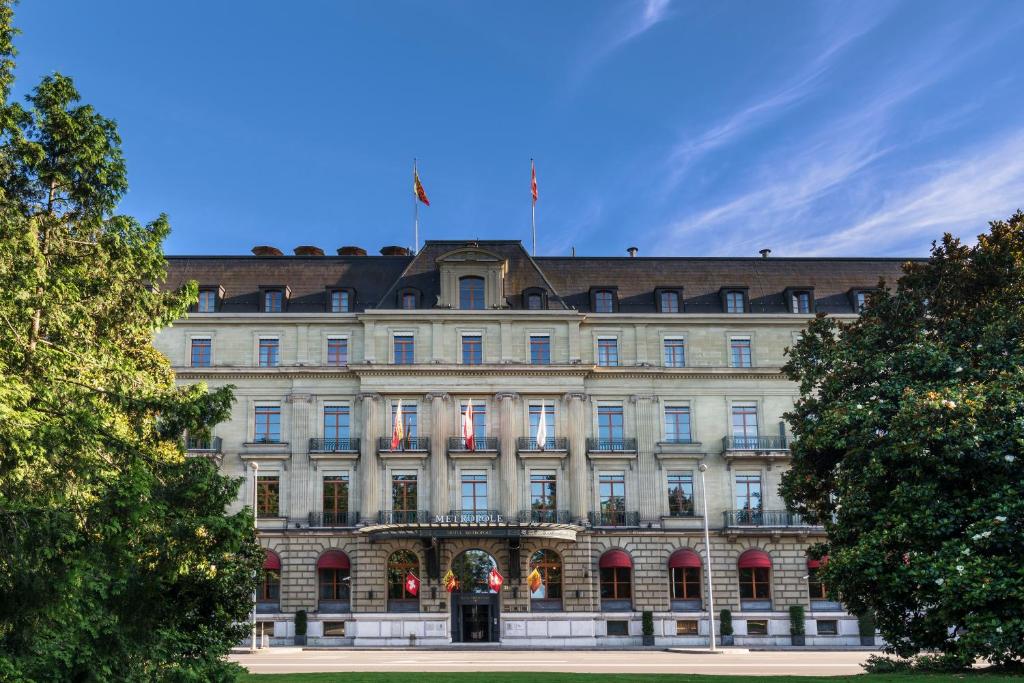 The hotel has a long history, was built in 1854 but now has a blend of classic and modern. The recent renovation has retained the historic façade, but now the hotel has a more contemporary interior.
There are steps up to the hotel at both entrances, so it's worth bearing in mind if you are mobility impaired. As soon as I arrived, a bellman came to take my baggage up the stairs for me. The Concierge and Bell desk are both as you walk through the doors before you go up the stairs. Both of these delivered the old-fashioned 5* service which is so often missing now. Nothing was too much trouble and if I was loitering around, they would enquire if I was waiting for a taxi or needed help.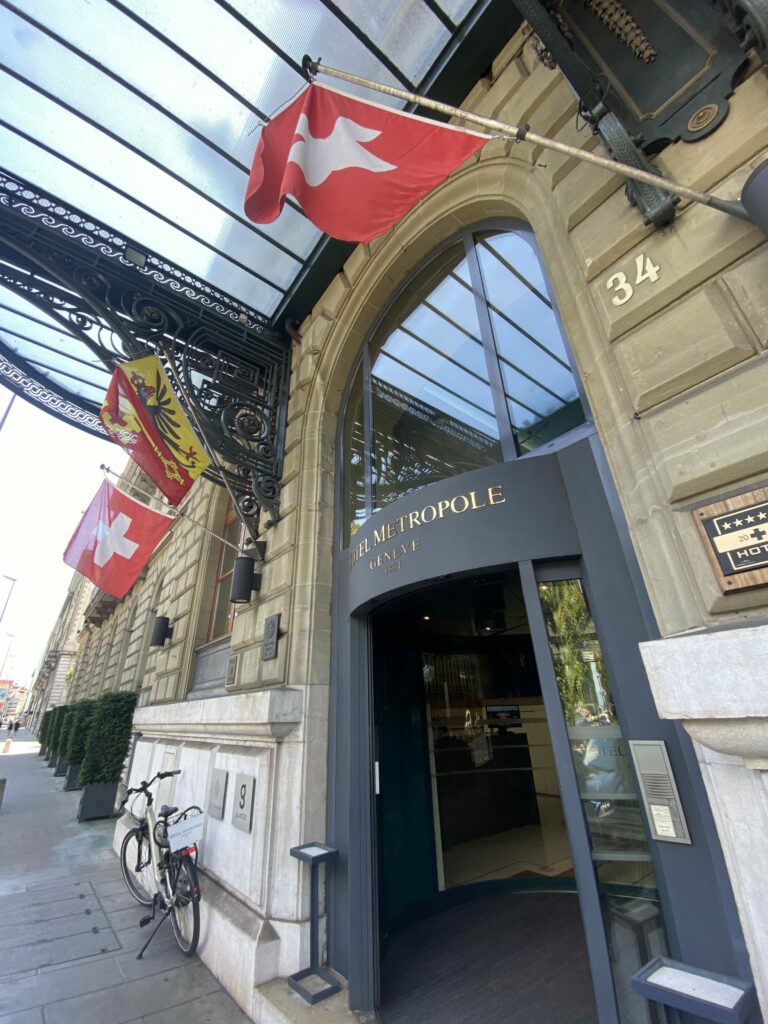 I went to reception to pick up my keys and found the staff again helpful and friendly. When I returned later to sort out something, they immediately remembered me which was good.
Room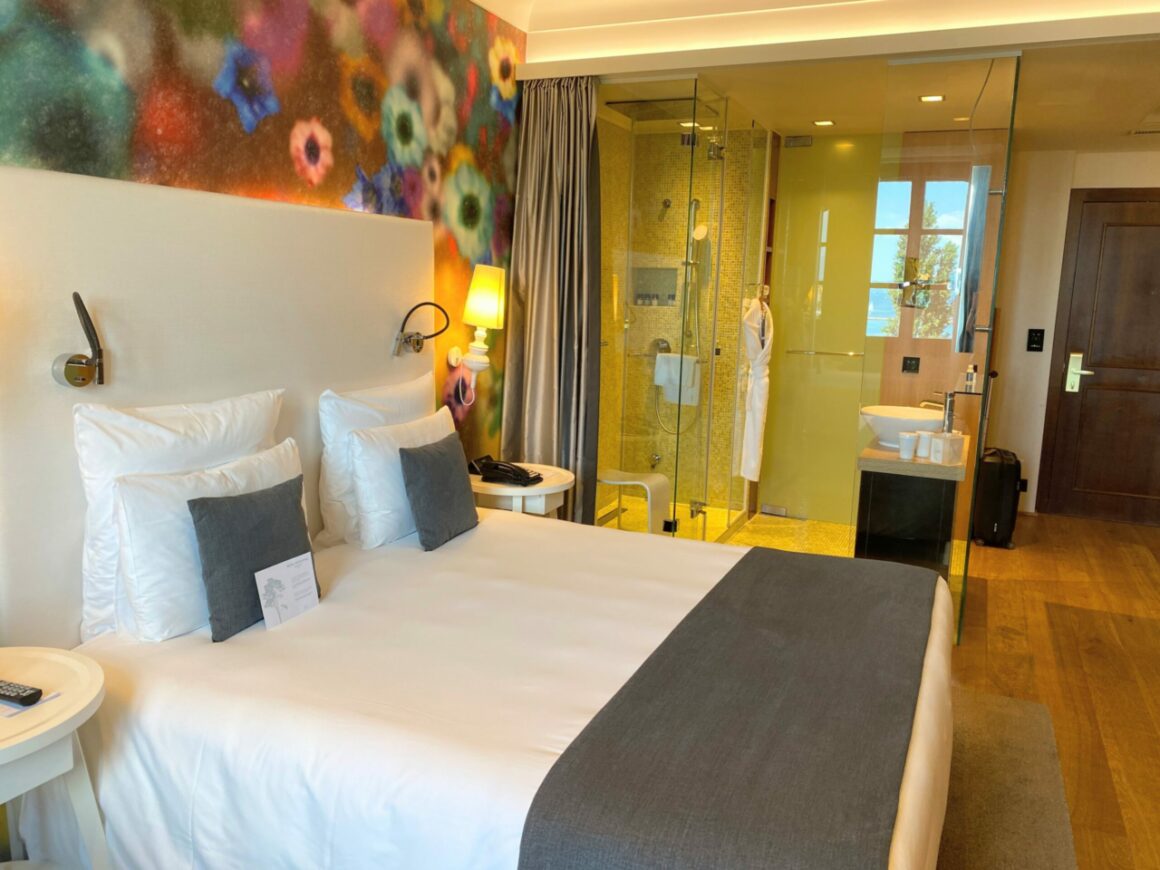 I had a Premium category room, but they also have suites.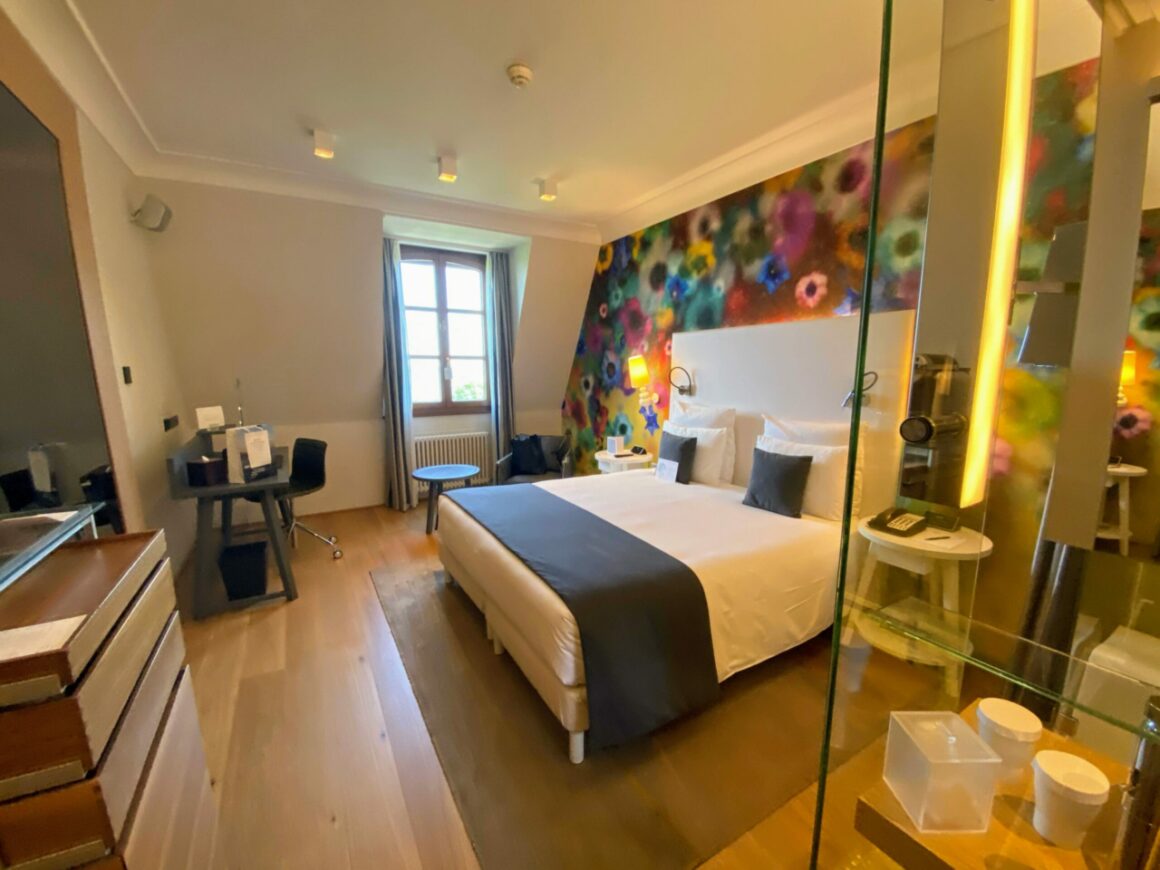 I'd recommend going for the Premium rooms as they have a lake view and are on a high floor. Some have full-length doors and a Juliet balcony.
The room was definitely modern in feel and had an open bathroom apart from the toilet, which may not suit everyone. I found it well equipped with a Nespresso machine and a good selection of high-end teas.
Two large bottles of still and sparkling water were in the fridge, and further water was left at turndown.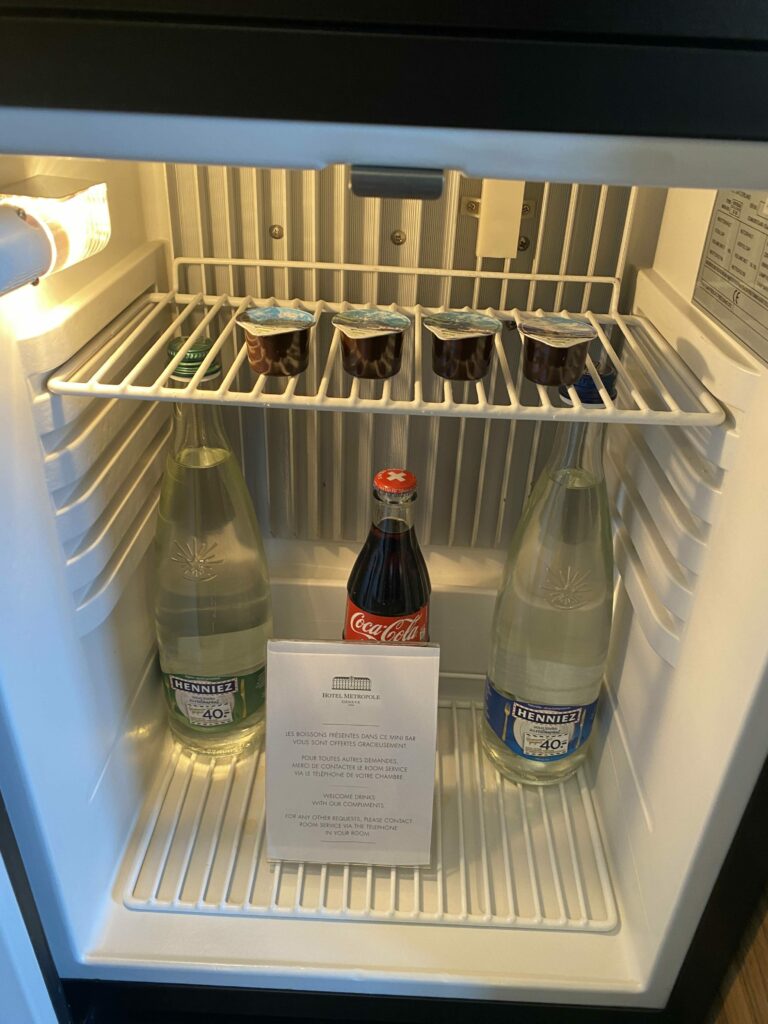 Unfortunately, they also left a white wrapped bar of Swiss chocolate that I didn't spot and sat on it while watching TV. Let's just say that it looked like I'd had rather an embarrassing accident on the white sheets!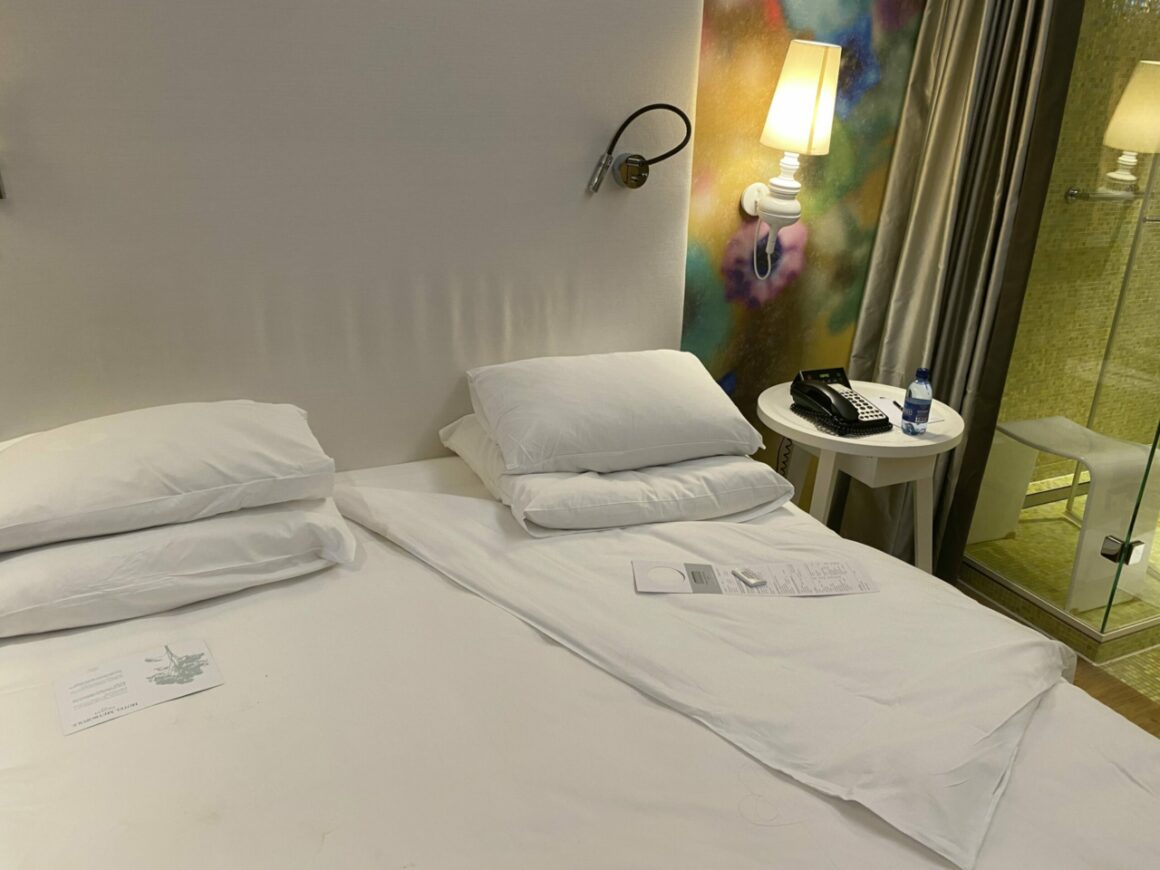 I found the bed comfortable with high-quality bedding, and there was an extensive pillow menu to choose from. I would have liked the room temperature a little cooler. There was air conditioning, but although you could set it on 14c as the minimum, it didn't feel like it ever got below around 20-21c during the hot weather. I did ask them to take a look, so I'd guess this is the maximum it can do when it's very warm. But it wasn't uncomfortable – I just like a very cold room for sleeping!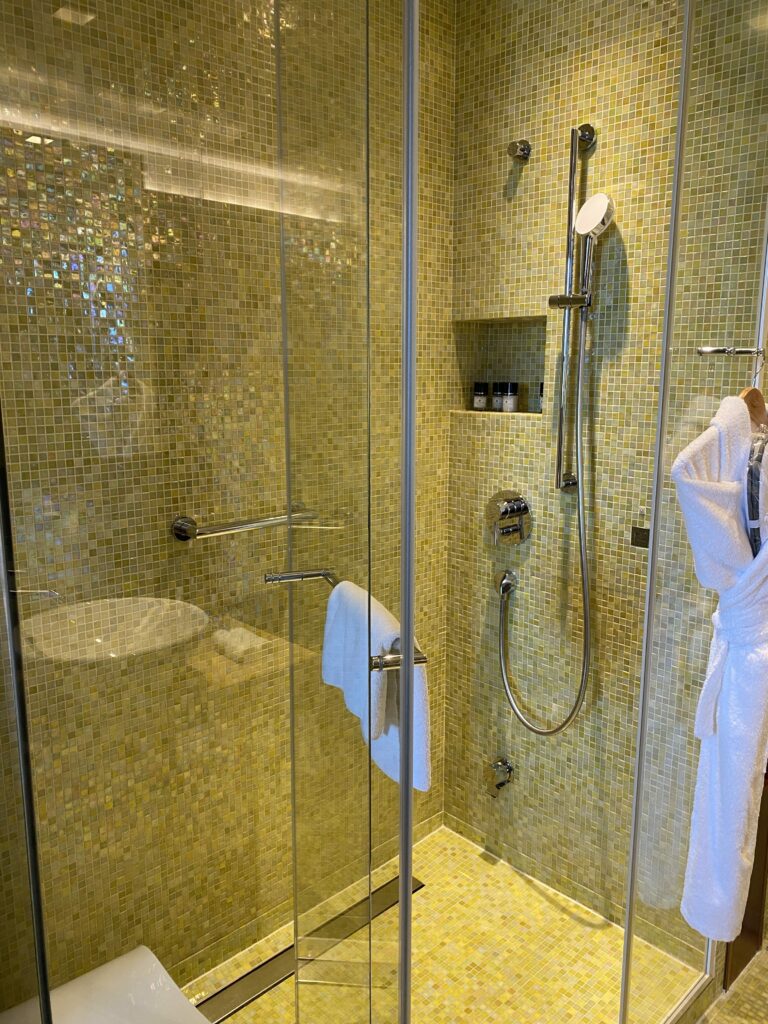 There was no iron, but you could request one from housekeeping which came quickly. The shower was large with both a rain shower head and normal shower head with decent pressure. I liked the toiletries, which had a neutral scent, although I was not familiar with the brand.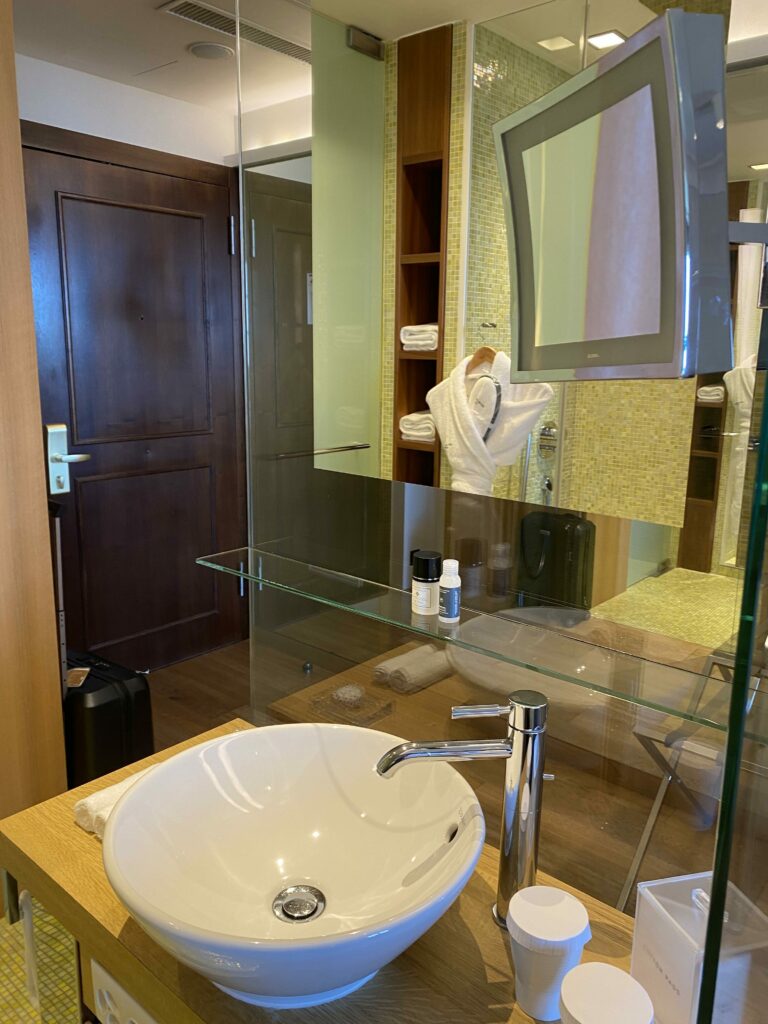 They even provided hand sanitiser too as well as a decent array of essentials.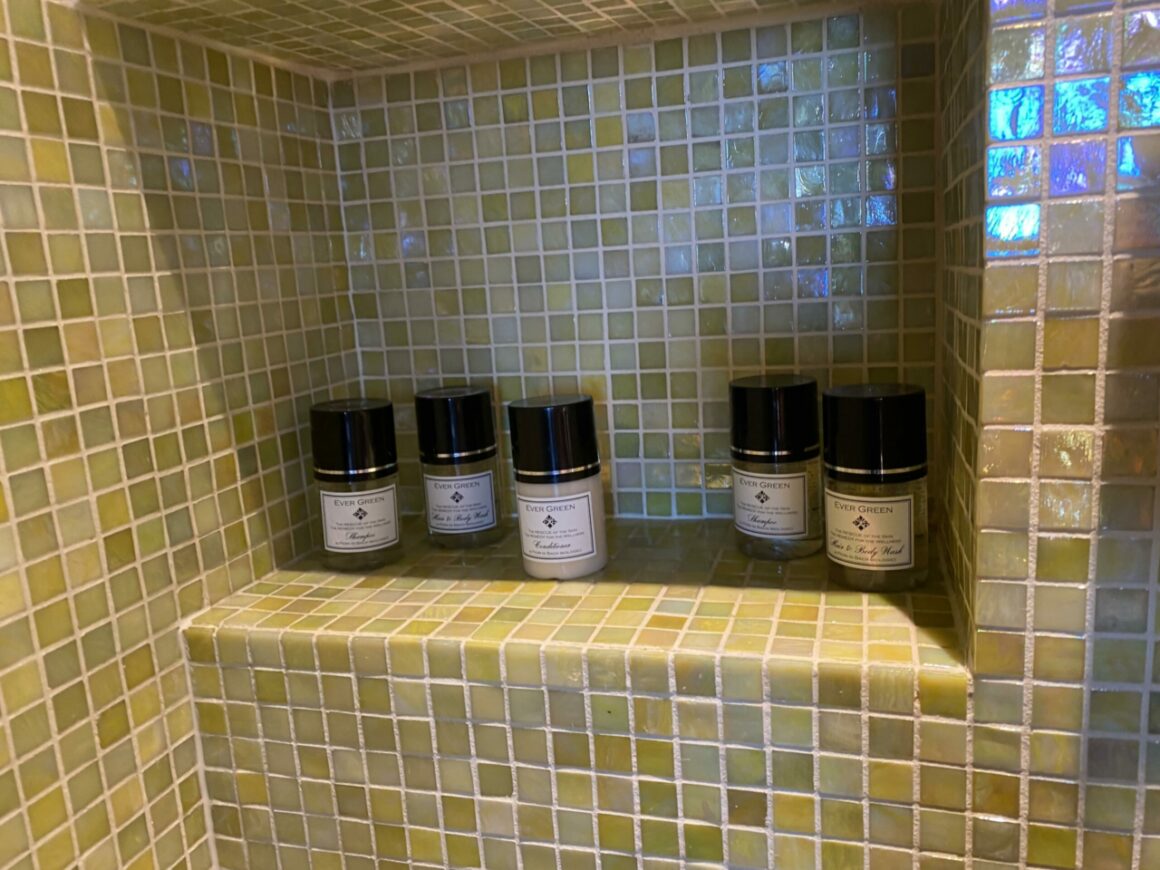 Dining and bars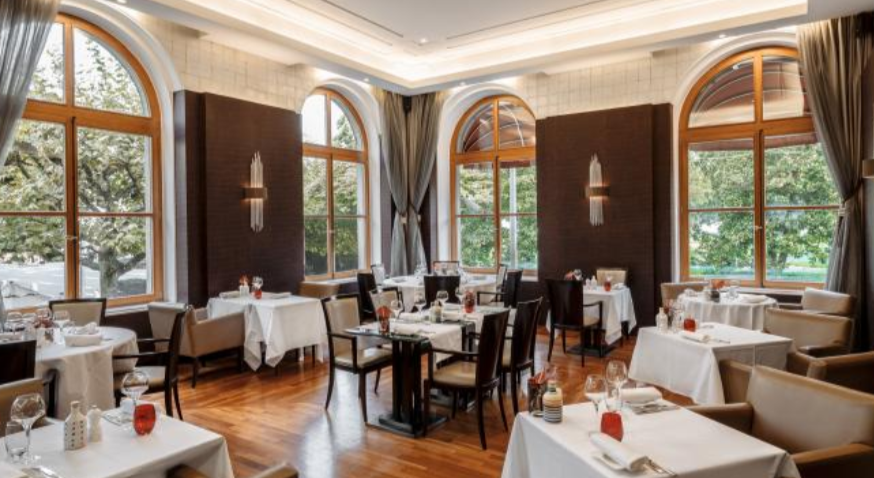 The main restaurant is Gusto, where breakfast is served too. They also have a sister restaurant 5 minutes from the hotel, which does fine dining. It has a lovely outdoor area with lots of flowers right by a fountain, which is a lovely way to start your day with an al fresco breakfast.
I was very impressed with the included breakfast. The selection felt very premium and good quality, from the choices of butter to the beautiful croissants and freshly squeezed juice. The staff were also attentive and friendly. You could choose from the buffet, which had a cooked breakfast selection as well as fruit, charcuterie, cheese, cereal, salads, bread, yoghurt and pastries. There was also an a la carte section too.
The croissants were amazing, so light and flaky. The bread was also extremely good, especially with the delicious butter.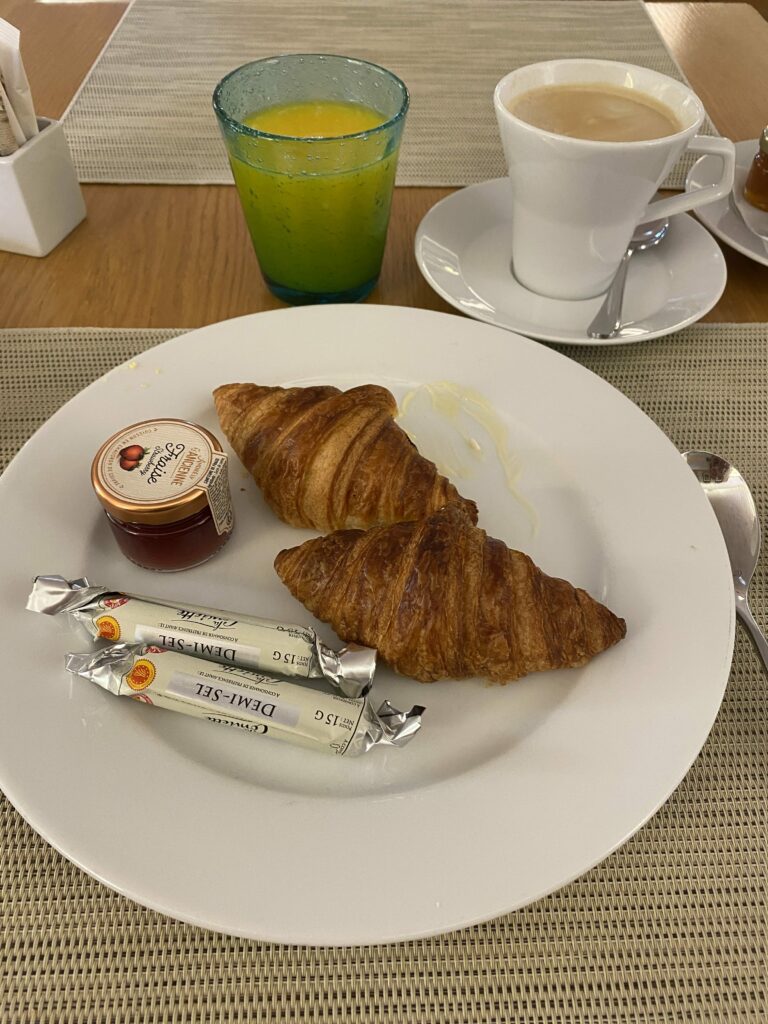 I spoke about the Met Rooftop Bar and its amazing views in this article, but to recap, it's well worth a visit whether you stay there or not. The food was great (the Croque monsieur with truffle is the must-have), and there is a fantastic view as well.
In the winter months, there is also a very sophisticated bar near reception, the Mirror bar, which I didn't have time to sample, but it looked very elegant.
Facilities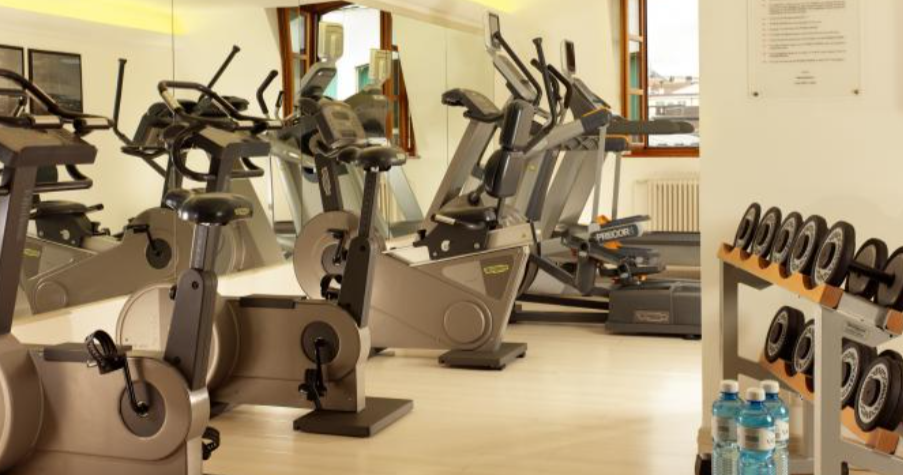 The only drawback of the Metropole is that it doesn't have a pool like some of the other 5* hotels, although you may not have time to use it anyway! It does have a gym , with equipment including free weights, treadmill, bicycles, and a multi-exercise machine. You can also borrow the hotel's electrical bikes.
Booking
Prices start from around £360 per night. The hotel is part of Preferred hotels, so it is worth joining the loyalty scheme iPrefer to get any discounts and perks which you get even at the base level.
You can check prices and book here.
Other hotels in Geneva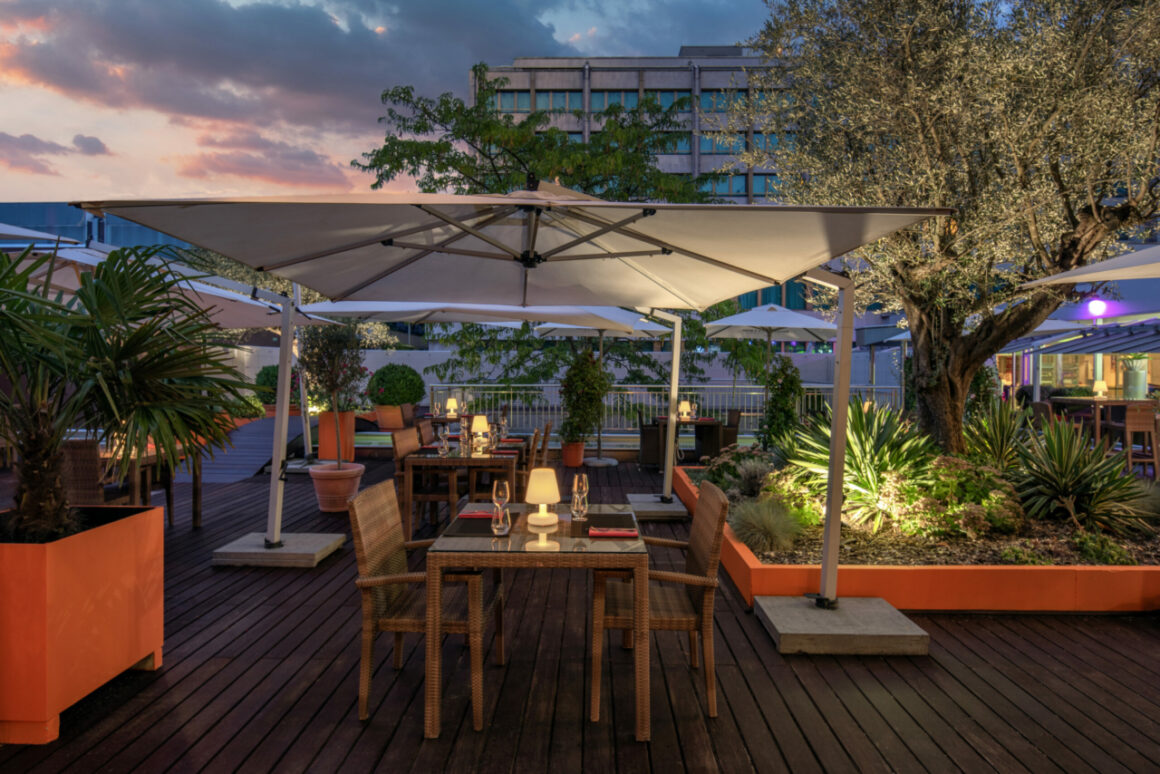 If you are looking to keep costs down or plan only to spend a short time in the centre of Geneva, the Hilton Geneva & Conference centre is worth considering. I stayed last year and you can find all the details here.
In the centre of town there are a large number of 5* hotels including the Mandarin Oriental and Four Seasons. The Four Seasons has a better location than the Mandarin in my opinion, right on the quayside of the lake by the main bridge to the old town. Other luxury chain hotels include Intercontinental (outdoor pool) the Ritz Carlton, Hotel President Wilson, A Luxury Collection Hotel (rooftop pool) Geneva and the Fairmont. There are also numerous independent hotels, such as the Beau Rivage, which is more classic and La Reserve which is more contemporary.
Our partners, GTC luxury travel agents offer special amenities with most of these hotels such as hotel credit, upgrades and free breakfast with flexible rates. You can check the price and availability of rooms here.
Like our Hotel Metropole review? You can read more hotel reviews here.