Today's review is about ITA Airways A350 Maiden Flight Business Class by Ed, who has written several articles for TLFL before, such as the Aer Lingus to Barbados article here.
Ed also wrote a great article about Air Belgium business class here.
If you want to send in a reader review, please contact [email protected]. There is a competition running for reader reviews until the end of July which you can read about here.
Introduction
ITA Airways is the "new" Italian flag carrier. Having had Alitalia reborn so many times in the past 15 years, the European Commission insisted that the new company be completely separate from the old. Thus ITA (pronounced It-ah it turns out) was born. This carrier was not allowed to take over the old frequent flyer programme but was allowed to bid (although only partially for some units) for the other sections of Alitalia including ground handling, maintenance and the brand.
The brand went up for auction with a ludicrously high opening bid of 240 million euros, no doubt to discourage Ryanair from partaking. In the end though, the lack of bids allowed ITA to purchase that with only 90 million euros of State funds. They then proceeded not to use the name and continue with ITA so one does wonder about the logic of using such a large amount of State funds during pandemic recovery. This does allow ITA breathing space to not have to repaint all their planes immediately, although they had already agreed a grace period with the administrators of Alitalia. Apparently, their plan was to set up a second airline called Alitalia to offer a different value proposition to ITA in the vein of Lufthansa Group, IAG and Air France KLM, neglecting the fact these are much bigger airlines where different brands make sense.
As part of the rebranding and differentiating, ITA ordered A350s, A330neos and A220s from Airbus with the A350s entering service on the 1st of June to Los Angeles after weeks of training flights around the Rome area. Later that day, a second aircraft operated to New York and the following day to Buenos Aires. There was confusion about when the inaugural service would be and though many publications reported Buenos Aires as the first destination, I had already flown to LA onboard EI-IFC the day before. ITA has chosen to paint their planes in savoy blue, reminiscent of the sports kit the Italian teams play in, and named those planes aptly after sporting heroes. Onboard there is something of an identity crisis with many Alitalia logos and brand names abound though in time these will be phased out.
Booking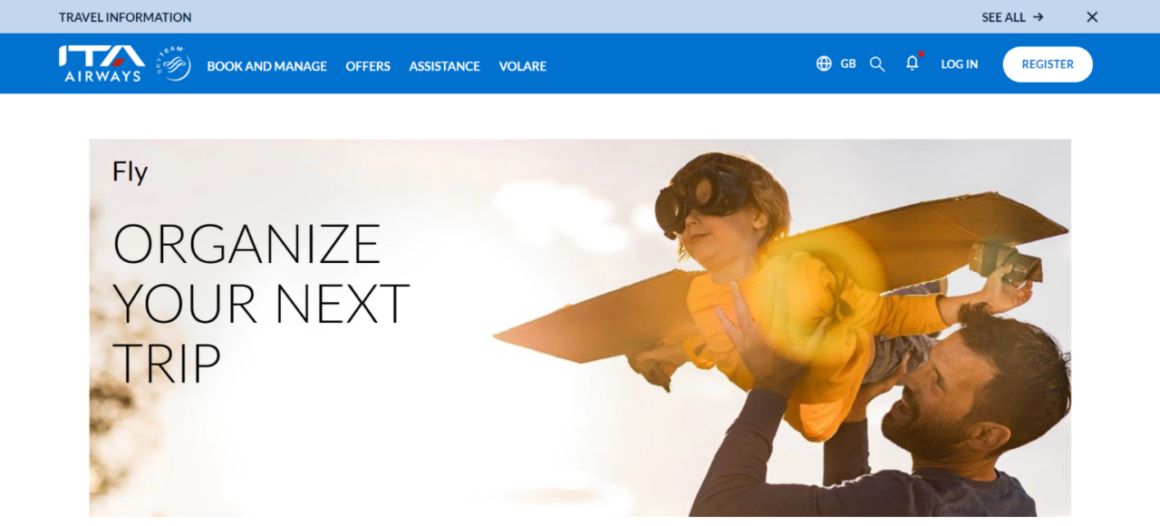 The booking experience for ITA Airways A350 Maiden Flight Business Class is a little haphazard. When you searched for flights, the search had a loading page that counted you down from 10 seconds although it does not always actually show you flights after the counter reaches 0. This has now been replaced by a swirling circle.
Originally the airline used the not very memorable itaspa.com as their URL however they have not moved to ita-airways.com, if one tries to go to Alitalia's old webpage you get an error message which seems a missed opportunity to redirect it to the new airline, given they own all the branding of the old airline. You can find the airline's website here.
Once you get through to the booking options, though, it is easy enough to use. Options will be shown using ITA's own aircraft as well as Skyteam partners. ITA and Skyteam very quickly announced that ITA would be a full new member of Skyteam for at least 12 months but this does not necessarily translate into what happens on the ground. For example, you cannot claim flight credits with Air France KLM (my preferred Skyteam loyalty programme) unless the flight itself carries an Air France codeshare, but you can claim if you are a member of Delta's programme. Given Lufthansa is in the running to take over the airline with MSC, one might think that Skyteam is not pursuing the behind-the-scenes deals as strongly as it might if ITA were likely to remain in the alliance long term, rather than leave to join Star Alliance should Lufthansa be successful. That said, AF/KLM have also pursued a bid along with Delta to take over ITA, so we shall have to see what comes of that.
The carrier offers only two classes of service on the A350 but will display three on the booking page as some partners offer premium economy. There are four different types of economy class ticket from Light through to Flex via Classic and Classic Plus, and for business you are offered a choice between Classic and Flex. The main differences seem to revolve around change fees and whether the tickets can be refunded or not.
Ground Experience
The ground experience at Rome was somewhat chaotic. Two queues started at the same point, one for Business and Sky Priority and the other for economy. Upon entering the queue passengers were handed a paper form attesting you were obeying all the US travel requirements to fill in. Other airlines, such as KLM, JetBlue and BA do this online whilst checking in so not sure why we needed to have seven or eight pages of paper each. Whilst there were only about three people waiting in the queue in front of me and there were three desks open and sorting passengers ahead of them, it took a very long time to get sorted.
Little of this can be blamed on the airline given one set of passengers were trying to check twice the luggage they were allowed but didn't want to pay for it (even asking if the Italian airline would give free luggage allowance to active-duty US military), one set didn't appear to have the correct documentation filled in and one chap kept having to go round the corner to talk to his wife about things the check in desk wanted to know. I still don't quite know why she couldn't come with him to the desk.
I was kept entertained by a passenger's dog who was sitting happily on their luggage trolley with tongue sticking out as they checked in, you have to enjoy the small things rather than getting stressed about things out of your control at airports I find. Eventually two managers showed up and started managing the queues and opening a fourth desk. I was seen very quickly thereafter and direct through the security queue for flights direct to the US. There was a fast-track section at the end of this.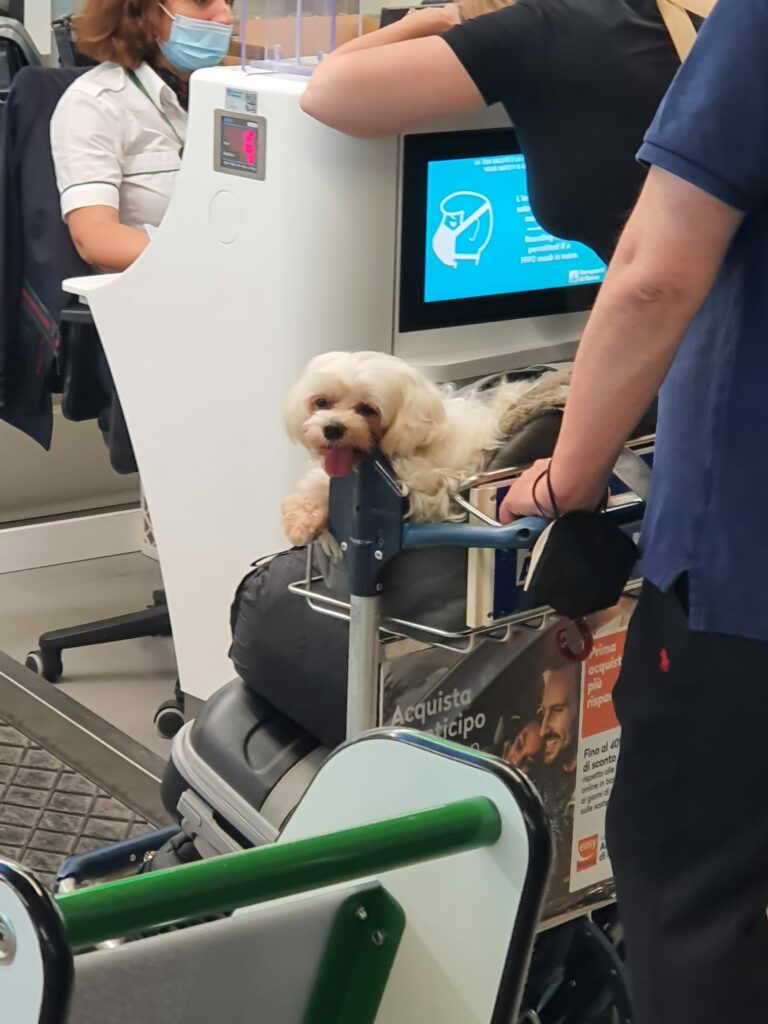 Having passed through security, I am pleased to say the ITA lounge is now open. It's a smart, well-designed lounge with lots of seating and various food and drink options.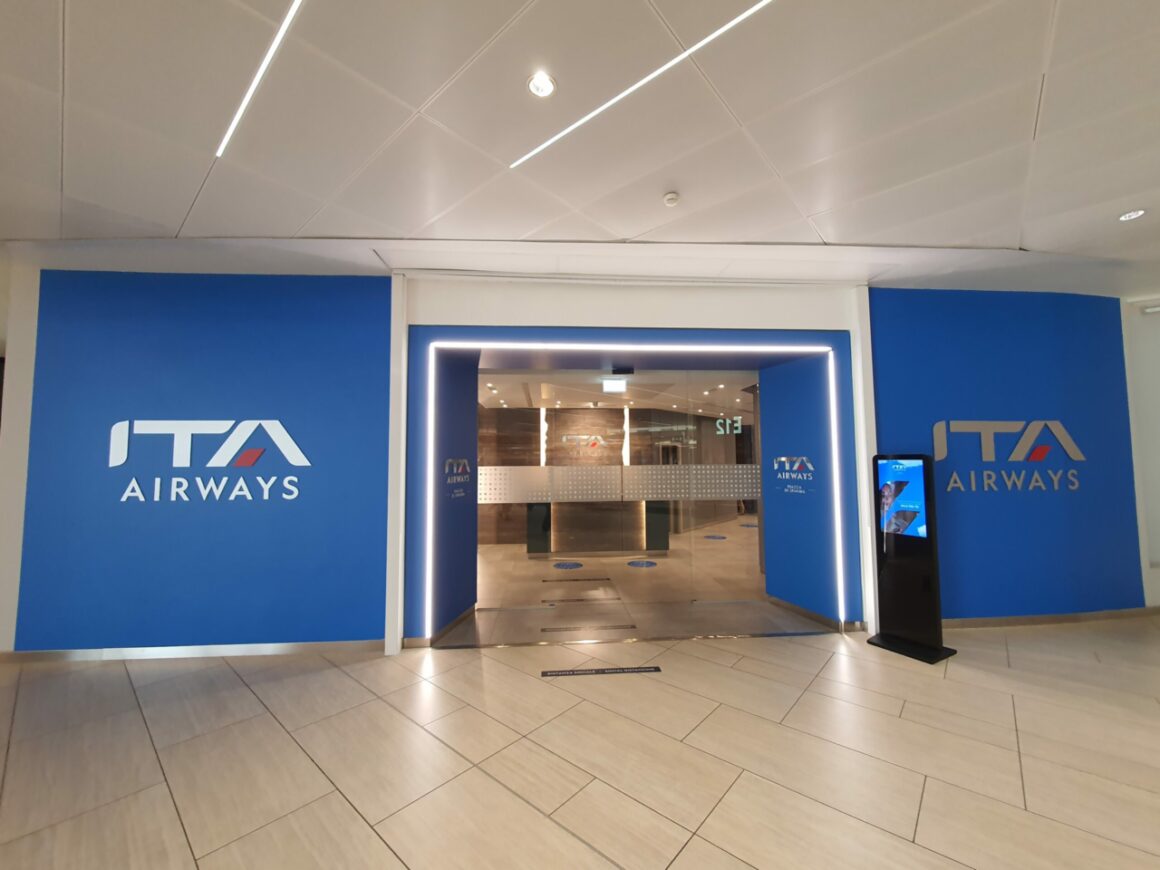 The buffet was staffed by a friendly assistant who would plate up what you wanted. I had a quick snack at the buffet before heading down the terminal to my gate.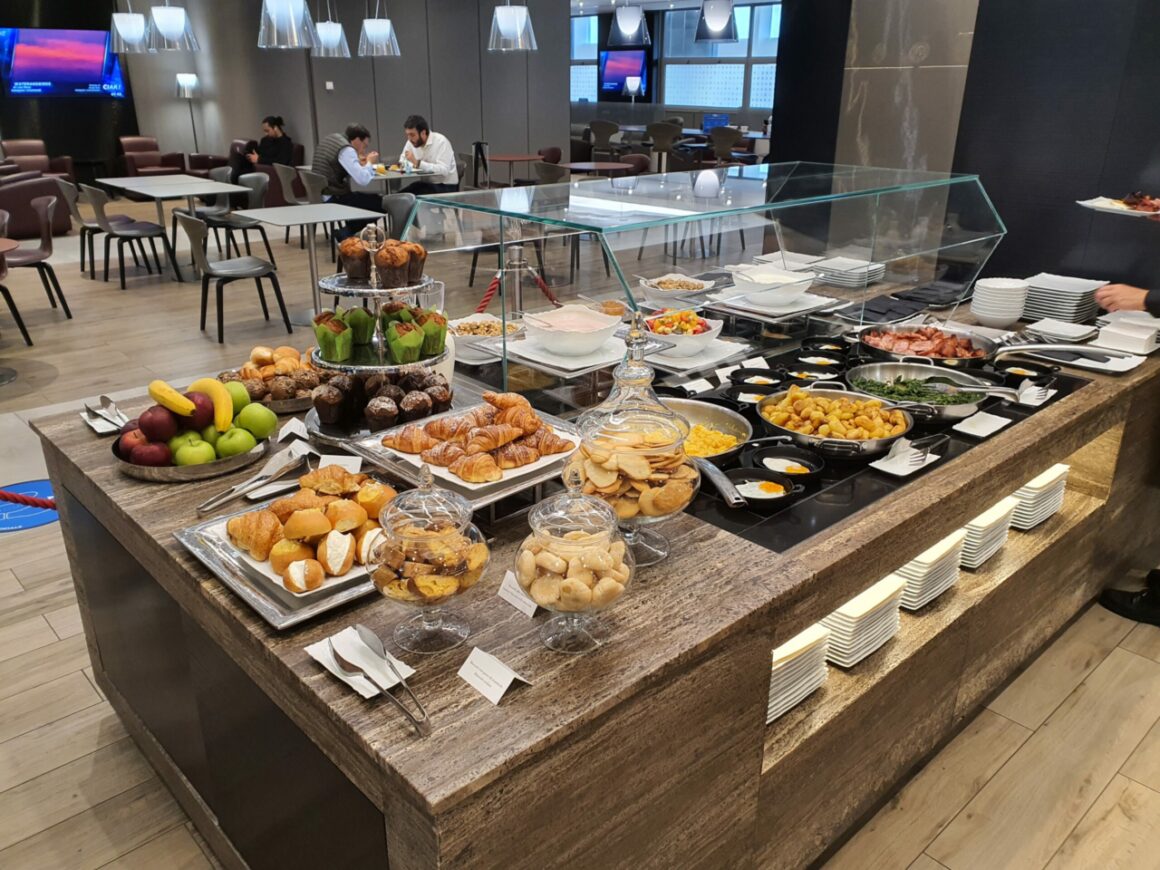 On the way I passed several Roman antiquities that Fiumicino Airport has set up as museum displays and two police motorbikes to celebrate 170 years since the state police was founded. The gate area was rather chaotic as the ground staff were trying to check certain passengers' documentation but not making clear announcements of who needed to come forward. It looked like a boarding queue but was not. I guess it was for passengers who had checked in online and had not had their covid documentation verified. Annoyingly, despite being on the end of a pier, the view of the aircraft was completely blocked from both sides. It wasn't until boarding commenced and we were entering the jet bridge that I could finally confirm it was the A350 as the lack of any gate celebrations for the new aeroplane had made me slightly worried.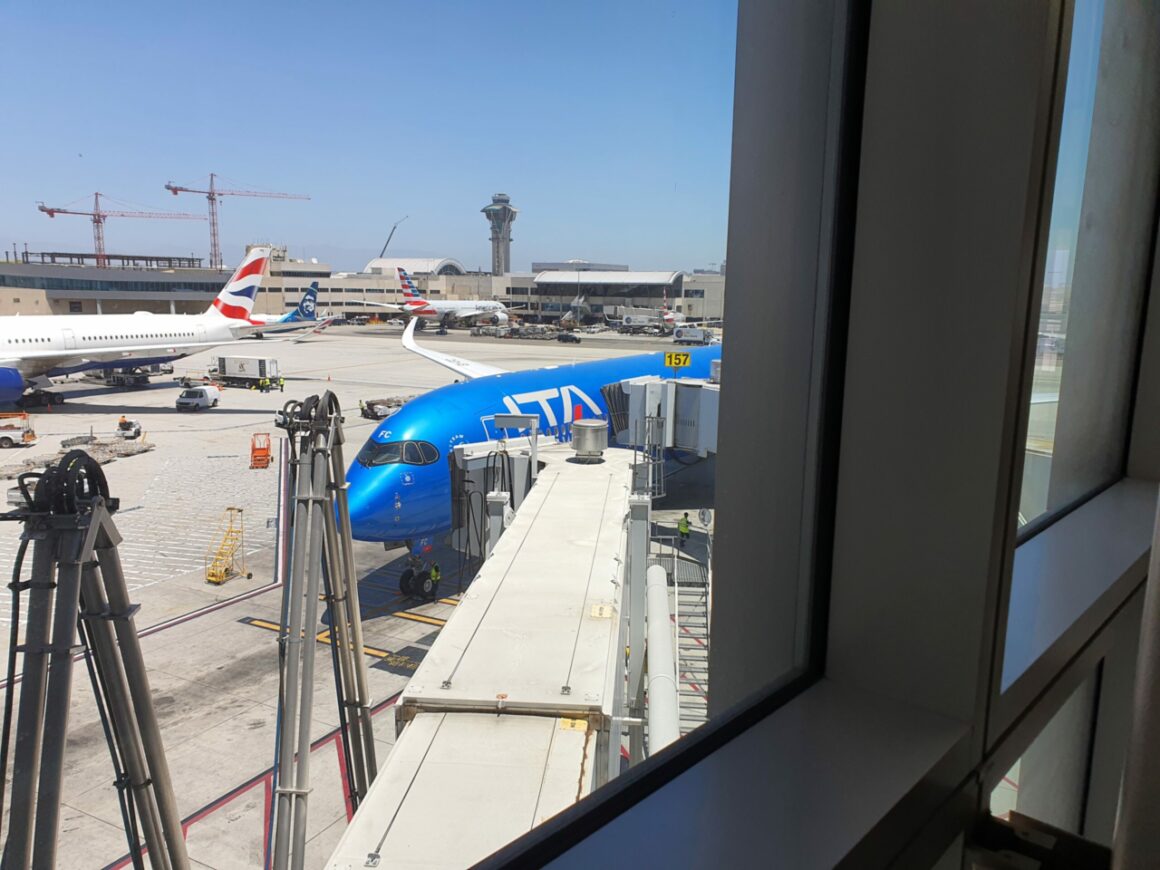 Cabin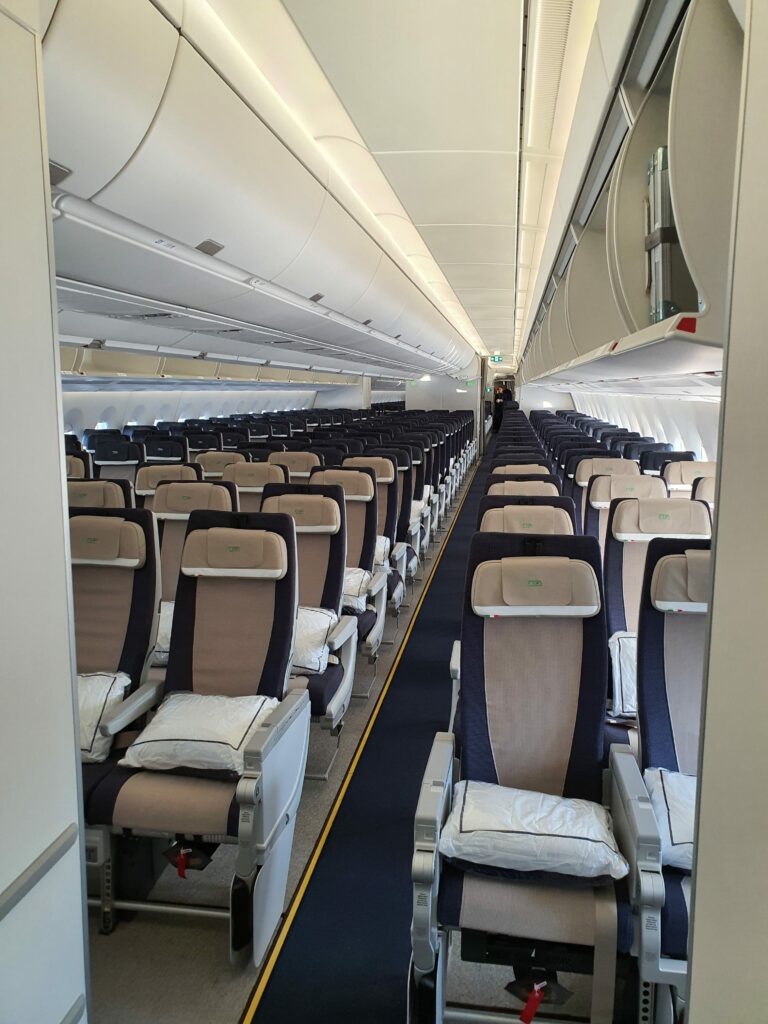 First impressions of the ITA Airways A350 Maiden Flight Business Class cabin itself were good, however, I was slightly delayed in witnessing it as the ground crew seemed to have started boarding without the go ahead from the cabin crew. This meant that there was, what could only be described as, a mountain of atlas boxes sitting in the galley by the boarding door. During this time, my boarding pass was checked three separate times to make sure I was, in fact, still the same person and did still know my seat was on the opposite side of the aircraft.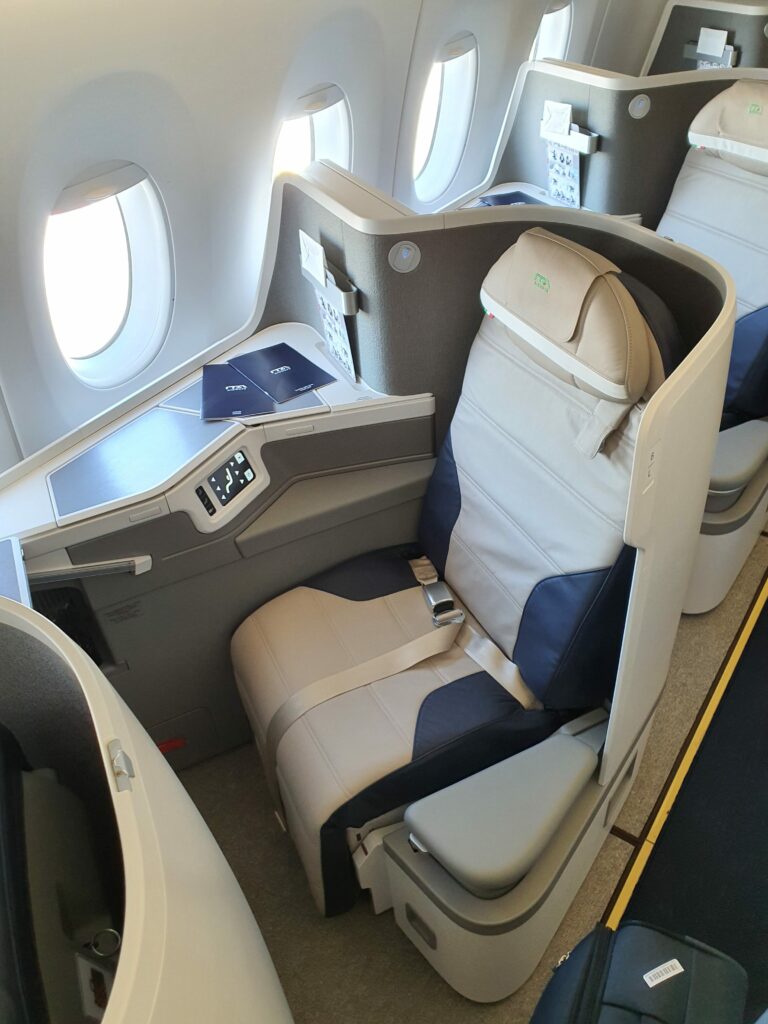 This did allow me to peek into the economy cabin which also looked particularly sharp in the sand and navy colours that ITA had decorated the cabin with. The interiors were picked by Hainan Airways which was the original intended owner but had been redone in colours chosen by ITA. The cabin was laid out 1-2-1 in the now standard reverse herringbone layout. Curiously, there was no seat in Row 1 by the window as this was replaced by the lavatory extending in from the galley. This meant that the curtain was diagonal across the aisle and when you opened the curtain returning to the cabin, you ended up practically on top of the passenger in 1H. I would highly recommend avoiding this seat at all costs as this could be quite disruptive over the length of the flight.
Departure
After settling in my seat, service began. Wine and food menus were already laid out at the seat and headsets were hidden in a cubby by your feet. Cabin crew, dressed in Alitalia uniforms, passed through the cabin with Alitalia branded amenity kits and water bottles. These bottles were relatively small and so remaining hydrated was a challenge without calling the crew repeatedly during the flight. There were no spare water bottles either so asking for a second one later in the flight as you can on BA was in vain, though they did provided water in a glass that they said they would refill as needed as substitute.
The crew passed through with pre-departure drinks, I chose orange juice given the early morning departure. Slightly surprisingly, at no point was it mentioned to the cabin that this was a special flight, not only was it the first flight to Los Angeles for ITA but the first A350. The only reference was when one of the cabin crew was speaking to a passenger two rows in front and mentioned it directly to her. He has also mentioned we should expect a water cannon salute though this never came which is a shame as the plane was incredibly dusty externally and could have used a hose down.
Dinner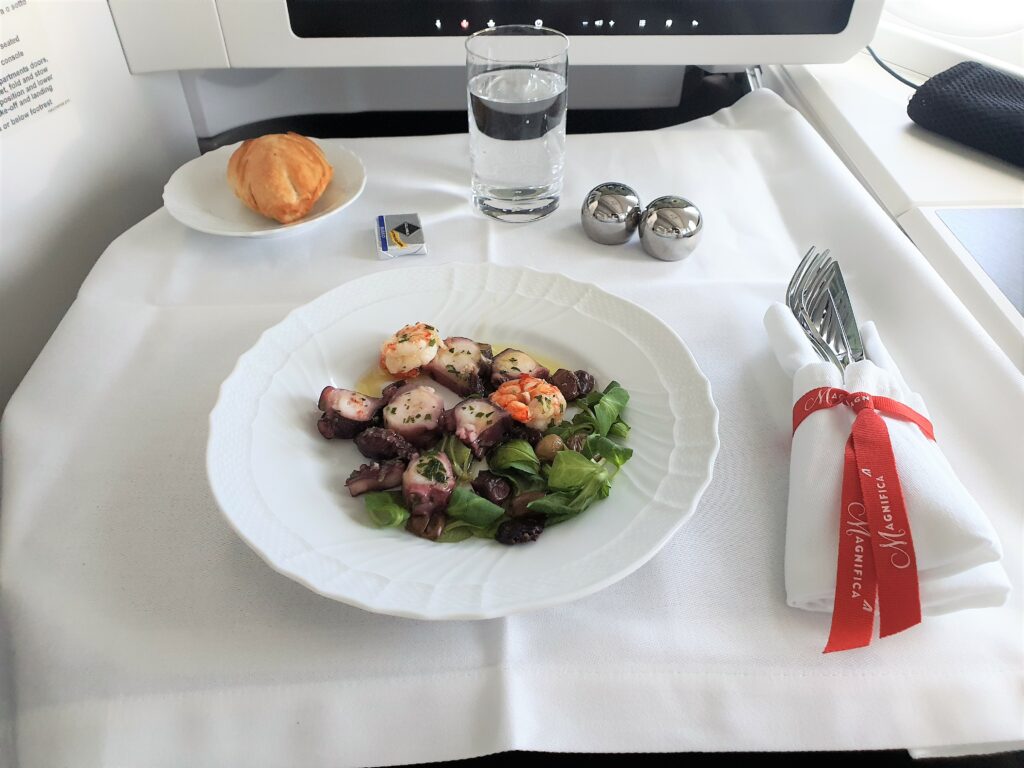 The main meal was a highlight of the flight. Various traditional options were available for passengers to pick from. The menu allowed passengers to have a four-course feast for lunch which was amazing. Tray tables were laid out with Alitalia branded cutlery and a glass of water. A bread plate and starter soon appeared. I had ordered the prawn and octopus salad which was very nice and the first time I have ever had octopus on an aeroplane.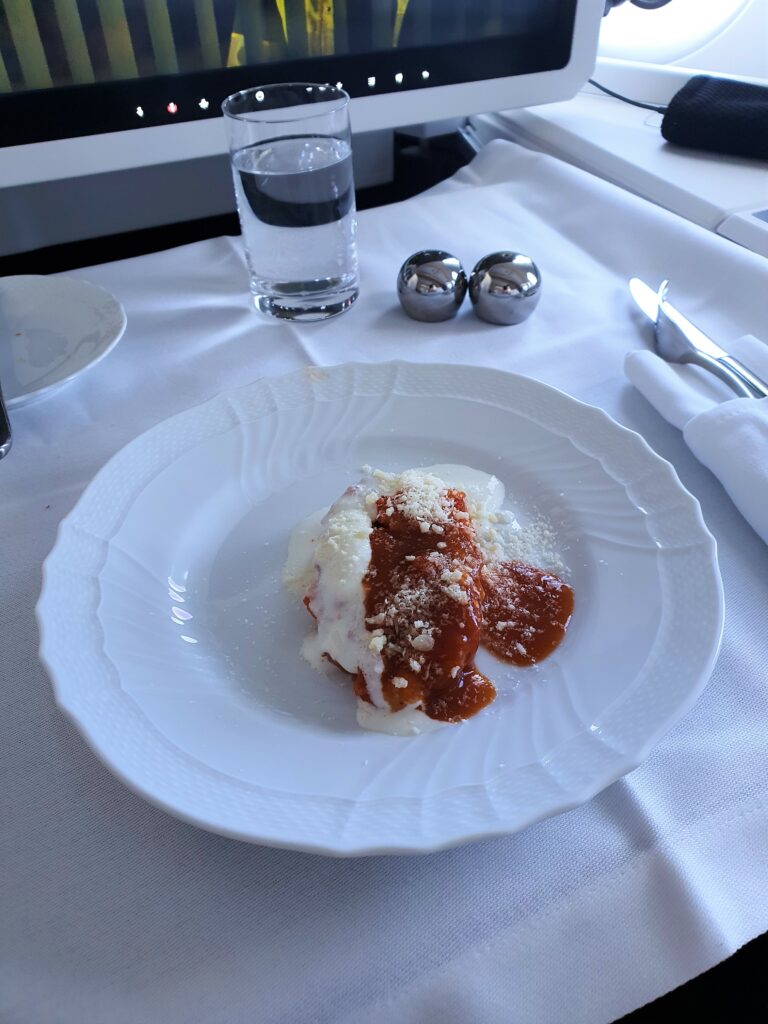 Next up was the "Reinterpretation of the classic 'Pappa Al Pomodoro'". This is traditionally a Tuscan bread and tomato soup and I have to say this reinterpretation was not really recognisable as the traditional soup but was still tasty nonetheless. It was a doughy ball covered in tomato and cheese sauces.
Following this was chicken haunch with two sauces with sauteed herbs. Again, this was delicious. For the final course I chose the "Italian Dairy Experience". This was a selection of cheeses along with orange jam and balsamic vinegar. There were some minor inconsistencies such as not getting the amuse bouche that was mentioned on the menu and the cheese course mentioning three cheeses but only two appearing but overall, the meal was stunning.

Seat/Bed
As you would expect, the seat was easy to use and is based on the Collins Super Diamond seat which is the same seat Air Canada use on their Dreamliners. All window seats faced the window, and the foot cubby was under the seat in front's side table. ITA provided a large pillow as well as a yellow blanket. Helpfully, and unusually for a European carrier, each seat had overhead air vents, which is wonderful for controlling your own space temperature-wise rather than being captive to the, normally, too warm cabin.
I am not sure how well the seats will age as the sand colour, whilst very chic, will show up stains more readily that darker seats. The headrest has the airline's logo stitched in and a small Italian flag tag which adds some colour to the otherwise muted cabin.
Inflight Entertainment/Wifi
Despite it being mentioned in the purser's inflight welcome message, at no point during the flight could I actually make the WIFI work. There were, in fact, around six or seven networks one could try to connect to. The first began with a hashtag and was likely the intended network but was password protected. The rest were a mix of names ending in 2G and 5G that were likely intended to aid with the making of calls that was also mentioned. Whilst it is possible that I missed something extremely obvious, it did not appear to be possible to actually access the internet on this flight. This is one of the real shames I think from the death of the inflight magazine, all the information on how to use various functions of the plane have disappeared and passengers are left to fend for themselves. I switched my phone back on to a large number of missed messages including some from a not super pleased fiancée, who had expected messages from me after I said the plane had WIFI and I had appeared to ignore for 12 hours…
The inflight entertainment system by contrast was relatively impressive. Whilst the selection is definitely not as large as you would find on Emirates, there was enough to keep you entertained. This included a total of about 50 films including the new Spiderman and Belfast which I watched and selected episodes of various tv series. The interesting thing about the inflight entertainment system is it still had some kinks that needed to be worked out. On the home page for example, clicking on the "Applications" or "Promotions" menus led to empty screens suggesting the content had not been loaded.
Service
I think it has to be said, whilst the crew of ITA Airways A350 Maiden Flight Business Class were incredibly friendly, service was a bit hit and miss on this flight. The crew did not proactively offer drinks outside the meal services and always seemed to be striding with purpose through the cabin rather than checking with passengers whether they wanted anything. The water glass mentioned earlier, given as substitute for lack of any extra water bottles, was never actually refilled.
The crew also shut nearly all of the blinds after the meal service, though some passengers did keep theirs' open, I believe with the aim to put passengers to sleep so no more service was needed. I was remaining on UK time because of the short nature of my trip and so kept mine slightly open. Passengers were given eye masks so this didn't disturb anyone trying to sleep around me, who happily snoozed away whilst I could stay awake and keep my go pro timelapse running.
Second Meal
The menu was very lacking when it came to the second meal. There were various snacks that could be ordered through the flight, although, again it was not clear that these were on-demand snacks. After the passenger behind me ordered a pizza, I leapt in and ordered the "Selection of Gourmet Filled Sandwiches" which turned out to be a ham and cheese toastie. Tasty, but not quite what I was expecting. The menu might be slightly more of a suggestion than a perfect translation.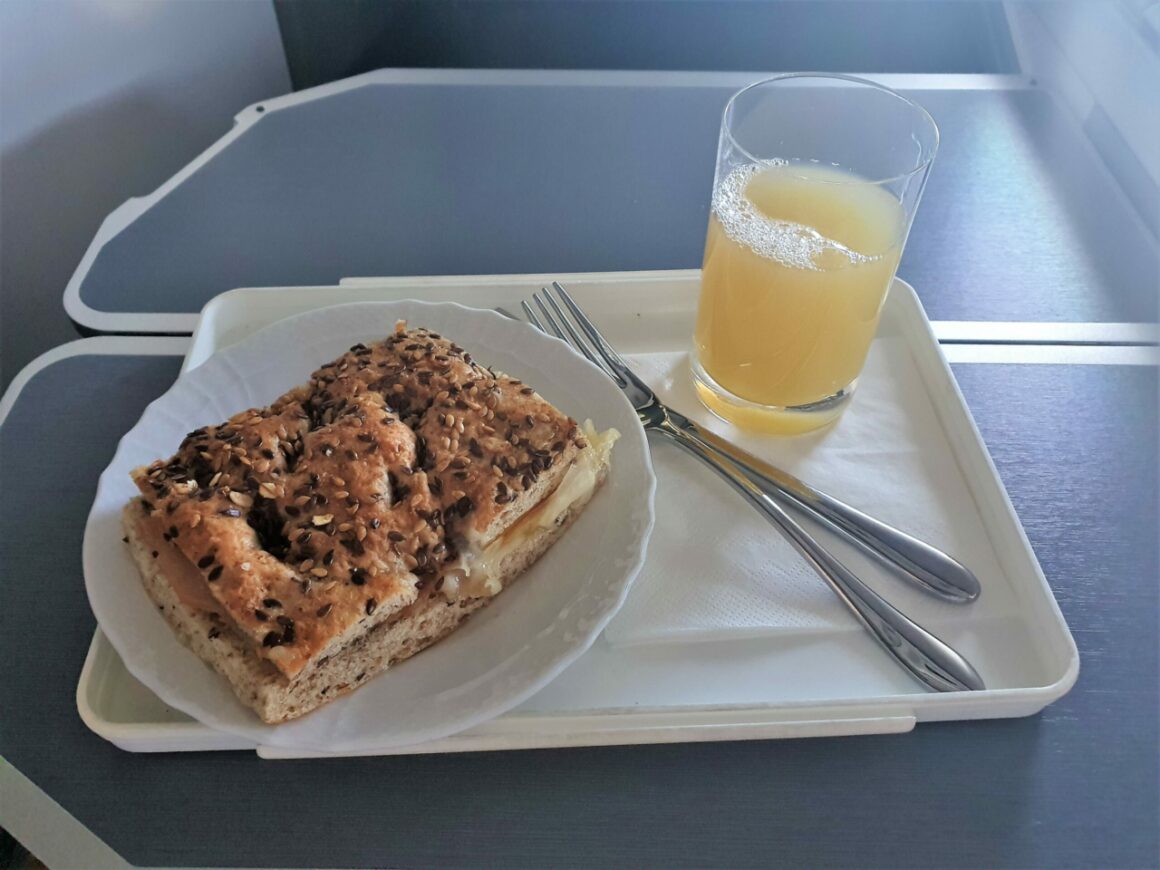 I am glad I ordered the toastie, though as when the second meal was provided, it was very small. A single tray was provided with what can only be described as a single canape, half a sandwich (which was not the same as the previous toastie but was another meat and cheese) and a fruit salad with five segments of fruit. On a shorter flight, this might be acceptable, but for a 12-hour service to Los Angeles it was not nearly enough. It makes me think that ITA is suffering from the same lack of galley space that BA has, which prevents the A350-1000s being deployed on their intended ultra-long-haul routes.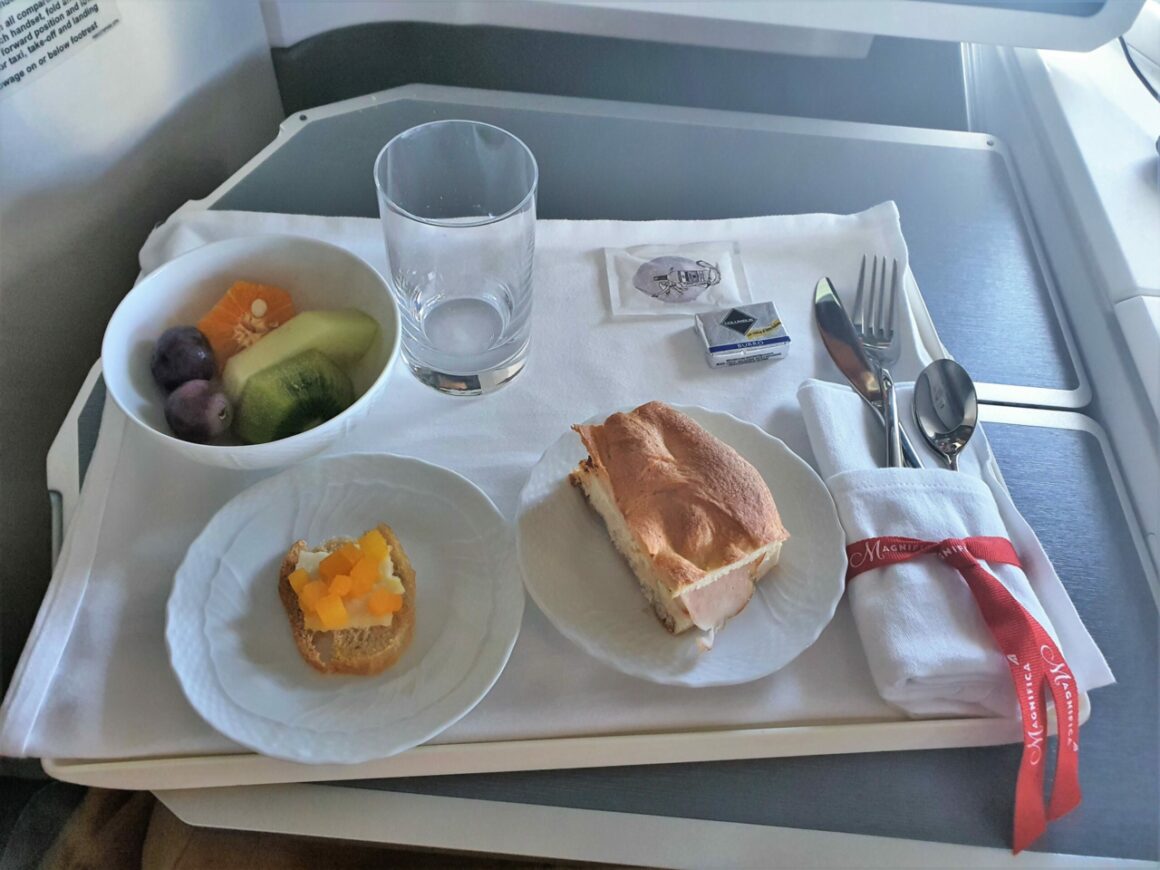 Arrival/Entry Experience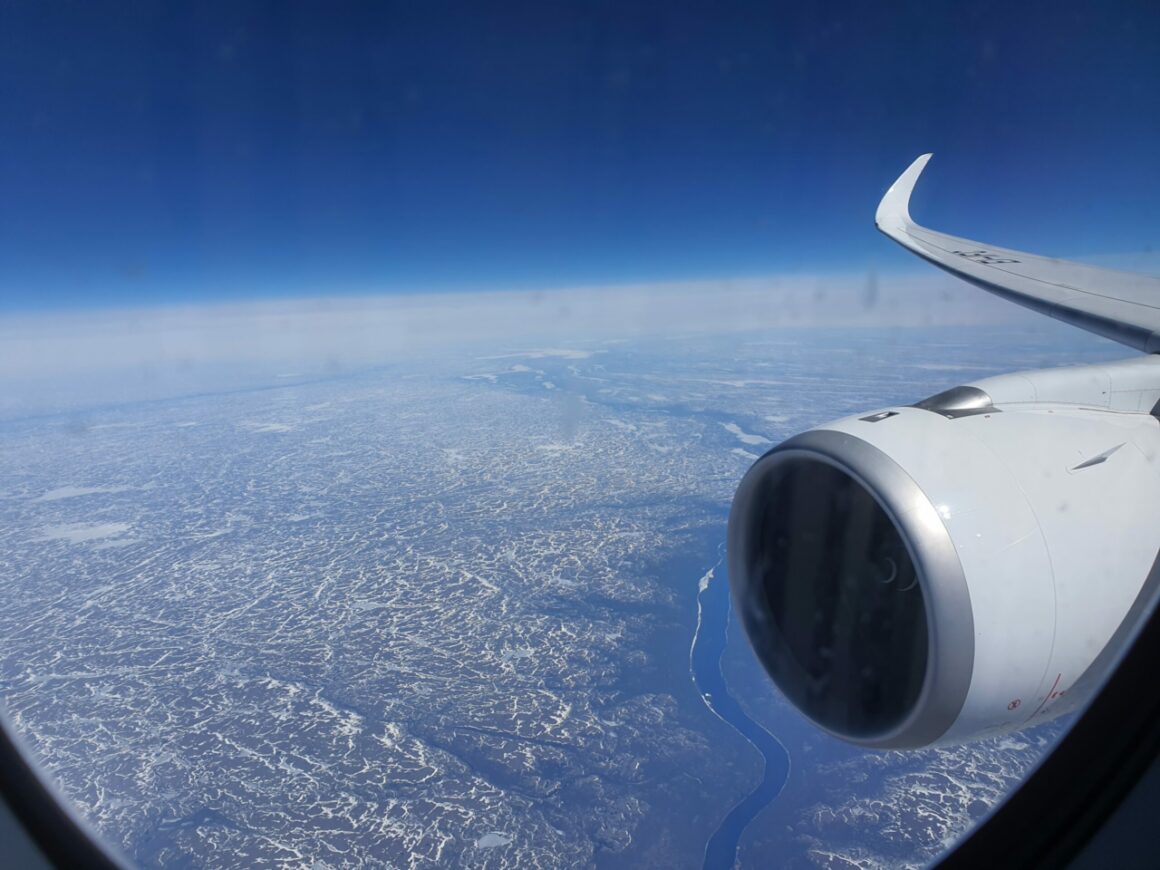 After a beautiful approach over the deserts of the Western US, starting with views of Las Vegas, the aircraft touched down in Los Angeles. Passengers were deplaned and brought up escalators to head to passport control. Unfortunately, a BA A350 had arrived concurrently with us on the next stand and was offloading its passengers into the same queue. It was a slightly surreal experience having flown via Rome to have ended up amongst hundreds of Brits in the queue. This led to a rather long time spent in the queue to see a passport officer (around an hour), which has led me to reconsider onward connections later in the year in the US. The encounter with the border guard was very short, however, and with only a couple of questions asked and answered, I was on my way.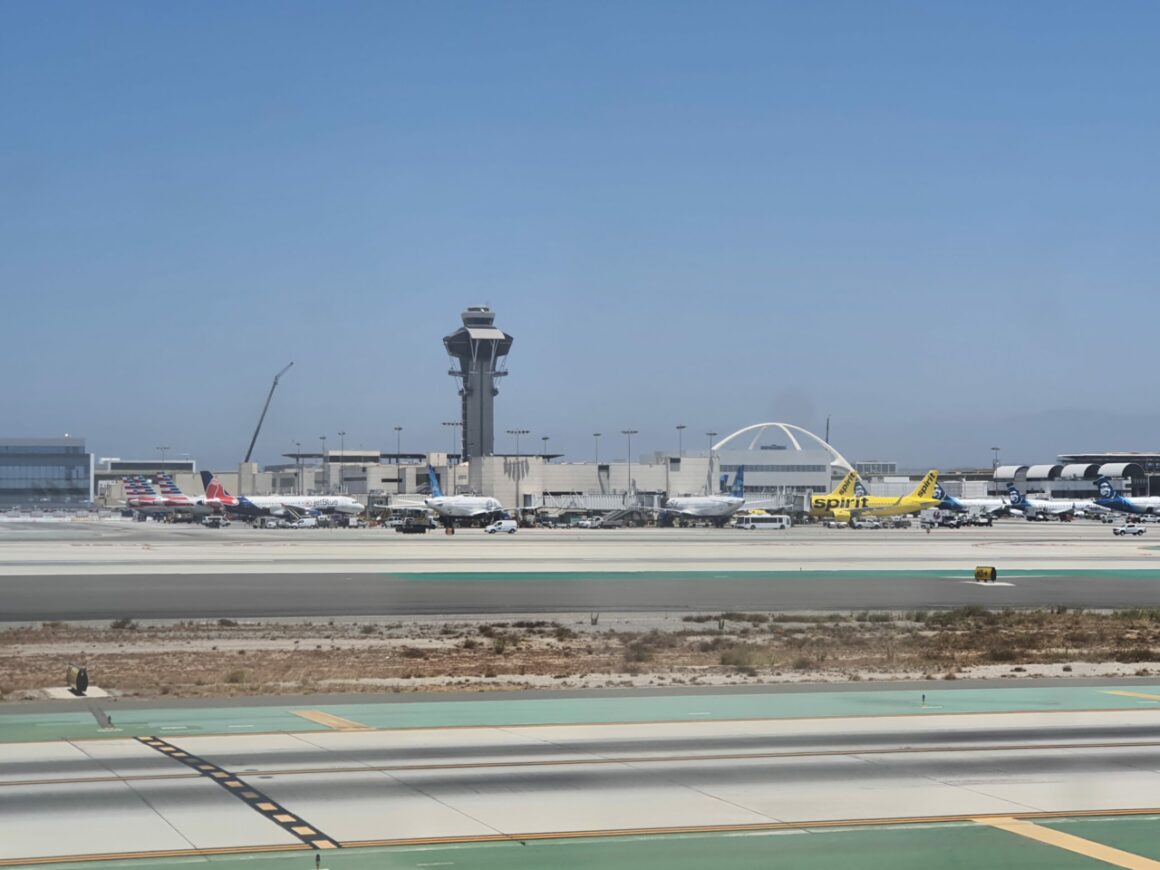 Finding the rental car shuttle was a nightmare as well, as there appeared to be no signs. I found out on the way back that the Tom Bradley International Terminal no longer has a rental car bus stop, and you need to go to another terminal, luckily all connected, to board it. The amount of traffic caused by construction at the airport means that if you are heading to or from the rental car area, it can take half an hour for the bus to get there. Luckily in my confusion, I got lost and walked all the way to the last terminal, so the bus only took five minutes to get to Enterprise's location. On the way back, however, it would have been quicker to get off at the first stop and then walk past the next three stops given how stuck the bus got.
Bottom Line
In the end, ITA Airways A350 Maiden Flight Business Class felt like any other intercontinental service. The flight was good, and I wouldn't hesitate to fly ITA again. That being said, it was a slight shame that the service was not more proactive, and the menu seemed to be more of a suggestion rather than accurate depiction of what you would get.
I think once ITA finds its feet and if it manages to solve its identity crisis with Alitalia it will end up being a much smoother service. If you do fly ultra-long-haul with them though, take snacks and extra water or you'll need to be pressing the call bell repeatedly.
Like our ITA Airways A350 Maiden Flight Business Class review? You can read more flight reviews here.