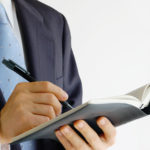 I have mentioned the Sanchaya a few times now as it has been sitting very firmly in my no 1 spot of favourite hotels. I first visited the Snachaya in 2015 when it hadn't been open for very long. I fell in love with the beautiful location, the stunning buildings and decor as well as the wonderful service. So when Roving Reporter and I were stopping off in Singapore I had to take him to see if he loved it as much as I did. I'll admit I was slightly nervous as RR is at least as fussy as me! So did it live up to my expectations and did Roving Reporter love it too?
Location
The Sanchaya is situated on an island called Bintan which is actually part of Indonesia but it is only 45 minutes by ferry from Singapore. The ferry terminal is only about 10 minutes drive from the airport so RR and I hopped into an Uber to the ferry terminal. When we checked in for the ferry we were given Sanchaya luggage tags and a bag of ginger sweets for the journey which was a thoughtful touch.
As we had just arrived off a long flight we paid extra to go 'Emerald class' on the ferry. This gets you lounge access at the ferry terminal in Singapore and a quieter cabin with free soft drinks. They also will drive you down to the boat on a buggy and you get on last so you are not waiting around for everyone. Then in Bintan you get off first. I was amused to see this sign in the lounge:

Arrival and check-in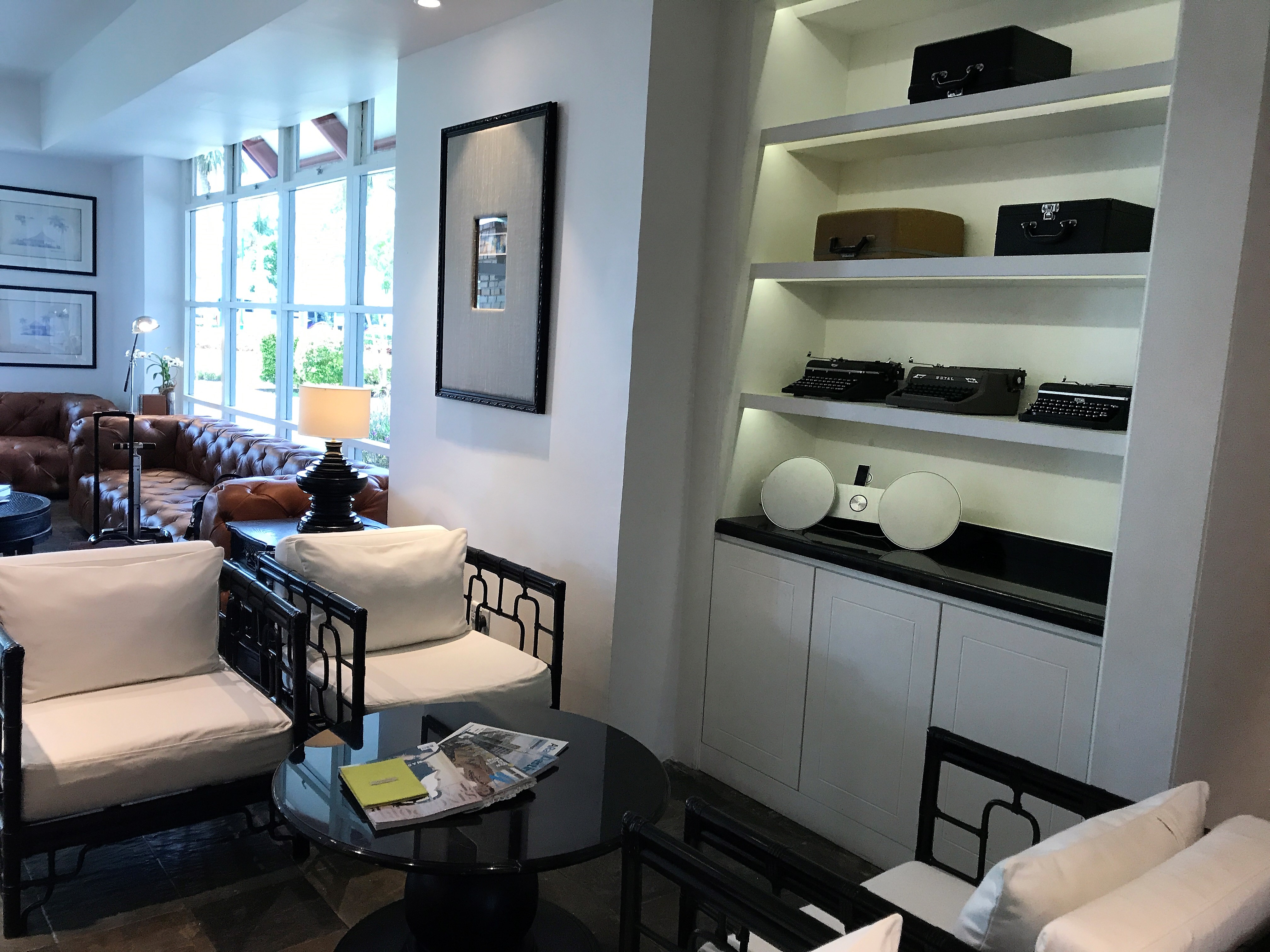 Once we arrived in Bintan the 'Sanchaya effect' kicked in immediately. There was a staff member waiting for us as we got off the ferry. They took our passports and escorted us to the very civilised Sanchaya lounge. All the immigration, customs and baggage procedures were taken care of whilst we sat there with a cold drink. Within about 20 minutes we were on our way to the hotel in our private car. It is less than 10 minutes drive to the hotel from the ferry.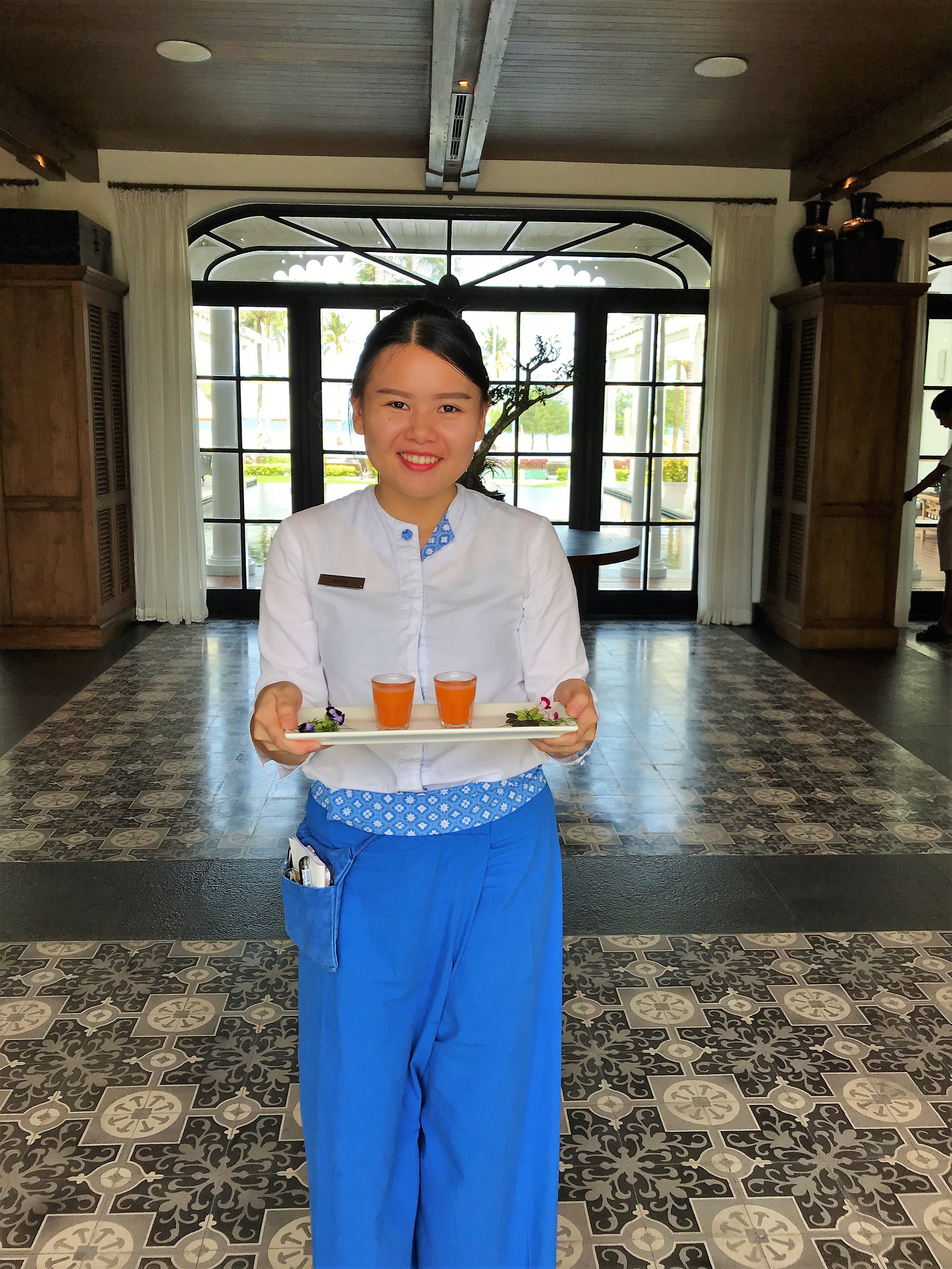 As you arrive you walk through a beautifully manicured courtyard with a bubbling fountain which sets the scene for your stay. A number of staff came out to greet us and the manager also popped by to welcome us to the hotel. He was very visible throughout our stay chatting with guests over breakfast. It is very evident speaking to him that he is very passionate about the Sanchaya and pays huge attention to the details. We enjoyed a refreshing fruity welcome drink and were then given a tour around the hotel so we knew where everything was. It is a pretty small hotel with 21 villas and nine suites, so it doesn't take long to get acquainted with everything.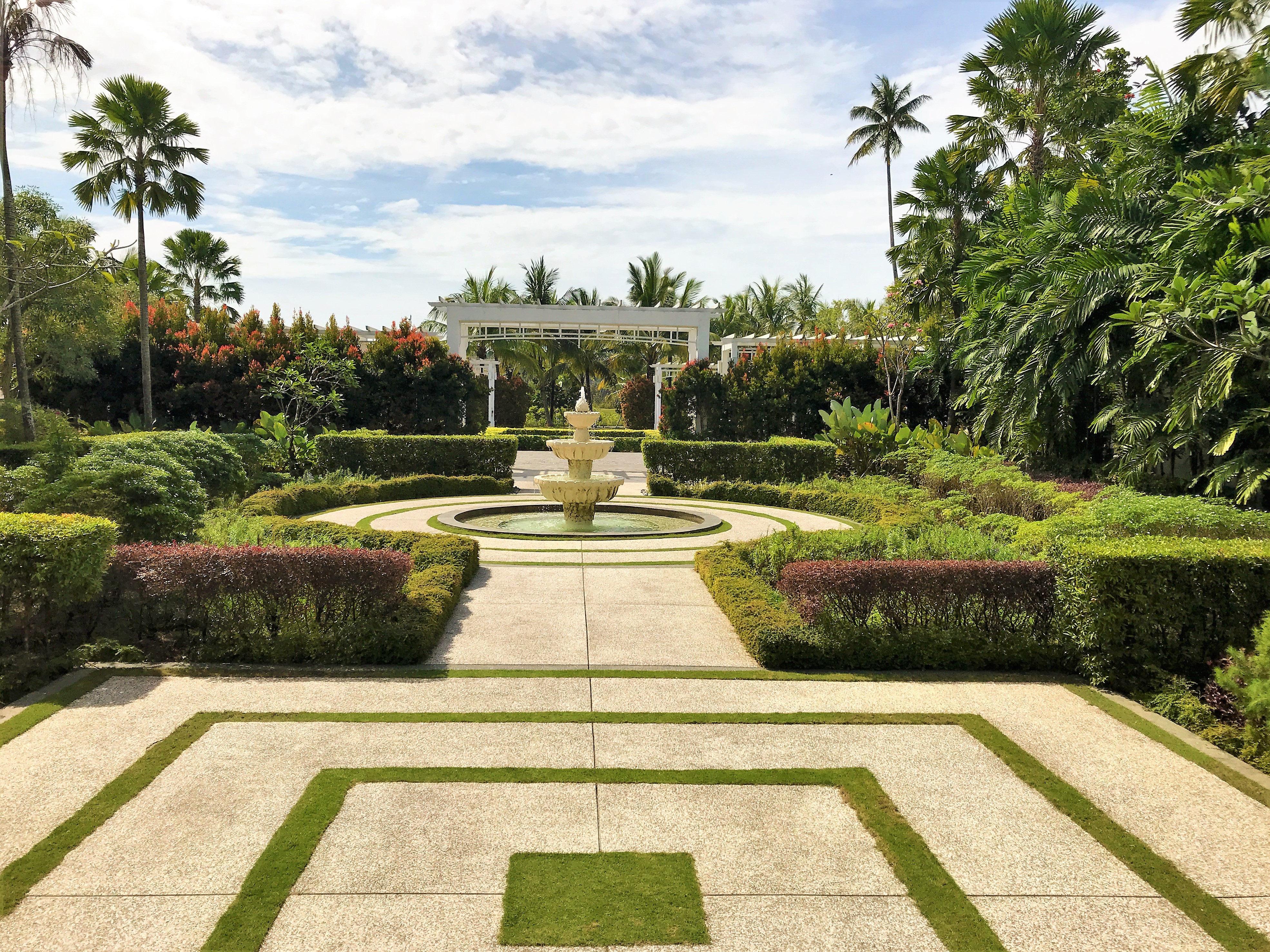 The hotel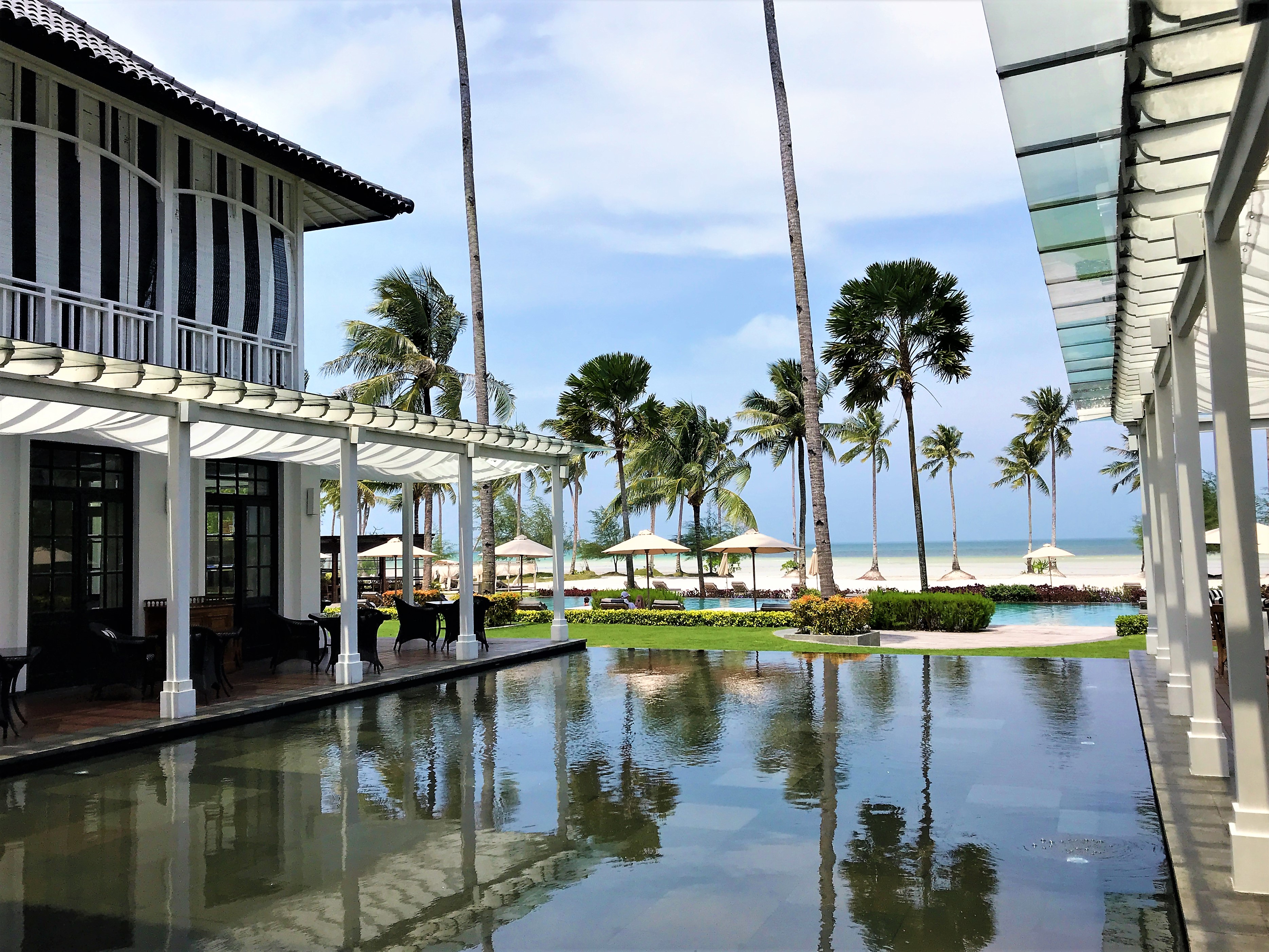 The hotel itself is actually only a few years old but it feels like an old colonial house that has been beautifully restored. In fact they call the main building 'The Great House' rather appropriately. It is also part of the Small Luxury Hotels of the World. In the main building, there is the all day dining restaurant which is open for breakfast,lunch and dinner. There is also a library if you want to sit somewhere cool to escape the heat for a while. This is attached to my favourite part of the hotel – the wine and cheese cellar where you can do tastings (more about this later).
My other favourite place to sit was the bar in the evening for an after-dinner cocktail or two. There was a lovely terrace that went around the buildings where you could sit in a comfy chair or rocking chair and enjoy a drink whilst listening to the sea.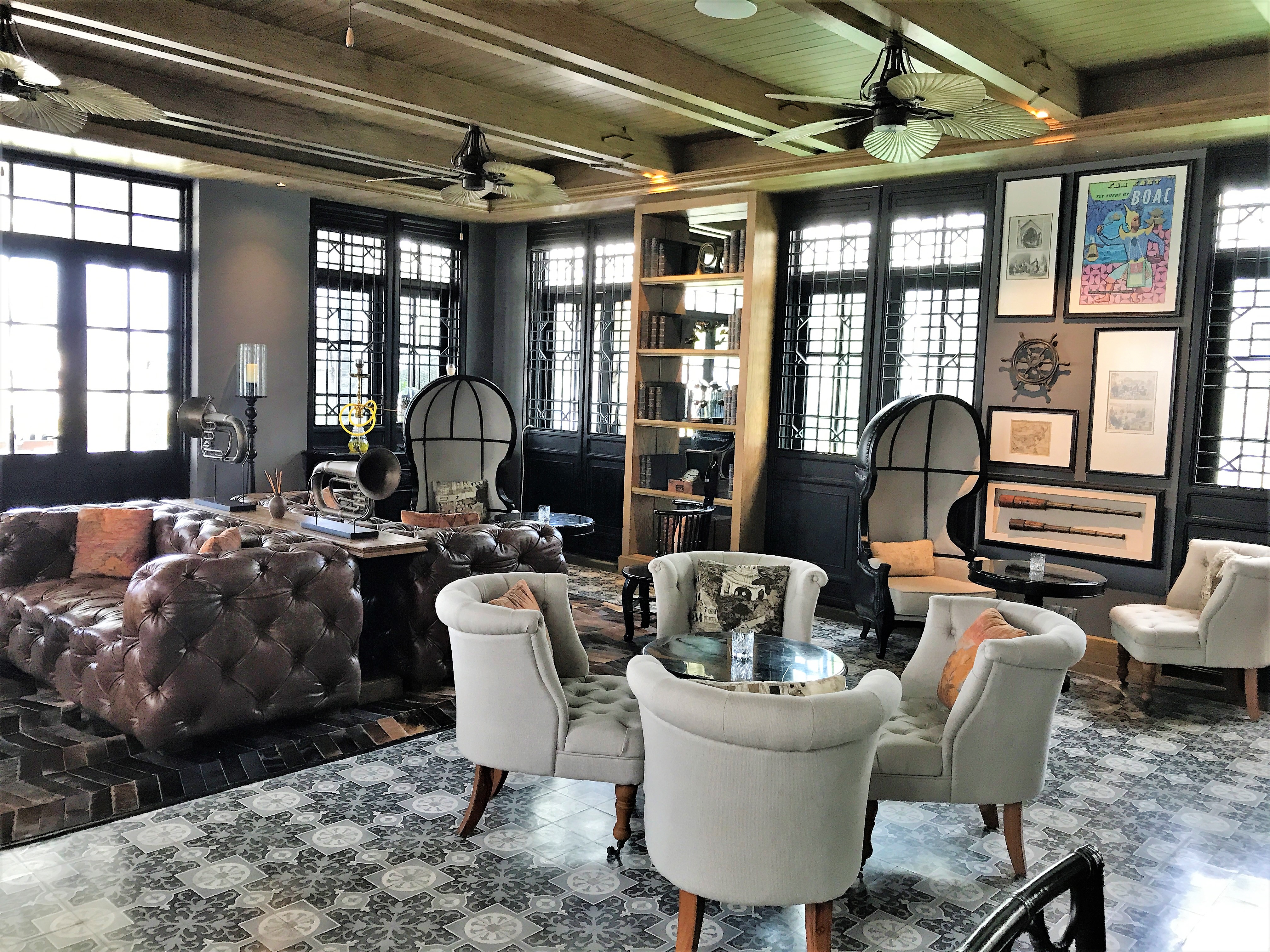 Service
Service is taken very seriously and before you arrive you can fill in all of your preferences in advance. For example, you can choose to not sign bills for anything and simply wait until the end of your stay. You can also choose the full 'VIP' level of service or the 'I want to be alone' Greta Garbo service! The service here was extremely impressive. The staff had a natural warmth and you could pretty much have whatever you want, whenever and wherever you wanted it. So you could eat food from any of the restaurants in either restaurant, nothing was too much trouble.
At first, I found it a bit spooky that every single member of staff knew my name before they had even met me. I would be walking along to breakfast and one of the housekeeping staff would whizz past on his golf cart with a cheery 'Good morning Mrs Michele'. It turns out they have pictures of everyone from your passport when you check in and the staff are all briefed at their morning meeting as to who is staying that day. You are also assigned a 'Companion' which sounds rather odd to me but is actually your main point of contact should you need anything.
We did have a bit of difficulty with the language barrier at times and this is something that they could work on even though the staff all spoke English. However, we always made ourselves understood eventually.
Facilities and activities
The main draw of the hotel for me is the beautiful Olympic size pool. We sat here every day and never saw more than about 4 or 5 other people at a time. The loungers are wide and comfortable although sometimes shade was a little tricky even with the big umbrellas. Once you sat down one of the staff would come over to set up your chair and bring you a hamper. This contained still and sparkling water along with a cold towel each.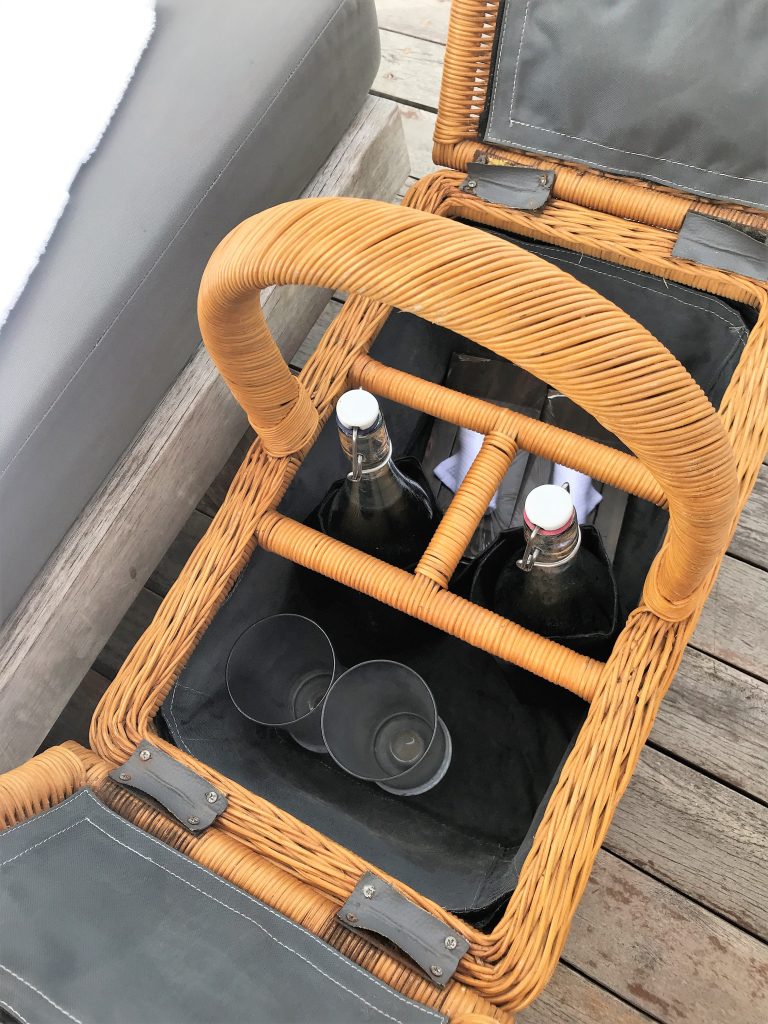 As well as the pool there is a large beach which was deserted during our stay. The sand is very white and almost like powder as it is so soft. The tide does go out a long way so it is a bit of a walk to the sea at low tide. We did venture into the sea which was lovely and warm as well as crystal clear. There are day beds with canopies, wicker covered loungers and normal loungers spread out over the beach area.
What to do
You can simply enjoy the beach and pool but if you want to do more there are a few local activities. At the hotel, they offer a spa as well as yoga and a gym with personal trainers. Alternatively, you could enjoy a wine and cheese tasting in the salon and library as we did. On my previous visit went to Air Adventures Bintan to do the ultralight seaplane trip which was very reasonably priced at around £60 each.
If you fancy trying some traditional dining, you could visit the famous Kelong seafood restaurant nearby. Kelongs are the wooden shacks over the sea used by fishermen. You could also take the opportunity to discover the wildlife on a mangrove discovery tour. The hotel is surrounded by rainforests and mangroves where you can spot monkeys and monitor lizards. Other sightseeing opportunities include island hopping to Senggarang and Penyengat Islands to see ancient temples, palace ruins and tombs.
Golf is also a big draw for Bintan with four championship courses designed by golf luminaries Ian Baker-Finch, Jack Nicklaus, Greg Norman and Gary Player.
The rooms
All the accommodation is stunningly designed in a modern colonial style with touches of Asia too. I will cover the three room types we have experienced; the Sanchaya Veranda Suite in the main house, a Junior Suite in the main house and the entry level Lawan Village Thai villas. All the rooms have the same high standard of amenities:
Fully stocked bar replenished daily with free snacks, soft drinks and beer
Still and sparkling water purified and bottled on the estate
Wine fridge
Bang & Olufsen TV
Apple TV with free movies and TV programmes
iPad mini
Personalized stationery
Selected Ronnefeldt tea
Malongo espresso machine
Private wine cabine
464 thread count Egyptian cotton linen
Lawan Village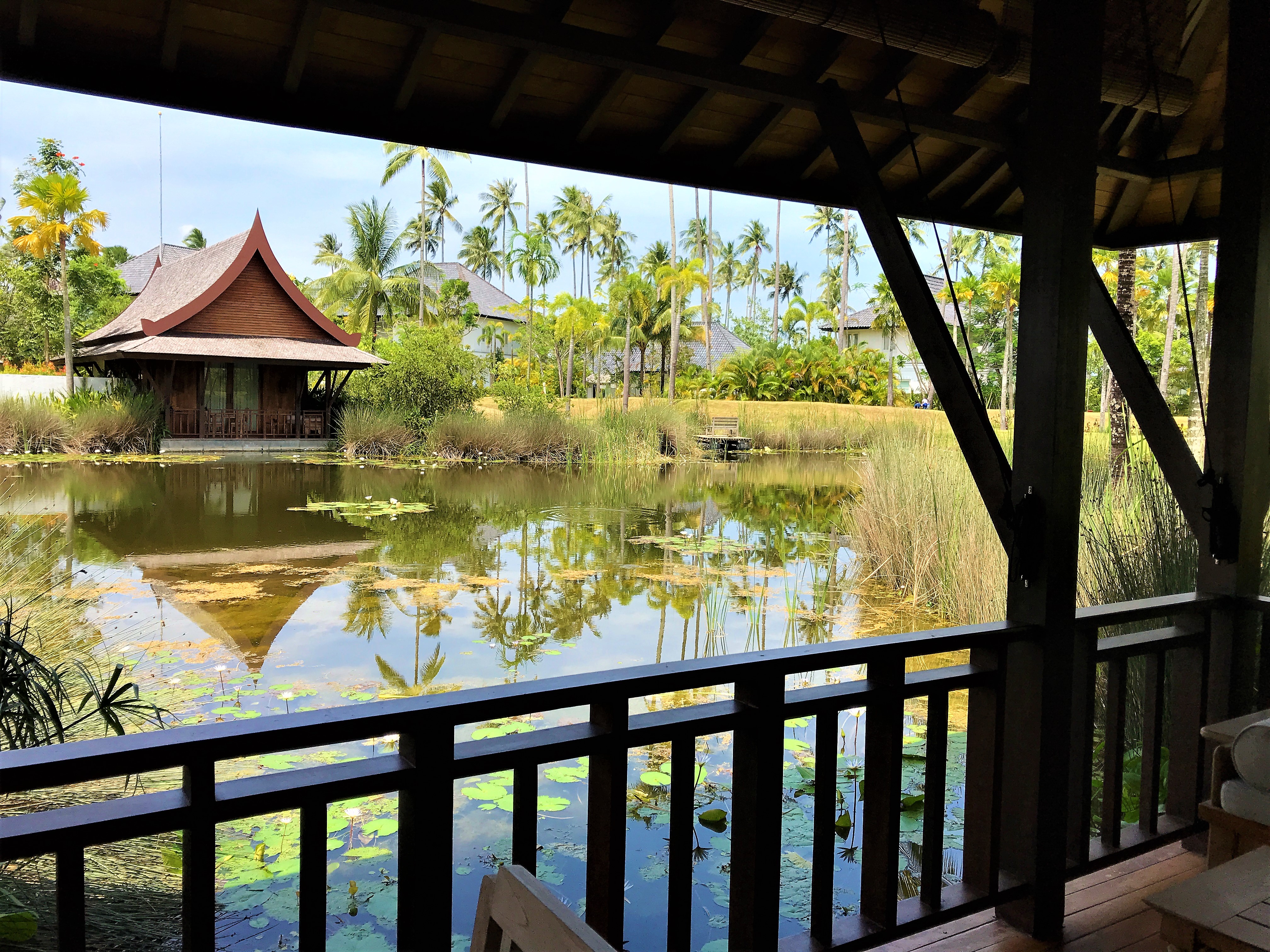 Considering this is an entry-level room, you get a lot of space. It had a separate dressing area, entrance way with minibar, wine fridge, decanter and tea and coffee making facilities as well as a large bathroom and bedroom.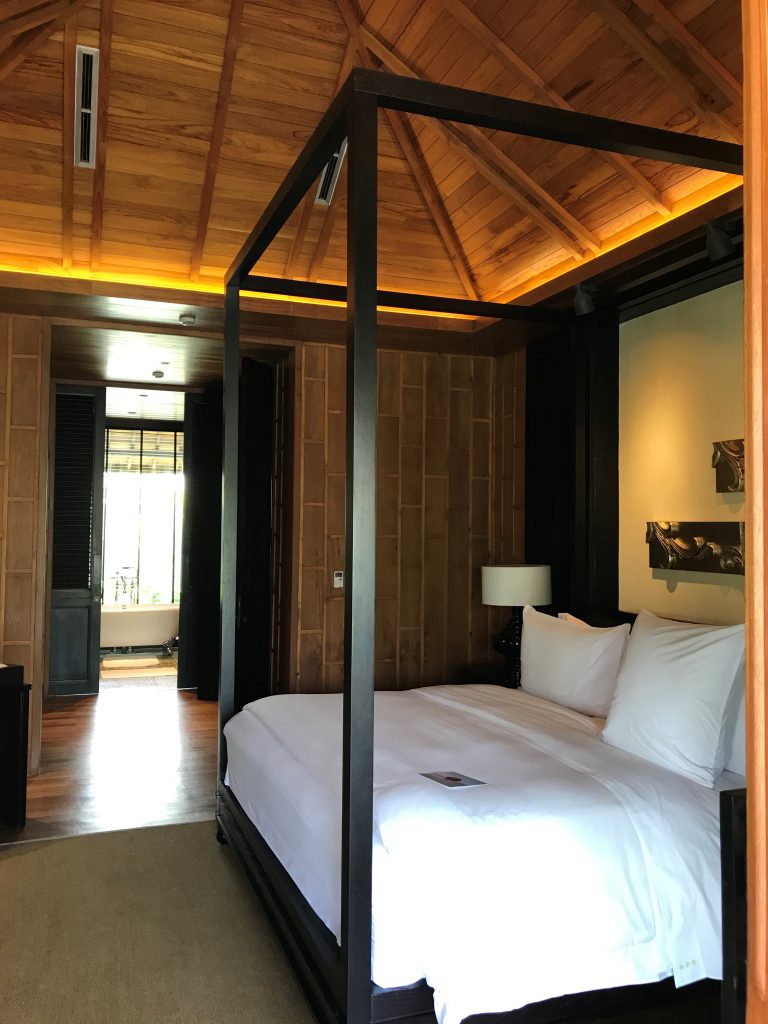 The bedroom had a large four poster bed, desk and wicker chair for relaxing or working. The sheets were high thread count Egyptian cotton and the bed the perfect level of softness with plump pillows. I had requested my favourite square European pillows before I arrived from the pillow menu. It was a struggle to leave the bed in the mornings!
Post from RICOH THETA. #theta360 #theta360uk – Spherical Image – RICOH THETA
Bathroom
The bathroom had a free standing bath, large walk-in shower with beautiful tiles and a dressing area with free suncream and aftersun. The toiletries were one of my favourite Aesop as well as the Sanchaya's own bath salts. Everything you could possibly want was provided, even a beautiful wooden hairbrush!
Post from RICOH THETA. #theta360 #theta360uk – Spherical Image – RICOH THETA
Junior Suite
Roving Reporter stayed in a Junior Suite in the main Great House. If you want a sea view this is the cheapest option.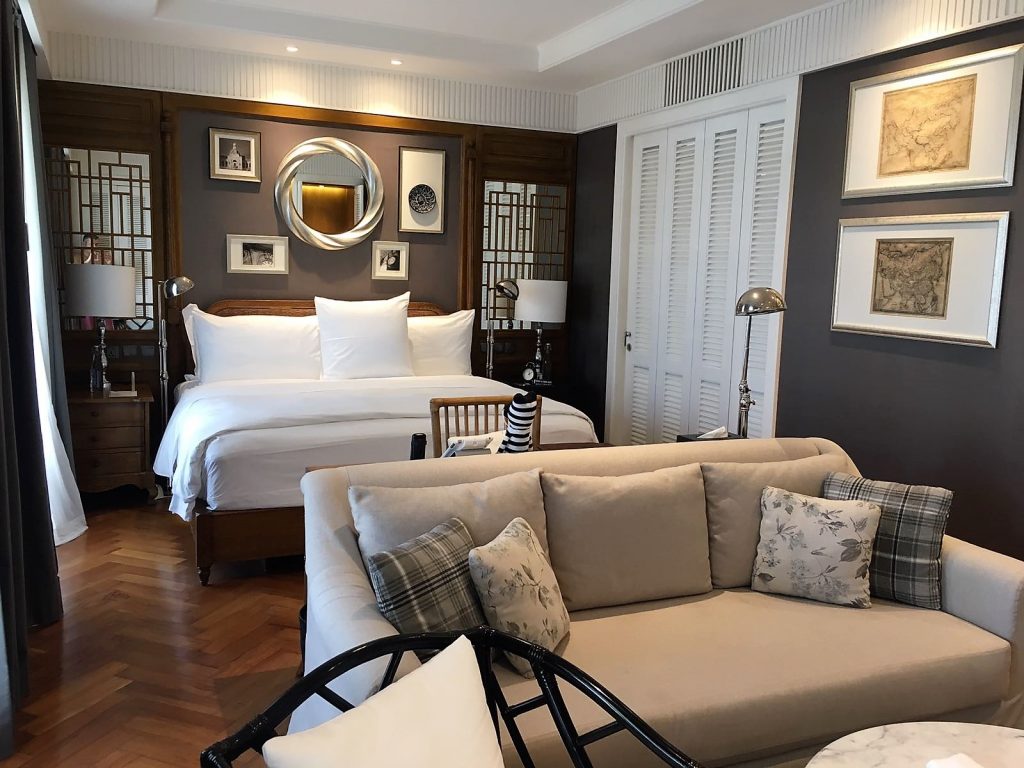 It also had the free minibar with soft drinks and beer, wine fridge and has a good sized sitting area with a sofa and chairs. You also get popcorn, pistachios, chocolate and protein bars as free snacks. There was fresh fruit in the room daily along with a patisserie offering at turn down. Free water was provided in the bathroom, mini bar area and at turndown so you never went short. There is a balcony overlooking the pool with a sofa and a separate table and chairs which we used for our sunset champagne drinks!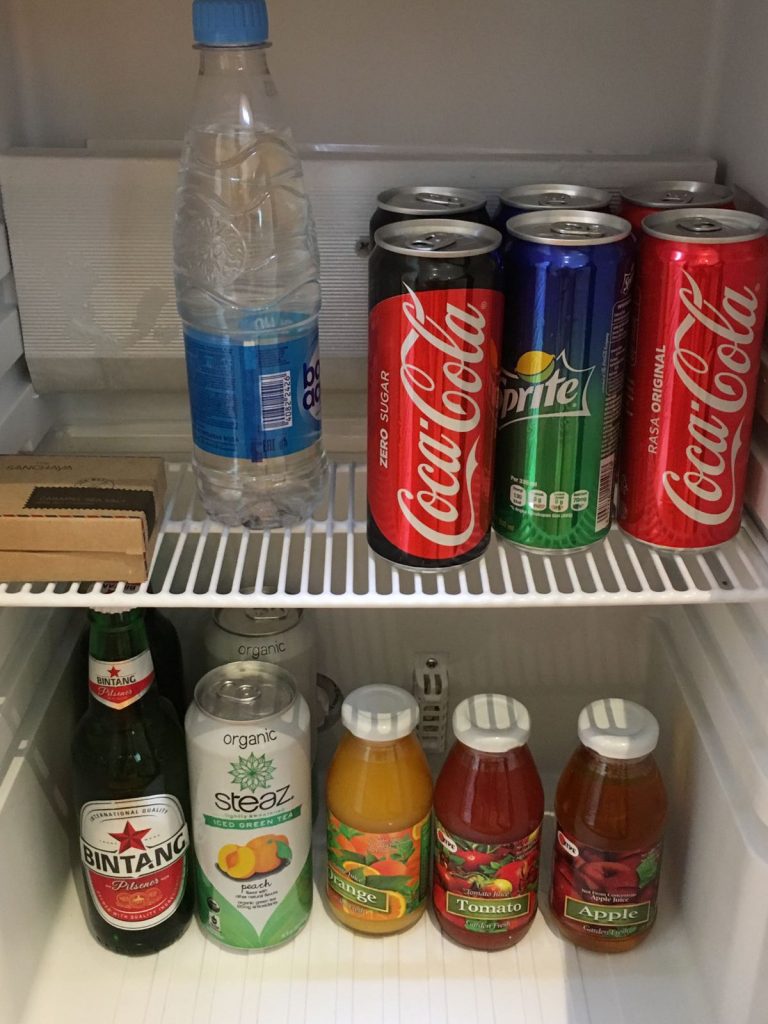 The room had a much lighter feel to it, including the bathroom. I love the decor of these rooms in the main house with its modern yet classic colonial feel. In fact, it has inspired some of my decor at home!
Sanchaya Suite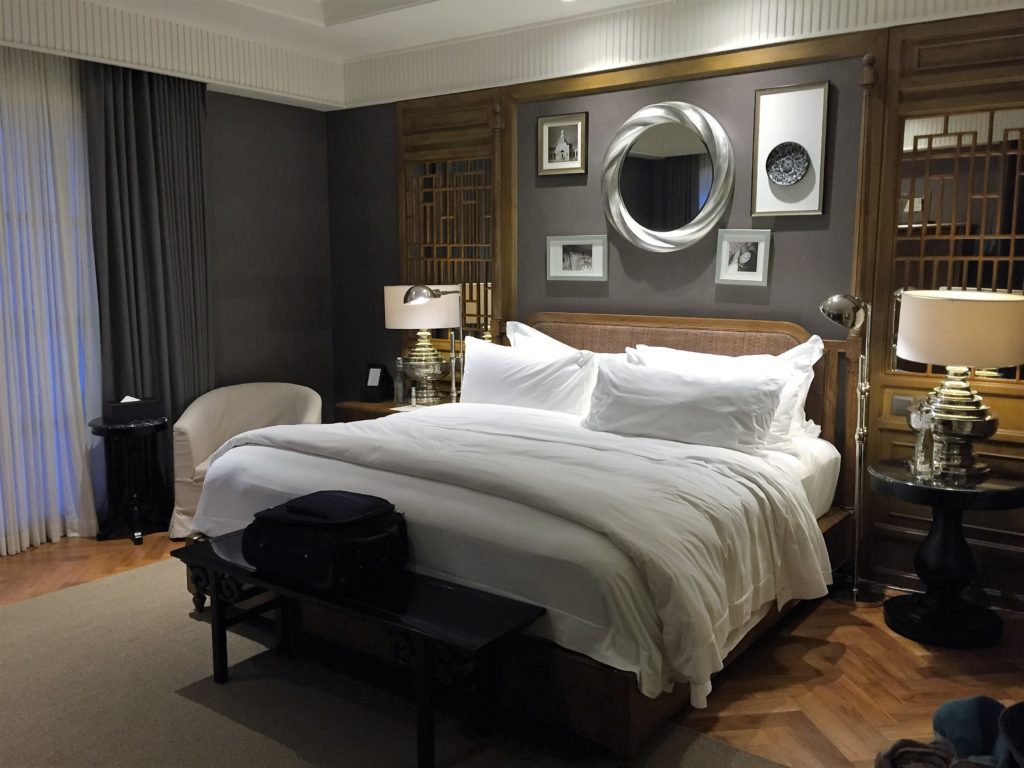 This was the room I stayed in on my first visit. It is very similar to the Junior suite but has a wrap around balcony which is larger and also a separate living area. It is also situated on the upper floor of the Great House.
There was a lot of attention to detail in the room but we were both a bit mystified by the bic pen that RR spotted in the writing folder. Apparently, these are now a retro item! We did appreciate the personalised 'In residence' notepaper though.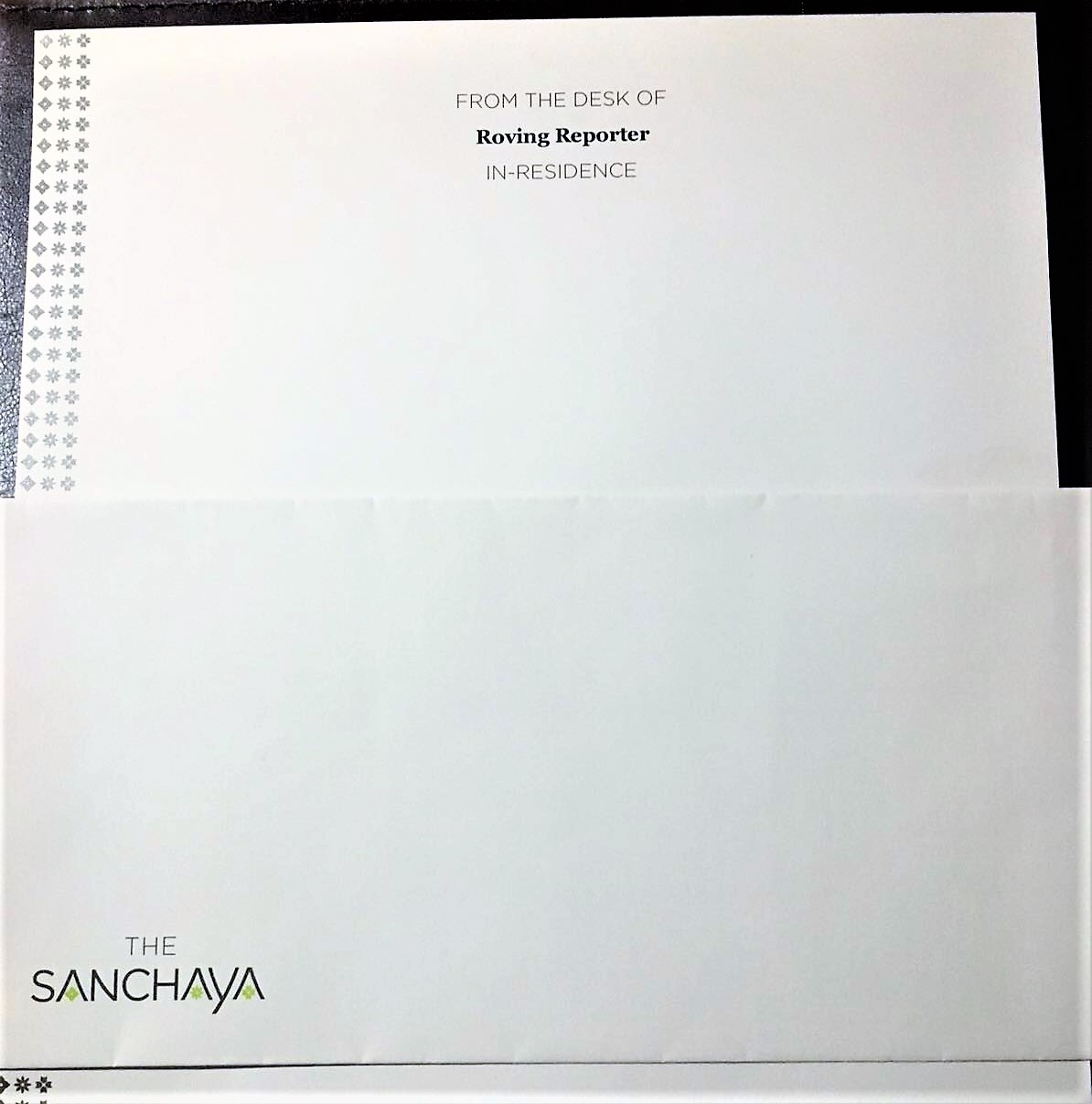 There are also a number of other larger villas including some around a shared pool and beach villas.
The spa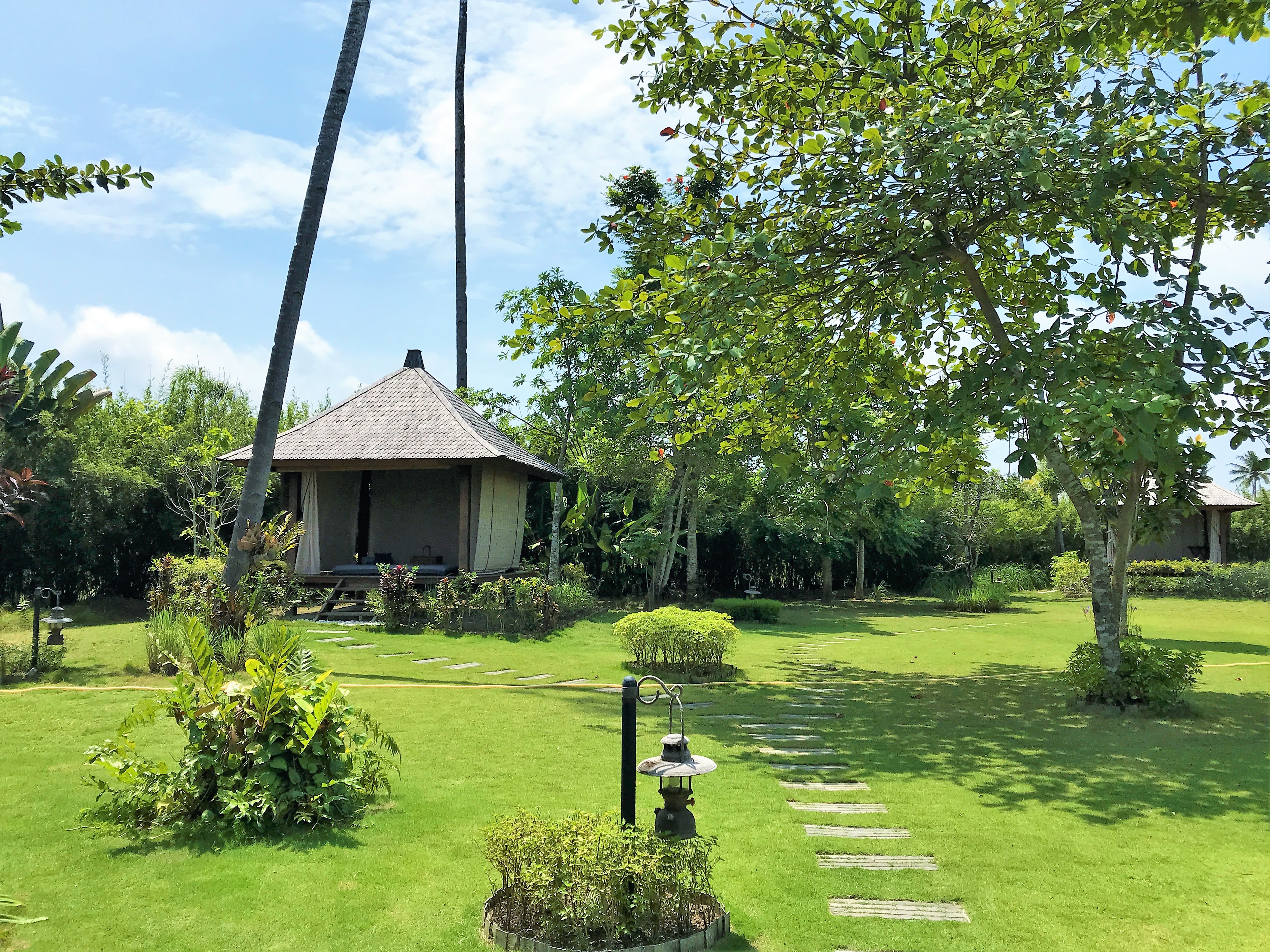 The spa looks a bit "rustic" from the pictures and in fact, Roving Reporter wasn't planning to have a treatment until he saw the spa in the flesh during our initiation tour. I had already experienced the spa so had prebooked my treatments (he should really have learned to trust my judgement by now!). The spa treatments were fantastic and not ridiculously expensive. My therapist was so lovely, she wanted to come home with me! She was very caring but skilled too and gave me a fantastic foot massage and Balinese massage on my two visits. As you enter the spa you are hit with a lovely lemongrass fragrance and given ginger tea whilst your shoes are exchanged for slippers. Each treatment room had a separate bathroom and changing area with a shower and toilet. There was also an outdoor pavilion if you wanted an outdoor treatment.
Once you had finished your treatment you could relax in reception with more tea or water and some delicious local fresh fruits, beautifully carved. You can also have treatments in your room if you prefer.
Dining
There are 2 main restaurants, with the more casual being a Thai restaurant, Tanasee, which serves Bangkok-style street food set by the pool. In the main building, there is The Dining Room which serves local Indonesian foods and well as International fine dining. The Dining Room is open all day and also offers afternoon tea. You can dine in the bar and salon as well if you would like. Throughout your stay you get unlimited still and sparkling water which I thought was great. I begrudge spending lots of money on water when you are in a hot climate and can't drink the tap water.
Breakfast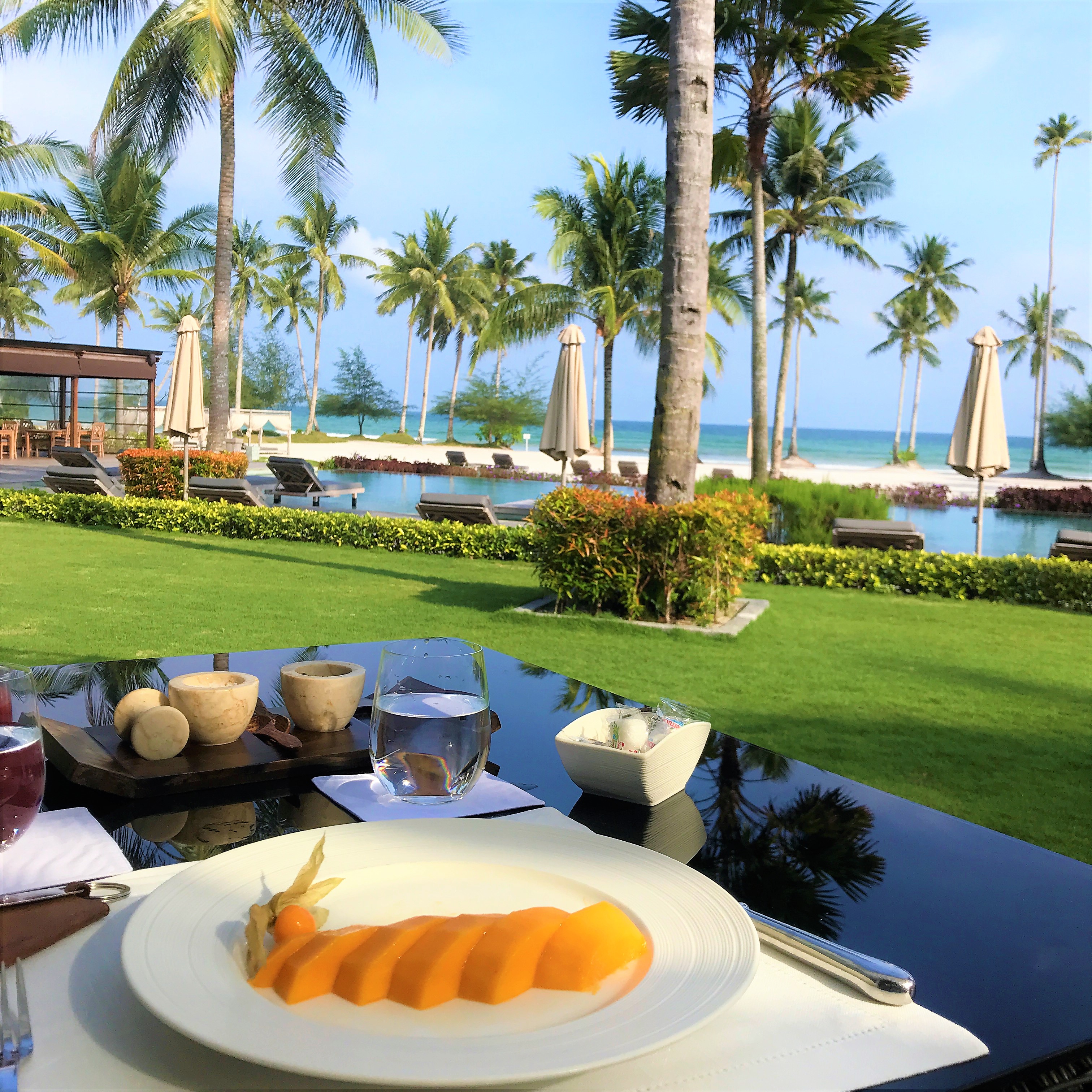 Breakfast was a very relaxed affair with a wonderful setting on the terrace. It included a different local speciality every day cooked to order, a continental buffet, homemade butter in plain or lemon flavour (lemon curd really) and an à la carte selection too. Another unique feature was the Jamu Gendong lady who visits your table during breakfast offering a healthy Jamu drink. This is an Indonesian natural medicine based on an ancient tradition passed down the generations, using local spices and root-tubers unique to the area.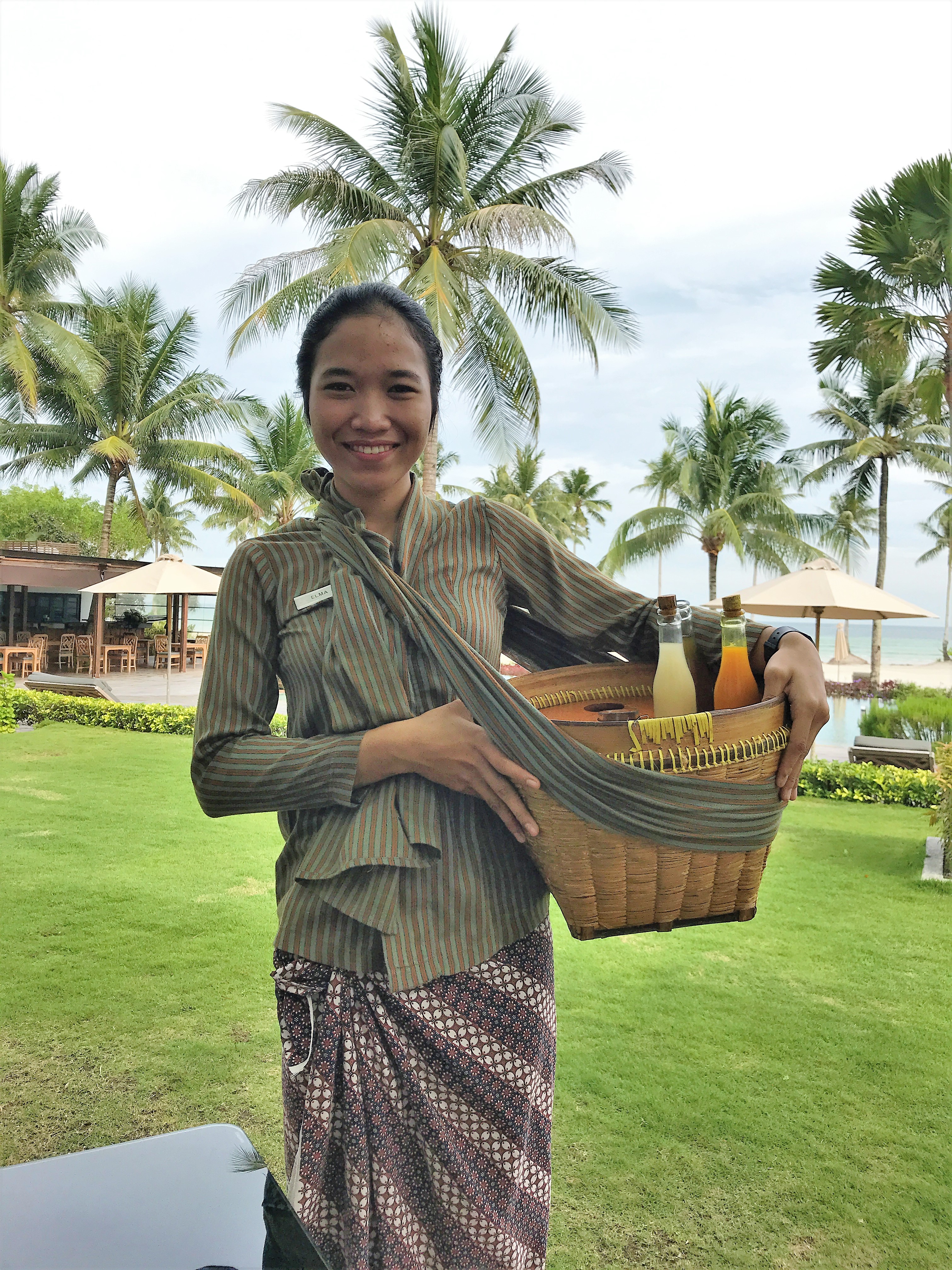 The menu had a big choice of items to order and it was difficult to choose which to have! I particularly liked the wide choice of juices and I sampled more than one each day. The cucumber and mint was very refreshing.
I was very dull and went for my favourite avocado on toast with poached egg. Believe me when I say I have eaten this in many countries and hotels all over the world and this was by far the best I have ever had. The little extra touches such as the balsamic drizzle and enoki mushrooms brought the dish alive as well as the fantastic local pepper which you ground at the table with a pestle and mortar.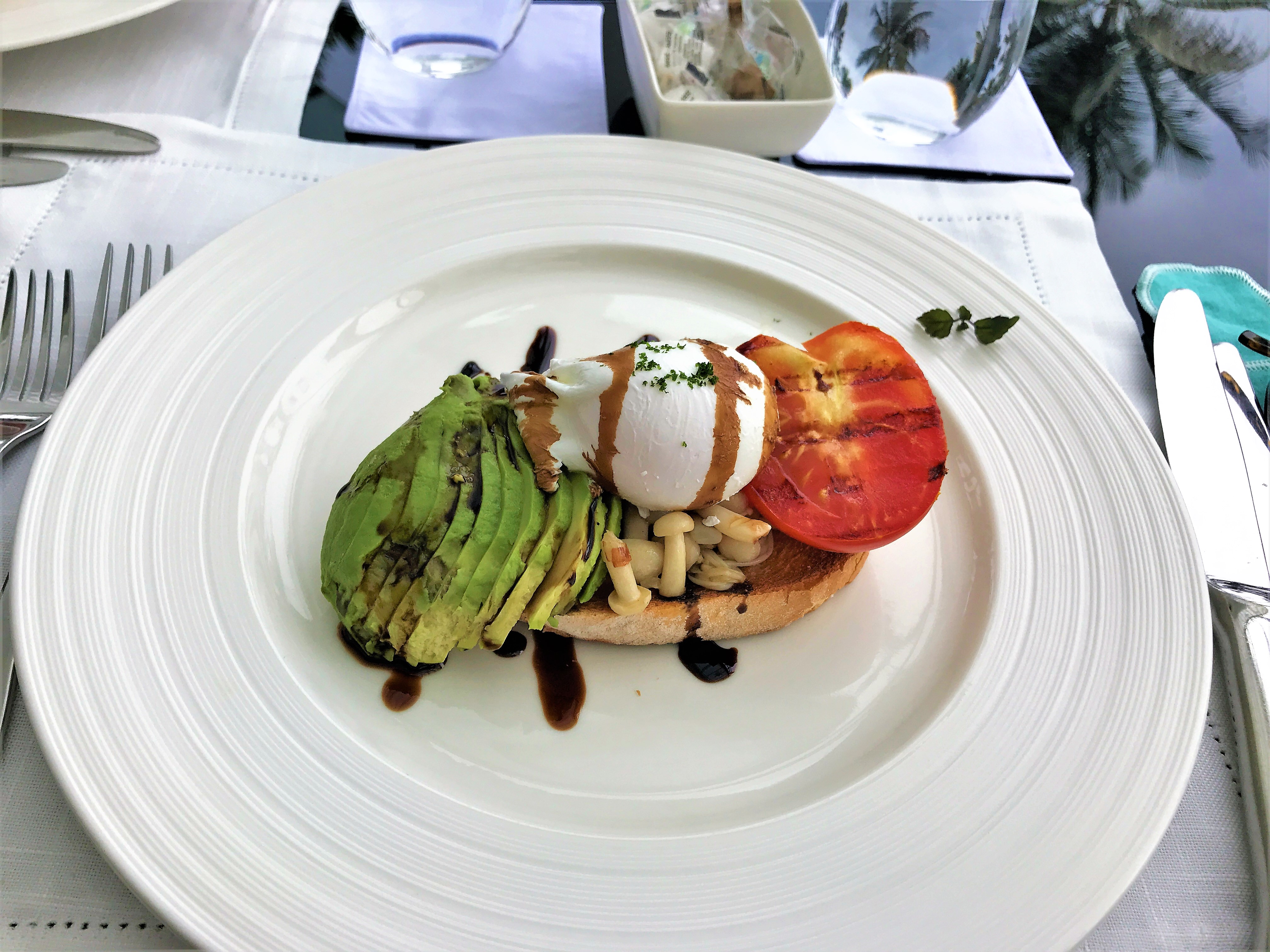 We tried both restaurants for dinner. The first night we went to the beachside Thai restaurant where we were the only people there! We started with a beautifully light and crispy soft shell crab with a shredded young mango, prawn, red shallots, cashew nuts and yum dressing, served with crispy fried catfish roll. A word of warning – these come pretty spicy!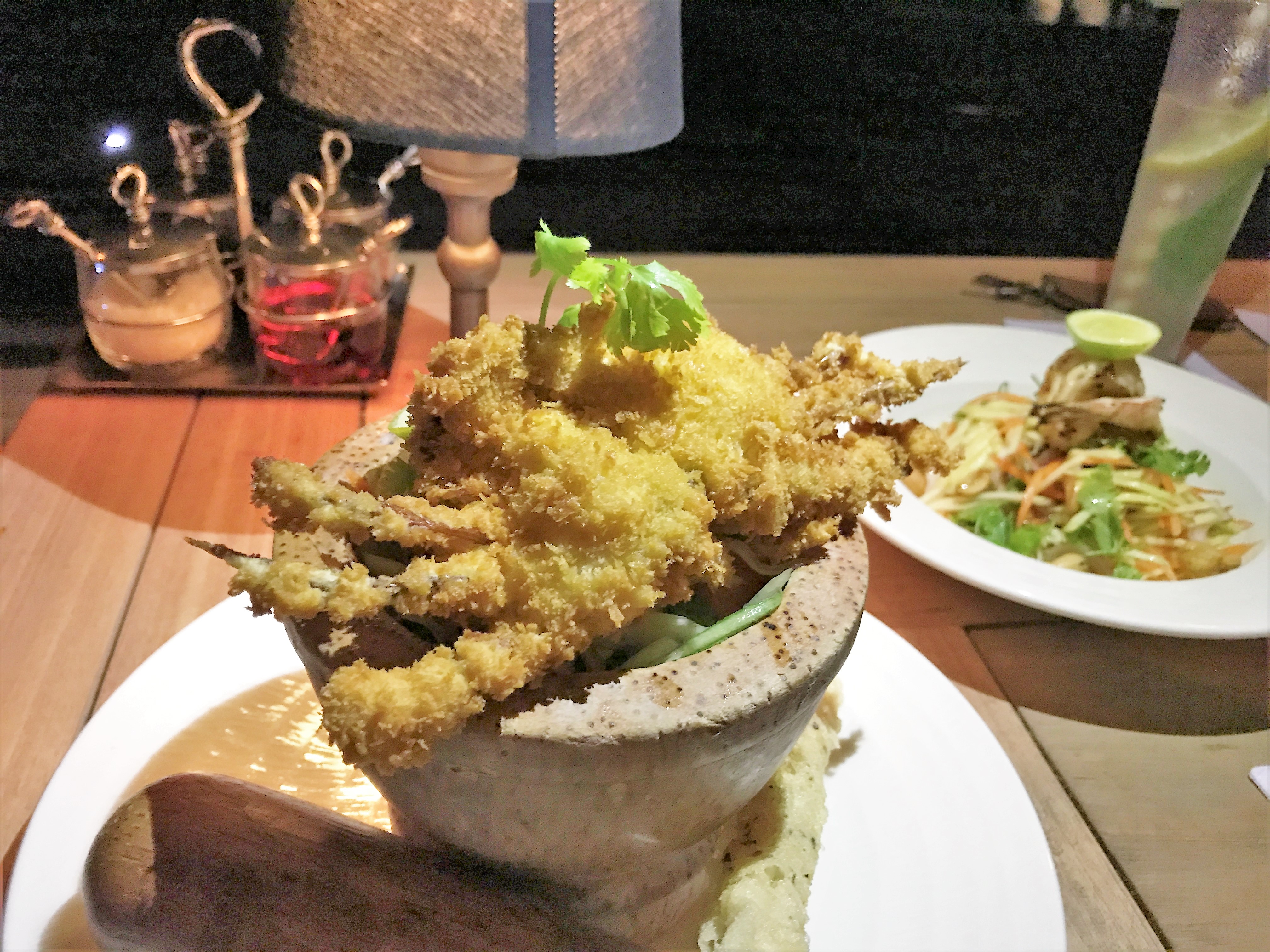 We then had the main courses which came served with a very extensive selection of rice including a rather unusual watermelon flavour which was surprisingly very tasty! I had a red duck curry with lychees and RR had a massaman curry plus we shared some delicious kai-lan with garlic. The food was all authentic and the setting was lovely by the beach for a relaxed evening. The food prices are reasonable but the wine was hugely expensive. Unfortunately, this is down to the import taxes and the difficulty actually getting it to Bintan. Cocktails and beer were no more than I would usually pay in a hotel so we stuck with those (we had brought 2 bottles of champagne with us which we shared before dinner each evening on the balcony).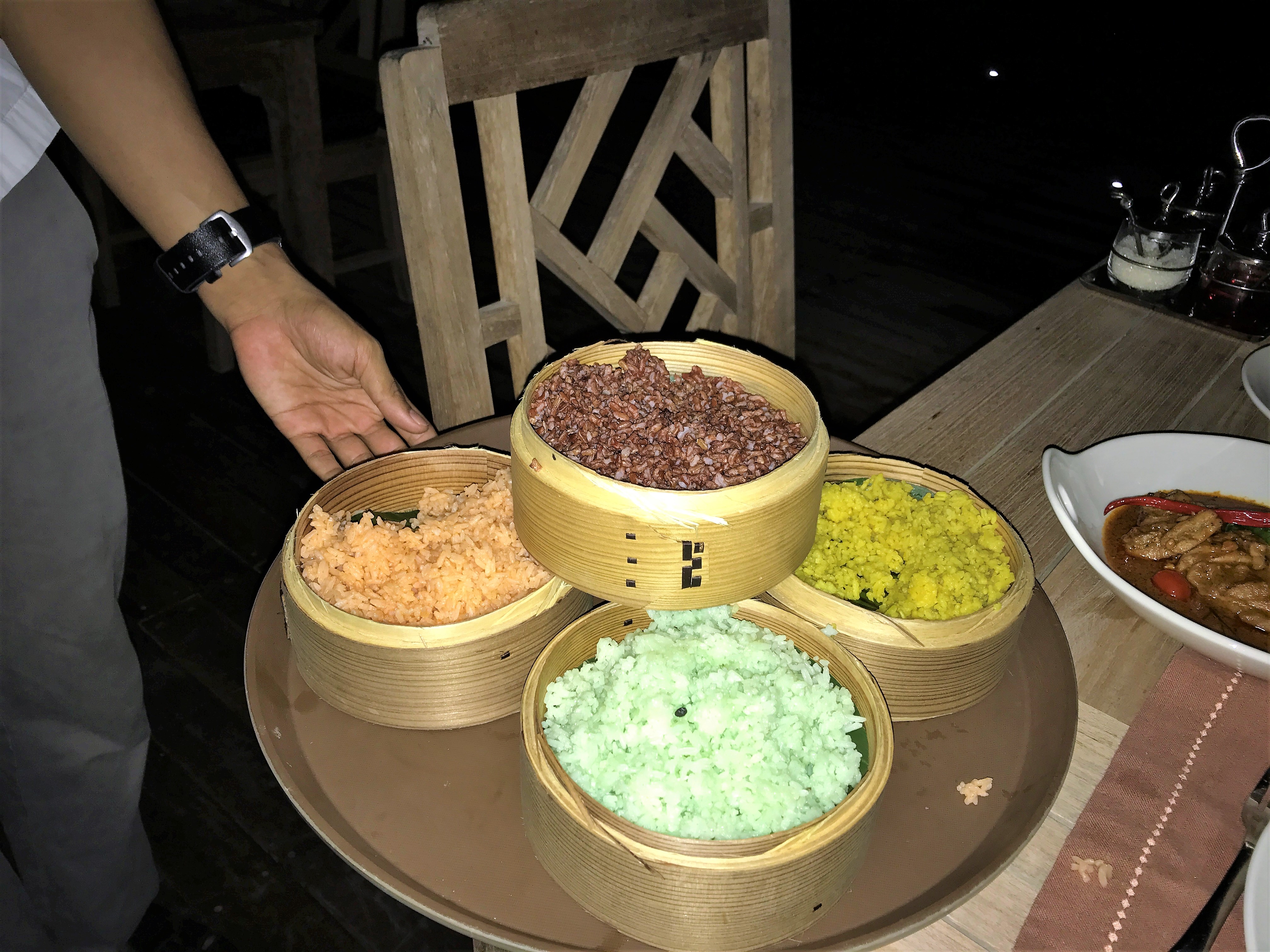 The Dining Room
The following evening we dined at the Dining Room which is slightly more formal with crisp white tablecloths although we sat outside on the verandah. We decided to go with the Indonesian food as I had had a beautiful fish dish on the previous visit that I wanted RR to try. I loved the table lamps and the patterns they cast on the table.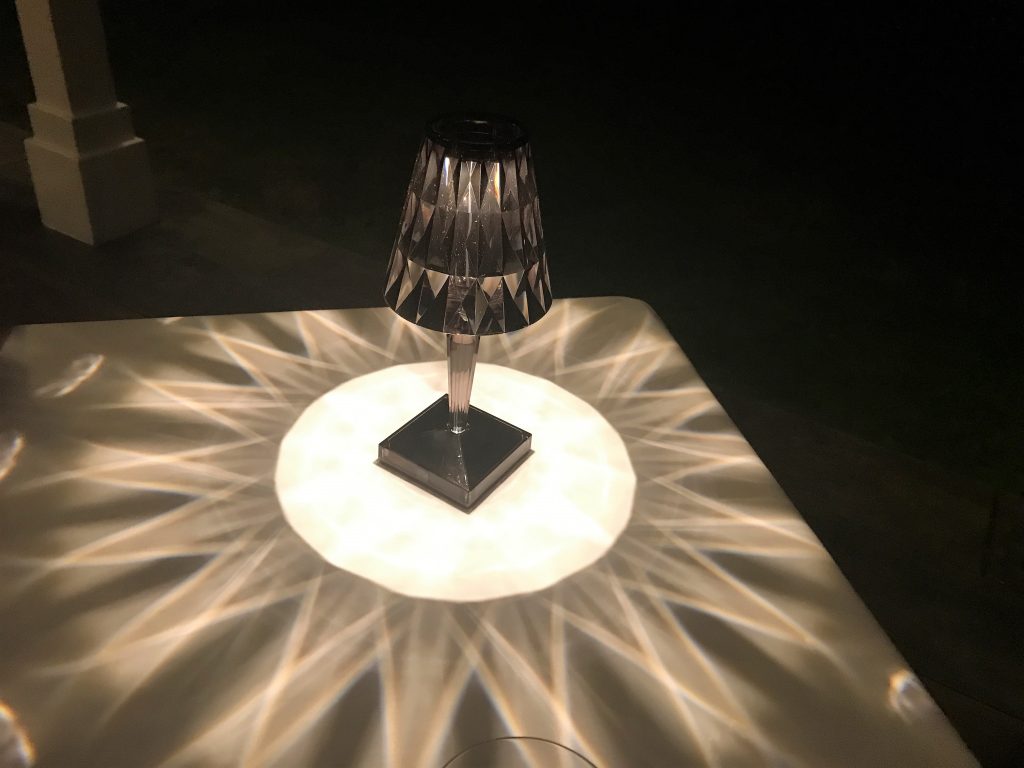 We started with a fun tableside Negroni cocktail with the most enormous ice cubes like tennis balls that almost filled the glass!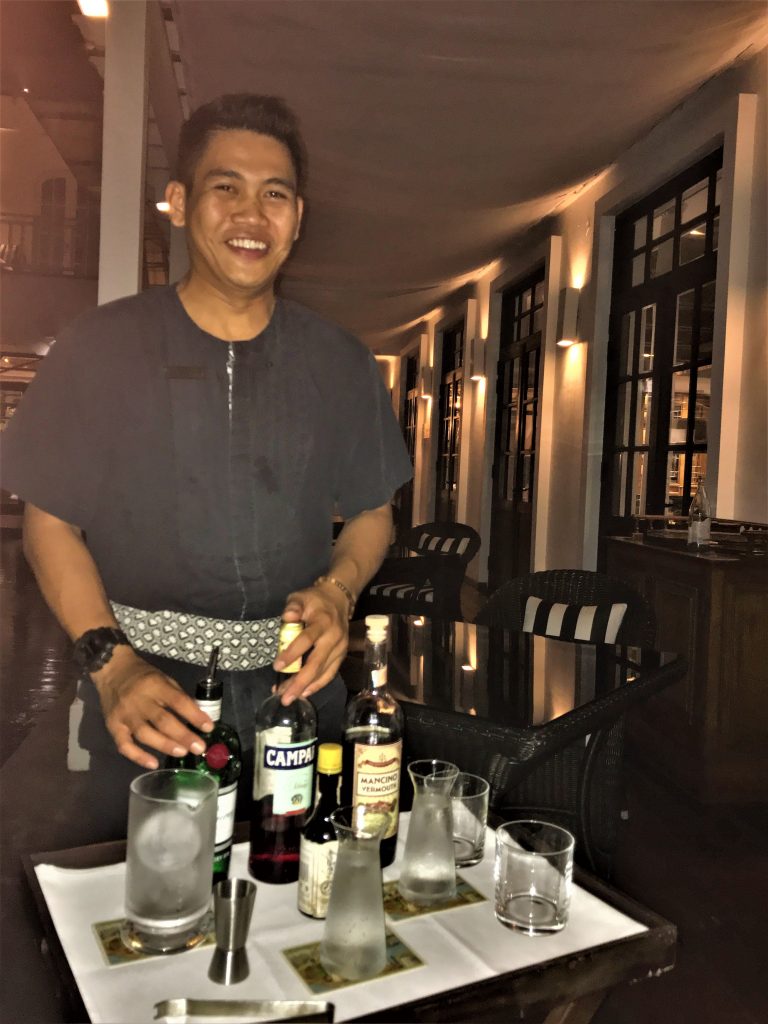 We then shared some Satay chicken, my favourite spicy and sour fish fillet, cooked with tamarind, ginger flower, chilli and pineapple served with steamed jasmine rice and some vegetables. Fortunately, the fish was as good as I remembered.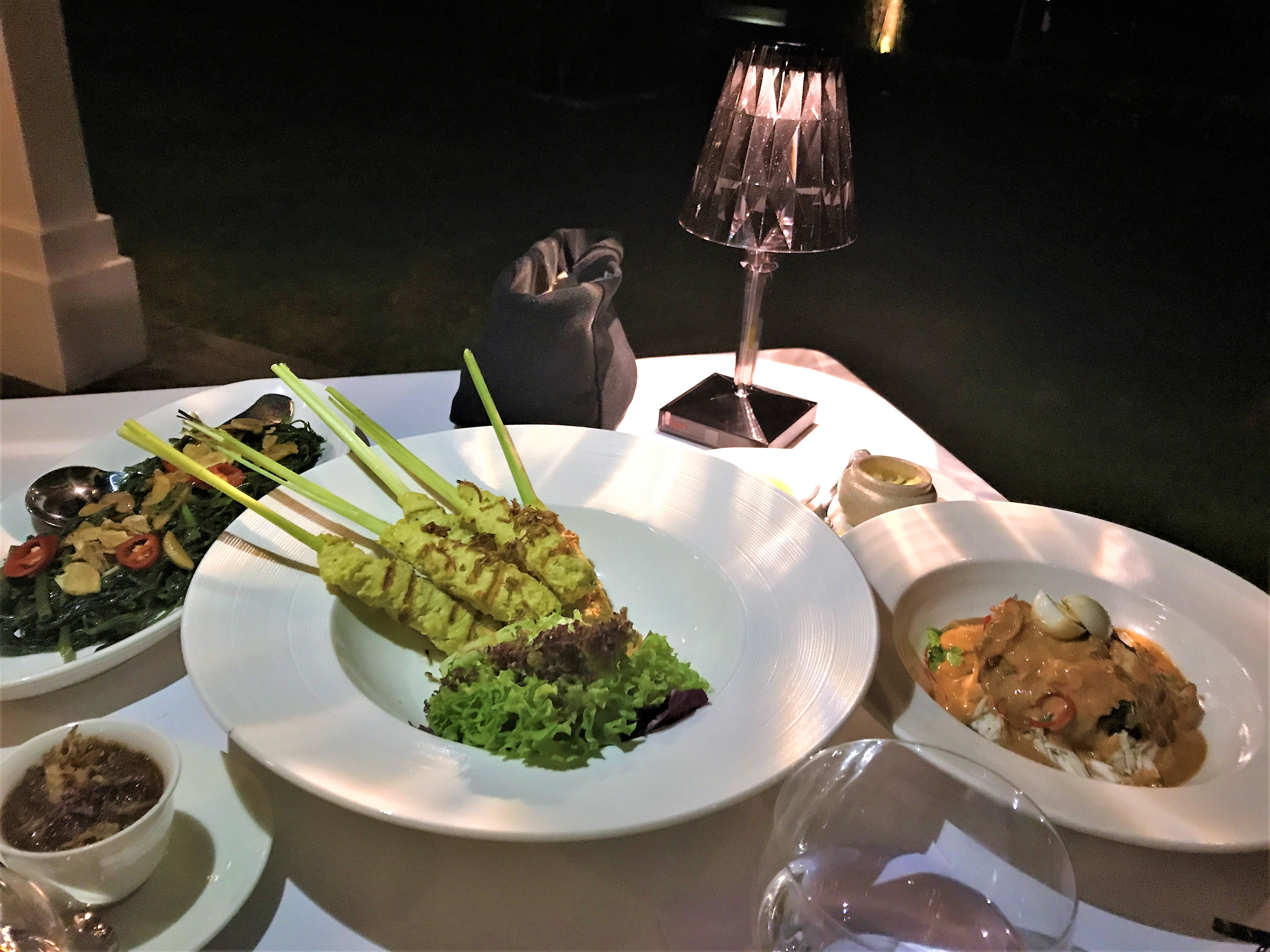 Wine and cheese experience

This was something I had done on the previous visit so knowing how RR enjoys his cheese, I thought we should try it again. We sat in the wine and cheese cellar and were served by the entertaining estate Sommelier. You get to try 4-5 wines which are each paired with a different cheese. It was interesting to hear about the lengths they have to go to get fine wines to the Sanchaya. The session was very informative but fun too and the sommelier was quite a character. I enjoyed hearing about his experiences living on Bintan and his thoughts about the cheese and wine pairings.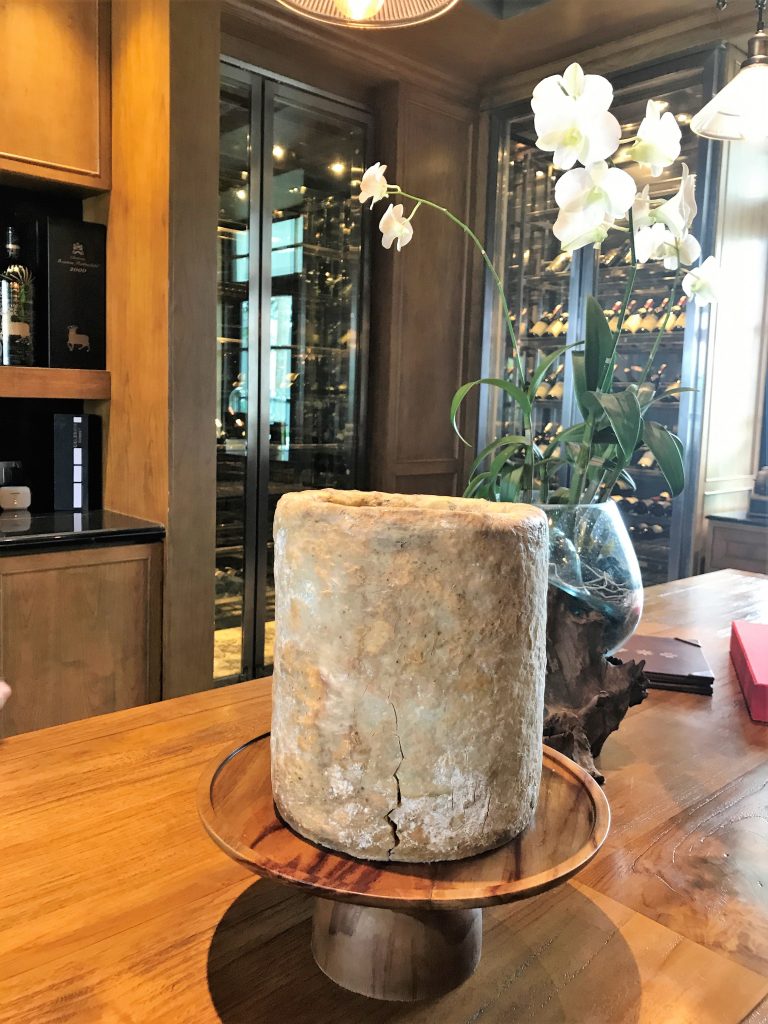 The highlight was undoubtedly the Stilton which he had been carefully marinating with port for a while. This made it almost like a pate as it was so soft and had a slight hint of sweetness. The best cheese experience you could wish for with a glass of fine wine to accompany it!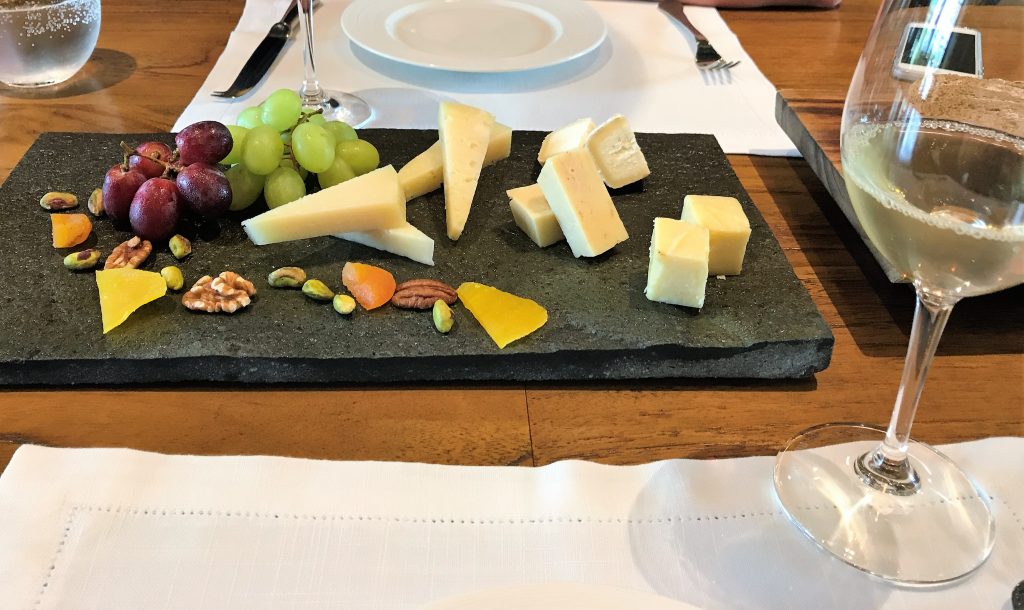 Conclusion and how to get the best price
I was pleased to see that little had changed at the Sanchaya since my last visit and if anything a few things had improved. The things I love about it are the peace and quiet, the fact that it feels like you are in a colonial mansion with your own staff and the wonderful service and attention to detail throughout the hotel. I will certainly be trying to return again as soon as I can.
This is not a cheap hotel with the Lawan Villas starting at £306 a night but I think you get a lot for your money. The best time to visit is midweek as many visitors come for the weekend from Singapore. The hotel is open to offering discounts when the hotel is quieter and do also have their own special offers page. However, if you don't see a suitable offer they are happy to be contacted to look at the best rate they can offer. You can find more information at The Sanchaya.com.
If you want to find out what other hotels were in my top 5 last year you can read this article.