On a recent trip through Terminal 3 I thought I would use my Priority Pass to check out the Aprire lounge. I had previously reviewed the Terminal 5 Aspire in this article.
I entered the lounge on a Saturday lunchtime and had no problem getting access with my Priority Pass. The team on the desk were more welcoming than at T5 where they were bickering with each other!
The Lounge

The lounge feels bigger than the T5 one and has a bit more to it. It has:
Quiet Zone
Dedicated Snooze Area with lounger seats
Multimedia tables, enabling travellers to access news and play games
Bliss Spa – where travellers can have a range of massages, manicures, and other pamper treatments, including an exclusive Legology leg massage, ideal before or after a flight.
Business traveller services, including complimentary Wi-Fi, charging points and desk areas
On-site showers, toilet and baby change area
The lounge had floor to ceiling windows overlooking the apron along one side. There was plenty of seating, although it was fairly busy. If you wanted to work there were convenient desks with power points. There was a buffet and bar area with separate tables for dining.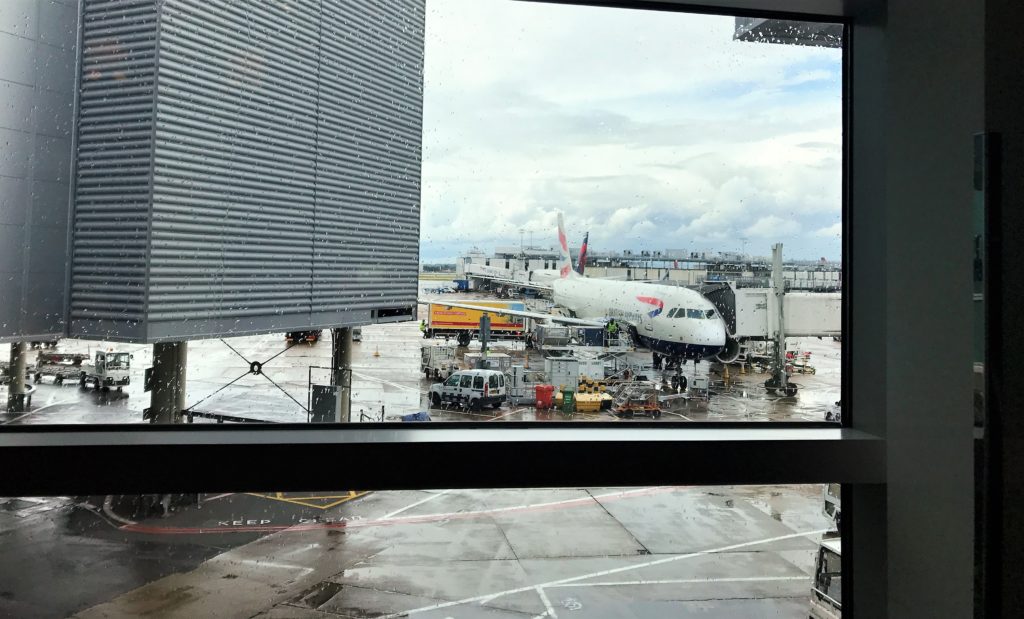 There were plenty of charging points next to the chairs which was very useful and nice large tables if you didn't feel like sitting in the work area to use your laptop.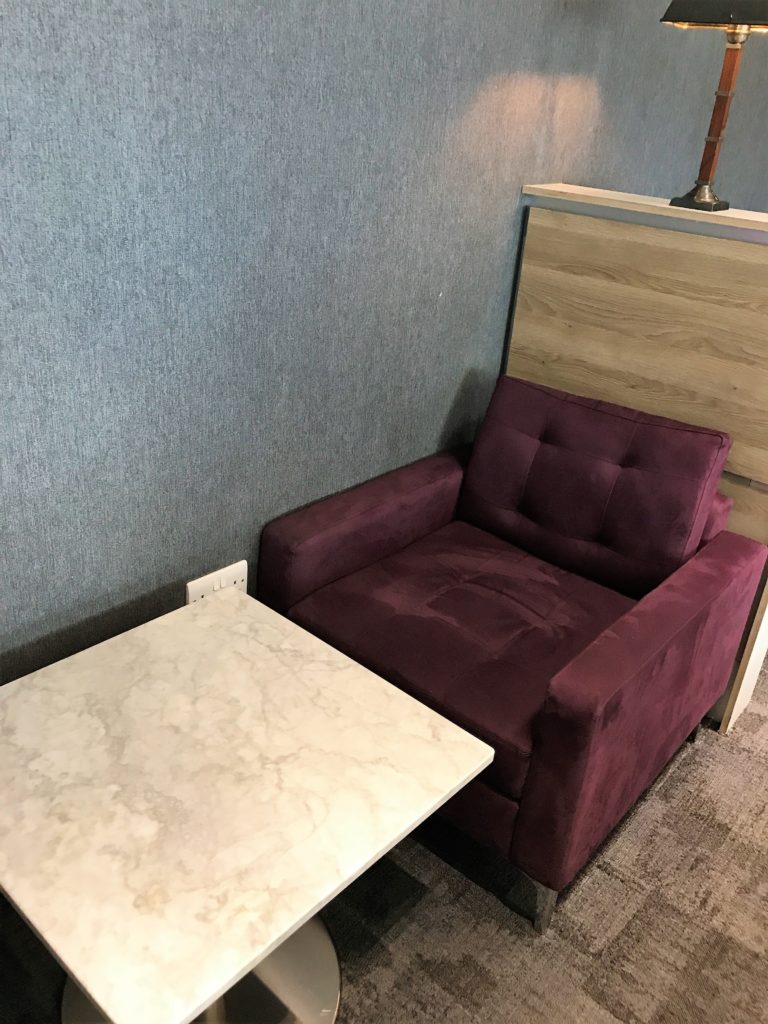 I particularly liked the Snooze area which looked comfortable and quiet with its loungers in separate bays.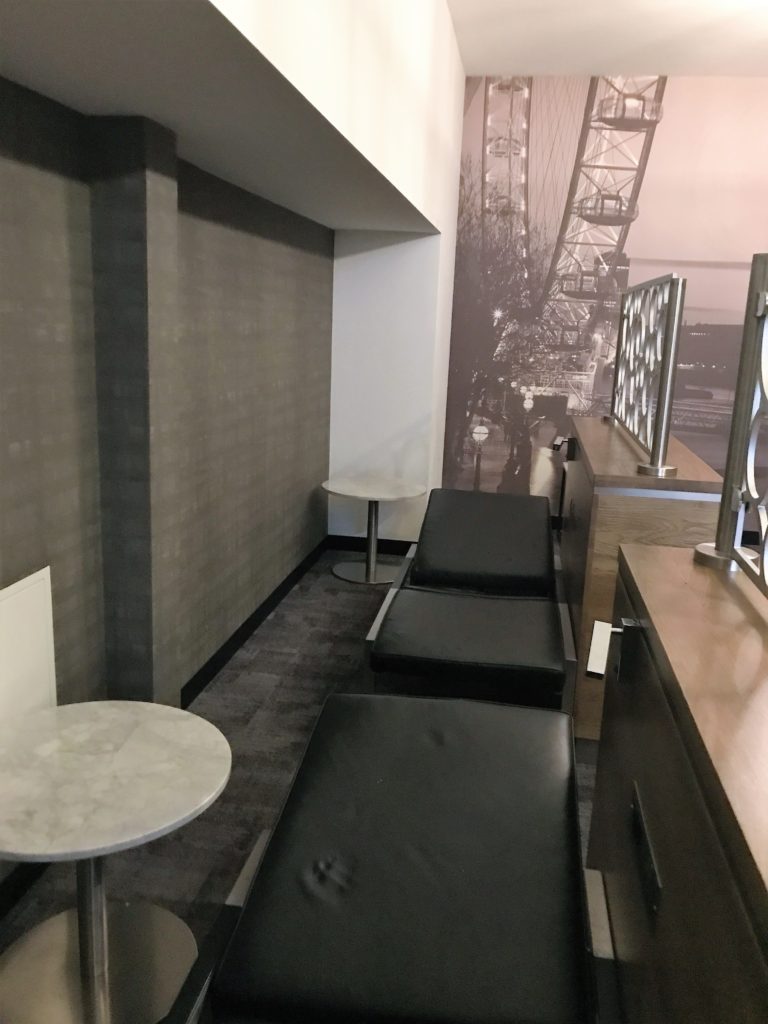 The Bliss spa in the lounge offers 20 or 40 minute treatments starting at £20. You can find the list of treatments here. Showers are available too.
Food and drink
The food selection was very similar to T5 and I thought it looked pretty good overall, compared with the BA Club Lounge food.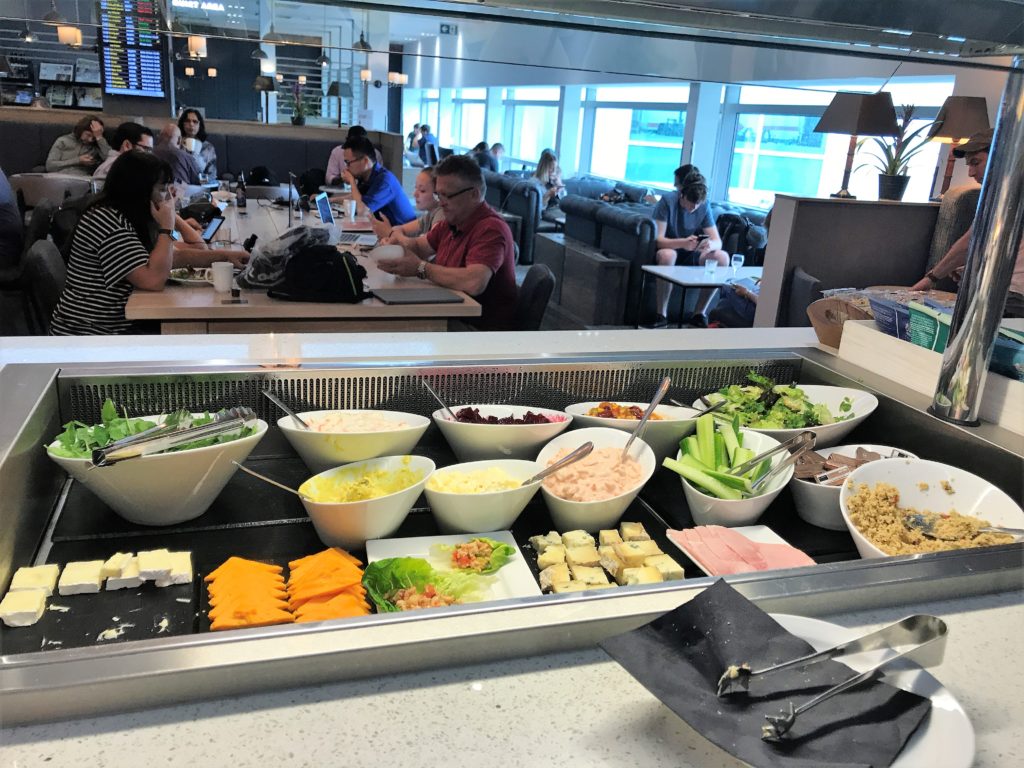 I tried a few bits from the salad bar and they tasted fresh and decent quality. The menu at the time was as follows:
Rustic Meatballs and Pasta 
Italian style meatballs with a rich tomato sauce and penne pasta.
Thai Green Curry 
100% chicken breast and chunky vegetables in a Thai Green Curry sauce, served with rice.
BBQ Pulled Pork & Rice 
Pulled pork topped with tangy barbecue sauce, served with rice.
Ratatouille 
A healthy mixed vegetable ratatouille, served with pasta and a classic tomato sauce.
Vegetable Curry 
Curry with sweet potato, chick peas and spinach, served with fluffy rice.
Pasta & Cheese Sauce 
Penne pasta with a creamy cheese sauce.
Pasta Carbonara 
Penne pasta with a creamy cheese and bacon sauce and plenty of black pepper.
Pesto Pasta 
A classic basil pesto and pasta
Mushroom Pasta 
Creamy mushroom sauce and pasta.
Tomato Pasta 
Pasta with a rich sun ripened tomato sauce.
Mini Stuffed Croissants 
Croissant filled with Spinach and Ricotta; melted Gouda cheese or tomato and mozzarella quiche 
Your choice of Broccoli and Cheese V or traditional Quiche Lorraine
Meat Samosa 
A warm, spicy Indian snack with Lamb and mixed vegetables.
Vegetable Samosa 
A warm, spicy Indian snack of mixed vegetables
Soup of the Day 
With a fresh bread roll.
Italian Mozzarella Salad 
Chicken and tomato, drizzled with a pesto dressing and served with baby gem lettuce.
Thai Sweet Chilli Chicken Salad 
Chicken and tomato, dressed in a sweet chilli sauce, served with baby gem lettuce.
Prawn Cocktail Salad 
Prawns and a tangy Marie Rose sauce served with cherry tomatoes and baby gem lettuce.
Greek Salad 
Feta cheese, black olives, cherry tomatoes and fresh salad leaves.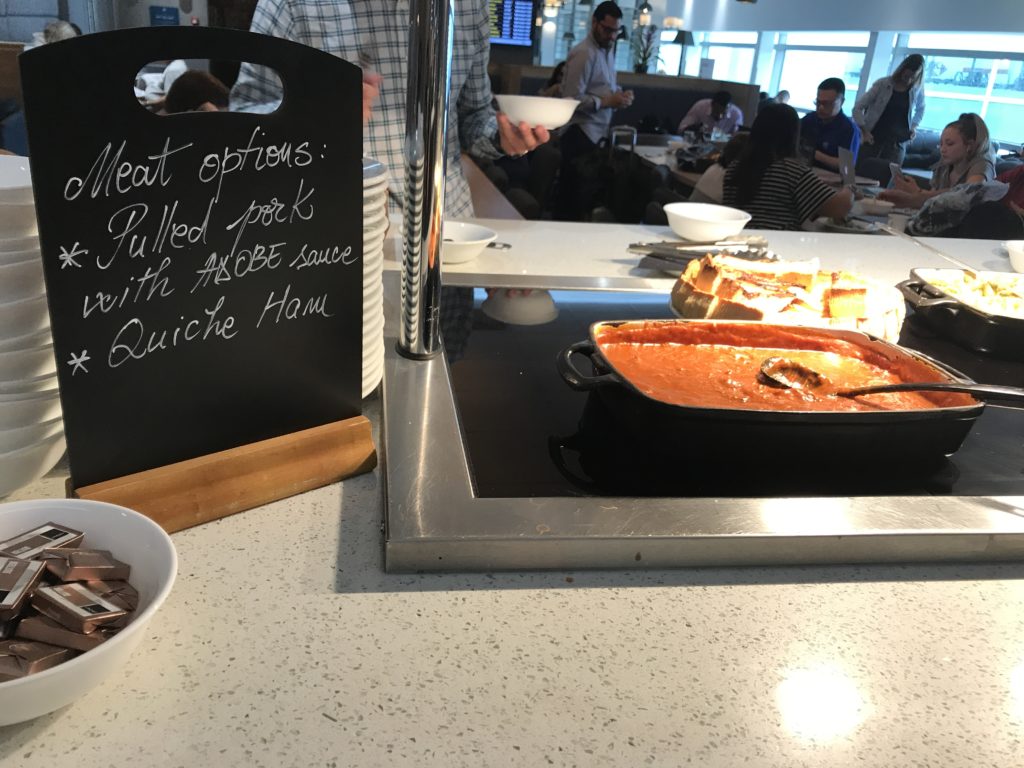 If none of this appeals they do also have a premium menu of items to order:
Aspire Cheese & Bacon Burger with Sweet Potato Fries – £6.99 
signature ASPIRE flame-cooked beef burger, topped with melted cheese, bacon and chilli jam in a brioche roll served with crispy sweet potato fries.
Singapore Noodles – £5.99 
Chicken & Chorizo Pizza – £7.99 
Italian tomato sauce, mozzarella cheese, succulent chicken and spicy chorizo sausage, drizzled with pesto.
Margherita Pizza – £6.99 
Luxury Fish Pie – £6.99 
fish in a rich white sauce topped with a generous layer of creamy mashed potato.
Apricot Glazed Pork Belly & Cheesy Gratins – £9.99 
pork belly with a fruity apricot glaze and a rich gratin potato stack.
Golden Chicken Bites- £4.99 
Served with fries.
The drinks are the area that lets the lounge down and they are nowhere near the standard you would get in the BA lounges, particularly in terms of wine quality. There is no self-service for alcohol and drinks must be ordered from the bar. The wines were better than in T5 but still cheap and cheerful, around the £7 mark, to buy in a shop. They were Cambio 7 Sauvignon Blanc, Conti Rossi Pinot Grigio, Argento Malbec Rosé, Saam Pinotage and El Collectivo Malbec.
For spirits, they actually had a fairly decent range. This included Gordons's gin, Dow Port, Baileys, Bacardi, Belvedere Vodka, Martell VS Cognac and even SPEY Tenné single malt whisky. There was also a reasonable choice of beers with draught Birra Moretti, London Pride Ale and Guinness amongst others.
If you can't face the basic wines, you can pay an extra £10 to get one of the wine flights of three 75ml tasting glasses
• Sensational Sauvignon Blanc – 3 Sauvignon Blanc wines from Chile, France and New Zealand
• The French Affair – 3 quintessential classic white wines from across the English Channel.
• Brave New World – Full flavoured, rich style red wines from the Southern Hemisphere
• The Jet Set – Treat yourself with this line-up of some of the most iconic red wines.
There are some other options to purchase as well:

How to get it cheaper
As I mentioned in this article, you may be able to get the Aspire lounge with Avios for around 3500-4500 Avios. The other ways to save money would be to use someone like Holiday Extras with Topcashback, Lounge Buddy with their introductory offer of $10 off your first visit or you can use a Priority Pass if you have one. This article explains the different ways to get lounge access.
Is it worth it?
The lounge is nicely decorated and there was a good selection of food, certainly equal to the BA Galleries Club. The drinks are what lets it down, particularly the cheap wine. If you are a beer or spirits drinker, it is not as bad.
Lounge visits are limited to 3 hours but if you book direct then you can extend that if your flight is delayed. If you had a long layover you can book 2 visits back to back but the cost would be way too high in my opinion. You would be better getting a day room at a Heathrow hotel.
I don't think the lounge is worth £34.99 but if you got a discount on it, it is a quiet place to sit and have something to eat or work. It would also be worth it if you wanted to get some sleep as the snooze zone area would be a good place for a lie-down. If you are going to spend extra money on the food or wine it is definitely not worth it as you may as well just go to a restaurant in the terminal.