This is the second part of my review of the Manor House Hotel at Castle Combe which I booked through Secret Escapes. You can read the first part of the article where I review the hotel itself here.
The Full Glass Bar and Wine List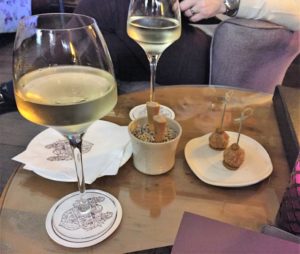 We started our evening in the hotel bar to peruse the menu and enjoy the complimentary canapes. The bar serves light meals as well as a full range of cocktails. The highlight of the bar is undoubtably the 160 different gins they stock including 2 of my personal favourites Fifty Pounds and Warner Edwards. They also stock a local Cotswold Gin.
We decided to stick with wine and enjoyed looking through the extensive wine list which had some inspired New World choices such as both an Albarino and a Gruner Veltliner from New Zealand which you do not see very often. As they had an excellent choice of wines by the glass we decided to stick with those.Although tempted by the Nyetimber sparkling wine, I went for the  Chardonnay from Monterey California and my friend went for the Vavasour Sauvignon Blanc from Marlborough. Both wines were good quality and enjoyable as well as reasonably priced. The restaurant has a sommelier on hand if you have trouble choosing from the wine list.
Bybrook restaurant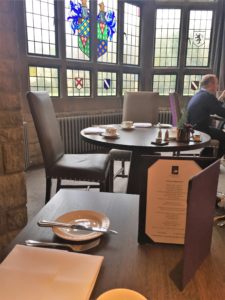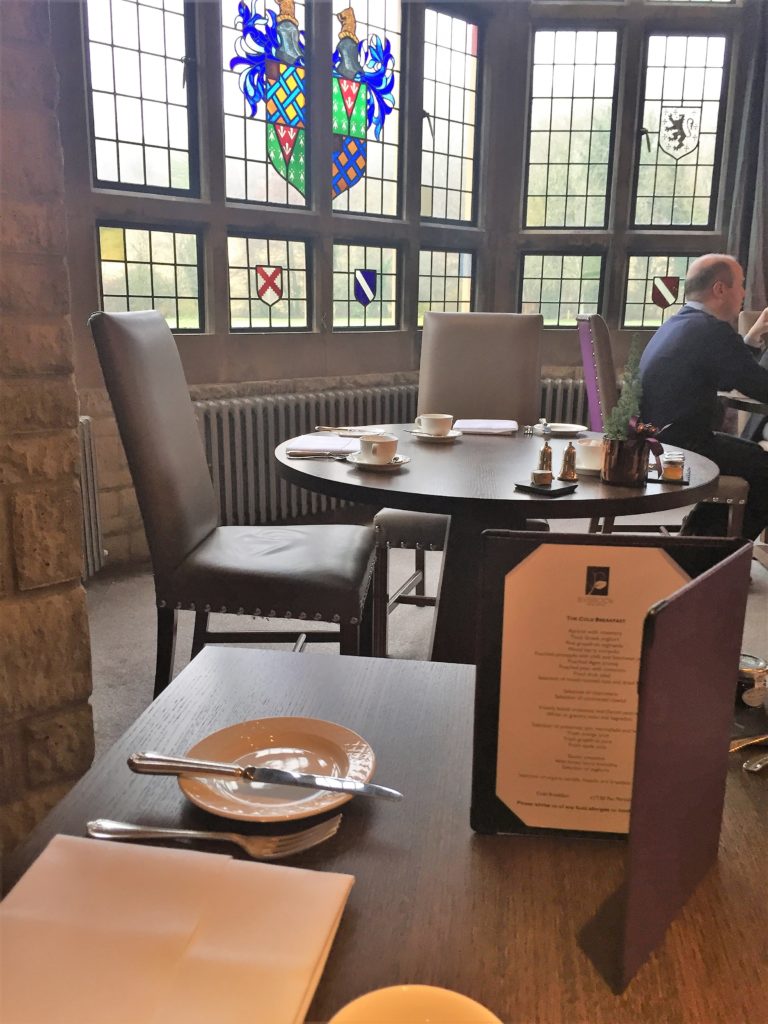 The restaurant takes its name from the river that runs through the hotel grounds and has maintained its Michelin star after the arrival of a new chef, Rob Potter in February 2016. Vegetables, fruits and herbs are all grown for the restaurant in the hotel's kitchen garden. There's definitely not many food miles here!
Rob Potter was formerly at  Lucknam Park under Executive Chef Hywel Jones, which also has a Michelin star. Rob started out as Commis Chef at The Bay Tree in Birmingham, under Michelin starred Head Chef Andy Waters, one of Rob's most influential peers. Potter says he has "a dedicated focus to serving seasonal and classical food combinations" and his aim "is to create a relaxed fine-dining menu influenced by the seasons as well as being dictated by the beautiful British produce harvested from within the grounds of The Manor House.''
The Manor House has been following the recent trend of trying to create a less formal, more relaxed atmosphere in the hotel and restaurant. They have added new chairs in the signature purple and grey colour scheme. The tablecloths have also been removed which I actually think is a shame. I think you can create a relaxed ambiance but still have a sense of occasion by having a fine dining setting. Overall the dining room itself was the one area I felt could be improved in comparison to other Michelin starred restaurants I have visited. The room was quite large and lacked any sense of intimacy. Chandeliers were overly bright and not in keeping with the modern yet sympathetic to the age of the property overall style. The final problem for me was the very busy wallpaper which looked out of place as a feature wall.
However I am pleased to report that the food was uniformly excellent and well worth visiting the hotel for. Innovative as well as tried and trusted food combinations were all delicious.
Before our starter arrived we were given an amuse bouche which consisted of a mushroom espuma with sherry vinegar, crouton and truffle oil. Usually I am not a fan of truffle oil but this was a high quality oil used in the right proportion to add earthiness to the mushrooms. The sherry vinegar was a stroke of genius and really lifted the dish, balancing out the creaminess of the foam. I may have to try that next time I have mushroom soup at home!
I must also mention the service which was very much in keeping with Michelin standards but made extra special by the Head Waiter, David. His professional yet charming style which stayed just the right side of cheekiness, helped create a relaxed but memorable atmosphere for the meal.
To start I had Orkney hand dived scallops, celeriac puree, salsify, hazelnut vinaigrette with chicken jus. This was absolutely delicious with enormous scallops which were perfectly caramelised. I was initially unsure about the addition of the hazelnuts but they added texture to the dish without overpowering the delicate scallops. My dining companion had the confit of citrus cured Loch Duart salmon, Cornish Crab mango, black radish and coriander. The salmon had a meltingly soft texture which needed the crunch and pepperiness of the radish to counteract the richness. The crab and mango also added a freshness to the dish.
To follow I had partridge with blackberries and mushrooms which was again beautifully balanced in flavour although one of the pieces of partridge was slightly overdone. The other piece had the perfect amount of pinkness and was tender and moist. My friend had the venison with salsify and venison faggots which was perfectly cooked and full flavoured.
Prior to pudding we were served a pre-dessert. This consisted of yoghurt espuma with plums which was wonderfully tart and refreshing.
For dessert I had the figs with gingercake which was enjoyable but when I tasted my friends dessert I wished I had gone for that instead. He had the baked mango soufflé, coconut sorbet with confit lime. This was definitely the highlight of the dinner . The souffle was incredibly light yet bursting with mango flavour. It was a lovely light way to finish a meal.
Our menu was included in our room rate but the normal cost would be £66 for 3 courses. A 7 course tasting menu is also available for £85 with optional matching wines for an additional £50pp.
The restaurant is open for dinner 7 days a week and for lunch on Sundays.
Special offers
If you fancy staying so you can enjoy the gin or wine list, then there are a couple of special offers on currently.
30% off suites sale includes:
Accommodation in your chosen type of suite
Full English Breakfast
Prices based on 2 people sharing a suite
Offer valid for selected dates from 27th December to 17th February 2017 only 
There is also a dinner, bed and breakfast promotion running between the 27th and 30th December and from the 1st to 31st January which is priced from £130 per person to include accommodation in a Cosy room, full Manor House breakfast and a three course dinner in the Michelin starred Bybrook restaurant. All prices are subject to availability and there is a £50 supplement on a Saturday. You can upgrade this deal to the full tasting menu and a higher category room subject to additional cost and availability. Visit the Manor House Hotel website for details here.