Booking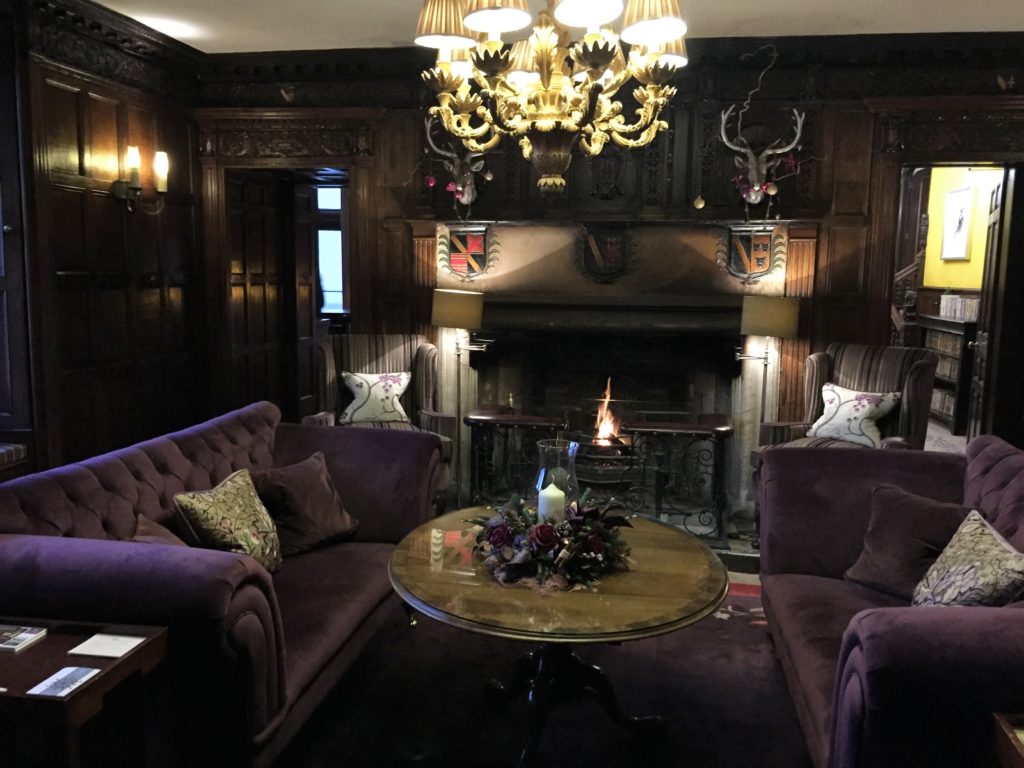 Secret Escapes, is a members only website with hand-picked hotels, holidays and exclusive offers. They guarantee to offer the best rates online during a sale. Every week they run up to 140 short 'flash sales' lasting around ten days each. It is free to join and if you use this link to sign up you will receive £15 credit off your first booking.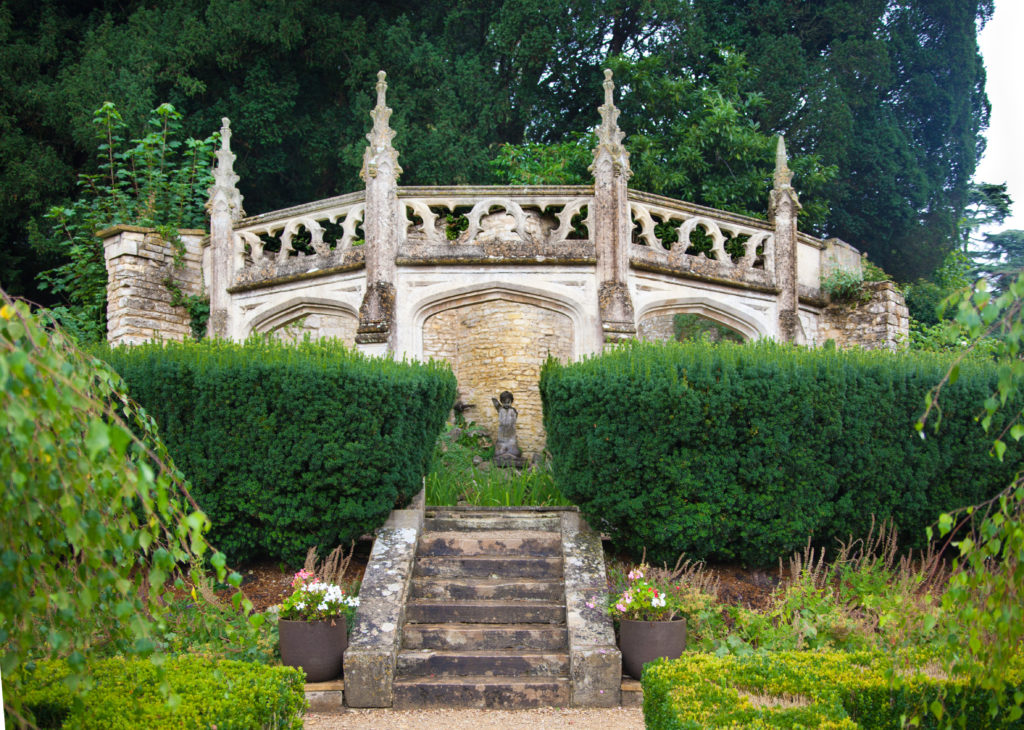 We booked the Manor House using Secret Escapes for a total price of £314.96. This included a £10.00 booking fee payable to Secret Escapes and a payment processing fee of £5.96.
The rate included:
Accommodation in a Plush room
Full Manor breakfast included
Three-course dinner in the Michelin-starred Bybrook restaurant
Macaroons in room on arrival
Check-in is at 3pm and late check-out at 12pm
The included extras came to £132 for the dinner as the macaroons and late check out are difficult to quantify. That made the room cost £182.96. The average normal price of a plush room is £265 although you can get it for £185 in a sale during the quieter months. Overall the value of the Secret Escapes deal was only marginally better than you could get from the hotel during a sale but a lot will depend on when you wish to visit.
The Hotel and location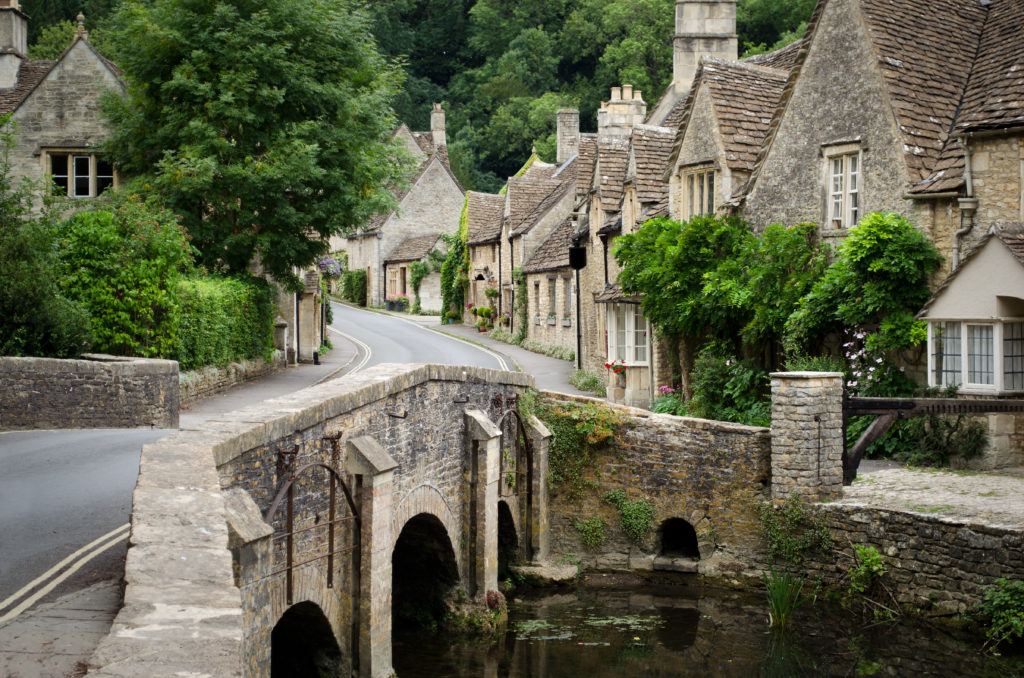 Surrounded by 365 acres of Cotswolds countryside, The Manor Hotel is set in a manor house in parts dating from the 14th century and includes the original workers' cottages as rooms. The Hotel is at the heart of the quaint 14th-century village of Castle Combe. Castle Combe has been the location for several films including War Horse. It takes no more than a couple of minutes to walk into the heart of the village.
There is also a Peter Alliss designed championship 18 hole golf course. as well as an Italianate garden, a grotto, an orchard, and beehives. If you are feeling energetic there is a tennis court, croquet lawn, putting green and pool table.
The Rooms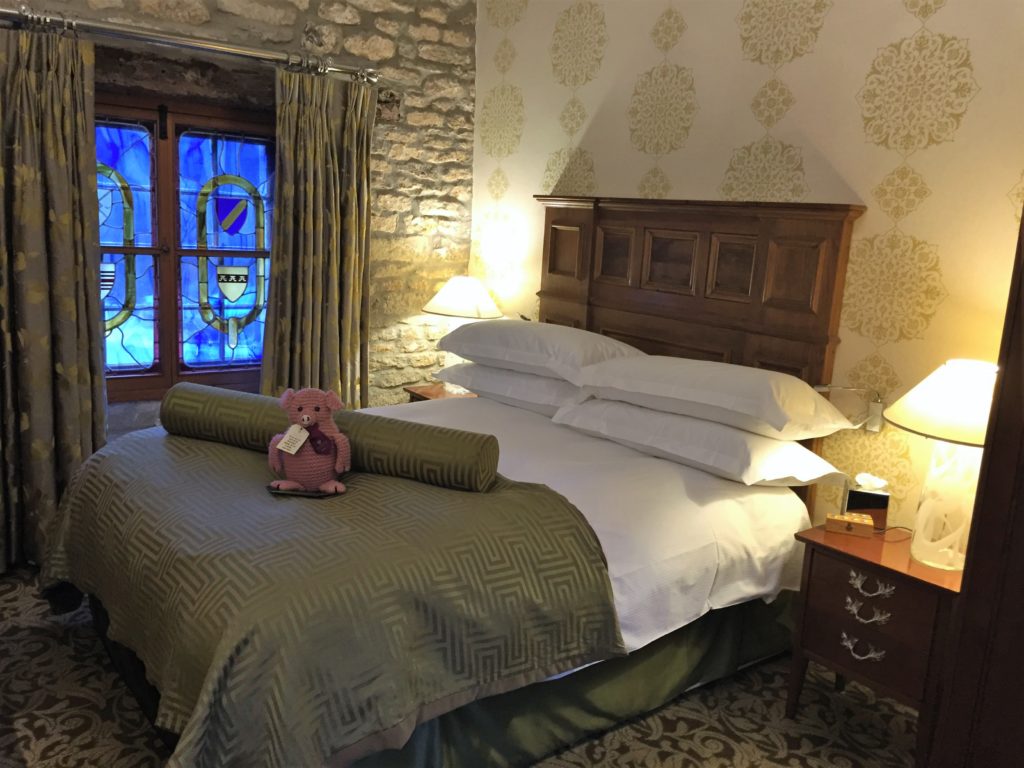 The bedrooms are individually designed and spread over the main building and a dozen old cottages that line the lane leading into the Castle Combe. If you would prefer a particular room or location the hotel are happy to try to accommodate this if you contact them in advance.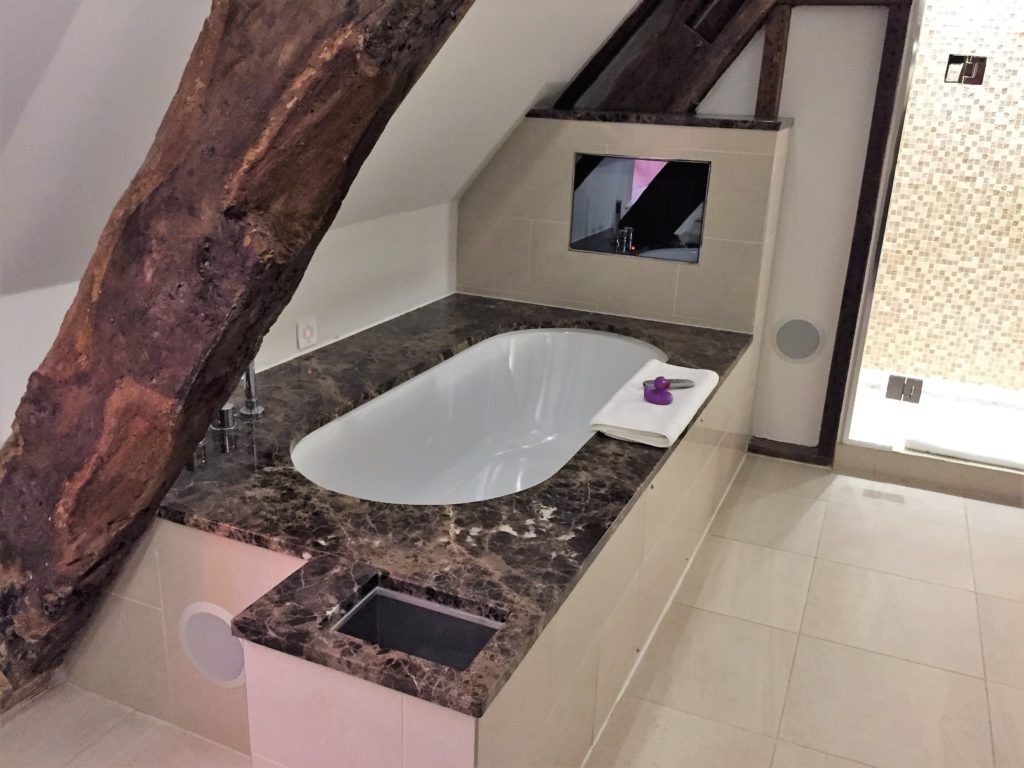 The rooms range from the cheapest "Cosy" rooms, which may be up in the attic of the main building or on the ground floor of a cottage to suites which may take up two floors of a cottage. All have different features including one room that has a built-in champagne ice bucket at the end of the bath. Now that is definitely what you call luxury!
Our room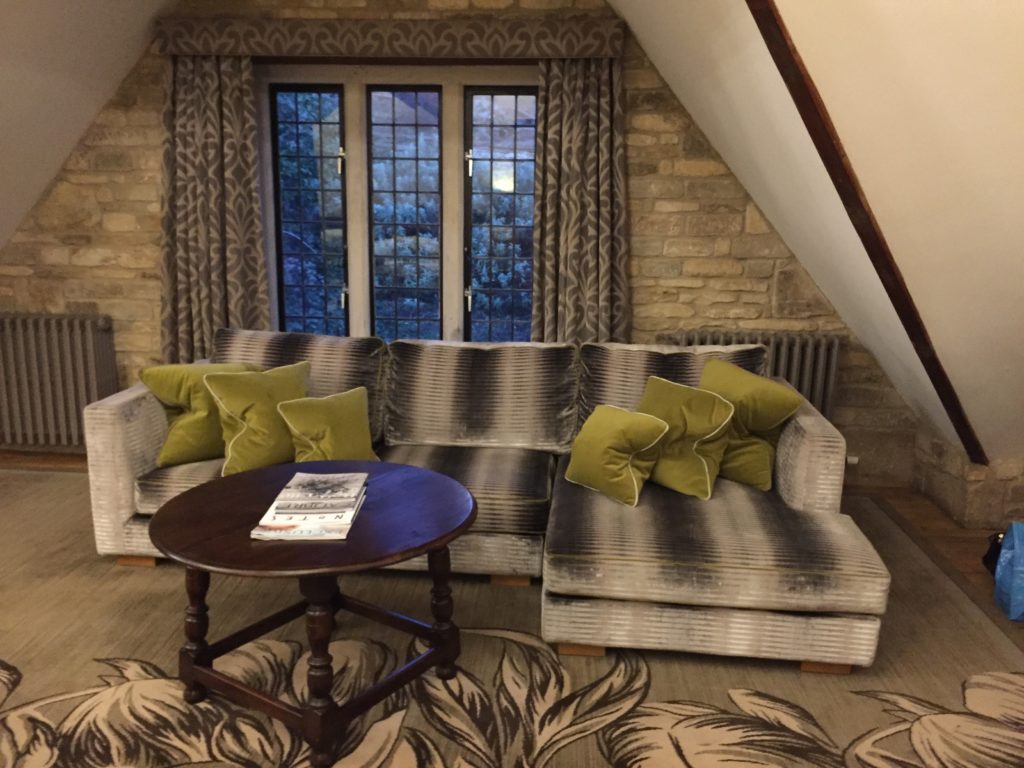 This was a Plush category room or junior suite and was called Home Meadow. It was right at the top of the main building and quite a trek up 2 flights of stone steps. It felt a bit like we were walking down the corridors at Hogwarts at times!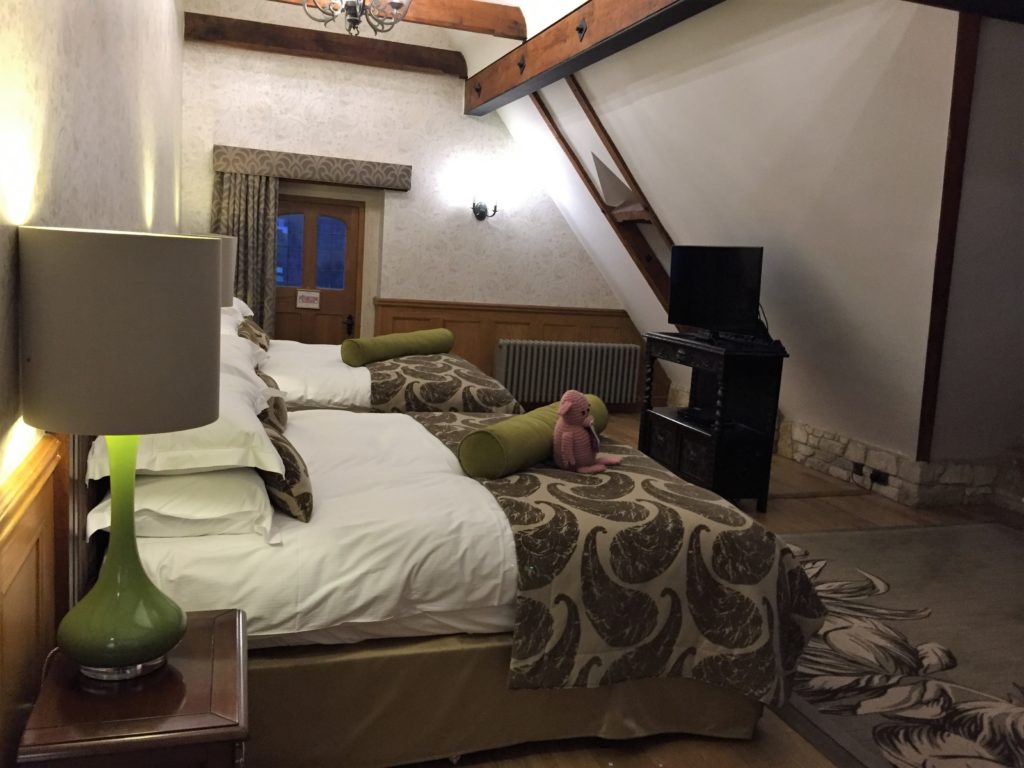 The room was one of the best-equipped rooms I have stayed in. It had 2 king-size beds, a large sofa with chaise longue end, 2 TVs, a DVD player, a Dyson hairdryer with all the attachments, Nespresso coffee maker, umbrella, a magnifying mirror, bathrobes, and a tablet with the hotel information. Still and sparkling mineral water also were provided.
One of the TVs was hidden in what looked like a mirror but magically transformed into a TV. I have only ever seen this with bathroom TVs on a small-scale before. Next time I get a TV for my home I may have to get one! There was a large DVD library downstairs if we fancied watching a film. I particularly liked the rather cute knitted piglet on the bed which was to be used as a 'do not disturb' sign.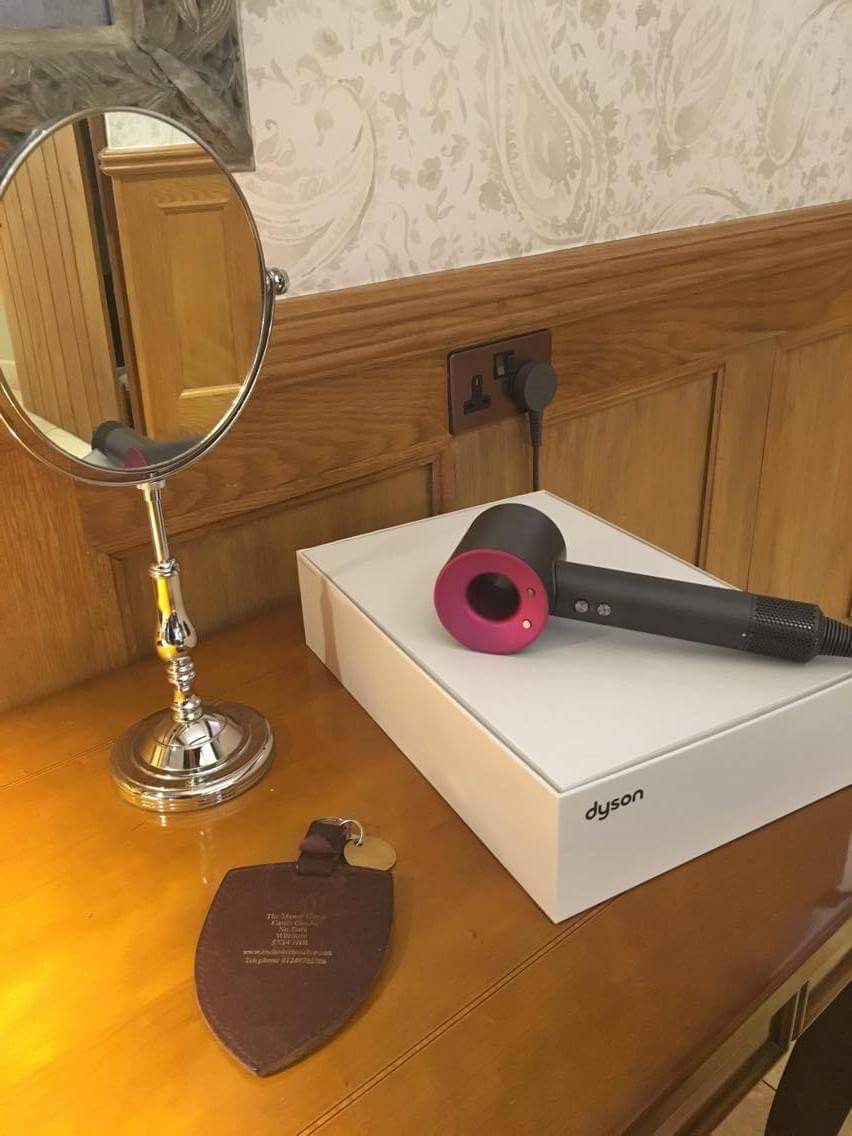 Bathroom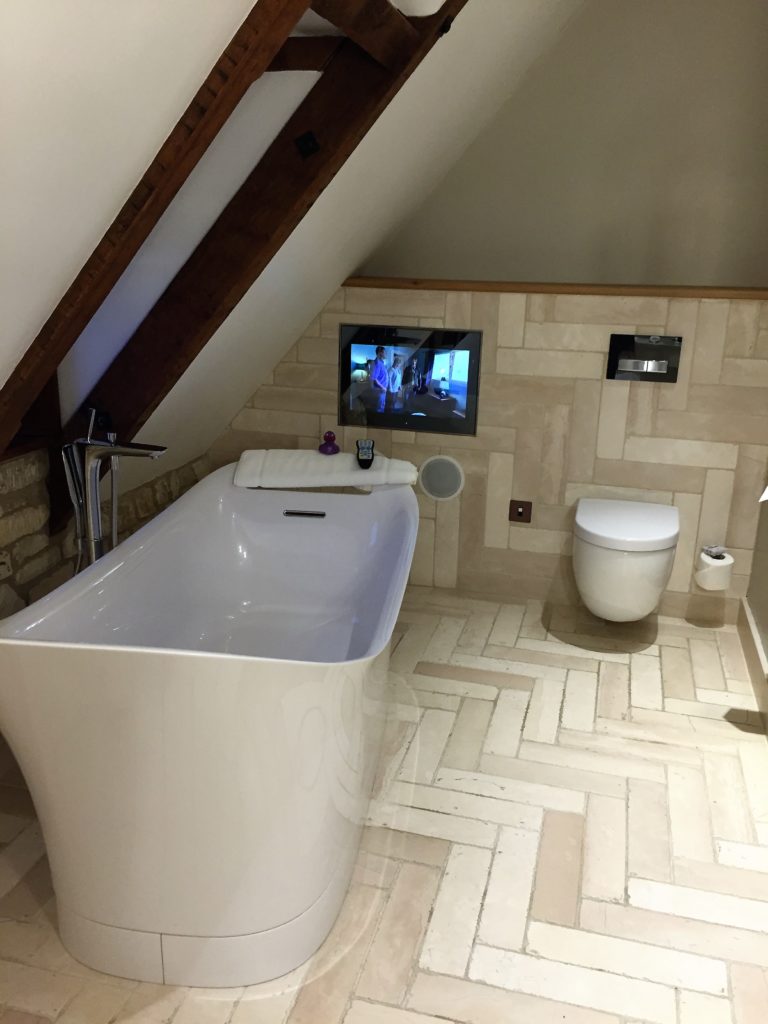 The bathroom was huge and featured 2 sinks, a large soaking bath, TV, lit shaving/make-up mirror, large walk-in mosaic-tiled shower with hi-tech controls, waterfall and raindrop showers plus side sprays.
The toiletries were large 50ml sizes of the Exclusive Hotels own tea scented toiletries. These are amongst my favourite hotel toiletries as they smell wonderful and are of high quality.
The only thing missing from the room was a fridge and/or minibar. Although you could ring for room service for anything you wanted, including fresh milk for coffee, we felt that we would rather have it on hand than bother phoning.
Service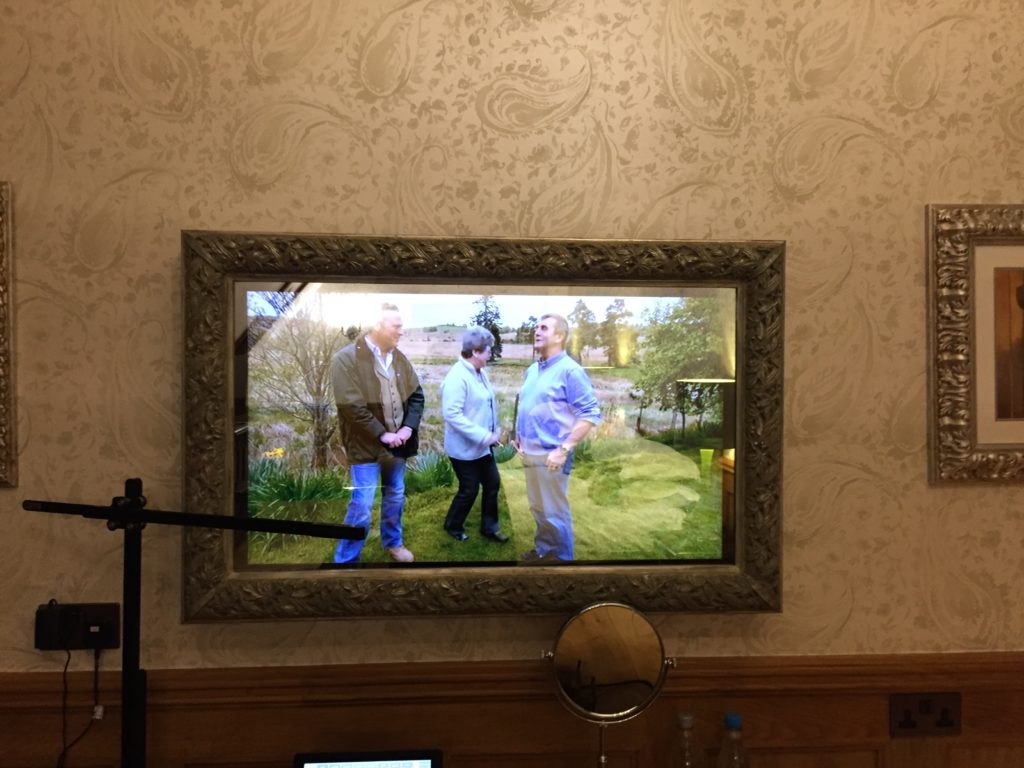 Overall the service was very good – friendly and not too formal. There were always plenty of helpful staff on hand in reception if needed when I was there. However, there were a couple of things that could have been better. As we were about to be shown to the room we were asked if we needed help with luggage. We asked if there were many steps and were told a few so decided we could manage. However, this turned out to be several small flights of steps followed by 2 large stone staircases. If we had known quite how many there were, we would not have attempted to carry it ourselves.
Secondly, we tried to phone down to get some ice delivered to the room when we first arrived at around 4pm. Despite phoning reception, room service, and housekeeping we were unable to get anyone to answer the phone. Reading Tripadvisor it does seem like this happens now and again. We did eventually get some after trying again later.
Spa
There is no spa or swimming pool. However, beauty treatments are available in The Potting Shed if booked in advance.
Food and drink
Dinner
The hotel features the Michelin starred Bybrook restaurant which you can read about here.
Breakfast

This was served in the Bybrook restaurant and had a continental buffet and cooked food to order. In the cold selection, there was freshly-squeezed orange juice, 2 different house-made smoothies, continental cheese, and meats plus all the usual cereals and pastries. There was an interesting fruit selection including poached pineapple with chilli and Szechuan pepper although most of the fruit was poached rather than fresh.
The cooked selection included eggs Benedict, with Wiltshire ham, full English, and scrambled eggs with smoked salmon. The Manor House's own eggs are used in the breakfasts. I had the eggs Benedict and it was delicious and presented beautifully. The eggs were poached perfectly which seems surprisingly difficult for most hotels!
Would I recommend the hotel?
Absolutely! I was really impressed with the standard and size of the room. As you will read in the second article, the food was well deserving of its Michelin star and it is worth going just for that! The location of the hotel is close to the Cotswolds and Bath, so makes an ideal base for the area.
The hotel is due to open on 9 July and the golf course has already reopened.
Current offers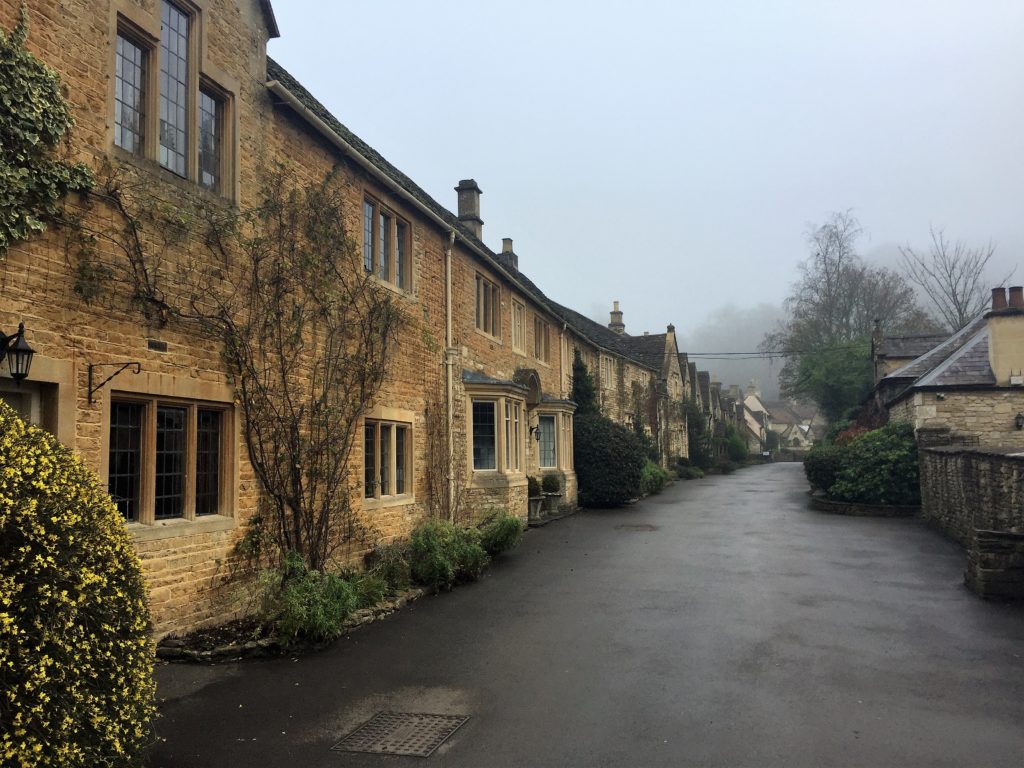 There is currently a 30% off sale for the reopening.
You can get 30% off accommodation when you book three nights or more at any of the Exclusive Hotel group properties across the collection, in any room types. All you need to do is enter the promo code STAY30 when selecting the dates for your booking.
Pennyhill Park, South Lodge and The Manor House reopen their doors on the 9th July with a full summer staycation offering, with Lainston House following shortly after in August.
30% off staycations until 31st October 2020 with promo code STAY30. You can find their offer page here.
You can check prices and find more information here.