If you are considering a trip to Jersey which is classed as domestic by the UK, then have a read of the requirements in my first article here.
Check -in at Heathrow T5
Currently, BA has one generic check-in area and then the First Wing for those flying in First or holding Gold status or above. I wasn't sure if the First Wing would be open so I approached one of the staff at the main check-in and probably didn't phrase it well as I asked if there was another check-in area and he said no. Fortunately, I queried again as I could not see how they could not have anything for First passengers and was told the first wing was open. It is open until 2pm every day but I am sure this will lengthen after 17 May.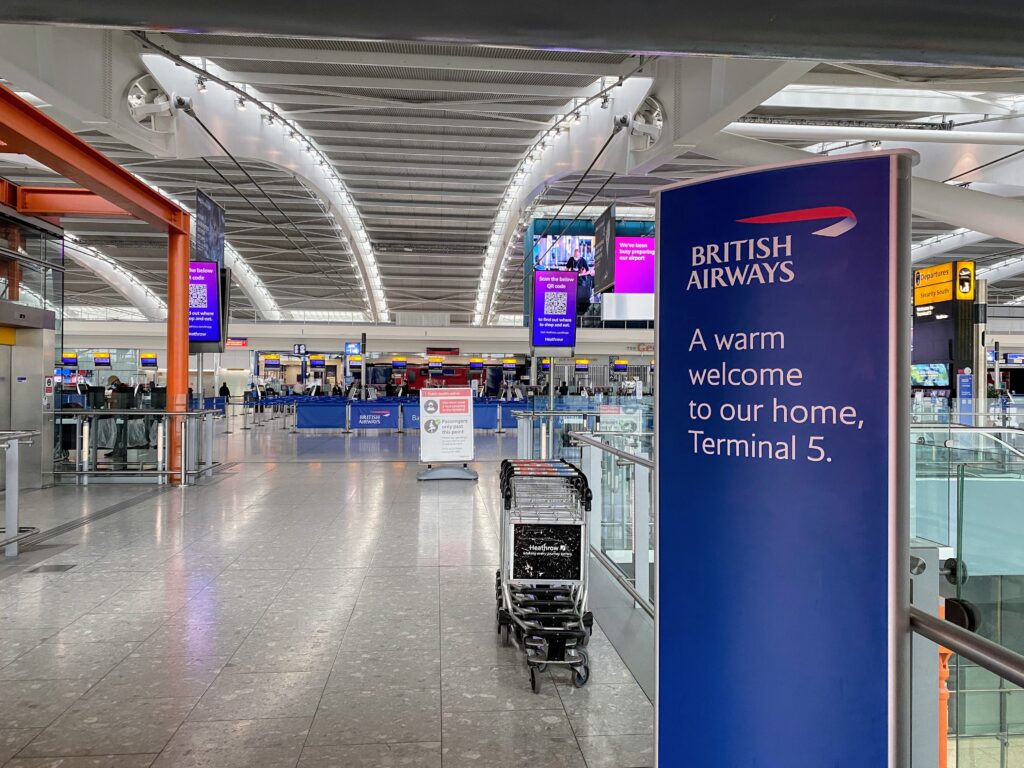 The terminal was largely deserted and I felt quite emotional walking back into an airport after 6 months. In the last year, I have done two return flights. I would usually do that per month!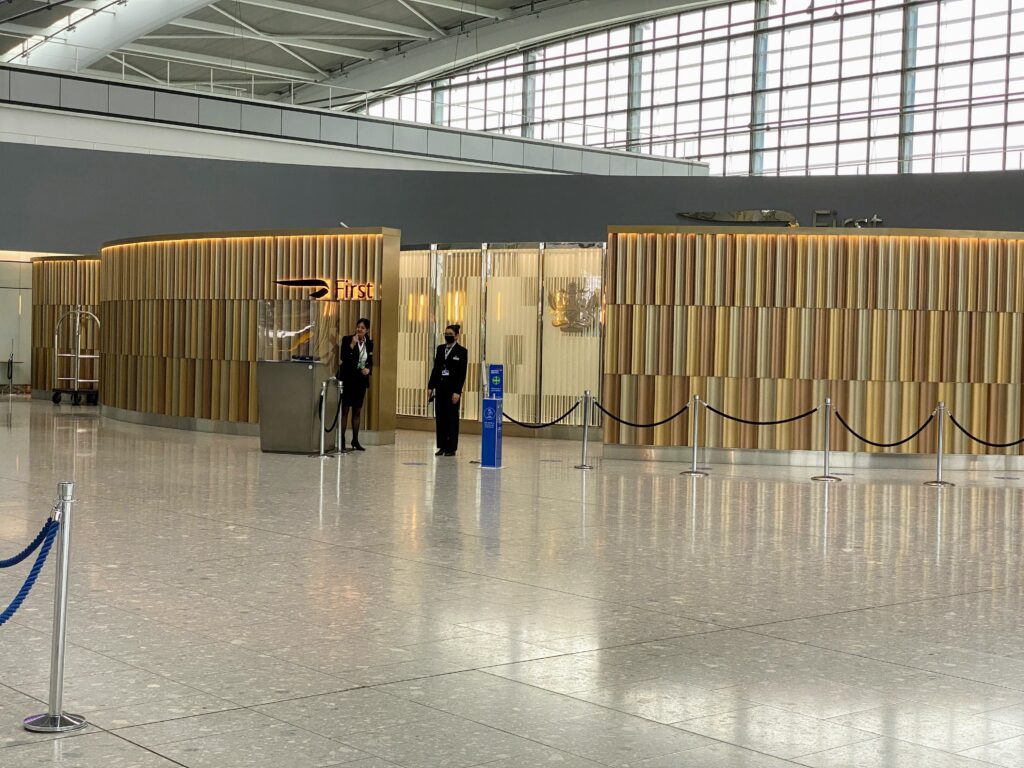 There was a short wait to check-in at the First Wing as obviously, they have minimal numbers of staff. The check-in agent was very friendly and I was soon on my way. There was no queue for security even with only one lane open. The staff seemed in a good mood and were even friendly and complimented my handbag!
Lounge and terminal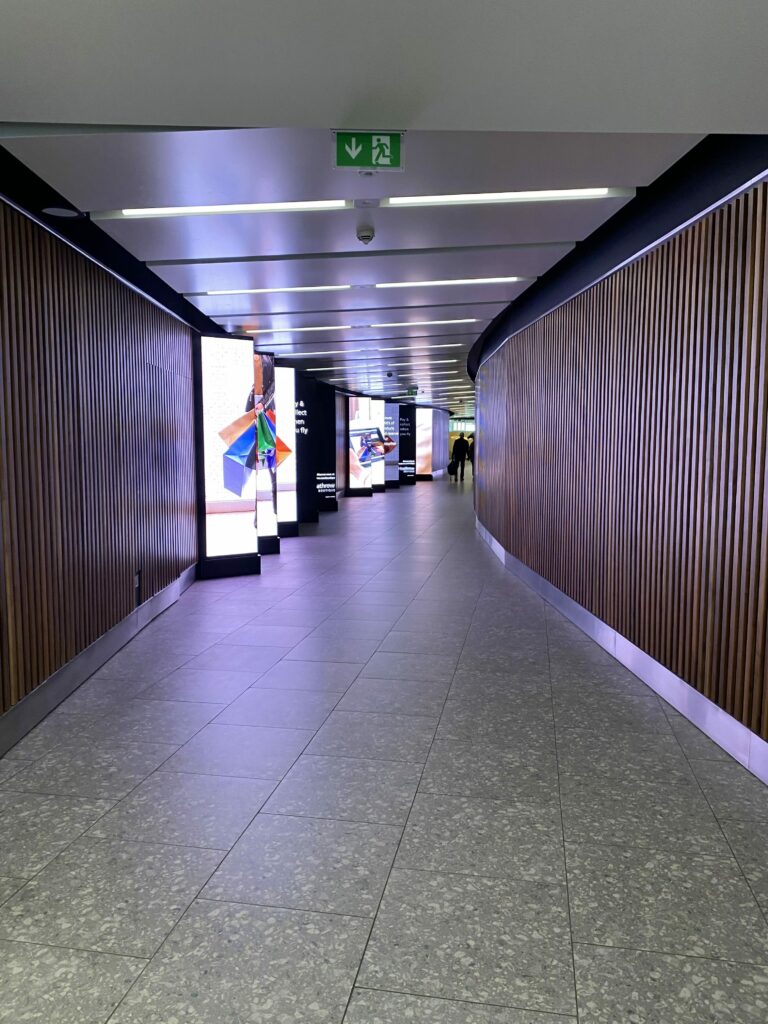 The First lounge is open, as well as the South Club Galleries lounge and the Concorde Terrace (CCT). Allegedly from 0500-2200, but I suspect they may direct people into the First lounge when it's quiet as they did before.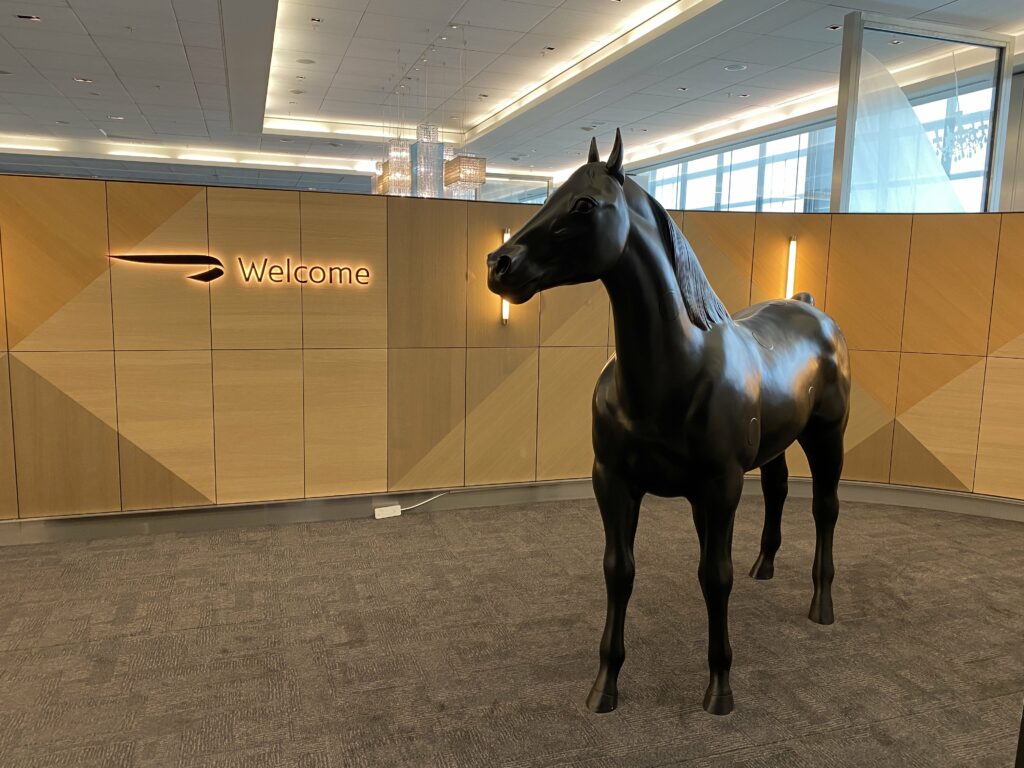 Nothing has changed since how it operated before. You sit down at a table, scan the QR code and can order food and drink from your phone in the main First lounge.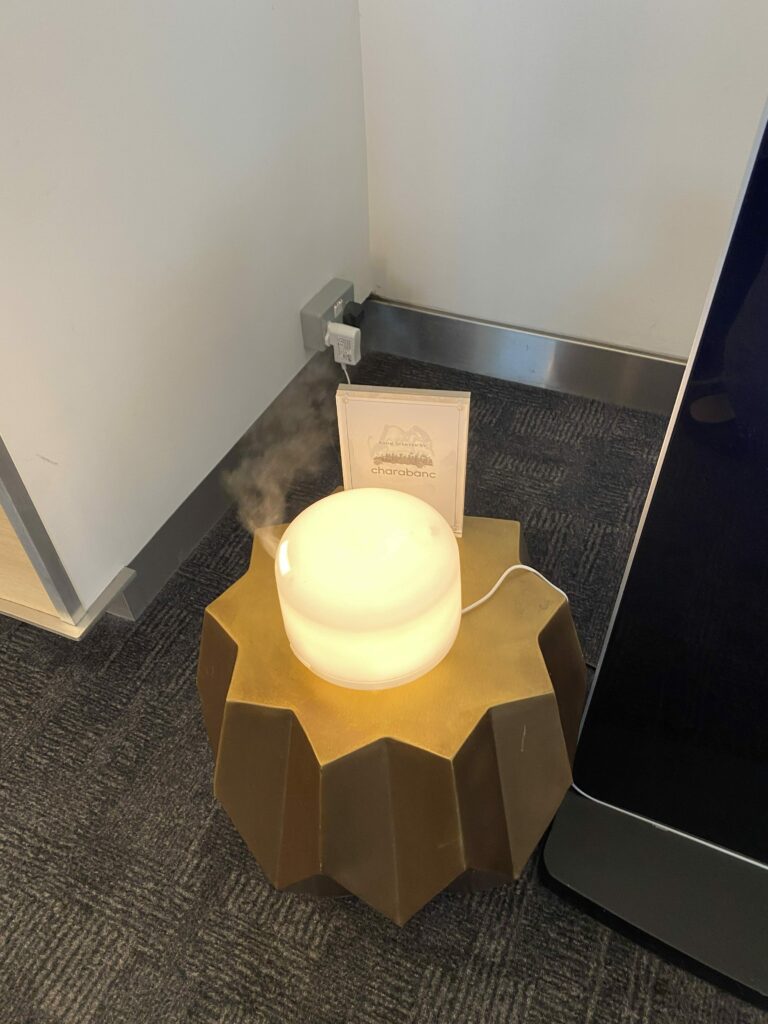 The menu in the First lounge and CCT is the same but usually, the drinks differ.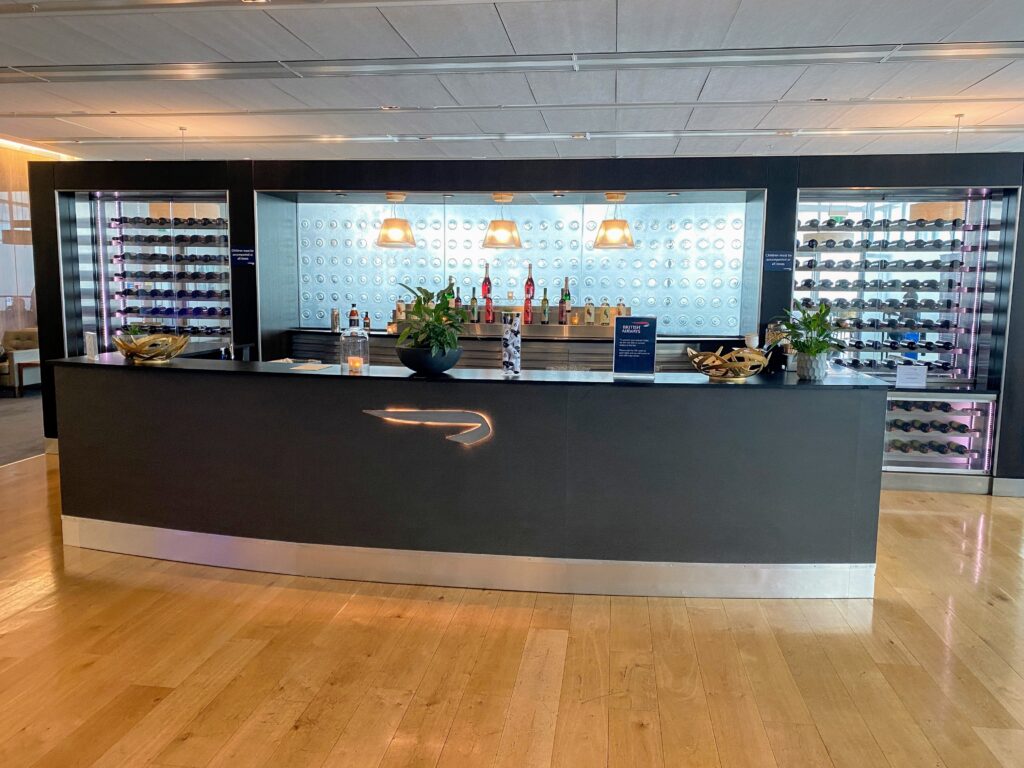 At the moment thanks to the UK government rules, no alcohol is being served. I'm not sure if it's against lounge rules to consume your own alcohol but staff appear to be turning a blind eye from my experience and those of others I have questioned.
If you wanted to buy some fizz, Fortum and Masons sell full and quarter bottles chilled but the small ones are very pricey at £17.95. Caviar House also has chilled full bottles (by lifts to train).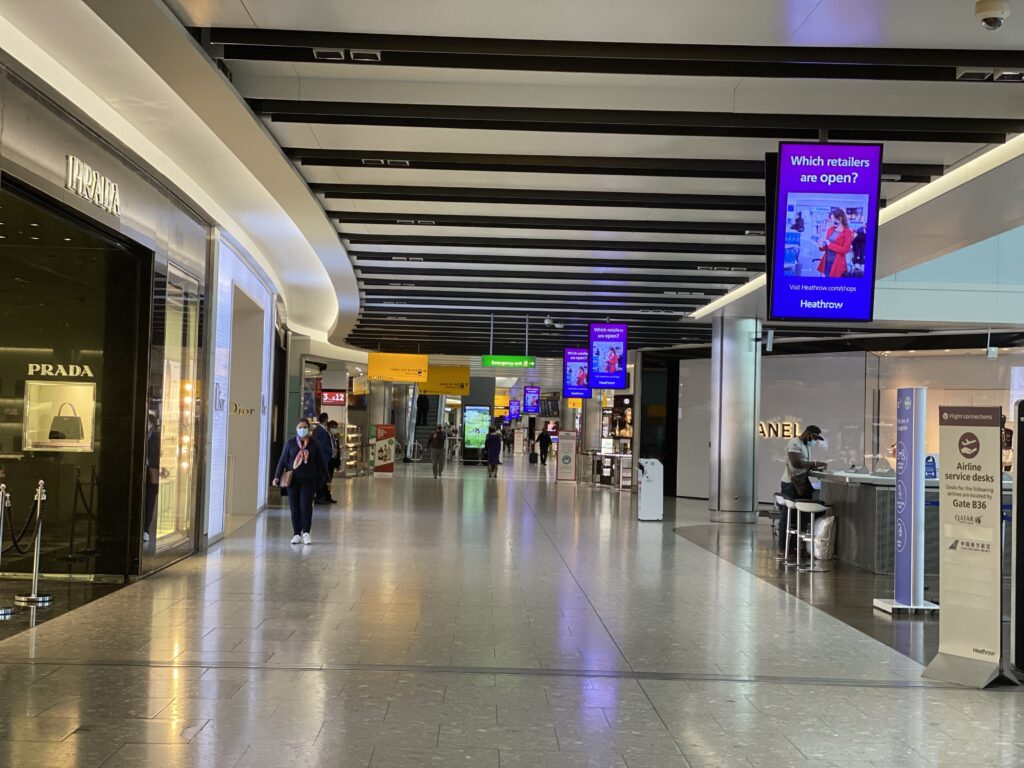 It was breakfast time when I arrived so I decided to try the smoked salmon and scrambled eggs. Here is the full menu:
Breakfast is probably the best meal that they do in the lounge at the moment. Although eggs looked a bit odd, they were actually fairly tasty and it was a generous portion. I also got some sourdough toast and tried one of the non-alcoholic sparkling wines.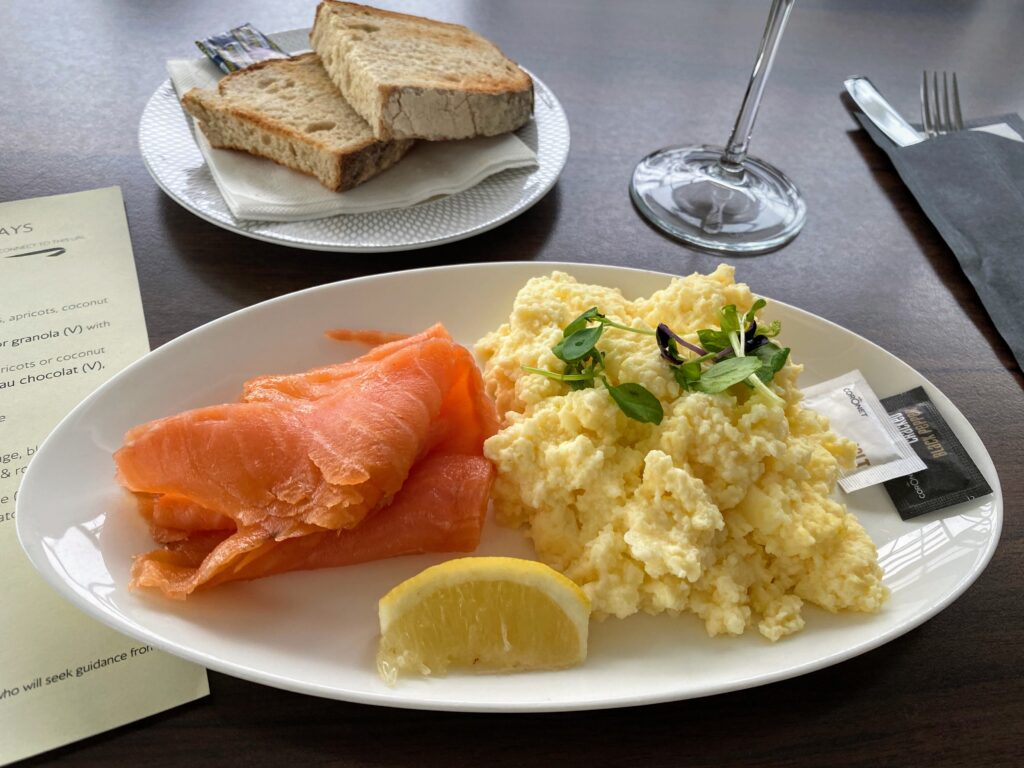 I regularly drink non-alcoholic fizz, this one was OK but a little sweet and overly fizzy for me. I thought BA had done a good job coming up with creative cocktails and wine alternatives. The staff were very friendly and super attentive. It almost felt a bit much as there was only one other table occupied, so I had the one server's full attention! The First lounge was a bit busier at around 30% full.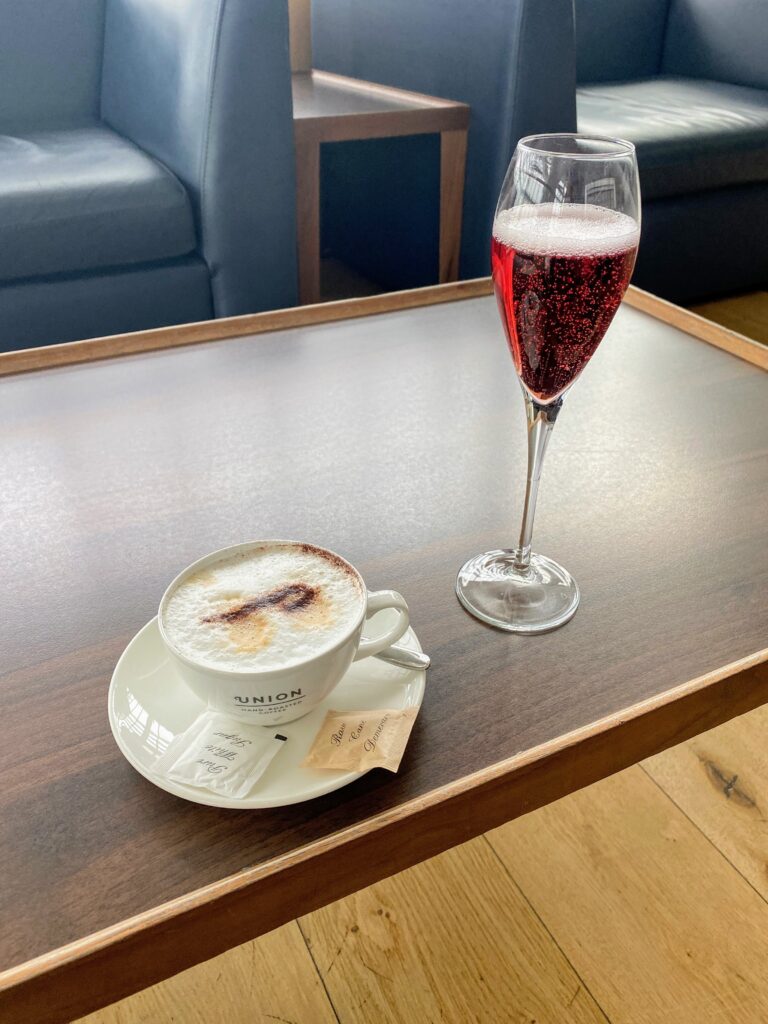 I did sneak in a quarter bottle of F&M champagne but not sure it was worth the price!
The majority of the shops are open but food outlets only do take away. Heathrow's website has a list of what's open if you want to know about a particular shop.
Boarding
Boarding was done from the back of the plane forwards with Club being included in the "from row 15" announcement. No sanitary packs were handed out, unlike before. As far as I could see there was no hand gel on board, but there could have been some in the toilet. I was in 1F and the plane was pretty full.
The flight
The cabin crew was OK on the flight, but I didn't find the one serving me particularly friendly. The other crew member was more friendly. I was told off for my seat belt not being tight enough which has never happened before. Yet the woman next to me had her handbag on the seat (with no tray table) for both take-off and landing in the front row and was not asked to move it. Very odd.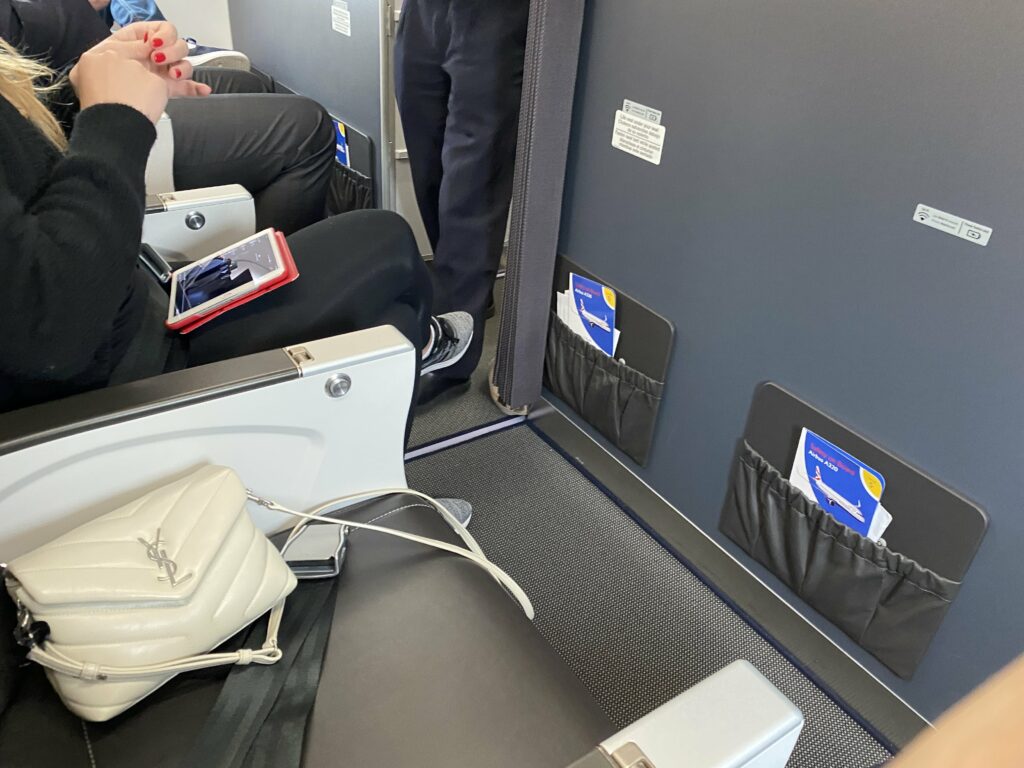 The aircraft was one of their newer A320 Neos which meant no middle table. I really miss these as it effectively means I can't really work if I want to have a drink as well as there is nowhere to put anything although you can use the pull-out table in the front row without blocking the way out.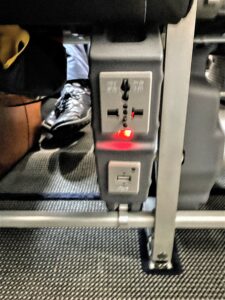 However, you do get a proper plug socket as well as a USB for charging which is handy. There is also Wi-Fi which I didn't bother with on such a short flight.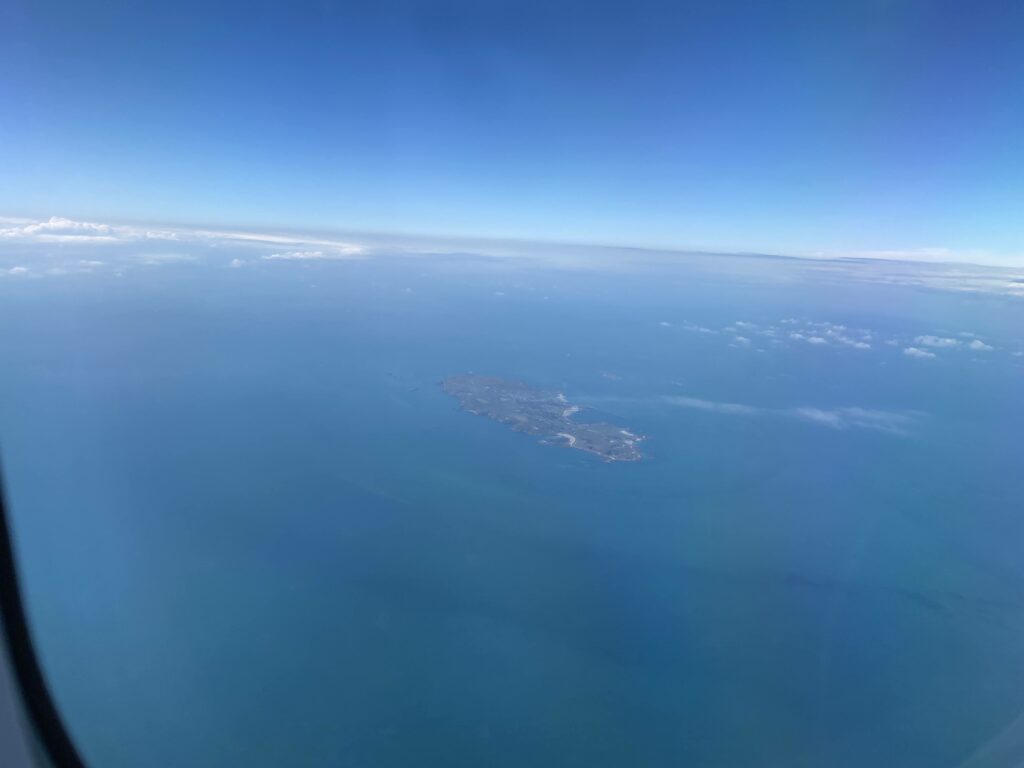 As it's a short flight, there was no pre-meal drinks service. There are also no menus and the choices were described as chicken or feta salad. I think they could do slightly better with the descriptions as it turns out it was Coronation chicken. So if you didn't like curry you would probably want to know.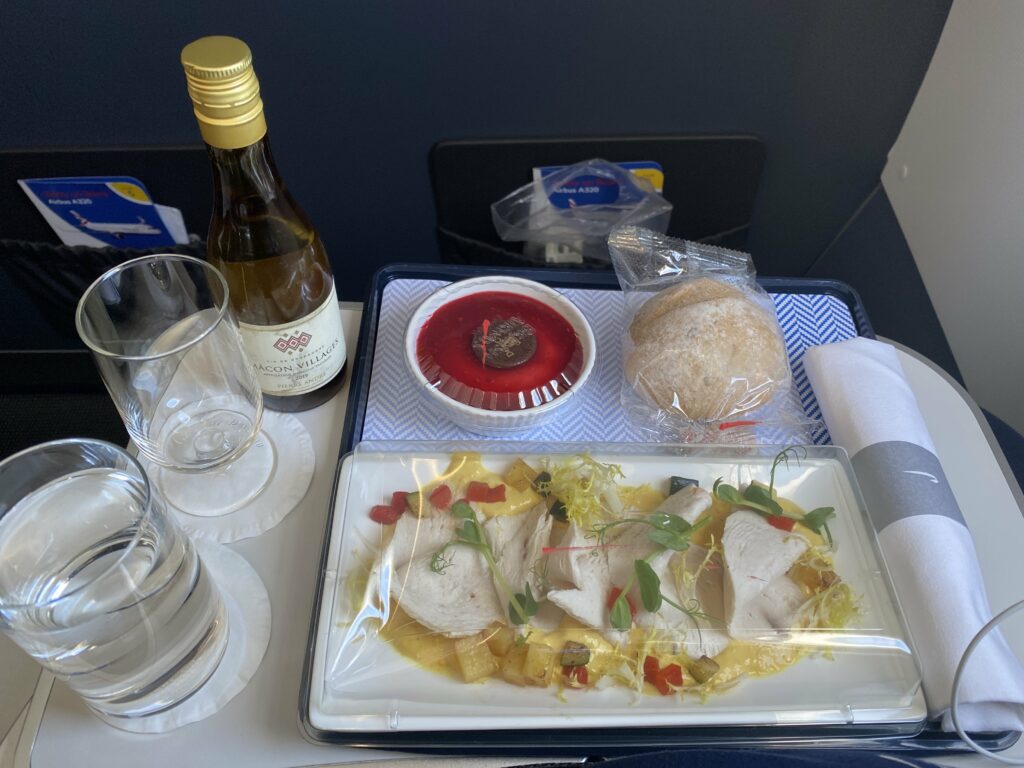 I went for the chicken and I have to say it was absolutely delicious. A delicate creamy curried sauce with good quality chicken slices on top. I thought it looked well presented too. There was laos a rather good olive bread roll wrapped in plastic. The thing that made me the happiest was – no chocolate mousse! Regular readers will know that I'm not particularly fond of chocolate mousse at the best of times but when you have been presented that as dessert for almost every Club Europe flight, you grow to really not like it all!
On this flight it was a rather lovely pannacotta topped with a berry coulis. It was velvety smooth and perfectly set unlike some that are as firm as a rubber ball!
To drink I went with wine – a Macon Villages which was perfectly acceptable if a little acidic. The champagne is still Nicholas Feuillatte which I am not that keen on. There was no time for top-ups before we landed, I barely had time to drink my wine!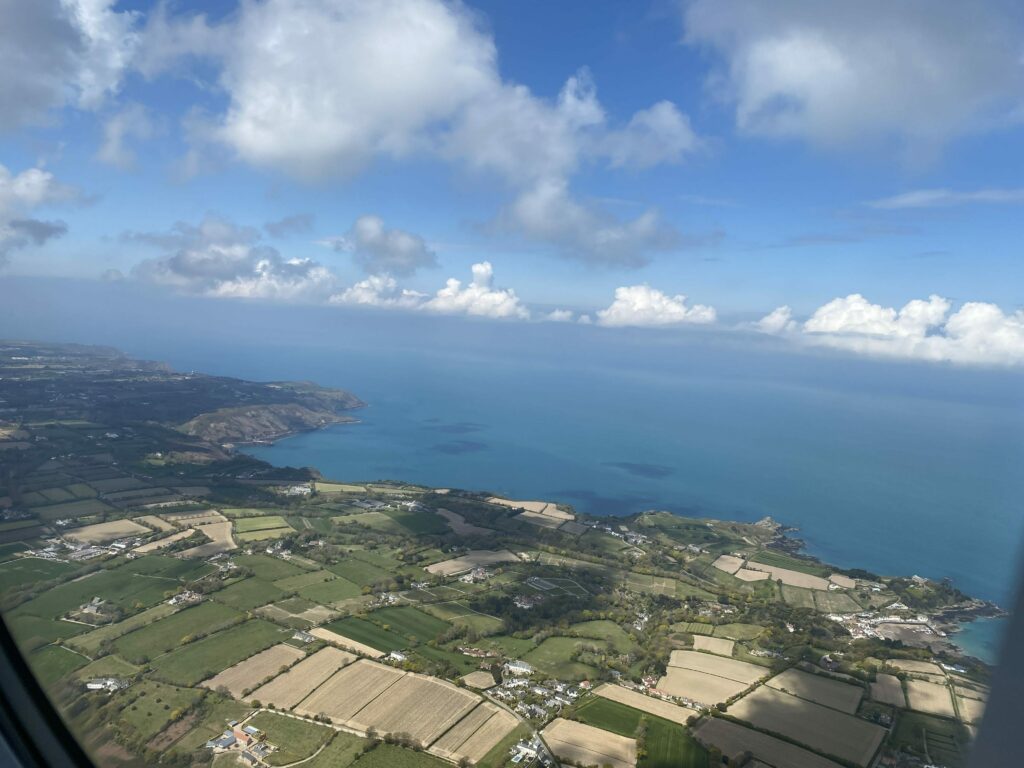 Overall it was a good flight and as I sat watching the clouds go by, I was back in my happy place again!
Arrival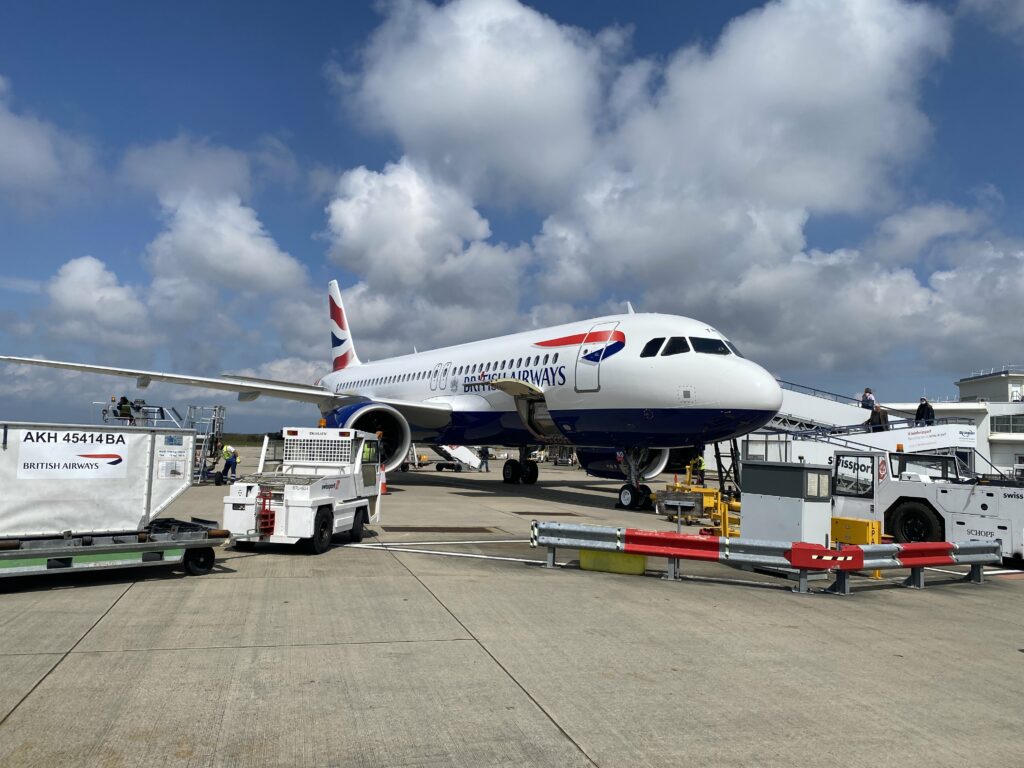 When entering Jersey if you can avoid having checked luggage I would strongly advise it. Instead of steps, they use a ramp which is handy if you have a case with you. You then go through to the baggage hall where the queue for the health officials starts. There are no separate queues whether you have pretested or not. I think this is a bit of a mistake. It's unfair if you already have pre-approval to have to wait behind people who need to test. But if you have children or are disabled then you can skip the line.
The luggage took quite a while even though mine was first out and by then there was a bit of a queue. I probably waited around 10 minutes. Then I went with all my paperwork printed out to the first person. There were very friendly and looked at my Jersey pre-approval, scanned the QR code you get from submitting your form, and also looked at the test certificate. Others were asked about their travel history but I wasn't. I had already declared in on the form. I was then walked out to the barrier and was free to go. The actual screening took about a minute if you were pre-approved. At this point, if you were testing on arrival you would be directed to the testing area to be tested by a nurse.
It was definitely well organised and Marek, TLFL's photographer, flew in the next day and found it also very quick as he had to test on arrival. He was told it would take up to 6 hours but on the day I arrived, they were being told 4-6 hours but should be by 12 hours. Very occasionally up to 24 hours. Chose your hotel carefully as if it doesn't have room service it will make things complicated if you have a long wait.
Although I had a very smooth experience, it turns out it was pure fluke. The rest of my groups of friends had a complete disaster and some ended up abandoning their trip. This was partly down to false information from test providers and partly down to the ridiculous demands of the Jersey government and the lack of help they received. Three of them ended up abandoning the trip! Tomorrow I will publish their story.