Testing requirements are rapidly changing at the moment as they did just as I was about to depart for the US. The first thing I recommend in the current situation is to look at the terms and conditions if you need to cancel your test. If you can cancel, how easy is it to do for example, since many companies are overwhelmed with enquiries due to the sudden change in requirements? I needed to cancel and rebook with Express Test and found this very simple. As long as you have an account (you would usually make one as you book) then you can do it all online in a matter of seconds. You are sent a voucher which you then use to rebook.
The current rules on testing for entry into the US are:
Before boarding a flight to the USA, most passengers – regardless of vaccination status – are required to show a negative COVID-19 test result taken no more than 1 day before travel. All air passengers to the USA are also required to provide contact information to their airlines before boarding.
You can use lateral flow (antigen test) and home tests. However, home tests must be observed by video appointment. You can read more about companies that offer these here.
If you want to look for the cheapest tests or a reputable centre close to you, I recommend using the comparison site Covid Testing Network.
Express Test Heathrow T5 – US Fit to fly Antigen Lateral Flow test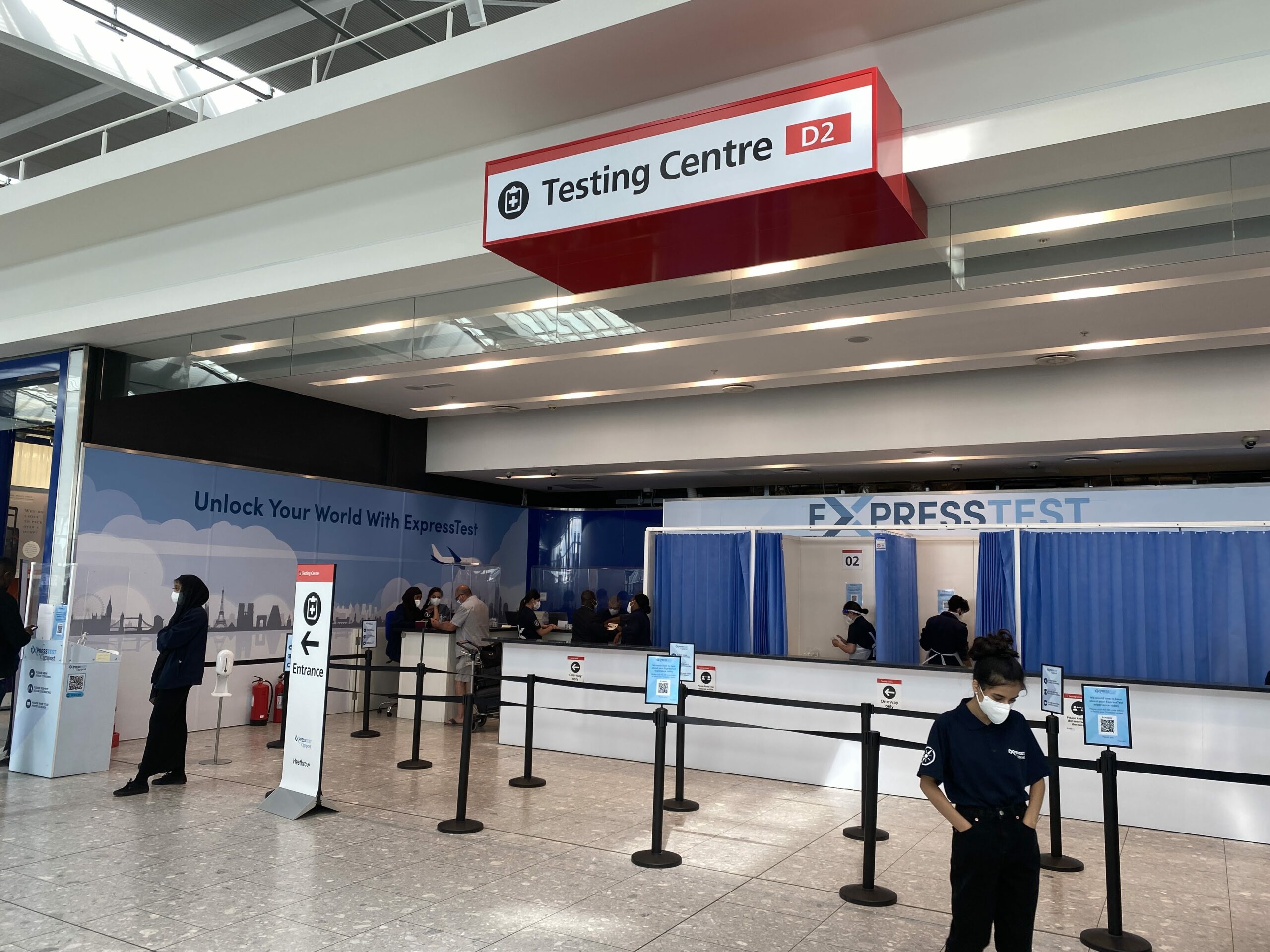 Cost: £35
Promised time for results: 40 minutes
Actual time for results: around 35 minutes
Would I use again?: Yes
Since the start of the pandemic, I have nearly always used Express Test for my pre-departure tests. Express Test has been struggling with volumes of tests and staff shortages so I was slightly apprehensive of how long this would take. I had booked for the night before departure since I was staying at the Sofitel T5 and it saved a separate trip to get tested. Since I was not leaving until midday the following day, this gave me plenty of time to do a repeat test should something go wrong.
There are numerous Express Test sites at Heathrow, so make sure you get the right one. The T5 departure test one is situated in Departures pretty much in the middle of the terminal behind check-in zone G.
I arrived at my appointment time to see quite a queue. However, this was actually the queue for Day 2 PCR tests and for pre-departure tests there was no queue at all. Even still I still had to wait around 10 minutes for one of the testers to be free. Once you are actually seen, the whole process takes a matter of seconds. Testers and staff are generally friendly and polite. The swab was not particularly invasive and you don't need to wait the 15-20 minutes to see the results. Once you leave, your results are emailed to you. I got my results back just under 40 minutes later which was absolutely fine.
You can find more information about Express Test here.
Prenetics by Project Screen return to the UK self-test
Cost: £19 for delivery or £17 to collect
Delivery time: Next day DPD
Promised time for results: 20 minutes
Actual time for results: Almost instant
Would I use again?: Yes
As soon as they announced that pre-departures testing was coming back, I went back to my old favourite, Prenetics. My order was delivered next day via DPD with a timed one-hour delivery slot.
Currently, you need to do a test within 2 days (not 48 hours) of your departure for the UK. It can be a PCR or antigen (lateral flow) test and self-tests are allowed providing you get a certificate with the correct details required by the UK government (NHS tests are not suitable on their own as you don't get a certificate).
You then take the test with you and perform the test unsupervised while you are away. You will need a smartphone capable of taking photos to use it.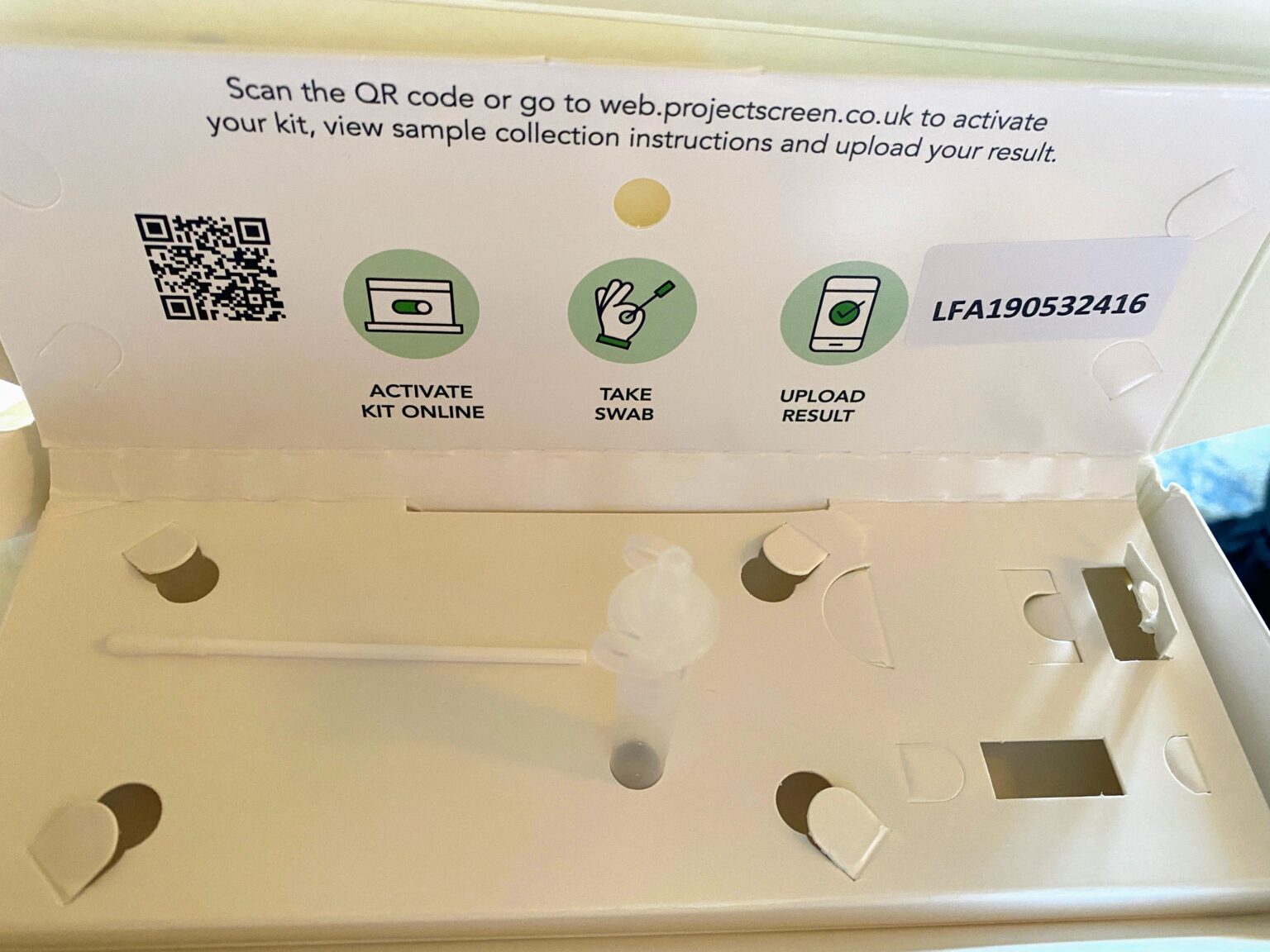 First, you have to activate the kit online from the code printed inside the box. Then you take the test from the instructions given which were very clear online. There is even an online timer for 15 minutes so you don't need to navigate away from the page.
Once you have waited for the test to develop you are asked to select what the test looks like from several examples. Then you need to send a picture of the test cartridge. It even has a 15-minute timer you can use which is handy. The final step is to send a picture of the test.
The certificate came back via email almost immediately and there was no issue with its acceptance on Verifly for BA and AA.
I can't fault anything here from the price to the results so this will continue to be my go-to test for returning to the UK. I usually carry a back up just in case it returns an inconclusive result or the test is faulty. At these prices it makes sense and they are valid for about a year or so.
You can find more information and buy the tests here.
Collinson Heathrow same day Premium Day 2 PCR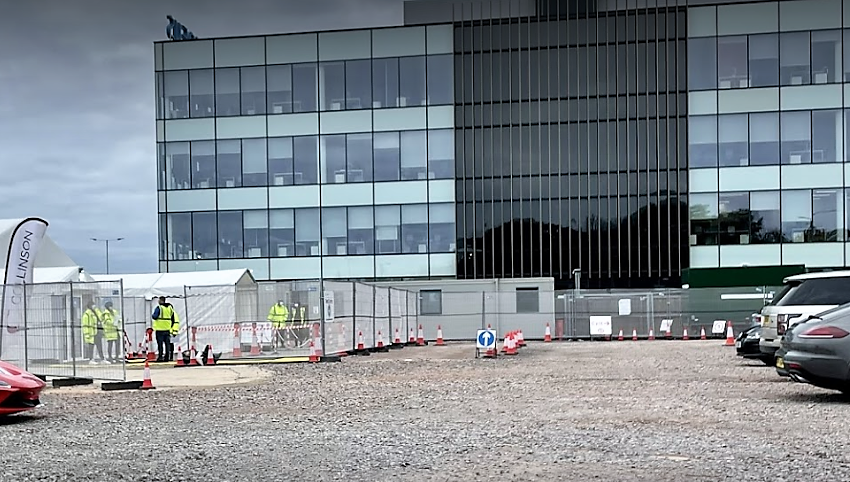 Cost: £79.20 with discount code CG20
Promised time for results: Before midnight
Actual time for results: 22.50 after testing around 13.00
Would I use again?: Maybe
Collinson recently started doing a premium version of their Day 2 PCR test where you get the results back the same day providing you test before 6pm. I had a lot of trouble with the website not working as it kept reverting to a normal day 2 test whenever I tried to book. Their customer service leaves a lot to be desired as it took days to get a reply by email. Katie, who I was travelling with, did not receive all the emails needed for her booking (common with certain email providers in my experience) and could not reach them to get her code for the PLF form coming back which is obviously completely unacceptable. I would expect this to get better as time goes on and currently it's saying 2 hours for a reply from online chat which is acceptable in most situations.
The test centre is not actually at Heathrow Terminals but is only a few minutes away by car just behind Bath Road at Cardinal Point. This was well organised although if you are arriving by Uber and plan to let it go, it's worth bearing in mind the car park is very uneven and not ideal for wheeling luggage across. My whole appointment only lasted around 2-3 minutes, so I'd advise making it wait unless you are a group.
Once inside the tent, I had to show my ID and booking QR code and was then seen immediately by a member of staff. This was the most thorough test I have had outside of Barbados in the last 2 years and made my eyes water! However, given the current situation I'd rather they were very thorough!
The whole process felt very professional and well organised plus the staff were also friendly. They did say I'd get my results by 6pm which was incorrect though. I got my results at 22.50 the same day however someone else who took their test at a different location did not get their results until 12.00 the next day, a full 12 hours late!
My experience was overall positive although the issues with customer service and the fact that someone else's result was so late, makes me think I will probably try someone else next time.
You can find more information and book here.
Express Test Day 2 PCR Heathrow Terminal 3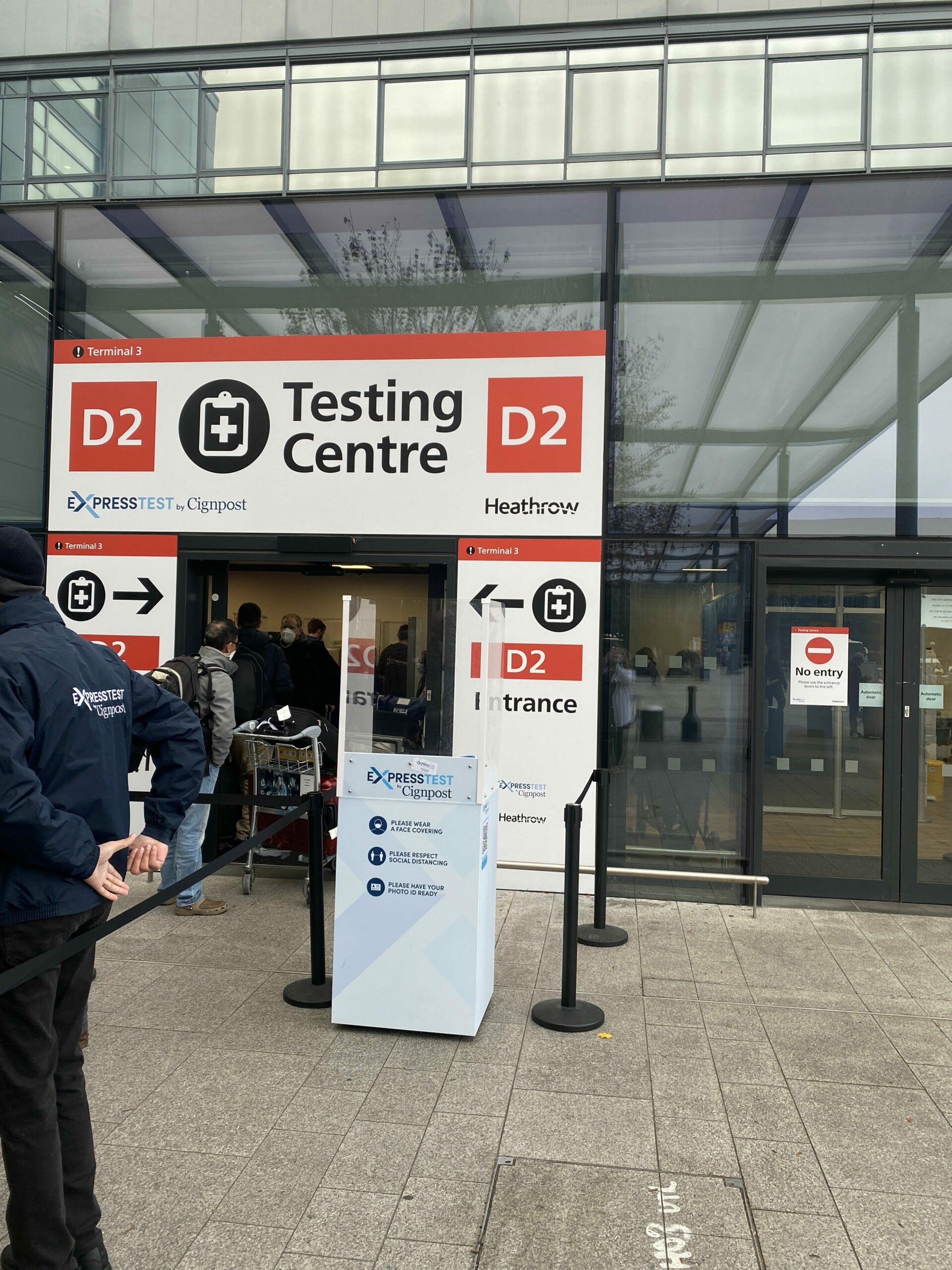 Cost: £69
Promised time for results: Before 10pm next day
Actual time for results: 18.35 after testing around 12.00 the previous day
Would I use again?: Not at T3 – I'd go to the one near home which is quieter
I booked this hoping it would give a quicker result than a home testing kit (I usually use Randox or Prenetics by Project Screen). Since you now have to isolate until you get your PCR test results, I thought I would do one that does not involve having to post or send the kit which can slow things down.
The Express Test T3 site is located on the departures forecourt (ground level) outside the main building between the entrances for Zones D and E. I arrived at T3 Express test to be greeted by a long queue of people standing in the freezing cold. Having just arrived back from the Bahamas and not expecting to be standing outside in the cold, I soon began to get very cold. I was standing there for around 25 minutes despite having a timed appointment. I do have some sympathy for the testing company in that they had staff shortages and had been given no notice of the changes that were introduced. However, it was a very miserable experience when you are tired and freezing cold standing around for so long. There is due to be another Express test opening at T3 shortly which will be inside the terminal so at least you don't have to wait in the cold. Hopefully, as testing companies begin to catch up a bit, queues may get better.
When I eventually got tested the staff were friendly and polite as well as being very gentle.
In past experiences tests generally arrived back within around 24 hours, sometimes sooner. This was not the case here as I was not released until after 18.35 the next day meaning I had spent a day and a half stuck in the house.
You can find more and book tests here.
Which testing companies do you rate? Let us know in the comments below.