The fare
A review of British Airways Club World B777-300ER. This was a BA Holidays fare that I had booked months ago in the sale and included car hire for part of the trip. The total cost was £1658 which from London with a car for 7 nights (car hire prices have increased a lot since the pandemic), I think is decent value.
Check-in
You can read about my testing experience here.
The current rules on testing for entry into the US are:
Before boarding a flight to the USA, most passengers – regardless of vaccination status – are required to show a negative COVID-19 test result taken no more than 1 day before travel. All air passengers to the USA are also required to provide contact information to their airlines before boarding.
You can use lateral flow (antigen test) and home tests. However, home tests must be observed by video appointment. You can read more about companies that offer these here.
You also need to do a passenger attestation stating you have received a negative Qualifying Test result (this is not in place of a test). The Attestation can be found at the CDC website "Passenger Attestation Form". However, if you use Verifly you can just do it online. With everything complete, I uploaded my test result to Verifly and it was approved in a couple of hours. I notice that now Verifly are capitalising on the short timeframes for testing and offering an expedited premium service for $8.99 for a single person. Given that it says you can upload until 4 hours before the flight, I'd expect them to complete the checks in time for the flight within those time frames for free!
I checked-in at the First Wing and only had to wait a few moments to get to a desk. Fortunately, a large group heading for check-in at the same time let us go first, or it may have been a longer wait. Check-in was pretty quick given that we had done Verifly and already chosen seats. Heathrow was looking lovely and Christmassy.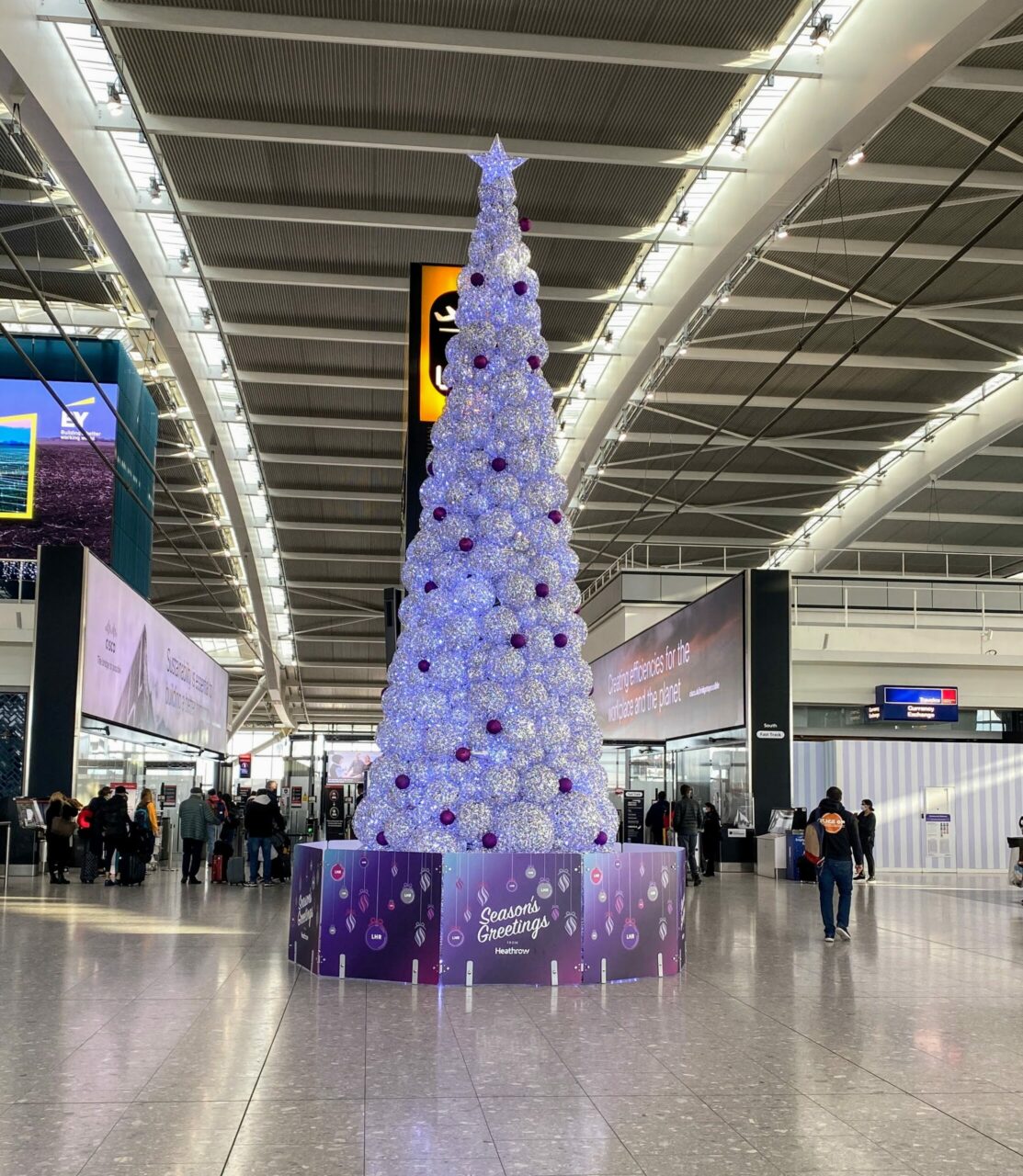 There was not much queue at security either, even though I'd been expecting it to be busy.
The lounge – Concorde Room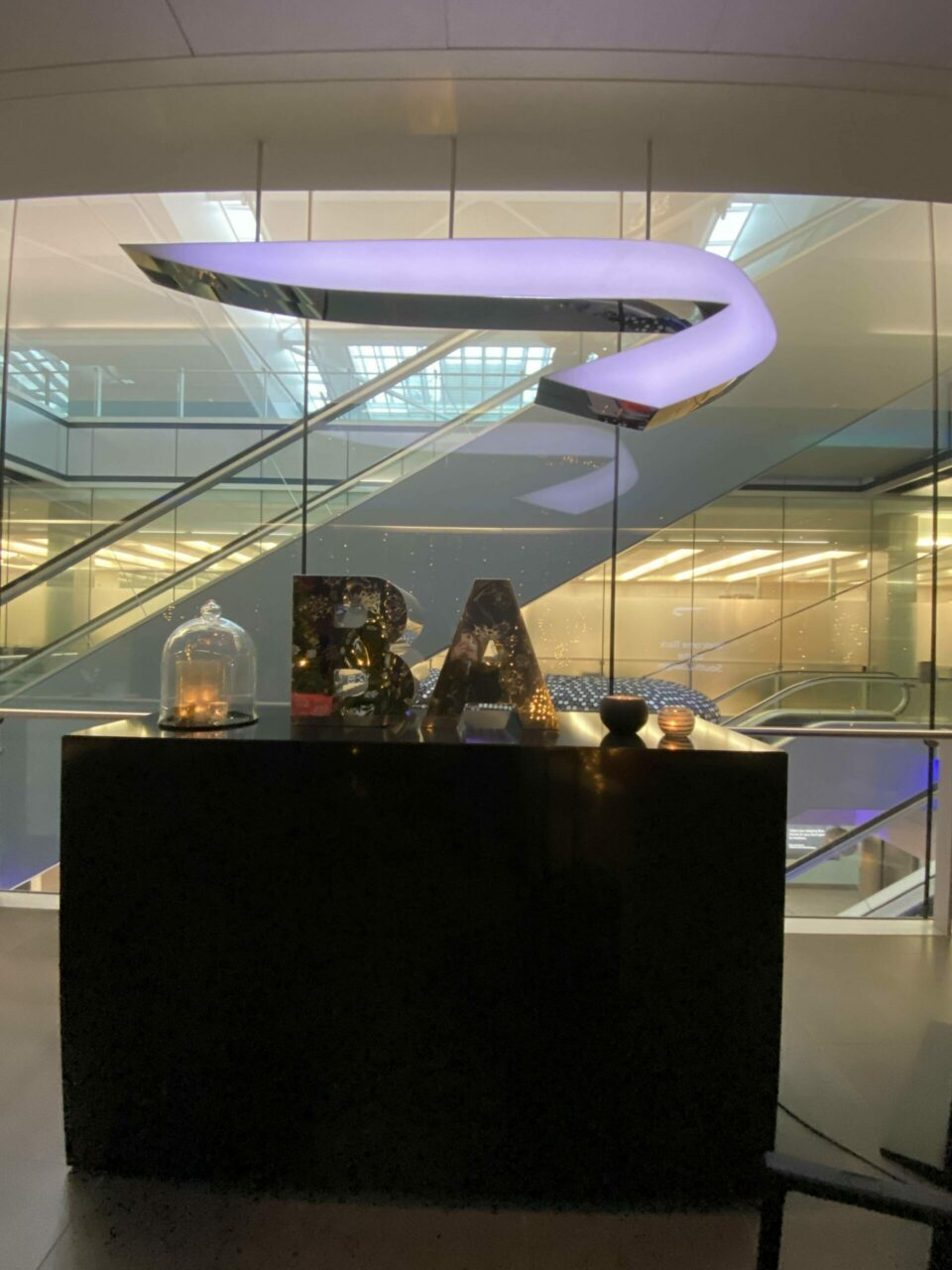 I visited the Concorde Room on this trip but I do plan to do a review of Galleries Club next time I am travelling on my own through Heathrow. BA also had some lovely Christmas decorations.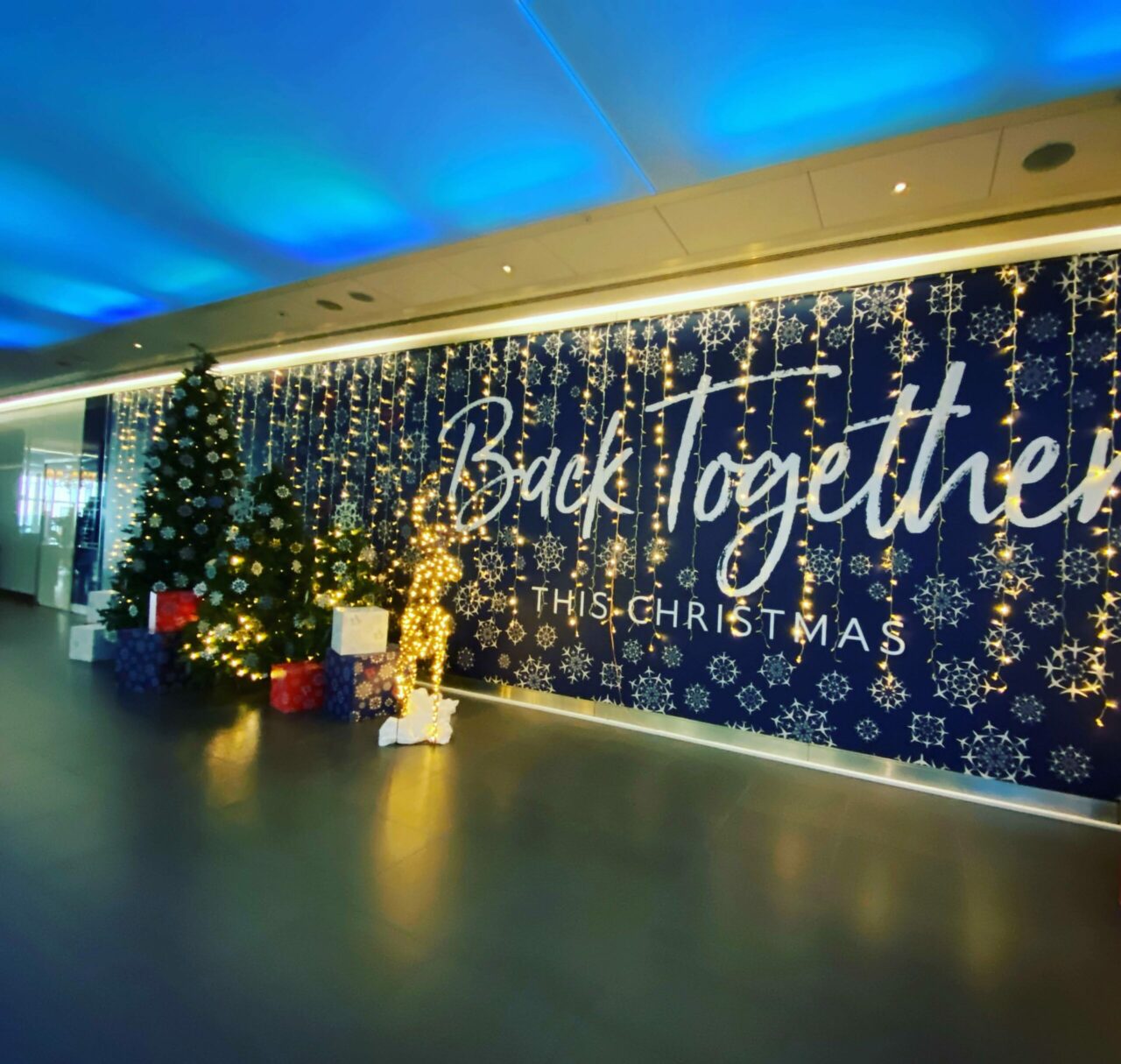 It was good to see that there were also some festive specials such as the cocktail that came with a pretty snowflake mat (that apparently people kept nicking!). Despite mentioning milk in the description, it doesn't have normal milk just poured in it! It tasted like an alcoholic but lighter version of a mince pie!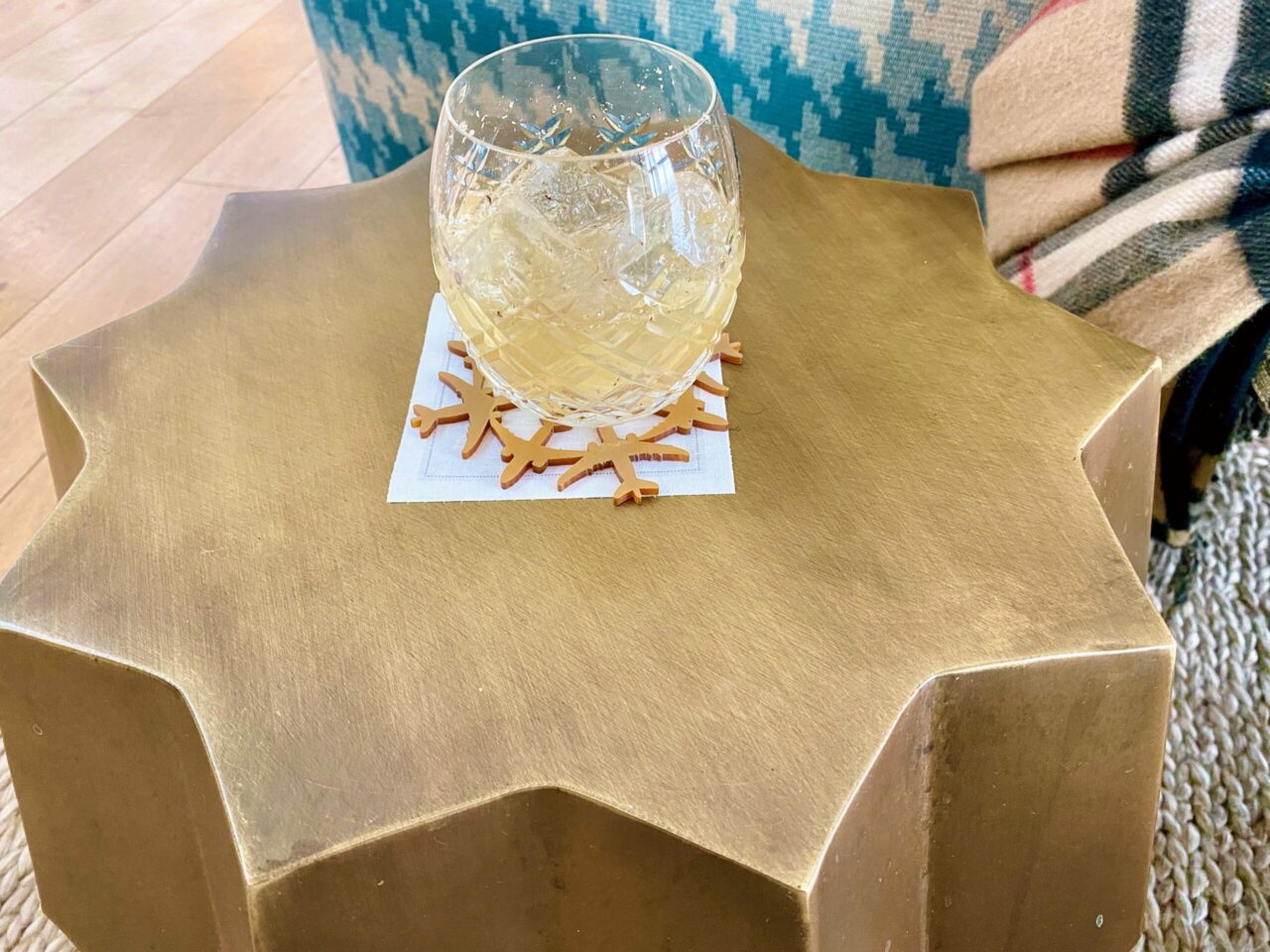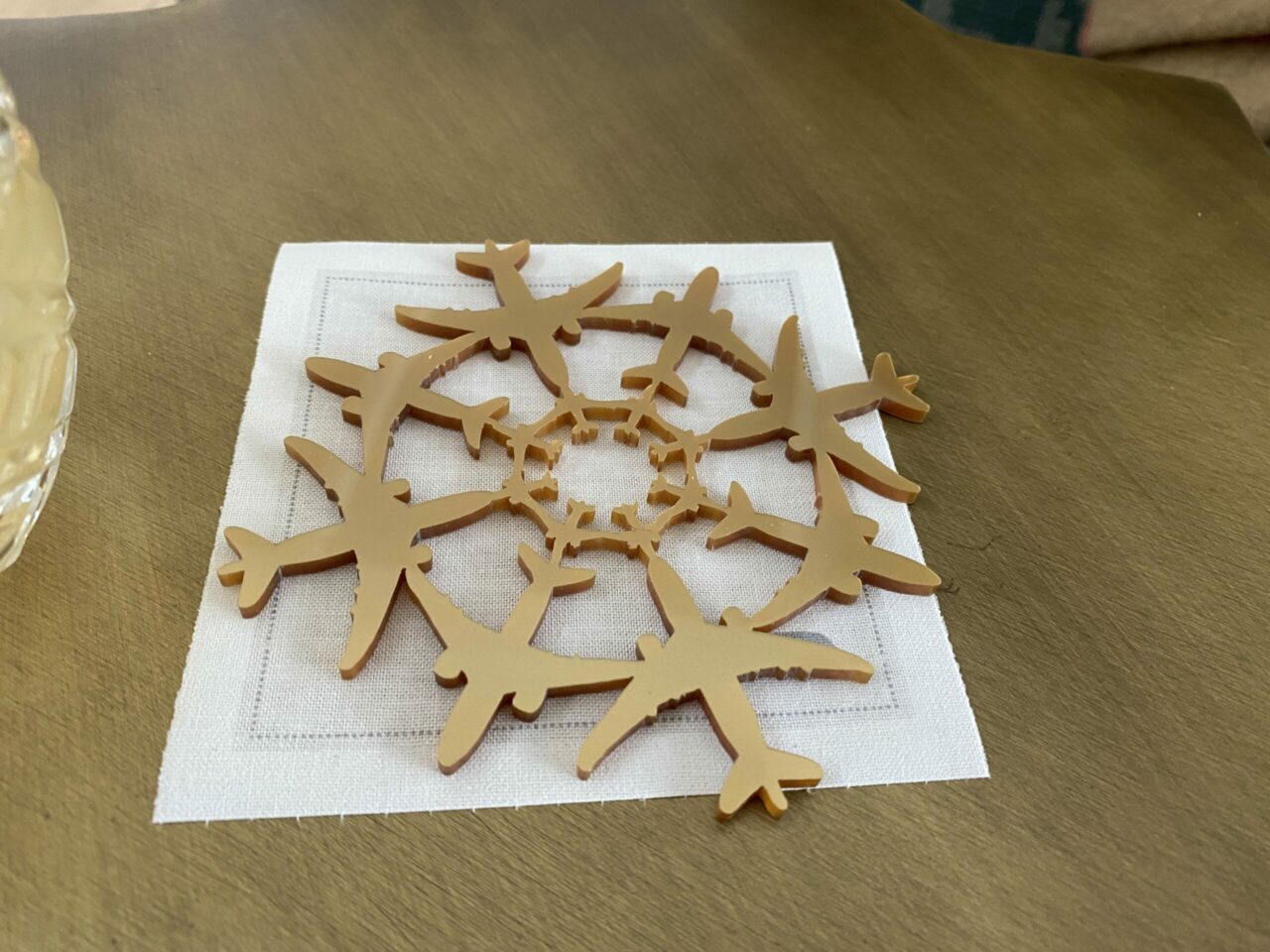 It was mid-morning so I went for my usual California eggs which is avocado on toast with poached eggs.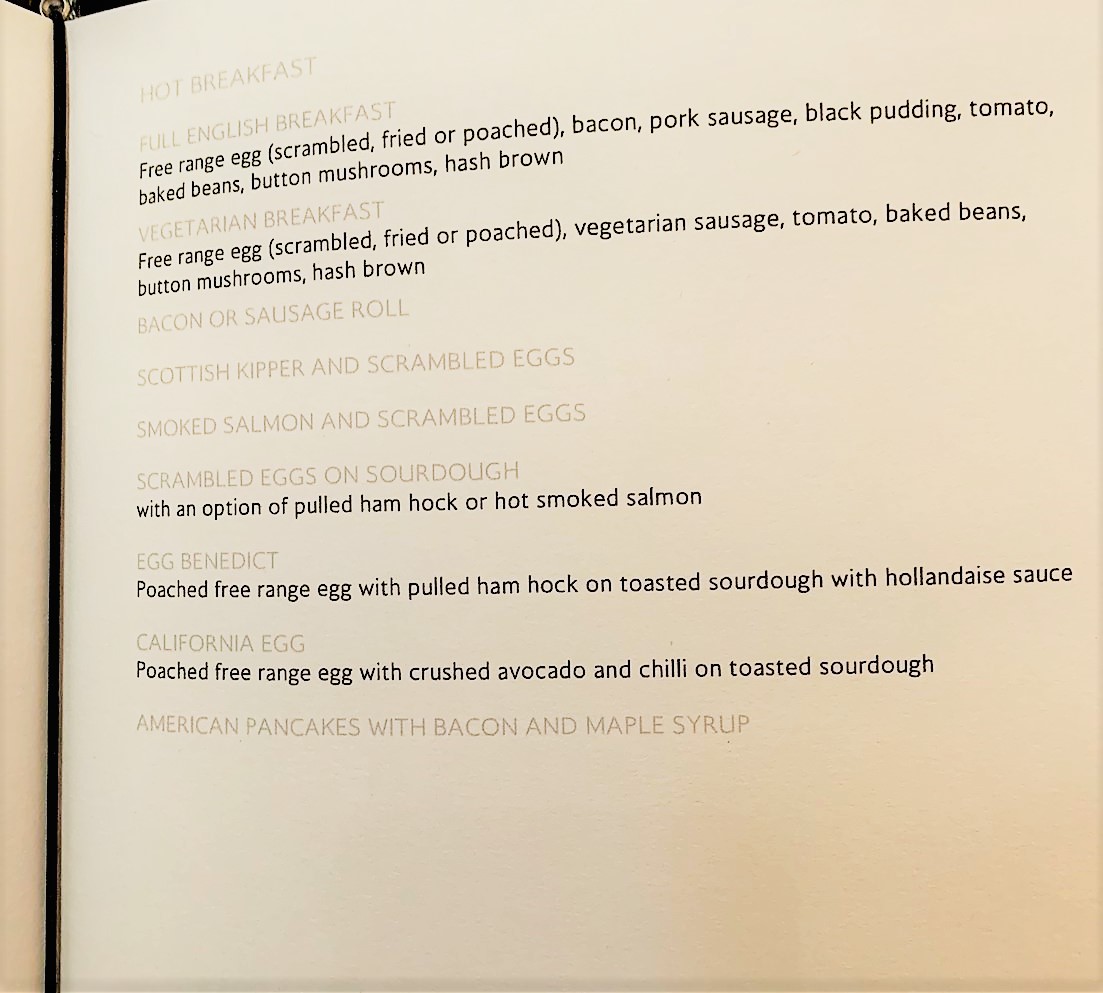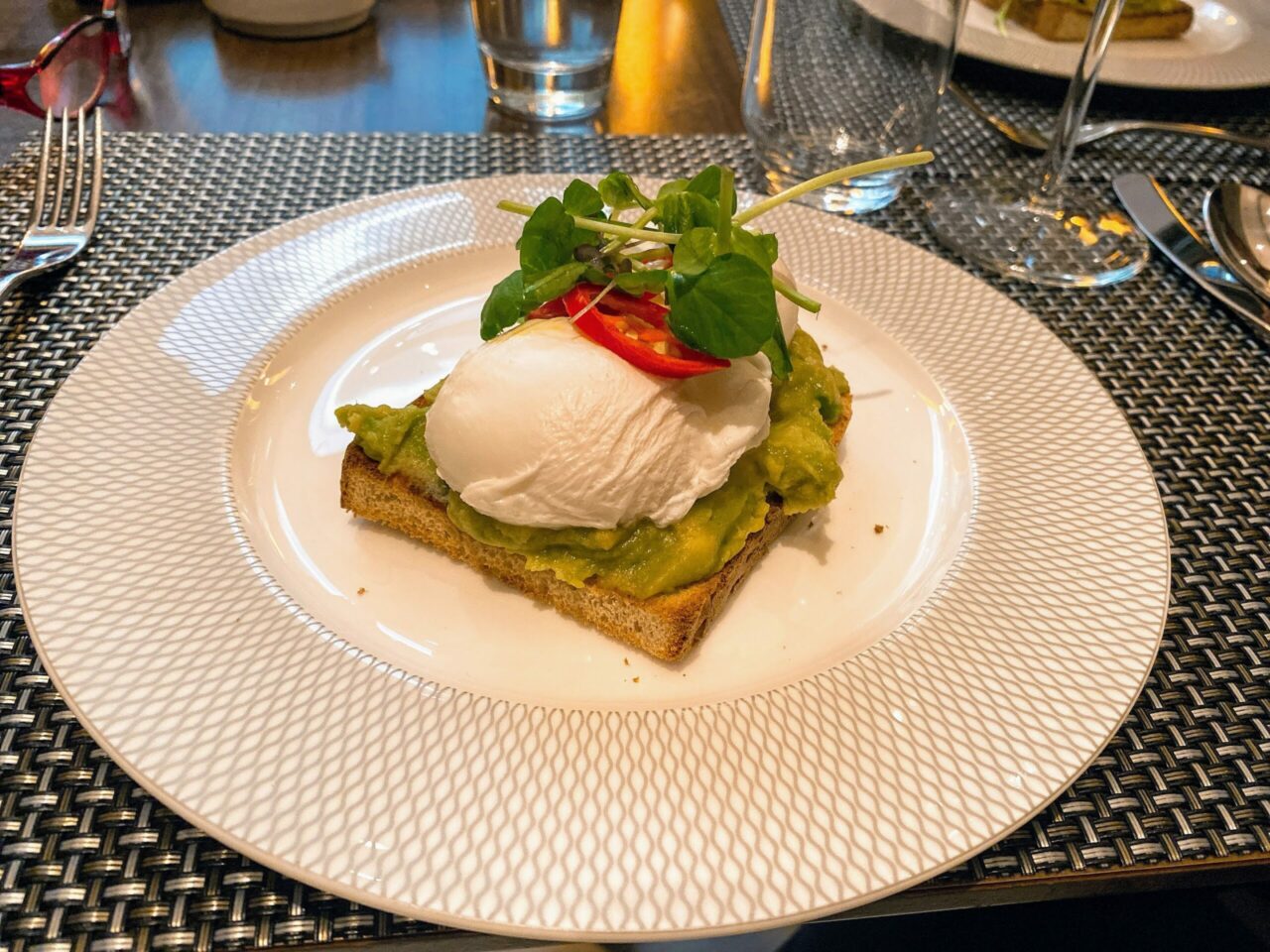 Service was good in the Concorde room until after the meal when we ventured onto the terrace. There appeared to be a new member of staff who seemed a little like a rabbit in the headlights and it took ages to get drinks or a glass of water.
Boarding the British Airways Club World B777-300ER
We were departing from the C gates so took the train over to the C gates. Boarding was done by group number so we boarded early being in group 1.
We had been considering upgrading to First. Depsite there still being seats left no Avios seats were ever released while I had an alert set for several months. We did consider upgrading at the airport and paying cash but as there was only one window seat left, we decided not to bother.
The flight was around 60% full and as I'm Gold Guest List I had had the seat next to me blocked. Being the old seat configuration which I really don't like due to facing each other during Covid, of course, someone decided to switch seats onboard and sit right next to me. For those that don't know, there is something called theoretical seating that blocks empty seats next to gold and above status holders. Obviously if the plane is full this disappeared when check-in opens. When it's not full it usually sticks. However, then people on board move around, cabin crew mainly don't even know about theoretical seating and so allow anyone to sit somewhere else if they fancy it. So it's pretty pointless much of the time.
I was given a menu, a bottle of water and the usual club world amenity kit by White Company.
British Airways Club World B777-300ER Seat and Cabin
This was a big disappointment as I had deliberately chosen this flight as new Club Suites. I find it amazing that on one of their most premium routes, they would not try to put aircraft with Club Suites on. It's not like they even changed the aircraft type. It was still a B777-300ER but without the Club Suites. Yet prices now to Los Angeles are around £3300 until June 2022. That's a lot of money for an old seat.
We both wanted a window seat without being climbed over or climbing over anyone else. Therefore the only option on this type is the last row, row 16 on opposite sides.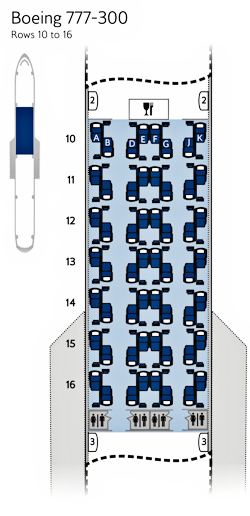 The seat was in good condition and still reasonably comfortable. However, having flown the Club Suite on my previous flights it felt very cramped and I hated not having anywhere to keep things in reach. Yes, there is a drawer but it's at ground level so if you have the table out during a meal it's hard to reach and it's impossible when sleeping with the bed flat. Fortunately, BA are expecting to refurbish all their B777s by the end of 2022 with the Club Suites.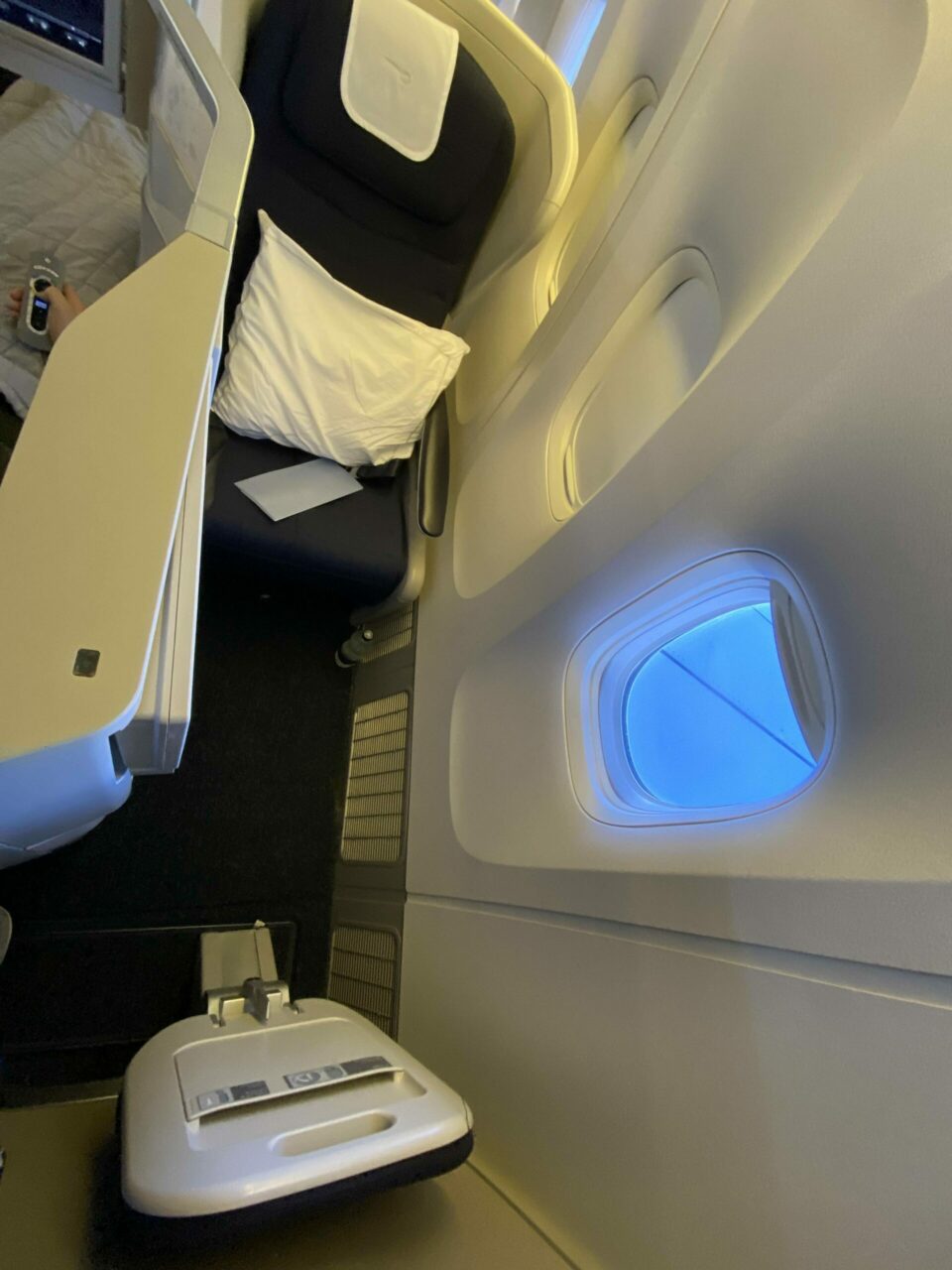 Bedding was the White and Company pack with a very thin mattress topper but a nice silky quilt and a large plump pillow. I managed to have a couple of hours disco nap only with the help of earplugs and at times noise cancelling headphones to thanks to the mother who played their child's TV programs or game at full volume the entire flight. Overall, I still find the old Club World seats comfortable for sleeping.
British Airways Club World B777-300ER Food and drink
I was given a two-word recognition of my status "Welcome back" and to be fair that's more than I have got in 2021 apart from when my friend knew the crew member serving us. I don't particularly want the awkward speech or to be fawned over but it's nice occasionally to be asked if there is anything they can do for you, particularly when it wasn't a busy cabin.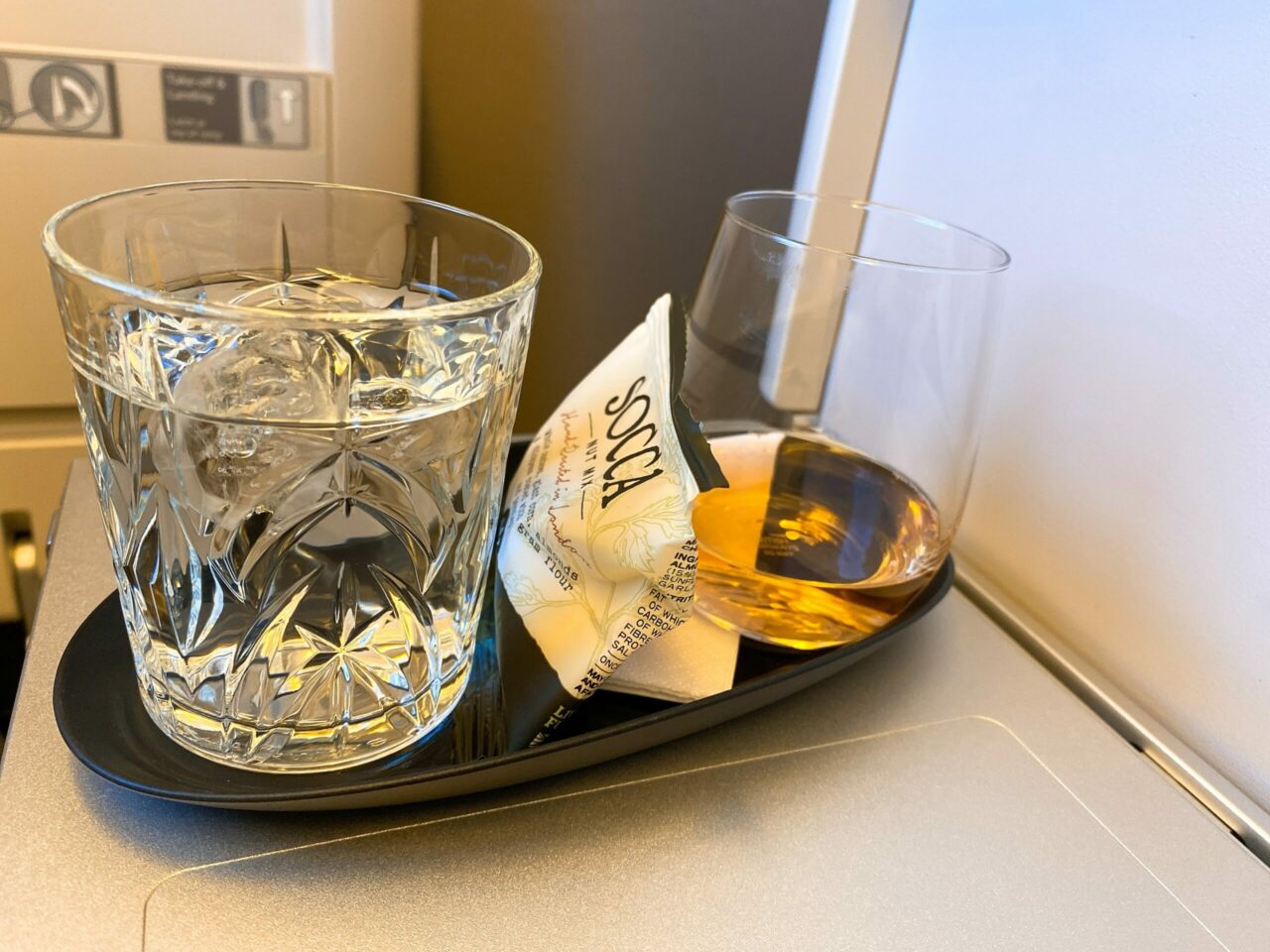 I was offered a drink before lunch and I decided to try the Rosé champagne. I asked the cabin crew if I could try it but he did not seem to understand the concept of pouring someone a taste and then waiting for them to try it. He poured about a quarter of a glass and then when I looked up he had already gone. He did return eventually after a while when he was doing top-ups and went from one extreme to the other with a pint of champagne! I quite liked the Besserat de Bellafon champagne although it was a little drier and less fruity than my usual Rosé favourites.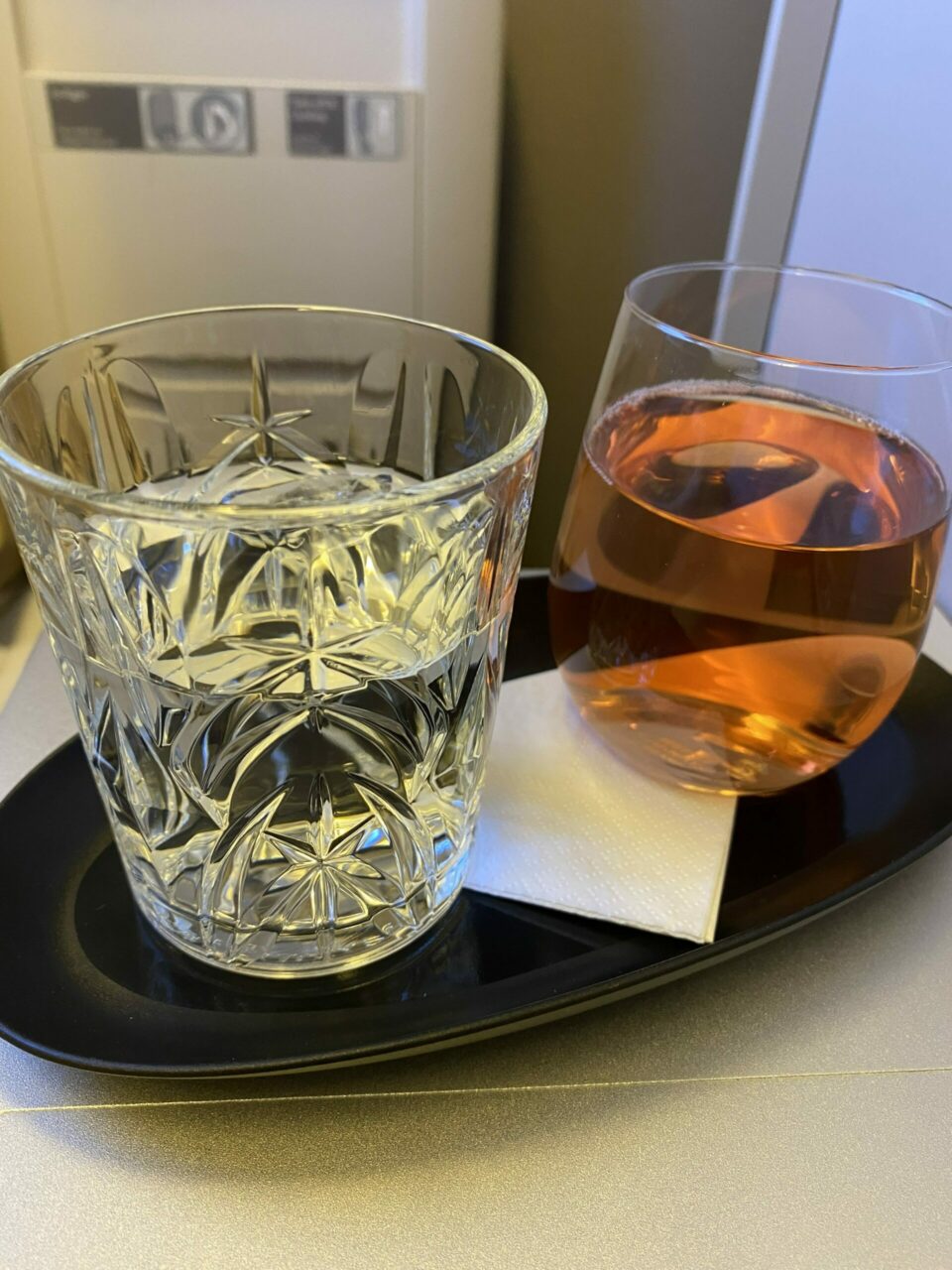 I do wish BA would get rid of the nuts and replace them with something else. I'm not a fan of the current nut mix that doesn't even have many nuts. So why not replace it with something more interesting that can be served to people with nut allergies as well?
Here is the drinks list.
My friend Katie in London enjoyed the Gin Zing cocktail.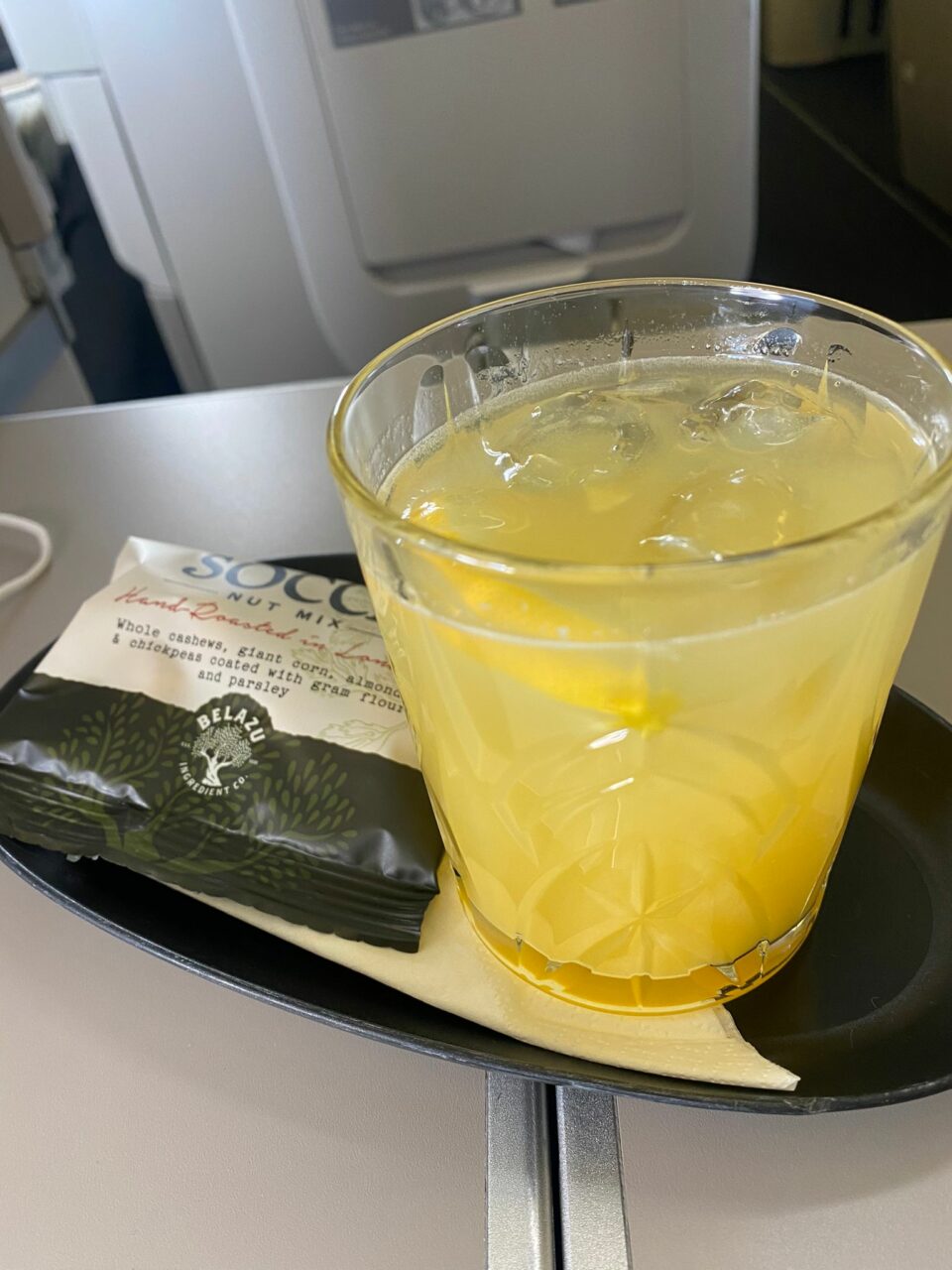 It appears that there may be a different service on New York flight as there a choice of starters was offered and the crew assured me this was the norm. Here there was just one starter but a choice of mains.
Here is the lunch menu: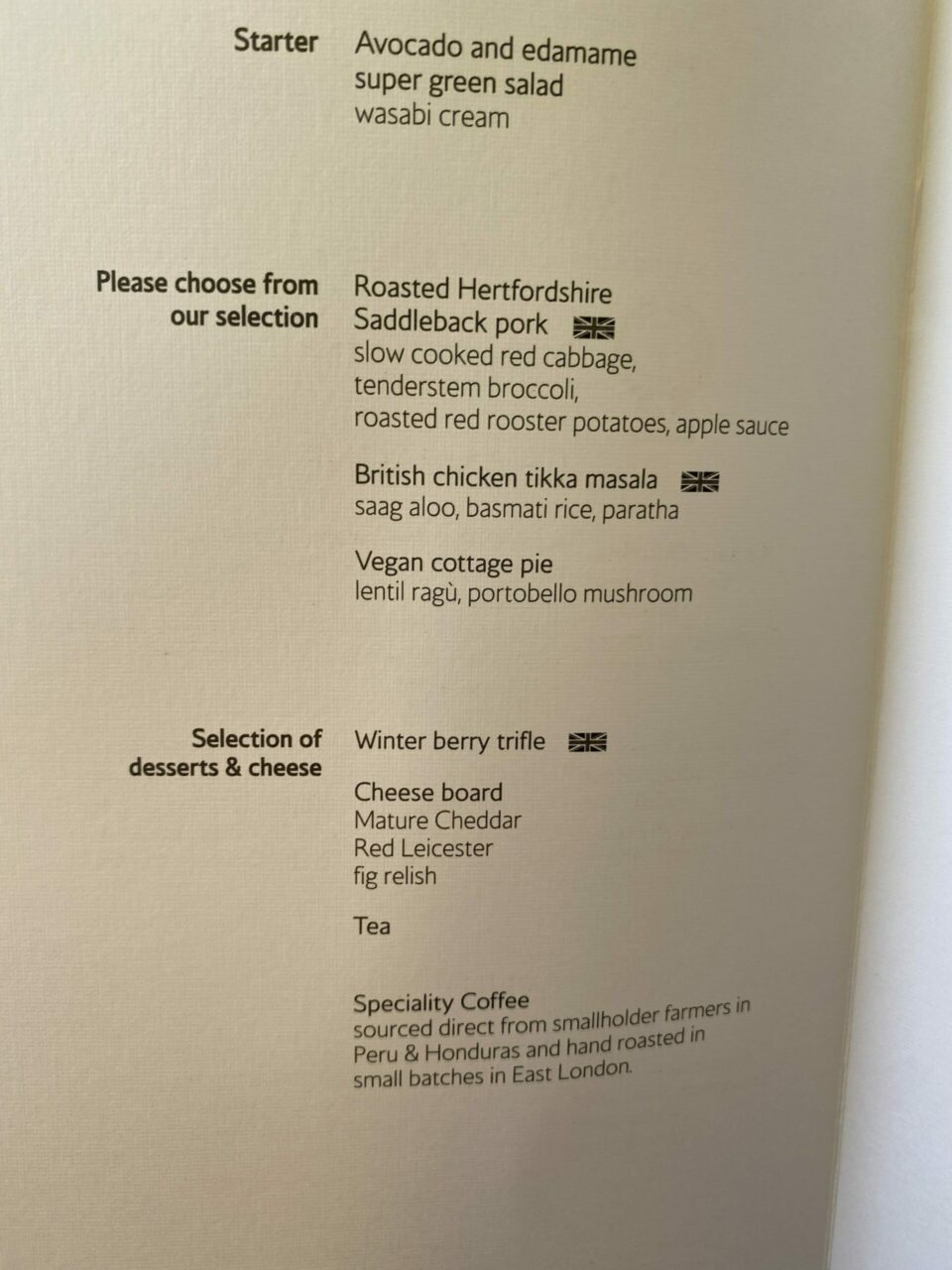 It all sounded great but how was it in reality?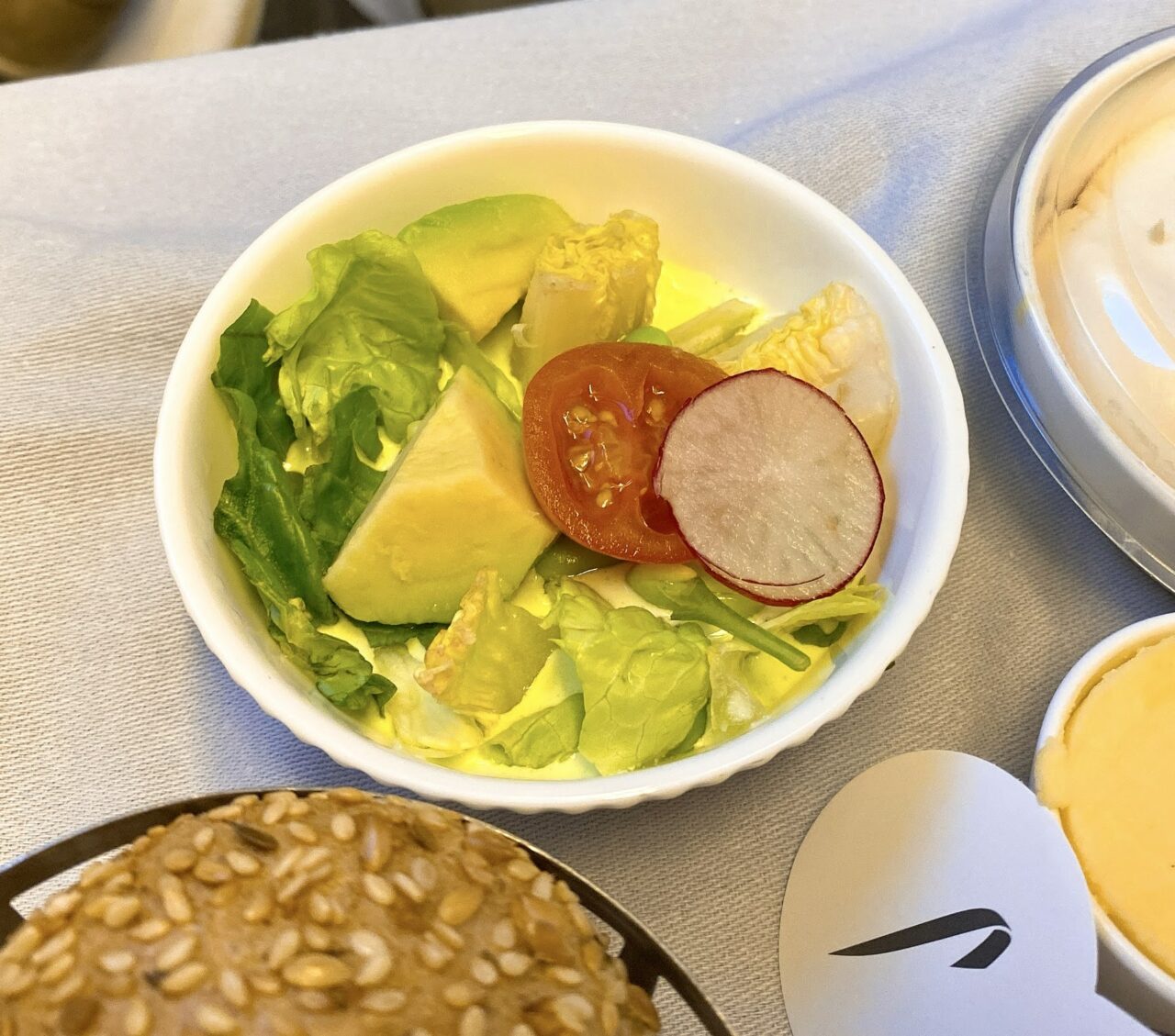 I'm sorry, I'm a BA fan and GGL but this starter was just pitiful. When charging £3.5k for an old seat, I'd expect more than half a tomato, half a lettuce leaf, and a couple of bits of avocado. The whole meal came on one tray which most airlines have now abandoned. (Virgin definitely have).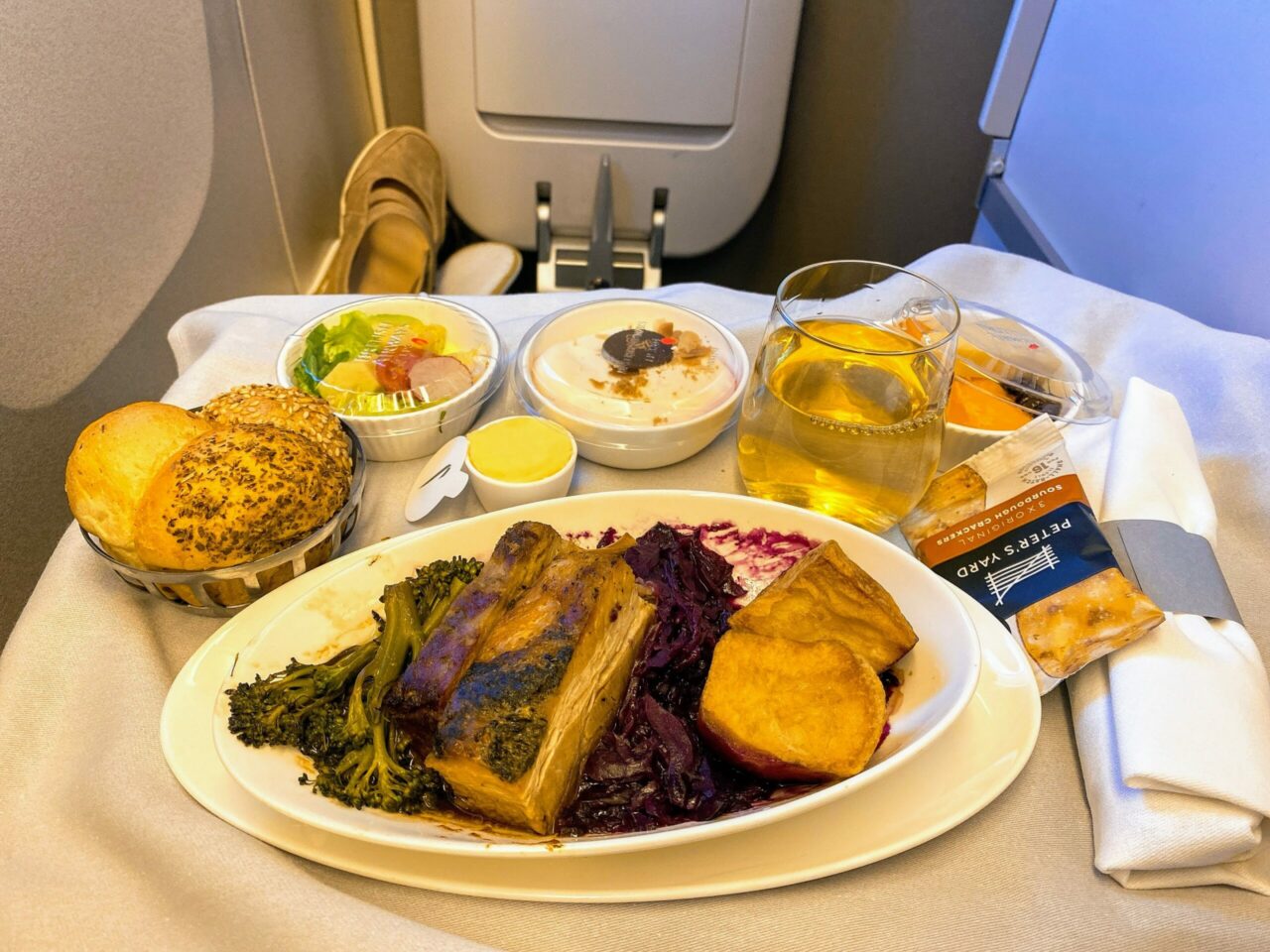 The three roll bread was back which is really tasty, though if you want to save money, why not just serve one? I liked the herb one the best.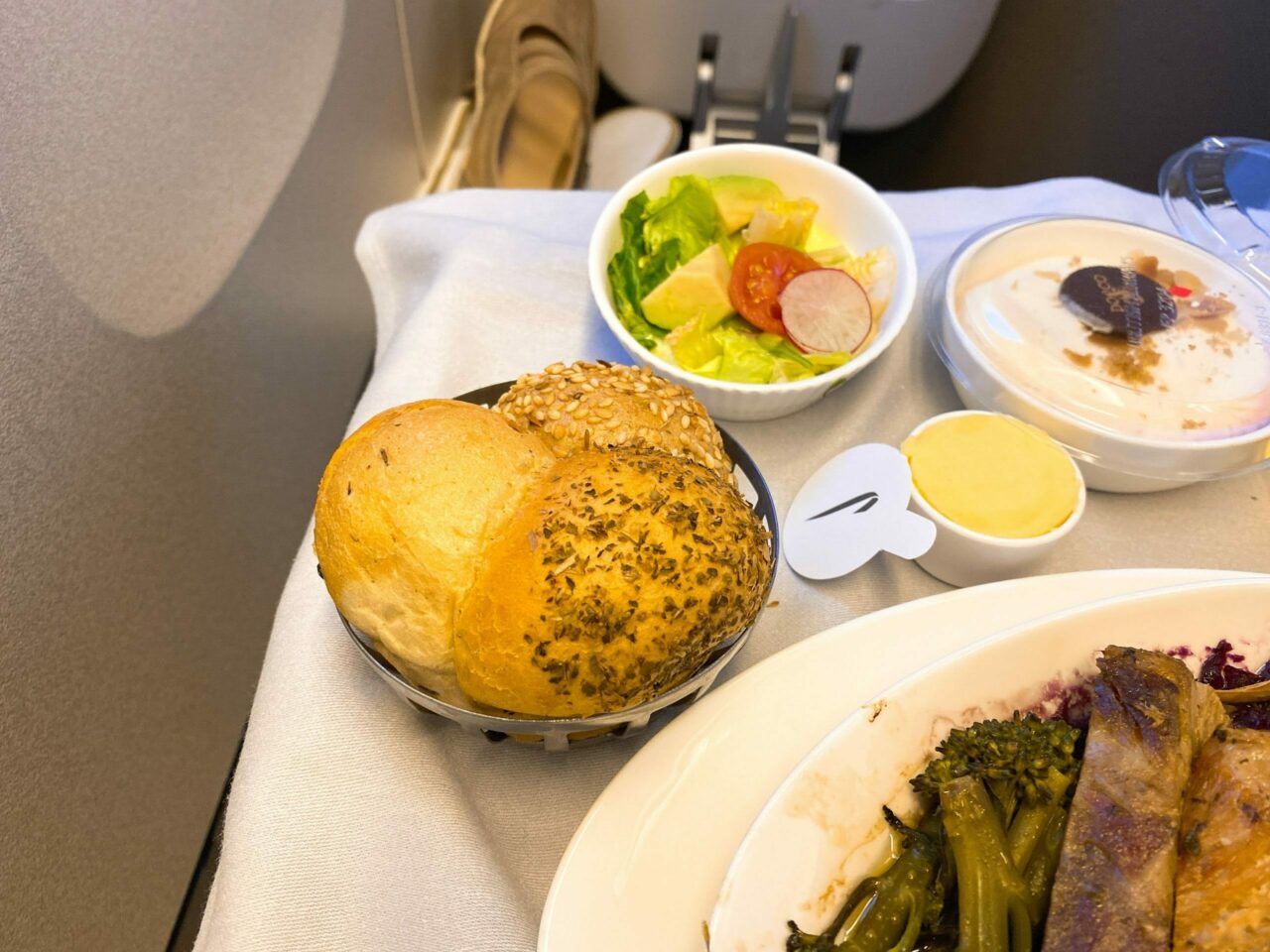 I chose the pork as a main course and this was pretty good. If I'd had it in a gastropub I'd be quite happy apart from the soggy brocolli. Yes, the roast potatoes could have been a little crisper, but it's on a plane so you have to make allowances. The pork, however, was lovely and tender, not too fatty and the red cabbage was soft, moist and sweet but not overcooked. I went slightly off piste in terms of etiquette and had it with the Hahn Chardonnay initially but then had a glass of the Wakefield Cabernet Sauvignon. Both are wines around the £10-15 mark retail that I enjoy and have bought myself. It's good to see some decent wines being served in Club.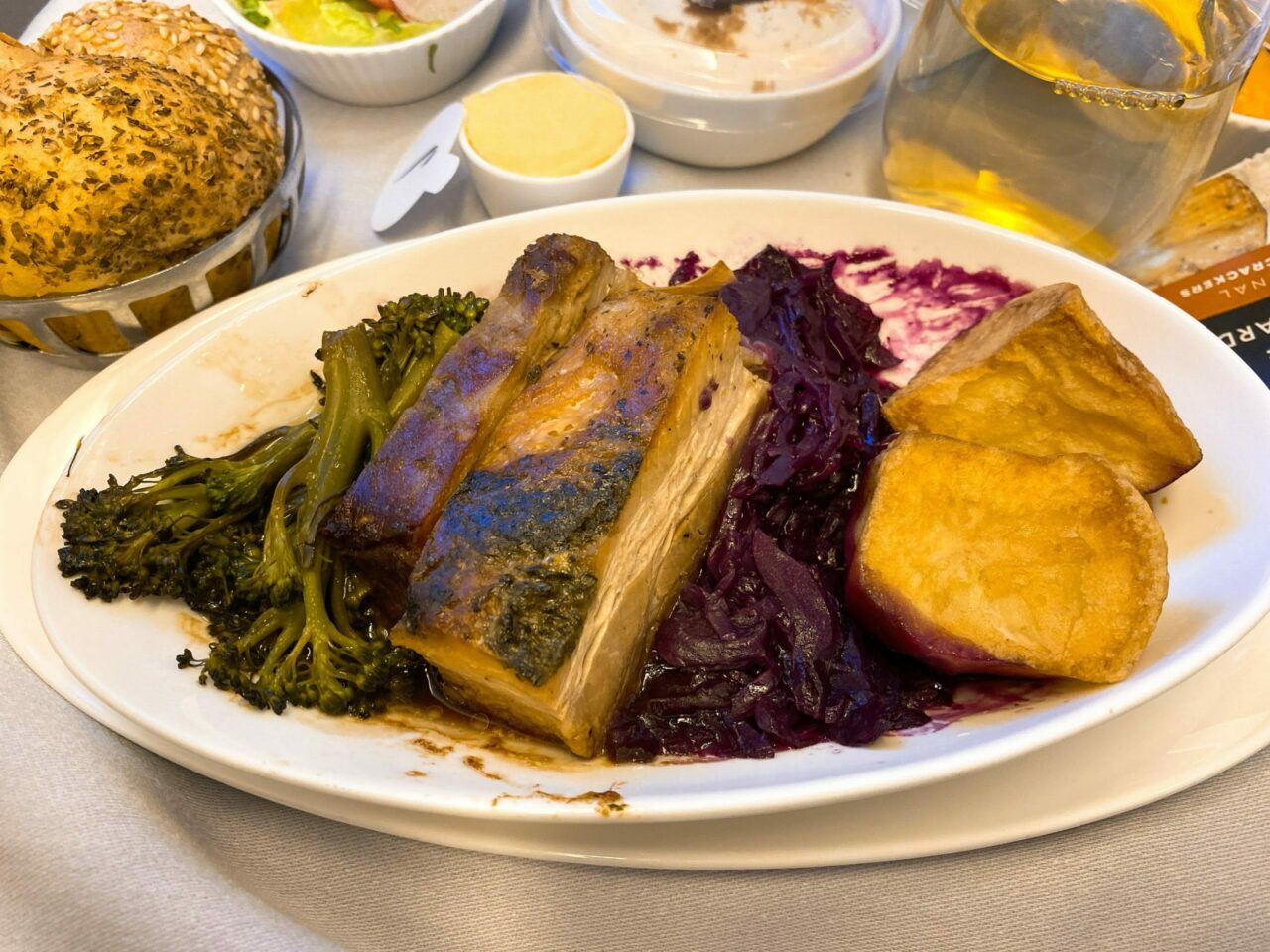 The winter berry trifle was also good with a decent balance of fruit, custard and cream plus a touch of spice.
The second meal was probably better than the first was served around 2 hours before landing.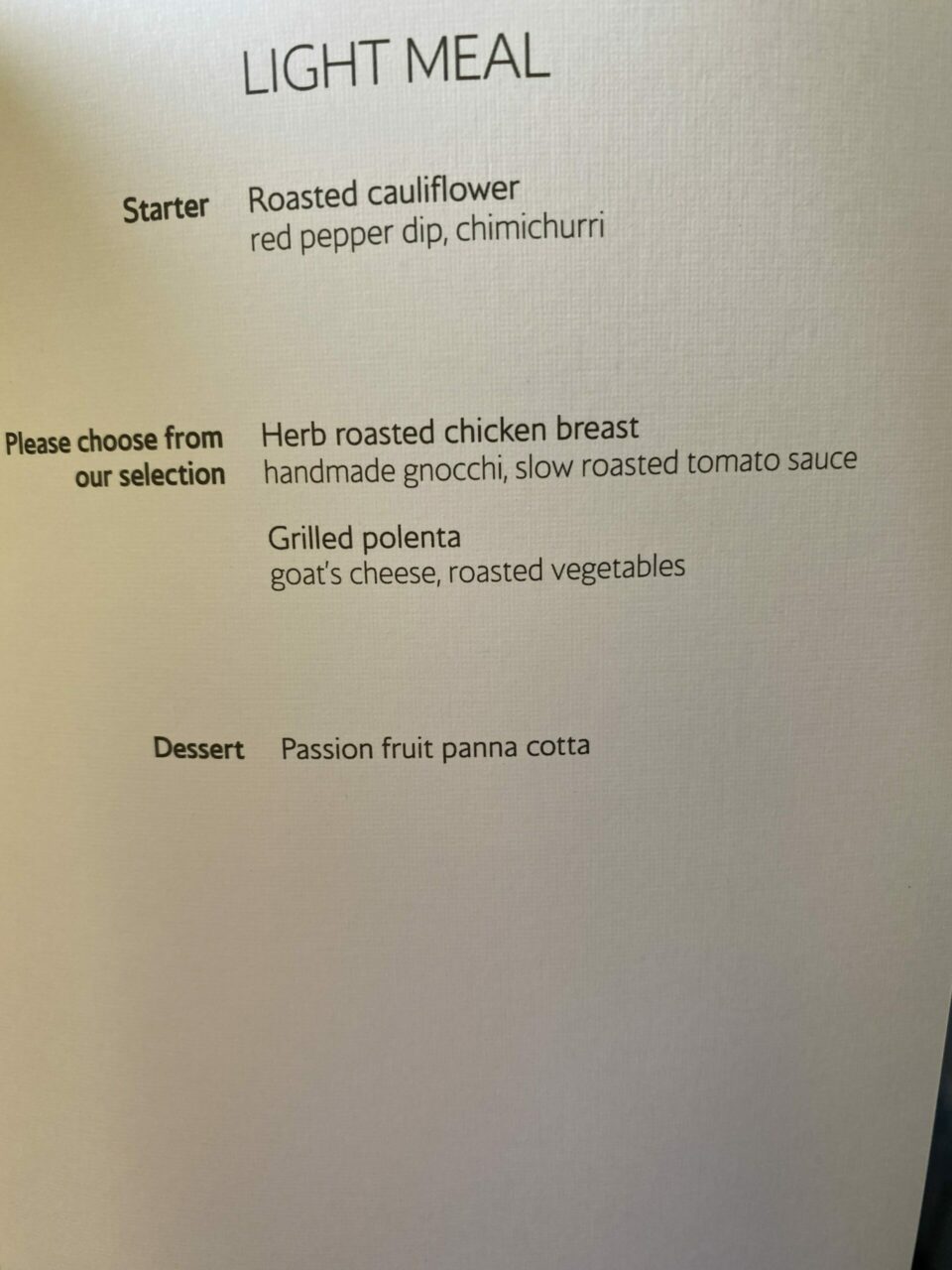 It felt like the balance of the meals was all wrong. Most people don't necessarily want a massive meal before getting off when landing mid-afternoon. I would imagine many people would like to go out for dinner. I'd rather have a choice of something lighter to keep me going until the next proper meal time. Of course, there is the Club Kitchen but on this flight by mid flight there was nothing left apart from biscuits.
This was called a light meal but had just as much food as the first! I think offering a lighter meal as an option would save BA money they could spend elsewhere and give people a choice. Afternoon tea was always a choice I enjoyed or the cold tapas plate. Again there was a three-type bread roll which seems unnecessary.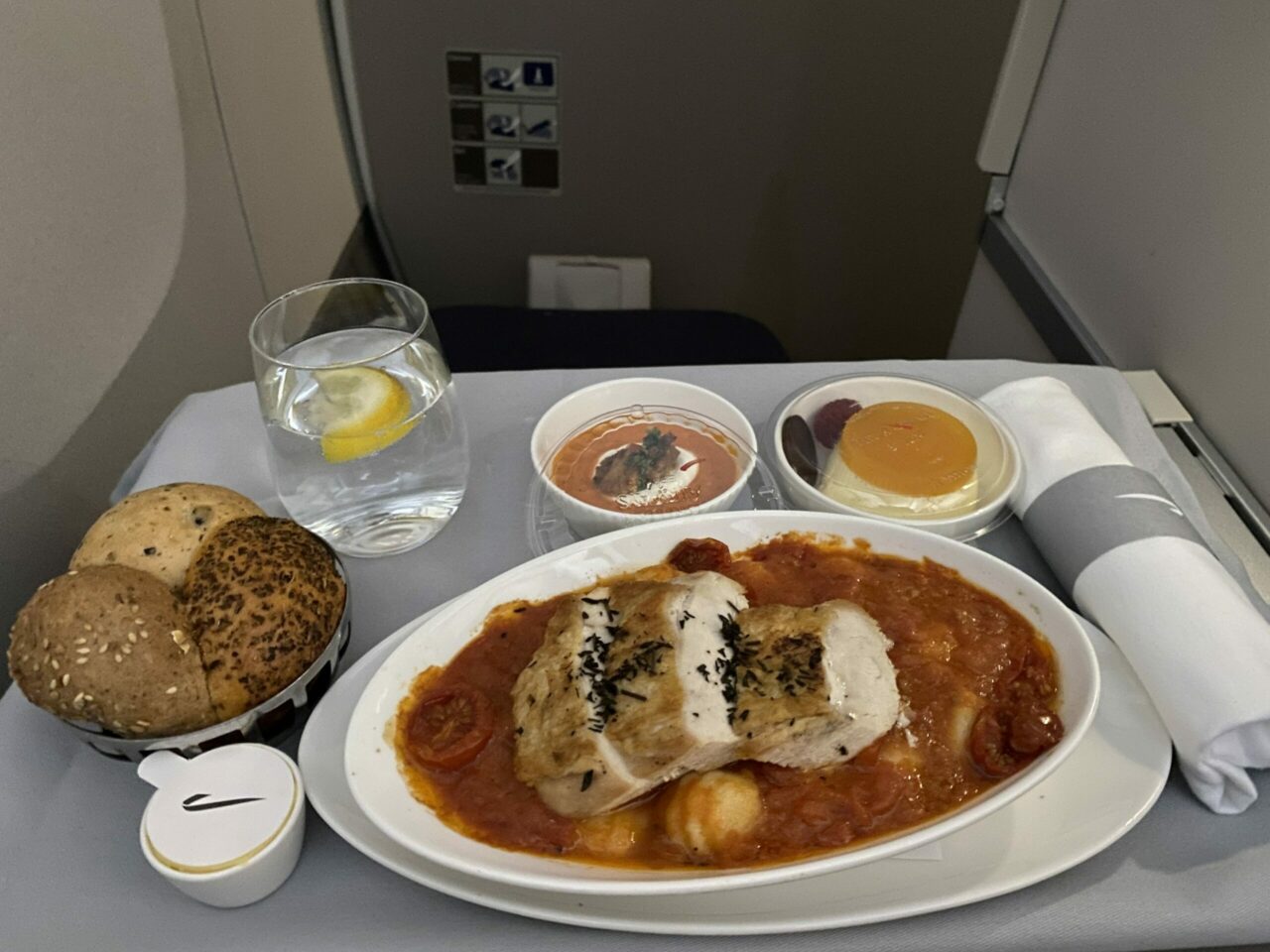 There was absolutely nothing wrong with the food, it was very tasty but it feels like they are spending money in the wrong places. The chicken was incredibly filling as it had lots of gnocci underneath and although they weren't too stodgy, they were on the heavy side.
The staff member serving me was fine and fairly friendly although I did find it odd that he didn't understand about pouring someone a taste of wine.
British Airways Club World B777-300ER Entertainment and Wi-fi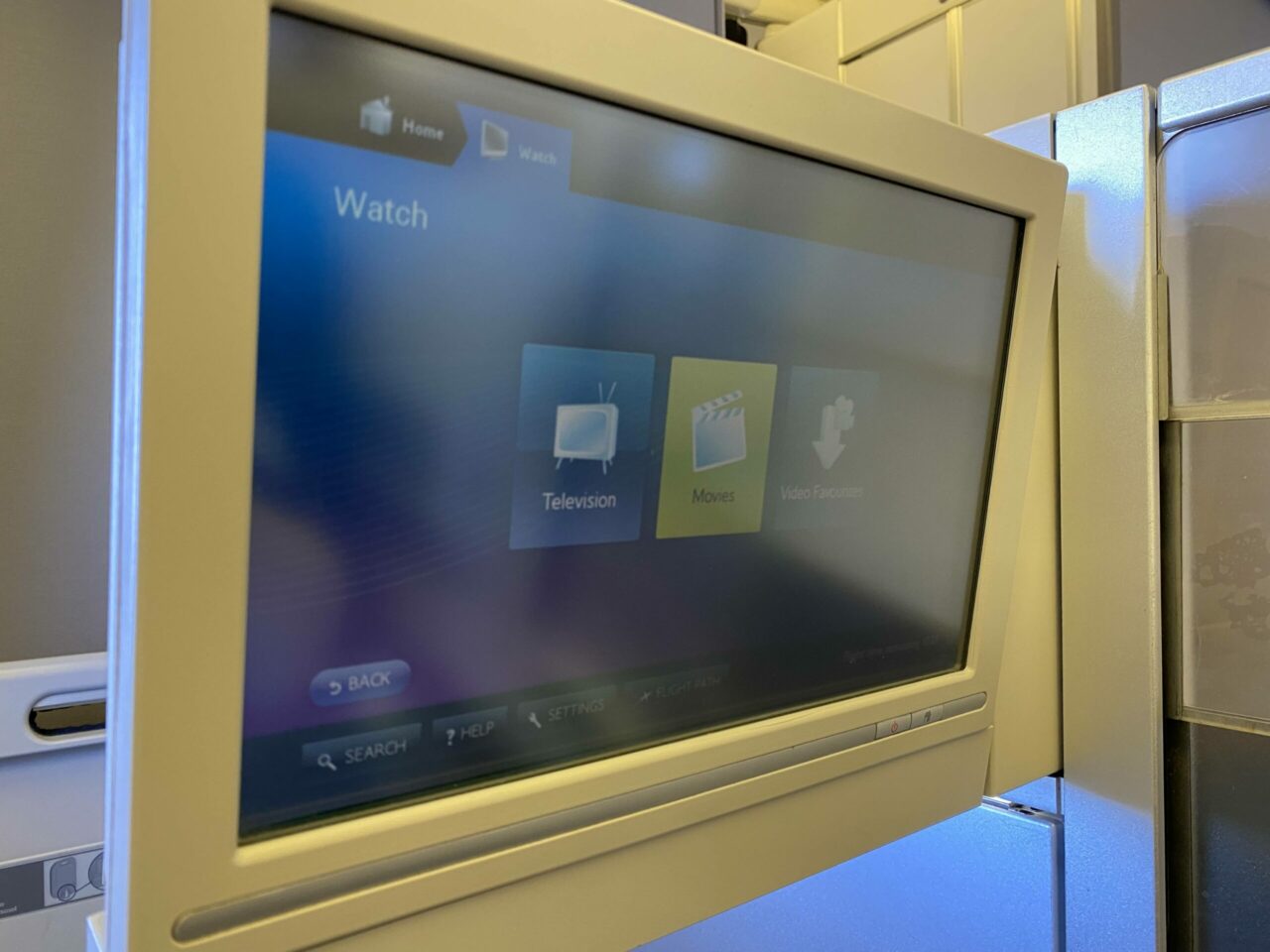 The screen was a decent size with reasonable definition but it was nowhere near the standard of the Club Suite. Everytime I moved or there was a bit of turbulence the screen swung as it would not fix properly in place which is often an issue with this design of screen.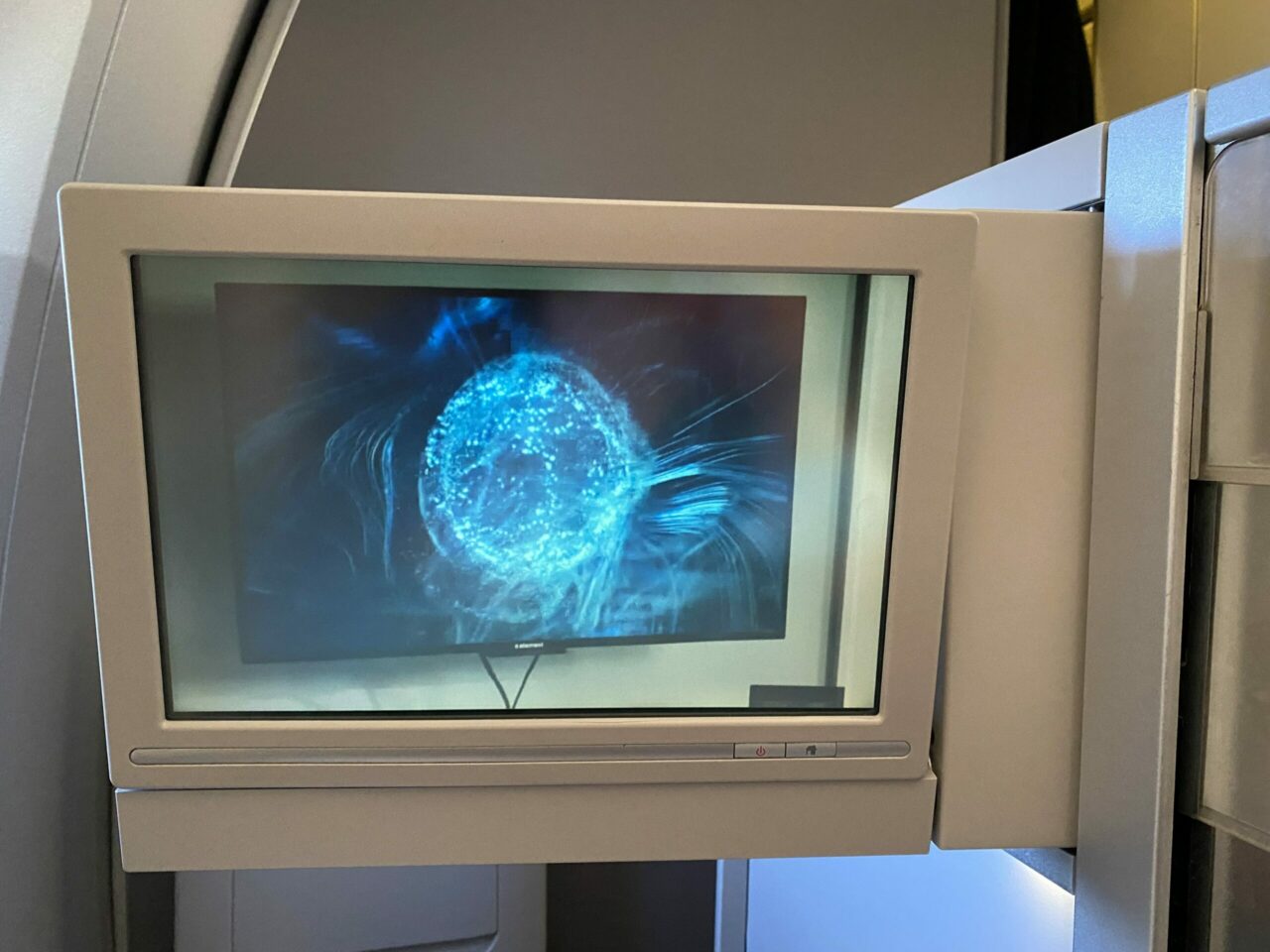 There was a choice of new films and a few classics. I am a James Corden fan so I decided to watch the comedy SuperInteliggence with Melissa McCarthy & James Corden. The best I can describe it as was mildly entertaining and I ended up giving up on it eventually.
I used the messaging service for the first time as normally I buy the full Wi-Fi package for £14.99. This time I also tried the basic messaging service which starts from £2.99 which did allow you to send photos and receive them which I hadn't been sure about. However, they were very, very slow! I found the Wi-fi dropped out quite a bit but it was fine when it actually worked.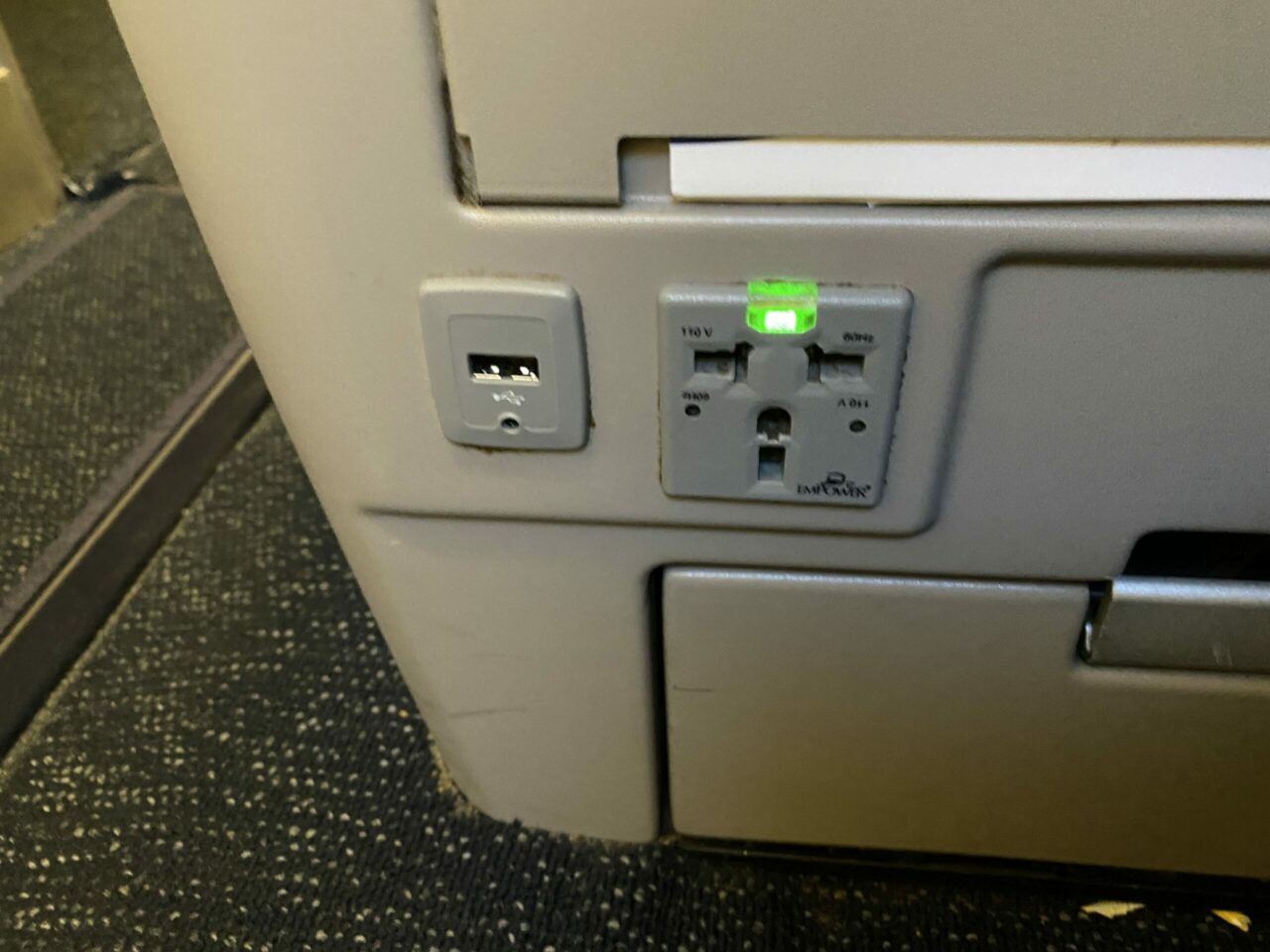 There was a USB and a multi country socket at floor level.
Arrival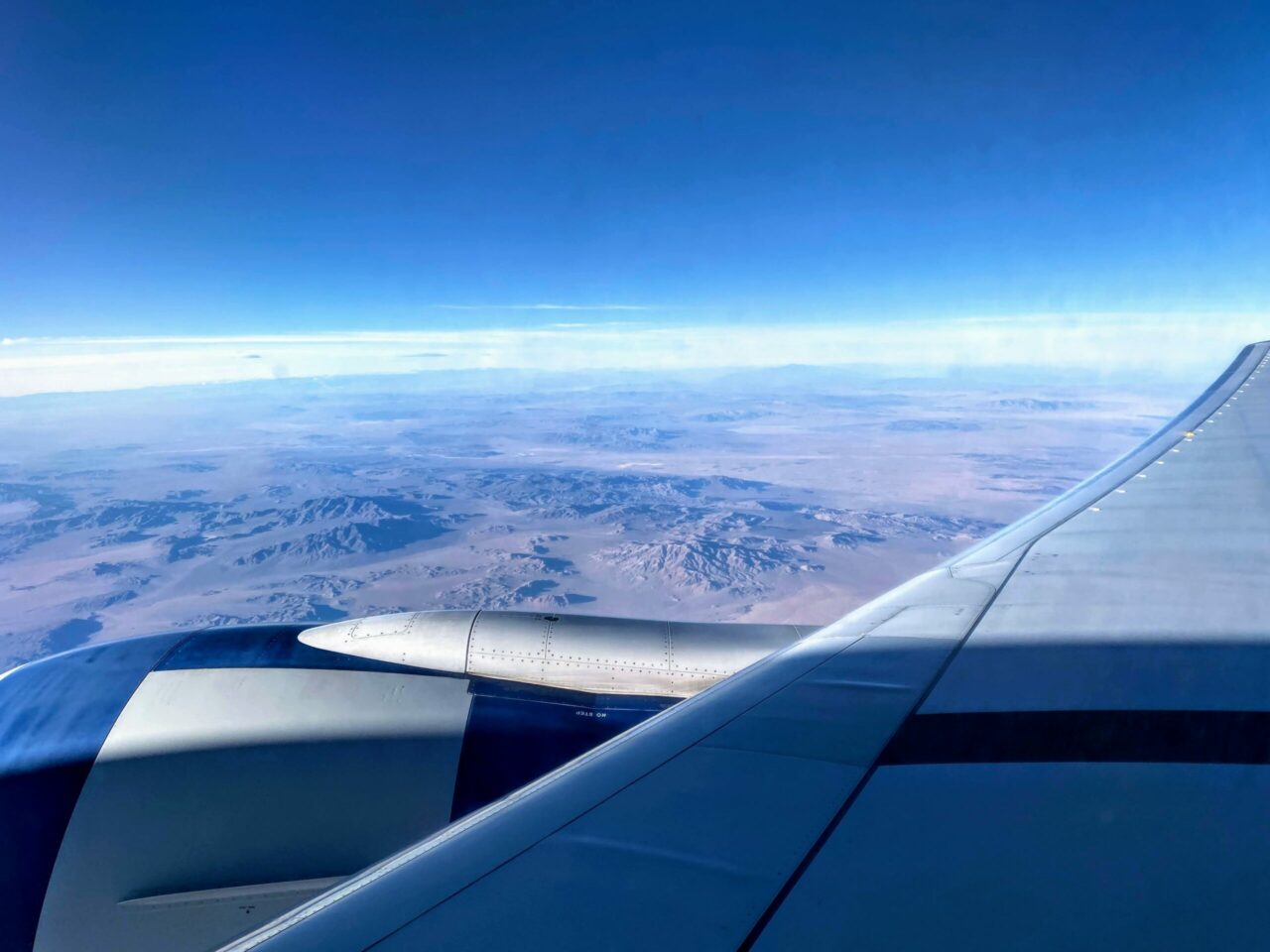 I had Global entry and this was my quickest exit yet. There was a Border Force Officer standing by the terminals. I simply looked at the screen and a few seconds later it gave me a green tick and I was on my way. No questions from the officer either and no print out like you usually get. You can find more about getting Global Entry here.
By contrast, Katie who doesn't have GE but was off at about the same time as me waited for around 25-30 minutes to get through immigration. By the time she arrived all the luggage was ready at least!
Los Angeles has a new Uber arrangement that if you want to be picked up at the terminal you need to order at least a Black category of Uber. Otherwose you will need to walk or get the shuttle to the parking lot for pick-up.
British Airways Club World B777-300ER Conclusion
This was a very average flight. The seats were old, the crew were average, the meal was average but at least most dishes were fairly tasty. Had I been in a Club Suite then I am sure it would have felt a lot better even with the same food and drink.
It probably didn't help that we had a toddler in the middle seats between us that alternated between screaming or being played videos/games at full volume with no earphones for 10 hours. And yes I had my noise cancelling headphones AND ear plugs at one point! Obviously this did put either of us in the best mood during the flight. Before all the parents jump on me in the comments, I understand babies cry, but not having headphones for a child that they are used to for a flight and expecting everyone in the cabin to listen to the incessantly repetitive tinny music for 10 hours is not acceptable in my book.
But for me in terms of value for money for the BA product it was fine for what I paid but there is no way I would pay over £3000 for it.