When Michele and I made our trip to Penang Malaysia, our connection time in Doha was over five hours. With so much time available, we decided to take a city tour. As well as this we also visited the Al Safwa First Class lounge which you can pay t enter when travelling in business class. You can read Michele's review of it here. You can read reviews of our Qatar Airways business class flights here.
You may also like to read the article on the Al Mourjan business class lounge and ways to kill time in Doha Airport here.
In this article, I will share with you what we thought of the tour experience and, in the end, whether or not it is worth looking at the tour we did.
When Michele and I made our trip to Penang Malaysia, our connection time in Doha was over five hours. With so much time available, we decided to take a city tour.
Tour Booking

Michele booked our tour on the Qatar City tour website here at the cost of $ 21 per person. As we were not sure if we would be able to do the 18:00 tour due to our arrival time in Doha, Michele booked the 20:00 tour. It says that you have to arrive one hour before for the tour. If you are travelling business class, this is definitely not necessary. We went through the very swanky and empty business immigration lounge in less than a couple of minutes. We then had to hang around for ages waiting for the tour to depart.
However, as we had previously realized that it would be possible to do the 18.00 tour, Michele had emailed Qatar several days before asking to bring forward our tour, but they never answered the email. When we arrived in Doha we decided to take a chance and try to arrange for the 18:00 tour. In the end, they didn't seem worried about what tour we had booked for and we ended up doing the tour at the time we wanted!
Immigration
As you might imagine, to do the tour you have to go through immigration and here things got "interesting"! ? You don't need a visa if you are visiting for 30 days or less.
After we landed we didn't really have any instructions other than to proceed to a vague meeting point. There was no information about immigration etc. So we began to ask what we should do about immigration and getting to the meeting point. I think we asked about five Qatari employees we saw along the way and, amazingly, the answers were between "I don't know" or "head to the Arrivals area and there you'll find the information you need"!
In the end, we went with our own instincts and ended up in an area for granting short-stay visas. Once there, we discovered that there was an exclusive area for VIP passengers, ie business or first class travellers.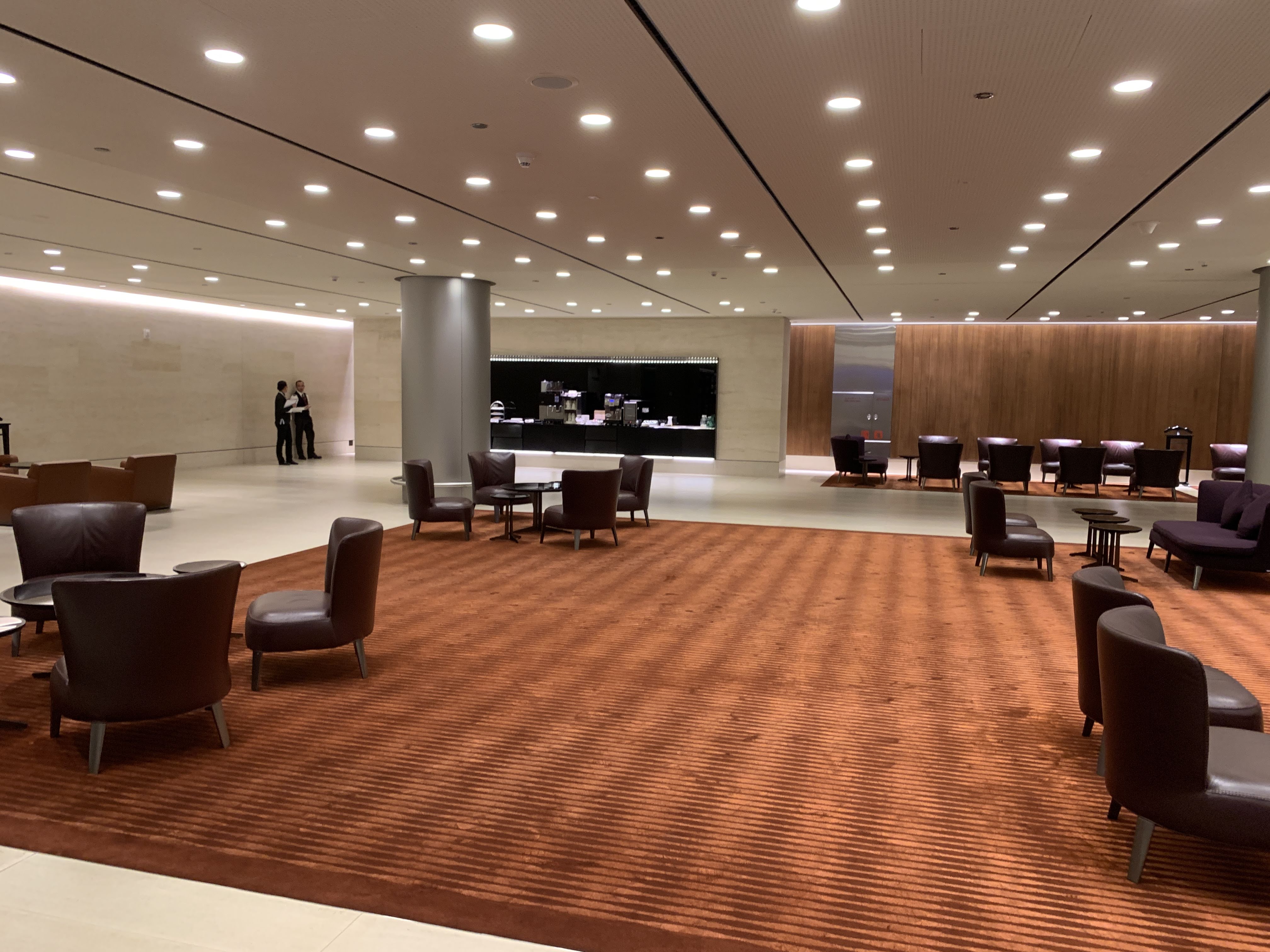 There were only two passport control positions and both had a young woman working there. The one that stamped my passport had headphones on and didn't even take it off to talk to me!
Explaining to her what I was going to do, her reaction was as if I was speaking Greek to her. At this, she began asking questions in Arabic to the woman who was processing Michele. In the end, she stamped my passport and let me pass and of course, I will never know what they talked about! ?
Meeting point
After asking two people, we finally arrived at the meeting point. Nothing was really signposted about the tour which seems silly given they do it many times a day! We were told to wait until the tour time where someone would come talk to us.
And then the fun began! There was a group of people we thought were waiting to take the tour and at one point they all went off to one of the airport exits. Of course, Michele and I followed them at full pelt down the terminal as we hadn't noticed them leave for a few minutes. Total embarrassment to us as they were just going to a hotel and the tour people came after us telling us to go back to our seats! ?
Fifteen minutes after the start of the tour, someone came up with a list of names and led us to the bus. The airport experience was pretty poor, there were no real signs, the tour people were not very obvious to find and I think they could easily make this much less hassle with better instructions and some sort of a stand after arrivals to actually go to. Otherwise, you are trying to find a random person with no sign in a throng of people!
The tour

As our tour started at dusk, unfortunately, we could not take many good pictures of the places we visited. One thing to bear in mind is the temperature in Doha. We were there in mid-June and the temperature was over 40°c at 6pm!
Once on the bus, we were handed a cookie and a bottle of water. The coach was air-conditioned but it was still too hot on board really.
There was a guide on the bus who gave a running commentary. If you take the tour, you will notice that there is a very big political bias, where the wonders of living as an expat in Doha are exalted all the time!
As we left the airport the first thing was saw was the very impressive Doha Emiri terminal. The Emiri Terminal is a special VIP terminal at Hamad International Airport for members of the royal family and state guests of Qatar. The site was prepared by reclaiming land from the sea adjoining the existing airport.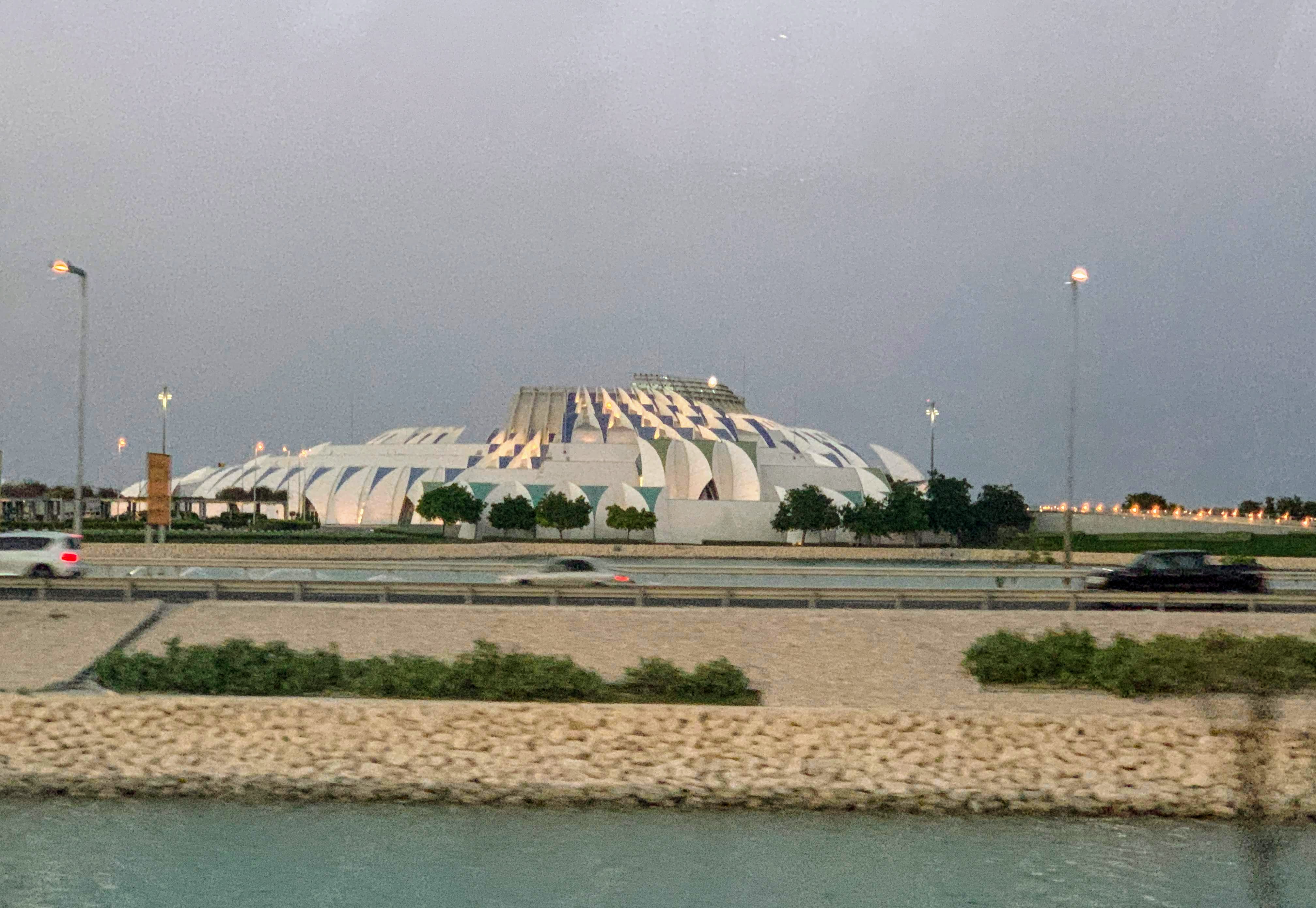 We decided we needed to find a way to travel through this terminal! You can see inside the terminal in this video.
The tour covers the main points of interest in Doha. The first stop is one of the best, as you can see downtown Doha in the background.
Islamic Museum of Art and Doha skyline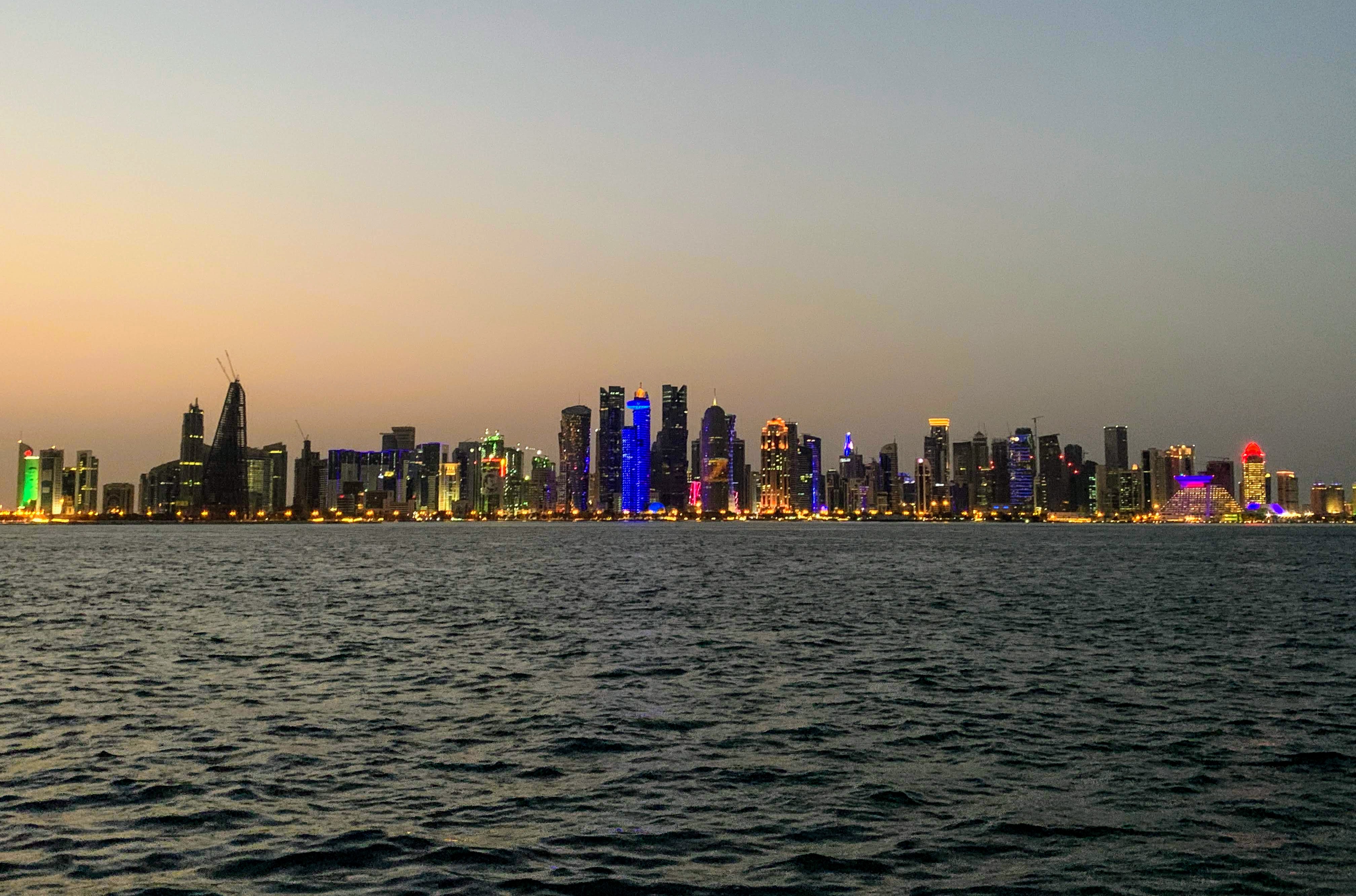 The stop is at the Islamic Museum of Art and a walk along the waterfront watching all the boats come in and out of the harbour with the skyline in the background was beautiful.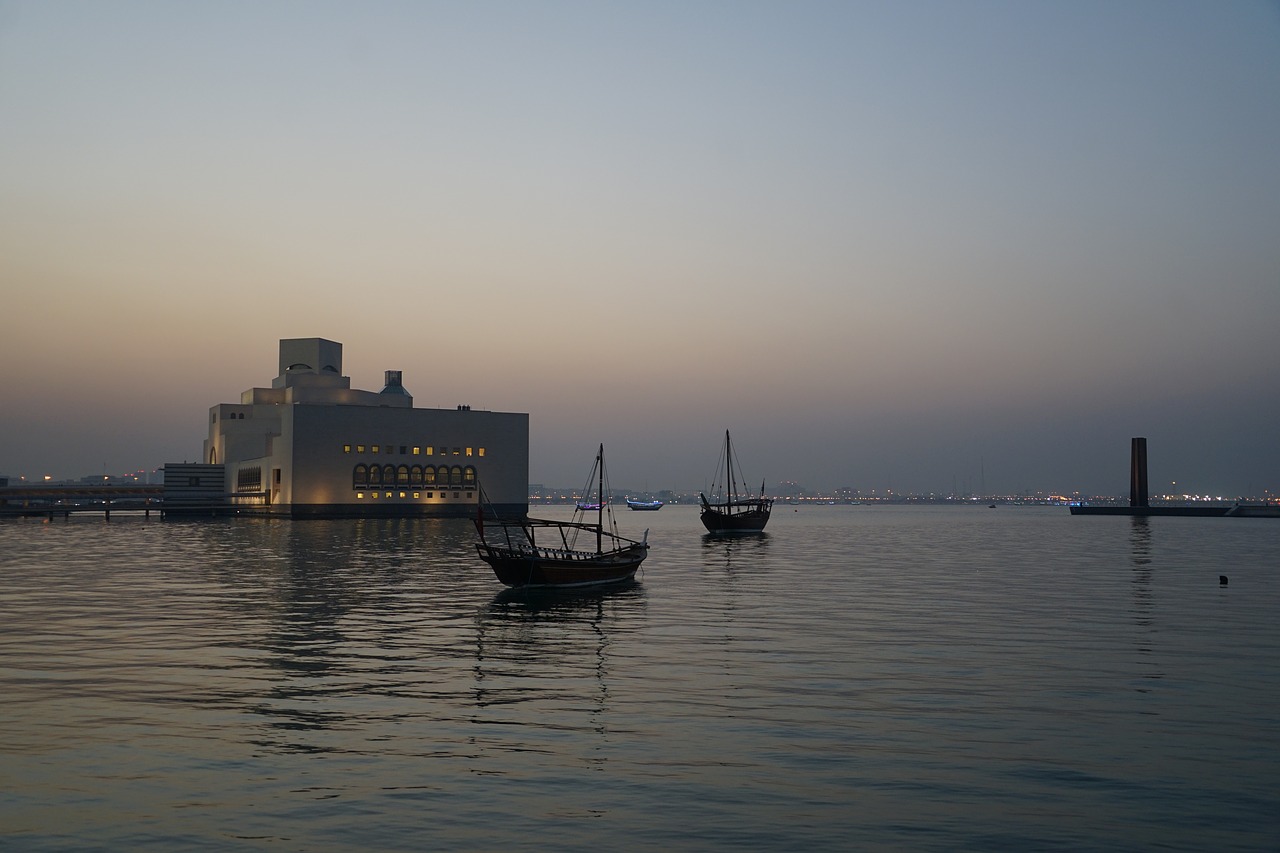 The Blue Mosque at Katara
Following that, the bus stopped at certain locations which, to be honest, the impression it gave us was that the stops were intended to "sell" Doha to foreigners. One of the interesting points was The Blue Mosque at Katara Cultural Village, which seemed very beautiful to us. But due to the time of day, we could not go inside. At each stop, you got around 10 minutes to walk around and take pictures.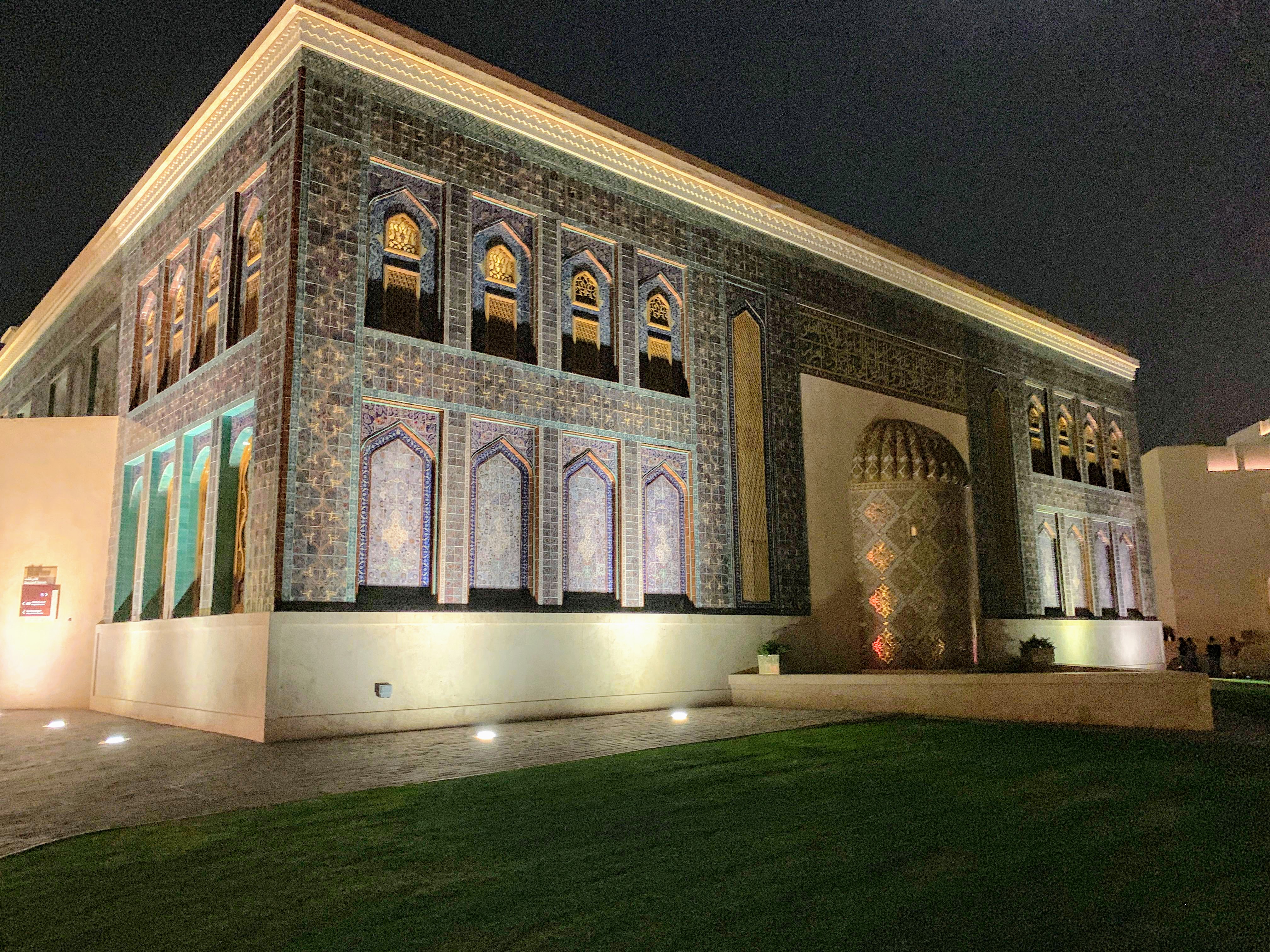 The Pearl
We were also taken to a marina-side mall on The Pearl development with super-luxurious shops and boats. As expected, there weren't many people there. This was our least favourite stop as it was just a deserted mall with things like furniture shops. Unless you wanted to see the Ferrari or Rolly Royce showrooms it was a bit pointless.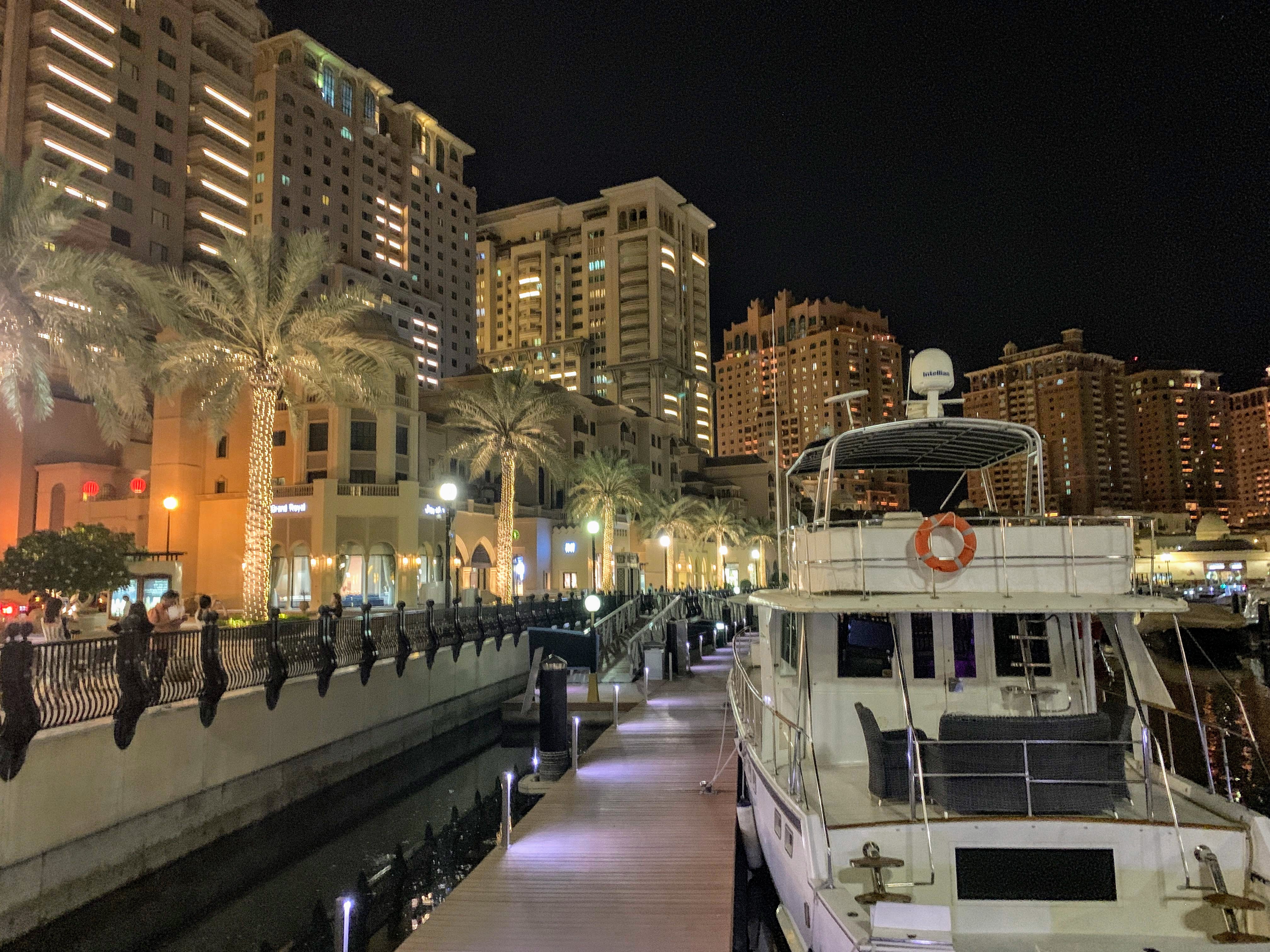 Souq Waqif Market

On the way back to the airport we stopped at a market, Souq Waqif. And honestly, it was the second-best stop of the visit. There we had the opportunity to see "normal" people, shops and restaurants. There were lots of tourists and expats as was to be expected, but most people who seemed to us like local Qataris.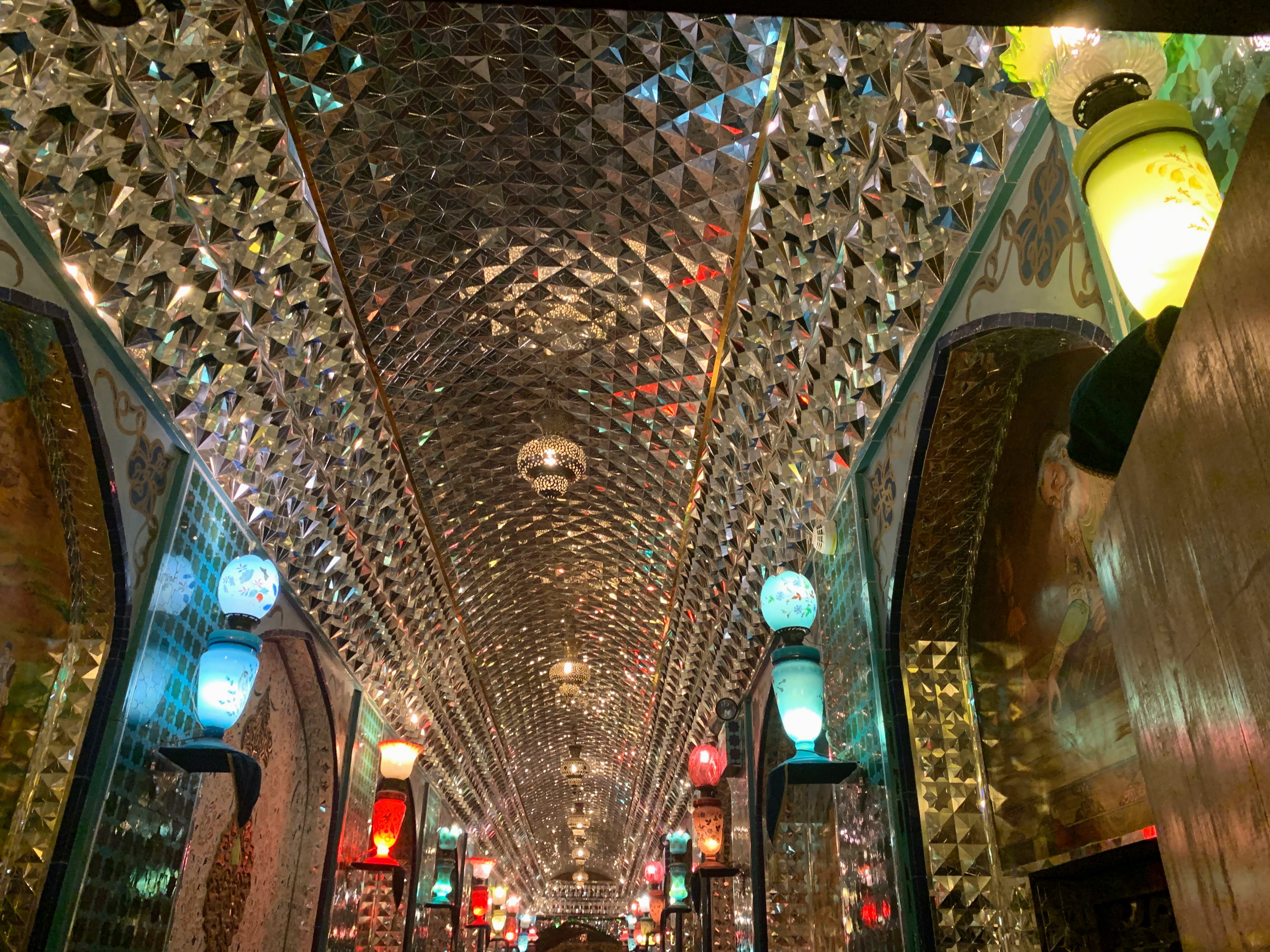 The market sells everything from tourist tat souvenirs to kitchenware and spices. The spice area and the lights were definitely the highlights.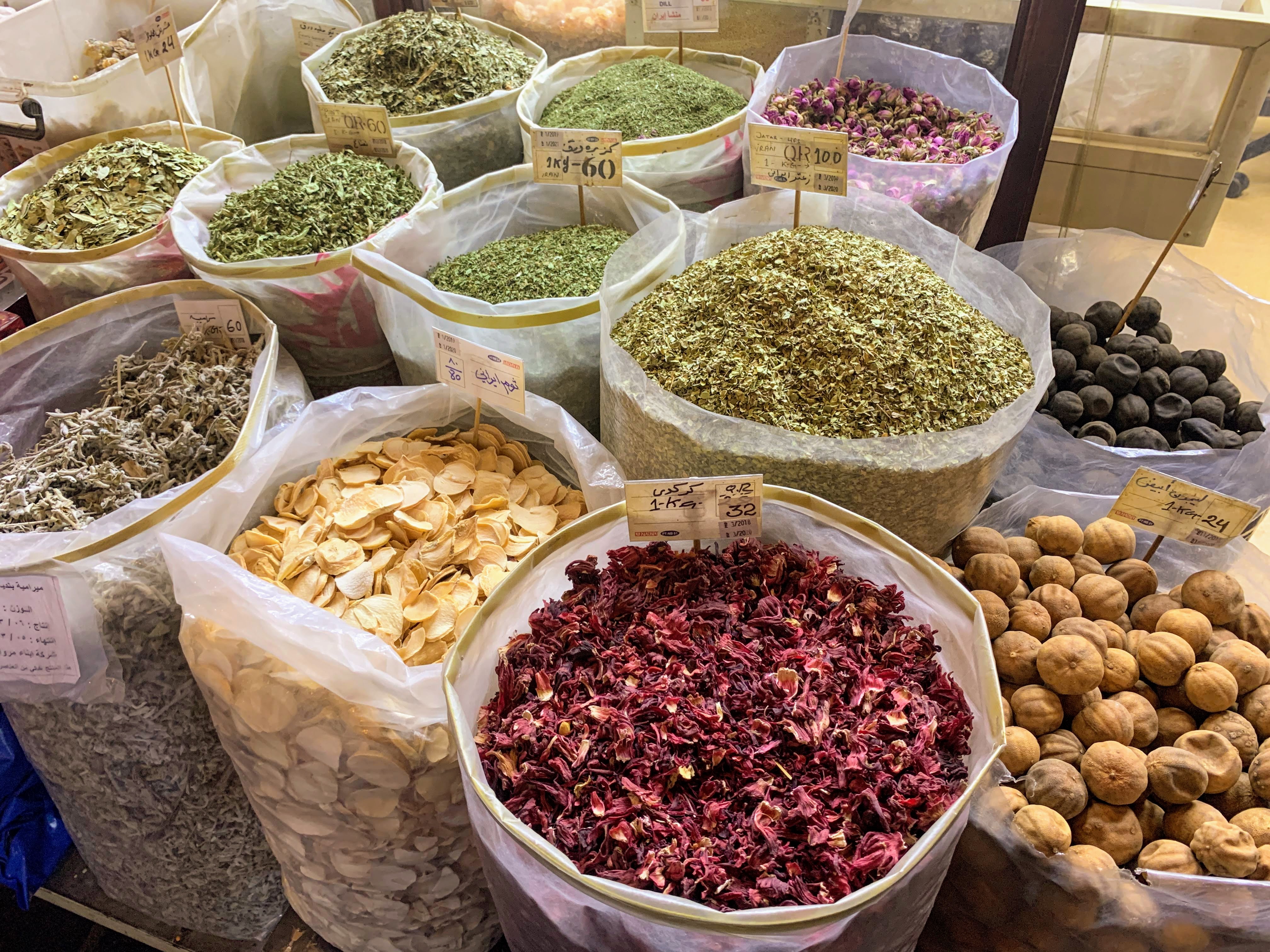 And do you know what the surprise was? This market is across the street from the point where we made our first stop to take pictures of downtown Doha. Although not it's probably not possible, my sarcastic side suggests that the ideal scenario on a night tour would be to start the tour and as soon as the bus makes the first stop you should go to the market and wait for the bus to complete the tour and then return to the airport with the group. ?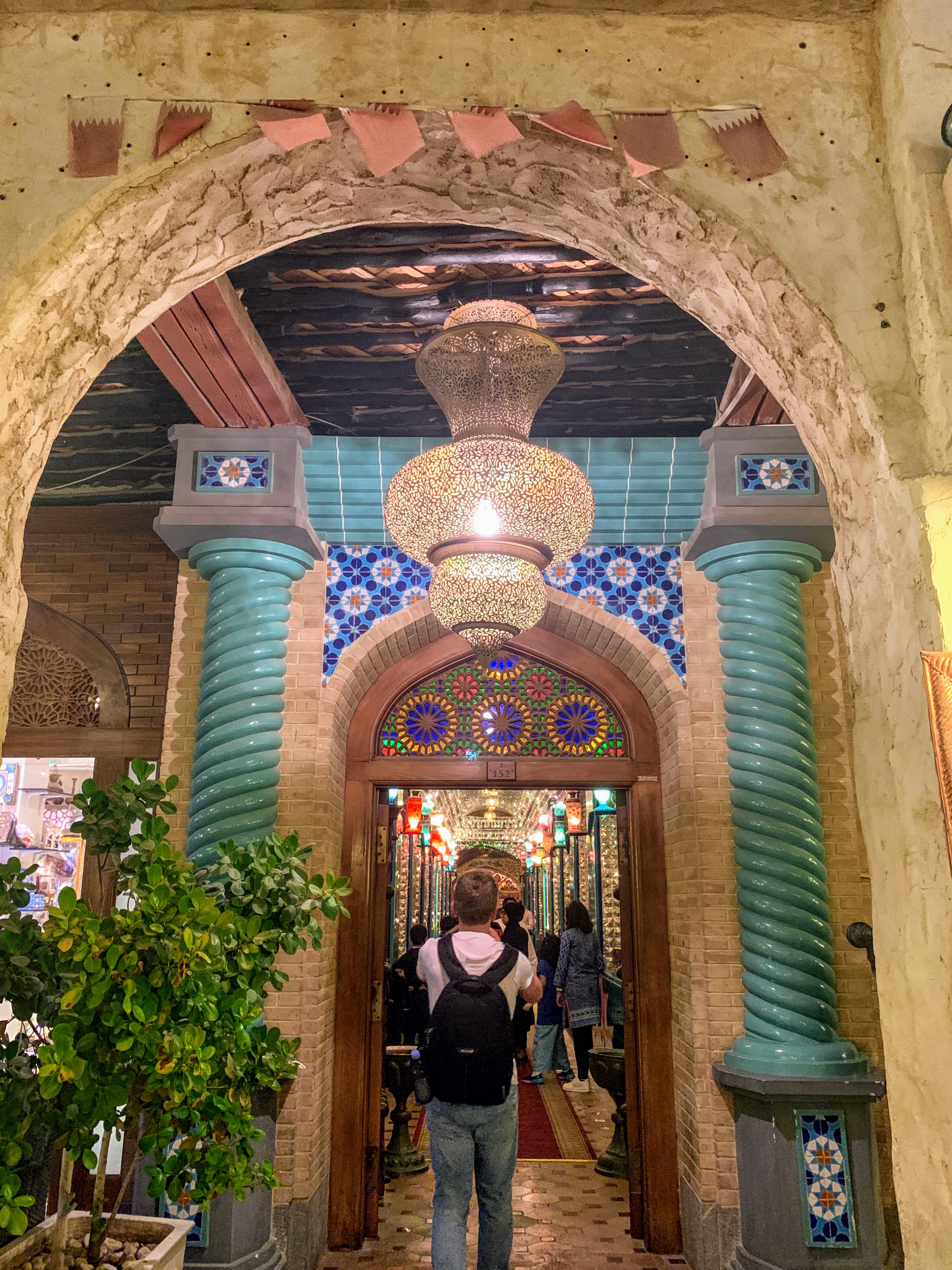 Conclusion
First of all I was surprised by the lack of information and organization of everything regarding the tour. As it is widely publicized on the Qatar website, I assumed it was well known to all Qatar employees and that the process was much simpler. However, it is not and you will need a good deal of patience!
After all that, you might be wondering if the tour is worth it, right? My answer is yes, it's worth it.
First, if you have several hours at the airport, the tour will help you pass the time. It lasts around 2.5 hours. Also, it will be one more number in your list of visited countries! (Michele and I have some rivalry about who has visited the most – we are both around 50 now) After all, let's agree that staying at the airport doesn't count as visiting a country, right?
By taking the tour, albeit in a very limited way, you will have a chance to see a bit of the "real Doha" – I am talking mainly about the last stop on the market.
Some further useful information about the tour:
Passengers with transit time more than 5 hours for their onward travel are eligible for this tour.
Tours are bookable in advance online until 48 hours prior to arrival, and you must arrive at Discover Qatar Tours desk in the airport 90 minutes before the tour start. (You will have a very long wait if you do- we were there around 30 minutes before which was way too much).
Tours are also bookable up on arrival until 90 minutes prior to the starting time of the tour from airport – subject to availability. You need to book at the Discover Qatar Transit Tours desk (located at concourse A, towards Gate A4). If the desk existed we never found it!
Passengers are supposed to book tour that has drop-off 2 hours prior to the onward flight, Discover Qatar or Qatar Airways shall not be responsible for delayed clearance for onward flight.
Have you done the Doha City tour? Would you recommend it or did you find a better way to spend a long transit in D0ha? Let us know in the comments below or on social media.