I have visited the Al Mourjan many times before but usually, I was on a time constraint or there was Krug to drink, so I have never really explored it that much. On my recent trip to review the QSuites on the A350-900 I had two long stopovers so I had a good nose around.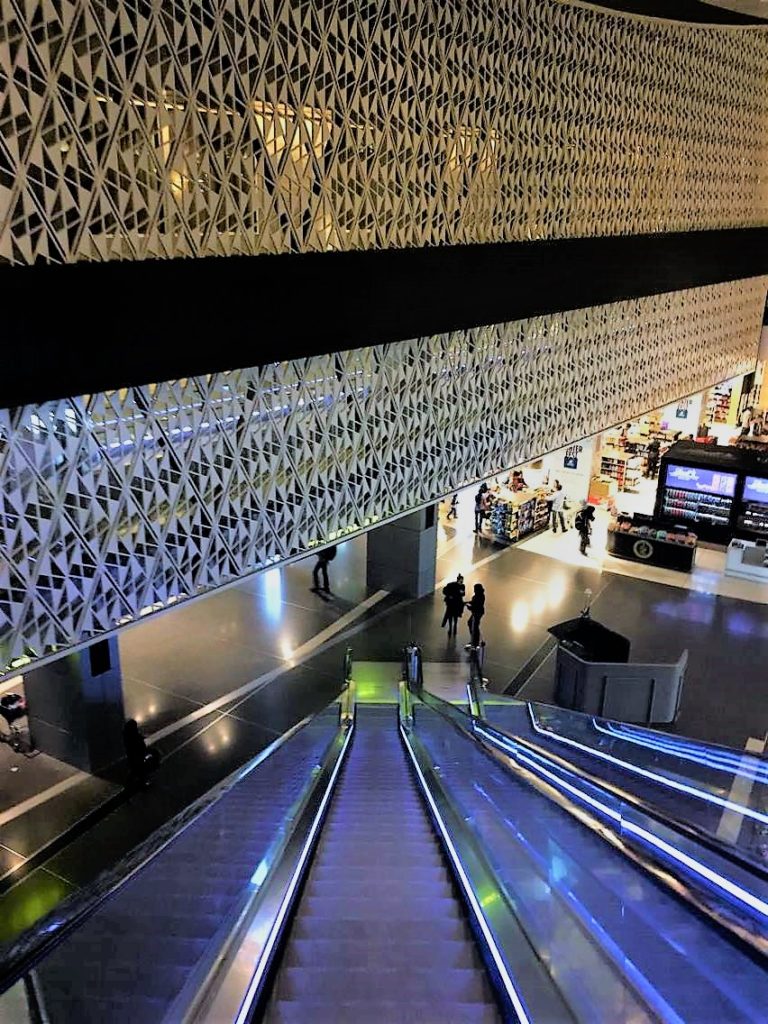 As you will see from the photos it was extremely quiet on my visits which made a nice change! I was there mid afternoon on one visit and then overnight on the other. The lounge staff said that the busiest times are from about 6pm onwards and then from about 6am.
In this article I will also have a look at what else you can do on a long stopover.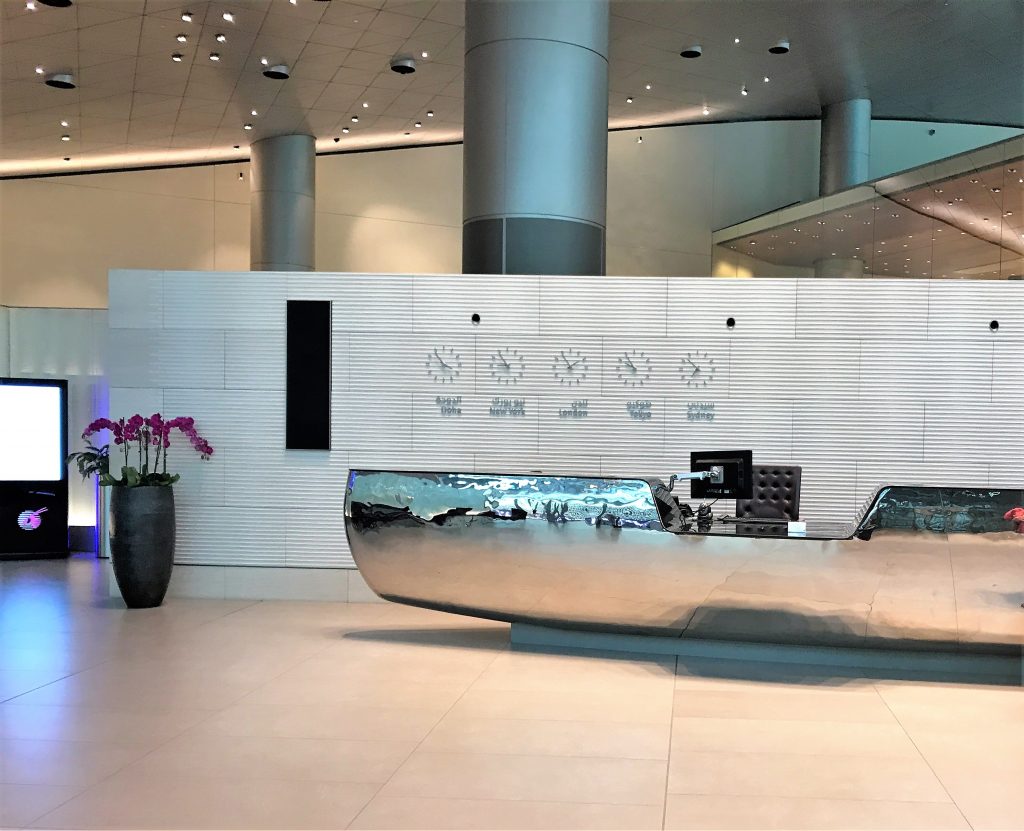 Qatar Airways Business Class Al Mourjan lounge Doha
Main lounge area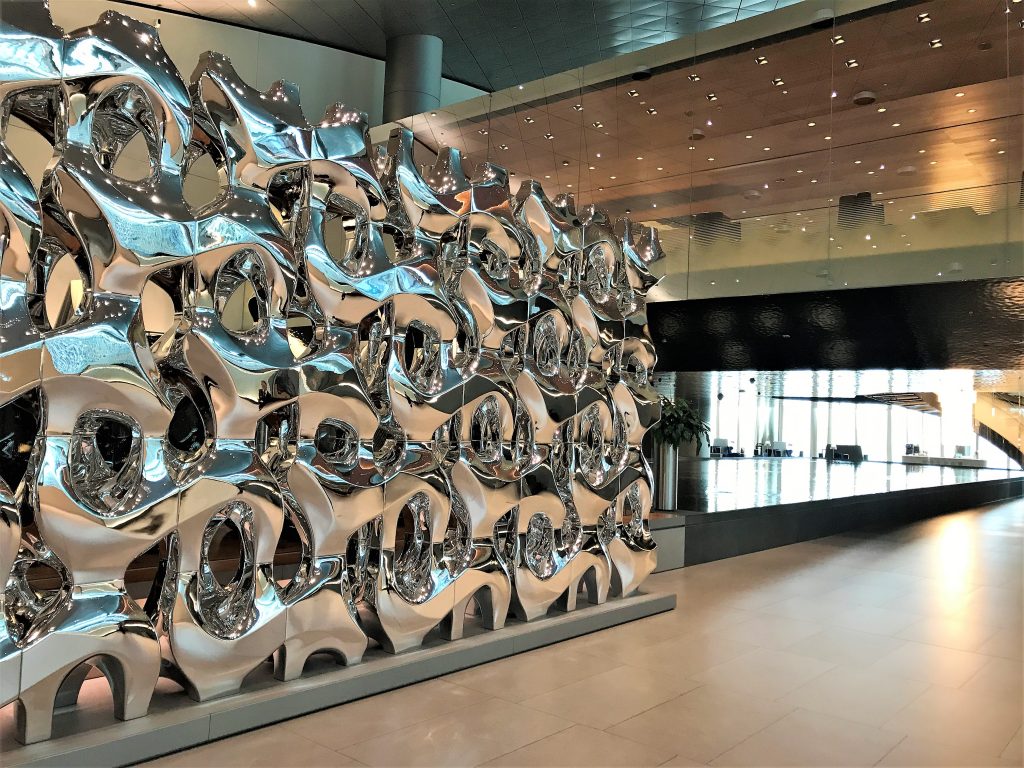 When you arrive you don't normally have to check in at the desk as staff check your eligibility at the bottom of the escalator. Once in the lounge, you enter by the impressive water feature with its water drop feature. The main floor of the lounge has a huge amount of seats all with a charging point and most with an iPad. Despite the size of the lounge, at busy times it can be tricky to find a couple of seats together. There are a few places that are usually a bit quieter such as to the far right by the windows and the seating area through the glass doors at the back of the middle section.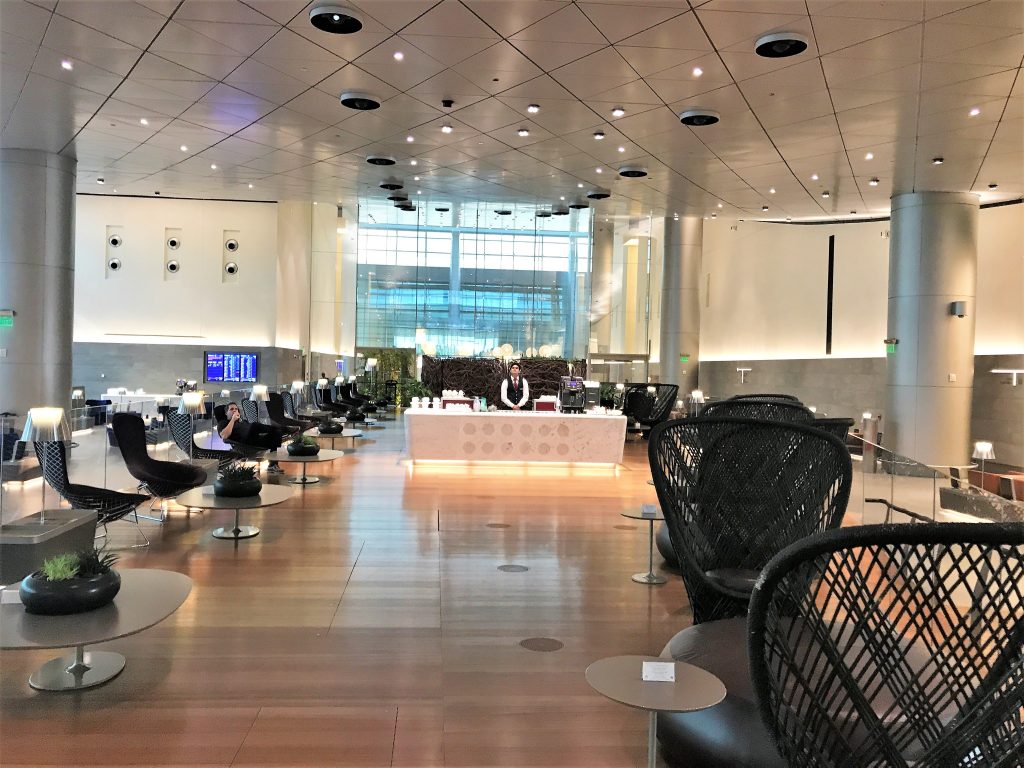 The lounge looks impressive due to its sheer size but in terms of its offering is not as impressive as it once was when it was a joint business and first class lounge. There is no help yourself alcohol but you can order it from staff. There are no menus that I have seen so you have to ask what is available. There are numerous stations with soft drinks and ice although when I have been in busy times they could do with topping up more regularly.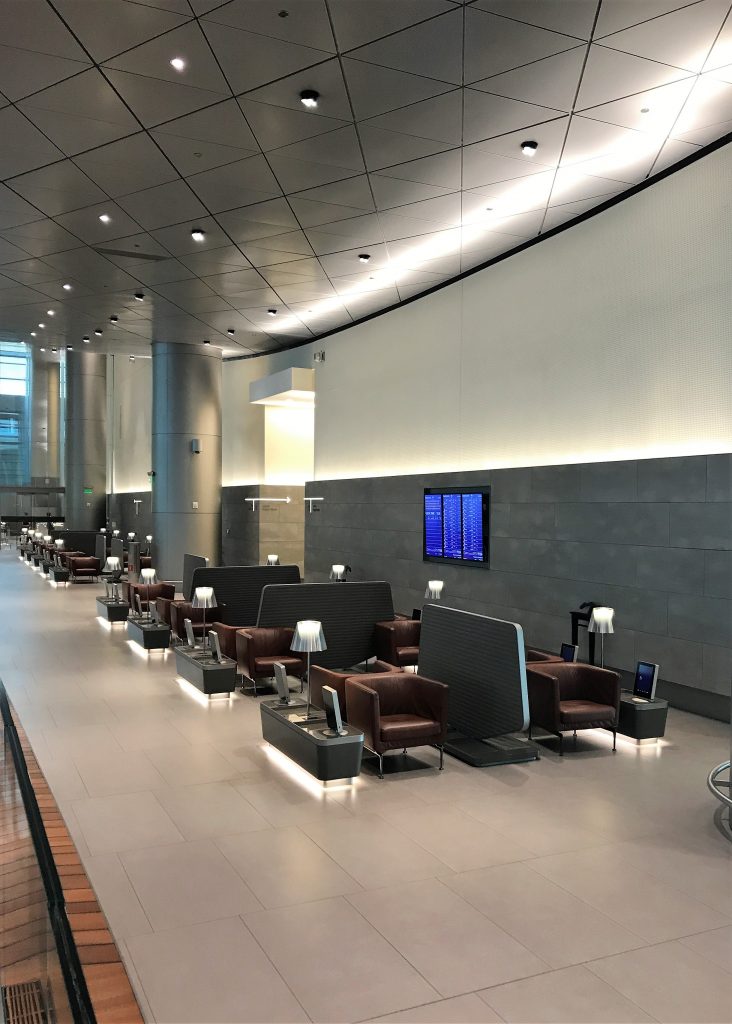 The restaurant and bar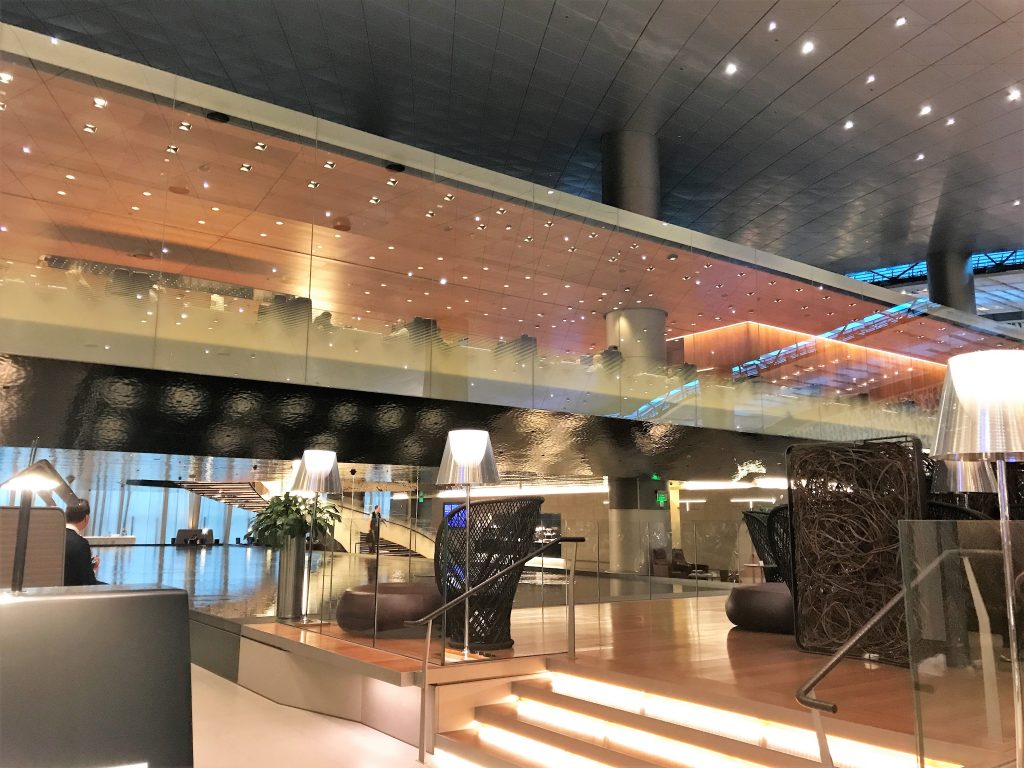 If you want something to eat there are 2 options – the Deli which is to the left side downstairs or the upstairs restaurant and bar. In its heyday this used to have a buffet and a la carte food. Now it is just a buffet. The Krug has also gone very sadly, to be replaced with Lanson. Talk about one extreme to another! It will be interesting to see if they change it again given that onboard they are currently serving Pommery. They do have a rose champagne too.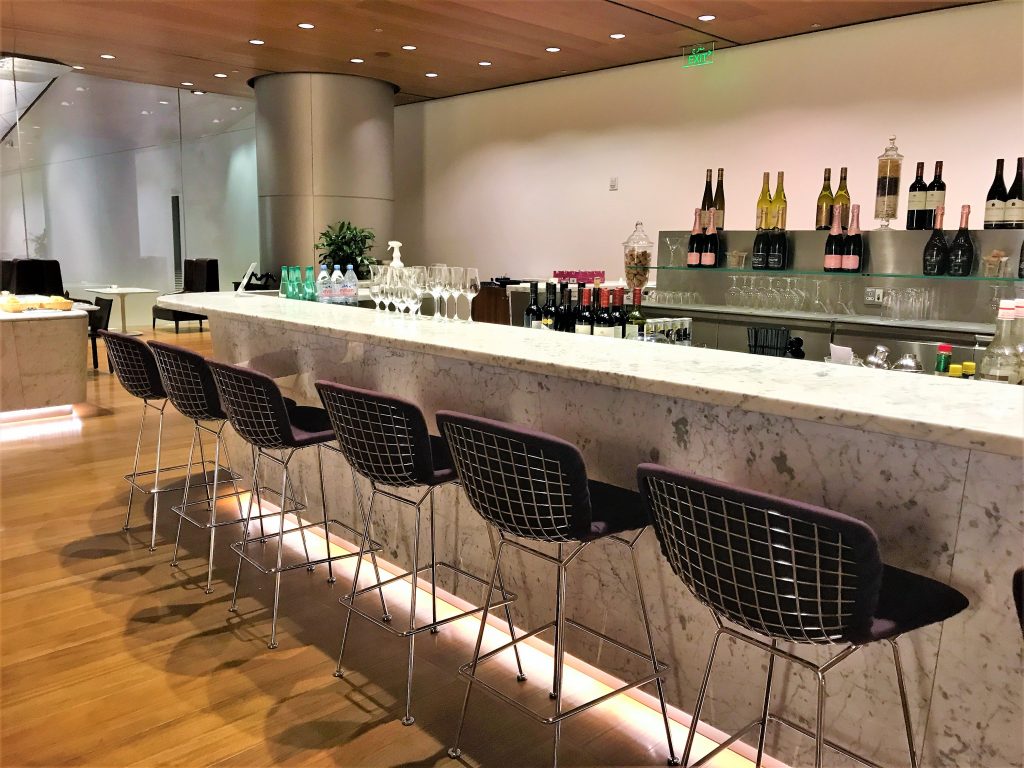 The upstairs can get very busy at peak times and you may well struggle to get a seat. If you want alcohol or a hot drink you can either get it yourself from the bar or ask one of the waiters.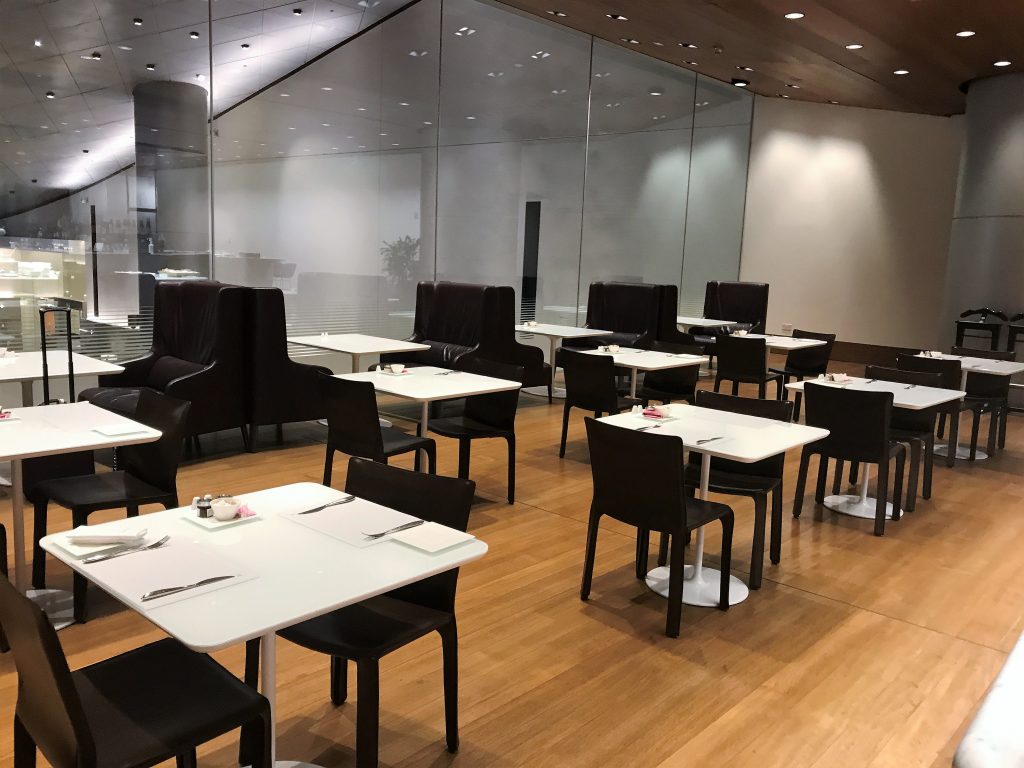 If it is busy there is another area at the back of the lift which is usually much quieter. Just walk around the sides of the lift and toilet area and you will come to some glass doors leading to the other area. There is not much food here but you can bring food with you from the buffet.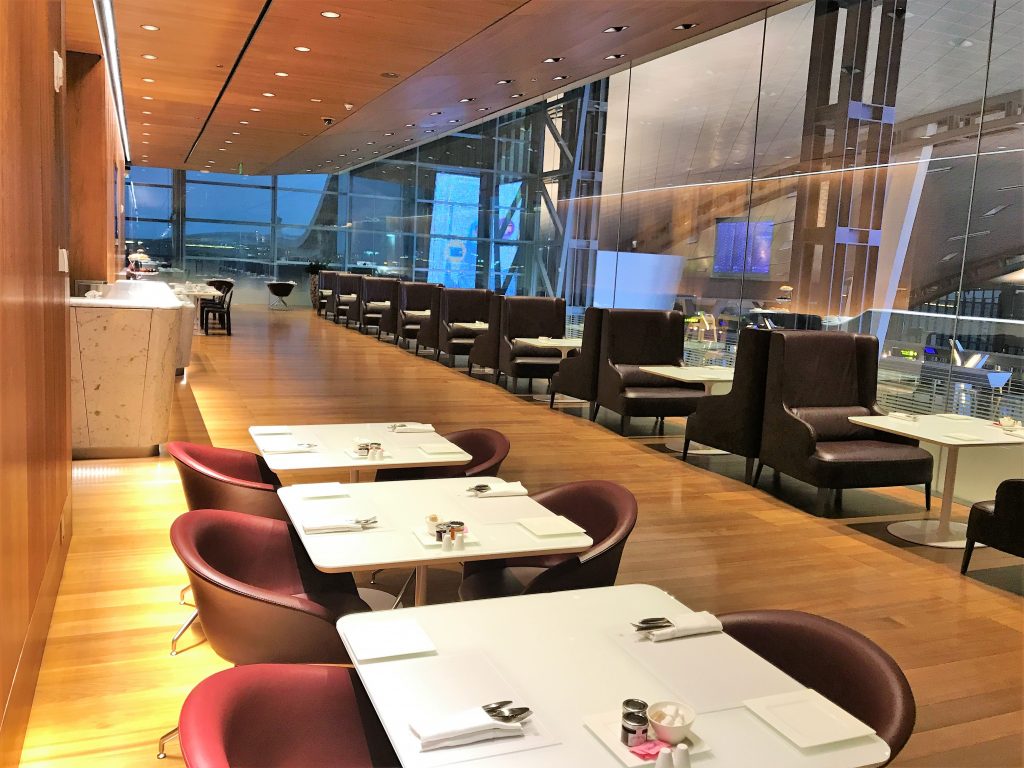 The choice of spirits is wide but none are particularly premium. I spotted a VS Cognac the last time I visited. The wines are better and they do sometimes have some of the onboard first class wines in the lounge. There is usually at least 2 or 3 reds and whites to choose from.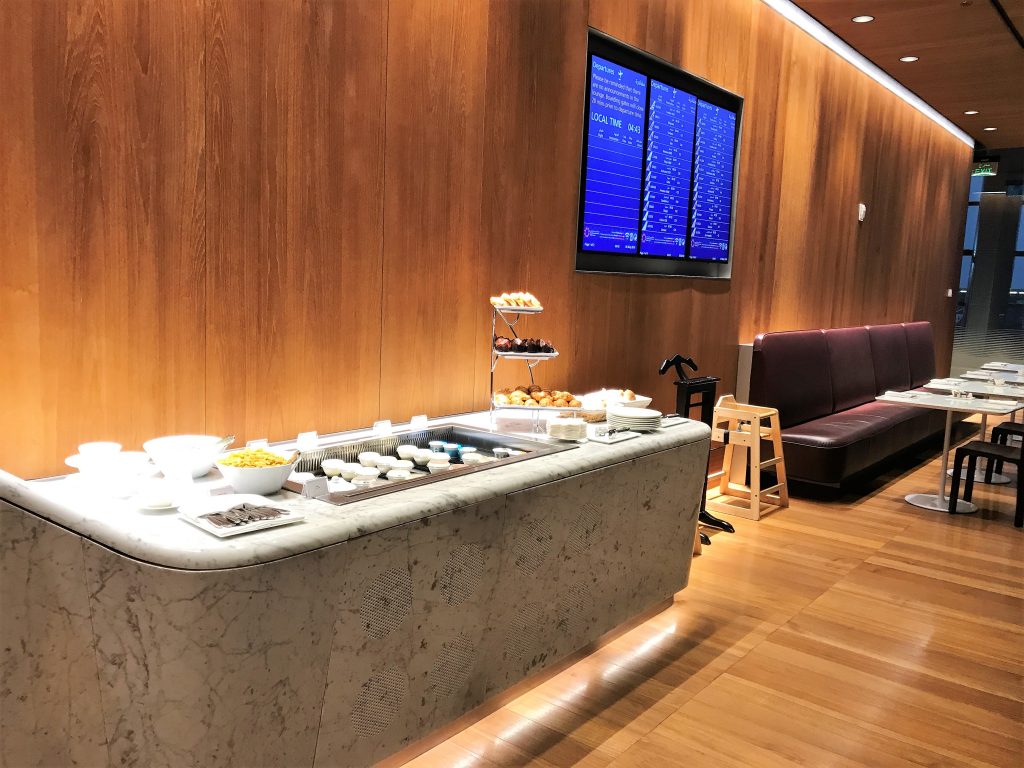 Food – all day
The food during the day and evening up to about 4am doesn't seem to vary much but there is plenty of choice. If, like me, you like your Arabic mezze you will be well catered for with individual portions of all the staples plus Arabic bread. There are usually one or two Indian options like butter chicken or biryani which have always been very tasty when I have tried them. Alongside these there is usually a western meat option, pasta and soup. The desserts are situated in a separate area by the coffee machines to the left of the lift as you face it. These always look a bit garish to me so I have never actually tasted them. Plus I am normally saving myself to eat onboard.
Breakfast
The breakfast has a good balance between local specialities and western options but, of course, there is nothing with pork. They do usually offer alternatives such as chicken or beef sausages and bacon. When I was there they also had frittata, cheese omelette and pancakes as hot options. The Arabic options include labneh ( a type of strained yoghurt which is a bit Greek yoghurt), olives, bread, hummus and foul medames. The last item sounds odd and doesn't look great either as it looks like a more liquid version of refried beans. I really enjoy it though but the trick is to add the accompaniments such as lemon and herbs otherwise it can be a little bland. For the cold options there were some tempting looking pastries and muffins, yoghurts, cereals and fruit.
Quiet rest areas
There are several areas with rest facilities. The main Quiet area (which is something of a misnomer) is accessed through the deli area to the right. This has individuals rooms which are are a good size and also have a TV which seems a bit odd since there aren't full height walls round them which means they are very definitely not sound proof. When I was there someone was snoring so loudly it made Roving Reporter's snoring seem like a faint whisper in comparison! I left after about 15 minutes it was so loud. You may have better luck with the screened recliner seats which are next to the business centre and near the main entrance (turn right at too of escalator).
Showers
There is often a queue for the showers at busy times, so if you want one I would head there first. If it is full they will let you know when one is free. There was not even anyone at the reception when I went it was so quiet. There are two areas to try. The smaller area is at the back of the middle of the lounge. The other main shower reception is by the quiet area next to the Deli. The shower room was a good size, modern, clean and well equipped. Rituals toiletries were provided.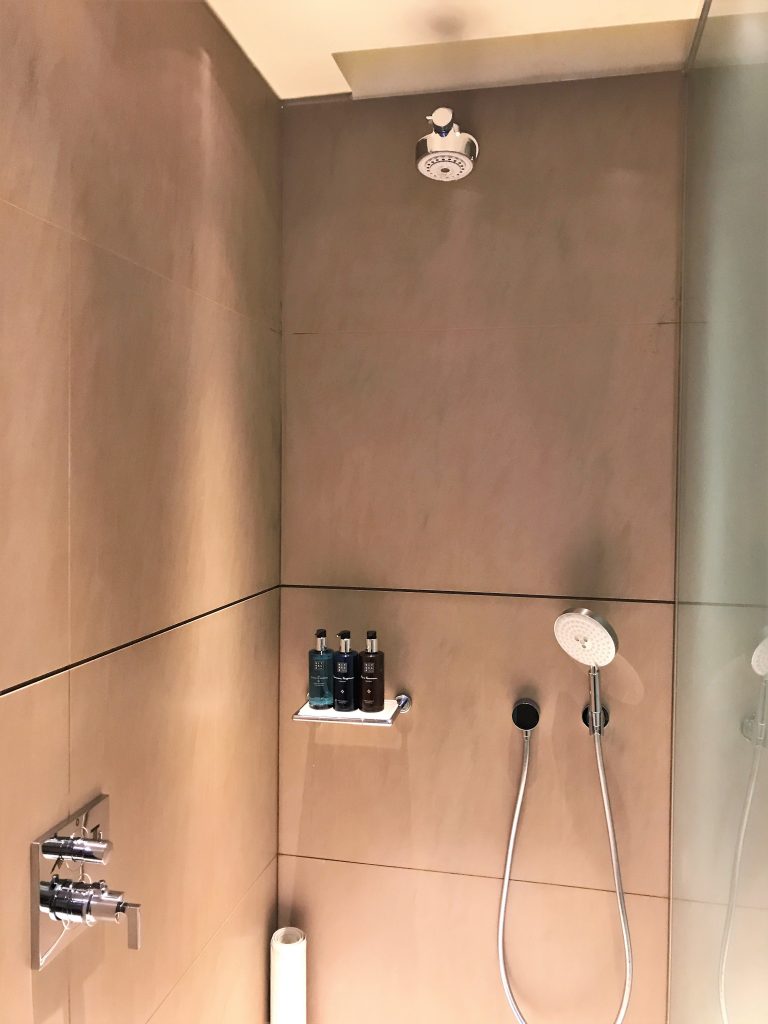 Deli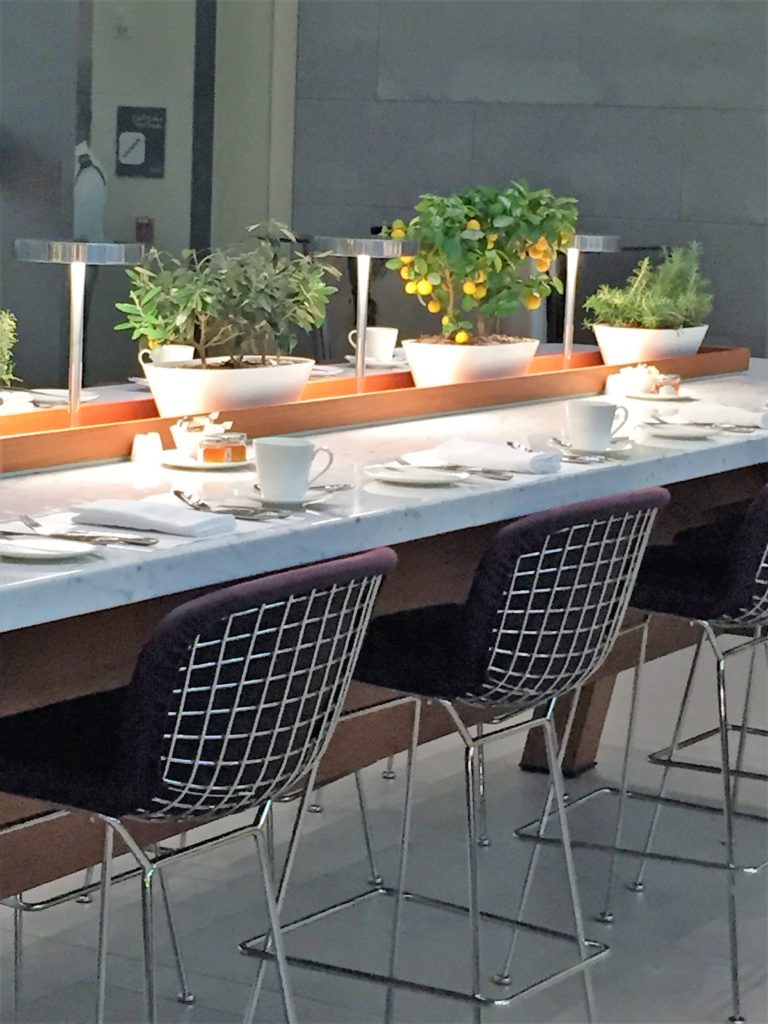 If you just want a snack with table service the Deli is a good option. The area always feels quieter than the upstairs restaurant and I like the little orange trees on the communal bars. Here is the menu: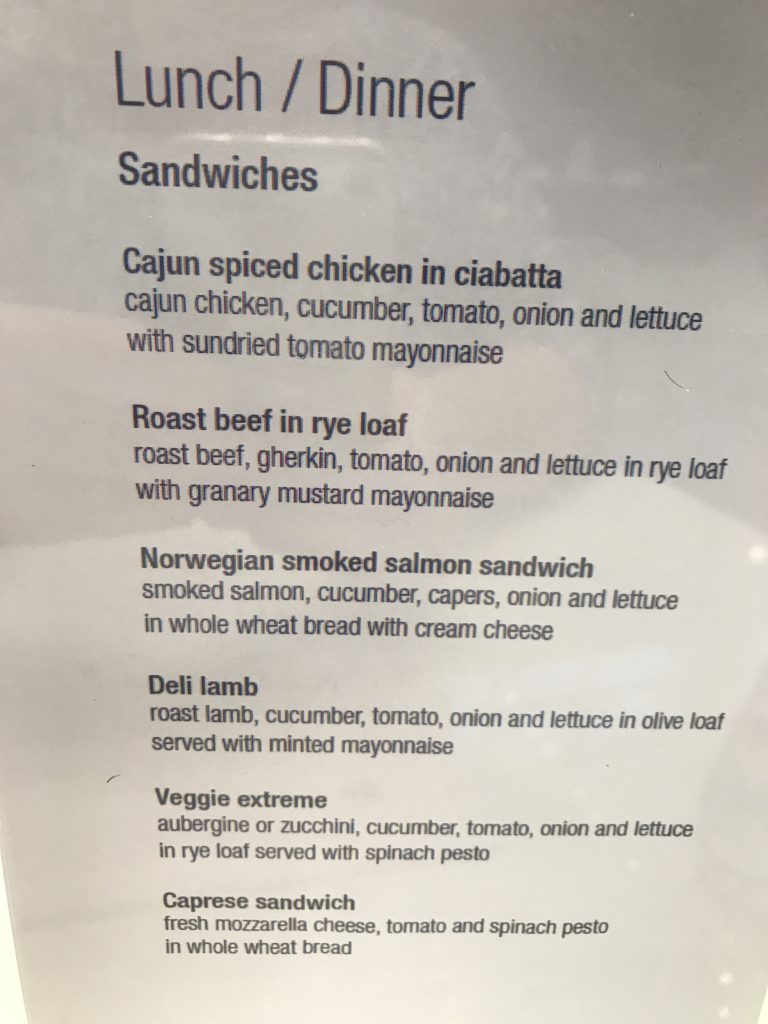 I had a cajun chicken sandwich and a glass of white wine, the French Reserve de Sainte Cecile chardonnay which was fine. The sandwich was substantial and tasty. It did take a little while to arrive though. I was amused to see that the guy next to me had brought his own portable coffee grinder with him and was busy grinding his coffee for the waiter to then make him a drink! I have seen a lot of things in lounges but that is a new one on me.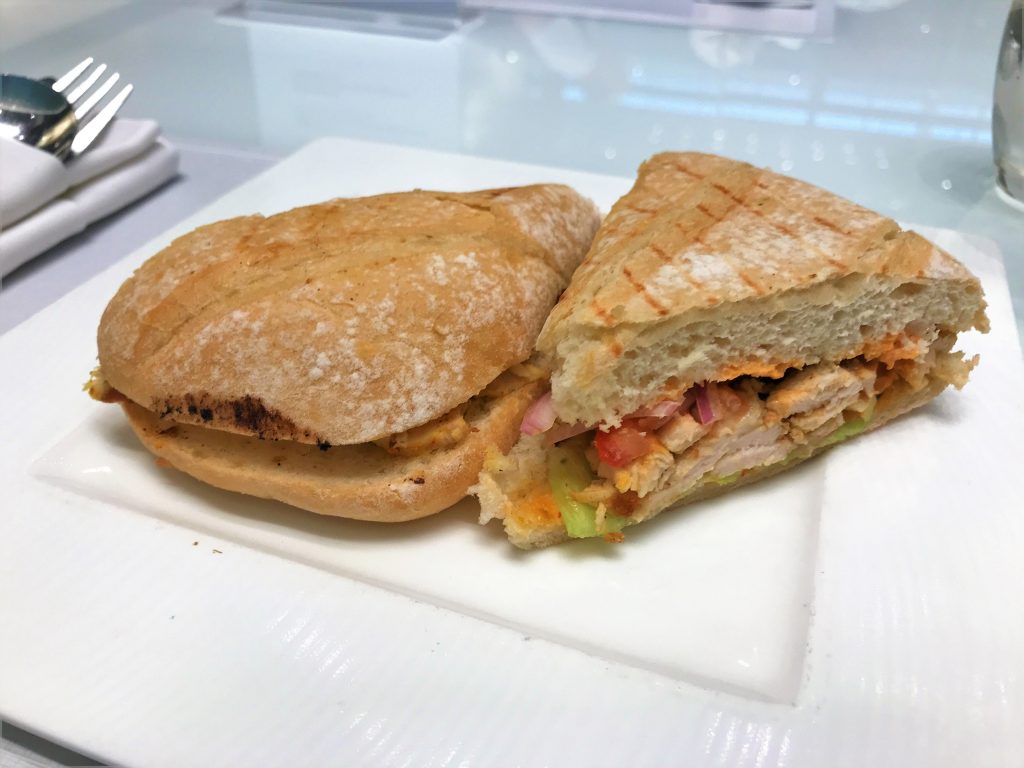 Business and kids facilities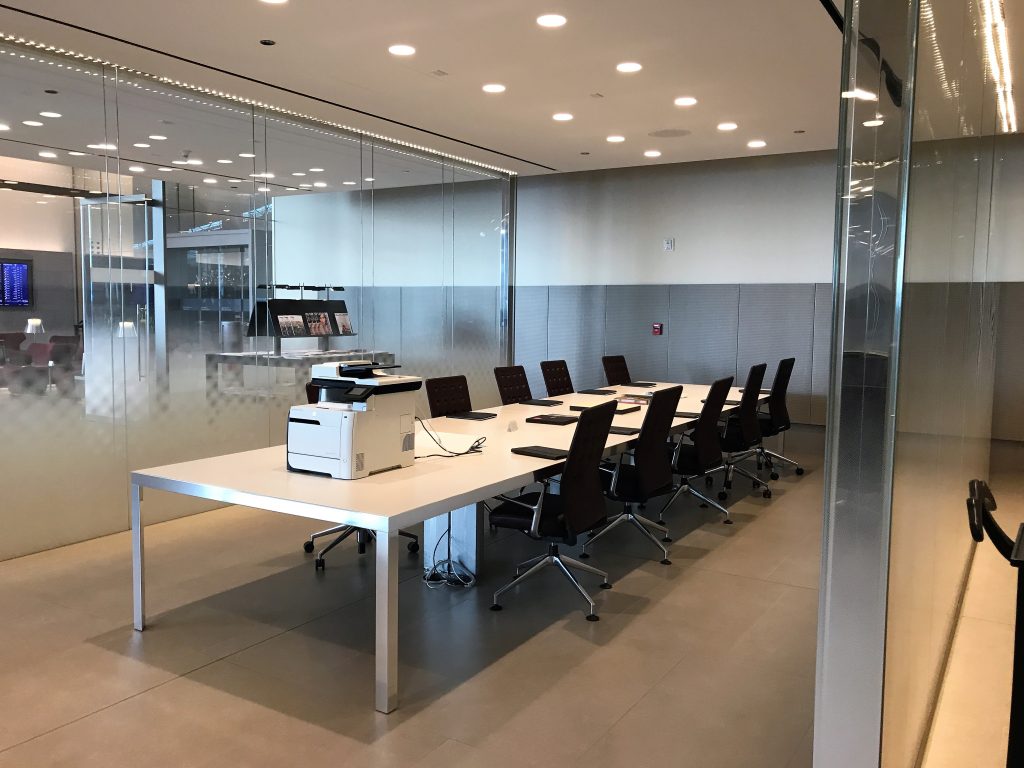 If you want to work whilst in the lounge there is a great business area. This is one of the best I have seen. The area is huge with plenty of private computers to use as well as a printer and conference table. There is a receptionist in case you have any queries.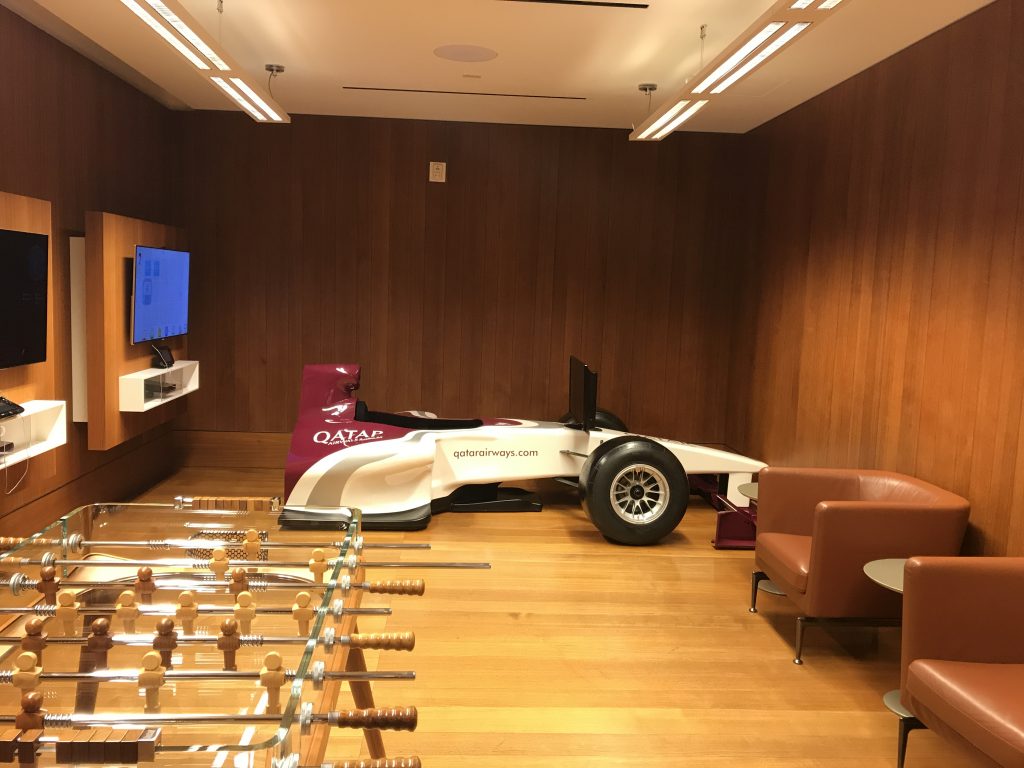 If you have children with you or perhaps are a kid at heart yourself, you will be well catered for. There are family rooms next to the deli area as well as a kids room. There is also a second one through the glass doors at the back of the lounge. These provide all sorts of ways to entertain yourself or the kids from Playstations and table football to mock racing cars.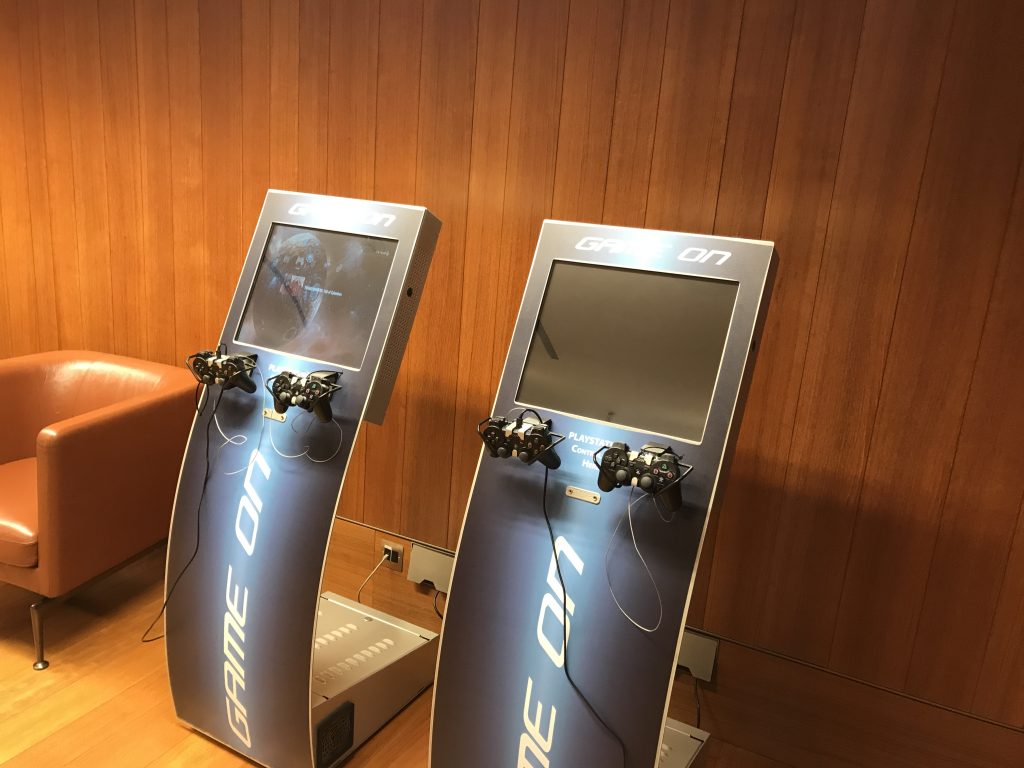 What to do on a long stopover in Doha airport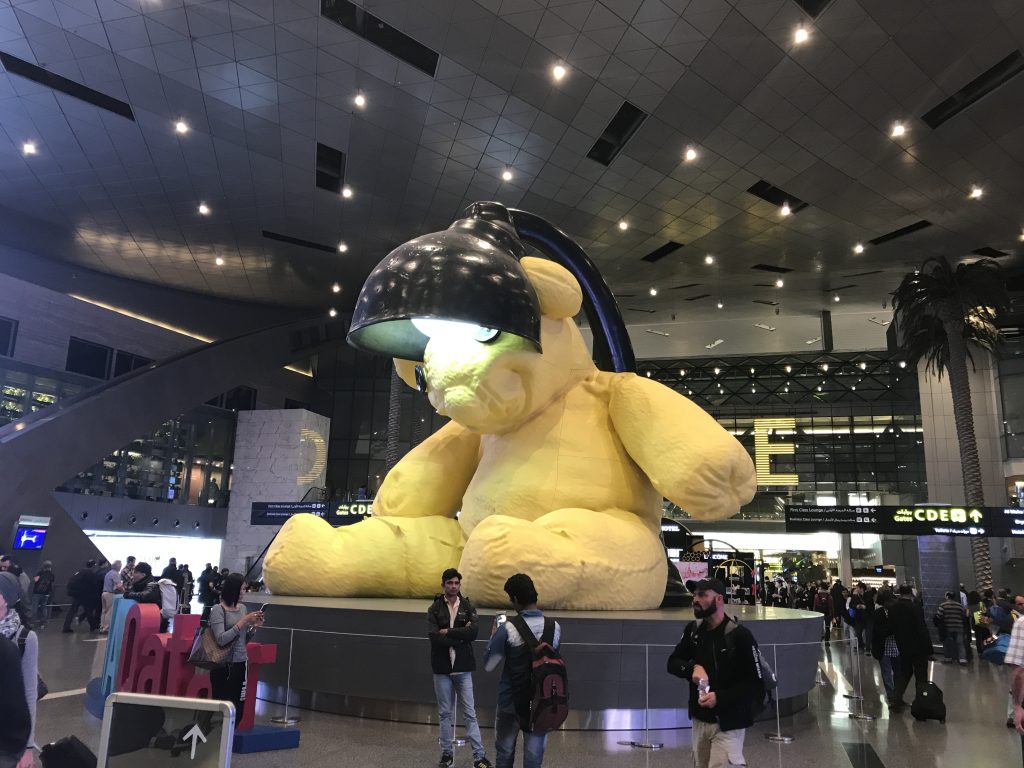 Unfortunately, Doha airport is not nearly as fun as my favourite airport Singapore on a long stopover. Once you have seen the giant teddy bear and the shops you have seen most of it. However, there are a couple of ways to pass the time. If you have a layover of more than 8 hours in business class Qatar will often provide a free hotel. However there are strict criteria about it being the shortest available connection so don't assume your flight will automatically qualify.
There is a hotel in the terminal which you can book for the night or for a minimum of 5 hours. It is not cheap. When I was there rooms started at over £200. If you do want to stay there make sure you book as far in advance so you can to get a decent price. Often on the day they have nothing left or are charging an extortionate price.
The link for the Oryx hotel is here.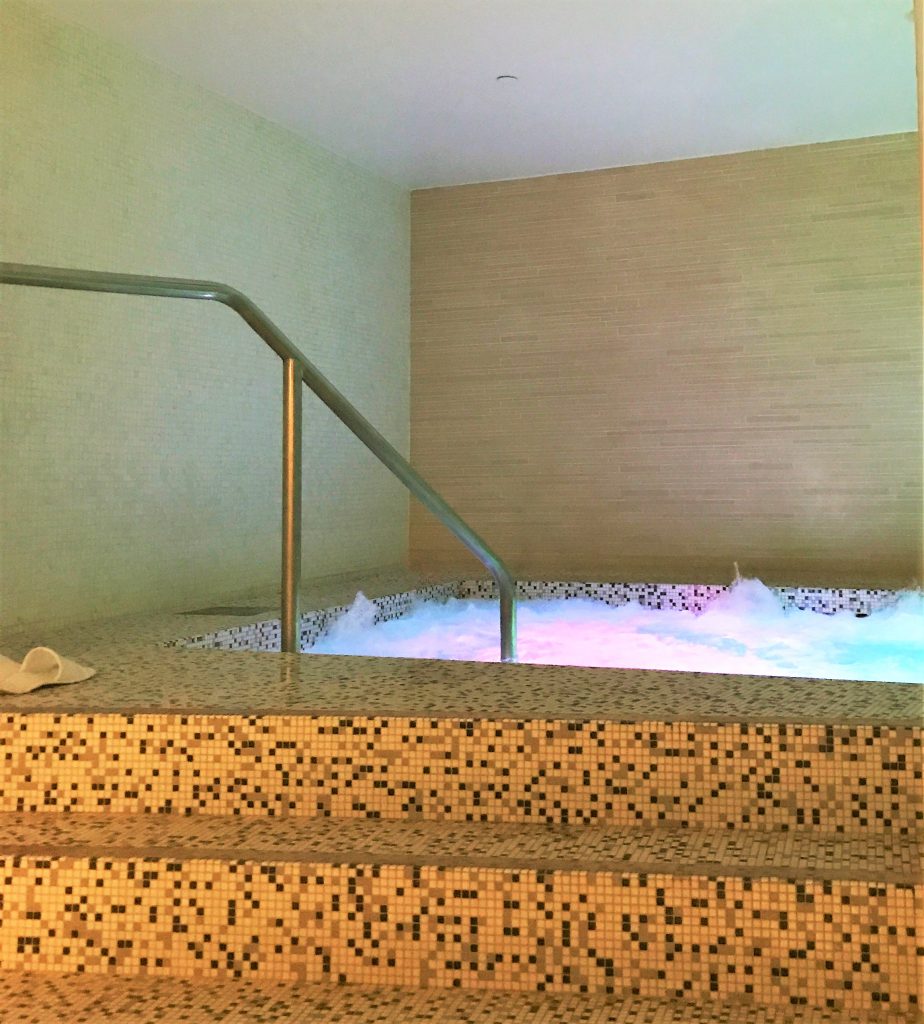 A nice way to spend some time is in the Oryx hotels' spa and fitness facility. You can pay to use these even if you are not staying in the hotel. Just follow the signs for the transit hotel and the lift has the spa level indicated. The entrance fee starts from 175 QAR and entitles you to access:
25 Metre Temperature-controlled indoor swimming pool
Fully equipped gymnasium
Hydrotherapy tub
Shower room
You can also pay extra for a squash court with everything provided including shoes. Another option is to pay for a treatment which means you can then use the facilities. I opted for a foot reviver at 250 QAR for 20 minutes and a 340 QAR 50 minute massage. The treatments were good although having the treatment room in the changing rooms was rather odd. Robes and slippers were provided and showers are available too.
Here is the Spa menu.