A review of the British Airways A320 Neo Club Europe. I am sitting here typing this on in the return flight feeling like I went back in time 2 years ago… There are no masks, the paper menus are back, even the breadbasket is back! It's been a long wait but finally, some normality is returning to air travel.
I will be covering the new British Airways Club Europe meals in an article soon, so if you have a photo of your Club Europe meal since Tuesday you'd be happy for me to include, send it to [email protected]. If you'd like me to tag your social media or mention you by name, make sure you let me know.
London Heathrow to Tenerife
Today is the first day of BA's new Club Europe menus. In past couple of years we went from a sandwich box to the school dinner era more recently. The most recent iteration seemed to consist of a starter of a tiny salad with half a cherry tomato, some sort of school dinner like sausage and mash or pie and a variety of desserts. So what is it like now?
Check-in
There was no Verifly for Tenerife although you were encouraged to upload the Spanish QR code and your vaccination certificate to do online check-in
I used the First Wing which is for Gold card holders and those in first where there was no queue at check in. The check-in agent was friendly and chatty which I usually find is the case in the First Wing. Security was also quiet at around 6.15 on a Monday morning.
This was the day before Heathrow removed its mask mandate so you still had to wear a mask, although there were a lot of people that were not.
Lounge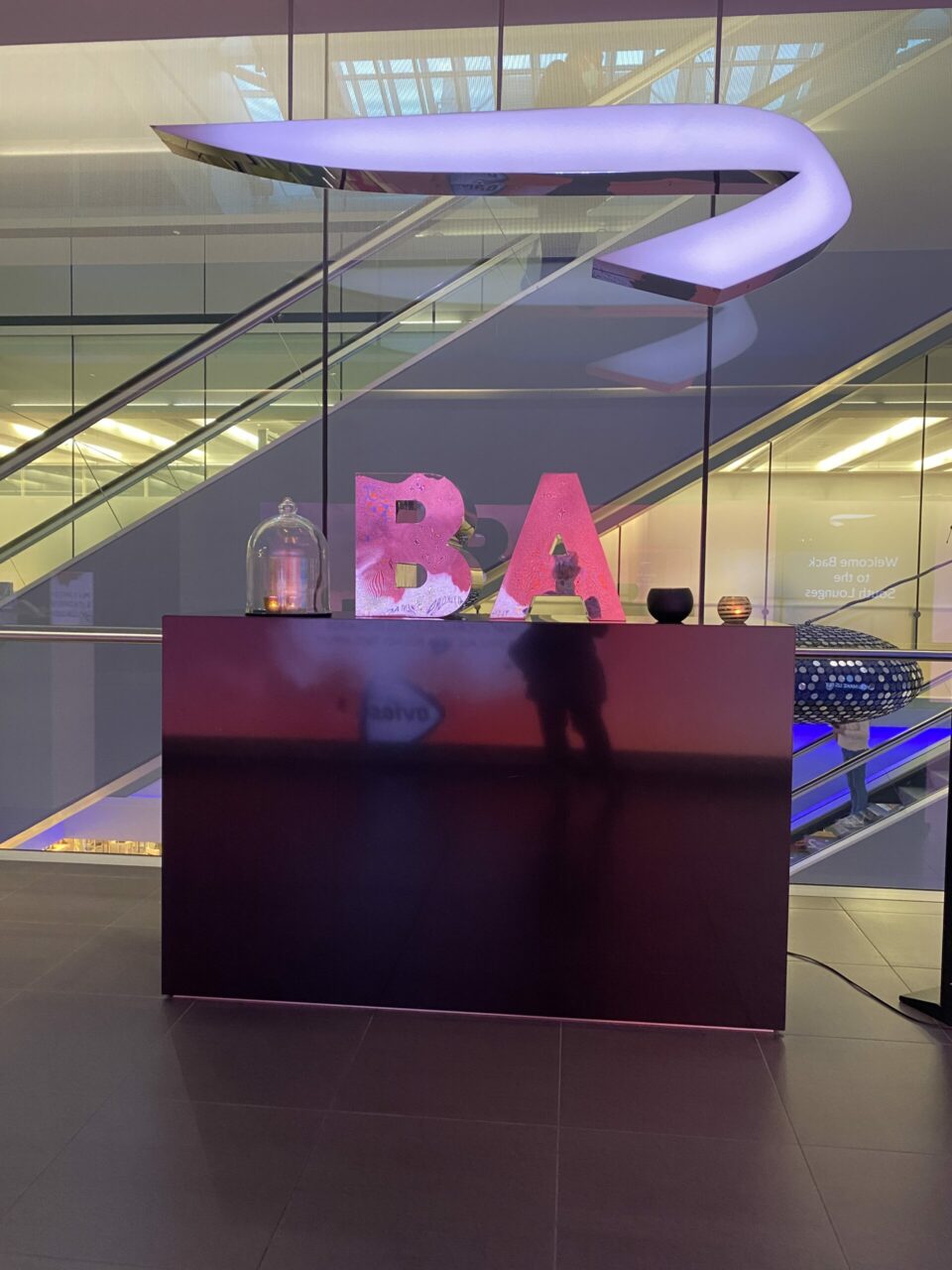 I walked through the First lounge to see what was available. I will be spending some time at Heathrow in a couple of weeks updating all my lounge reviews at T5, so I will go into more detail then.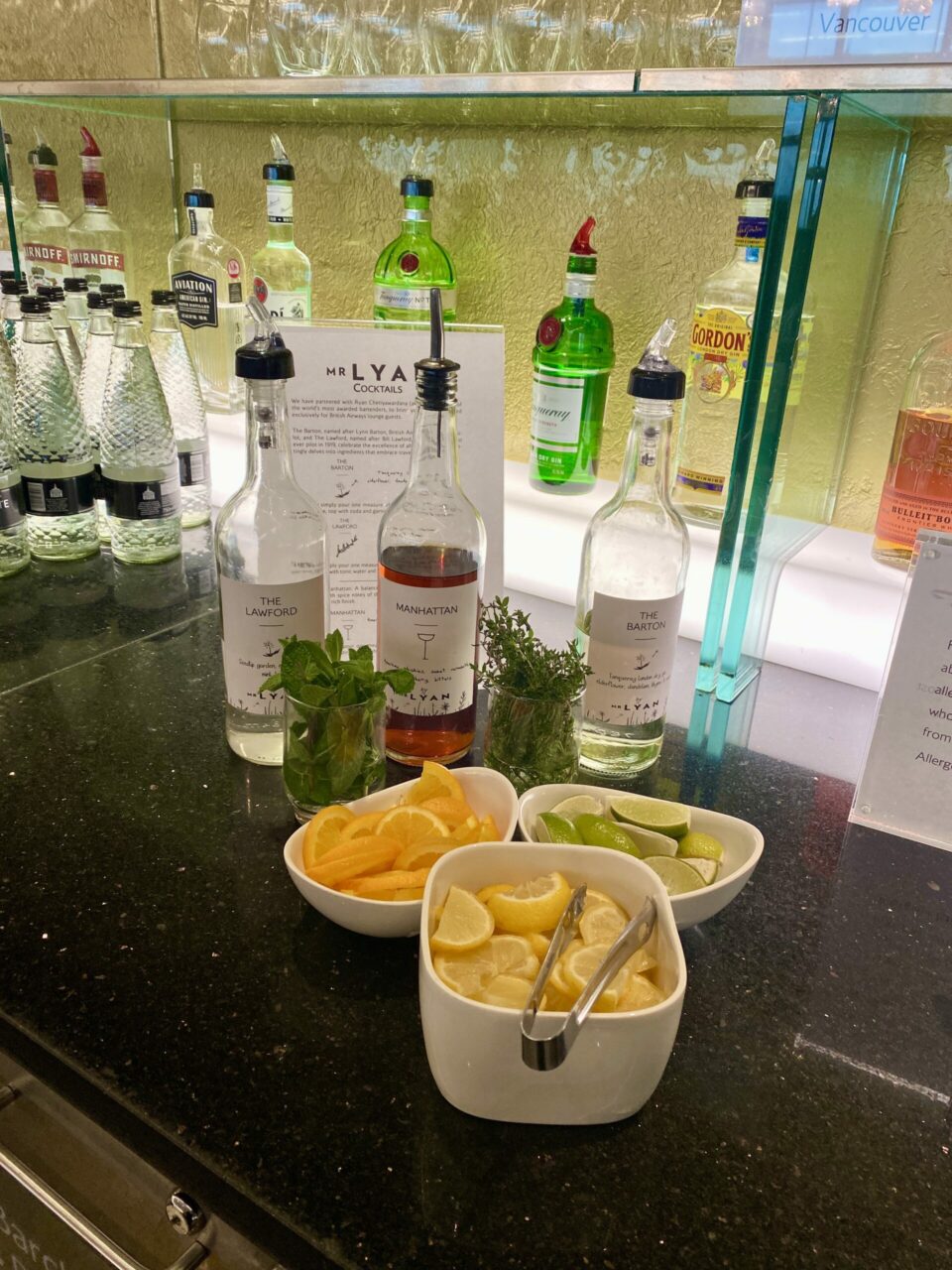 The self-service drinks area is available again including a selection of re-mixed cocktails by Mr Lyan The Barton (gin-based), Manhattan (bourbon) and The Lawson (non-alcoholic) and some espresso martini and margaritas in cans. Champagne, wine, spirits and beer were all available to help yourself to.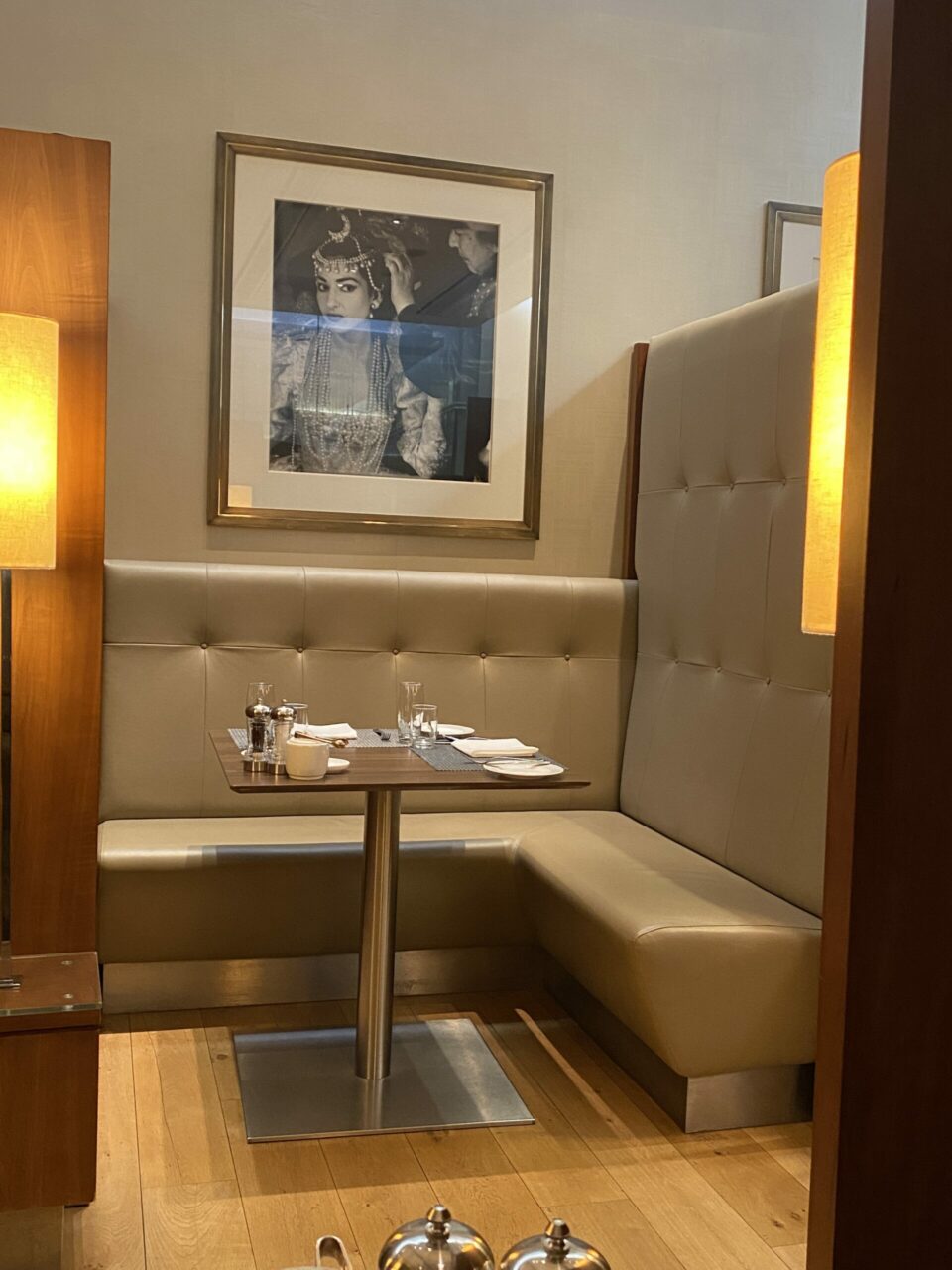 I headed to the Concorde Room for a quick bite of breakfast. It was good to see everyone's favourite bartender Charlie working away behind the bar.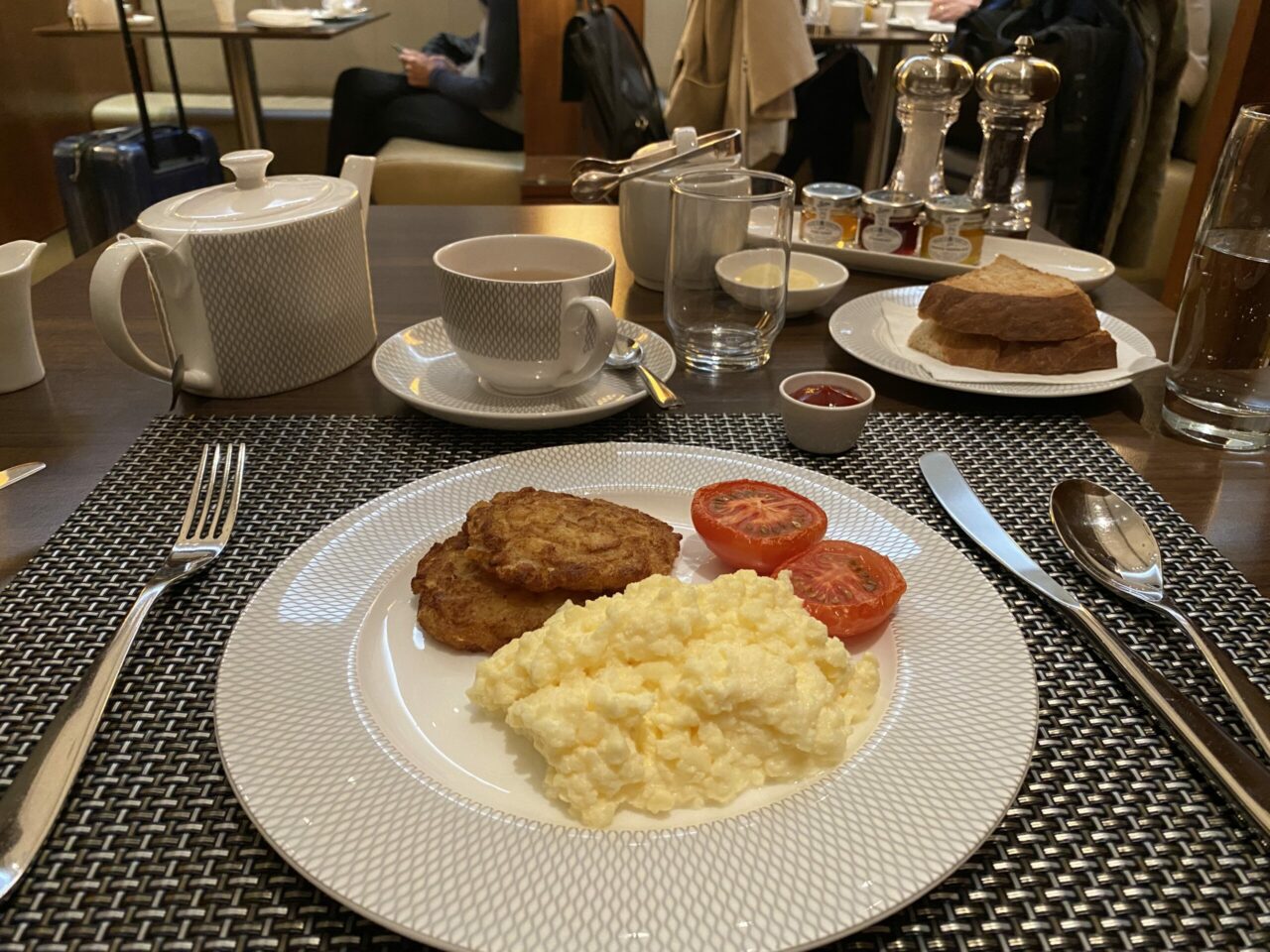 The Concorde Room menu was still the same with options such as a full English, eggs Benedict, smoked salmon with scrambled eggs or avocado toast with poached egg. I went for a few bits from the full English. The scrambled eggs tasted very bland but the rest was OK. I had a quick glass of Laurent Perrier Grand Siecle and some lovely earl grey tea with it.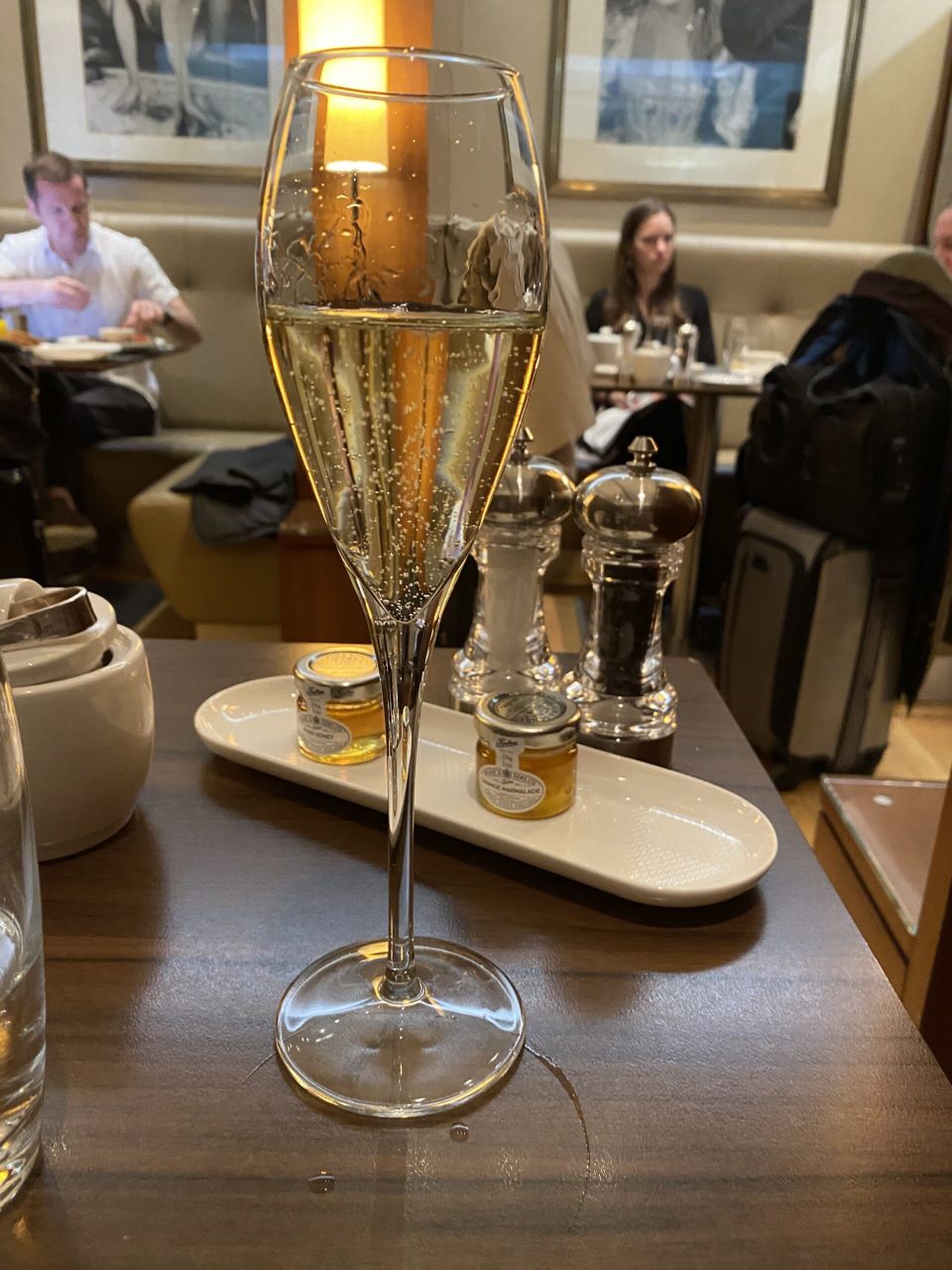 Boarding the British Airways A320 Neo Club Europe
Boarding was from A11 and got delayed by around 15 -20 minutes. It's always annoying when you leave the lounge only to find you could have sat there for another 20 minutes!
When it eventually started it was initially re-boards and then group one. This was a large group of people and they barely due breath before they announced group 2.
I was still handed one of the Dettol wipes as I boarded.
British Airways A320 Neo Club Europe The cabin and seat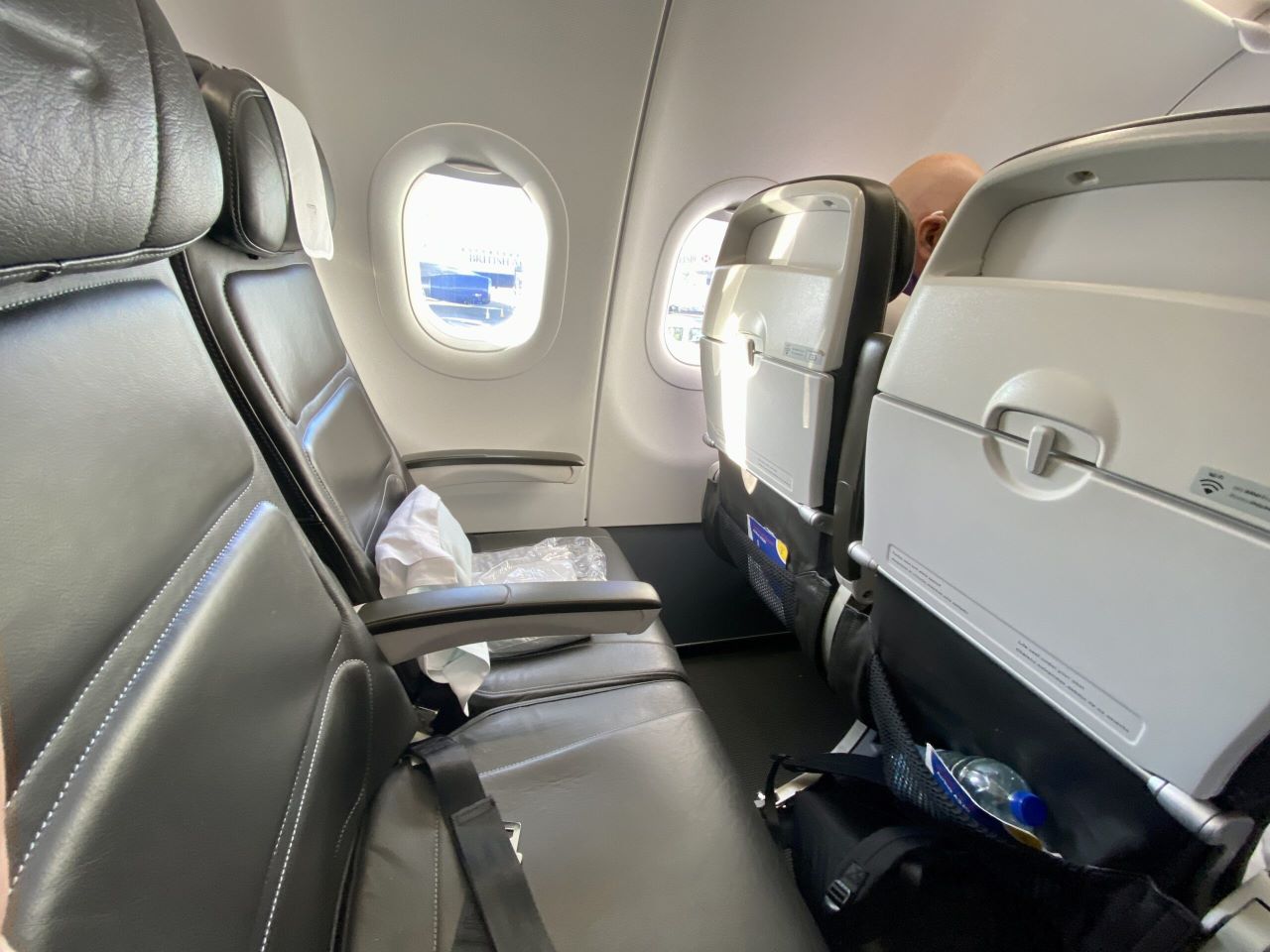 This was an A320neo which means that there are no middle table which seemed to confuse some passengers who sat in the middle seat in Club!
I had booked less than 24 hours before so was stuck with row 7. I had gambled on the seat next to me being emoty as the seat map was showing both A and C empty rather than going for row 12, the exit row. Sadly the second to last person that boarded came to claim the window seat.
British Airways A320 Neo Club Europe Seats are quite thin, particularly in economy. The flight was shorter than advertised at 3 hours 35 so it was just about OK for that length of time. But it was beginning to become uncomfortable by the end.
The seat felt wide and there was plenty of legroom for me.
British Airways A320 Neo Club Europe Food and drink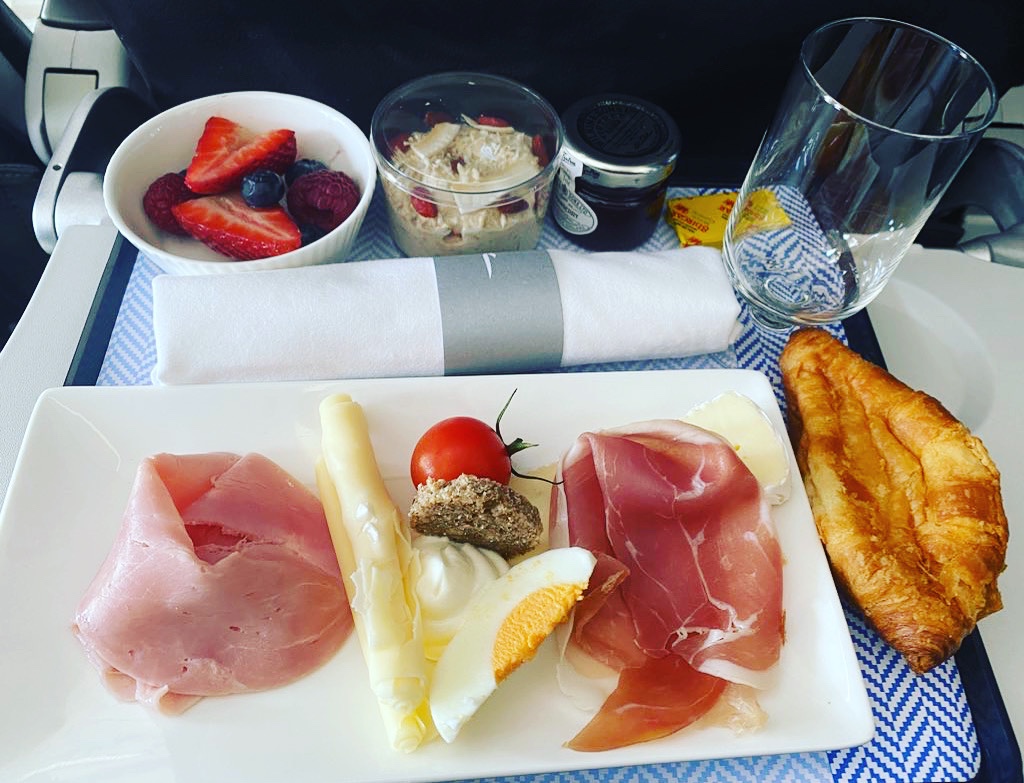 Being a breakfast flight there was no drinks round before the food. The crew was good on this flight being proactive and friendly. There were no menu cards on this flight but the choices were:
Full English (with bacon)
Frittata
Continental breakfast
There was also a warm croissant offered by hand. As well as the main course there was a lovely berry bowl. The fruit in this was as good as you'd get in any fancy 5* hotel breakfast – sweet juicy ripe strawberries with raspberries and blueberries. There was also a bircher muesli which came with goji berries and toasted coconut. I found this could have done with being slightly sweeter even though I don't have a sweet tooth. This definitely felt like a step up from before, although the continental was not that different – let's face it, how much can you improve that? I heard several people that had the full English commenting how good it was with one family saying it was "the best breakfast we've had on British Airways in a long time". I had a cheeky bucks fizz with mine as its still the Nicholas Feuilatte champagne which I am not a fan of.
It was also interesting that being in row 7, they still had all the choices left for breakfast by the time they got to me. The cabin crew member confirmed they were loading more of each option again.
A second round of drinks was offered as they cleared your tray.
British Airways A320 Neo Club Europe Entertainment and power
The British Airways A320 Neo Club Europe seats have a multi-country socket and a USB underneath with the power turned on after take-off.
Wi-Fi was available for £4.99 for an hour or 7.99 for the whole flight for browse and stream or £2.99 for messaging for the whole flight which I think is reasonable. On the way out I waited until about the last 1 hour 20 to connect for an hour. The Wi-Fi only lasted 30 minutes before disappearing for the rest of the flight which happens quite frequently and is very annoying.
Arrival
It was a bus gate – one of my pet peeves about air travel. Why did we invent the jet bridge only to have airline not use it because they are cheap? There were stairs up when we entered the terminal building with the escalators turned off, so tough if you had a heavy bag with you.
There was not much queue for immigration despite horror stories about post-Brexit immigration. You could use the e-gates or go to a booth. Just past immigration, there was someone scanning your Spanish QR codes.
The baggage took quite a time to arrive and surprise surprise, my priority bag was one of the last to arrive.
Tenerife to London Heathrow
Check-in
Tenerife Airport was something of a zoo being a Saturday and very busy. Thankfully about 1 hour 50 minutes before the flight there was no queue at all at check-in. We were told where to find the lounge and sent towards the security queue. I did not see any priority security but there was no queue here really either. Just the annoyance of people that seemed to forget the basics of flying after two years. Like the father and son walking at a snail pace blocking the queue so they could drink their entire litre water bottle before they got to security…or the person taking the entire security area up dithering around with 4 bins for his stuff. Then slowly picking every coin up from the tray individually while blocking the way for anyone else to get their trays.
The lounge
It then continued with the couple who held up the queue for the lounge as they seemed surprised they needed boarding pass to enter and then spent ages unpacking a bag trying to find it. Eventually a quick scan of the boarding card and I was in. BA uses the Sala VIP Montana Roja which is huge although you may not think so when you first enter.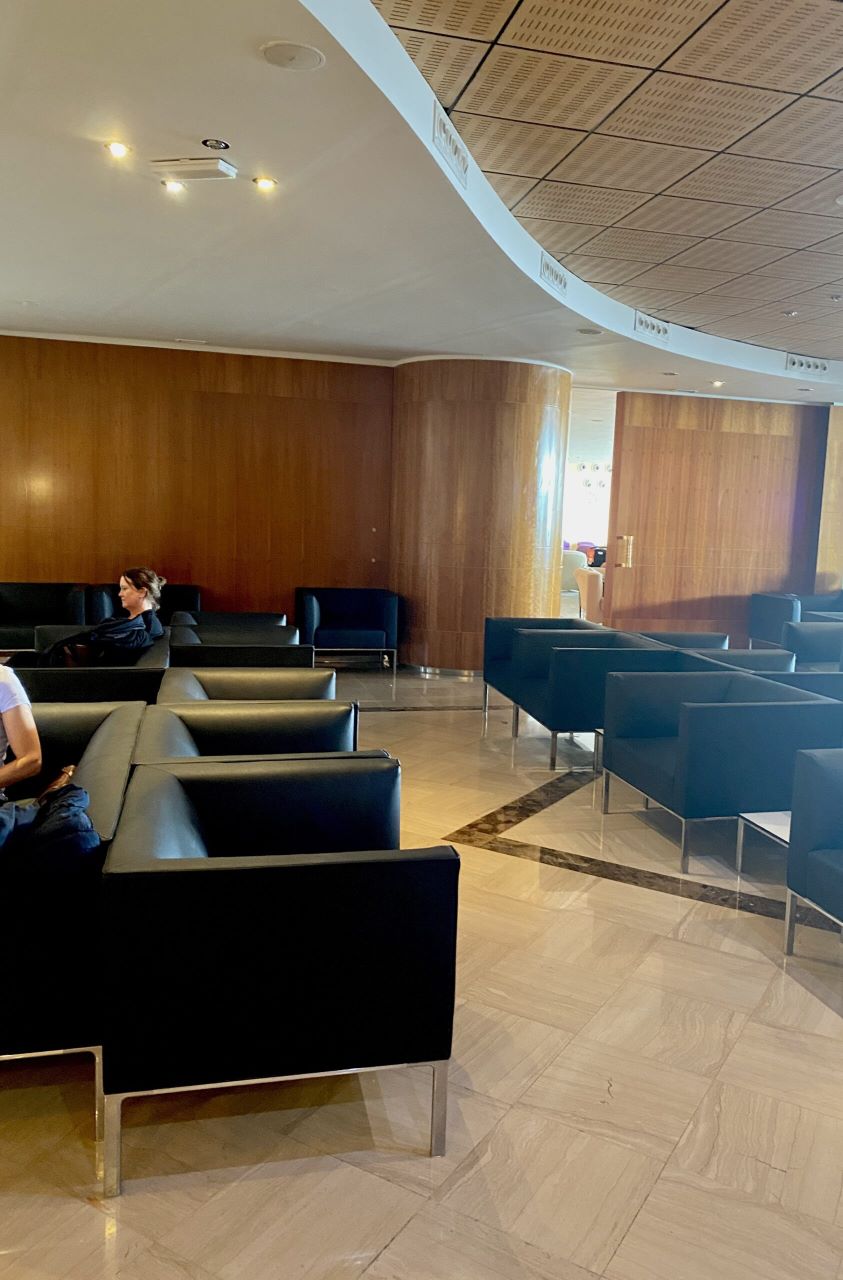 There were several rooms, a terrace where you can smoke as well plus a food area. The decor was very dated and it felt quite crowded.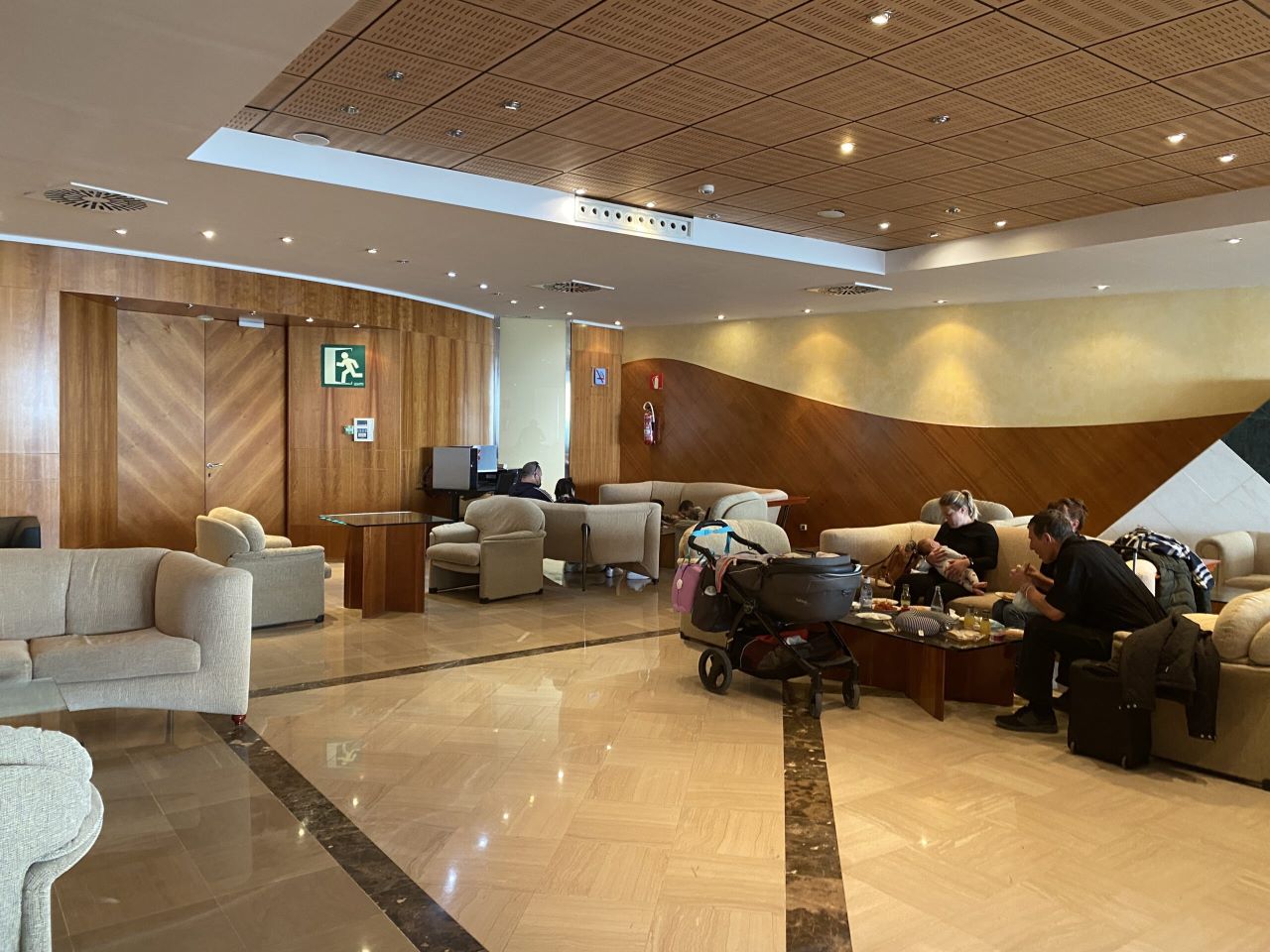 There was a decent selection of soft drinks, wine and beer you could help yourself to. There was Cava, a choice of white, red and rose wines. Also in the fridge were some desserts and yogkghurts. But you then had to line up and point to food or spirits if you wanted those. It seemed quite inefficient as it was hard to see what they had until you got right to the front of the line.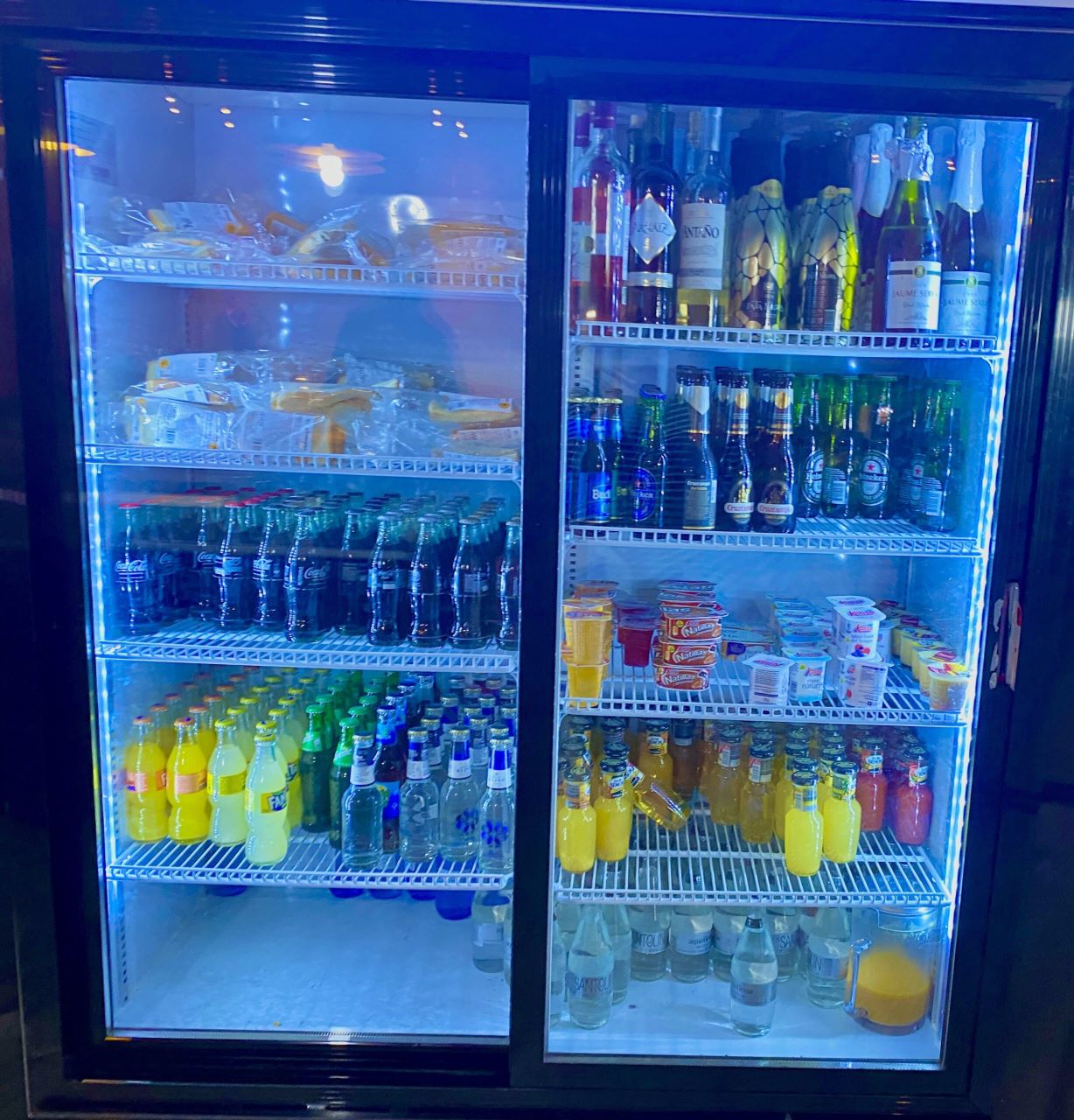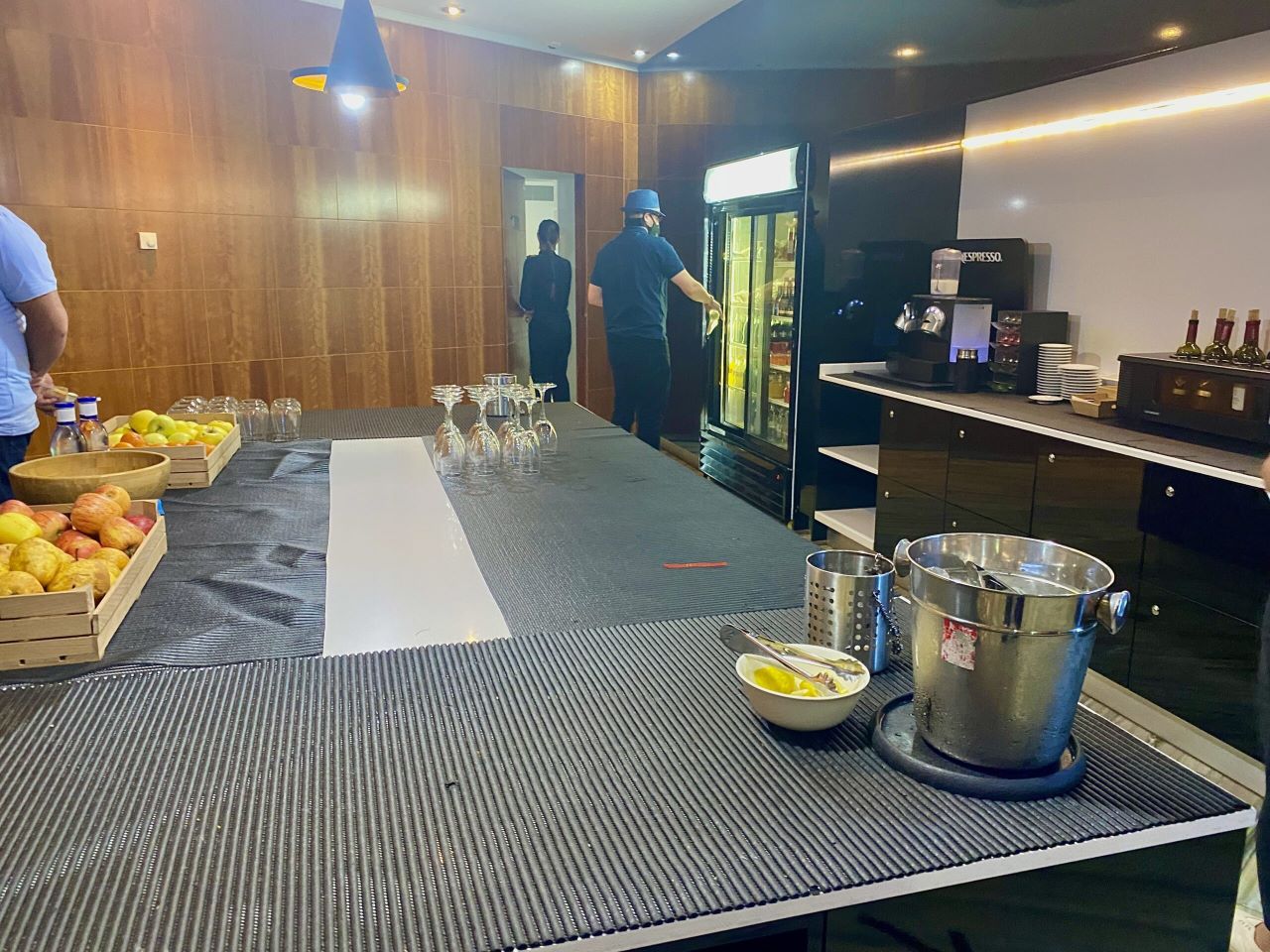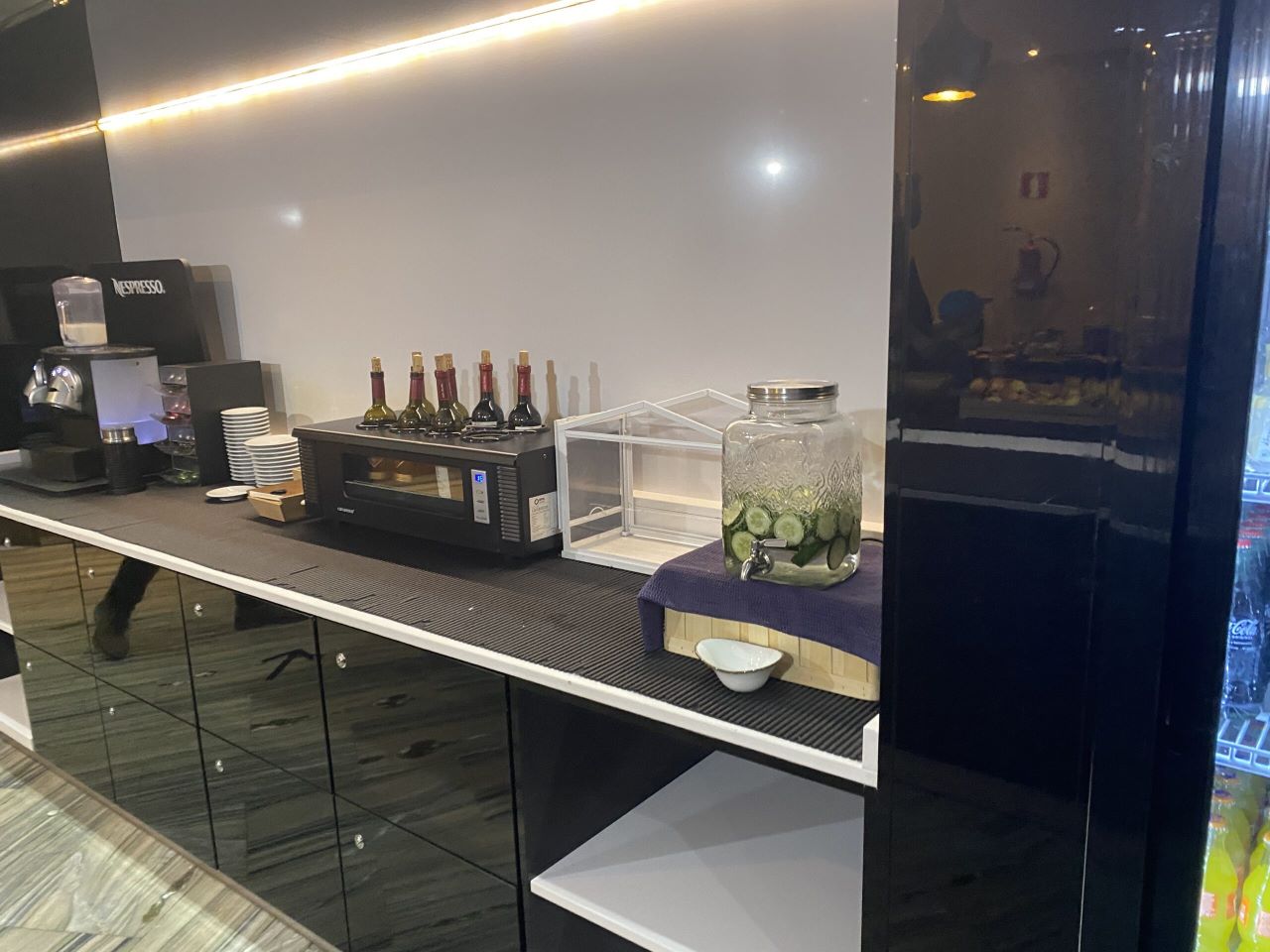 Boarding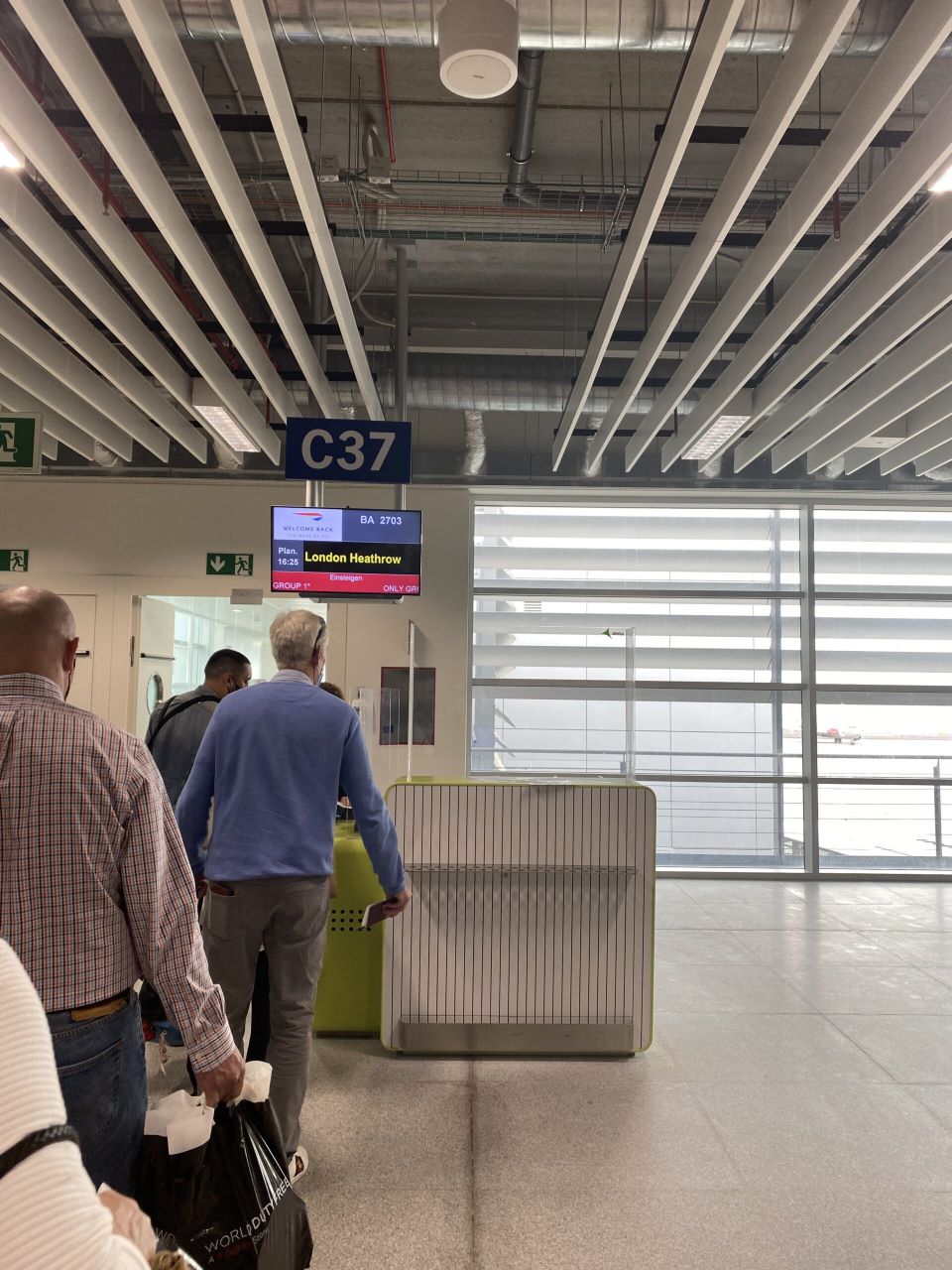 It was a very long walk to the C Gates which BA were using so allow at least 10 minutes from the lounge. On the way you have to pas through immigration but there was no queue since I had left it until around 25 minutes to boarding. We were invited to board in group one with the families as well. Again there was a staircase down to a bus with no escalators. Not very premium. We then stood around on the bus for a while waiting for it to fill up. Finally, we were bussed to the aircraft which was near where we left the lounge. It all seemed unnecessarily hassle to me.
There were no Dettol wipes handed out on boarding. There was no announcement about wearing a mask in the safety video. In fact, as soon as the seat belt sign went off, the crew took theirs off which felt very odd after two years.
Seat and entertainment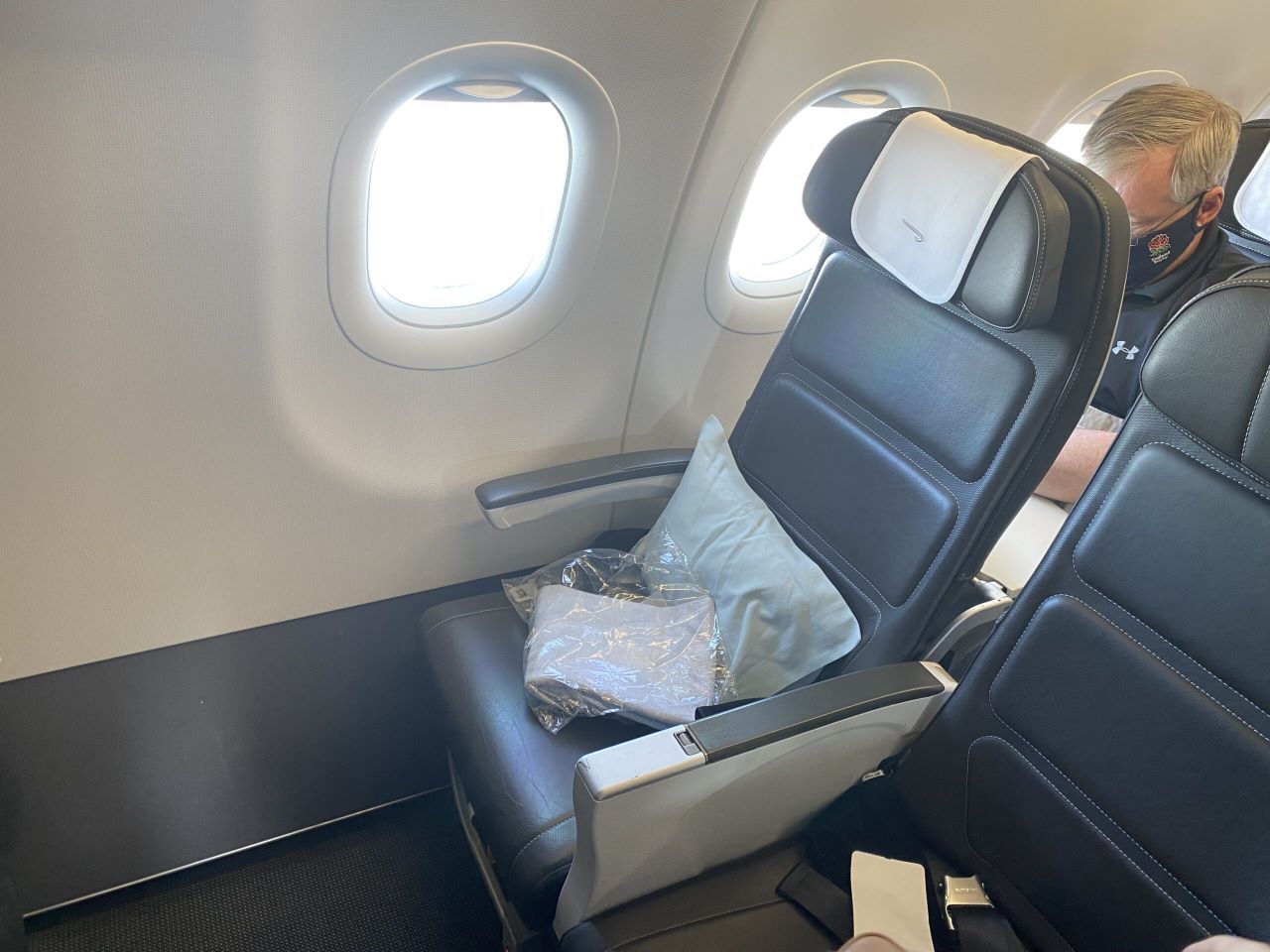 I was in my usual 1F again so had plenty of legroom. Again it was the A320 neo, so no middle tables. At the seat was a small pillow and a blanket which you get on BA's longer Club Europe flights. The power was the same with USB and a multi-country socket. The Wi-Fi was off for around 1 hour 20 minutes at the start of the flight. It then worked fine for about 40 minutes before stopping again…grrrr. (see above for prices). When it did work I found it pretty fast.
Food and drink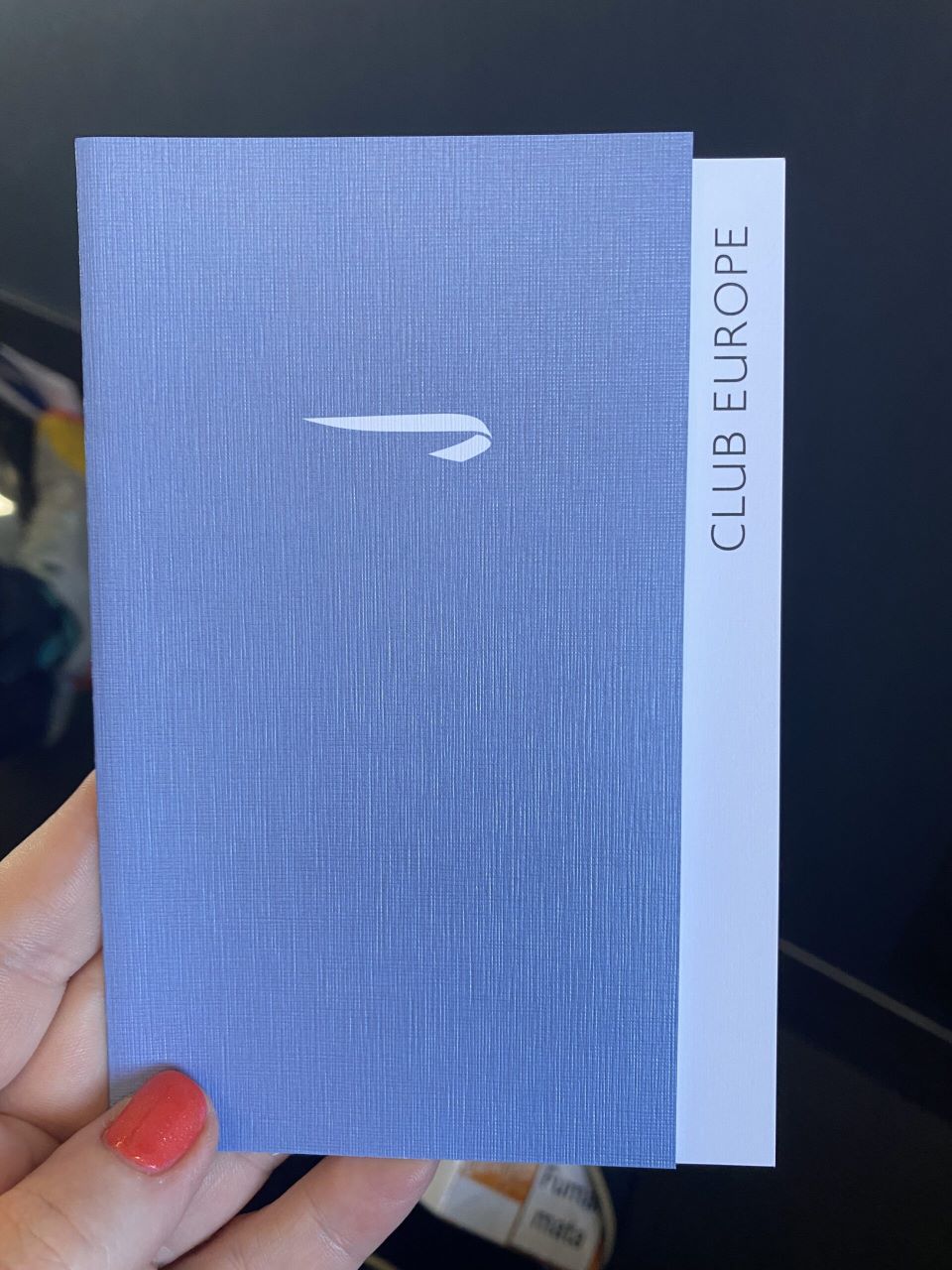 We were handed a menu which was a blast from the past! I thought the options looked pretty good. I was glad to see the back of the previous pathetic salad starter with its lettuce leaf and half a cherry tomato.
Here is the menu: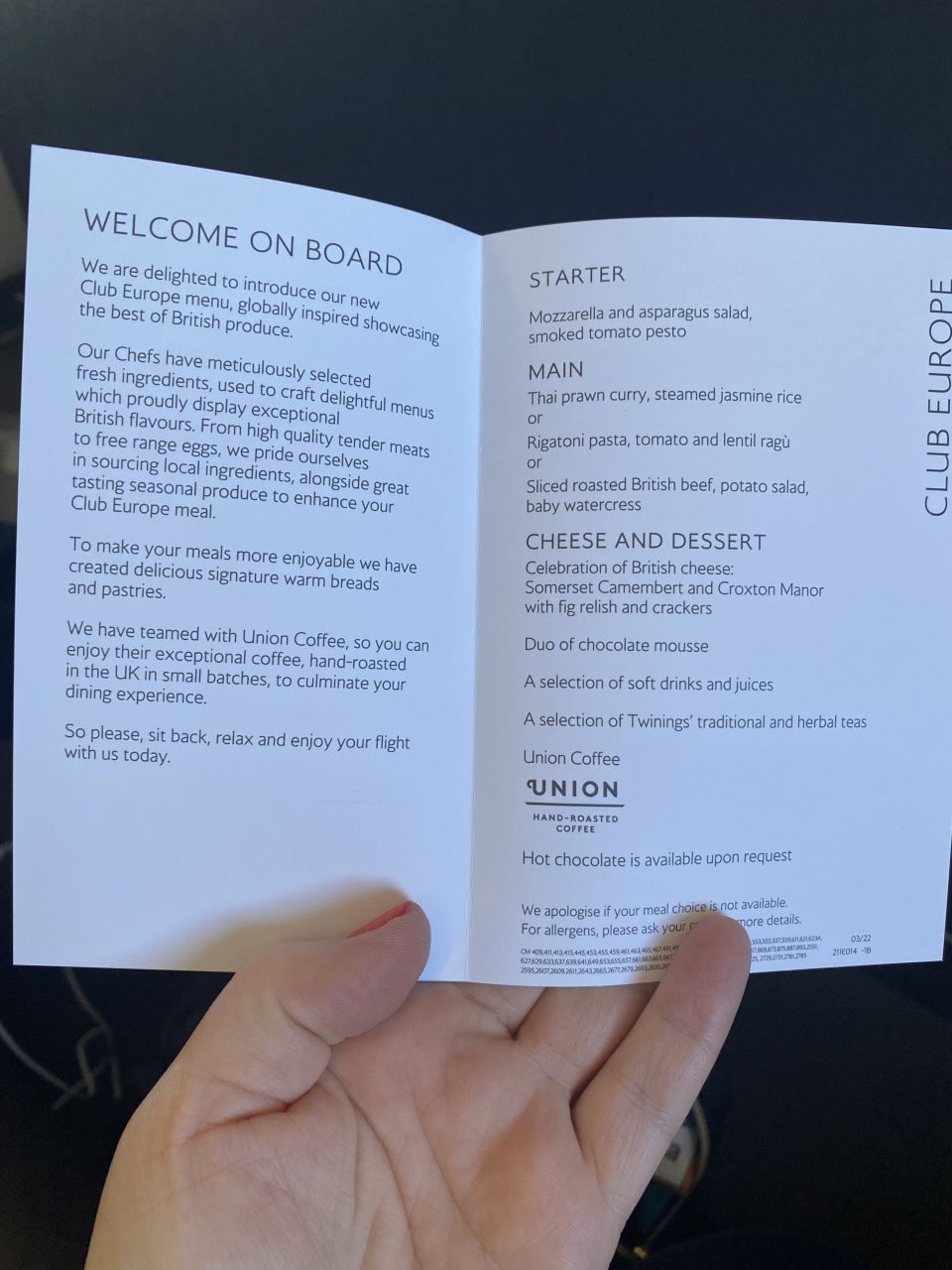 A drink was offered before dinner with the usual nut selection (shame they didn't refresh those!) Unfortunately, the new Aviation gin had run out, so rather than have Gordon's I went for the flying stalwart, a Bloody Mary.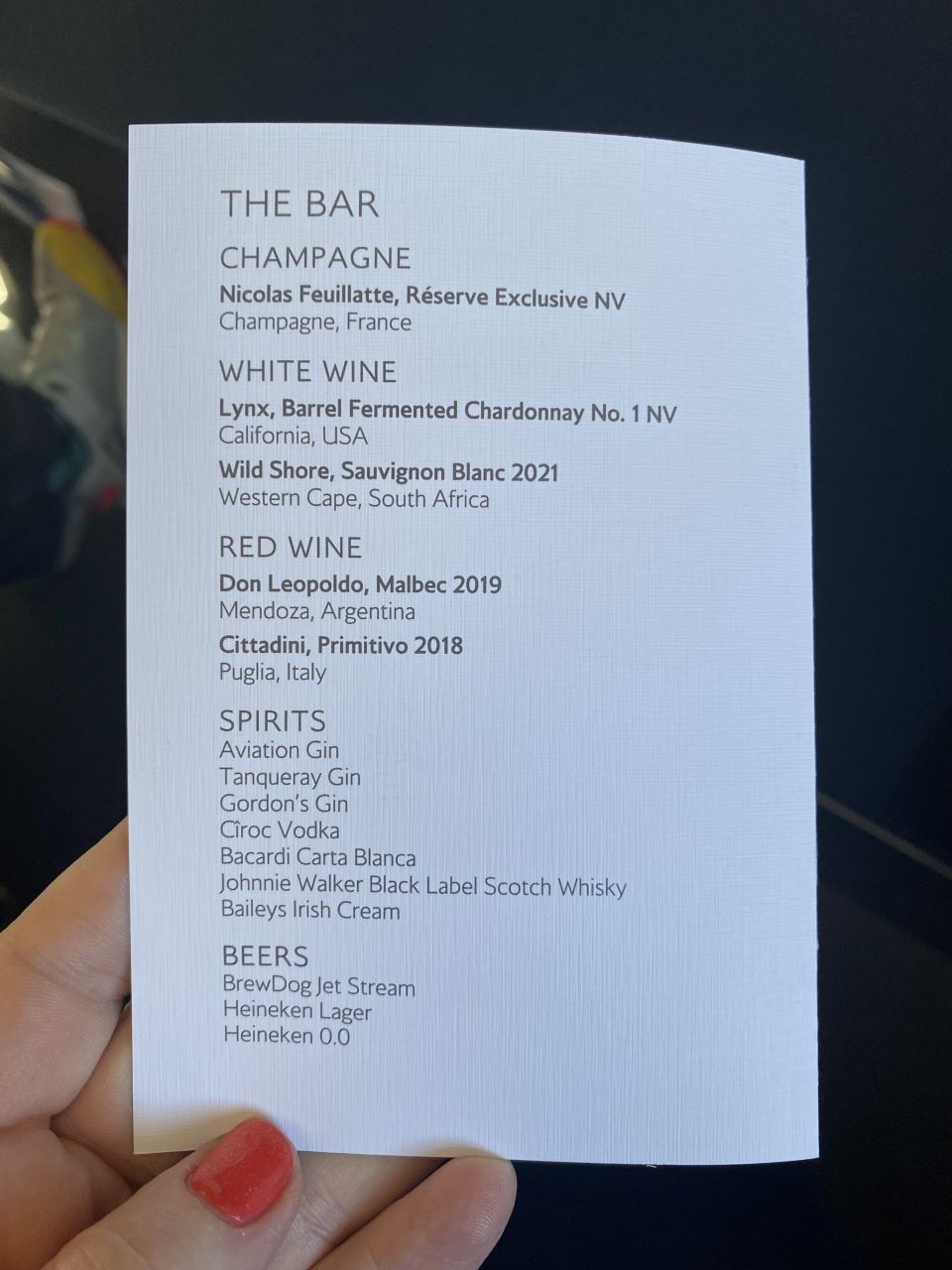 The starter was really tasty with some fresh-tasting mozzarella and a lovely rich smoked tomato pesto which wasn't too smoky at all.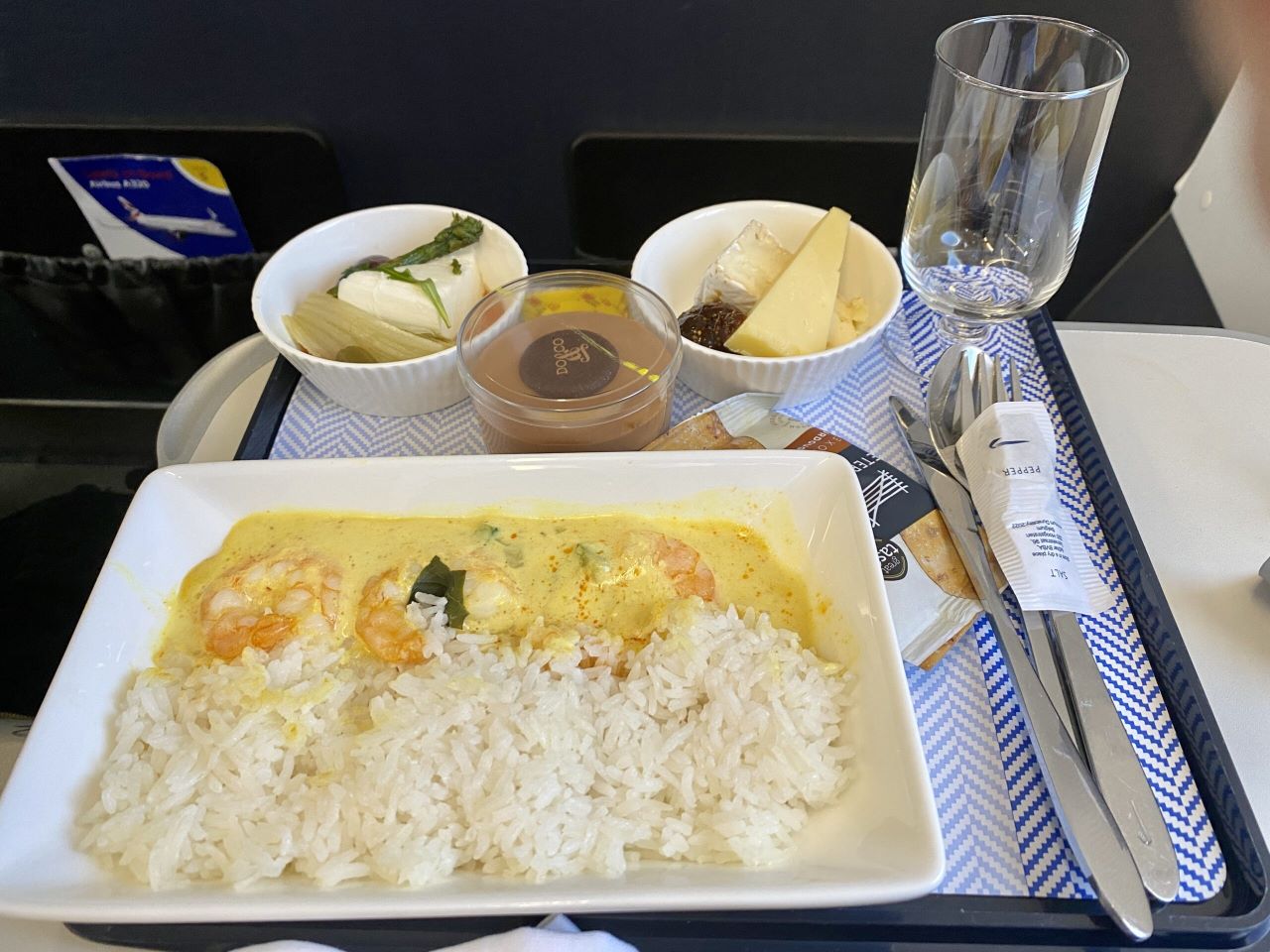 I went for the Thai curry which was really delicious, The prawns were juicy and not overcooked, there was enough spice to make it interesting but not so much that it was too hot. The bread basket was also back although there was no choice.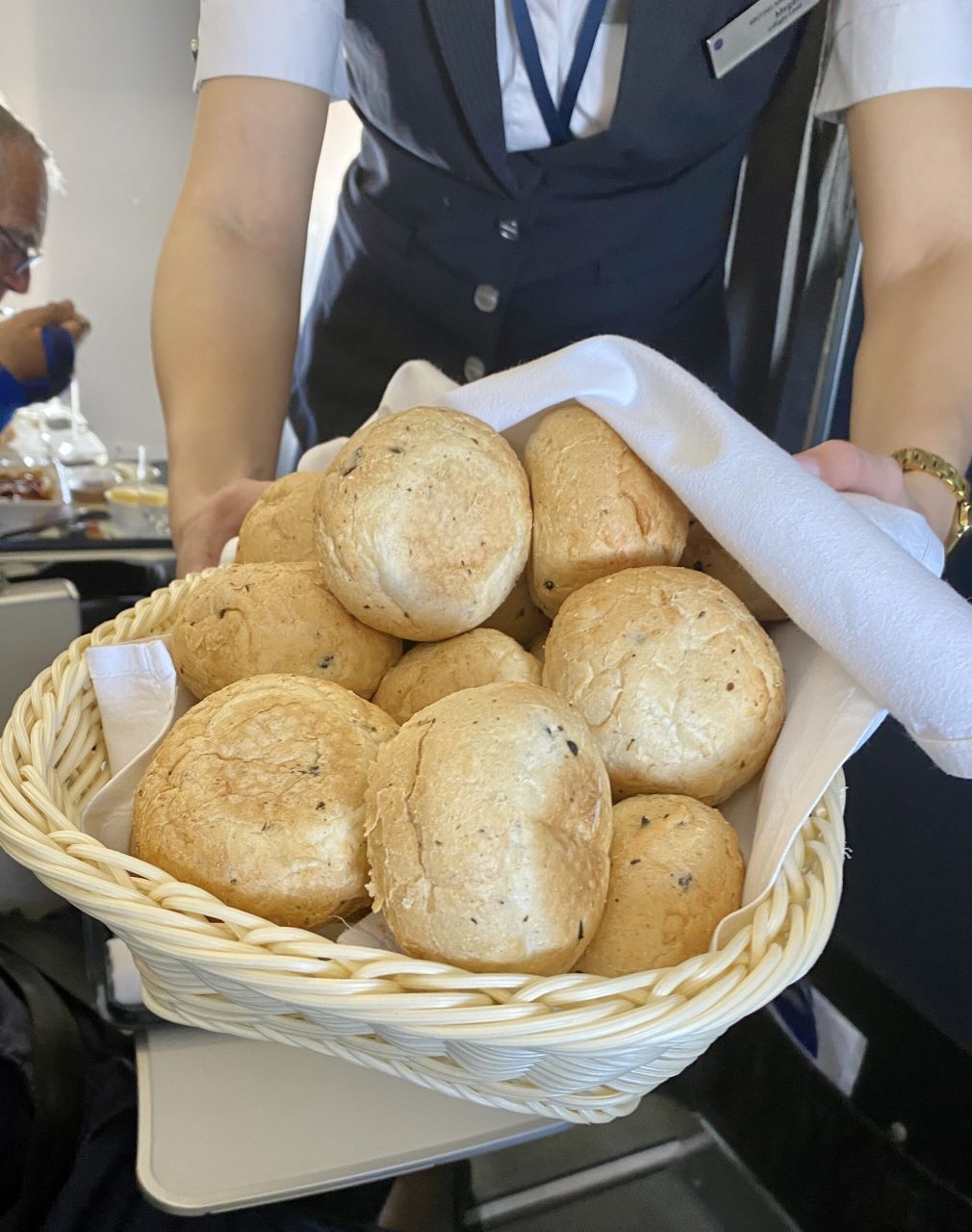 The dessert was back to my old nemesis the DO&CO chocolate mousse which I was thoroughly sick of prior Covid! The addition of the white chocolate layer it made it a bit less rich so I quite enjoyed it.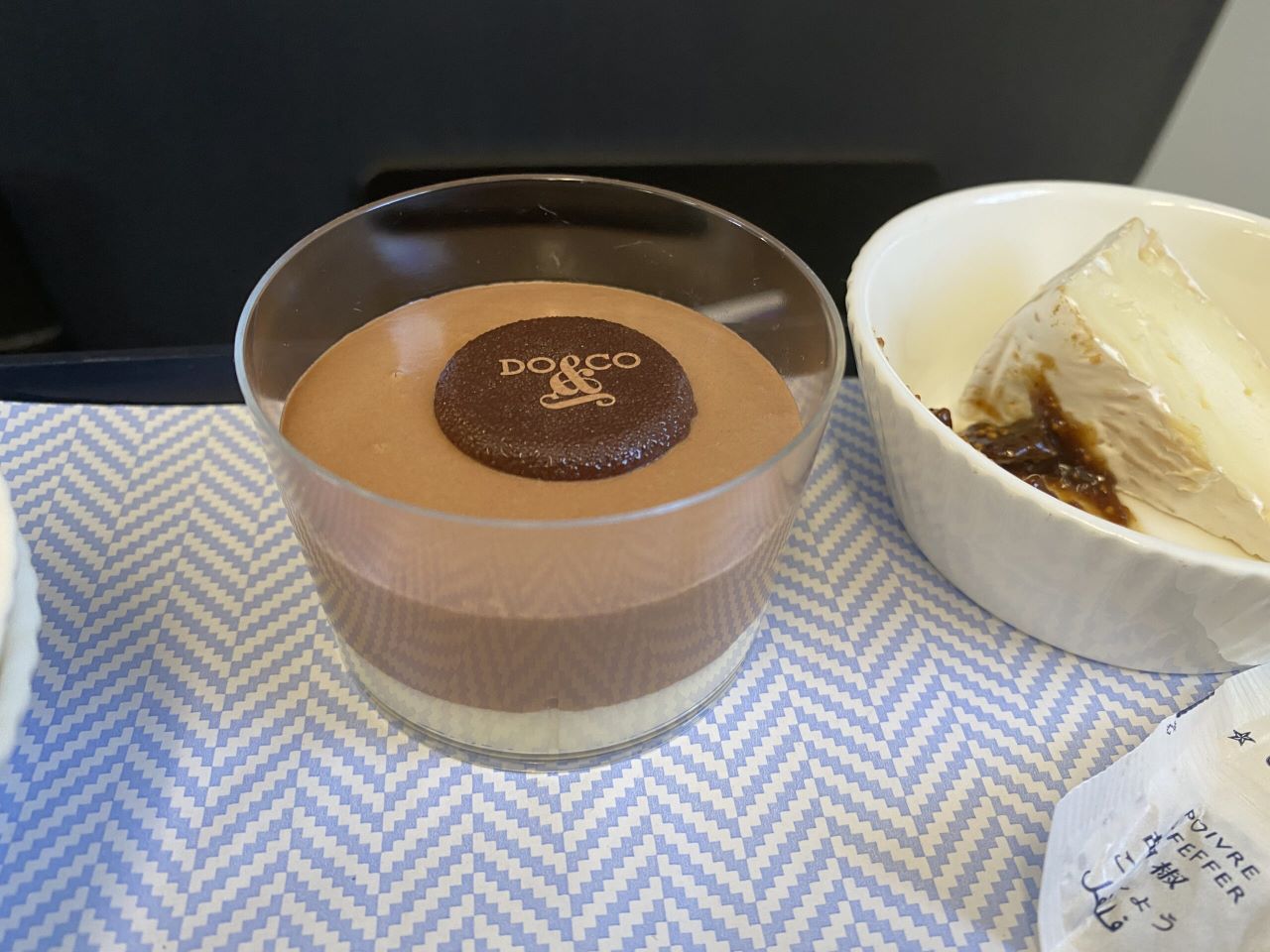 The cheese was also tasty with the sourdough crackers and fig chutney.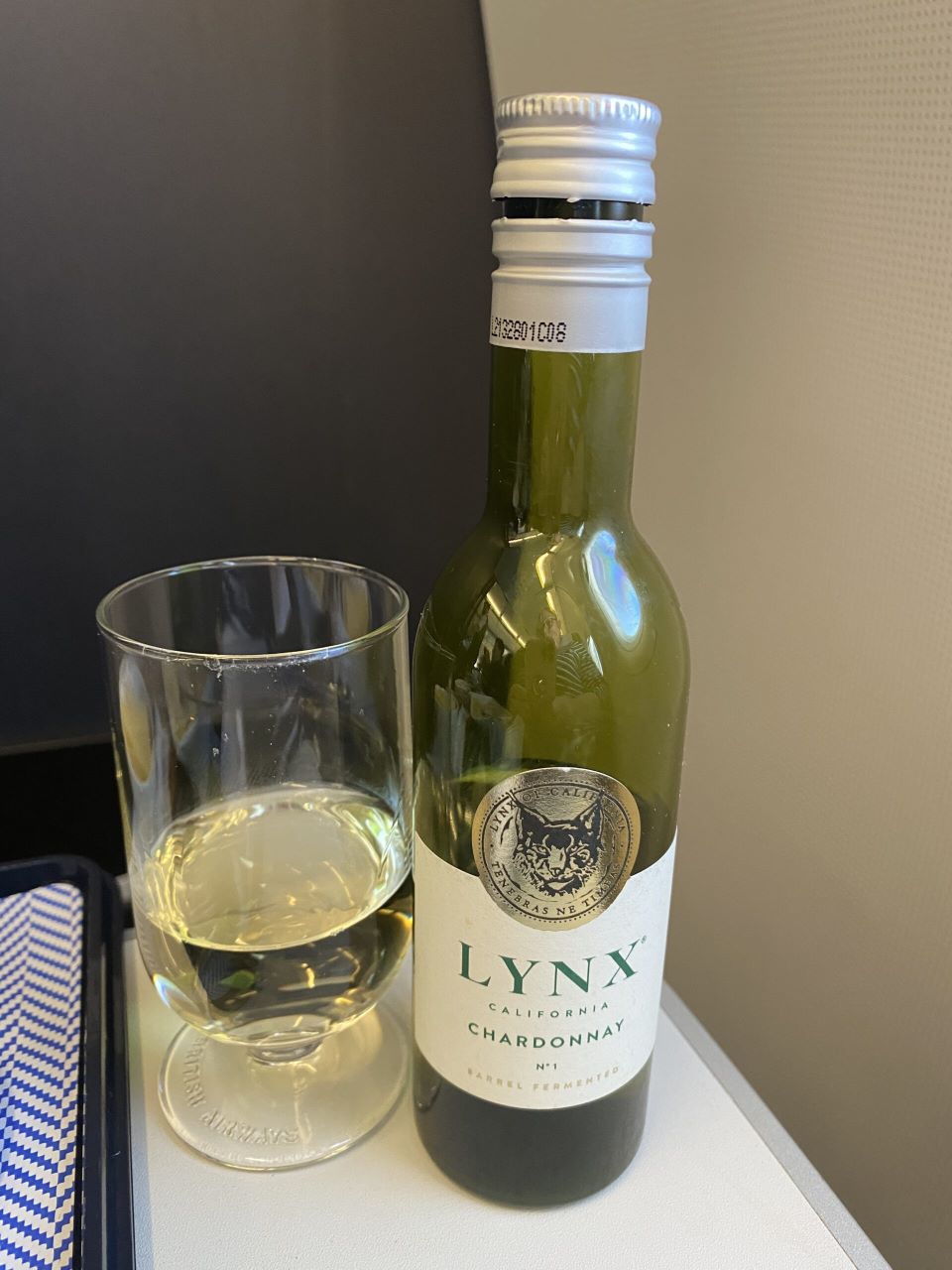 Wine was offered with the meal and I tried the new California Chardonnay. It wasn't as nice as the previous Macon-Villages but it was inoffensive if bland.
I also had a Malbec as well which is always a reliable choice.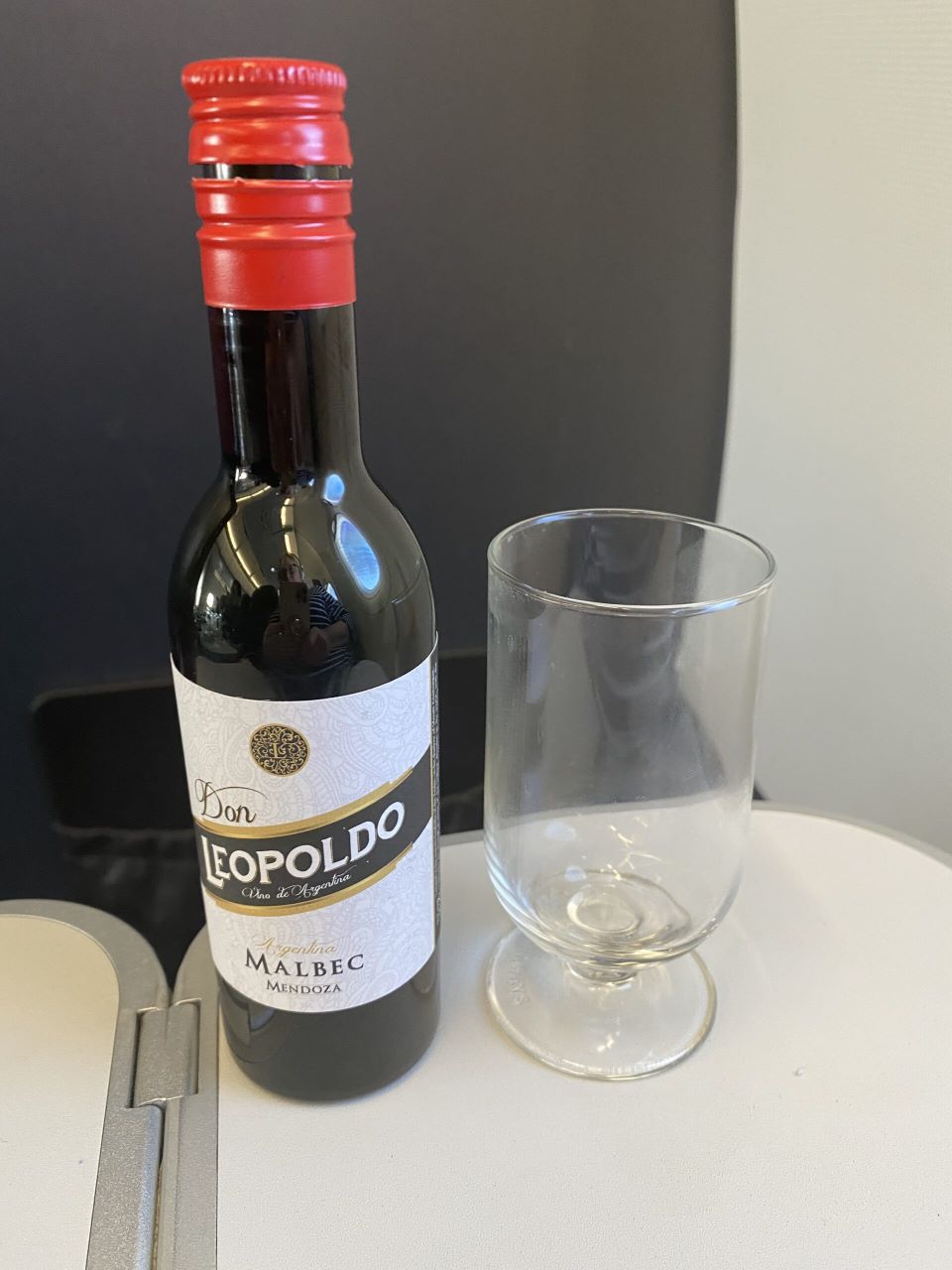 The crew was friendly and worked hard on the flight.
Arrival
Sadly this was not a great experience. Remote stand with a wait for the buses. E-gates were super quick and took my passport on the first go which is unheard of, so it wasn't all bad.
Then with no baggage belt showing I descended into the depths of hell that is Heathrow baggage claim on a Saturday night. There were people sitting everywhere on the floor. A huge queue at the BA desk. People complaining.
After a further wait there was finally a belt. But as I write this over an hour after landing there's still no sign of any bags.
If this is March outside the school holidays, what on earth will it be like at Easter in a few weeks time? Sadly this is the same story across the industry. Company sacks staff and them reemploys a smaller number on a new contract. Then company realises that they don't have enough staff as traffic soars. Company assumes old staff will come back. Company proved to be wrong. Customers not very happy etc etc.
See this article for what happened next….
Conclusion for British Airways A320 Neo Club Europe
My flights recently have been a mixed bag but these were pretty much faultless apart from the ground experiences. The new meals were a great improvement and it was lovely to see the old touches like menus and a bread basket back. It's a great shame that we will have to wait months for Club World to improve.
Like our British Airways A320 Neo Club Europe review? You can read more flight reviews here.