It has been a while since a new premium hotel connected to one of the Heathrow terminals opened so I was keen to try out and review the new Crowne Plaza at Heathrow T4. It has only been open since October but generally seemed to be working well despite still being in the soft opening phase.
Location

The hotel is attached by walkway directly from T4 and is on the same walkway as the Hilton T4 hotel. You need to be on the departures level and then head for Zone G check-in where you will find the entrance to the walkway. It took me about 3 or 4 minutes to get to the hotel from the terminal and it is definitely a bit closer than the Hilton.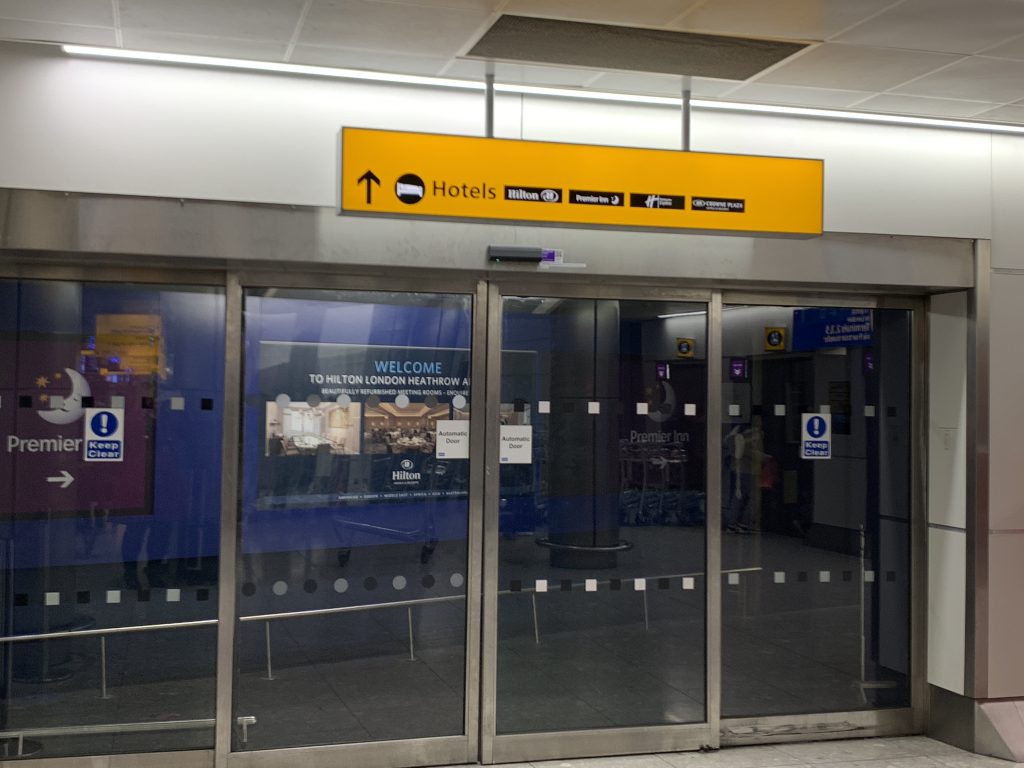 I was actually departing from Terminal 5 so I took an Uber there but you could also use the free bus (482/490 from bus stop 7), the Heathrow Express or the Tube changing at T2/3. The simplest way other than Uber is the Hopper bus which costs £5 and goes direct from the hotel to Terminal 5 with one stop in between.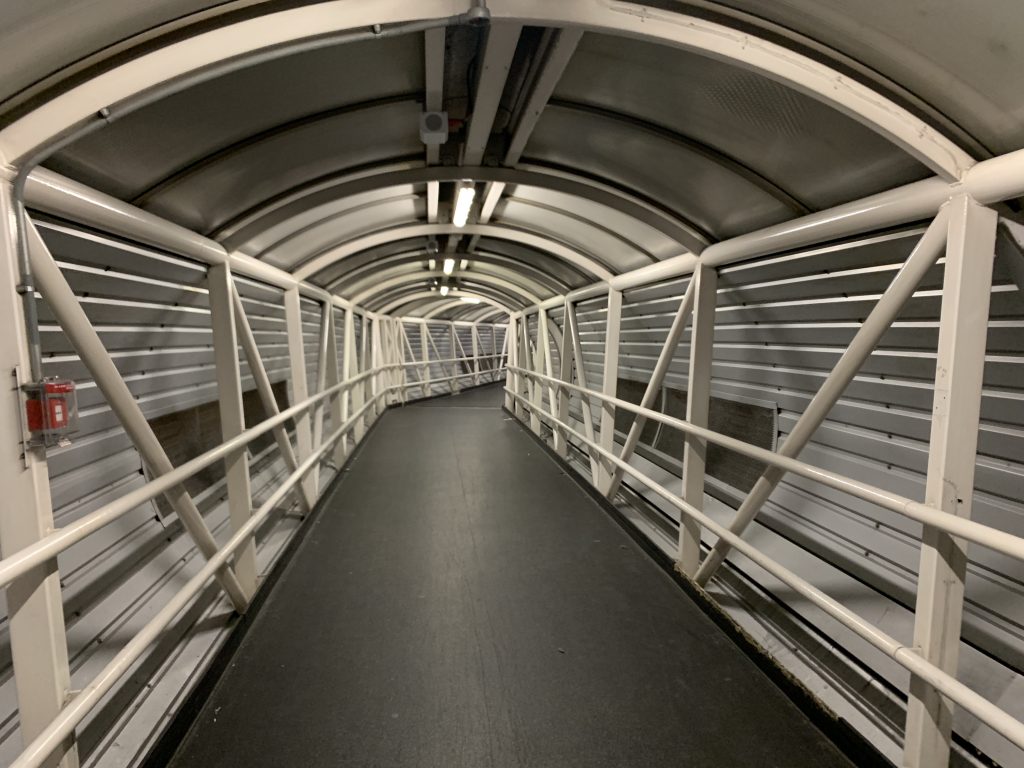 If you are coming from Central London, you can get the Tube direct to T4 or take the Heathrow Express and change at Terminal 2/3 or the direct TFL Rail (was Heathrow Connect) service also from Paddington.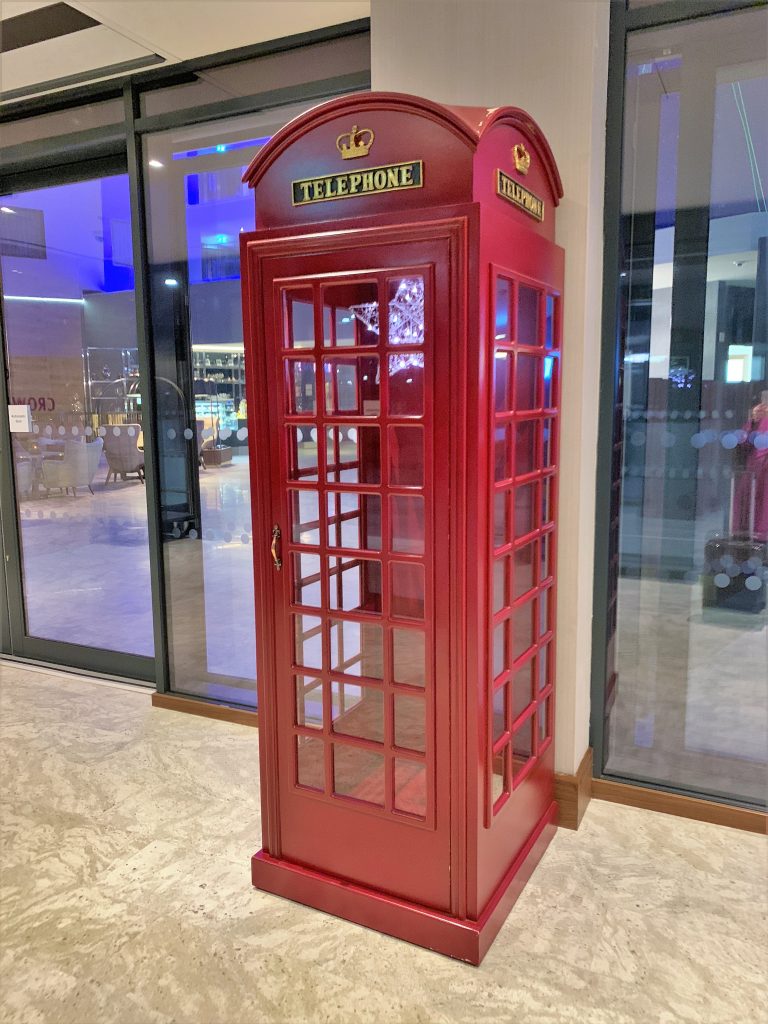 Check-in
The hotel is co-located with the Holiday Inn Express but there is a separate entrance for each check-in although the areas join up again inside. The main area looked impressive and definitely closer to 5* than 4*. I liked the light effects that were in reception and the bar that looked like flight paths.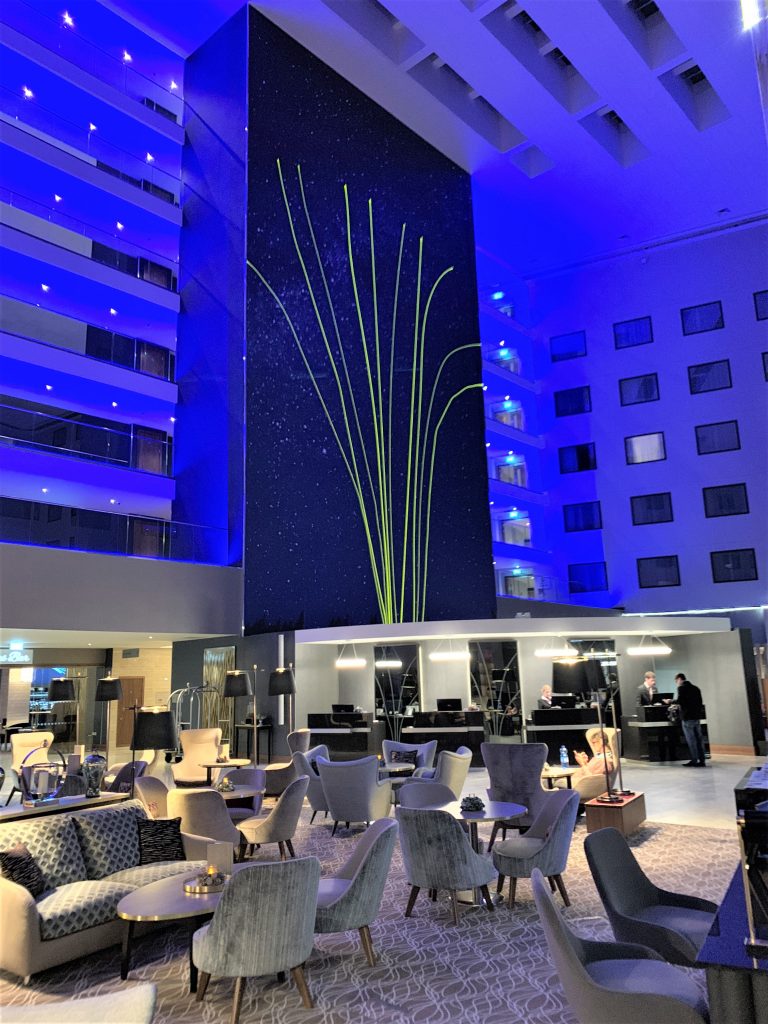 On arrival at the reception, I was offered a welcome drink of some sort of flavoured water and a mini chocolate eclair which was unexpected in a Crowne Plaza. The receptionist was very helpful and friendly. He took time to explain everything about the hotel and I was offered points or a welcome drink (in the bar or restaurant) for my IHG Platinum membership.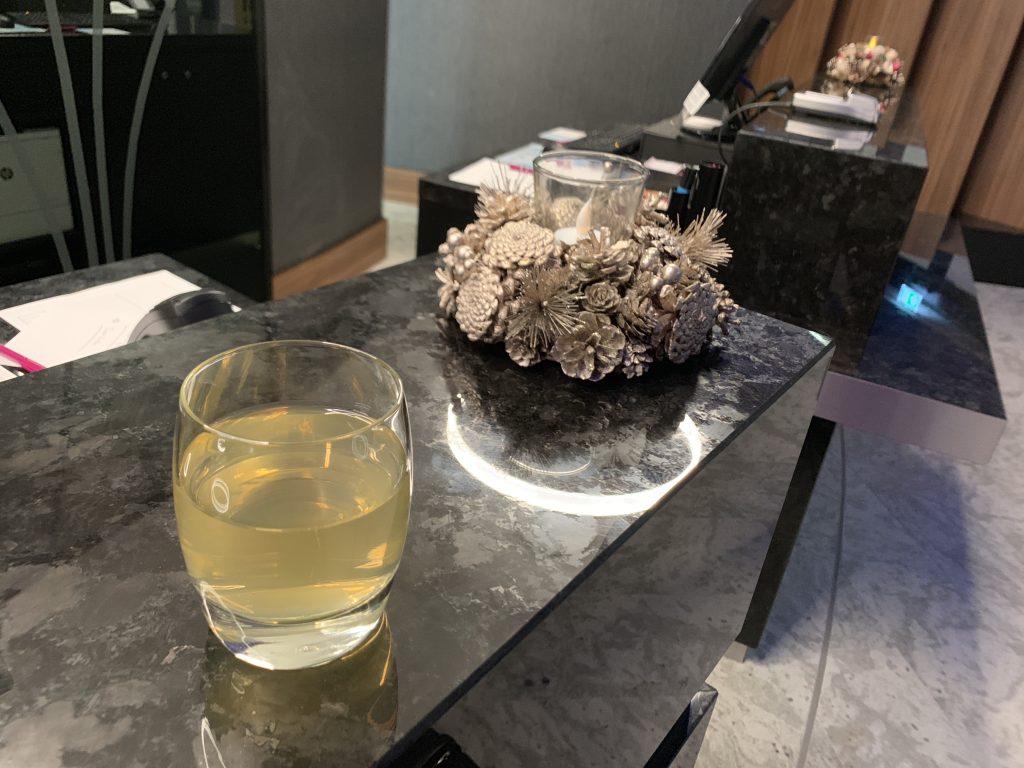 I had booked a King standard (entry level) room but got upgraded to a business room which is pretty much the same but has a Bluetooth speaker and Nespresso coffee machine. I also got chocolates in the room which I am guessing is the welcome amenity in the room description.
The room

The room looked modern but upscale and was very well equipped overall. There was an armchair with a footstool as well as a good-sized desk with both UK and European plug sockets. There was also a Bluetooth speaker which I found simple to pair with my iPhone to play music. Beside the bed were both plug sockets and USB charging points which is a must for me in an airport hotel where you have to get up early.
The bed seemed huge and seemed like two single beds pushed together. As usual for Crowne Plaza, there was a This Works aromatherapy pillow spray as part of their Sleep Advantage program. This also includes premium bedding and a guaranteed wake up call. I found the bed very comfortable and the room was very quiet seeing as it faced an internal atrium.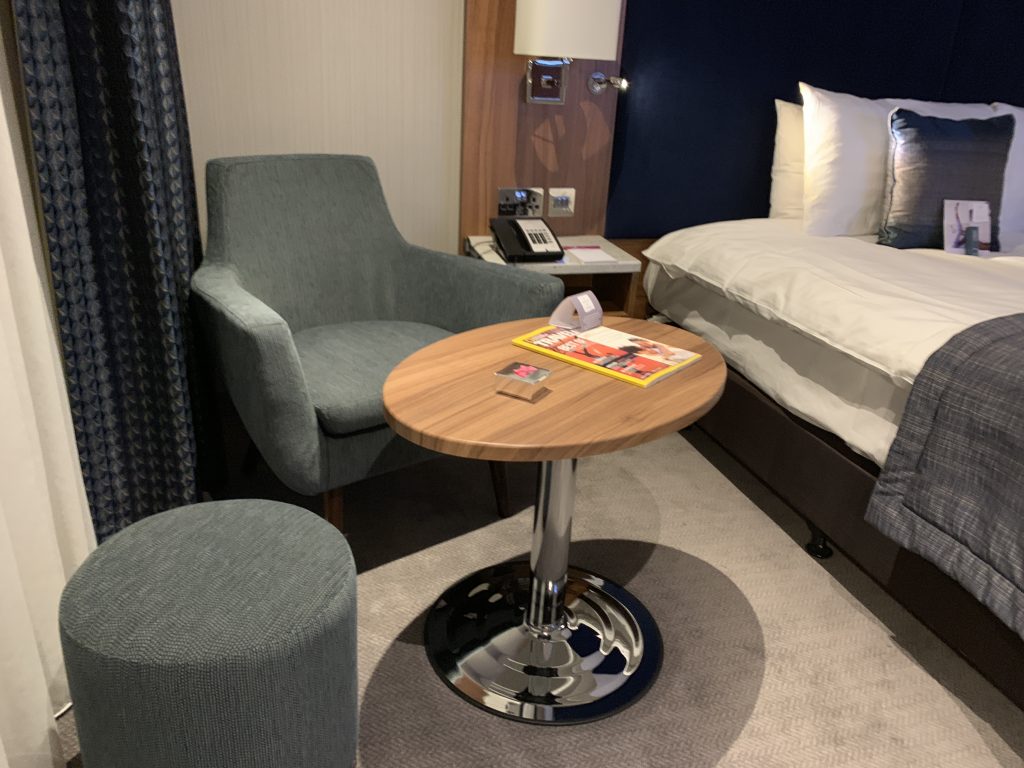 As well as the standard bathrobes, iron, hairdryer etc there was also both a Nespresso machine and kettle. (you don't get even a kettle in the entry level room which is odd). With these were hot chocolate sachets, biscuits and even a kitkat! Two bottles of water were also included.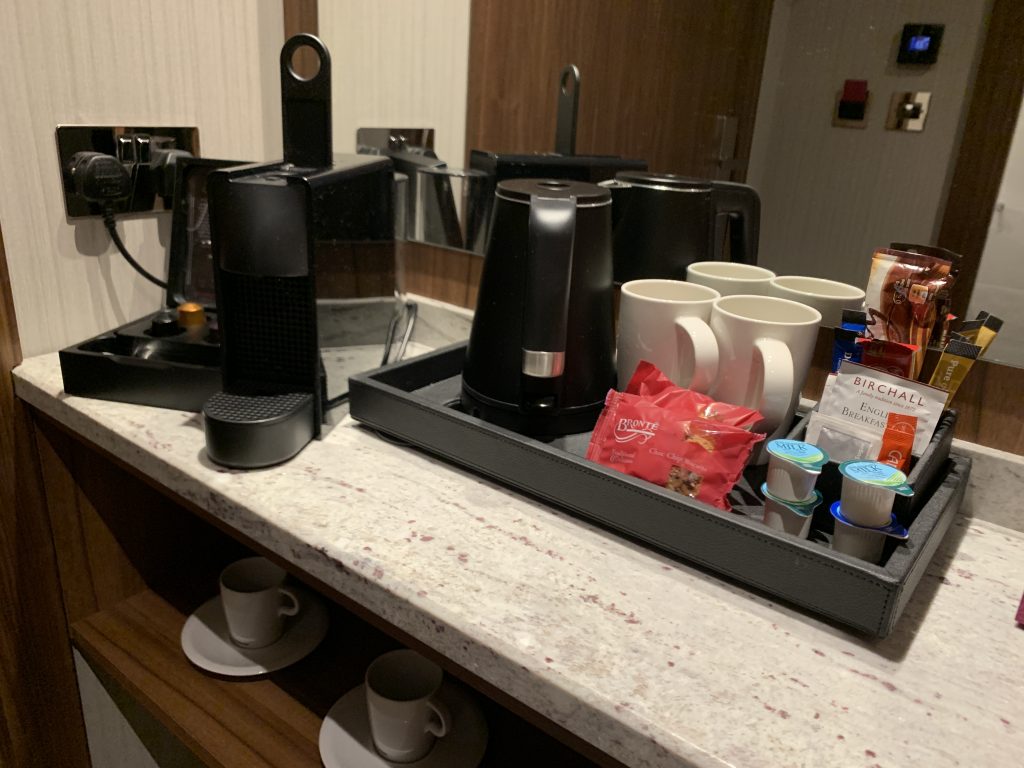 The TV was large and had Youtube available as an app plus screen mirroring for your phone or tablet.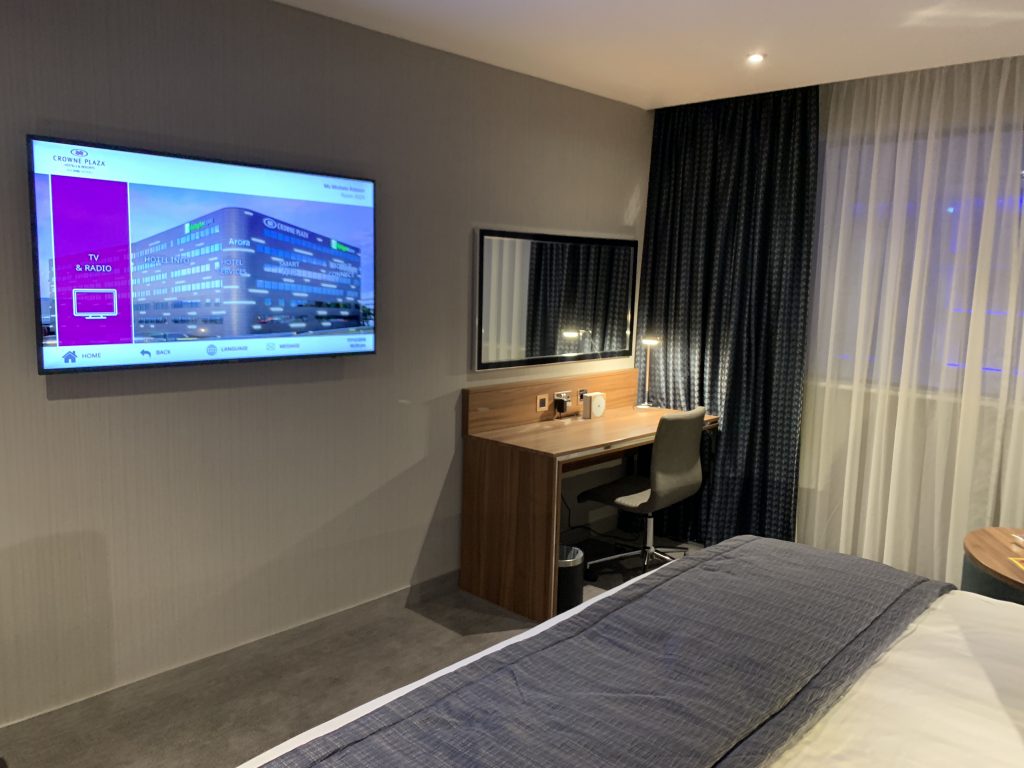 Bathroom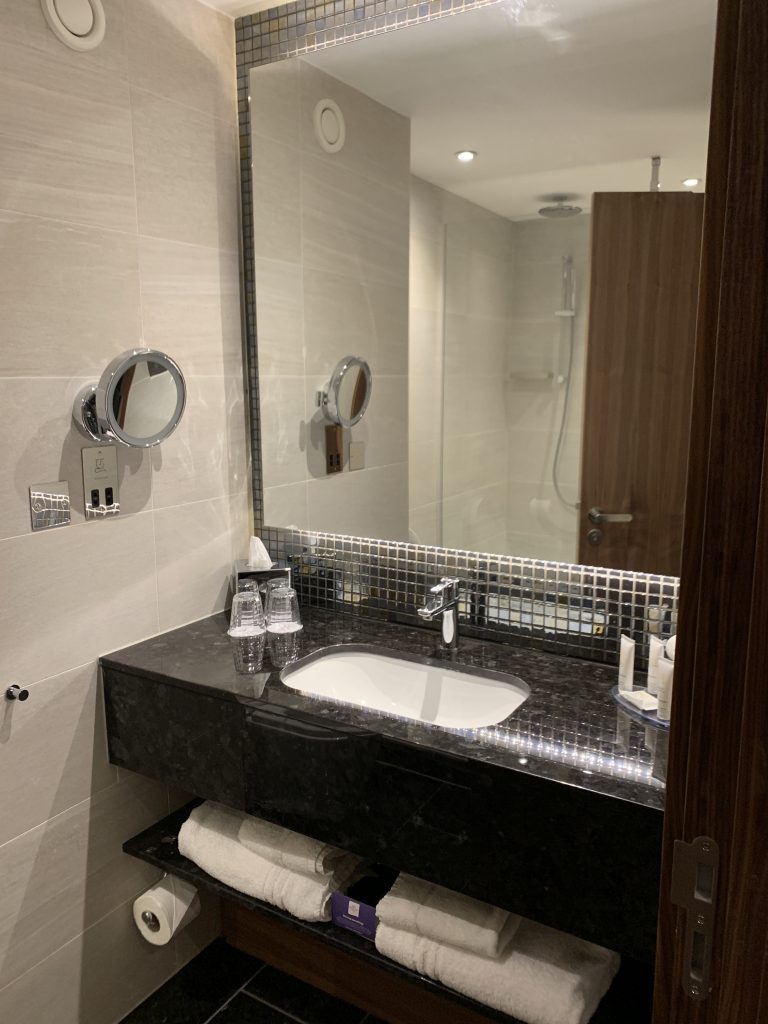 The bathroom looked very smart with the black marble and metallic finish mosaic tiles around the sink. There was plenty of places to put things as well as a magnifying mirror.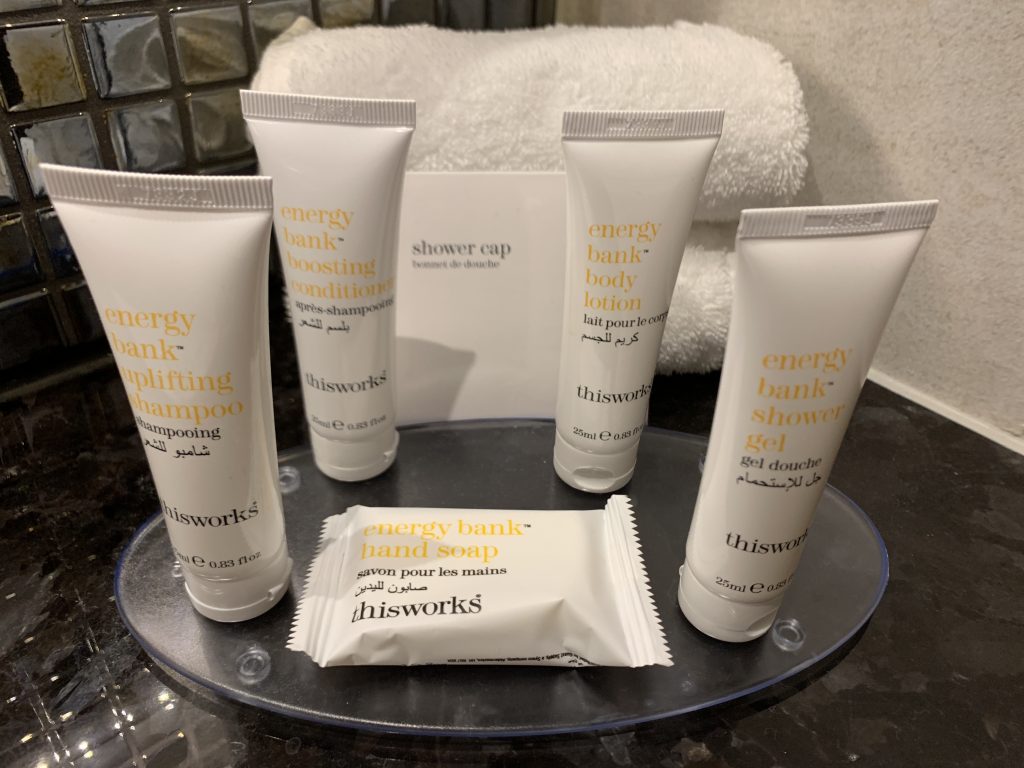 The toiletries were the standard This Works for Crowne Plaza some of which I use at home and are good quality. The shower was enormous with both a rainfall and normal shower.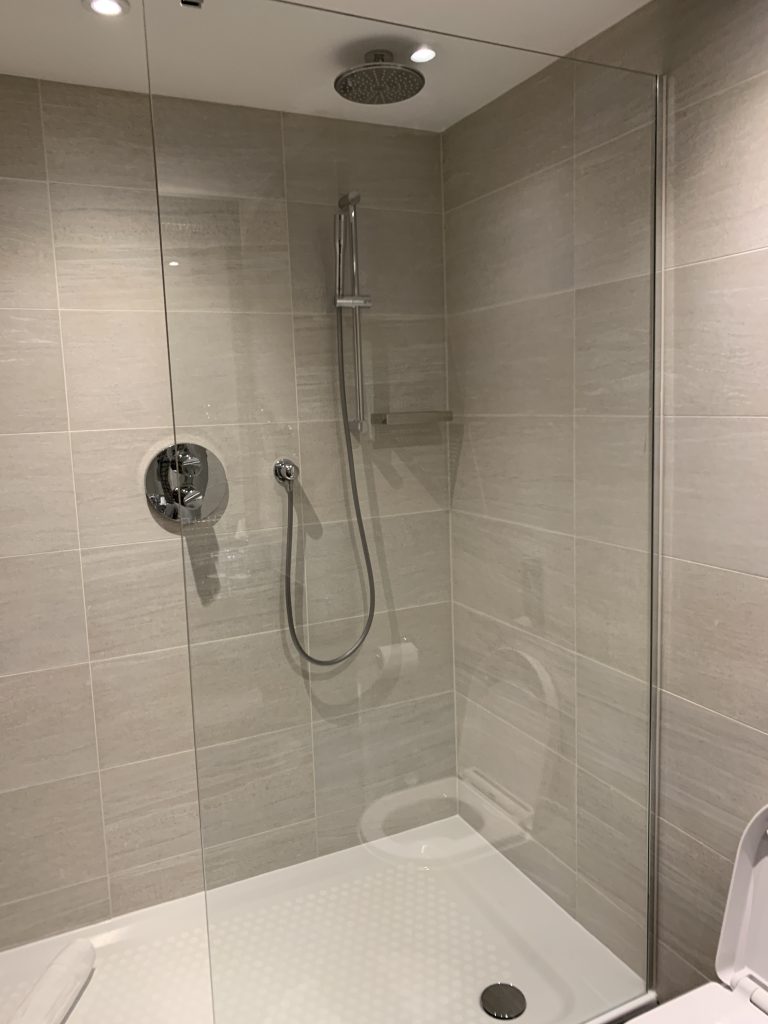 Restaurants and bars

I arrived in the mid-afternoon to avoid rush hour so I thought I would treat myself to a nice dinner in the main restaurant Urban. The restaurant is open for breakfast, lunch and dinner.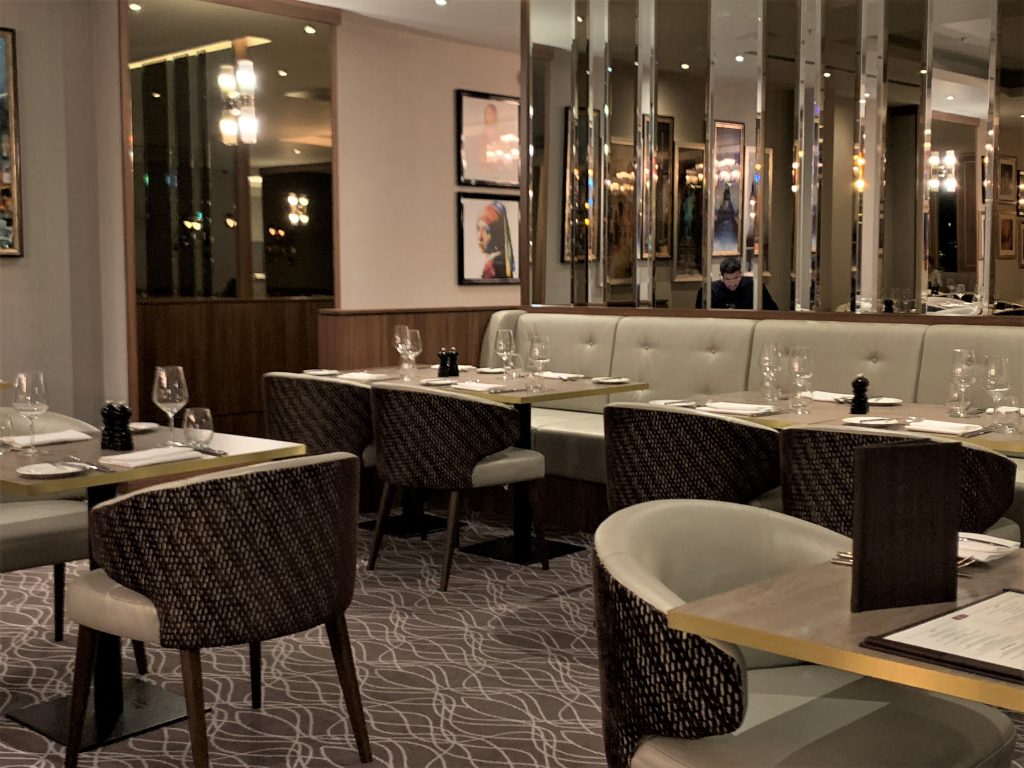 The restaurant feels more upmarket than most airport hotel restaurants and has a pretty varied menu. To start off with I ordered a glass of the house white wine with my voucher and it turned out to be very pleasant. The menu is varied with some fine dining options or a good selection of more casual Asian food. The clientele were nearly all solo business people. Here is the menu: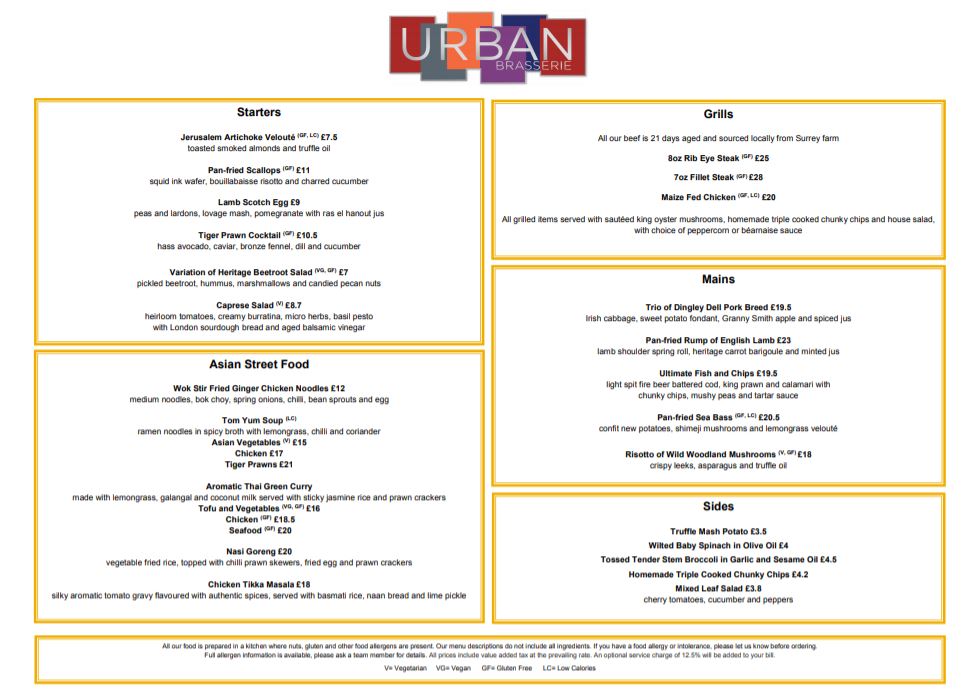 Whilst I was waiting I was given some very good bread and butter.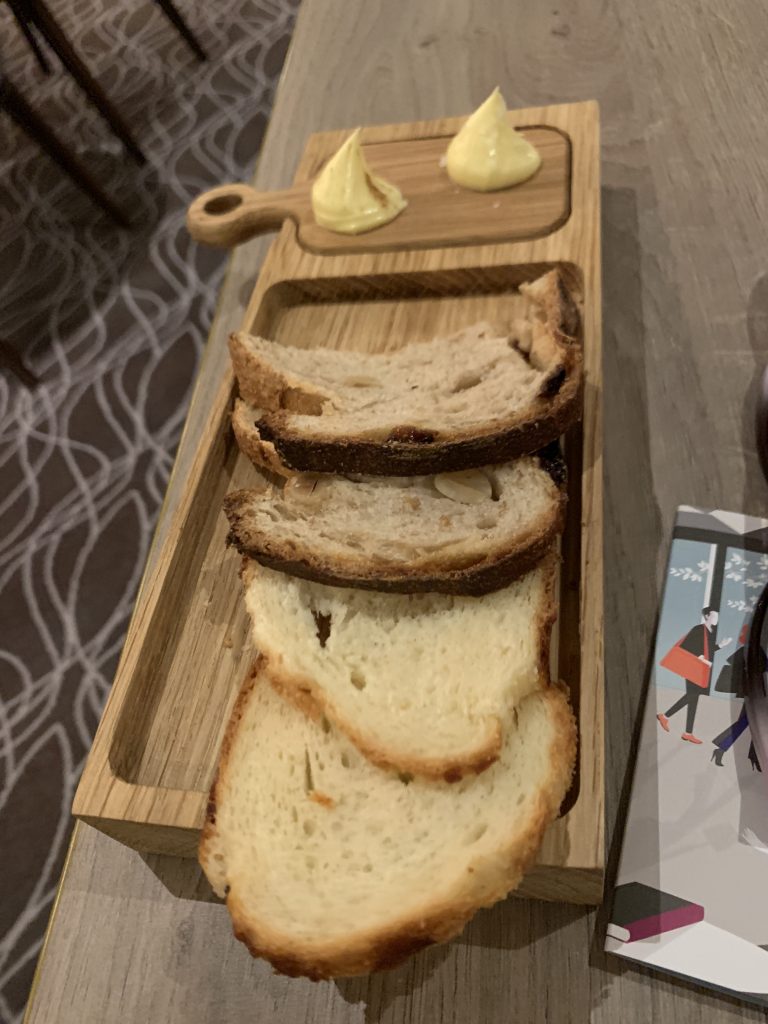 I decided to try out the fine dining side of the menu and started with the scallops with the bouillabaisse risotto. When it arrived it looked lovely but I did find it a little disappointing. The scallop was not cooked very well as it was undercooked which made it a bit slimy in texture. The risotto had a good depth of flavour but I found the dish a bit overly salty between the squid ink wafers and the risotto.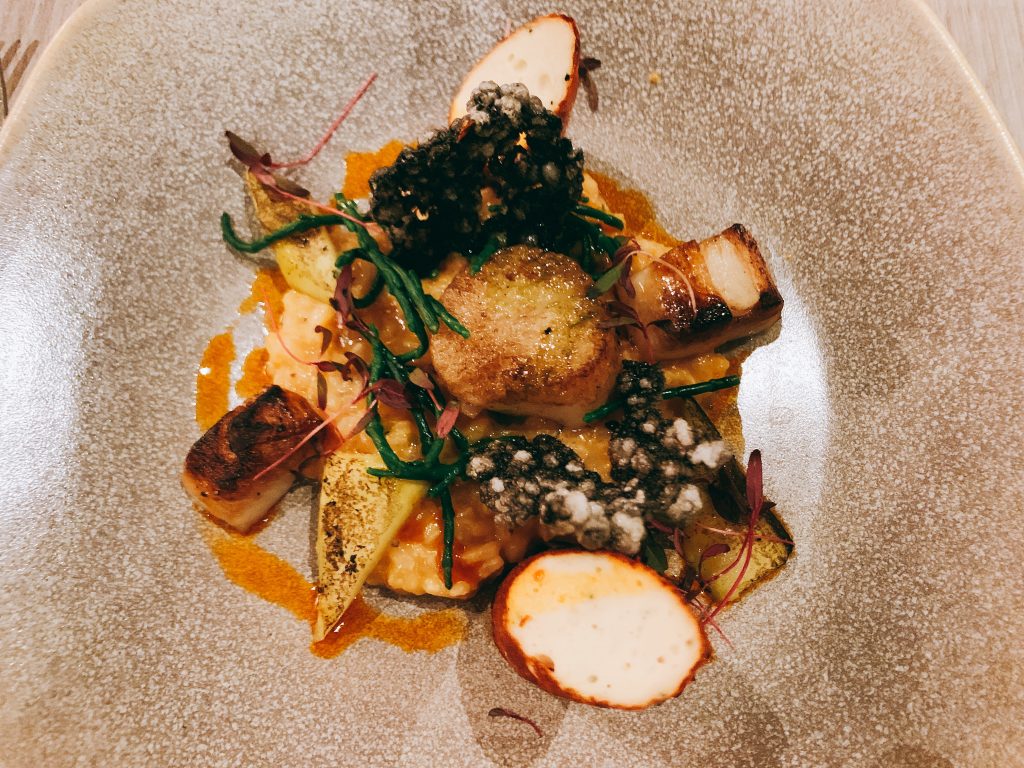 For the main course, I went for the pan fried sea bass. This, however, was excellent. The fish was perfectly cooked, the confit potatoes and potato straws gave the dish some texture and the lemongrass veloute lifted it up from being too bland.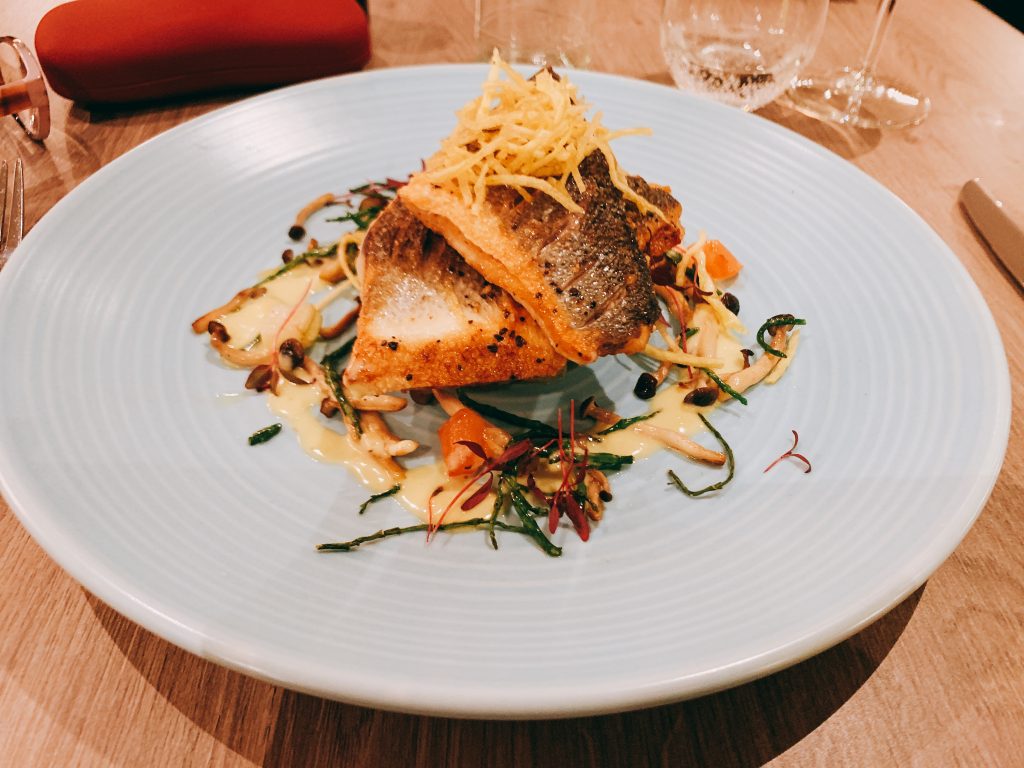 I declined dessert and asked for the bill. This is where the service broke down as it did take quite a while to actually get it. Service is added to the bill automatically which I actually prefer though I thought 12.5% was a little cheeky.
I also popped into Destinations bar for an after dinner drink and again I thought it looked very upmarket and modern. The barman was great and swiftly removed the service charge from the bill as I had walked to the bar to order it myself! The alcoholic drink prices weren't outrageous for a Heathrow hotel but they weren't cheap either. The worst thing was £5 for a large bottle of water!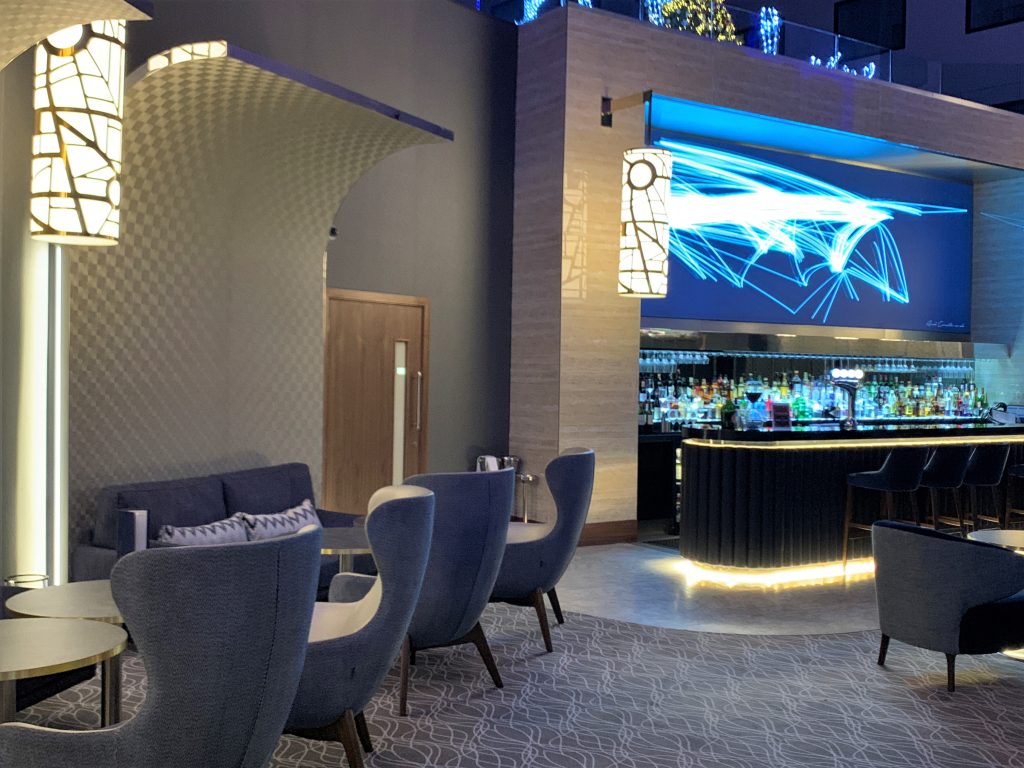 In the main reception area, there is also a cafe/bar which serves coffee and cakes as well as drinks.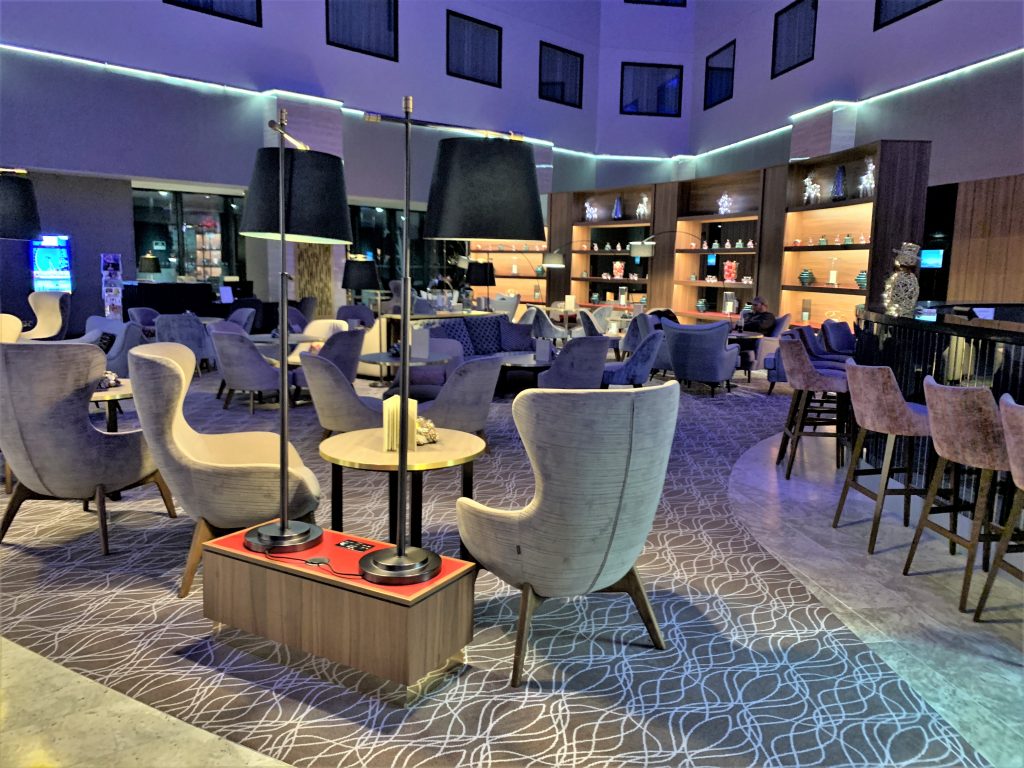 Other facilities
There is a 24-hour gym but currently no Executive lounge. There will be a lounge that is due to open in January 2019. Next, to the entrance to the hotel, there is also a shop selling essentials and a few souvenirs.
Conclusion and pricing
Up until now, my favourite Heathrow hotel has always been the Sofitel at T5. I actually thought this was pretty much on a par with that in terms of the room and dining but substantially cheaper. There are less bar/dining options but I enjoyed my meal in the restaurant and the bar was definitely as nice as the Sofitel one. I thought the room was better than Sofitel as obviously it was brand new although I would have liked a bath as well. I only paid £86 for my room as there was an IHG sale plus I got a discount for being a member of IHG Rewards. Rooms generally start at around £100 per night. Given how expensive the Sofitel can be this was excellent value for money. You can also book a room on points for 20,000 IHG reward points.
You can find the latest prices and more information on the Crowne Plaza T4 website here.