BA changes baggage policy
British Airways have changed their baggage policy on mixed class bookings with immediate effect, although this will only apply to new bookings.
Up until yesterday, 18 October, when a BA customer travelled on a return or stopover journey in mixed cabins, the Most Generous Allowance (MGA) applied for baggage ie. a customer travelling outbound in World Traveller, but returning in Club World would receive the Club World baggage allowance on both sectors. With no warning, BA have changed this to:
If you have a ticket where the outbound is in a different class to the inbound or vice versa, you will only get the baggage allowance for the actual class you are travelling in, whereas previously you would get the higher baggage allowance for both.
For example, Reader A recently wrote in about his flight to Seoul where he is travelling one way Club and return in economy. As he booked before 18 October he will still get the Club baggage allowance for the whole journey. If he was to make the booking today, he would only get the economy allowance for the return flight.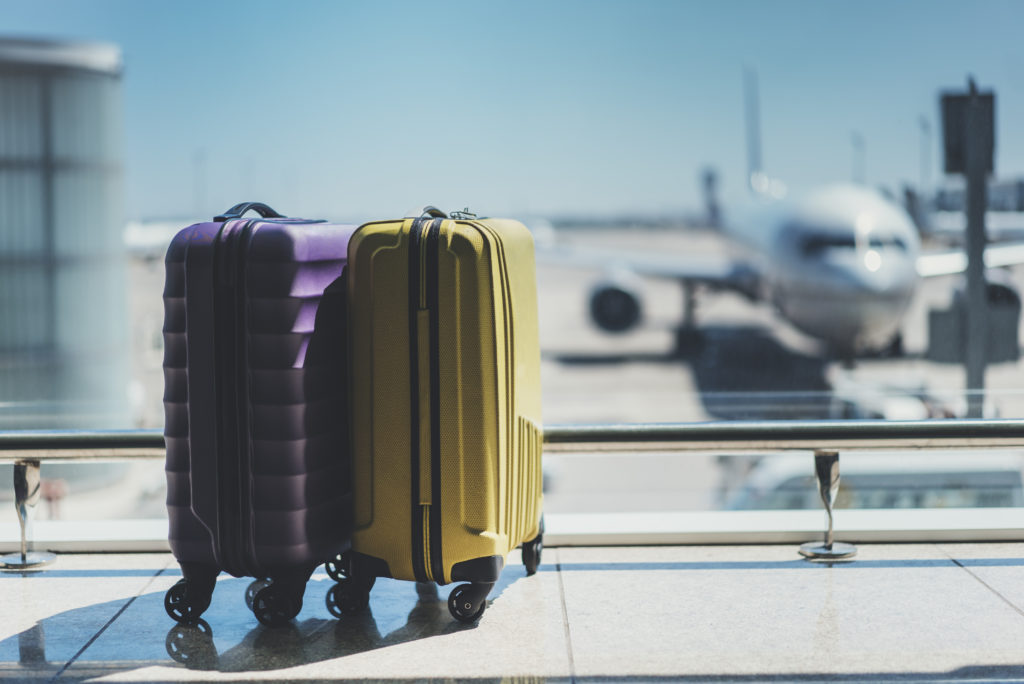 The good news is that it doesn't impact connecting flights providing you don't have a stopover of more than 24 hours. Therefore if Reader A were to book now to fly Dublin-Heathrow in economy connecting onto the Seoul flight in Club, he would get the Club allowance for the entire outbound journey. This is provided the gap between the Dublin and Seoul flights is less than 24 hours and it is all on one ticket.
The change will impact all new bookings made on/ after 18 October 2017 and applies to:
All BA flights (short haul and long haul)
All BA branded bookings (BA, City Flyer, Openskies, Comair, Sunair)
Airport upgrades on/after 18th October 2017.
Obviously, if you have silver or above status it probably wouldn't matter as much since you get:
Silver member
checked baggage allowance of two pieces in economy for everyone on your booking (except on hand baggage only (Basic) fares)
a weight allowance of 32kg (71lb) per checked bag in any travel class for everyone on your booking
Gold member
an additional free checked bag in any travel class for everyone on your booking (except on hand baggage only (Basic) fares)
a weight allowance of 32kg (71lb) per checked bag in any travel class for everyone on your booking
The official BA baggage page has been updated to reflect the changes here.
Qantas Heathrow lounge & first B787 business class pictures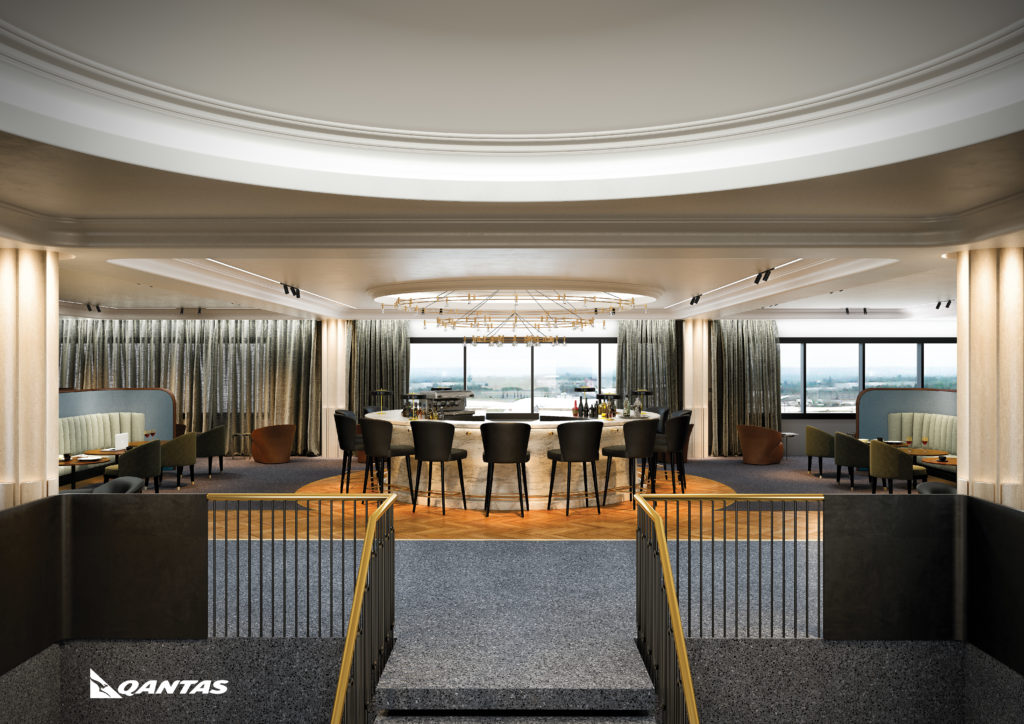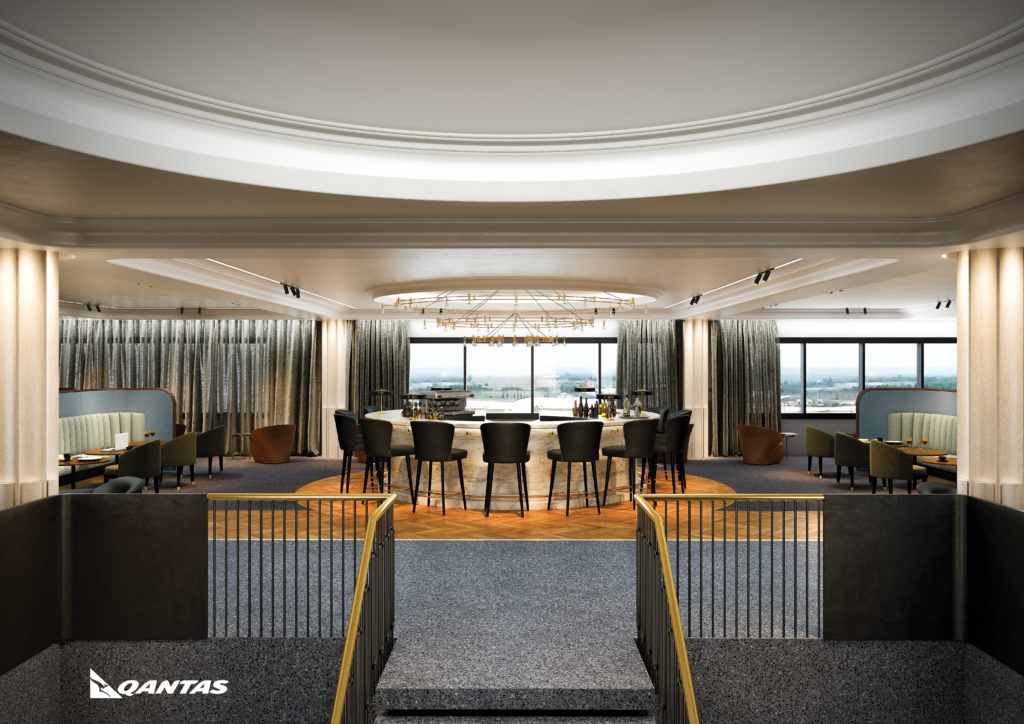 If you have travelled through Heathrow's T3 recently you may have spotted the hoarding for the new Qantas lounge as you enter the lounges corridor. This was originally planned to open in Spring this year but had been delayed.
If you are travelling with any oneworld airlines from T3 such as BA, Qantas, Cathay, American or Finnair you can use any of the oneworld lounges according to the class you are travelling in or your oneworld status. I have reviewed all the oneworld lounges in T3 which you can find here. Personally, I think the Cathay lounge will take some beating but the Qantas lounge does look like it could well be a close second. It will feature a Rockpool menu and dining experience plus a full-service bar with Rockpool cocktails.
Qantas has now set a timeframe of towards the end of November for the opening of the lounge but as is usual, no firm date has been set.
B787 Dreamliner for London-Perth-Melbourne route – first look
Qantas recently announced that they will change to the B787-9 on the London to Melbourne via Perth route when it launches. A new QF9/QF10 Melbourne-Perth-London rotation will be replacing the airline's existing QF9/QF10 Melbourne-Dubai-London from 24 March 2018. The first B787 has now been delivered to Qantas allowing us to see the new interiors.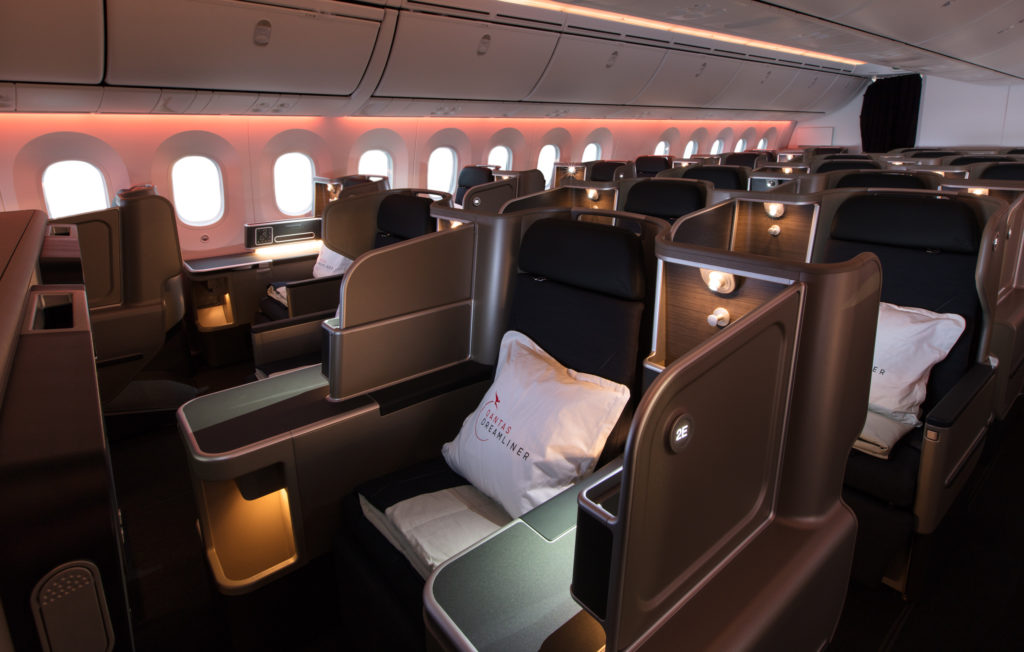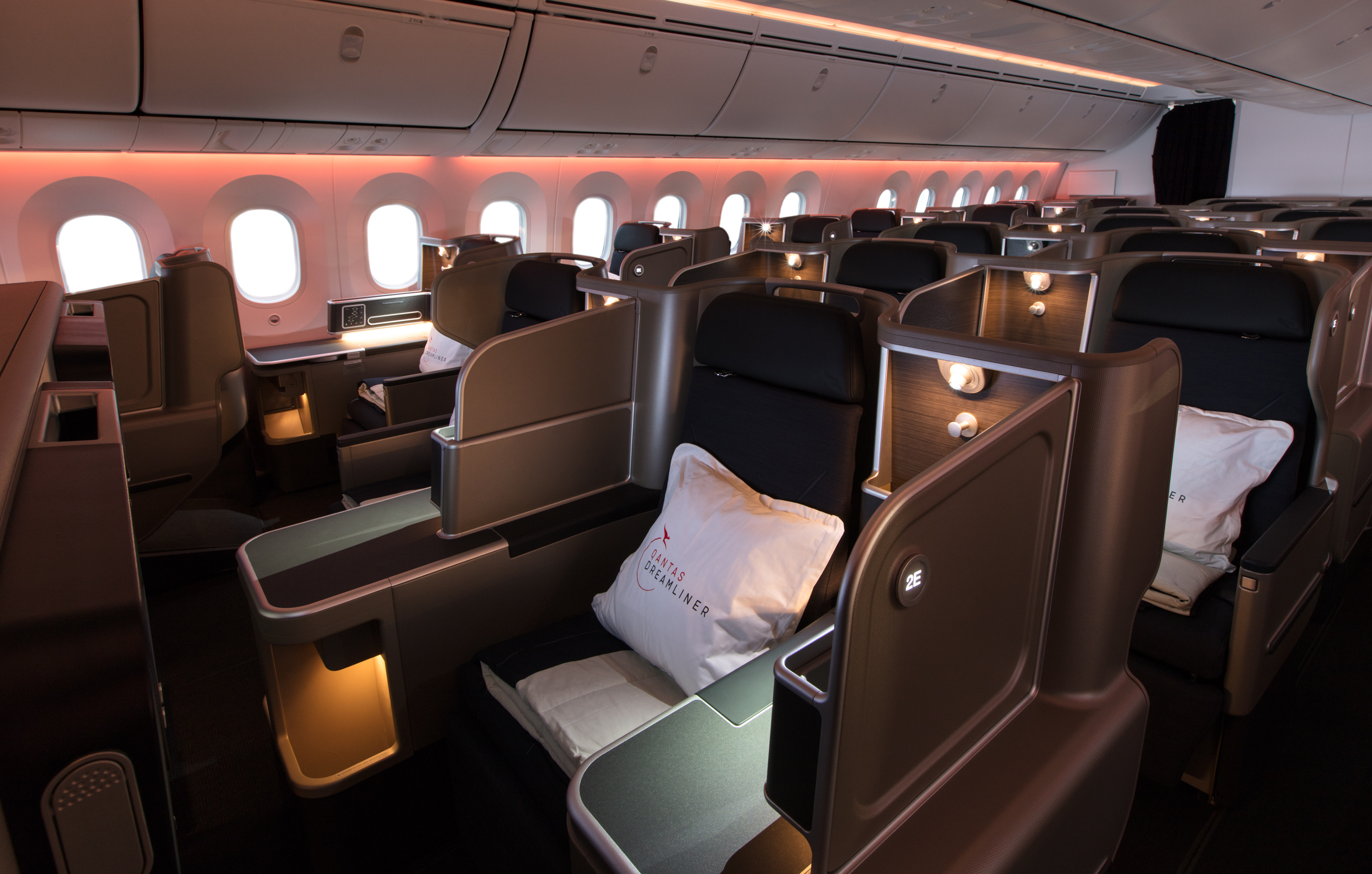 The Dreamliner seats 236 passengers across Business, Premium Economy and Economy cabins in a layout that has been designed to maximise comfort for longer distances.
The Business Suite onboard is the next generation of the seat recently installed on Qantas' Airbus A330 fleet. The seats provide good privacy and on the B787 there is now also the ability to adjust the divider between seats. The seats are in a 1-2-1 configuration, with direct aisle access as well as the ability to stay reclined during take-off and landing.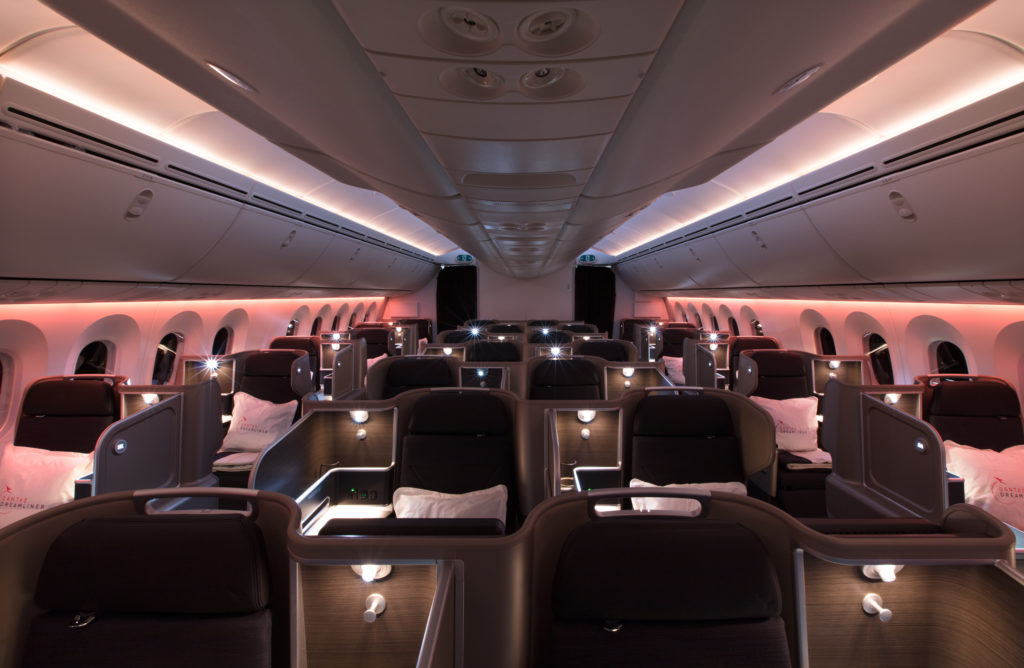 Qantas have also launched new limited edition B787 amenity bags as well as new crockery for the B787 which will eventually be rolled out across all their aircraft. They are currently working with sleep specialists, dieticians and other scientists at the University of Sydney to see how adjustments to their in-flight service could improve wellbeing and help passengers adjust to new timezones.