British Airways is exclusively trialling an automated cocktail maker in its San Francisco and Newark lounges. The San Francisco lounge was recently given a well-needed update by BA which you can read about here. Sadly it won't still be there when I visit with my friend Jersey Girl in a few months (you may have met her at Destinations if you popped by the stand – she was an absolute star helping us out!)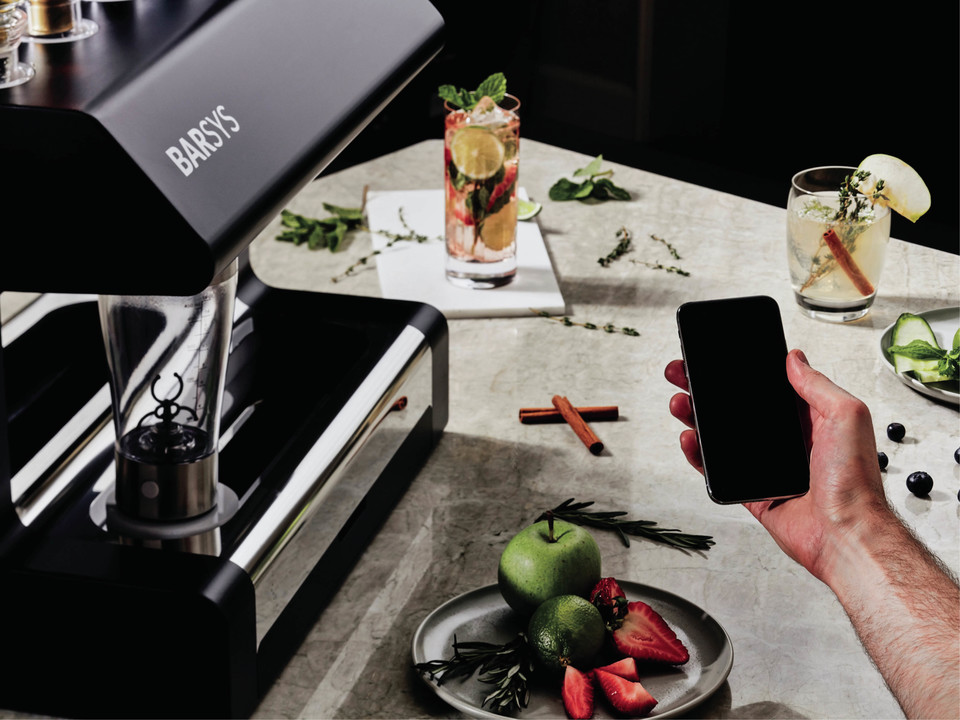 Cocktails are dispensed in under 45 seconds, adding a new dimension to the food and drink available for customers.
Available until March 2020, British Airways' First and Club World customers travelling from San Francisco and Newark will be able to choose from a selection of 30 cocktails and customisable drinks from the robotic device. This includes locally-inspired cocktails that British Airways has created – Silicon Galley and Echo-Whisky-Romeo. The proof will be in the drinking – if the cocktails taste great they should have one in every lounge!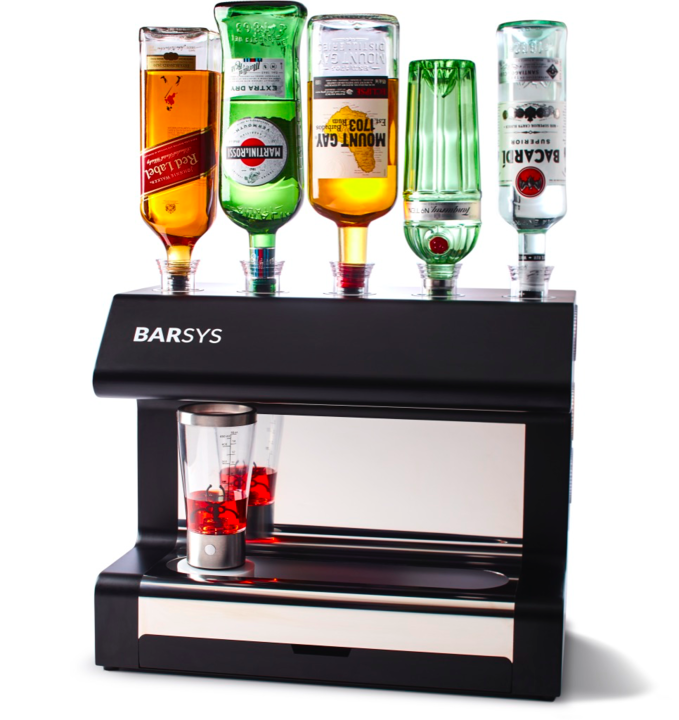 The machine has been created by mix-master Barsys using Artificial Intelligence (AI). As British Airways is the first UK airline to trial the technology, it gives the airline's customers a first chance to try this autonomous machine.
Customers simply order their drink by clicking one button on the app, then place a glass on the conveyer belt and let the AI do the work.
Ricardo Vidal, British Airways' Head of Innovation, said: "We are always looking at innovative ways to enhance our customers' journey on the ground and in the air. Barsys offers a new cocktail experience and what better way to trial this technology than in San Francisco, in our newly refurbished lounge, and Newark, two of the most cosmopolitan and tech-savvy metropolitan regions in the US".

Akshet Tewari, Barsys CEO and Founder, said: "We are so excited to partner with British Airways as we have always felt that an airport lounge was the perfect place to create a unique and fun cocktail experience. We recognise that Barsys will never replace a good bartender but can free them up to make more complicated drinks and interact with customers".
British Airways economy improvements

Whilst we don't feature BA long haul economy much, we know a number of readers have to fly it due to work policies or are happy to on shorter long haul segments. We recently reviewed BA's World Traveller here and one of our comments was regarding the poor quality pillow. BA have announced yesterday that they will be improving their economy amenities.
British Airways has unveiled freshly designed soft blankets and cushions and a new headrest for customers in its World Traveller (long haul economy) cabin. The fresh white headrest covers, a new look bright blue cushion with a classic herringbone design and a new blanket in a super-soft fleece material should be an improvement over the current flat-as-a-pancake pillows!
The items are available on all long-haul flights to and from Heathrow and will launch on all long-haul flights to and from Gatwick on 1 March, 2020.
Blankets that are being replaced will be donated to charities and projects in the UK and overseas.
Qatar's new Singapore lounge – pictures of their stunning new lounge
A special thanks to the lovely readers I met at Destinations 2020 and particularly Roy Barnett & Alex Leong (who is a qualified London Blue Badge guide) who offered us their pictures of the new Qatar lounge at Singapore. There are more details about the lounge in this article.
We were all expecting an identi-kit Qatar lounge the same as London and Bangkok (which are lovely) but Qatar has updated their lounge design to bring a more modern and international look to the lounge in Singapore.
The Martini bar offers a range of cocktails including the A380 signature cocktail that you have to ask for. They are also happy to make other cocktails when they can, even if they are not on the list.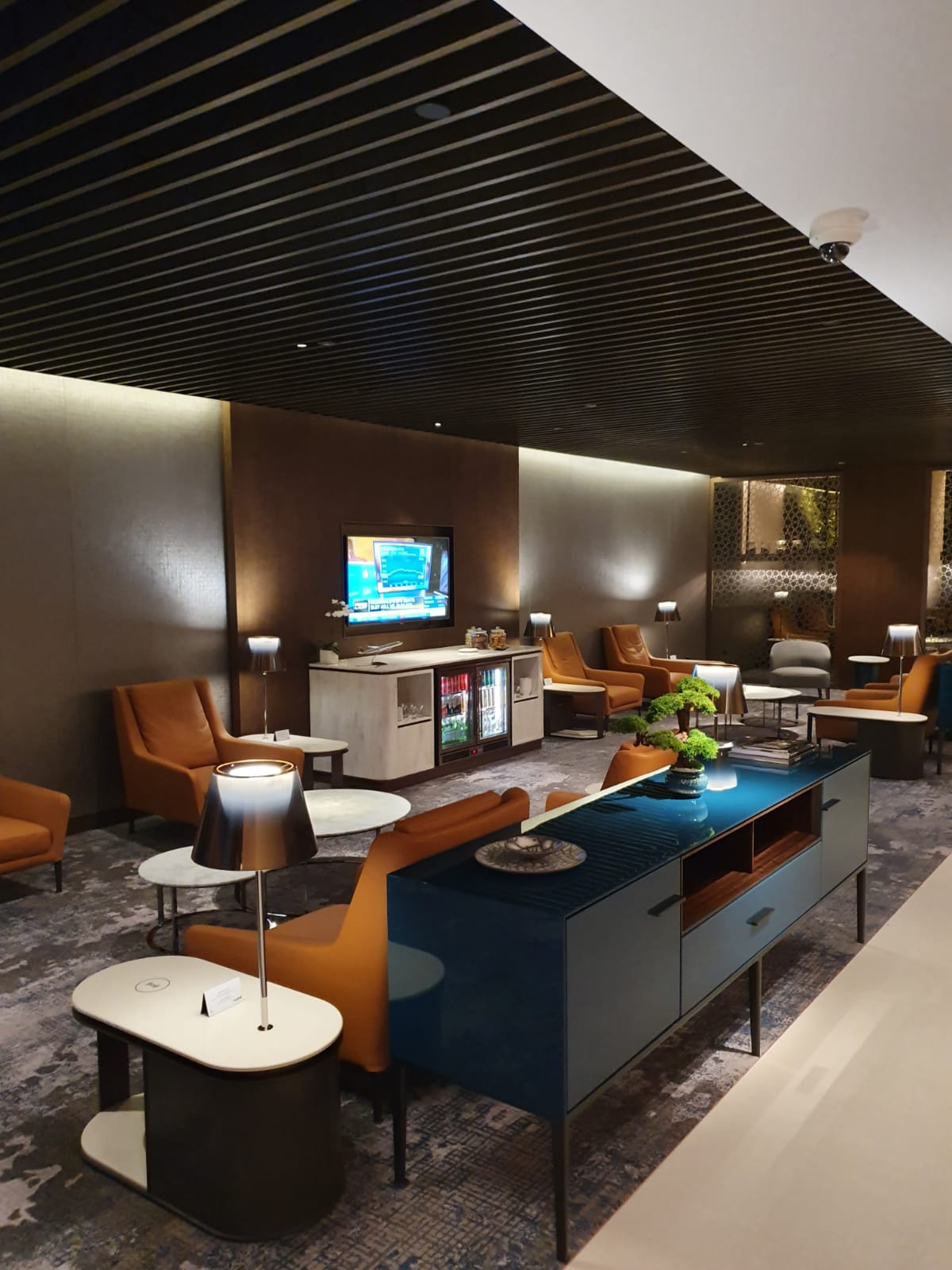 There are two main seating areas with the first (above) having more relaxed low seating with a TV screen and self serve drinks and snacks. Many of the side tables in the lounge have wireless charging for your phones built into them.
The other seating area has some rather garish purple chair which swivels and seems out of keeping with what is otherwise a very elegant lounge.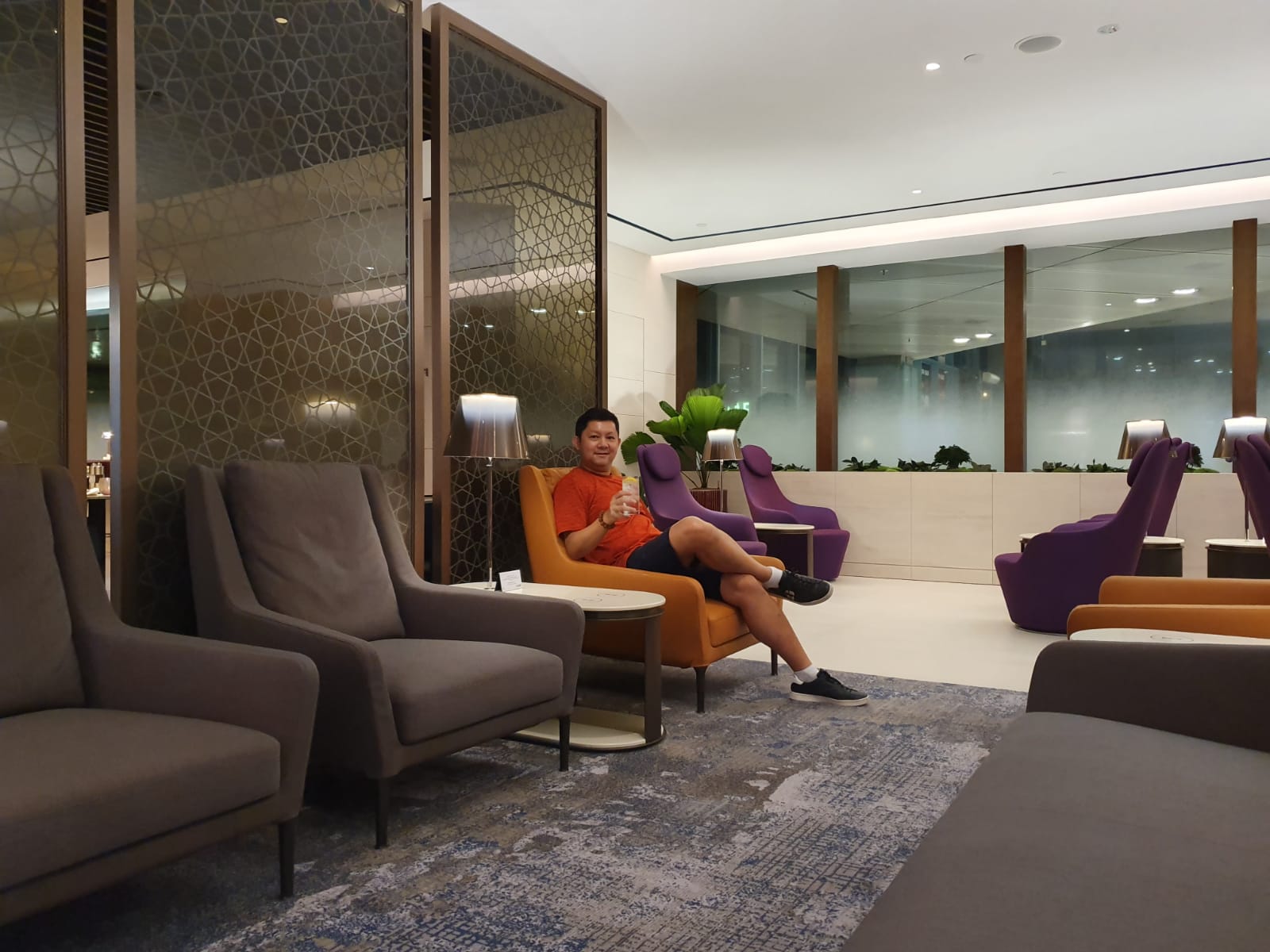 Below are the relaxation pods near the entrance which offer a degree of privacy and come with charging facilities and variable lighting. Sadly there is no footstool in there, just a chair which is a missed opportunity for people wanting to relax.
There is also a separate dining area, The Brasserie, with the signature water glasses from onboard.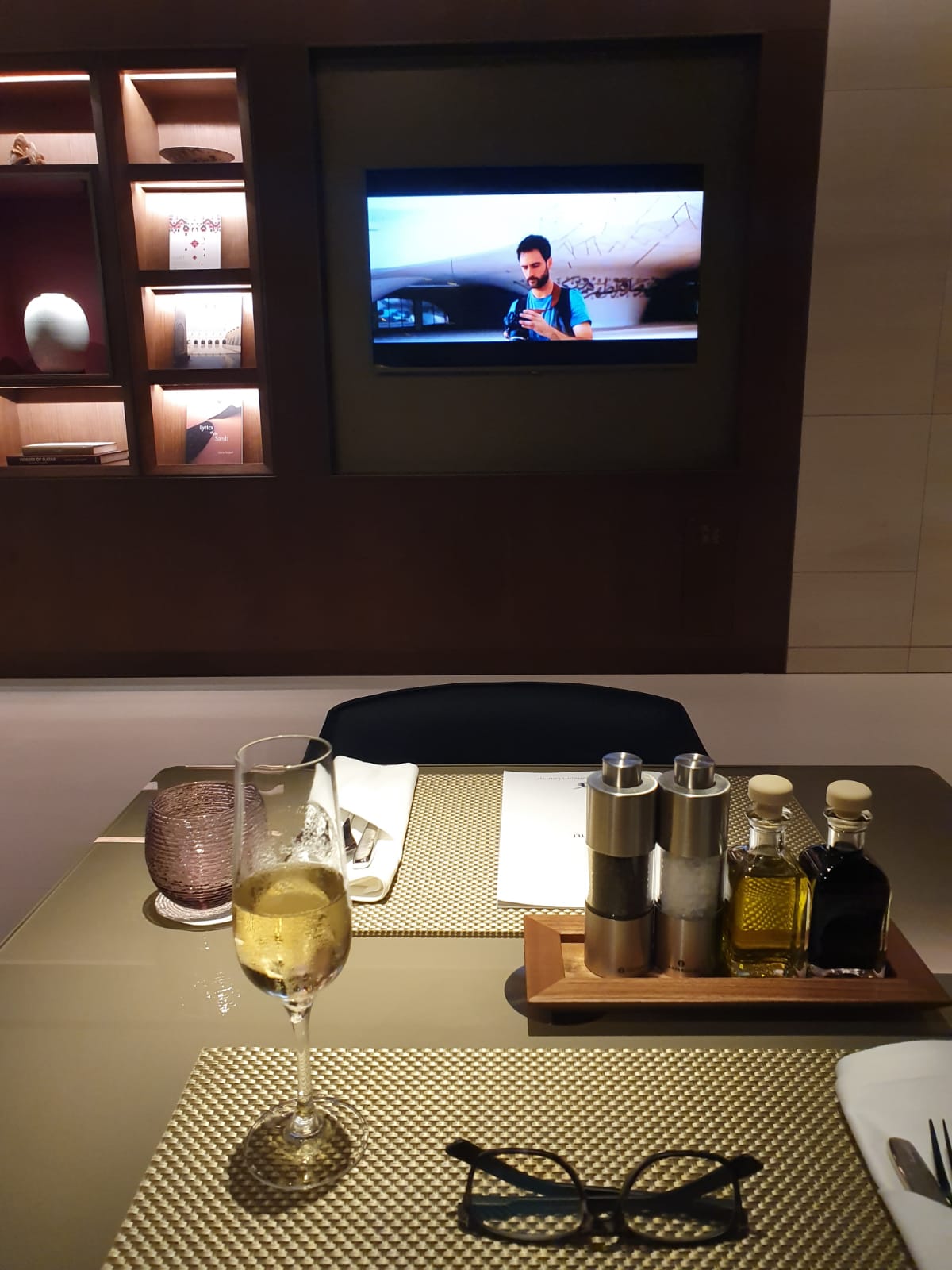 There is no deli counter like other lounges but a small delicious looking salad bar buffet instead. This is in addition to the a la carte menu.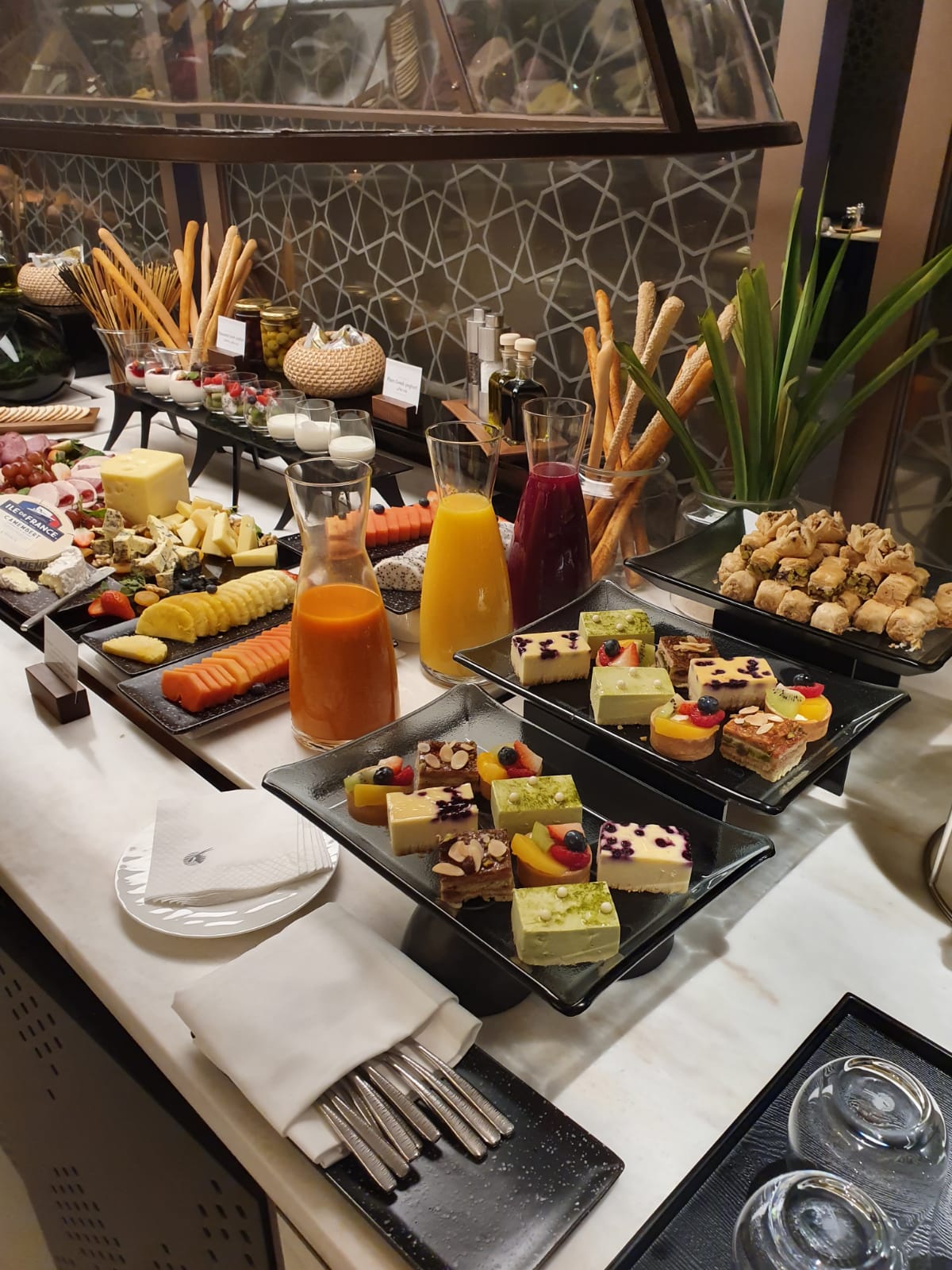 The menu features a separate breakfast menu and then a lunch/dinner menu with lots of tempting sounding options. This includes local favourites such as chicken satay and spring rolls as well as Arabic and international options.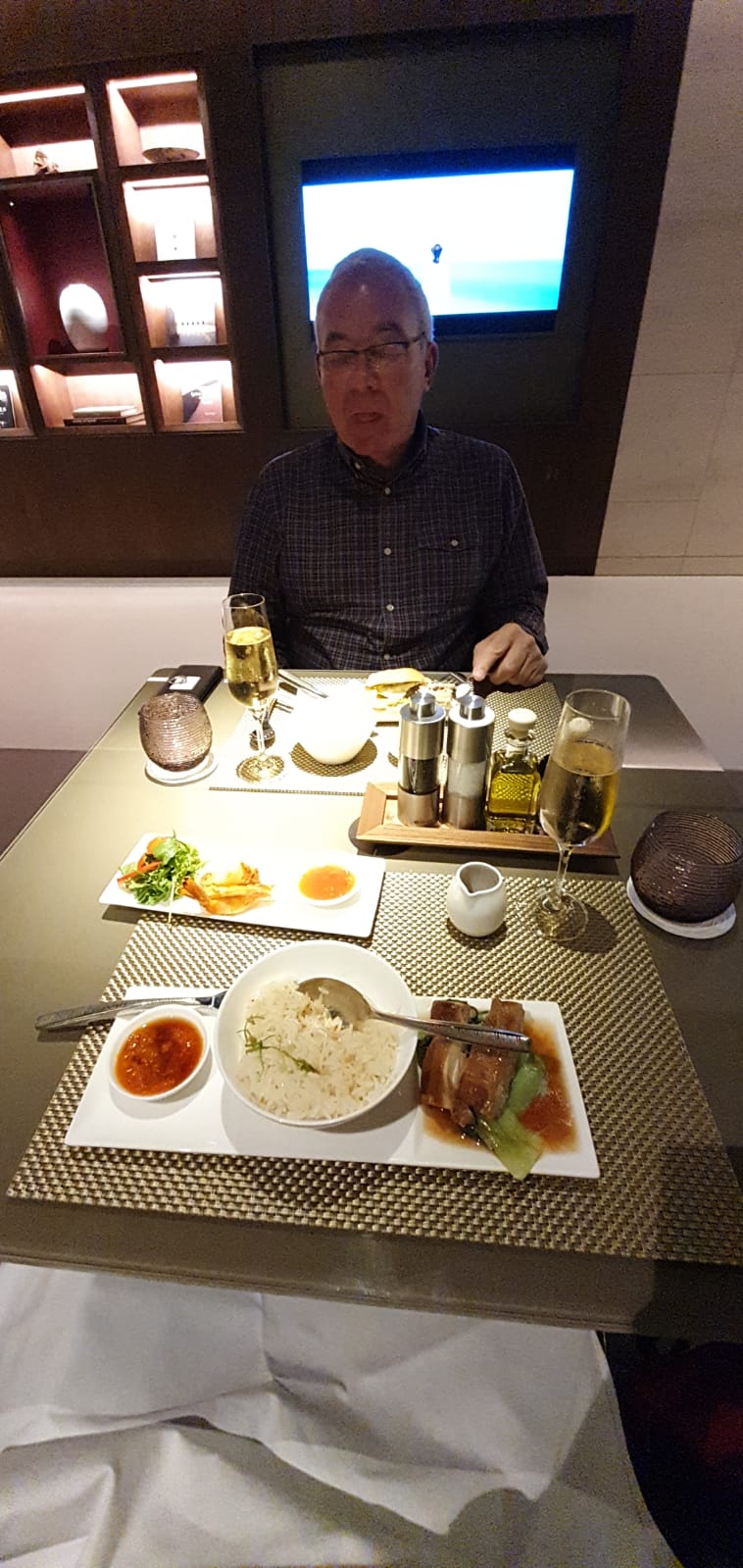 The champagne is currently Veuve Cliquot and Bollinger Rose.
If you want to freshen up there are five shower suites in the main area and two more in each of the ladies and gents toilets. Toiletries are by Diptique rather than the usual Rituals.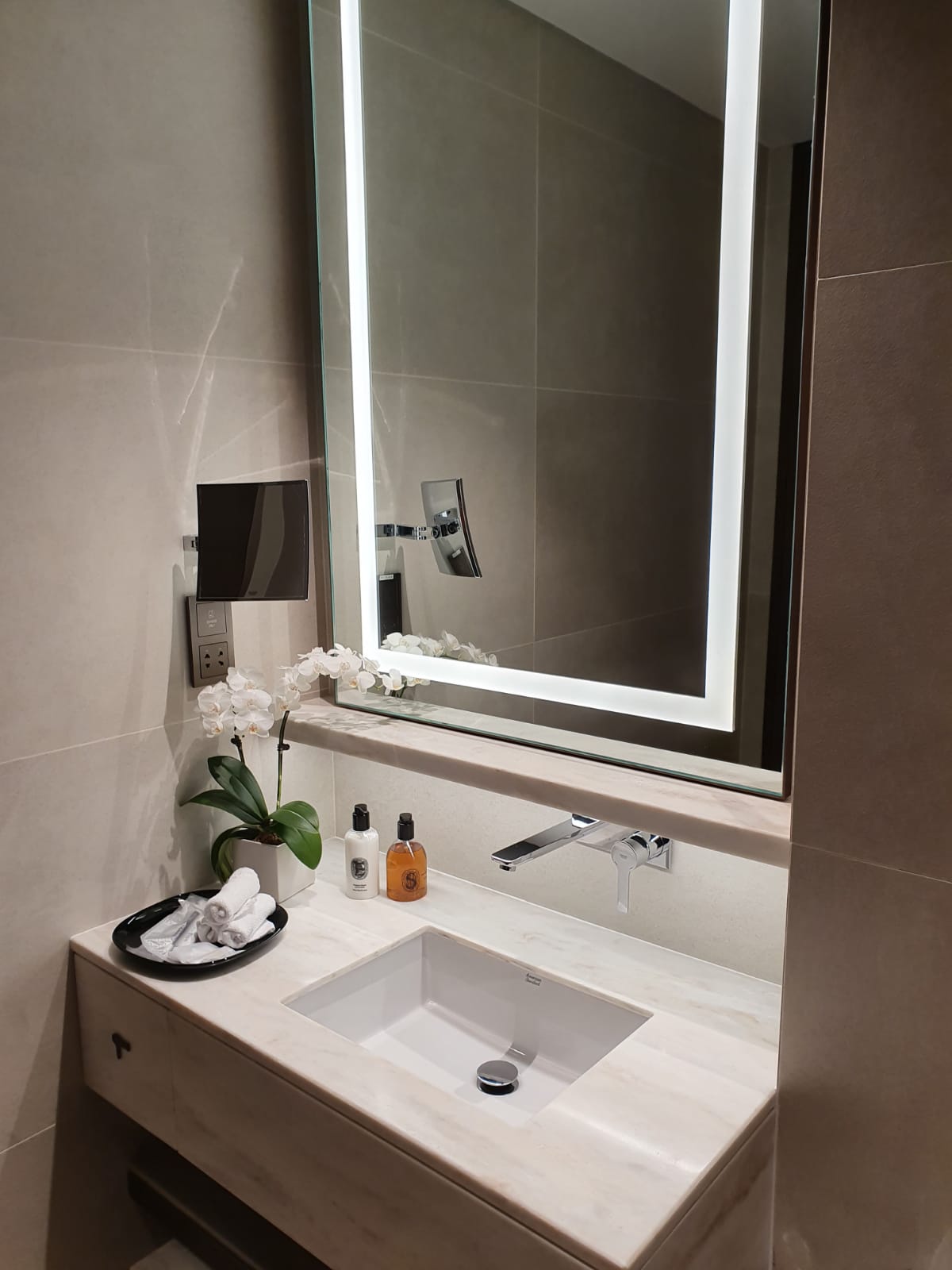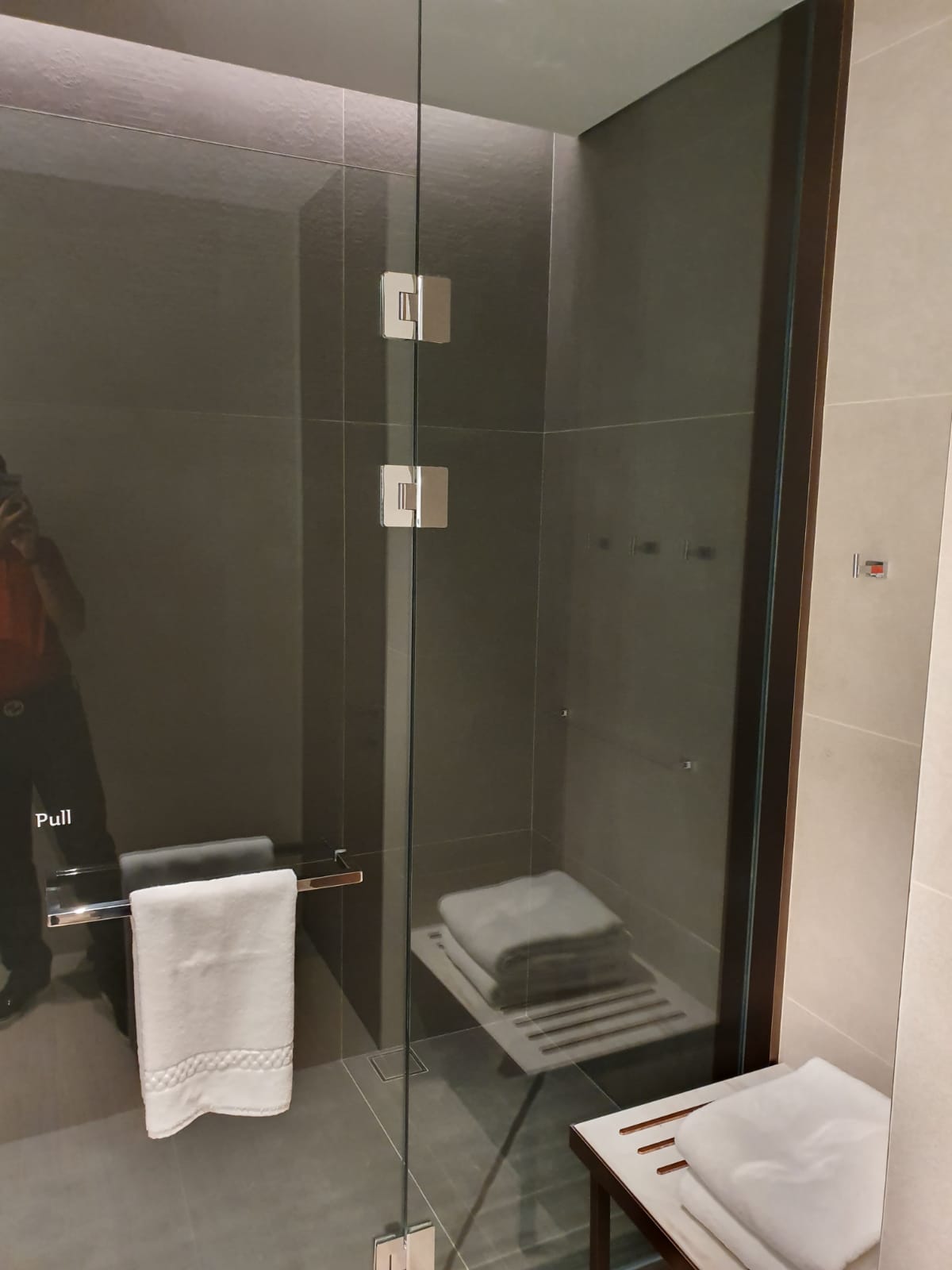 The shower suites have plenty of room and somewhere to put your luggage which is not always the case.
Have you been to the new Qatar lounge in Singapore? Let us know what your thoughts in the comments below or on social media.