British Airways to close Gatwick permanently?
Yesterday I spoke about the 12,000 jobs that BA are talking of potentially losing. This includes amalgamating the three fleets at Heathrow into one, lower-cost fleet for both long and short-haul flights. Pilots are also looking at losing about a quarter of their 4,300 workforce. BA have already closed their operation at Gatwick and Heathrow T3 plus London City airport is currently closed until at least the end of lockdown.
BBC News are reporting that an internal email written by the head of BA's Gatwick operation said:
"As you know, we suspended our Gatwick flying schedule at the start of April and there is no certainty as to when or if these services can or will return."
So does the spell the end for Gatwick? Personally I would be taking any communication to staff with a large pinch of salt. At this point, no one really knows what will happen. As usual, when BA want to make cuts, they will paint a very bleak picture in any staff communications. And yes, it is pretty bleak. However, BA are in a strong position and as yet, are not asking for a government loan.
My predictions are that when borders re-open and it is safe to travel, 2021 (hopefully) will be a busy year for leisure travel. I also believe that business travel will initially be busy as companies will not have been able to do any travelling for so long. Long term I think that business travel will be reduced both due to any financial impact on companies and also as a result of people getting used to virtual meetings.
BA are unlikely to need a terminal 3 operation for some time as frequencies and even routes are unlikely to be the same for many months. Gatwick is a different proposition. Landing fees and operating costs are a consideration compared with Heathrow versus maintaining two separate bases. Gatwick landing fees are around a third of those at Heathrow.
For now, other than BA trying to merge their cabin crew fleets and reducing their overall staffing, I think the rest is still very much up in the air.
Lloyds upgrade voucher extension and cancellations guide

There has been a lot of information about BA vouchers and booking, but little communication has been forthcoming about Avios bookings with a Lloyds upgrade voucher. I was in the position of having one voucher potentially about to expire and one flight booked for June with a voucher. I gave them a call and managed to get through almost immediately to a very helpful agent. The number you need is 0344 49 333 49.
Here is what I have learnt which is pretty good:
If you have a voucher due to expire by 31 May 2020, you can call them and get it extended by 6 months
The expiry date is the date you must book by, not when you have to travel by. You can book up to 355 days in advance.
Be aware, if you do what I did and book something, if you then cancel later when things have returned to normal, you will lose the voucher.
However, you could change the booking for the usual fee
If you have an existing booking up to 31 July 2020, their policy is much more generous than BA
You can cancel for a refund of the fees and Avios, plus get your voucher back with 6 months validity
Refunds are taking at least 28 days (they were always slow at the best of times)
And finally…. the green shoots of air travel are emerging

There are a lot of negative articles around at the moment. Rather than focusing on yet more stories of 4-hour check-ins for flights and having to wear masks etc, I thought I would focus on something more positive. Yes, we know it's not safe to travel right now but with countries such as New Zealand and China getting their epidemic under control and many countries in Europe easing lockdown, we can see light at the end of the tunnel.
Firstly, according to new analysis from Cirium , there has been an increase in global passenger flights over the last week. Europe and the UK are some time behind Asia and the Pacific in their management of the crisis. However, Asia-Pacific countries such as China are beginning to relax travel restrictions. On April 28, 2020, a 4% increase in scheduled passenger flights flown was recorded when compared to April 21, 2020. This marks the first positive value for Ciriums 'seventh-day-prior' rolling indicator since March 5, 2020.
Cirium analysis also shows that 130 passenger jets were added to the active global fleet since yesterday. This takes the overall proportion of stored aircraft down to approximately 62% of the global fleet or 16,300 aircraft.

There is also an interesting prediction of when travel is likely to return done by tourism consultancy Twenty31, for Tourism Industry Association of Canada.IT is very simplified but it shows my general thinking that we are looking at September onwards for any type of recovery. Some countries in Europe such as Greece are pushing to open more quickly, but it will depend if all EU countries agree to reopen at the same time. Not mentioned in the flight is that fact that from tomorrow 1 May, Wizz Air flights will resume from Luton to some airports in Hungary, Romania, Serbia, Slovakia, Portugal, Spain and Israel.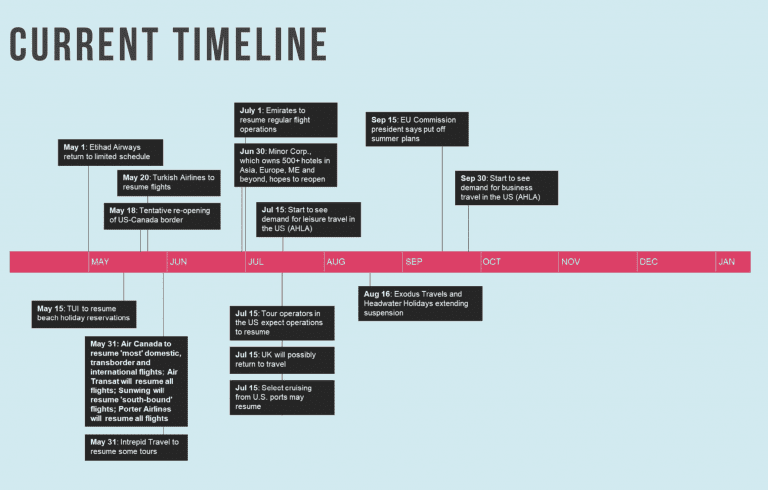 HT: Skift