British Airways – Offers to pay people to not use the lounge
Yesterday, it was reported on Flyertalk that British Airways has been paying people not to use the Galleries First Lounge due to overcrowding. It looks like there were a number of delays and cancellations, which made the lounges particularly busy, so BA decided to try to deter people from entering by offering an incentive. Technically, they could just turn you away, as it does state that entry is subject to capacity.
However, I think this is a much better idea than simply turning someone away. At £30 per person, that is enough to have a decent drink and snack at one of the restaurants, which will probably be more pleasant than an overcrowded lounge. I'd certainly take it.
What do you think? Would you accept the £30 rather than go in an overcrowded lounge?
New Group 0 boarding and how BA boarding should be
I recently took my 6th and 7th short haul flights with American Airlines in the last few months and was reminded how they manage to make boarding seem so effortless compared to the general chaos that seems to apply on most BA flights. The main thing that stuck out is that the gate agents do not muck about, and Americans generally respect that. I think we are just too nice in the UK! The first calls that went out were for anyone who wanted to gate check luggage to come forward and warning that those in group 8 and 9 would face forfeiting their luggage because they had 15 cases too many. Then, when they did not get enough volunteers, they simply called groups 8 and 9 to the desk and took any wheelie bags after checking nothing essential was in them.
When boarding started bang on time, they called each group one by one with enough time for those people to actually get to the gate before they called the next one. Anyone who tried to chance it was very firmly rebuffed. BA really iritate me when they call groups 1-3 together. There's a massive surge towards the gate by about half the plane at this point. They also often don't enforce it when people go through in an earlier group.
The reason why there should be separate groups is because most people in the exit row/bulkhead will be in group 1 and need to get on first because you have to put all your luggage in the lockers. Plus, the more people you call in one group, the more chaotic it gets and the more pointless groups are. All but one of my AA flights had everyone on board well before the departure time, so they are obviously doing something right!
For long haul, I'd like to hear more regular announcements and updates from the gate staff as people just mill around the gate area entrance, making it hard to get to the gate when you are called. I'd like them to repeat the group numbers when they call them as often people miss it the first time and then just surge forward without knowing what for! It would be good if they allowed each group to start lining up ahead of time to make it less of a battle to try to get to the gate before they start the next group. Allowing enough time for each group to get into the queue before they call the next one would also be good. Since you inevitably end up queuing on the jet bridge, it would not make any difference to the amount of time it takes.
How do you think BA could improve boarding? Let us know in the comments below.
Group 0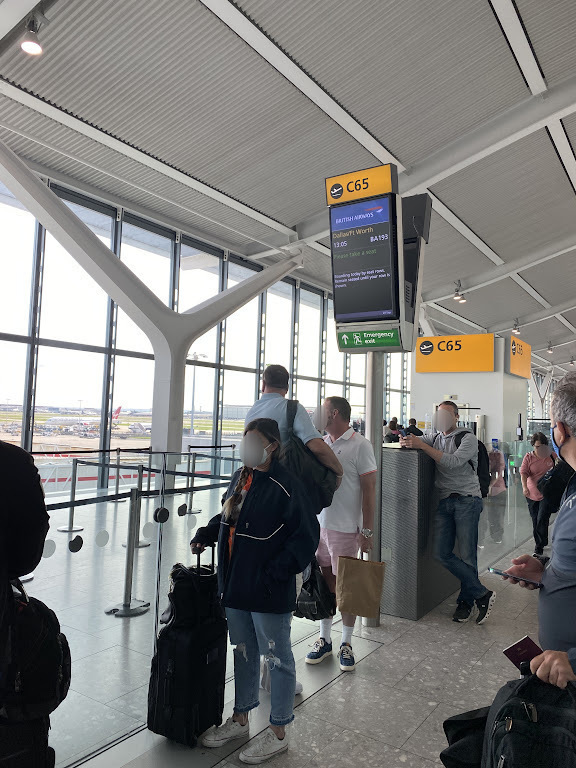 BA is now introducing Group 0 for Gold Guest List members on select routes starting from 12 September 2023. To access this you will need to present your Gold Guest List membership card to the gate agent. This can be your physical or digital membership card. After my experience at the weekend when I updated my app and was then shown as Gold on the digital boarding pass, just when I was trying to access the Chelsea lounge, I'd advise keeping your physical card with you or taking a photo of your card. I have no idea why BA can't have the add-to-wallet function on the card since nearly every other loyalty program manages it.
Your boarding pass may still show 'Group 1' but you will be eligible to use Group '0' boarding. Apparently, there are plans to change the boarding passes to group 0 in the future.
The following routes currently offer Group '0' boarding:
London (LHR) to New York (JFK)
London (LGW) to New York (JFK)
London (LHR) to Boston (BOS)
New York (JFK) to London (LHR and LGW)
Boston (BOS) to London (LHR)
This service will be on British Airways operated flights only.
Personally, I would welcome it far more on short haul, as getting locker space on long haul is far less of an issue in the higher boarding groups. Although it should make for a less chaotic experience. I'd also suggest it should be extended to first class passengers as they are only a small number of extra people.