Competition winner
If you still had your hopes pinned on winning the BA Silver competition, I'm afraid we found the elusive Michael G who was delighted to find out he had won a British Airways silver card. Michael said
"Thanks to Michele and Turning Left For Less for the terrific info on the site, and now also for upgrading my British Airways flying experience. When I'm back in the air and enjoying the sights and sounds of Europe, I'll be enjoying an enhanced time because of your kind gesture!"
British Airways reintroduces more routes
I have already covered quite a lot of information about BA's upcoming schedule, but BA have released all the routes in one press release which is worth a recap. There is not much information about the actual frequency of the flights but I will post them once I get more detail.
BA will return to more short-haul destinations by the end of July, including Austria, Bulgaria, the Czech Republic, Croatia, Denmark, France, Germany, Greece, Hungary, Iceland, Ireland, Italy, Kosovo, Morocco, Norway, Portugal, Spain, Sweden, Switzerland and Turkey. Domestic flights will resume between London and Belfast, Inverness, Jersey, Manchester, Newcastle and Newquay and the airline will move to double daily services to Edinburgh and Glasgow.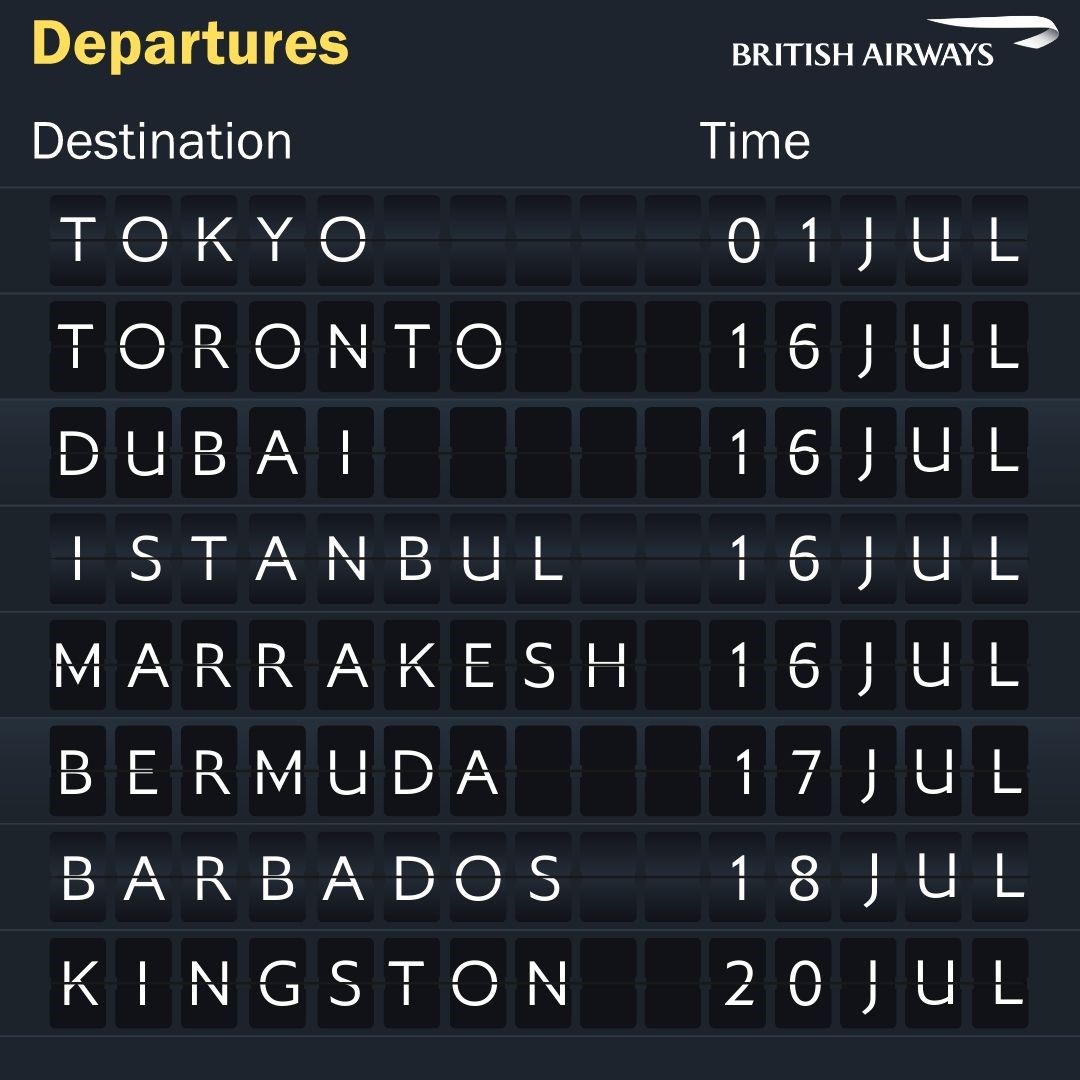 British Airways will also return to a small number of its normal long-haul routes by the end of July. Services will resume across the Americas including flights to Bermuda, Dallas, Miami, Seattle and Toronto. These join flights to San Francisco, which restarted in June along with destinations served throughout, including Boston, Chicago, Los Angeles, New York (JFK) and Washington, with a very reduced schedule. The Caribbean will also see British Airways return from July to Barbados and Kingston. You can find specific details on the Gatwick flights here.
Joining Hong Kong and Singapore in the Far East, BA will restart flights to Haneda in Japan.
Finally they will also start a brand new service from London City to Belfast from 1 September filling the void left by FlyBe. Flights will operate one round trip a day except Saturdays.
Qatar expands its routes with 11 more destinations to restart
Qatar Airways launched 11 more destinations on Wednesday, its largest single day of restarts, in what Qatar Airways has dubbed 'Take-off Wednesday'. By mid-July, the airline's network will expand to over 430 weekly flights to more than 65 destinations with the addition of flights to the following destinations:
1 July:
Bali Denpasar (daily flights)
Beirut (seven weekly flights)
Belgrade (three weekly flights)
Berlin (three weekly flights)
Boston (five weekly flights increasing to daily from 1 August)
Edinburgh (three weekly flights)
Larnaca (three weekly flights)
Los Angeles (three weekly flights, five weekly from 17 July and six weekly from 1 August)
Prague (three weekly flights)
Washington DC (five weekly flights increasing to daily from 1 August)
Zagreb (three weekly flights)
4 July:
Toronto (three weekly flights, new destination)
9 July:
Ankara (three weekly flights)
11 July:
Zanzibar (four weekly flights)
13 July:
Kilimanjaro (three weekly flights)
15 July:
Bucharest (four weekly flights)
Sofia (four weekly flights)
Venice (three weekly flights)
Qatar Airways continues to work closely with governments around the world to resume commercial flights in line with entry restrictions. The airline is hopeful further commercial flight restrictions will be eased throughout July, with the carrier planning to resume almost two-thirds of its pre-covid19 network by the end of the month. The airline expects its number of flights to almost double in July with close to 3,500 flights scheduled, compared to just under 2,100 in June.
They have also announced further safety measures onboard including the mandatory wear of visors as well as face masks. You can read more about it here.
Iberia announces July and August destinations

Iberia recently revealed that they would be getting rid of all the A340s as a reaction to the reduced demand. Yesterday they announced that they plan to start flying internationally again this month.
Here is the schedule until September: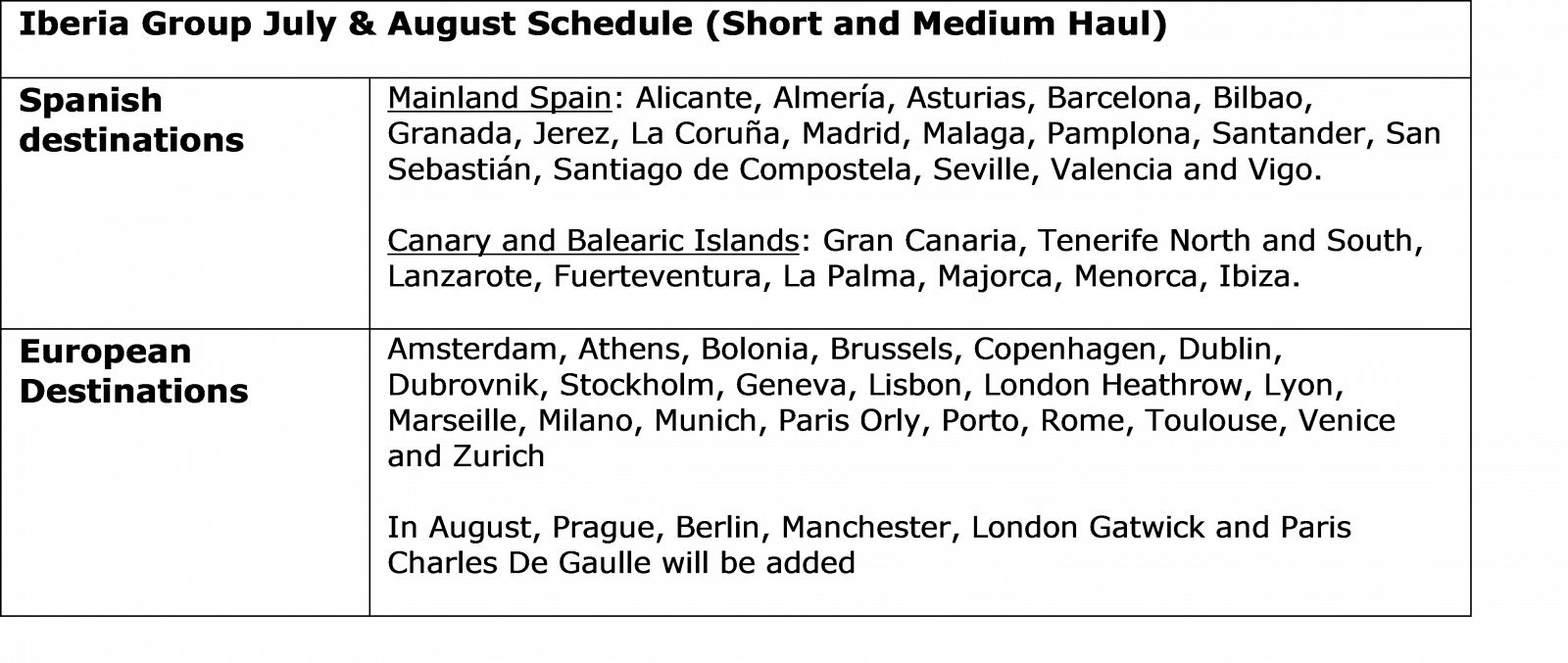 As per other airlines, Iberia have also confirmed the requirement to wear a mask onboard and that there will be a simplified food and drink service.