Heathrow strike talks restart
Today talks have resumed between Heathrow and the Unite union who are representing security guards at Heathrow's T5. I previously reported that talks had broken down and there were no further meetings planned. I'm sure there has been some serious pressure from BA to sort the issue out seeing as they are Heathrow's main airline and are the airline that will be heavily affected by the strike.
The strike is due to start tomorrow 31 March and continue until 9 April. It mainly affects T5 but other terminals may be shorter of security staff than usual due to moving them over to T5.
According to aviation analytics firm Cirium, these are the figures of how many flights the strike will impact of it goes ahead:
During the strike period (31 March – 9 April inclusive), Heathrow is scheduled to see 6,253 departures – equating to over 1.3 million seats
British Airways had been scheduled to operate 3,185 departures from Heathrow Airport* during the strike period (51% of LHR services) – equating to nearly 650,00 seats
However, in the last week, this figure has dropped to 3,106 departures (excluding last minute cancellations) – equating to a loss of over 12,700 seats
Edinburgh is projected to see the highest number of BA flights during the strike period (103 departures), followed by Glasgow (78), Barcelona (75), Amsterdam (72), and New York JFK (70).
*Including Terminal 3 and Terminal 5
British Airways will close First wing security during strike
BA has released information for passengers travelling during the strike period. You can find the page here.
Check-in will open 3 hours before departure for long-haul flights and 2 hours before departure for short-haul flights. BA are asking people to minimise their hand baggage and not to arrive before check in opens. You can check-in your hand baggage allowance free of charge by visiting the check-in desks or self-service bag drops. The First Wing will be closed, and Fast Track will be reduced. I can imagine a lo of very fed up people who have paid thousands to fly business class or even first and end up having to queue for a long time in the general queue. However, BA has no control over the security staff as they are provided by Heathrow.
The wording is very ambiguous on the BA page as it says, " the number of security lanes in operation will be reduced" before then saying the first wing will be closed. It is not clear if that means the whole first wing or just security there. I'd hope it is just security, but we will find out tomorrow.
New Virgin menus

Virgin Atlantic will launch its new Spring/Summer menu across all cabins from 5th April with its catering partners Gate Gourmet.
New additions to the Upper Class menu include lobster and crab tortellini, vegetarian poke bowl and a Pimms summer pudding.
The extra bites menu also has some new dishes with a club sandwich, filled with applewood cheese, house slaw and seasonal leaves on brown bread served with salted crisps. An aloo tikki is also available, with pepper pakora with tomato and onion salad, accompanied by sweet tomato and chilli chutney For those with a sweet tooth, a new strawberries and cream flavour of Northern Bloc ice cream will also join the menu.
Virgin Atlantic has also announced it will feature the rosé wine, Whispering Angel, for six months from 5th April. BA recently introduced this to their lounges. So now may be a good time to buy some shares in Whispering Angel (owned by LVMH). From the same date, Upper Class customers will also have a new teetotal option with teapigs peach iced tea, an all-natural blend of peach with teapigs' black tea base.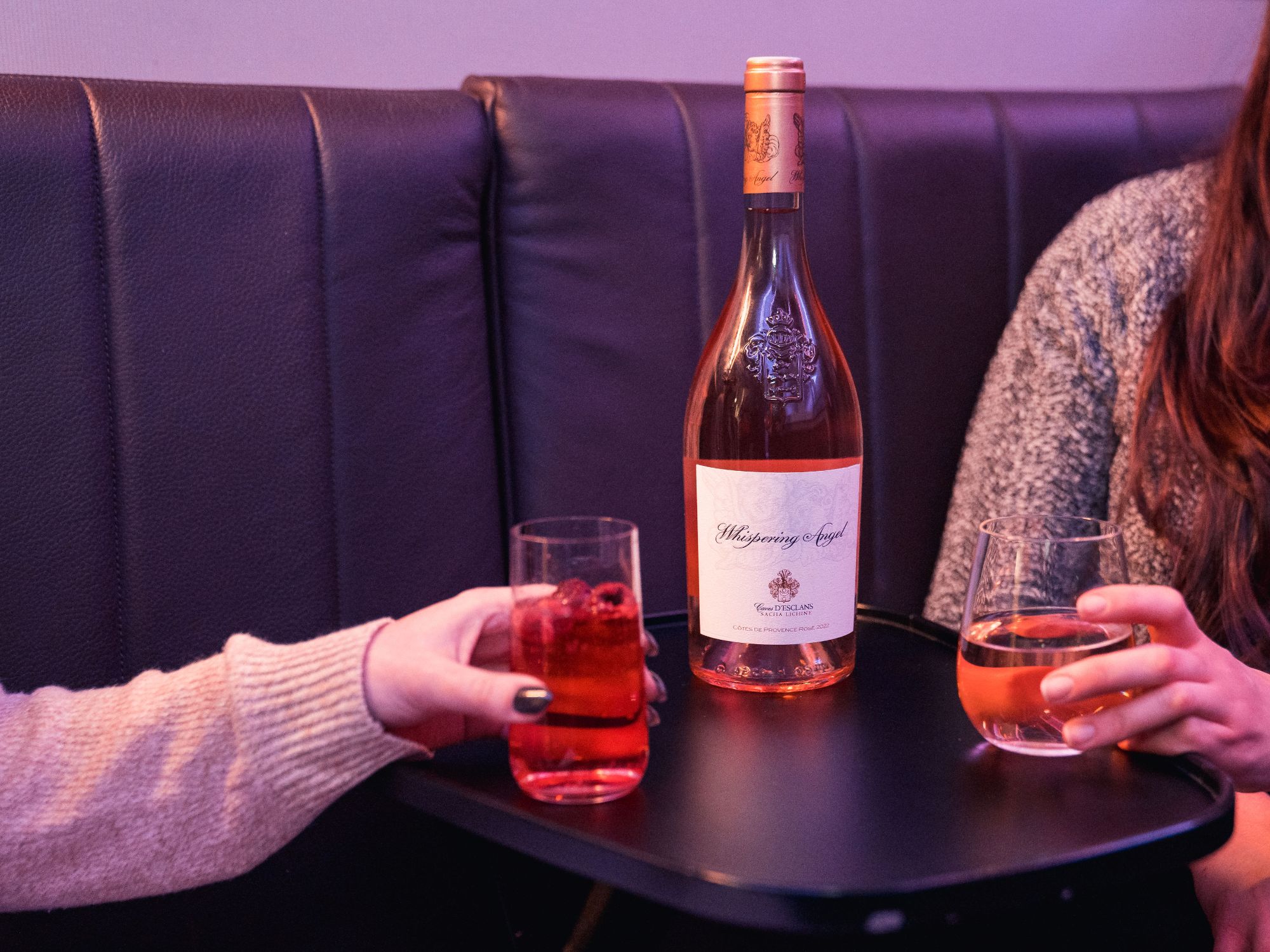 Premium economy's menu has also had a makeover with chicken pie and spinach & ricotta tortellini with sage butter sauce, roasted pumpkin and caper panko crumb. A passionfruit and mango cheesecake garnished with coconut is on offer for dessert. Honey barbecue chicken thigh with Portuguese rice and steamed vegetables will be served in Economy alongside a farfalle pasta in a spinach ricotta cheese and roasted garlic sauce.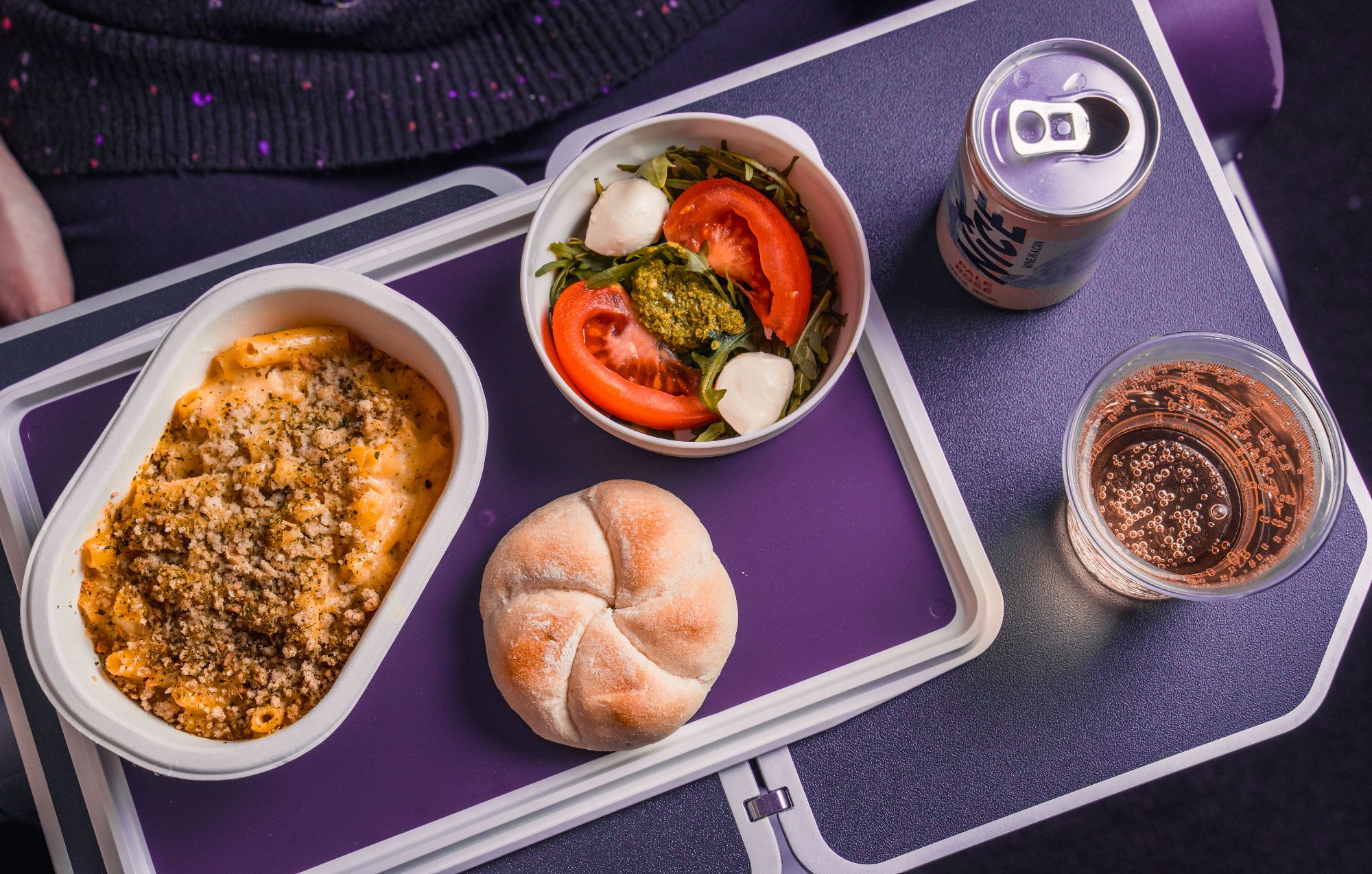 Virgin Atlantic will mark the King's Coronation too. Customers in Upper Class on 6th May will be welcomed with a mini bottle of Lanson Black Label champagne to toast to the new King. From 6th-8th May, customers in all cabins on flights departing the UK for the US and Caribbean will be treated to a packet of specially created Joe & Seph's Kings Coronation raspberry and white chocolate coated popcorn.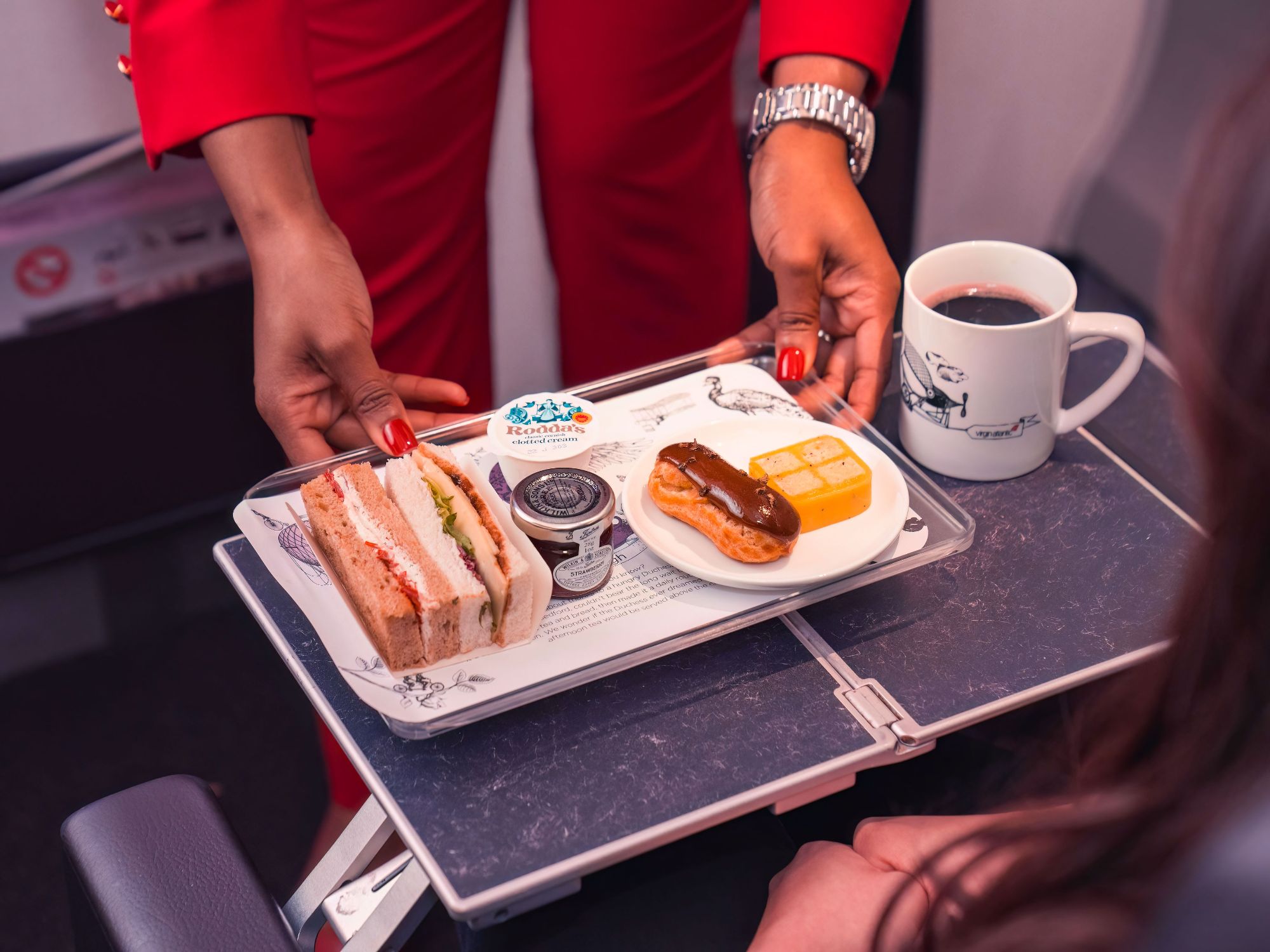 The airline will also fly a special Mile High Tea in Upper Class and Premium over the weekend in honour of King Charles. It will include three finger sandwiches with fillings of dill cream cheese and roasted peppers, cheddar cheese, pickle and mixed leaf and vegetarian coronation chickpea. Sweet treats include a warm scone with clotted cream and strawberry jam, and a trio of mini patisseries; a raspberry and rosewater macaroon, a calisson white chocolate and earl grey ganache, and a red, white and blue Battenburg.
Last but not least, Virgin Atlantic has also announced a fresh food partnership with Full Circle Farms in its London Heathrow Clubhouse. The community farm brings small scale, regenerative farming processes to West Sussex and will provide a variety of fruits, vegetables and herbs to the airline's Clubhouse menu. Not only are the Full Circle Farms pioneering leading processes to ensure no pesticides or herbicides are used, but they are also run by community volunteers who use the farm as therapy. People working on the estate range from those with autism who are gaining their farming qualifications to veterans with PTSD who have been prescribed farm work by their doctors. The Clubhouse will have Full Circle fresh produce integrated by July.