It's a Barbie world…
Virgin Atlantic have announced that it has teamed up with Barbie to show girls a variety of careers in STEM science, technology, engineering and mathematics) and aviation and remind them they can be anything. Virgin and Barbie created three one-of-a-kind dolls to celebrate the partnership; pilot, engineer and cabin crew. Current statistics from the Women's Engineering Society indicate that only 12% of the UK engineering workforce is female and similar statistics show that only 4.3% of UK pilots are women, with the aviation sector in particular dominated by men. Newer readers may not know that I was originally an Air Traffic Controller before I started this blog. When I first joined as a trainee, only about a quarter of new recruits were women.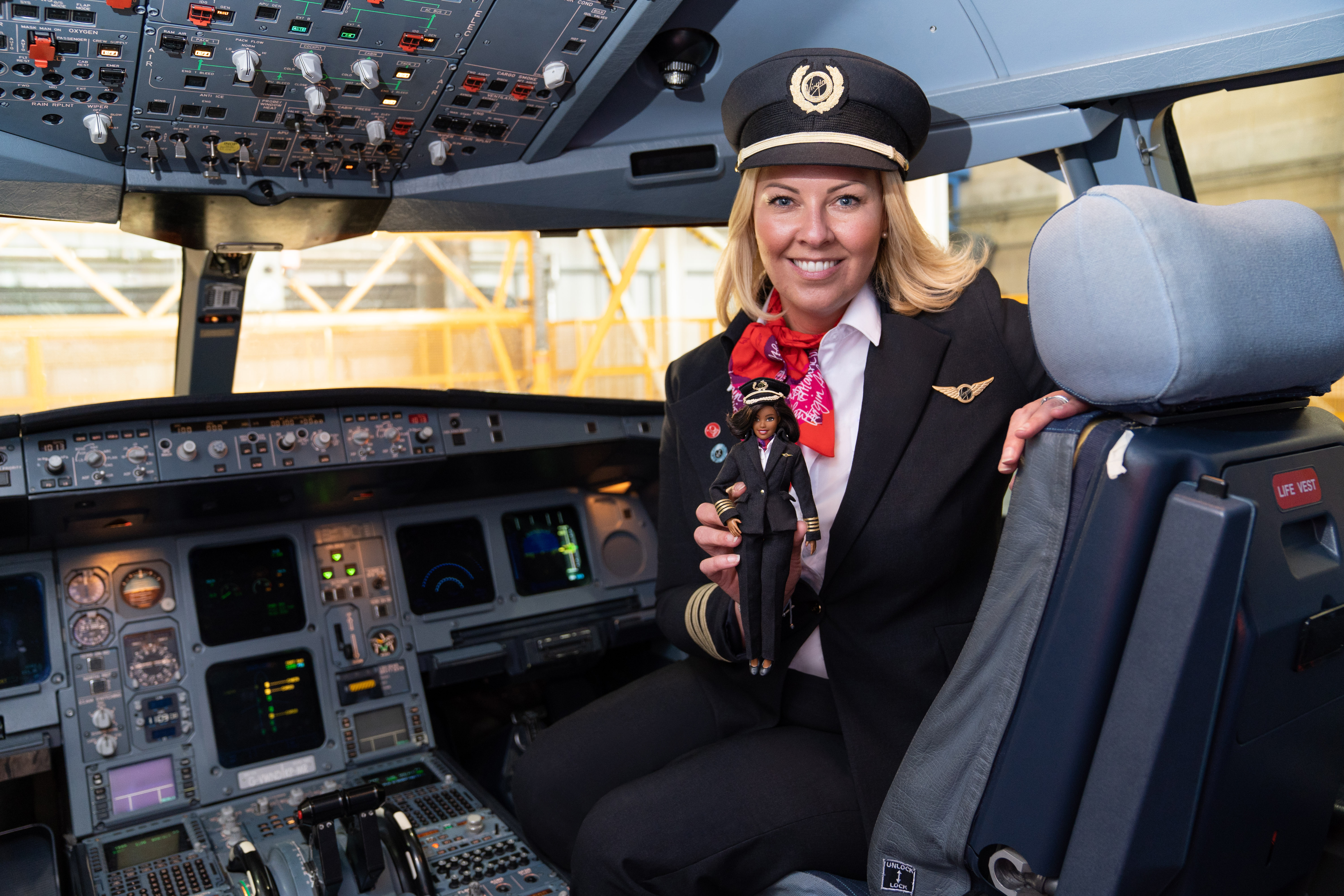 Barbie has had over 200 careers throughout her history, and in the brand's 60th year, three Virgin Atlantic careers join the ranks to inspire girls to believe anything is possible.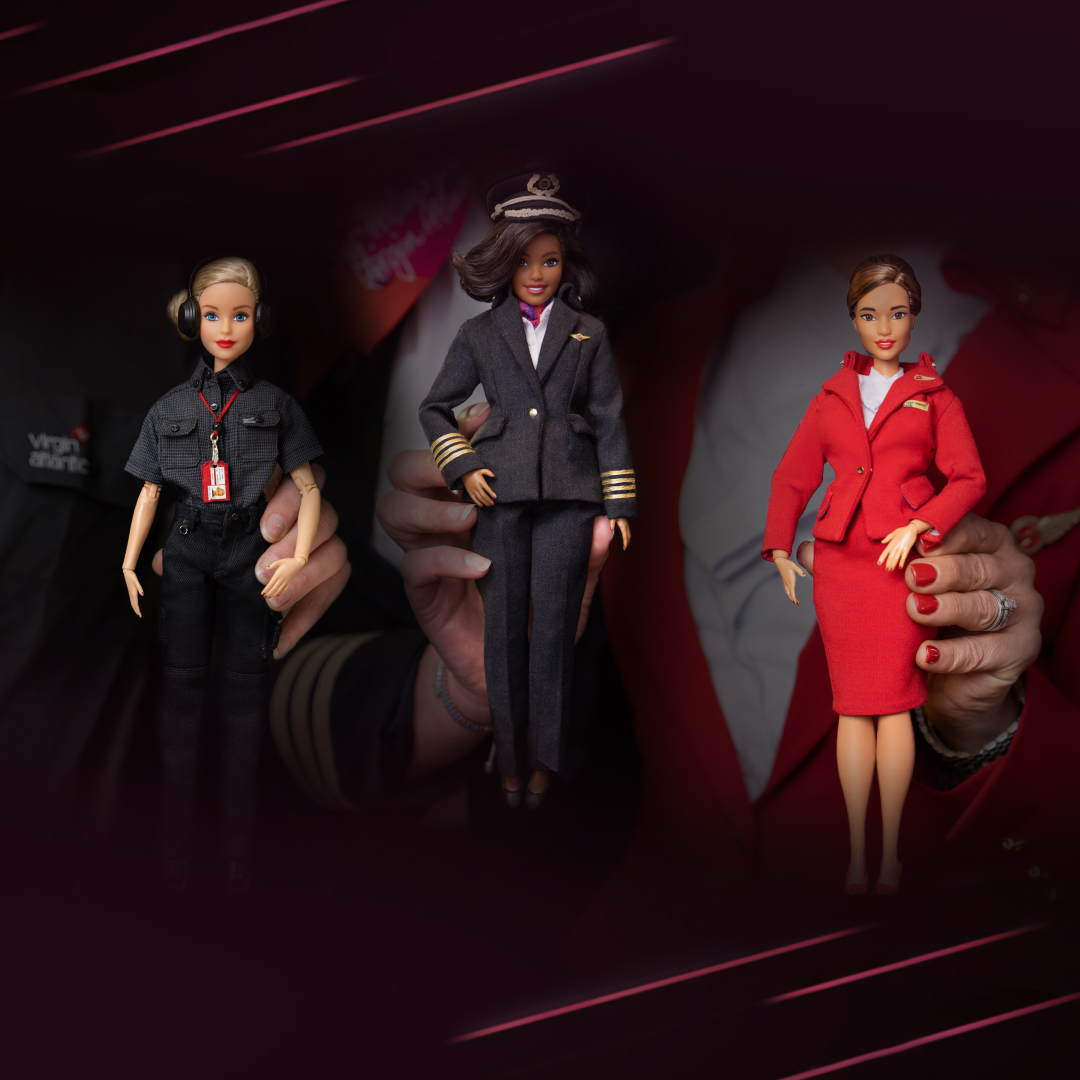 The partnership between Virgin Atlantic and Barbie marks the start of a wider initiative at the airline to encourage more women to pursue STEM and aviation careers. Virgin Atlantic and Barbie's dual mission to inspire girls through more careers include its annual Future Flyer open day at the airline's HQ, leveraging female engineers and pilots to show girls, real role models, through school visits and trips to the airline's engineering hangars.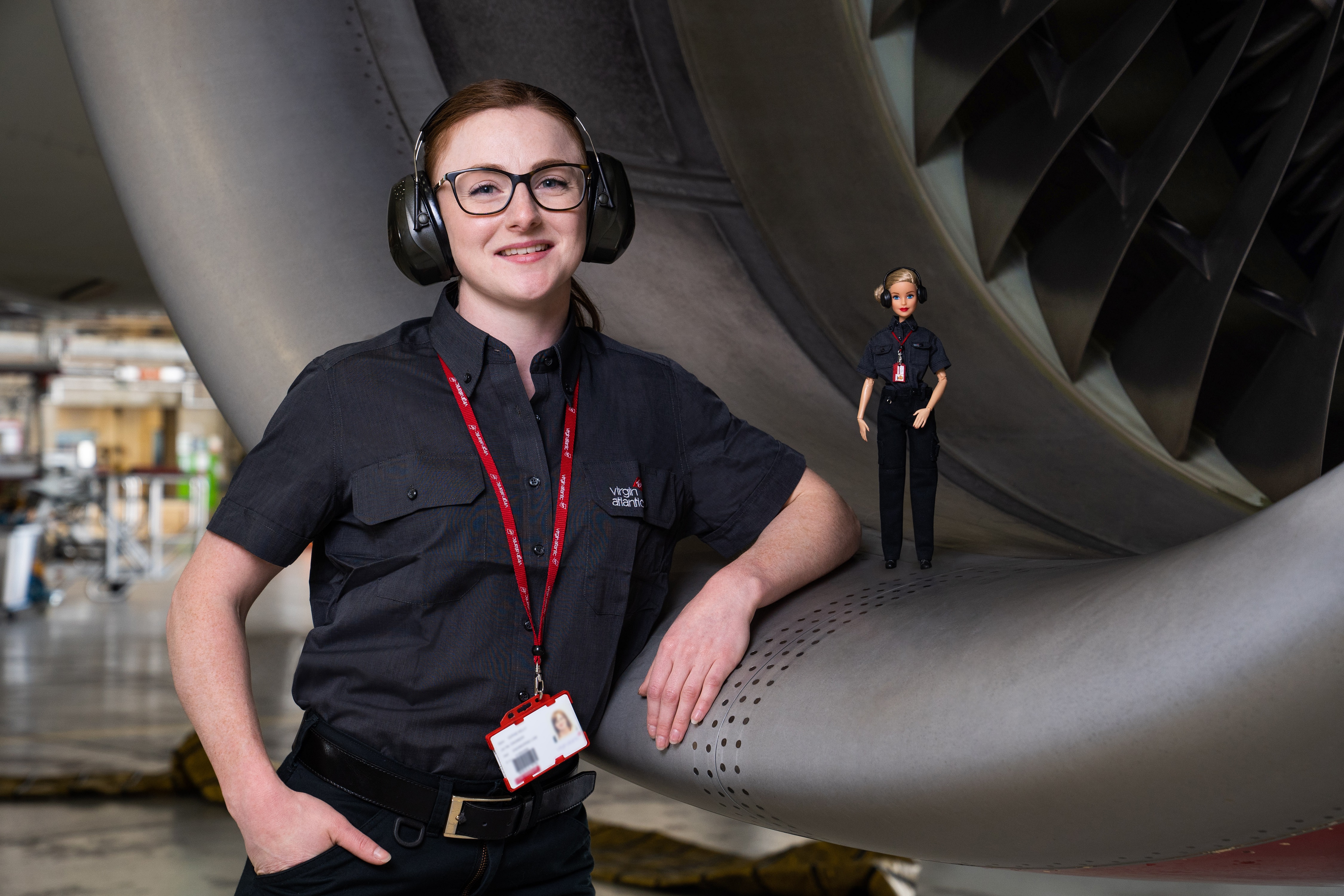 Virgin Atlantic, in an effort to have more female representation and highlight its career opportunities for women, recruited the world's number #1 fashion doll to create one-of-a-kind dolls, which introduce different careers to a younger generation of girls.
The one-of-a-kind dolls were designed in the likeness of real Virgin Atlantic uniforms and show different skin tones and body types, reflecting the diversity seen in the Barbie line. The pilot doll has articulated ankles with flat shoes and wears a pilot's uniform complete with wings and badge. The engineer doll wears flat safety boots, an access lanyard and noise-cancelling headphones. The cabin crew doll pays homage to the iconic red Virgin Atlantic Vivienne Westwood uniform.
While these Virgin Atlantic dolls are currently one-of-a-kind, later in the year, Pilot and Crew dolls will be sold on-board and in shops. I may be too old to play with dolls, but I am definitely going to have to get a set of these!
Nikki Humphrey, SVP People at Virgin Atlantic, commented;

"We know that women are currently underrepresented across a number of careers within aviation. We also know we can't change this position overnight. Therefore, it's imperative we play the long-game, highlighting to primary aged children that any job role is open and our partnership with Barbie marks another milestone in our commitment to this. It's astounding that girls start believing they can't follow a certain career path from as young as five and it's our ambition to help close the dream gap. By working with Barbie, it allows us to speak directly to our future generation of aviation professionals, whether they aspire to be cabin crew, engineers or pilots."
Reward Flight Finder update
One of the best ways to find availability quickly for reward bookings on BA and Virgin has been Reward Flight Finder (formerly BA redemption finder).

RFF is an independent website which is potentially the most useful tool for getting Avios and Virgin Flying Club redemption email alerts. It is also free for almost all functions. BFF is available as a website only. A search will show a full 355 days of availability with one search. It is a fairly simple tool in that it won't show connections or partner airlines You can also only search one city pair at a time and you have to use the overall city code such as LON or NYC instead of the individual airports if there is more than one in a city.
The really great part of the site is the email alerts. You can set up alerts for free. Simply do a normal search on the site for the flights you want then fill in the form at the bottom to get email alerts for availability between a specified set of dates. A £3 a month Elite membership means that automated availability alerts are sent as often as once an hour, rather than one per day. This could be crucial on very popular routes, so it may be worth considering.
The website has just added a new feature as well which allows you to search for availability for a particular date on every route. If you are struggling to find availability to use a 2-4-1 voucher, for example, this could be perfect if you are flexible on where you fly to. Just use the new "I don't know where I want to go" on the home page. You can then specify the cabin, number of people and specific dates and it will show you all the availability for that date. The only drawback is that it is only available for elite members i.e. you must pay £3 a month to use this feature.
I noticed a while ago that Virgin searches were no longer possible and it looked as though it may be permanent. Virgin for some reason had decided to withdraw access to its information to RFF. This now looks like it may be resolved shortly, but in the meantime, if you have elite membership (£3 per month for email updates hourly if availability for your flights is found) you can claim a refund for the time the service isn't working.
You can find Reward Flight Finder here.
New Virgin Atlantic A350-1000 routes

Virgin Atlantic have 12 A350-1000s on order with the first one entering service to New York yesterday. The first four aircraft will all be serving the London-New York route to ensure consistency of product. Paul will be flying this service next week and will bring you a full review of the new Upper Class Suites. After those four A350s, the next one will serve Los Angeles in 2020.
Virgin have now announced some more routes for the later A350-1000s. In a statement they said:
"The final five planes will offer a leisure configuration and will operate routes to Florida and the Caribbean from London Gatwick and Manchester Airport. These deliveries will take place in 2021 as the airline beings to retire its 747 fleet."
The words "leisure configuration" suggest that this will be quite different to the current A350-1000 layout which is business class heavy with 44 Upper Class Suites. Virgin currently uses B747s for leisure routes which they are gradually retiring and these only have 14 Upper Class seats.