Air France business class offers
Air France has some good value long haul deals in its latest sale from the UK. For long-haul business class however, you need to be a bit wary. Air France's old seats are angled lie flat with 2-2-2 or 2-3-2 configuration (B777). Most of their B777s now have the new seats and some of the A330s too. You can tell which seats it has by the configuration. The new seats have a 1-2-1 configuration. You can view the seat map as part of the booking process on the AF website.
The new seats are similar to the B787 seats that I reviewed here. They are the reverse herringbone style seats at nearly 2m long. Some reports suggest they are a bit narrow but I didn't notice that on the B787. You can read my Air France B787 review here. You get all the usual business class amenities in long haul even on the older aircraft, noise cancelling headphones, power sockets, Clarins amenity kit, on-demand entertainment etc. You get an XXL feather down pillow and a soft duvet too. You can also order your meal in advance from Asian cuisine to fresh seafood with their "A la Carte" meals.
Overall if you are not bothered about Avios and can get a route with the new business class, Air France are well worth a try at some of these prices. Havana and Ho Chi Minh City are particularly of interest since there are not that many options to fly there from the UK and they are a good price.
The best sale fares are:
Abu Dhabi from £1,372
Buenos Aires from £2,000
Brazil from £2,002
Bangkok from £1,593
Cairo from £923
Delhi from £1,041
Dubai from £1,219
Havana from £1,429
Ho Chi Minh City from £1,583
Hong Kong from £1,555
Johannesburg from £1,949
Mumbai from £1,129
Singapore from £1,799
Hong Kong from £1,555
Shanghai from £1,754
Seychelles from £1,949
Beijing from £1,859
To get the sale prices you need to book by 12 March 2018. The Air France offer page is here. 
Qatar – makes a large loss & Stockholm aircraft changes
If you picked up some of the cheap business class deals on Qatar from Stockholm recently you may want to know about the latest aircraft change.  From 1 June 2018 Qatar will use B787s on flights QR167/168, and QR169/170 instead of the previously filed A350-900XWB. The layout is the same with 1-2-1 but you may want to check your reserved seats in case you are not happy with the changed seat location.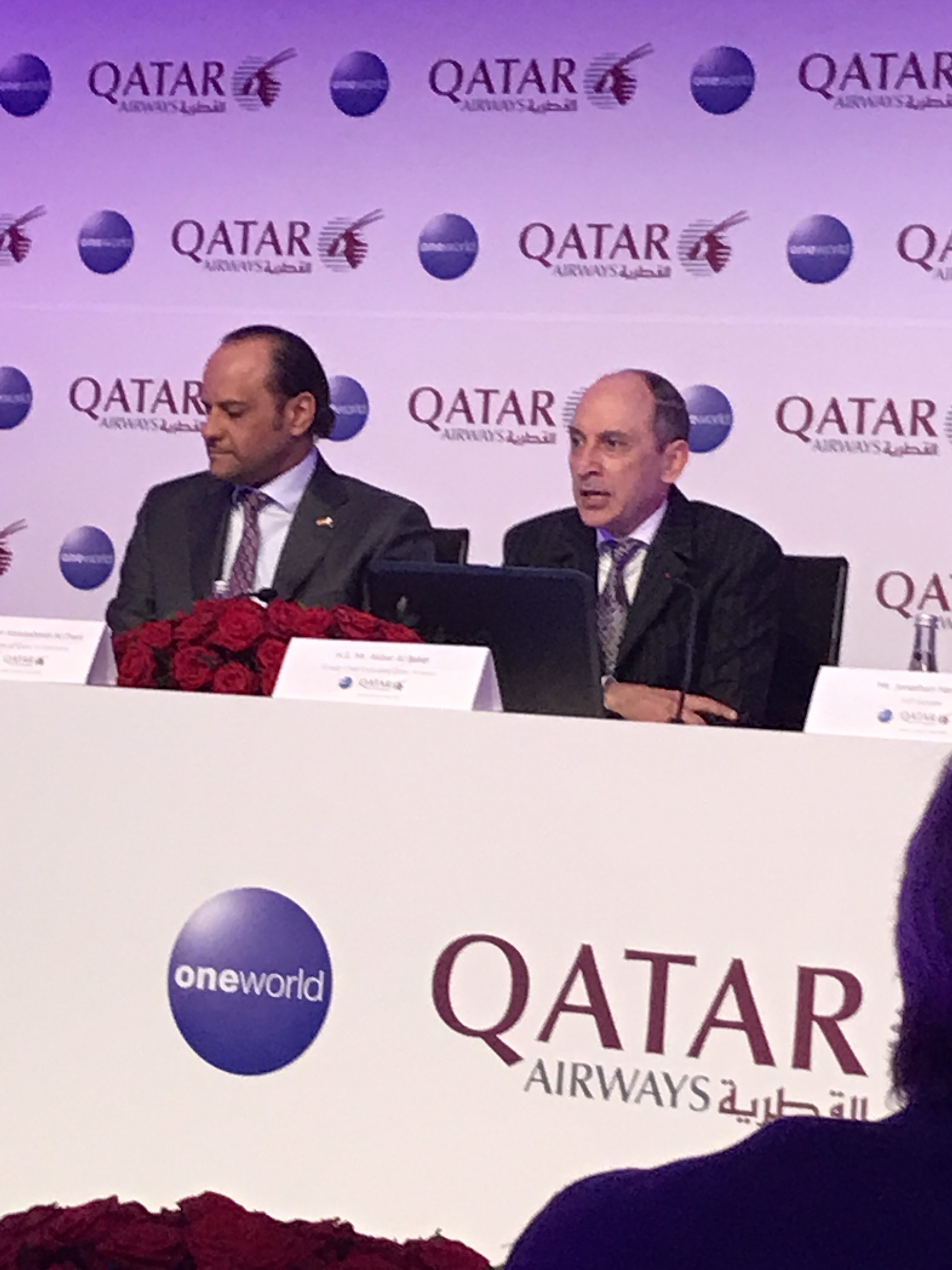 If you were reading my posts earlier in the week you will know that I attended a Qatar press conference at the ITB Travel exhibition. At this conference, Qatar Airways, Chief Executive Akbar al-Baker also commented that they would make a very large loss this year, mainly due to the blockade that is still ongoing neighbouring countries. Previously routes to Saudi Arabia and the other countries were some of its most profitable routes. He also commented that they would be pursuing the countries for this loss. Many people assume that Qatar is not profitable anyway but in fact, in the previous year Qatar Airways made $541 million profit.
So should we be worried that Qatar will go the same way as Etihad who have had a number of cutbacks recently including now stopping free chauffeurs for miles redemption tickets? Given the aggressive QSuite roll out program and new routes, I wouldn't be too worried that Qatar are going to start cutting back. With the Qatar government's backing and Qatar's defiance at the blockade it seems unlikely to cause them too many issues in the short term. Qatar did state that they may need to seek further investment if the blockade continues and they wish to expand further though.
BA wi-fi and biometric boarding

Despite BA announcing for a while that it would have Wi-Fi onboard short haul flights soon, it has all been very quiet whilst long haul has started rolling out. If you think about it, whilst it is very common in the US for airlines to have Wi-Fi on short haul, it is much less common in Europe. This is because it is hard for European airlines to have Wi-Fi in European airspace due to the congestion of the airspace which makes connection to satellites intermittent.
BA and its owner IAG will be the launch customer of the European Aviation Network, a new system that allows aircraft to connect to ground towers across Europe as well as satellites. BA have now announced that the Wi-Fi will start on board on short haul in June with the rollout complete on 90% of the short haul fleet by 2019.
Whilst I welcome Wi-Fi on board as I often work on planes, I am hoping that they will police people watching or listening to their device without headphones which is one of my pet peeves. Voice calls will not be allowed thank goodness!
British Airways has also expanded its trial of biometric technology to speed up boarding and arrivals processes and now it is in use in Orlando, Los Angeles, Miami and New York. The system uses facial recognition to verify a customer's identity and this automatically links the customer to any records already held in the CBP systems. This simple process means that there is no need for travel documents to be swiped or customers to go through fingerprinting. The aim is to vastly reduce the time customers spend in queues.
The process has dramatically improved the speed of boarding in Los Angeles where it was introduced in November 2017. The gates in Los Angeles Airport, used by British Airways, have resulted in the airline boarding more than 400 customers in only 22 minutes – less than half the time it takes when not using this technology.