BA Marmite
BA seems to be akin to marmite judging by the comments we get on the blog – you either love them or hate them! As part of their continuing 100-year celebrations, BA have launched a limited edition Marmite. Being a massive Marmite fan (and BA), this is one I am keen to get my hands on! You certainly can't get much more British than Marmite!
British Airways and Marmite have teamed up to create a limited-edition jar to celebrate the airline's centenary, launching on May 1. Based on data from London City Airport, Marmite is the most confiscated branded food item at airport security.
The airport has seen deserted jars of Marmite increase 50 per cent in the first three months of 2019, from four to six jars a day, and the airport forecasts it could seize over 2,000 jars this year alone. The special edition spread will be exclusively available to customers on board all flights from May 1. The jar weighs 70 grams so you can safely take it through security as it falls within the liquid restrictions.

To coincide with the launch, on April 30 London City Airport will be holding an amnesty at its security gates, giving all customers the chance to swap their over-sized, prohibited jars of Marmite for British Airways' travel-friendly version.

Hamish McVey, British Airways' Head of Brand and Marketing, said: "It's clear that customers like to enjoy their favourite brands like Marmite while travelling or when they're abroad. We work with some of the best of British to bring them to our customers on board our flights and now, in our centenary year we will have even more brands alongside Marmite that our customers can enjoy."
British Airways will be releasing a series of centenary editions in partnership with British brands during its milestone year. Earlier this month the airline announced a partnership with Scottish craft brewers, BrewDog, who have created a transatlantic IPA for customers and in a world first brewed the beer on a flight. The airline has also partnered with luxury British watchmakers Bremont on the launch of a new limited-edition timepiece, featuring metal from one of the most famous and iconic planes in history – Concorde.
Heathrow going biometric with British Airways
In October 2018, Heathrow Airport announced a £50 million project to roll out new end-to-end biometric services from summer 2019. BA have now started installing biometric international boarding gates at T5 for international departures which should be complete by May 2019.
Up until now, more than 250,000 British Airways customers have now used their face as their identity to board a flight from the US in the last 18 months. The introduction of new biometric facial recognition technology has transformed the airport experience for passengers travelling from Orlando, Los Angeles and New York, JFK with BA by streamlining the boarding process and halving the amount of time it takes to board an aircraft.
The technology means that customers no longer need to present their passport or boarding pass at the departure gate – only when they check in and go through Security (in the US). Instead, travellers simply look into a camera prior to boarding, wait for their biometric data to be verified and then walk onto the aircraft. British Airways was the first UK airline to use biometric technology to board flights from the US, working in close partnership with the US Customs and Border Protection (CBP) to implement the technology, which has enabled the airline to hugely speed up its boarding process.
At Orlando, British Airways is boarding almost 240 customers in 10 minutes and becoming the first carrier to set up permanent facial recognition gates at the airport.
All BA domestic departures at Heathrow Terminal 5 now boarded biometrically. For international flights, self-service boarding gates have now been installed at T5, allowing customers to scan their own boarding cards to gain access to their flight. It's the first step towards biometric boarding on international flights from the UK.
Raoul Cooper, British Airways' Senior Digital Design Manager, said:
"We are continuing to pioneer the use of technology and automation to enhance the airport experience and ensure that our customers' flights depart on time.

"The airport of the future will be built upon biometric technology, from check-in and baggage drops to security checks and boarding. These days, automation is a part of everyday life, as is biometric technology via our mobile phones. We're working with our technology partners and the US government to explore how we can use this technology in new and innovative ways to give our customers the stress-free, easy airport experience they tell us they want, while ensuring security is always our top priority."
New BA Club lounge opens at New York's JFK
BA have been transforming their JFK operation with a new First lounge, check-in area and now the newly refurbished business class lounge has just re-opened. I will be bringing you a full review later this week when I visit it in person but in the meantime here are a few pictures and details. You can see the details of the new BA First class lounge at JFK here.
The new space includes seating areas as well as work stations with power outlets. Other spots include an entertainment room with state-of-the-art entertainment and sound from Sony, and the reopened Elemis Spa offers a range of treatments.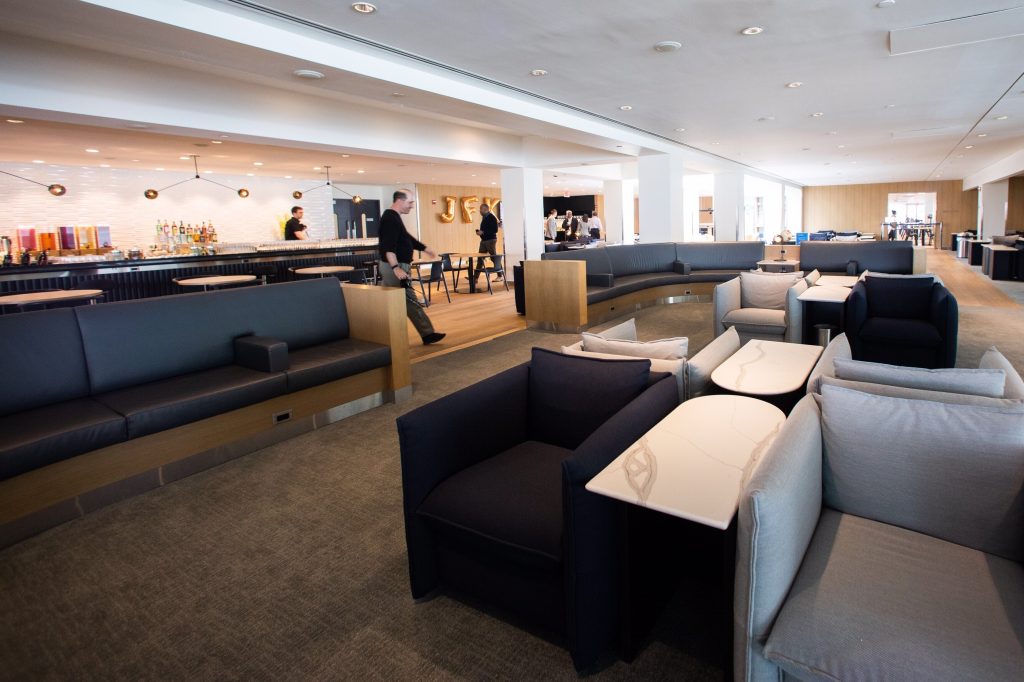 To maximise your sleeping time on board, the lounge offers the pre-flight dining with a brasserie-style dining room with freshly prepared dishes from an extensive menu or a range of smaller items chosen to allow customers to 'grab and go'.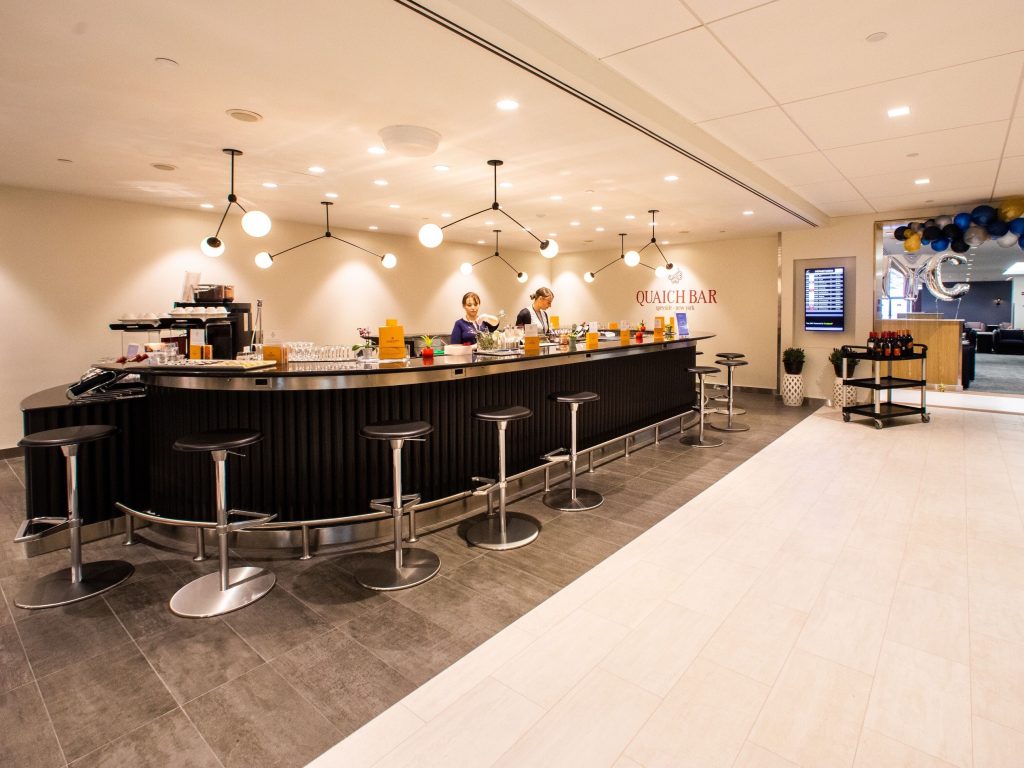 There will be a granite topped Quaich Bar, created in partnership with the Quaich bar at the Craigellachie Hotel in Speyside, Scotland. An experienced bartender will be on-hand at peak times to serve a full range of fine wines and cocktails such as the Broadway Copper Cup made with Copper Dog whisky, orange bitters and berries. An innovative new addition to the lounge is a BrewDog craft beer room, in partnership with the brand, a beer has been designed specifically for British Airways, named after its flight call sign – Speedbird 100