Curve loses American Express
I have written a lot about Curve recently as like many other I have been searching for a cheap way to earn miles while using my cards for foreign transactions. The majority of cards charge around 3% to pay in a foreign currency, and once Lloyds Avios card loses its American Express version by April, there will be no cheap ways to gain a decent miles earning rate on foreign currency for Avios. The solution seemed to be Curve card which had finally integrated American Express into its product. Curve allows you to link your credit cards to a single Mastercard debit card and by paying through the Curve card means that you don't pay foreign currency fees on most transactions. You can read more about Curve card here.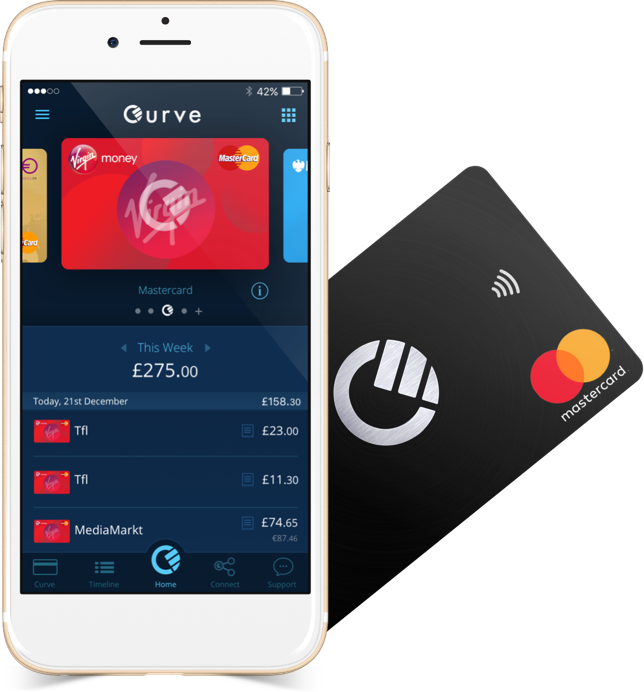 Yesterday there were numerous reports of people trying to use the top up feature for American Express with their Curve card and having transactions declined. The applications for the new Curve Metal card which has a £14.99 monthly subscription fee were also not working. In a shock announcement late last night Curve sent an email to its customers informing them that as of Tuesday evening, American Express had withdrawn support with immediate effect for Curve card. Given that they have only been running the scheme for a few weeks in Beta testing and just opened it to everyone a few days ago this seems like a bizarre and sudden decision by American Express. In a statement to customers, Curve said
Amex has given no good or fair reason for their decision and we believe it is entirely disproportionate and discriminatory to Curve and all our (joint) customers. UK payment regulations clearly state that Curve should be allowed to access the Amex payment network on a level-playing field with every other fee-paying and legitimate merchant.

Rest assured that you can still spend the funds that you have already topped up to your existing Amex Wallets. If you have contacted us for support, we apologise for the delay in response and will endeavour to do so as soon as possible. We will update you as soon as we have any further information.
This is a similar situation to the withdrawal of Amex in 2016 with Curve previously. At this point, nobody knows the reason for the sudden decision. There has been speculation that Amex doesn't like Curve's new subscription model or that it is to do with sharing the data on types of transactions with American Express.
Given that Amex knew about these factors before the latest agreement and the suddenness of the withdrawal, I would suspect it is something unforeseen with the latest rollout. It could be the large amounts that people have been loading onto the Curve cards (increased risk for Amex) or some sort of non-compliance with Curve's contract with American Express.
What is important now is what Curve will do about their subscription model. Having just taken out a subscription to Curve Metal, I personally would be expecting a refund since one of the key benefits that I signed up for is no longer available.
EDIT: Have trawled through the terms and conditions you CAN cancel your metal card subscription if it was within the last 14 days. You can also downgrade to the black or blue card instead within the cooling off period.
You can cancel your Curve Metal Account within the cooling-off period, which is the 14 days, after your order has been confirmed by contacting us at [email protected]. To meet the withdrawal deadline, it is sufficient for you to send your communication concerning your exercise of the right of withdrawal before the withdrawal period has expired. If you have not used any of the Curve Metal Services, we will refund your Curve Metal Subscription fee in full. Otherwise, we will issue you a partial refund based on use of the Curve Metal Services used during that time. For the avoidance of doubt, the order and delivery of a Curve Metal card will be considered a Curve Metal Service for these purposes and you will be charged the Curve Metal Card Fee which is £50.
What do you think about this development if you have signed up for a Curve subscription? Will you be looking for a refund or do the other benefits still make it worthwhile? Let us know in the comments below or on social media.
Business class flight offers from £1100
Abu Dhabi from £1100
The first offer I will look at today is to Abu Dhabi from London for £1100. As usual, there are a couple of catches. The fare is with Air Serbia and Etihad and involves a stopover in Belgrade for a day. However, Belgrade does offer enough to see for this amount of time, so you could view it as a two-centre holiday.
Air Serbia despite most people's preconceptions, actually has a pretty good business class in terms of service, food and drink. They did used to have one of the best intra European business class products but have sadly started to take out their business class recliner seats and replace them with standard economy style seating like BA. The second drawback is that the Etihad sector is on a short haul A320 aircraft. However, these do have large recliner style business class seats in a 2-2 configuration and you would, of course, get the Etihad standard food and drink.
You can book the fare via Expedia.
Antigua with British Airways from £ 1195
Dublin has recently lost its crown of the ex EU departure airport of choice to Amsterdam but the latest fare to Antigua is very good value. It is available on both British Airways and Virgin Atlantic. I looked at the same fare direct from London, and the cheapest I could see was £1713 and this is while BA still have a sale on.
You need to be careful when selecting the flights as some fly into Heathrow and then out of Gatwick which you may not want to do. You could always build in a London night stop of up to 24 hours for the same price to allow time to travel between the two airports. On both airlines, the connecting flight into London can be on British Airways or Aer LIngus. Aer Lingus do not have business class so you woulkd be better flying with BA for getting the extra tier points too. You can read my guide to Dublin ex EU flights here.
The rules for both:
Travel outbound by 12 December 2019
Minimum stay a Saturday night
Reservations must be made by TOMORROW 31 January
The flights can be booked via travel agents such as Expedia. You can search for the lowest fares on Skyscanner.
UK-Hong Kong from £1636
Hong Kong should be on every serious traveller's bucket list. I have been many times and always enjoy returning. There is a deal from the UK to Hong Kong on Finnair flying from Edinburgh. The good news is that you can earn BA tier points and Avios on Finnair and they have a good A350 business class product on the Helsinki-Hong Kong route. You can read my review of it here.
The catch with the offer is that flying from Edinburgh you will only get Finnair's short-haul product to Helsinki whereas from London if you pick the right flights, you can fly on their A350 or A330 long haul aircraft. However, flying from Edinburgh does save £300 over London, or it may be a more convenient airport anyway.
The rules|:
Reservations to be made 60 days in advance
Minimum stay 5 days
You can search for the cheapest prices on Skyscanner or book direct with Finnair.
Up to 50% off new London hotel from under £100 – act quickly ends today

London hotel prices are generally very high, so when an offer comes up for a "luxury" hotel at up to 50% off, it's worth a look. Melia hotels are a large Spanish chain and already have the ME London which features one of London's best rooftop bars. You can read my review here. They have recently acquired a new hotel in London's Kensington. The hotel has been renovated to a high standard and has just reopened as the 4* Hotel London Kensington by Melia. It is positioned to be a luxury boutique style hotel.
Close to National History Museum, Science Museum and Harrods
Underground station just metres from the hotel
Polo Bar, a classic English pub
The Jam Cupboard restaurant
Fully equipped gym
Until the end of today, 30 January, there is up to 50% off bookings at the hotel. You will need to be a member of Melia Rewards to get the discount but it is free to join here. If you have the Amex Platinum card, you can get Melia Gold status free. I had a quick look for February and managed to find the hotel for £96 a night. I had been looking at comparable hotels and they were all around £170 upwards. You can book and find out more information on the hotel website here.