Want to hear about the latest in business & first class?
I was very honoured recently to be invited to be interviewed by John Walton, Deputy Editor of industry passenger experience publication and podcast Runway Girl. I am a big fan of John and his breadth of knowledge of the airline industry including having previously worked at Australian Business Traveller. For Runway Girl, John writes the Opinion and Analysis section of RGN called Up Front. He specializes in cabin interiors, seating, connectivity, and premium class service.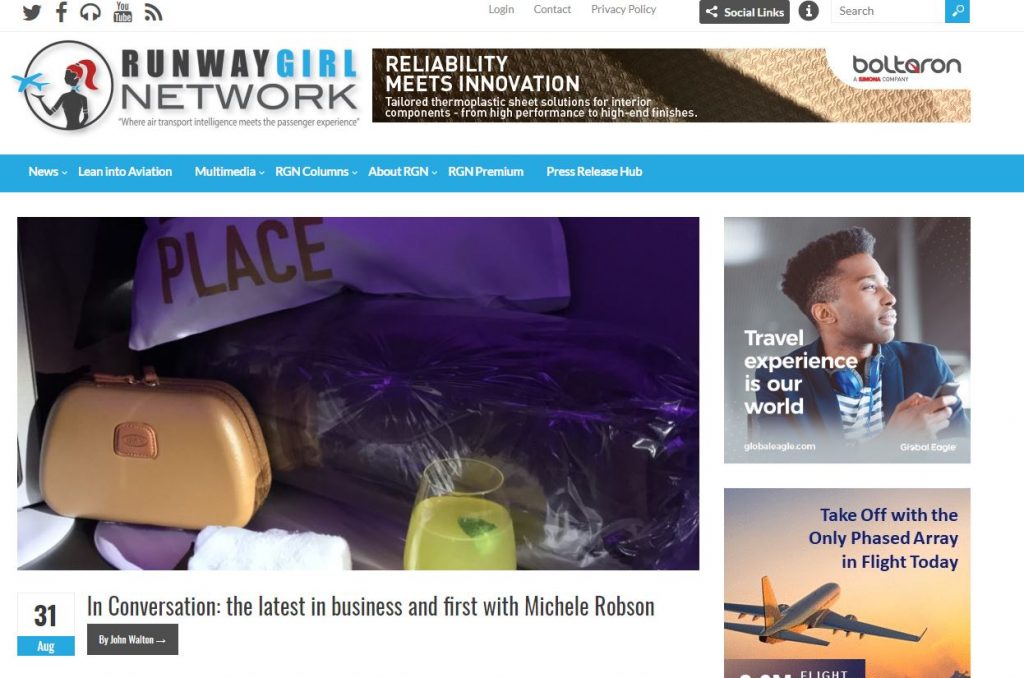 If you fancy hearing us discuss the world of luxury flying you can have a listen here.
Club Europe new catering from 12 September
I wrote about some of the changes due to happen to Club Europe last week after some interesting chats with cabin crew on my Club Europe flights last week. A few more details are now emerging as follows:
The service will be done all as one, there will be no separate drinks rounds on longer routes which personally I find annoying as you will probably have to wait much longer to get a drink initially as you wait for the food to heat. Apparently, it is to ensure consistency across all the routes.
Everything will be on your tray even on long routes including the main course. The dishes will be smaller to accommodate this and your wine glass will also be on the tray already along with the cutlery.
Quarter bottles of champagne on two shortest bands (1 & 2) and large on the rest
Quarter bottles of wine on all routes
Ice will not added to drinks unless requested
There will be 3 main meal choices with a very small number of a cold main course available
Menus will change every fortnight at Heathrow
There will be 5 bands with the first being express and then bands 1-4. Express will be Jersey, Leeds and Manchester. This is in line with the previous structure
We don't yet know the exact meal content yet for each band but it is expected to be similar to the long band currently for most routes with a hot option for the main course. We do know the timings based on takeoff time though:
Breakfast until 09.59
Brunch 10.00-10.59
Lunch 10.59-13.59
Afternoon tea 14.00-16.59
Dinner 17.00-04.59
Except on the longest bands which have the same meal from 10.00 onwards. I am hoping to squeeze in a Club Europe flight in the next few weeks to give you a full review.
Etihad sale
Etihad sale prices aren't fantastic from the UK compared to an ex EU on Qatar but in the absence of those offers, it may be worth a look if you fancy trying Etihad in the near future. If you are booking for more than 6 months time I would wait as most of these fares are more than some previous sales and sometimes they drop the prices a few days in. I do like the price of the Phuket and Kuala Lumpur flights as these are mainly cheaper than most of the other premium airlines but without the hassle of an ex EU.   Prices vary between London and Manchester but are generally very close apart from the one exception I have noted.
Etihad's best seats, the new Business Studios, are available on the A380 and B787 Dreamliners at the moment. Fortunately, the London to Abu Dhabi route currently has the A380 but Manchester only has the B777 with the older business class.  The Business Class Studio features a 22-inch wide seat that converts into a fully-flat bed of up to 6 feet and 8 inches. Each seat has direct aisle access, unlike British Airways. You can read my review of the Etihad business studio here.
The rest of Etihad's fleet offer their older business class which still has fully flat beds.
Best prices (from London unless noted)
Abu Dhabi from £1,698
Bangkok from £1,810
Hong Kong from £2,223
Phuket from £1769
Kuala Lumpur from £1,800 (Manchester)
Singapore from £1,977
Australia from £2,983
Rules:
Book by: 8 September 2018
Travel by: 22 September – 30 June 2019
Credit miles: Air New Zealand, Alitalia,  All Nippon Airways,  American Airlines,  Asiana Airlines, Czech Airlines,  Etihad Airways,    Garuda Indonesia,Hainan Airlines, Jet Airways, Korean Air, Malaysia Airlines, Oman Air, Philippine Airlines, Royal Air Maroc, SAS   Scandinavian Airlines, South African Airways, Sri Lankan Airlines, Virgin Australia.
You can find the Etihad sale page here.