Australia from £1924
There are two good business class offers to Australia with premium airlines currently available. Both have good products on the routes as well.
Perth from 1924
The fare to Perth is with Qatar Airways from Gothenburg, Sweden. Until September, Qatar uses the A380 from Doha to Perth and then until December it will be operated with  a B777 with QSuites.
The rules of the fare are:
Book by: 22 April 2019
Travel:

Monday to Thursday.
Not permitted outbound – 13 Dec 19 through 5 Jan 20 for departure from fare origin.
inbound – travel is not permitted 1 Jan 20 through 12 Jan 20 for the departure of first international sector.
Valid for travel commencing on/after 15 Aug 19 and on/before 31 Mar 20.

Minimum stay: 3 nights
Maximum stay: 2 months
Transfers: Unlimited
Stopovers: Permitted 1 free and 4 chargeable. 96 hours free in Doha
Refundable: For a fee
Changeable: For a fee
You can book direct with Qatar Airways here or find the cheapest online travel agent price with Skyscanner.
Sydney from £2089
The Sydney deal is following the same route that Roving Reporter and I did when we flew to New Zeland last year. The flight starts in Stockholm and routes via Moscow, Singapore and then Sydney. The Moscow stop is very straightforward. Although you have to get off, it took around 10 minutes before we were sitting in the lounge. Within about 30 minutes of arrival at the lounge, we were headed back to the aircraft again. You can read my review of the A350 flight from Stockholm here.
The rules of the fare are:
Book by: n/a
Travel: n/a
Minimum stay: a Saturday night
Maximum stay: 12 months
Transfers: Unlimited
Stopovers: Allowed (would highly recommend a stopover in Singapore)
Refundable: No
Changeable: Yes for a fee
You can book direct with Singapore Airlines here or find the cheapest online travel agent price with Skyscanner.
British Airways
New way to get compensation

BA have launched a new web page and form for complaints in order to speed things up. They claim that it should take no more than 15 minutes to fill in the new form. This part of their pledge to improve customer service in the event of disruption.  If you click on the delay, cancellations and diversions it will allow you to claim your EU compensation directly from BA via the form. There is a good guide to what compensation you allowed under the EU law here. 
You can find the BA claim page here.
The classic BA's theme Flower Duet has been revamped
To mark its centenary British Airways has released a new composition based on the famous piece of music, Flower Duet, which featured in Delibes' opera Lakmé.
The original version of the music will also be recognisable as it has featured in a number of adverts from across the airline's history, and is also played in the cabin during boarding.
The new version has been composed by Lyndon Ooi – a quality engineer at British Airways – whose day job involves checking that British Airways' aircraft are fit to fly from a technical perspective.
The reworked composition is made up of 10 variations representing 10 significant milestones in British Airways' history. It rises, falls, speeds up and slows down to moments including the formation of Imperial Airways, the introduction of the new jet age, Concorde's farewell and the opening of Heathrow Terminal 5.
You can hear the full piece here:
BA retro livery aircraft
Last week British Airway brought together its four heritage liveried aircraft which were repainted to mark the airline's centenary this year, alongside an A319 in the current Chatham Dockyard livery, to capture a rare image of some of the airline's designs together.
The photos also mark the fact that 50,000 customers have already flown around the globe on the four heritage liveries since they re-joined the fleet, with the Boeing 747s having travelled to destinations such as New York, Cape Town, Dubai and Lagos, while the BEA liveried Airbus A319 has flown to cities including Manchester, Newcastle, Edinburgh, Milan, Zurich and Amsterdam.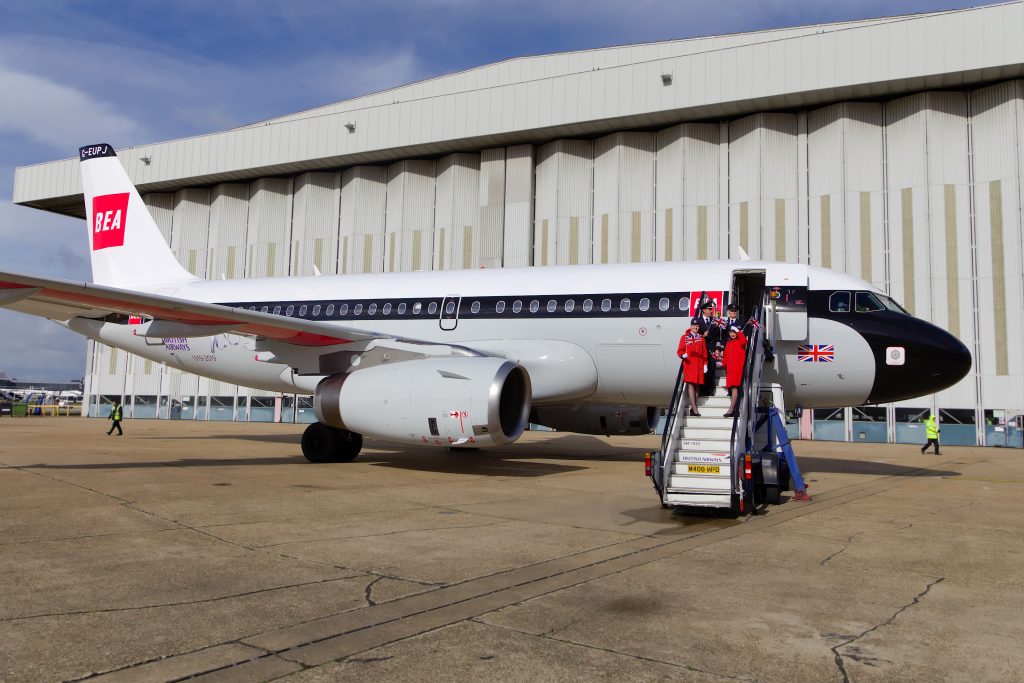 If you are flying out of Gatwick you may now have the chance to fly on the BEA-liveried A319, reg G-EUPJ which arrived at Gatwick for the first time yesterday morning. The aircraft will operate domestic and European flights to and from Gatwick over the coming weeks. You can find out its planned routes on Twitter with @BAretrojets.