UK oneworld flights to S Africa & Asia from £1461
The last few days we have been concentrating on ex EU flights but if you want a fairly simple life and would rather pay a bit more to go from the UK we have a selection of flights from various UK departure points for today.
The fares are:
Cardiff to Johannesburg £1561 on Qatar
Book by: 30 June
Travel: By 30 September 2019
Minimum stay: 5 nights o
Maximum stay: 1 month
Transfers: unlimited
Stopovers: 1 in Doha one way for 96 hours or less
Refundable: For a fee
Changeable: For a fee
Qatar use a B787 on the Cardiff route with excellent seats in a 1-2-1 configuration. You can read my review here.
You can book direct with Qatar Airways here or find the cheapest online travel agent price with Skyscanner.
London, Edinburgh or Manchester to Asia from £1461 with Finnair
Hong Kong £1586
Beijing £1461
Singapore £1786
Prices vary by departure point.
Rules:
Book by: 27 May 2019
Travel: Sun-Thurs. Valid for travel commencing on/after 14 May 19 and on/before 31 Mar 20. All travel must be completed by midnight on 31 Mar 20
Minimum stay: 5 nights or a Saturday night
Maximum stay: 1 month
Transfers: unlimited
Stopovers: 1 free
Refundable: No
Changeable: No
You can book direct with Finnair here or find the cheapest online travel agent price with Skyscanner.
British Airways whisky
First came Marmite and IPA beer, now BA is to create a limited-edition whisky with InchDairnie, the Scottish distillers but you had better be patient!  The partnership will culminate with a centenary whisky being served up in 2031.
To mark World Whisky Day on May 18, the two British brands have come together to start the 12-year process of creating a limited-edition pour for the airline's centenary.
British Airways joined the expert distillers at the Fife-based distillery to mix malted barley, water and yeast before distilling and pouring it into a bespoke American oak cask once used to mature bourbon. The cask heads are from a red wine cask, made from French oak, in a tribute to the first flight operated by AT&T, the forerunner company of today's British Airways which flew to Paris in 1919.  The American oak is a nod to British Airways, as the airline now makes up to 30 journeys across the Atlantic every day.
Over 12 years the spirit will mature, drawing out vanilla and coconut flavours and a dark colour from the cask, before ageing to create a malty, fruity, Scotch whisky designed to work perfectly at altitude. The cask-aged spirit will then be decanted into 300 limited-edition bottles that will be served exclusively on British Airways flights in 2031.
Kelly Stevenson, British Airways' Wine and Beverage Manager, said: "Celebrating our centenary is all about honouring our airline's history, as well as looking to the future.  InchDairnie has a modern and innovative approach to whisky distilling and we've incorporated touches with a nod to our history.  In years to come our customers will be able to enjoy it from the comfort of their seat – we know it will be worth the wait."

Ian Palmer, Managing Director of InchDairnie, who has been distilling whisky for more than 40 years, said: "We're delighted we've been able to create a very special whisky for British Airways in their very special year. Although we are a new distillery who have a much younger heritage than British Airways, through the use of industry leading technology we are bringing together decades of industry experience and knowledge, enabling us to fine tune one of the most meticulously designed distillation processes in the world."
Flyers can also own their own bit of history as InchDairnie have created the ultra-exclusive Centenary Cask programme which will be showcased at the airline's brand new First bar in New York from June. Just 12 casks are being offered exclusively to British Airways customers between now and the end of September, and each cask will have its own unique taste profile. You can read my review of BA's new First lounge at JFK here.
Free helicopter transfer with BA
If you want to feel like you are living the millionaire lifestyle or have a special occasion coming up you may want to consider this option that doesn't break the bank. If you book certain 2 night or more packages to Monaco with flights and hotels through British Airways you will qualify for the Passport to Monaco offer. This entitles you to a free helicopter transfer from Nice airport as well as discounts on attractions. The offer is only available on a small number of hotels but the historic Fairmont is included for £330 per person for economy flights and 2 nights in the hotel. You can also fly Club Europe for a higher price.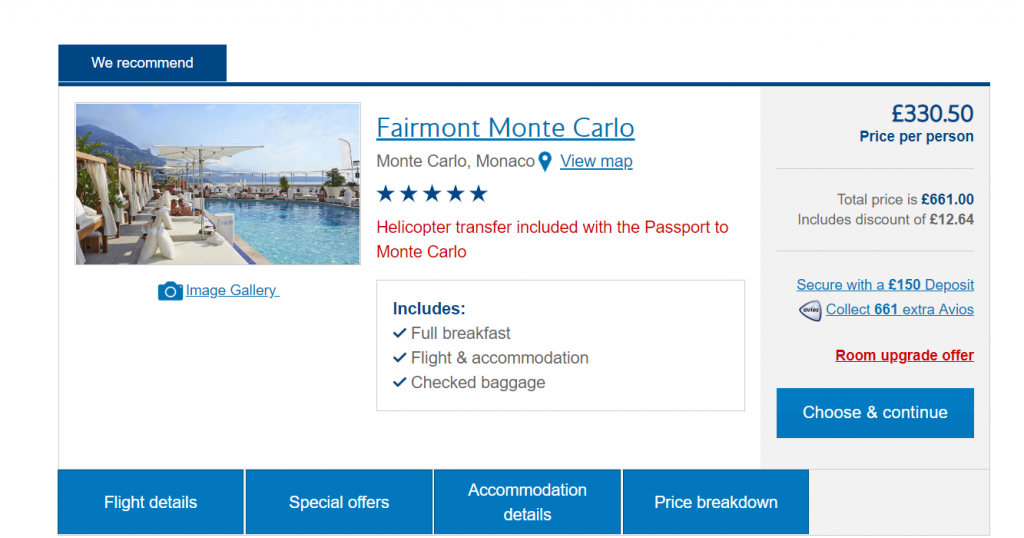 You need to book by  21 May 19 for departures between 1 November – 31 December 2019.
You can find the BA offer page here.